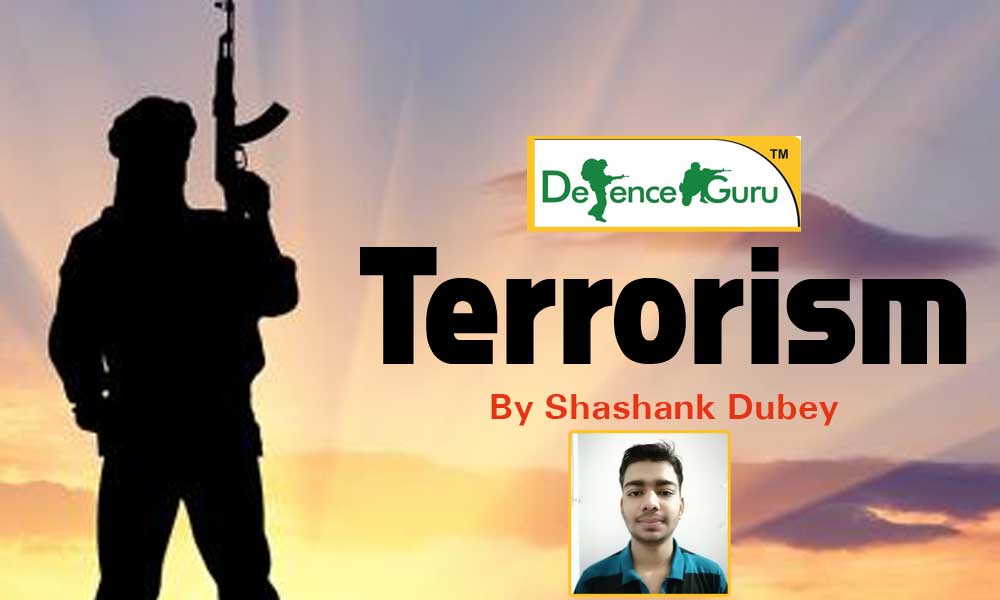 Terrorism by Shashank Dubey
What is Terrorism?
Terrorism means the unlawful use of violence or the threat of violence intended to create Terror, for achieving a religious, economic, ideological or political goal, in deliberate disregard of the safety of victims.
According to report issued by the Global terrorism index 2016, India was ranked among the top 10 countries greatly affected by terrorism activities.
CAUSES OF TERRORISM IN INDIA
There are many causes of terrorism in India.To categorise,some of them are :-
1. POLITICAL REASONS
There are several causes of terrorism in India, to begin with there are political reasons for the growth of terrorism in India. This is primarly seen in the North East region the state government there have failed to control and manage large scale ilLegal Muslim in migration from Bangladesh.
2. ECONOMIC REASONS
Economic causes too contribute to terrorism in India. These include rural unemployment, exploitation of landless labourers by those who own land and lack of Land Reforms .The major affected areas by such cases include Madhya Pradesh, Bihar, Odisha and Andhra Pradesh. The absence of Land Reforms, rural unemployment, exploitation of landless labourers by land owners, economic grievances and perceptions of gross social injustice in the states has given rise to ideological terrorist group such as various Marxist/ Maoist groups waging war against the respective state government.
3. RELIGIOUS CAUSES
Thirdly, religious causes to lead to terrorism in India. Punjab witnessed the growth of terrorism when certain organisations led by Jarnail Singh Bhindranwale, raised demand for Khalistan, an independent state for Sikhs.  Some elements belonging to different organisations shifted to terrorism for the creation of separate state known as Kashmir has been ruling under religious extremism which seeks to appropriate all rights of Muslim majority.
AGENCIES FIGHTING TERRORISM IN INDIA
Some of the agencies active for terror fighting are-
NATIONAL INTELLIGENCE WINGS
Among them,we can mention Intelligence Bureau, an internal intelligence agency under the Ministry of Home Affairs; the Research and Analysis Wing, an external Intelligence Agency under the cabinet secretriate; the Defence Intelligence, and the Intelligence Directorate Generals of the Armed Forces.
PHYSICAL SECURITY AGENCIES
Among them, we have the Central Industrial Security Force at airports and sensitive establishments, and the NSG, a specially trained force, which is called in the wake of emergencies such as hijacking, hostage-taking, etc. Then we have the Special Protection Group(SPG),which is responsible for the security of the PM and former PMs.
PARAMILITARY FORCES
Not to be left behind, forces such CRPF, BSF assist the police in counter-terrorism operations in times of need.
ARMED FORCES
The Indian Army has a significant role in India's fight against terrorism. It has a permanent position in J&K,which is bearing the burnt of large scale infiltration from Pakistan and the presence of divine elements within the troubled state.
CONCLUSION
At the immediate level,terrorism result in loss of lives and livelihood, and destruction of properties. But overall,terrorism creates a negative environment for the growth of trade and commerce, leading to huge losses,recession and unemployment.India needs a strong political will to fight the courage of terrorism unitedly.
By
Shashank Dubey
Centurion Defence Academy
NDA