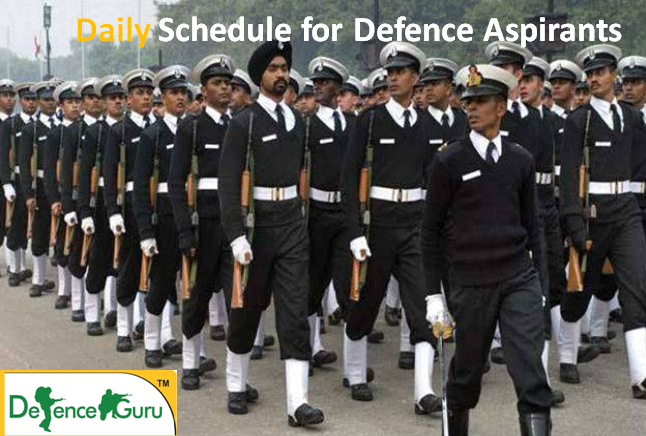 Schedule for Defence Aspirants
Dear Students,
As we know, Time management is life management. There are so many activities that you have to perform and each of them has a due importance in your career development. Making a schedule is easier but the more important part is how you follow it. It needs determination to do the work as per schedule. Although a schedule can't guarantee you for success in exams but somehow it gives you an inner strength that you have done your level best. The self-satisfaction leads you to self-confidence. If a candidate has a level of satisfaction, that whatever he is supposed to do, has done it well, he proceeds with energy for further things to upgrade. On the other hand, when a candidate who is preparing for competitive exams of defense career like NDA, CDS, AFCAT, AIRFORCE, if he or she is not satisfied with his/her own efforts, that candidate gets the lack of confidence.
You might have observed that if you sit silently and recall your efforts being made from your side for the career in defence, you come to know various activities that you had planned to execute but still they are pending. Sometimes, you find that you are doing well in studies, but lacking in physical exercise, group discussion, and other extracurricular activities. To be a successful officer requires you to be good not only at academic but also in presence of mind, common sense, having good IQ (Intelligence Quotient), physical fitness, mentally alert and many more skills.
To be good at all needs your proper planning and scope to give time to each activity in the required proportion. None of the activities should be increased or decreased much as we know that excess of anything is bad. Well I have thought of a common candidate who is preparing for defense career and I have pointed out some important factors to involve in your schedule. Each one of us has the same hours of time i.e. 24 hours but it depends on us how we utilize them for our need. At first, I am going to highlight the important factors to be involved in your schedule then accordingly one can set the activities as per the available time in the schedule.
Academics

Extracurricular Activities

Referral for current updates and reading skills

Social adaptability and having Excellent communication skills

Physical Fitness

Peaceful sleep and agile mind

Meditation to keep faith in self and God

Balanced diet (Including breakfast, lunch and dinner)

Introspection and self-assessment.

Keep paces with ongoing competition.
Since planning a schedule depends on an individual. A common schedule may not work for all. So it is my recommendation to plan it as per your convenience. It is often seen that many students study late night and sleep in morning hours. This makes them away from a planned routine and the planned schedule can't be followed in such cases. Studying early morning is far better than studying late night. So one should make schedule in natural way. Keeping an aspirant's prospective, I have designed the following schedule.
| | |
| --- | --- |
| Time | Action |
| 4:00 AM | Get up |
| 4:00 to 4:15 AM | Get Fresh |
| 4:15 to 5:30 AM | Morning walk and physical exercise |
| 5:30 to 5:45 AM | Bath |
| 5:45 to 6:00 AM | Pray to God |
| 6:00 to 6:30 AM | Meditation and Yoga |
| 6:30 to 6:45 AM | Breakfast |
| 6:45 to 7:00 AM | Newspaper Reading |
| 7:00 to 9:00 AM | Study |
| 9:00 to 9:15 AM | Tea Break |
| 9:15 to 12:15 PM | Study |
| 12:15 to 1:00 PM | Entertainment (Watch TV) |
| 1:00 PM to 2:00 PM | Power Nap |
| 2:00 PM to 5:00 PM | Study |
| 5:00 PM to 6:00 PM | Evening Walk (House Hold Mkt.) |
| 6:00 PM to 9:00 PM | Study |
| 9:00 PM to 9:30 PM | Entertainment (Watch News Channel) |
| 9:30 PM to 10:00 PM | Dinner |
| 10:00 PM to 10:15 PM | Net Surfing, Social Networking |
| 10:15 PM | Sleep to have proper freshness. |
Hope you will follow the above mentioned schedule. A defence aspirant should make his schedule following the above mentioned schedule. Here the overall objective has been to maintain a natural schedule. Going against nature is harmful for us. I shall be very happy to hear your opinions on the same.
By
Aditya Dubey
Communication Skills and PD Trainer
Centurion Defence Academy