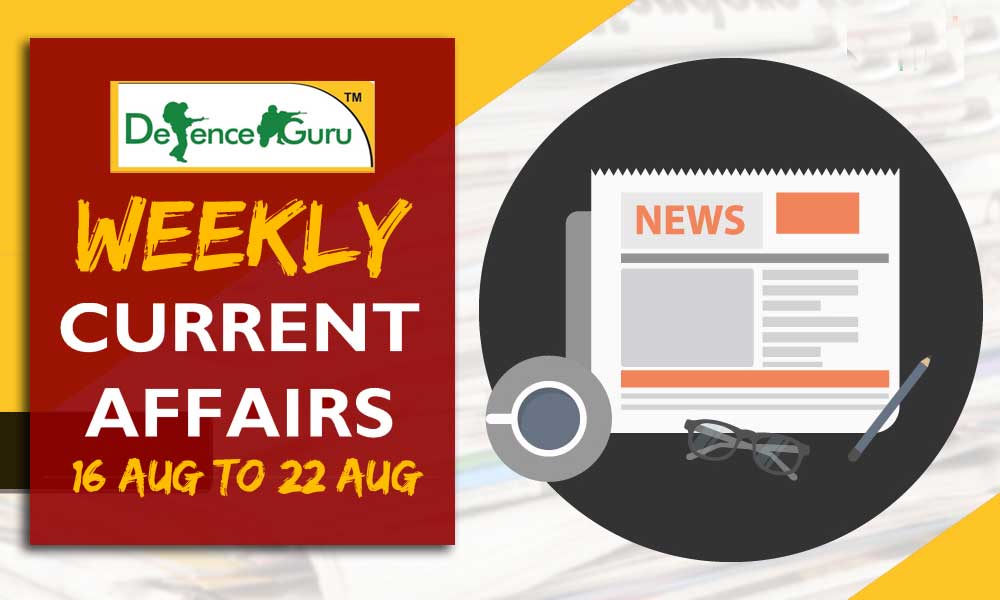 Weekly Current Affairs August 2018 - 3rd Week
Dear Student, Here Defence Guru given the list of Important Weekly Current Affairs 3rd Week of August 2018. Candidates those who are preparing for NDA, CDS, SSB and other competitive exams can make use of it.
Weekly Current Affairs August 2018 - 16 Aug to 22 Aug
 
1. Ramesh Powar Appointed Head Coach Of Indian Women's Team
Former India off-spinner Ramesh Powar was officially appointed head coach of the India women's team, until ICC World Twenty20.
The 40-year-old Powar was initially appointed interim coach last month.
Powar carries the experience of figuring in 2 Tests and 31 One-Day Internationals (ODIs) for India.
2. Ashish Kumar Bhutani appointed CEO of PM crop insurance scheme
 
Senior bureaucrat Ashish Kumar Bhutani has been appointed Chief Executive Officer (CEO) of Pradhan Mantri Fasal Bima Yojana (PMFBY).
Bhutani, a 1992 batch IAS officer of Assam-Meghalaya cadre, has been appointed to the post till May 9, 2020.
Launched in 2016, the PMFBY is in line with one nation – one scheme theme.
3. D Bala Venkatesh Varma appointed Ambassador to Russia
Senior diplomat D Bala Venkatesh Varma was appointed as India's next ambassador to Russia.
Varma, a 1988 batch Indian Foreign Service officer, is currently serving as Indian envoy in Spain.
He will succeed Pankaj Saran who has been appointed deputy National Security Advisor.
4. Imran Khan to take oath as Pakistan's 22nd PM
Cricketer-turned-politician Imran Khan will today take oath as the 22nd prime minister of Pakistan.The oath-taking ceremony will begin at around 9.15 am (local time).
Khan won a simple majority in Pakistan's National Assembly with 176 votes, beating his rival Shahbaz Sharif who got 96 votes.
A member of the National Assembly needs 172 votes to become prime minister-elect.
5. Mario Abdo Benitez sworn in as the 50th President of Paraguay
Mario Abdo Benitez took office as Paraguay's 50th president, four months after playing down close family ties with the South American country's late dictator to win a tight election race.
The 46-year-old conservative took the oath of office at a ceremony in the capital Asuncion, attended by hundreds of dignitaries including seven heads of state.
6. Keita re-elected Mali president
Malian President Ibrahim Boubacar Keita has been re-elected for a five-year term after winning election.
The elections have been closely watched abroad, as Mali is a linchpin state in the jihadist insurgency raging in the Sahel.
Keita picked up 67.17% of the vote against 32.83% for former finance minister Soumaila Cisse.
7. Chairmen of Canara Bank, Bank of India get extension
The government has extended the terms of office of non-executive chairmen of 2 public sector banks – Canara Bank and Bank of India.
Accordingly, T.N. Manoharan will continue to be non-executive chairman of Canara Bank for a period of 2 years and G. Padmanabhan will continue at Bank of India for a similar period.
8. Seven states get new governors, Malik replaces Vohra in J&K
President Ram Nath Kovind has appointed seven new governors, the most significant of which was the appointment of Bihar's governor Satya Pal Malik as the new governor of Jammu and Kashmir.
The appointment is crucial for the state as it is under President's rule.
The other appointments include:
Lalji Tandon: Bihar
Satyadev Narayan Arya: Haryana
Baby Rani Maurya: Uttarakhand.
Ganga Prasad: Sikkim
Tathagata Roy: Meghalaya
Kaptan Singh Solanki: Tripura.
9. 2018 Albany Medical Center Prize awarded to James Allison, Carl June and Steven Rosenberg
Three scientists whose work in the fledgling field of immunotherapy has revolutionized cancer treatment are the recipients of this year's Albany Medical Center Prize in Medicine and Biomedical Research.
The 2018 awardees hail from around the nation: James P. Allison, of the University of Texas MD Anderson Cancer Center in Houston; Carl June, of the University at Pennsylvania's Perelman School of Medicine in Philadelphia; and Steven A. Rosenberg, of the National Institutes of Health's National Cancer Institute in Maryland.
The $500,000 award has been given annually since 2001 to those who have altered the course of medical research, and is one of the largest prizes in medicine and science in the U.S. It was founded by the late philanthropist Morris "Marty" Silverman.
10. Delhi government official wins WHO award on tobacco control initiative
An official of the Delhi government's health department has been awarded the prestigious WHO World No Tobacco Day 2018 Award for his extraordinary contribution towards tobacco control.
Additional Director of Health, SK Arora was presented the award by Henk Bekedam, WHO India Country Head at a gathering on August 16.
According to Global Adult Tobacco Survey-2 (GATS 2, 2016-17), the prevalence of tobacco use has reduced by 27 per cent in Delhi as compared to 17 per cent for the rest of India on an average.
11. General Suhag awarded US 'Legion of Merit'
The United States government has awarded the Legion of Merit (Degree of Commander) to General Dalbir Singh Suhag (Retired), of the Indian Army, for exceptionally meritorious service as chief of the Army staff, Indian Army.
The award was presented to General Suhag on August 17, 2018, at Pentagon, Washington DC.
The Legion of Merit to General Dalbir Singh was announced by the US Government in March 2016.
12. Former India Test captain Ajit Wadekar passes away
Former India Test captain Ajit Wadekar, who led the country to its first win in England in 1971, passed away at 77 after a prolonged illness.
Wadekar made his debut in 1966 against the West Indies and went on to represent India in 37 Tests and two one-day internationals.
He was one of the few cricketers to represent the country as a Test player, captain, coach and also went on to become the chairman of selectors.
Wadekar was honoured with the Padma Shri in 1972.
13. Asian Games gold medallist Hakam Singh passes away
Asian Games gold medallist athlete Hakam Singh passed away at a private hospital in Sangrur, Punjab. He was 64.
Singh won gold in 20 km race walk event during the 1978 Asiad at Bangkok.
The Dhyan Chand awardee had also served as Havaldar in the 6 Sikh regiment.
14. Former PM Atal Bihari Vajpayee passes away at 93
A man of masses, veteran leader and Former Prime Minister Bharat Ratna Atal Bihari Vajpayee passed away in New Delhi. The 93-year-old veteran leader breathed his last at 5.05 PM at AIIMS where he was admitted for treatment.
Atal Bihari Vajpayee's legacy as Prime Minister is a rich one that will be remembered and cherished even a decades later. It included the Pokhran-2 nuclear tests, astute and forward-looking economic policies, massive infrastructure projects like the development of national highways are some of them.
He became the prime minister for the first time in 1996.
He took over as the Prime Minister of India for the second time in March 1998 but lost a trust vote in October 1999.
Under his leadership, the BJP-led NDA won the elections in 1999 and he was sworn in as the prime minister for the third term.
15. Aretha Franklin, 'Queen of Soul', dies aged 76
Aretha Franklin, the "queen of soul" known for hits like Respect and Think, has died in Detroit at the age of 76.
Franklin won 18 Grammys, and had 17 Top Ten US chart hits over a music career spanning seven decades.
16. Former UN chief Kofi Annan passes away at 80
Former United Nations chief and Nobel Peace Prize laureate General Kofi Annan passed away at the age of 80, following a short illness.
Annan, a Ghanaian national, died in hospital in Bern, Switzerland.
Annan was the first black African to assume the office of world's top diplomat, serving two terms as secretary-general from January 1, 1997 to December 31, 2006.
He later also served as the UN special envoy for conflict-ridden Syria.
In 2001, Annan and the UN were jointly awarded the Nobel Peace Prize.
17. Former MP Chennupati Vidya dies of heart attack
Former member of Lok Sabha, Chennupati Vidya died of heart attack due to age-related ailments.
Vidya (84) was elected to the Parliament as a Congress candidate from Vijayawada constituency in 1980 and in 1989.
18. Senior Congress leader Gurudas Kamat dies at 63
Gurudas Kamat, former Union minister and senior Congress leader, passed away after suffering a cardiac arrest. He was 63.
He served in the UPA 2 government as MoS Ministry of Home Affairs and MoS Ministry of Communications and Information Technology.
19. Shane Warne to come out with autobiography in October
Spin legend Shane Warne will talk about his extraordinary cricketing career and his life off the pitch besides unveiling several unknown facts in his autobiography which will be published this October.
Warne's memoir "No Spin" will have a global release on October 4.
"No Spin" is the true story behind the headlines, in Warne's own voice, and challenges some of the enduring myths and untruths that surround him.
20. VVS Laxman pens autobiography
Veteran cricketer VVS Laxman, known for the suppleness of his wrists, will now write his tell-all book, which will hit the stands on November 20.
Westland Publications announced the release of the former Indian cricketer's autobiography titled, "281 and Beyond".
The title has been borrowed from Laxman's fabulous series-turning innings of 281 against Australia at the Eden Gardens in 2001.
 
 
21. Nihal Sarin becomes India's 53rd Grandmaster
Nihal Sarin became India's 53rd Grandmaster after attaining his third and final GM-norm in the Abu Dhabi Masters.
Having already reached the stipulated rating of 2500, Sarin has now met the requirements to be a Grandmaster.
22. Pakistan Cricketer Nasir Jamshed Banned For 10 Years For Spot-Fixing
The Pakistan Cricket Board (PCB) has handed a 10-year ban to Nasir Jamshed on 17 August.
The ban was imposed by the board's Anti-Corruption Tribunal for his involvement in the spot-fixing row during the Pakistan Super League (PSL) 2016-17 season.
The ban means Jamshed will be out from any form of cricket during the aforementioned period.
Jamshed was banned for the second time in the last two years.
23. 2018 Asian Games to be inaugurated on 18 August
The 2018 Asian Games, officially known as the 18th Asian Games and also known as Jakarta Palembang 2018, is a pan-Asian multi-sport event scheduled to be held from 18 August to 2 September 2018 in the Indonesian cities of Jakarta and Palembang.
For the first time, the Asian Games are being co-hosted in two cities; the Indonesian capital of Jakarta and Palembang, the capital of the South Sumatra province.
Also for the first time, eSports and canoe polo will be contested as demonstration sports.
Motto of the games is "Energy of Asia".
There will be 465 events in 40 sports.
24. Asian Games 2018: Wrestler Bajrang Punia Wins Gold
Bajrang Punia opened India's gold medal account at the 2018 Asian Games, bringing smiles and relief to the Indian camp which was jolted by the early exit of star wrestler Sushil Kumar.
An in-form Bajrang won his maiden Asian Games gold in the 65kg category.
In the final, he was tested by Japan's Takatani Daichi but Bajrang held his nerves to prevail 11-8 in an exciting battle.
25. India Win SAFF Under-15 Women's Football Championship
The Indian women's team were crowned champions of the SAFF U-15 Championship after defeating defending champions Bangladesh by a solitary goal.
Sunita Munda's strike in the 67th minute made all the difference between the two teams.
The final was played at the Changlimithang Stadium in Thimphu, Bhutan.
26. Novak Djokovic wins Cincinnati Masters with over Roger Federer
Former world number one Novak Djokovic became the first player to win all nine Masters 1,000 tournaments with victory over Roger Federer in Cincinnati.
The 31-year-old Serb, a five-time runner-up at the event, beat seven-time champion Federer 6-4 6-4.
Wimbledon champion Djokovic had lost the Cincinnati final to the Swiss on three previous occasions.
27. Asian Games 2018: Vinesh Phogat Wins Gold
Vinesh Phogat won the gold medal and the country's fifth medal at the ongoing 2018 Asian Games.
Vinesh Phogat beat Japan's Yuki Irie in Women's Freestyle 50 kg gold medal match.
She is also the first female gold medal winner of India at the Asiad.
28. Saurabh Chaudhary becomes India's youngest Asian Games gold medallist
Saurabh Chaudhary, all of 16, became the youngest Indian shooter to win an Asian Games gold medal as he trumped a field comprising multiple world and Olympic champions in the 10m air pistol finals.
Chaudhary aggregated 240.7 to finish at the top and become the fifth Indian shooter to win an Asian Games gold.
The seasoned Sanjeev Rajput then won the silver in the 50m rifle 3 positions.
29. PV Sindhu 7th highest paid female athlete in the world: Forbes
PV Sindhu broke into the top 10 paid female athletes list in the world, according to an annual list published by Forbes.
Sindhu, at 7th, is the only Indian female athlete in the top 10 list, that is predominantly dominant by tennis players.
The list is headed by Serena Williams for the third consecutive year.
 
30. 24th World Congress of Philosophy held in Beijing, China
The World Congress of Philosophy is organized every five years by the International Federation of Philosophical Societies (FISP) in collaboration with one of its member societies.
The XXIV World Congress will be held in Beijing, China, from August 13 to August 20, 2018, under the auspices of the Chinese Organizing Committee.
The complementary aims of the 2018 Congress include an emphasis on exploring dimensions of the human and inquiring into the challenges facing humanity:
Its theme is "Learning To Be Human"
31. World Photography Day: 19 August
World Photography Day is observed worldwide on 19th of August every year with a lot of zeal and enthusiasm.
The day is not only celebrated by the staunch followers of photography, but all the people across the globe irrespective of their professions and interests.
32. 11th World Hindi Conference begins in Mauritius
The 11th World Hindi Conference, an event aimed at expanding the reach of the Hindi language at a global level, begins in Mauritius.
Mauritius Prime Minister Praveen Kumar Jagannath inaugurated the conference in Port Louis.
External Affairs Minister Sushma Swaraj and other ministers are also in Port Louis to attend the event.
This year the theme of the conference is "Hindi World and Indian Culture".
33. Tower in Mauritius to be named after late PM Vajpayee
During the World Hindi Conference being held in Mauritius, the Mauritian PM Pravind Jugnauth announced that the cyber tower which Atal Ji had contributed to set up in Mauritius will henceforth be named as Atal Bihari Vajpayee tower.
A tribute was also paid to the late PM in the presence of External Affairs Minister Sushma Swaraj at the conference.
Around 68 per cent of Mauritius's population of nearly 1.3 million is of Indian descent.
34. Conclusion: Exercise Pitch Black 2018
Ex Pitch Black a biennial multi-national large force employment warfare exercise was hosted by Royal Australian Air Force (RAAF) from 24 Jul 18 to 18 Aug 18 in Darwin, Australia.
Indian Air Force had earlier participated in the exercise as observers and this was for the first time that IAF participated with air assets in the Exercise Pitch Black (PB-18).
With participation of 16 nations and more than 140 aircraft, the current edition was the largest Pitch Black ever conducted by Australia.
35. Sushma Swaraj inaugurates Panini Language lab in Mauritius
External Affairs Minister (EAM) Sushma Swaraj inaugurated 'Panini Language Laboratory' at Mahatma Gandhi Institute (MGI) in Mauritius.
The lab, gifted by the Indian government, will help MGI in teaching Indian languages in Mauritius.
Education Minister of Mauritius Leela Devi Dookun and other dignitaries were also present on the occasion.
36. First-ever IAF-RMAF joint air exercise begins in Malaysia
The first-ever joint air exercise involving the Indian Air Force and the the Royal Malaysian Air Force commenced at Subang Air Base in Malaysia.
India has been eyeing a foothold at the strategically important Subang Air Base.
The exercise seeks to deepen defence and military ties between the two countries.
37. Kempegowda International Airport is world's second fastest growing airport
 
The Kempegowda International Airport (KIA), Bengaluru has been ranked as the second fastest growing among top 20 major airports in the world during the first half of 2018.
The airport recorded 1,58,50,352 passenger transit from the month of January to June this year.
It is next to Tokyo's Haneda Airport which is the world's fastest growing airport.
38. First genetic bank for rare species inaugurated in Hyderabad
 
National Wildlife Genetic Resource Bank (NWGRB) was inaugurated at Centre for Cellular and Molecular Biology's (CCMB) Laboratory of Conservation of Endangered Species (LaCONES) facility in Hyderabad, Telangana.
The genetic bank will cryopreserve living cell lines, gametes and embryos of endangered wild animal species in India.
39. CJI launches mobile apps for e-filing of cases
Chief Justice of India Dipak Misra inaugurated three apps along with Union Law and Justice Minister Ravi Shankar Prasad and Justices Madan B. Lokur and A.M. Khanwilkar
Chief Justice Misra said the services provided by the apps include e-filing along with user manual, e-payment options, National Service and Tracking of Electronic Processes (NTSEP).
40. FSSAI launches RUCO initiative to collect, convert used cooking oil into biofuel
The Food Safety and Standards Authority of India (FSSAI) on Friday launched RUCO (Repurpose Used Cooking Oil), an initiative that will enable collection and conversion of used cooking oil to bio-diesel.
FSSAI may also look at introducing regulations to ensure that companies that use large quantities of cooking oil hand it over to registered collecting agencies to convert it into biofuel.
Under this initiative, 64 companies at 101 locations have been identified to enable collection of used cooking oil.
CEO OF FSSAI : Pawan Agarwal
41. Scarlett Johansson is the highest paid actress with USD 40.5 million: Forbes
Hollywood star Scarlett Johansson has become the best-paid actress in the world, according to Forbes magazine.
42. BSNL launches VOIP based phone service – WINGS
Bharat Sanchar Nigam Ltd (BSNL) has launched BSNL WINGS a VOIP based service.
In WINGS, there is no SIM or cable wiring as is a VOIP service through an app.
The WINGS service offers unlimited free audio/video calling for one year. Calls can be made using any data connection such as wired broadband, Wi-Fi, 3G or 4G network of any operator.
WINGS can also be used over Internet Leased Lines. WINGS also supports video calls, but is restricted between WINGS.
43. Rajasthan to observe September as 'month of nutrition'
Rajasthan will observe September as the "month of nutrition" to create awareness among people living in the state, Chief Minister Vasundhara Raje said.
The government had introduced a scheme to provide milk to students in government schools thrice a week last month.
From September, the students will get milk on a daily basis for which additional funds of Rs 203 crore will be allocated, she said.
44. International Conference on Recent Advances in Food Processing Technology
International Conference on Recent Advances in Food Processing Technology (iCRAFPT) got underway at Indian Institute of Food Processing Technology, Thanjavur in Tamilnadu.
The conference was inaugurated by Sh. Jagadish Prasad Meena, Secretary, MoFPI, Sh. Bijaya Kumar Behera, Economic Advisor, MoFPI and was later joined by the Guest of Honour Sh. K. Parasuraman, Member of Parliament, from Thanjavur Constituency. Dr. C. Anandharamakrishnan, Director IIFPT also presided over the inaugural session.
The Secretary, MoFPI in his inaugural address highlighted that the bumper production and diversification of agriculture has brought in new challenges for everybody in view of the large scale food wastage on one hand and seasonal & regional demand & there supply issues of many commodities.
45. Agriculture minister proposes UNFAO to declare an upcoming year as "International Year of Millets"
The Union Minister of Agriculture and Farmers' Welfare, Shri Radha Mohan Singh has written to Mr. Jose Graziano da Silva, Director General, United Nations Food & Agriculture Organization (FAO) and proposed the declaration of an upcoming year as "International Year of Millets".
The Union Agriculture Minister stated that India is celebrating 2018 as the National Year of Millets and is promoting cultivation by amending cropping pattern of areas which are especially susceptible to climate change.
46. Ministry of Railways launches "Digital Screens"
In the wake of Hon'ble Prime Minister's vision for creating digital museums at stations using QR code,Ministry of Railway has made "digital screens" operational at 22 stations on this Independence Day as an innovative low cost solution to spread awareness among public about the opulent heritage of Indian Railways.
Being initiated on a pilot basis, the project aims at showcasing the legacy of Indian Railways through one to two minute-long movie clips.
The short films will showcase heritage buildings, locomotives and much more to make people aware of the rich heritage of Indian Railways.
47. SSAI sets up panel to review red-labelling draft
Bill for red-labelling of packaged products containing fat, sugar and salt has been halted by the government as per FSSAI's report.
Additionally, a group of experts from health and nutrition background has been set up to look into the issue of labeling.
The group is headed by B Sesikeran, former director of National Institute of Nutrition (NIN).
48. Successful Flight Tests of Smart Anti Airfield Weapon
Indigenously designed and developed guided bombs Smart Anti Airfield Weapon (SAAW) were successfully flight tested from IAF aircraft at Chandan range.
The weapon system was integrated with live warhead and has destroyed the targets with high precision.
The telemetry and tracking systems captured all the mission events.
This weapon is capable of destroying variety of ground targets using precision navigation.
A total of three tests with different release conditions were conducted during 16 to 18 August 2018 and all the mission objectives have been achieved.
49. Successful Flight Test of ATGM 'HELINA'
Indigenously developed Helicopter launched Anti-Tank Guided Missile 'HELINA' has been successfully flight tested from Army Helicopter in the ranges of Pokhran.
The weapon system has been tested for its full range.
The 'HELINA' weapon system released smoothly from the launch platform has tracked the target all through its course and hit the target with high precision.
All the parameters have been monitored by the telemetry stations, tracking systems and the Helicopters.
50. Closing Ceremony: Indo – Thailand Joint Exercise Maitree 2018
Exercise Maitree 2018, a two week long platoon level joint military exercise between Indian Army and Royal Thai Army culminated on 19 August 2018.
The Exercise Maitree is an annual event designed to strengthen the partnership between Royal Thai Army and Indian Army and the exercise commenced on 06 August 2018 in Thailand.
The exercise began with a cross training period involving familiarization training between two armies to evolve drills and procedures involved in counter insurgency & counter terrorist operations in urban, rural and jungle terrain under UN mandate.
51. MP Government to name three awards after late former PM Vajpayee
Madhya Pradesh Government will name three awards after the late former Prime Minister Atal Bihari Vajpayee as a tribute.
"One will be for poets, second will be for outstanding contribution in the field of journalism, and third for good work in administration", said Madhya Pradesh Chief Minister Shivraj Singh Chouhan.
52. INS Khanjar visits Yangon, Myanmar
INS Khanjar a Missile Corvette of Indian Navy was on a three-day visit to Yangon, Myanmar to undertake operational turn around (OTR) and as part of goodwill visit from 18 to 20 Aug 18.
On arrival at Yangon, the Commanding Officer called-on Captain Tet Lwin Run, Fleet Commander 1stFleet and the Indian Ambassador to Myanmar Shri Vikram Misri.
A joint Yoga Session for IN and Myanmar Naval personnel was also organised in addition to the cross visits between Indian Navy and Myanmar Naval personnel.
53. India-Japan Annual Defence Ministerial Dialogue
The Defence Minister of Japan Mr. Itsunori Onodera is on a bilateral visit to India at the invitation of the Defence Minister of India Smt Nirmala Sitharaman from 19 to 20 August 2018.
The two Ministers held the annual Defence Ministerial Meeting on 20 August 2018 in Delhi. Minister Onodera also called on Prime Minister of India the same day.
54. President to inaugurate "International Buddhist Conclave 2018"
The President of India Shri Ram Nath Kovind will inaugurate the "International Buddhist Conclave (IBC), 2018" in Vigyan Bhawan, New Delhi on 23rd August, 2018.
The Minister of State (Independent charge), Shri K.J. Alphons will preside over the inaugural function.
The Conclave is being organized by the Ministry of Tourism in collaboration with the State Governments of Maharashtra, Bihar and Uttar Pradesh from 23rd – 26th August, 2018 at New Delhi and Ajanta (Maharashtra), followed by site visits to Rajgir, Nalanda and Bodhgaya (Bihar) and Sarnath (Uttar Pradesh).
55. Centre releases Rs.600 crore assistance to flood-affected Kerala
Central assistance of Rs.500 crore, as announced by the Prime Minister Shri Narendra Modi, and Rs.100 crore, announced by the Union Home Minister Shri Rajnath Singh, for flood affected Kerala has been released to the Government of Kerala.
The National Crisis Management Committee (NCMC) met for the sixth time in a row to review the rescue & relief operations in the state.
Cabinet Secretary Shri PK Sinha, chaired the meeting. The Chief Secretary of Kerala participated in the meeting via video conference and informed that the situation is now improving by and large though there are some isolated pockets still with water. Water levels are receding fast.
56. Cyclone Warning Centre to be set up in Thiruvananthapuram
With several incidents of tropical cyclones and severe weather events striking over Kerala and Karnataka coasts in the recent times, the Union Ministry of Earth Sciences is proposing to set up a Cyclone Warning Centre in Thiruvananthapuram.
The Ministry is planning to set up the Centre in another one month.
At present, IMD has cyclone warning centres only at Chennai, Vishakhapatnam, Bhubaneswar, Kolkata, Ahmedabad and Mumbai.
57. UAE offers Rs 700 crore to aid relief efforts in Kerala
Kerala Chief Minister Pinarayi Vijayan announced that the UAE has offered assistance of Rs 700 crore ($100 million) to aid relief efforts in the state ravaged worst monsoon in close to a century.
Vijayan informed the media about the UAE's overture and thanked them for their "timely" help.
Last week, Sheikh Mohammed bin Rashid Al Maktoum, the ruler of Dubai and the vice president of the UAE, took to Twitter to announce the formation of a committee to extend emergency help to the state.
58. Chhattisgarh to rename its new capital Atal Nagar
Chhattisgarh's new capital, Naya Raipur, will be renamed "Atal Nagar" after late former Prime Minister Atal Behari Vajapyee.
The decision was taken at a meeting of Chhattisgarh Cabinet chaired by chief minister Raman Singh in Raipur.
Naya Raipur is India's sixth planned city after Jamshedpur (Jharkhand), Bhubaneswar (Odisha), Gandhi Nagar (Gujarat), Chandigarh (Punjab and Haryana), and Navi Mumbai (Maharashtra).
59. Atal Bihari Vajpayee memorial to be built in Mumbai
The Maharashtra government would build a memorial for former prime minister Atal Bihari Vajpayee in Mumbai, Chief Minister Devendra Fadnavis said.
Fadnavis also distributed urns containing ashes of the former prime minister to BJP leaders for immersion in 14 rivers in the state.
Vajpayee, 93, passed away in Delhi on August 16.
60. REC inks pact with German bank for 200 mn euro loan
State run Rural Electrification Corporation said it has inked a loan agreement with German bank KfW for EUR 200 million facility that would be used to finance clean energy projects in India.
This is REC's fourth line of credit under Indo-German development cooperation which REC will utilise to finance renewable energy projects in India.
61. TCS overtakes RIL to become most valued Indian company
Tata Consultancy Services has pipped Reliance Industries Limited (RIL) to regain the crown of India's most valued company in terms of market capitalisation.
Over the past few days, TCS and RIL have been locked in a tussle to grab the top spot in market rankings.
The m-cap figure of companies changes daily with stock price movement.
62. Infosys CFO Ranganath resigns
Infosys Chief Financial Officer MD Ranganath, a veteran of nearly two decades at India's second-largest software services company, has abruptly stepped down from his position.
Jayesh Sanghrajka, deputy CFO at Infosys, is likely to replace Ranganath as the company's next finance chief.
63. NPCI launches UPI 2.0 with overdraft facility
The National Payments Corporation of India (NPCI) has launched Unified Payments Interface (UPI) 2.0, which among others allows customers to link their overdraft account to UPI.
UPI is a system that powers multiple bank accounts into a single mobile application.
NPCI is an umbrella organization for all retail payments in India. UPI version 1 was launched in April 2016.
64. HAL becomes first PSU to transact on TReDS
The Receivables Exchange of India (RXIL) said Hindustan Aeronautics (HAL) has become the first public sector enterprise to make a transaction on the "TReDS platform".
TReDS is an online electronic institutional mechanism for facilitating the financing of trade receivables of micro, small and medium enterprises (MSME) through multiple financiers.
65. Finance Commission of India holds second consultation with economists
Finance Commission held its second consultation with the leading economists at YASHDA, Pune on 21stAugust 2018.
16 eminent economists and domain experts including Dr. Vijay Kelkar attended the meet and enlightened the Commission with their views.
Chairman Sh. N.K.Singh highlighted the changed economic scenario post abolition of Planning Commission which has altered the traditional system of resource allocation and consequently abolition of distinction between Plan and Non-Plan funds.
66. ICICI Bank announces partnership with Manchester United
ICICI Bank, India's private sector bank, has agreed to a multi-year partnership with Manchester United, bringing a range of competitive co-branded credit and debit card to the club's 35 million Indian followers.
The Bank will be offering fans of the club two types of credit card – Manchester United Platinum Credit Card and Signature Credit Card.