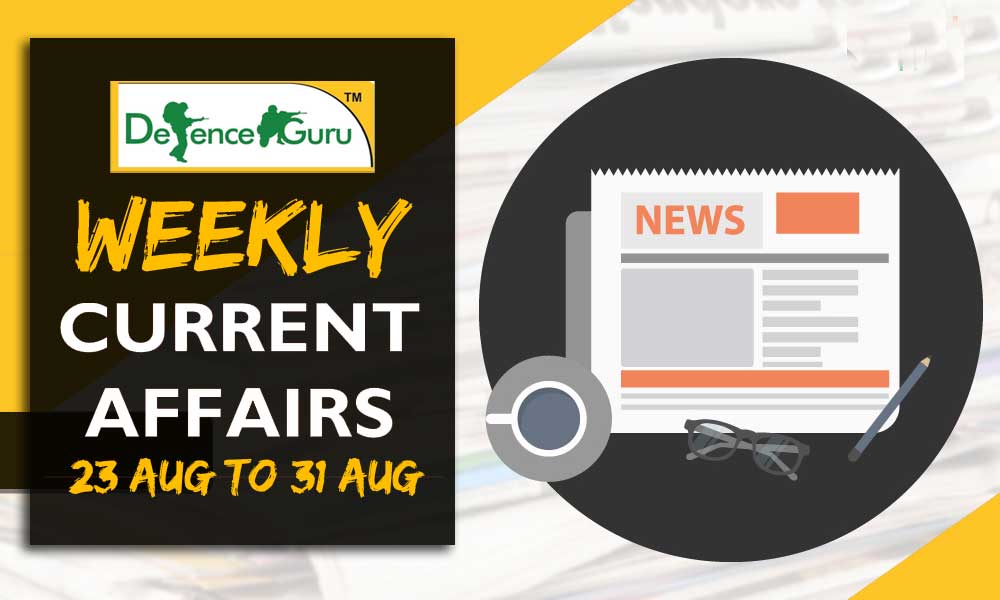 Weekly Current Affairs August 2018 - 4th Week
Dear Student, Here Defence Guru given the list of Important Weekly Current Affairs 4th Week of August 2018. Candidates those who are preparing for NDA, CDS, SSB and other competitive exams can make use of it.
 
Weekly Current Affairs August 2018 - 23 Aug to 31 Aug
1. Dr. G. Satheesh Reddy appointed DRDO Chief
The Government has appointed eminent scientist Dr. G. Satheesh Reddy as the Chairman of the Defence Research and Development Organisation (DRDO).
The top post of the DRDO had been vacant since May after the then Chief Dr. S. Christopher stepped down.
A missile scientist, Dr. Reddy was holding charge as the Scientific Advisor to the Defence Minister and also as Director General of the strategic missiles division.
2. Scott Morrison is new Australian PM
Scott Morrison has become Australia's new prime minister after Malcolm Turnbull was forced out by party rivals in a bruising leadership contest.
Mr Morrison, the treasurer, won an internal ballot 45-40 over former Home Affairs Minister Peter Dutton - who had been Mr Turnbull's most vocal threat.
Mr Turnbull is the fourth Australian PM in a decade to be ousted by colleagues.
3. U K Varma appointed Assocham Secretary General
Industry chamber Assocham has appointed former bureaucrat Uday Kumar Varma as its new Secretary General.
He succeeds DS Rawat who held the position for nearly 14 years, Assocham said in a statement.
Varma was retired from the position of Secretary, Ministry of Information and Broadcasting, Government of India on June 30, 2013.
4. Ganga Prasad sworn in as Sikkim Governor
Ganga Prasad has sworn in as the 16th Governor of Sikkim at a function held at Raj Bhawan.
Justice Meenakshi M Rai, Acting Chief Justice of High Court of Sikkim, administered the oath of office to Prasad.
Ganga Prasad has served as a Member of Legislative Council of Bihar for 18 years.
Ganga Prasad succeeds Shriniwas Patil as the 16th Governor of Sikkim.
5. Maurya sworn in as new U'khand governor
Baby Rani Maurya was sworn in as the new governor of Uttarakhand.
The oath of office and secrecy was administered to Maurya by the acting Chief Justice of the Uttarakhand High Court Rajiv Sharma.
Maurya, a former mayor of Agra, was nominated as governor of Uttarakhand on August 21.
She replaces Krishna Kant Paul whose five-year tenure ended recently.
6. Satya Tripathi appointed Assistant Secretary-General & Head of New York Office of UNEP
UN Secretary General António Guterres has appointed veteran Indian development economist Satya S Tripathi as Assistant Secretary-General and Head of the New York Office of the United Nations Environment Programme (UNEP).
Tripathi, who will succeed Elliott Harris of Trinidad and Tobago, has since 2017 served as Senior Adviser on the 2030 Agenda for Sustainable Development at UNEP.
Tripathi has worked for the United Nations since 1998 in Europe, Asia and Africa on strategic assignments.
7. Emmerson Mnangagwa sworn in as new Zimbabwe President
Emmerson Mnangagwa has taken the oath as Zimbabwe's president, after winning last month's bitterly contested election that marked the country's first vote since Robert Mugabe was removed from power.
Mnangagwa pledged to "protect and promote the rights of Zimbabweans" in his oath.
He took the oath before Chief Justice Luke Malaba.
8. Indra Nooyi to be honored with Asia Society's Game Changer of the Year 2018 award
 
PepsiCo's India-born CEO Indra Nooyi will be honoured with the Game Changer of the Year award by a global cultural organisation in recognition of her business achievements, humanitarian record and advocacy for women and girls around the world.
The 2018 Asia Game Changer Awards will be given in October to individuals and institutions who have broken barriers and in inspired their fellow citizens of the world.
Nooyi has this month announced she would be stepping down as CEO of PepsiCo after 12 years at the helm.
9. Veteran journalist Kuldip Nayar passes away
Veteran journalist and former Rajya Sabha member Kuldip Nayar passed away after a brief illness. He was 95.
Mr. Nayar was known for his stand against the Indira Gandhi government during the Emergency as the Editor of The Statesman.
He was arrested for his vocal protest during the time.
10. Noted Malayalam film director Haridas passes away
Noted Malayalam film director K K Haridas passed away following some heart related ailments. He was 55.
Haridas, born in Mailapra in Pathanamthitta district, had directed about 20 movies,giving more importance to comedy.
11. Former cricketer Gopal Bose passes away
Former Bengal cricketer Gopal Bose who also played a single ODI for India has passed away in London. He was 71.
Gopal Bose, known for his ability to play long innings played 78 first class matches with an average of 30.79.
He also took 72 wickets in first class cricket.
For India, he played a lone ODI against England in Oval where he scored 13 runs.
12. South Indian actor-politician Harikrishna dies in car crash
Actor-politician Nandamuri Harikrishna, son of Telugu cinema giant and thrice chief minister of undivided Andhra Pradesh N T Ramarao, died in a car crash in Telengana's Nalgonda district. He was 62.
He was elected to the Rajya Sabha from undivided Andhra Pradesh in 2008 but resigned in 2013 to protest the state's bifurcation and creation of Telangana.
13. Vice President Releases Book 'Colonial Syndrome: The Videshi Mind Set in Modern India'
The Vice President of India, Shri M. Venkaiah Naidu has said that Share and Care is the core philosophy of our nation.
He was addressing the gathering after releasing the Book 'Colonial Syndrome: The Videshi Mind Set in Modern India', written by Prof. Rama Krishna Rao, in Vishakhapattanam, Andhra Pradesh.
The Vice President said that the book highlights the distinct difference or disconnect between native Indian ethos and present state.
14. Atal Ji Ne Kaha: A book on Vajpayee launched
"Atal Ji Ne Kaha" is the latest of the books on former Prime Minister Atal Bihari Vajpayee launched with a message by Prime Minister Narendra Modi, who says the life of the stalwart from Jana Sangh days to "sanyas" from politics in 2007 is a golden document, dedicated to the nation.
Authored and compiled by Brijendra Rehi, noted Doordarshan producer, senior journalist and then advisor to the former Highways Minister C P Joshi, the 320-page book is a rich repository of the former Prime Minister's select speeches and photographs besides having three interviews by the author.
15. RK Singh releases book on "Weather Information Portal for Indian Power System"
Shri R K Singh, Minister of State (IC) for Power and New & Renewable Energy visited Power System Operation Corporation limited (POSOCO), and released a book on "Weather Information Portal for Indian Power System".
This reference document has been developed by POSOCO in collaboration with IMD to facilitate enhanced utilization of Weather Portal in all spheres of Power Sector.
 
16. Jhulan Goswami announces retirement from T20I
Veteran Indian women's team pacer Jhulan Goswami has announced her retirement from T20 Internationals, effectively ruling her out for the ICC World T20 in West Indies in November.
She played 68 T20 Internationals and took 56 wickets at an economy rate of 5.45.
The 35-year-old will only play ODIs, in which format she is the world's highest wicket-taker with 200 scalps from 169 games.
17. Neeraj Chopra wins India's first javelin gold medal in Asian Games history
Neeraj Chopra continued his impressive run in 2018 as he bagged gold in men's javelin throw at the 2018 Asian Games in Jakarta and Palembang.
Chopra managed a personal best throw of 88.06 to win the top prize in javelin throw.
This was also India's first-ever gold medal in javelin throw at the Asian Games and the first medal in the sport since 1982, where India bagged bronze.
 
18. Opening Ceremony Exercise SCO Peace Mission 2018
Exercise Shanghai Cooperation Organization (SCO) Peace Mission 2018, the latest in 'Peace Mission' series formally started on 24 August 2018 at Chebarkul, Russia.
The opening ceremony was conducted with military contingents of the all eight SCO member nations participating in this exercise. .
The exercise will provide an opportunity to the armed forces of SCO nations to train in counter terrorism operations in urban scenario in a multinational and joint environment.
19. Vietnam to host Indian Ocean conference
The third edition of Indian Ocean Conference is set to begin on August 27 at Hanoi, the capital of Vietnam.
The theme of the two- day conference will focus on 'Building Regional Architectures'.
This year's conference will see 43 countries as participants while 28 ministers and officials are set to address the event.
20. G20 Digital Economy Ministerial Meeting
 
At the G20 Digital Economy Ministerial Meeting in Salta, in the north-west of Argentina, G20 ministers and senior officials issued a declaration that reflects the G20's commitment towards promoting "policies and actions that catalyze digital transformations.
The Digital Economy Ministerial Meeting, held on 23-24 August, was attended by 33 heads of delegation- Ministers, senior officials and representatives from invited countries and international organizations, like EU, UNCTAD, ITU etc.
India was represented by Union Minister for Electronics and IT & Law and Justice,Sh. Ravi Shankar Prasad.
21. India - Kenya Joint Trade Committee meeting held in Nairobi
The 8th meeting of India-Kenya Joint Trade Committee was held in Nairobi, Kenya, from 22nd – 25thAugust, 2018.
The meeting was co-chaired by Union Minister of Commerce & Industry and Civil Aviation, Suresh Prabhuand Mr. Peter Munya, Cabinet Secretary (Minister) for Industry, Trade and Cooperatives, Government of Kenya.
The discussions during the meetings covered India's contribution in implementation of Kenya's Big Four Agenda – food security, affordable housing, universal healthcare and manufacturing.
22. 4th BIMSTEC Summit kicks off in Kathmandu
The 4th Summit of the Bay of Bengal Initiative for Multi-Sectoral Technical and Economic Cooperation (BIMSTEC) kicked off at Kathmandu, Nepal.
The theme of the summit is "Towards Peaceful, Prosperous and Sustainable Bay of Bengal Region".
Current BIMSTEC Chairperson and Nepalese Prime Minister KP Sharma Oli inaugurated the summit in the Nepalese capital.
Points to Remember
This sub-regional organisation came into being on June 6, 1997, through the Bangkok Declaration comprising seven member states.
Five of them -- Bangladesh, Bhutan, India, Nepal and Sri Lanka -- are from South Asia and two -- Myanmar and Thailand -- from Southeast Asia.
23. 6TH RCEP Ministerial Meeting begins in Singapore
Union Minister of Commerce& Industry and Civil Aviation, Suresh Prabhu,is leading the Indian delegation for the 6th RCEP Trade Ministers' Meeting which begins in Singapore.
The Minister will participate in the meeting consisting of 10 ASEAN countries and six ASEAN FTA partners namely, India, China, Japan, Korea, Australia and New Zealand.
The meeting is being held on 30th-31st August 2018.
24. Indian Naval ship Sahyadri reaches Darwin, Australia for exercise KAKADU 2018
After having been deployed to the South China Sea and Pacific Ocean for over four months, which included representing Indian Navy in multinational exercises MALABAR 18 at Guam and RIMPAC 18 at Hawaii, INS Sahyadri entered the Port of Darwin, Australia on 29 Aug 18 to participate in Exercise KAKADU 2018.
Exercise KAKADU, which started in 1993, is the premier multilateral regional maritime engagement exercise hosted by the Royal Australian Navy (RAN) and supported by the Royal Australian Air Force (RAAF).
The exercise is held biennially in Darwin and the Northern Australian Exercise Areas (NAXA).
Exercise KAKADU derives its name from Kakadu National Park, which is a protected area in the northern territory of Australia, 171 km south-east of Darwin.
KAKADU 2018, the 14th edition of the exercise, is scheduled from 29 Aug – 15 Sep 18 and would see participation from 23 warships, one submarine, 45 aircraft, 250 marines and approx 52 foreign staff from over 25 different countries.
25. India Banking Conclave 2018 held in New Delhi
India Banking Conclave (IBC) 2018 was held in New Delhi from August 23-24, 2018.
The conclave is being organised by the Centre for Economic Policy Research (CEPR) and the government Think Tank NITI Aayog.
The programme seen panel discussions on NPAs, development of banks with changing times, privatisation versus merger and the future of banking, among other issues.
26. Pranab Mukherjee launches 'Neta' app
Former President Pranab Mukherjee has launched the National Electoral Transformation or NETA mobile application
It is a platform where voters can review and rate their elected representatives and hold them accountable as well.
This app is the brainchild of 27-year-old entrepreneur Pratham Mittal.
27. Youth parliament organised at Basholi, Kathua
The Union Minister of State for Ministry of Development of North Eastern Region (I/C), MoS PMO, Personnel, Public Grievances & Pensions, Space and Atomic Energy Dr. Jitender singh said that Government is committed to strength the democratic procedures and institutions by ensuring equality of opportunity to all.
He said this at Youth Parliament organised at Jawahar Navodaya Vidyalaya, Basohli in Kathua , J&K. The MLA Bani, Shri Jewan Lal Lalhal was also present on the occasion.
28. DAC Approves Procurement for Services amounting to Nearly Rs. 46,000 Crores
The Defence Acquisition Council (DAC), chaired by Hon'ble Defence Minister Smt Nirmala Sitharaman, met on 25 Aug 2018 and accorded approval for procurement for the Services amounting to approximately Rs. 46,000 crores.
The Defence Acquisition Council (DAC), in a landmark decision, approved procurement of 111 Utility Helicopters for the Indian Navy at a cost of over Rs. 21,000 crores.
This is the first project under the MoD's prestigious Strategic Partnership (SP) Model that aims at providing significant fillip to the Government's 'Make in India' programme.
In further quest for modernisation of the Armed forces the DAC also granted approval to a few other proposals amounting to approximately Rs. 24,879.16 crores, which included approval for procurement of 150 numbers of Indigenously Designed and Developed 155 mm Advanced Towed Artillery Gun Systems for the Indian Army at an approximate cost of Rs 3,364.78 crores.
To enhance the capability of Navy at sea, approval has also been granted for procurement of Anti-Submarine capable, 24 in number Multi Role Helicopters. In addition, procurement of 14 Vertically Launched Short Range Missile Systems was also cleared by the DAC.
29. 24th Delhi Book Fair opens with free entry
The 24th Delhi Book Fair opened at the Pragati Maidan but it looked a scaled down affair with the stalls occupying just one hall this year.
Minister of State for Human Resources Development Satya Pal Singh inaugurated the event which coincides with the 20th Stationery Fair and 4th Office Automation and Corporate Gift Fair.
The nine-day book fair has been organised by the India Trade Promotion Organization and Federation of Indian Publishers (FIP) and will run till September 2.
30. Raje opens country's biggest techno-hub in Jaipur
Rajasthan Chief Minister Vasundhara Raje has inaugurated the Bhamashah Techno Hub in Jhalana Industrial Area of Jaipur.
Raje said the country's biggest centre equipped with the ultra-modern technology will help around 700 entrepreneurs to work under one roof and realise their dreams.
31. Japan to be 'Country Partner' for Make in Odisha 2018
The Odisha Government has tied up with Japan for its mega investment Conclave 2018 to take place in November this year.
The state has already identified 600 acres near capital city Bhubaneswar that could serve as a dedicated industrial park for Japanese investors.
32. President inaugurates "International Buddhist Conclave 2018"
The President of India Shri Ram Nath Kovind inaugurated the "International Buddhist Conclave (IBC), 2018".
The Minister of State (Independent charge), Shri K.J. Alphons presided over the inaugural function.
The 4 days long Conclave has been organized by the Ministry of Tourism in collaboration with the State Governments of Maharashtra, Bihar and Uttar Pradesh from 23rd – 26th August, 2018 at New Delhi and Ajanta (Maharashtra), followed by site visits to Rajgir, Nalanda and Bodhgaya (Bihar) and Sarnath (Uttar Pradesh).
The Ministerial level delegation from Bangladesh, Indonesia, Myanmar and Sri Lanka are participating in the conclave.
33. NITI Aayog launches 5 Thematic Reports on Sustainable Development in Indian Himalayan Region
Recognizing the uniqueness of the Himalayas and the challenges for sustainable development, NITI Aayog had set up 5 Working Groups (WGs) in June 2017 to prepare a roadmap for actions in 5 thematic areas.
The themes include: Inventory and Revival of Springs in Himalayas for Water Security, Sustainable Tourism in Indian Himalayan Region, Transformative Approach to Shifting Cultivation, Strengthening Skill & Entrepreneurship Landscape in Himalayas and Data/Information for Informed Decision Making.
While these thematic areas are quite significant for the Himalayas. Mountain specificities require specific solutions for resilience building that address socio-economic and environmental challenges in the mountain setting.
The reports from the five working groups discuss the significance, the challenges, the ongoing actions and a future roadmap.
The reports lists challenges in all 5 thematic areas. Nearly 30% of springs crucial to water security of people are drying and 50% have reported reduced discharge.
Himalayan Tourism growing annually at 6.8% has crated huge challenge related to solid waste, water, traffic, loss of bio-cultural diversity etc.
34. National level workshop for celebrating the month of September as Rashtriya Poshan Maah
The Ministry of Women and Child Development, Government of India organized an orientation workshop for various stakeholders participating in the Poshan Maah (National Nutrition Month) being celebrated in the month of September.
The workshop was held in New Delhi. It was addressed by Smt. Maneka Sanjay Gandhi, Minister for Women and Child Development; Dr. Rajiv Kumar, Vice-Chairman NITI Aayog; Shri Rakesh Srivastava, Secretary WCD; Dr. Vinod K Paul, Member , NITI Aayog and officers of partner ministries as well as other organizations including UN.
Addressing the workshop, the WCD Minister, Smt Maneka Sanjay Gandhi said that there can be a complete turnaround in the area of malnutrition if the Poshan Mission is taken up on warfooting as was the case in the Beti Bachao Beti Padhao programme.
Celebrating the Poshan Maah in the form of a drive will give an early thrust to the Poshan Abhiyan, Smt Maneka Gandhi explained.
35. Arun Jaitley resumes charge as Minister of Finance
Union minister Arun Jaitley has resumed charge of the ministries of finance and corporate affairs after a hiatus of over 100 days, during which he underwent a surgery for kidney ailment.
Jaitley met key finance ministry officials, finance secretary Hasmukh Adhia, financial services secretary Rajeev Kumar, expenditure secretary A N Jha and corporate affairs secretary Injeti Srinivas, soon after resuming office.
In his absence, the charge of his ministry was given to minister for railways and coal Piyush Goyal on an interim basis.
36. 2nd Protocol Amending India – Singapore CECA Signed
India and Singapore have signed the Second Protocol amending the Comprehensive Economic Cooperation Agreement (CECA) in New Delhi.
The signing of the Second Protocol, amending CECA, will boost bilateral trade between India and Singapore.
The CECA was the first comprehensive agreement covering trade in goods, services and investments, which India had signed with any of its trading partners.
The CECA was signed on 29th June, 2005 and its first review was concluded on 1st October, 2007.
37. IBBI inaugurates One-Day Refresher Programme for Insolvency Professionals
Insolvency and Bankruptcy Board of India (IBBI) Chairperson Dr. M. S. Sahoo inaugurated one-day refresher programme for insolvency professionals.
This marks the beginning of a series of one-day class room progrmmes to be delivered from various locations across the country over the next three months.
It is one of its kind in the country funded under Pradhan Mantri Kaushal Vikas Yojana (PMKVY).
The programme focuses on ethics and conduct for IPs and recent developments in the insolvency and bankruptcy regime in India.
38. IAF Trans Himalayan Mountain Terrain Biking Expedition (The MTB)
Indian Air Force is celebrating its 86th Anniversary on 08 Oct 2018. To commemorate this event, IAF has launched a unique event in the form of Trans-Himalayan Mountain Terrain Biking Expedition (THE MTB).
The team for the expedition consists of 18 Air warriors (12 riders and 06 support staff) which also includes two women officers.
The expedition started on 17 Aug 18 from Daulat Beg Oldie (DBO) in Ladakh for Kibithu in Arunachal Pradesh.
39. India's First ISTS connected Wind Power Project Commissioned
Solar Energy Corporation of India Limited (SECI) conducted India's first auction of wind power projects in February 2017 in which tariff of Rs. 3.46 was discovered, which was much lower than feed in tariffs in vogue those days.
This was a 1000 MW bid for projects to be connected on ISTS (Inter State Transmission System) wherein power generated from one state (renewable resource rich state) could be transmitted to other renewable deficient states.
Mytrah, Inox, Ostro, Green Infa and Adani were winners of the bid.
As a part of this bid, M/s Ostro Kutch Wind Private Limited was issued letter of award on 05.04.2017 for a capacity of 250 MW, with commissioning period of 18 months.
A part capacity of 126 MW, located in Bhuj (Gujarat) was commissioned by M/s Ostro on 24.08.2018, ahead of schedule.
The energy generated from this project is being purchased by Bihar, Odisha, Jharkhand and UP.
40. TN CM inaugurates India's tallest Film Studio
MGR Centenary Film Studio, the tallest such structure in the country, was inaugurated by Tamil Nadu Chief Minister K Palaniswami.
The 56 feet tall, 110 metres long and 100 feet wide studio was constructed using funds collected by the Federation of Film Employees Union of South India (FEFSI), at Paiyanur.
41. PM to launch FAME India II on Sept 7
Prime Minister Narendra Modi will launch the second phase of the FAME India scheme offering incentives for mass adoption of electric vehicles with an outlay of Rs 5,500 crore on September 7.
The prime minister would unveil the scheme at the inaugural session of the 'MOVE', a global mobility summit to be organised on September 7-8.
In April, the government had extended the phase 1 of the FAME India scheme by six months till September-end or till its second phase is approved.
42. India to join elite club with first biofuel flight
India would join the elite club of nations who have operated a flight on alternative energy source like biofuel.
SpiceJet is planning to operate a flight from Dehradun to Delhi using biofuel, which would be first such experiment in India.
While developed countries like Canada, Australia and US have already conducted these test flights, India would be the first developing nation to experiment that.
43. Odisha CM launches programme to identify young talents
Odisha Chief Minister Naveen Patnaik today launched a programme aimed at identifying and giving recognition to the young achievers of the state.
The "Mu Hero, Mu Odisha" (I am Hero-I am Odisha) programme is an initiative of the state government to be conducted by the Biju Yuva Vahini (BYV) members.
The BYV members are volunteers of the Department of Sports and Youth Affairs of the state government.
44. India's first biofuel powered flight undertakes maiden voyage
A historic flight powered by indigenously produced aviation biofuel based on patented technology of CSIR-IIP Dehradun was flagged off from Dehradun airport by Uttarakhand CM Shri Trivendra Singh Rawat.
The Spicejet flight, featuring a latest generation Q400 aircraft powered by ,was received at Delhi airport by Union Ministers Shri Nitin Gadkari, Dr Harsh Vardhan, Shri Dharmendra Pradhan, Shri Suresh Prabhu and Union Minister of State for Civil Aviation Shri Jayant Sinha.
Spicejet - as the lead organization for the demonstration flight - and Chhattisgarh Biofuel Development Authority- the supplier of the jatropha oil for the flight, received considerable policy and regulatory support from the MOPNG Working Group on Biofuels and the Directorate General Civil Aviation (DGCA) in making this flight happen.
45. MoU signed for skill development of Arogya mitras under the PMJAY
A Memorandum of Understanding(MoU) was signed between the National Skill Development Corporation (NSDC) and National Health Agency (NHA), to provide capacity building for Pradhan Mantri Jan Arogya Yojana(PMJAY) to ensure effective rollout and continued quality implementation.
As per the MoU, NSDC will ensure quality training of Arogyamitra through its network of Skill Development Centres functioning under PMKVY and Pradhan Mantri Kaushal Kendras(PMKK).
All the currently recruited/ deputed Pradhan Arogyamitras will be certified by health care sector skill council, the body notified as non-statutory body for health sector under the aegis of NSDC.
46. Gadkari to Sign MOU With CMs of Uttarakhand, UP, HP, Rajasthan, Haryana and Delhi
Shri Nitin Gadkari, Union Minister for Water Resources, River Development and Ganga Rejuvenation, Shipping and Road Transport & Highways will sign a Memorandum of Understanding (MoU) with the Chief Ministers of Uttar Pradesh -Shri Yogi Adityanath, Rajasthan - Smt Vasundhara Raje , Uttarakhand -Shri Trivendra Singh Rawat, Haryana- Shri Manohar Lal, Delhi - Shri Arvind Kejriwal, and Himachal Pradesh - Shri Jai Ram Thakur in New Delhi for the construction of the Rs. 3966.51 crore Lakhwar Multi-Purpose project in the Upper Yamuna Basin.
The Lakhwar project envisages construction of a 204 m high concrete dam across river Yamuna near Lohari village in Dehradun district of Uttarakhand with a live storage capacity of 330.66 MCM.
This storage will provide irrigation for 33,780 hectares land and availability of 78.83 MCM water for domestic, drinking and industrial use in the six basin states.
The project will also generate 300 MW of power. The project is to be executed by M/s Uttarakhand Jal Vidyut Nigam Limited (UJVL).
Out of the total project cost of Rs. 3966.51 crore, the power component of Rs. 1388.28 crore will be borne totally by the Uttarakhand government.
Uttarakhand will also get the benefit of total power generation once the project is complete.
Out of the remaining cost of Rs. 2578.23 crore which form the irrigation and drinking water components, 90% will be borne by the Centre (Rs. 2320.41 crore) and 10% will be divided between the States of Haryana -Rs.123.29 crore (47.82%), Uttar Pradesh/ Uttarakhand -Rs. 86.75 crore (33.65%), Rajasthan-Rs. 24.08 crore (9.34%), NCT Delhi -Rs. 15.58 crores (6.04%) and Himachal Pradesh -Rs. 8.13 crore (3.15%).
47. National Sports Day: 29 August
The National Sports Day in India is celebrated on 29 August each year.
This day marks the birthday of Dhyan Chand Singh, the hockey player who won gold medals in Olympics for India in the years 1928, 1934 and 1936.
He scored over 400 goals in his career, from 1926 to 1948.
48. ISRO to send first Indian into Space by 2022
As announced by Prime Minister Shri Narendra Modi during his Independence Day address, India's first Indian human mission will be launched by Indian Space Research Organisation (ISRO) by 2022.
This was stated by the Union Minister of State (Independent Charge) Development of North-Eastern Region (DoNER), MoS PMO, Personnel, Public Grievances & Pensions, Atomic Energy and Space, Dr Jitendra Singh.
The ISRO Chairman, Dr. K. Sivan said that ISRO has the capabilities to accomplish this task by the given timeframe.
The programme will make India the fourth nation in the world to launch a Human Spaceflight Mission.
So far, only the USA, Russia and China have launched human spaceflight missions.
49. Charging Stations for e-Vehicles Inaugurated in Udyog Bhawan
Union Minister of Heavy Industries & Public Enterprises,Anant G. Geete inaugurated two charging stations, one for fast charging (DC) and the other for slow charging (AC), in Udyog Bhawan, New Delhi.
This is part of the Swachhta Pakhwada celebrations of the Department of Heavy Industry.
Eight charging stations have been installed in the premises of Udyog Bhawan for facilitating charging of e-vehicles.
Of the eight charging stations, two fast charging stations have been installed by BHEL and six slow charging stations have been installed by Energy Efficiency Services Limited (EESL).
AC charger consists of 3 outlets, charging 3 cars at the same time with the charging time from 6-8 hours.
DC charger consists of single outlet, charging one car at a time with the charging time of 1.5 hours.
50. Piyush Goyal inaugurates Smart Railway Conclave organised by FICCI, in New Delhi
Shri Piyush Goyal, Minister of Railways & Coal, inaugurates Smart Railway Conclave organised by FICCI, in New Delhi.
In his opening remarks, he reiterated Government's commitment to ensure a smart Railway and a smart nation so that every citizen of India gets a better future.
He also emphasised on smart planning, smart project implementation being put into effect holistically in Railways.
51. Cabinet approves Umbrella scheme O-SMART of Ministry of Earth Sciences
The Cabinet Committee on Economic Affairs, chaired by the Prime Minister Shri Narendra Modi has given its approval for the umbrella scheme "Ocean Services, Technology, Observations, Resources Modelling and Science (O-SMART)", for implementation during the period from 2017-18 to 2019-20 at an overall cost of Rs.1623 crore.
The scheme encompasses a total of 16 sub-projects addressing ocean development activities such as Services, Technology, Resources, Observations and Science.
The services rendered under the O-SMART will provide economic benefits to a number of user communities in the coastal and ocean sectors, namely, fisheries, offshore industry, coastal states, Defence, Shipping, Ports etc.
Currently, five lakhs fishermen community are receiving this information daily through mobile which includes allocation of fish potential and local weather conditions in the coastal waters. This will help in reducing the search time for fishermen resulting savings in the fuel cost.
52. NHAI Closes Its First Toll-Operate-Transfer Project
National Highways Authority of India did a financial closure of its first Toll-Operate-Transfer project with the India chief of Macquarie handing over a cheque for Rs 9,681.5 crore to Shri Nitin Gadkari, Minister of Road Transport & Highways, Shipping, Water Resources, River Development & Ganga Rejuvenation at an event in New Delhi.
This closure is the first for an asset recycling initiative by any government in India.
NHAI has also called bids for second bundle of T-O-T for 586.55 km in Gujarat, Rajasthan, West Bengal and Bihar.
53. INS Teg Lends Assistance to MV Vela in the Gulf of Aden
On 25 Aug 18, whilst patrolling in the piracy infested waters of Gulf of Aden, INS Teg, a warship of the Western Naval Command, received a call from a Combined Task Force aircraft for providing assistance to MV Vela, a Norwegian owned ship with an all Indian crew.
INS Teg quickly dispatched a specialist team to carry out an assessment of the situation and provided assistance for recovery of the anchor and cable.
Concerted efforts over three days finally resulted in the successful recovery of the anchor along with the entire 330 m of cable.
54. Union HRD Minister launches the 3rd edition of 'Smart India Hackathon- 2019'
The third edition of World's Biggest Open Innovation Model - Smart India Hackathon 2019 was launched by the Union Minister for Human Resource Development, Shri Prakash Javadekar in New Delhi.
MHRD, AICTE, Persistent Systems and i4c have joined hands to make a hat trick with their highly popular and innovative Smart India Hackathon initiative (SIH).
SIH-2019 is a nationwide initiative to provide students a platform to solve some of pressing problems we face in our daily lives, and thus inculcate a culture of product innovation and a mindset of problem solving.
Speaking on the occasion, the Minister said that in this new edition of SIH-2019 over 1 Lakh+ students from around 3000 institutions will have the opportunity to work on challenges faced within the Public Sector Organizations and the Union Ministries.
And for the 1st time, it will also include problem statements from industry as well as NGOs.
55. AFSPA extended for 6 months in Assam
The Assam government has extended application of the controversial Armed Forces (Special Powers) Act, 1958 (AFSPA) in the state for six more months with immediate effect.
The Act gives special rights and immunity to security forces in carrying out various operations in "disturbed" areas.
"As per powers conferred under Section 3 of the Armed Forces (Special Powers) Act, 1958, the Governor of Assam has declared the entire State of Assam as 'Disturbed Area' upto 6 months.
56. Chandrayaan-2 to be launched in Jan 2019
Chandrayaan-2, ISRO's "most complex mission", is scheduled to be launched in January next year after experts suggested changes to avert failure, its chief K Sivan said.
He said the project was reviewed by eminent experts who suggested some changes in entering the orbit and in landing the rover.
The window period to launch the mission starts on January 3, 2019 and ends on February 16, 2019.
57. ICAR organizes two-day conference on Motivating & Attracting Youth in Agriculture
In order to meet the challenge of providing sustainable livelihoods for a rapidly growing population and to motivate and attract youth in agriculture, Dr. Trilochan Mohapatra, Secretary (DARE) & Director General (ICAR), inaugurated a two-day conference at NASC, New Delhi from 30-31 August, 2018 on Motivating and Attracting Youth in Agriculture (MAYA).
He urged to create a "Mission for Youth in Agriculture" and "Regional Platform for Youth in Agriculture" with neighboring countries as partners and said that we need to attract youth in agriculture by providing them lucrative alternatives.
58. Launch of National Mission on GeM
National Mission on Government e Marketplace (GeM) will be launched on 5th September 2018 to accelerate the adoption and use of GeM by major central Ministries, State Governments and their agencies.
The aim of the National Mission is to promote inclusiveness, transparency and efficiency in public procurement and achieve cashless, contactless and paperless transaction.
This will increase overall efficiency and lead to cost saving on government expenditure in procurement.
During the 6 weeks' special drive beginning from 6th September up to 15th October 2018, the mission will be launched at state headquarters by Chief Ministers and will cover important sectors and flagship programmes, launch of IEC campaign along with training on usage of GeM for buyers and sellers, buyer registration drive to on board government agencies and vendor registration drive with special focus on MSMEs.
59. No free rail insurance from Sep 1
The Indian Railways will not provide free travel insurance to its passengers starting September 1.
Indian Railways Catering and Tourism Corporation (IRCTC) has decided to stop free travel insurance starting September 1 and "the free insurance will be optional".
Travellers while booking tickets through its website or mobile application will have to choose from two options: to opt-in or opt-out of travel insurance.
60. 'Gold' first Bollywood film to release in Saudi Arabia
Akshay Kumar-fronted "Gold" has become the first Bollywood film ever to release in Saudi Arabia.
The Reema Kagti-directed sports film is only the second movie after Rajinikanth's hit social drama, "Kaala" to hit the theatres in the Gulf country.
Saudi Arabia has recently lifted the ban on Movie theatres.
 
61. Punjab National Bank gets top rank in digital transaction
Punjab National Bank has said that a Department of Financial Services report has rated it as number one state-owned bank in terms of digital transactions.
The Nirav Modi scam-hit bank is also rated as the sixth overall amongst all banks in India for digital performance.
The bank is rated as 'Good' by the government with a score of 71 which is the highest category of performance.
62. RIL first Indian firm to hit Rs 8 trillion market cap
Reliance Industries (RIL) has became the first Indian company to cross Rs 8 trillion in market capitalisation.
The stock gained 1.9 per cent to close at Rs 1,270, valuing the Mukesh Ambani-led firm at Rs 8.05 trillion.
Tata group flagship Tata Consultancy Services (TCS) also is nearing the same milestone.
Currently, the technology giant is valued at Rs 7.8 trillion.
63. Prasar Bharati & Mizzima Media of Myanmar ink an MoU
Prasar Bharati and Mizzima Media of Myanmar signed a Memorandum of Understanding.
This will boost centuries old ties between India and Myanmar. It will also strengthen India's soft power in its neighbourhood.
The Agreement will realize cooperation and collaboration in various fields of broadcasting.
64. Global Finance names DBS world's best bank
DBS Bank has become the first Singaporean and Asian winner of Global Finance Magazine's Best Bank in the World Award, unseating last year's winner ING.
This came after DBS was named Asia's top bank in May, replacing 2017 winner ICBC, in the magazine's annual World's Best Bank awards.
65. India and the World Bank sign $300 Million Agreement for India's Energy Efficiency Program
The Government of India and the World Bank signed a $220 million Loan Agreement and a $80 million Guarantee Agreement for the India Energy Efficiency Scale-Up Program.
The Program, to be implemented by the Energy Efficiency Services Limited (EESL), will help scale-up the deployment of energy saving measures in residential and public sectors, strengthen EESL's institutional capacity, and enhance its access to commercial financing.
The investments under the Program are expected to avoid lifetime greenhouse gas emissions of 170 million tons of CO2, and contribute to avoiding an estimated 10 GW of additional generation capacity.
66. India, Government of Rajasthan and World Bank sign a $250 Million Agreement
The Government of India, the Government of Rajasthan and the World Bank signed a $250 million Development Policy Loan (DPL) to support the Government of Rajasthan in improving the performance of its Electricity Distribution Sector under the State's 24x7 Power for All program.
The Second Programmatic Electricity Distribution Reform Development Policy Loan for Rajasthan is the second in the series of two operations planned for a comprehensive turnaround of Rajasthan's electricity distribution sector.
The First Loan closed in March 2017.
67. Cabinet approves additional funding of Rs 635 crore for IPPB
The Union Cabinet has approved additional funding of Rs 635 crore for India Post Payments Bank (IPPB), which is set to be launched on September 1 to provide financial services to those living in rural areas.
It will take the total outlay for IPPB to Rs 1,435 crore.
The bank, which is fully owned by the government, will provide savings and current accounts, remittances, money transfers, bill and utility payments and enterprise and merchant payments.
68. India and ADB Sign $346 Million Loan to Improve State Highways in Karnataka
The Asian Development Bank (ADB) and the Government of India signed a $346 million loan to finance improvement of over 400 kilometers of state highways that will enhance connectivity and access to economic centers across 12 districts in Karnataka.
An ongoing road improvement project financed by ADB with a loan of $315 million is under implementation, which involves upgradation of about 615 kilometers of state roads.
Points to Remember
The Asian Development Bank is a regional development bank established on 19 December 1966.
It is headquartered in Manila, Philippines.
Takehiko Nakao is the President of the Asian Development Bank.
It has 67 member countries.
69. India and ADB Sign $375 Million Loan to Improve Irrigation Efficiency in MP
Government of India and the Asian Development Bank (ADB) signed a $375 million loan agreement to contribute to double farming incomes in Madhya Pradesh by expanding irrigation networks and system efficiency.
The Madhya Pradesh Irrigation Efficiency Improvement Project will develop 125,000 hectares of new, highly efficient and climate resilient irrigation networks and improve water use efficiency in more than 400 villages, benefiting over 800,000 people in Madhya Pradesh.
70. HDFC Bank to adopt 30 villages in flood-hit Kerala
HDFC Bank has announced that it will adopt 30 villages in flood-hit Kerala as part of its long-term relief and rehabilitation efforts.
This initiative is aimed at helping people in the worst-hit parts of the State recover.
The bank will set up medical camps and rebuild affected health centres; support the renovation/reconstruction of local schools; and impart skills training to families to restore livelihoods as part of the initiative.
71. LVB ties up with HDFC Ergo to offer general insurance products
Lakshmi Vilas Bank(LVB) announced its tie-up with HDFC Ergo general insurance company.
The tie-up will enable HDFC ERGO to sell its general insurance products across 560+ branches and 7 extension counters spread across eighteen states and a Union Territory in the country.
The partnership will help LVB to offer comprehensive financial solutions to their customers under one roof.