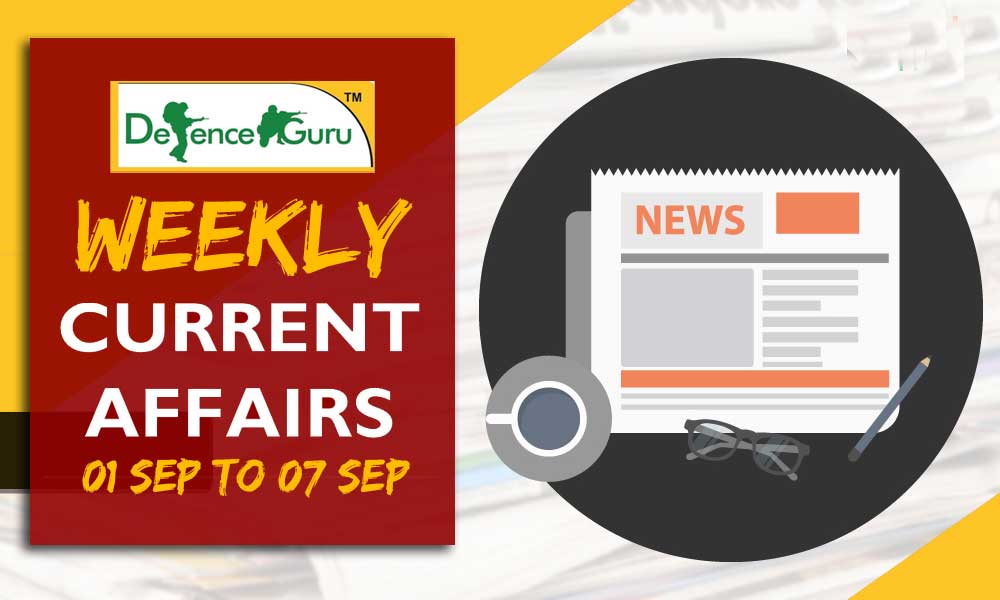 Weekly Current Affairs September 2018 - Week 1
Dear Student, Here Defence Guru given the list of Important Weekly Current Affairs 1st Week of September 2018. Candidates those who are preparing for NDA, CDS, SSB and other competitive exams can make use of it.
 
Weekly Current Affairs September 2018 - 1 Sep to 7 Sep
 
 
1. RBI clears Rana Kapoor's reappointment as YES Bank MD
The Reserve Bank of India gave its approval for the re-appointment of Rana Kapoor "till further notice" as the Managing Director and CEO of the Yes bank.
However, the bank's shareholders had proposed re-appointment of Kapoor for a three-year term from September 1.
2. Sunil Mehta elected IBA Chairman
Sunil Mehta, Managing Director and CEO, Punjab National Bank, was elected as the Chairman of Indian Banks' Association (IBA) for the year 2018-19 at the association's managing committee meeting held on August 31.
Dinabandhu Mohapatra, Managing Director and CEO, Bank of India, has been elected as IBA's Deputy Chairman.
3. R Madhavan assumes charge as HAL CMD
R Madhavan took over as Chairman and Managing Director of defence PSU Hindustan Aeronautics Limited (HAL) from T Suvarna Raju.
Prior to this, he was heading the Accessories Division of HAL at Lucknow as an Executive Director.
4. Binoy Kumar Assumes Charge of Secretary in Steel Ministry
Binoy Kumar, IAS (TG:83) has taken over as Secretary, Ministry of Steel, Government of India.
He had been posted as Officer on Special Duty in the Ministry since 21st May 2018.
Prior to this, Binoy Kumar held the post of Special Secretary, Logistics, in the Department of Commerce, where he continued to hold additional charge till 31st July 2018.
5. Tahira Safdar becomes first woman to head a Pakistan high court
Justice Tahira Safdar was sworn in on as the first woman chief justice of a Pakistani high court.
Justice Safdar was sworn in as the chief justice of Balochistan High Court at a ceremony held at the Governor House in Balochistan.
She made history in 1982 when she became the first woman civil judge in Balochistan.
6. Justice Ranjan Gogoi to take charge as the new Chief Justice of India
Justice Ranjan Gogoi is set to take over as the new Chief Justice of India on October 3, 2018.
His name has been recommended for the post by Chief Justice of India Dipak Misra to the government.
Justice Gogoi is expected to take oath on October 3. He is slated to retire on November 17, 2019.
7. ICICI Bank reappoints Chanda Kochhar on board of ICICI Securities
ICICI Bank has reappointed Chanda Kochhar as a director on the board of ICICI Securities during its annual general meeting.
This, for all intents and purposes, finalises Kochhar's another stint at the ICICI Securities board, as the ICICI Bank holds 80 per cent stake in its broking arm.
Kochhar has been on leave since July 19, following an independent probe initiated by ICICI Bank into allegations of conflict of interest levelled against her.
8. Arif Alvi elected new Pakistan president
Dr Arif Alvi, a close ally of Prime Minister Imran Khan and one of the founding members of the Pakistan Tehreek-e-Insaf party, was elected as the new President of Pakistan.
The 69-year-old former dentist defeated Pakistan Peoples Party candidate Aitzaz Ahsan and the Pakistan Muslim League-N nominee Maulana Fazl ur Rehman in a three-way contest to become the 13th president.
Of the 430 votes cast via a secret ballot in the National Assembly and Senate, Alvi received 212 votes.
9. India retains WHO Regional Director position
India has retained the top WHO position in South-East Asia Region with DrPoonam Khetrapal Singh unanimously re-elected as Regional Director for another five-year term beginning February 2019.
The elections were held at the ongoing Regional Committee meeting of WHO South-East Asia.
Dr Singh is the first woman to have been elected to the position of Regional Director for WHO South-East Asia Region after an illustrious career in the Indian civil service, World Bank and WHO.
10. Mumbai neurosurgeon named for Dr B.C. Roy award
Eminent neurosurgeon Dr B.K. Misra has been named for this year's prestigious Dr B.C. Roy National Award as an Eminent Medical Person of the Year.
The highest medical honour of India, instituted by the Medical Council of India in 1962, it will be given away by President Ram Nath Kovind on July 1 next year, the National Doctors Day.
11. Shabana Azmi, Nandita Das receive Bharatiya Manavata Vikas Puraskar
Actors Shabana Azmi and Nandita Das were among 13 others who were awarded the Bharatiya Manavata Vikas Puraskar for their contribution to the society and championing the cause of equity, social justice and human welfare.
Organised by private media company Daily Indian Media, the ceremony witnessed eminent personalities from politics, business, academics and entertainment.
12. Jain monk Tarun Sagar passes away at 51
Popular Jain monk Tarun Sagar passed away at Radhapuri Jain Temple in east Delhi after a prolonged illness. He was 51.
Born on 1967 in Madhya Pradesh's Damoh as Pawan Kumar Jain, he chose to live the life a monk at a tender age of 13 after getting inspired by the sermons of another popular monk Acharya Pushpdant Sagar.
Tarun Sagar, unlike other Jain monks, openly interacted with politicians and has delivered sermons at the Madhya Pradesh Legislative Assembly in 2010 and in Haryana Legislative Assembly in 2016.
13. Former footballer Arthur Pereira dead
Former Maharashtra football player Arthur Pereira died in Mumbai. He was 70.
Pereira toured Russia as a striker with the Indian team in 1971.
He also represented Maharashtra in the national championships for the Santosh Trophy from 1971 to 1976.
14. PM releases book to mark one year in office of Vice President Venkaiah Naidu
The Prime Minister, Shri Narendra Modi, released the book "Moving On, Moving Forward – A Year in Office" to mark one year in office of Vice President Venkaiah Naidu.
He also presented the first copy of the book to the Vice President of India.
Speaking on the occasion, the Prime Minister said that he had the opportunity to work with Shri Venkaiah Naidu for several years.
He said that Shri Naidu laid emphasis on responsibility (Karyabhaar), above all else.
15. Vice President Releases Book 'Constitutionalizing India: an Ideational Project'
The Vice President of India, Shri M. Venkaiah Naidu has said that we should salute the constitution-framers for giving us a constitution that strengthened parliamentary democracy and stood the test of times, even as it evolved through several amendments.
He was addressing the gathering after releasing the Book 'Constitutionalizing India: an Ideational Project' authored by Shri Bidyut Chakrabarty.
The book reveals how the ideas with completely different socio-economic roots competed with each other in the making of a Constitution which was acceptable to all.
 
16. Asian Games 2018: India finish with 69 medals
India finishes 8th with a final tally of 69 medals – 15 gold, 24 silver and 30 bronze, at Asian Games 2018.
China topped the tally with 289 medals including 132 gold.
Japan finishes second while Republic of Korea secured third place.
The 2018 Asian Games, officially known as the 18th Asian Games were held in Jakarta-Palembang 2018 from 18 August to 2 September 2018 in the Indonesian cities of Jakarta and Palembang.
17. Japan's swimmer Ikee named Asian Games' MVP
Japan's young swimmer Rikako Ikee was named the 2018 Indonesia Asian Games' Most Valuable Player (MVP) after winning 6 gold and 2 silver medals.
The 18-year-old Japanese won the 50m and 100m freestyle, 50m and 100m butterfly as well as the 4x100m freestyle and medley relays.
The teenager is the first female winner of the award, which has been presented at every Games since the 1998 edition in Bangkok.
18. Alastair Cook retires from international cricket
Alastair Cook, England's leading Test run-scorer, is to retire from international cricket after fifth Test against India, the 33-year-old has annoucned.
Cook, who will play his 161st test on 7 September, is the sixth highest scorer in test cricket with 12,254 runs, including 32 centuries.
The left-handed opening batsman captained England in 59 tests.
19. Subramaniam Badrinath Retires From All Forms Of Cricket
Former India and Tamil Nadu batsman Subramaniam Badrinath has announced his retirement from all forms of cricket.
With 7,850 runs under his belt, Badrinath finished as the sixth-highest scorer in the Ranji Trophy.
His career-best being the 250 that he scored against Mumbai in 2009.
The 38-year-old batsman scored 10,245 first-class runs from 145 games, including 32 centuries.
20. Fast bowler RP Singh retires from cricket
Former India fast bowler RP Singh has announced his retirement from Cricket.
His international career spanned six years and the pacer played 82 matches across all three formats and picked up over 100 wickets.
He was one of the heroes of India's 2007 World T20 triumph and played a major role in India's Test win over Australia at Perth in that year.
 
21. PM inaugurates Pashupatinath Dharmashala in Kathmandu
The Prime Minister, Shri Narendra Modi, jointly inaugurated the Pashupatinath Dharmashala in Kathmandu, with the Prime Minister of Nepal, Shri K.P. Oli.
He said the spiritual ties between India and Nepal have transcended both time and distance. In that context, he added, he feels delighted to be inaugurating this Dharmashala.
The Prime Minister said that the temples of Pashupatinath, Muktinath and Jankidham showcase Nepal's unity in diversity, besides strengthening its bonds with India.
22. AYUSH Minister to inaugurate the Fourth International Ayurveda Congress
Minister of State, (IC), for AYUSH Shri Shripad Yesso Naik will be inaugurated the Fourth International Ayurveda Congress (IAvC) at Netherlands on September 1.
The Minister is visiting Netherlands from September 1-4, 2018 to participate in the Congress jointly organized by International Maharishi Ayurveda Foundation, Netherlands; All India Ayurvedic Congress, New Delhi and the International Academy of Ayurveda, Pune in association with the Indian Embassy in the Netherlands.
The congress would focus on promotion and propagation of Ayurveda in Netherlands and its neighboring countries of Europe.
A special Seminar is also organized by the Indian Embassy titled "India-Netherlands collaboration in Healthcare, including Ayurveda" on 3rd September 2018.
23. 6th East Asia Summit and 15th India-ASEAN Economic Ministers Meeting held in Singapore
Commerce & Industry Minister Suresh Prabhu attended the 6th East Asia Summit- Economic Ministers' Meeting (EAS-EMM) and 15th India-ASEAN Economic Ministers' Meeting (AEM) in Singapore. Singapore is currently holding the Chair of ASEAN.
The 6th East-Asia Economic Ministers' Meeting was chaired by Chan Chun Sing, Minister for Trade and Industry, Singapore, and was attended by Economic Ministers from 10 ASEAN countries and their eight dialogue partners, Australia, China, India, Japan, Republic of Korea, New Zealand, the Russian Federation and the United States of America.
The Ministers welcomed the higher global economic growth forecast for 2018 and took note of the increasing importance of trade and investment relations among the EAS economies.
The 6th EAS–EMM was followed by the 15th ASEAN Economic Ministers - India Consultation. Itwas co-chaired by Chan Chun Sing, Minister for Trade and Industry, Singapore, and Suresh Prabhu, Minister of Commerce and Industry, India.
24. India Pavilion at Food and Drink Technology Africa Trade Show in South Africa
Trade Promotion Council of India (TPCI) is setting up India Pavilion at the Food and Drink Technology Africa 2018 trade show being organized at Gallagher Convention Centre, Johannesburg, South Africa from 4-6 September, 2018.
The India Pavilion is part of TPCI's efforts to promote India's trade related to food and beverages industry globally and with special focus on Africa.
Food & Drink Technology Africa (FDT-Africa) - held biennially in Johannesburg - is the premier beverage and food event in Southern Africa, tailored to promote the specific needs of the market.
The trade show covers the entire value chain related to food and beverages industry and offers solutions to the challenges and demands of the market in Southern Africa.
25. J P Nadda addresses the'71st Session of the WHO Regional Committee for South-East Asia'
"India has fast-tracked many initiatives aimed at achieving all the core tenets of Universal Health Coverage i.e, strengthening health systems, improving access to free medicines & diagnostics and reducing catastrophic healthcare spending."
This was stated by Shri J P Nadda, Union Minister of Health and Family Welfare at the inauguration of the '71st Session of the WHO Regional Committee for South-East Asia,'.
Shri J P Nadda further stated that India on its part firmly believes in the objective of attainment of the highest possible level of health, where health is a state of complete physical, mental, spiritual and social well-being and not merely the absence of disease or infirmity.
"Moving toward this objective, we have adopted the National Health Policy 2017 with the aim to provide affordable healthcare for all," Shri Nadda added.
26. India to take part in tsunami mock drill
India along with 23 other nations, would be participating in a major Indian ocean-wide tsunami mock exercise (drill) on September 4 and 5.
The exercise, known as IOWave18, is being organised by the Intergovernmental Oceanographic Commission (IOC) of UNESCO.
The purpose of exercise is to increase tsunami preparedness, evaluate response capabilities in each state and improve coordination throughout the region.
27. 24th RCEP Auckland Round from 17-24th October 2018
In the 6th Regional Comprehensive Economic Partnership (RCEP) Ministerial Meeting held on 30-31 August, 2018, in Singapore, Union Minister of Commerce and Industry, Suresh Prabhu, led the Indian delegation.
The Ministers acknowledged the good progress made in the negotiations so far with successful conclusion of 4 chapters, namely (i) Economic and Technical Cooperation; (ii) Small and Medium Enterprises; (iii) Customs Procedures and Trade Facilitation; and (iv) Government Procurement.
The Ministers endorsed 'The Package of Year End Deliverables' and urged the negotiators to intensify their work with a view to narrowing gaps and finding balanced outcomes in the negotiations as it moves forward.
In Goods, the negotiators have been tasked to work on the ASEAN's Non-Paper on Trade in Goods Market Access Negotiations, which is to be considered as the working assumption paper.
In Services, Suresh Prabhu emphasised on the importance of maintaining quality and commercially meaningful offers across all Modes.
In a significant development, all member countries agreed to establish the linkage between Mode 4/ MoNP and the Services text.
While welcoming this linkage, Union Commerce Minister urged member countries to make quality offers by 5th October 2018.
In Investment, the Commerce Minister underlined the importance of negotiations focussing on the application of Investor State Dispute Settlement (ISDS) and mentioned that clarity on its application would lead to further movement in the Investment Chapter.
At India's behest, it was agreed that ISDS will not apply to MFN and PPR. All member countries are expected to submit their revised Reservation Lists without broad sectoral carve outs.
The Ministers directed that the negotiations on all these issues be intensified during the 24th RCEP Auckland Round from 17-24th October 2018.
Points to Remember
The Regional Comprehensive Economic Partnership is a mega regional free trade agreement being negotiated amongst 16 countries, comprising 10 ASEAN countries (Brunei, Cambodia, Indonesia, Laos, Malaysia, Myanmar, Philippines, Singapore, Thailand and Vietnam) and six ASEAN FTA partners, namely Australia, China, India, Japan, Korea and New Zealand.
So far 6 Ministerial Meetings, 5 Inter-sessional Ministerial Meetings and 23 Rounds of the Trade Negotiating Committee at the technical level have been held.
28. Thaawarchand Gehlot to attend the 3rd ASEM (Asia-Europe Meeting) Conference
Shri Thaawarchand Gehlot, Union Minister of Social Justice and Empowerment left for Seoul (Korea).
He is heading a 3-member Indian Delegation to attend the 3rd ASEM (Asia-Europe Meeting) Conference on 'Global Ageing and Human Rights of Older Persons' jointly organised in Seoul during 5th to 7th September, 2018 by the Republic of Korea and the National Human Rights Commission of Korea.
The Conference will be attended by International Institutions including the United Nations, Regional Institutions such as UNESCAP, UNECE, European Union, ASEAN, GANHRI and also International NGOs, Experts etc.
29. U.S. returns two antique statues stolen from India
Two antique statues worth hundreds of thousands of dollars stolen from India and displayed at two American museums have been repatriated to India by the US.
The first statue, 'Lingodhbhavamurti', a 12th century granite sculpture depicting an iconic representation of Lord Shiva, dates back to the Chola dynasty.
Currently valued at about $225,000, it was stolen from Tamil Nadu and was on display at the Birmingham Museum in Alabama.
The second phyllite sculpture depicts the bodhisattva of wisdom, 'Manjusri', holding a sword and painted in gold leaf. This statue was stolen from a temple in Bihar in the late 1980s.
30. Facebook to build first Asian data centre in Singapore
Facebook has announced it will pour in more than S$1.4 billion to construct its first data centre in Asia in Singapore.
The new facility, located at Tanjong Kling (formerly known as Data Centre Park) in the west of Singapore, will span 170,000 sq m and will support hundreds of jobs.
31. 7th Meeting of National Medicinal Plants Board Held at New Delhi
The Seventh meeting of National Medicinal Plants Board (NMPB) of Ministry of AYUSH was held under the chairpersonship of Minister of State for AYUSH, Shri Shripad Yesso Naik at New Delhi on 30th August 2018.
During the meeting the Minister said that Government will support as far as possible for development of medicinal plants sector.
The Board meeting considered various Agenda Items placed before it for consideration.
32. 8.2 percent Growth of GDP in real terms in Q1 of 2018-19
The Central Statistics Office has released the estimates of GDP for the first quarter (Q1) of 2018-19.
In line with momentum built in the economy, the growth of GDP in real terms in Q1 of 2018-19 is 8.2 per cent, reinforcing the high growth of 7.7 per cent recorded in last quarter of 2017-18.
This growth is broad-based and has been driven by 8.4 per cent growth in consumption expenditure and 10.0 per cent growth in fixed investment.
The latter development is particularly encouraging as it has come about over an impressive growth of 14.4 per cent in Q4 of 2017-18 and augurs well for future growth.
33. Krishna Kutir, a home for 1000 widows inaugurated by Smt Maneka Sanjay Gandhi
The Minister for Women & Child Development, Smt Maneka Sanjay Gandhi, alongwith Chief Minister of Uttar Pradesh, Shri Adityanath Yogi inaugurated the widows' home 'Krishna Kutir' at a function at Vrindavan, Mathura, Uttar Pradesh.
Krishna Kutir is a special home for 1000 widows set up by the Ministry of Women & Child Development under Swadhar Greh scheme of the Ministry and is the largest ever facility of its kind created by a government organization.
The Home for Widows, Krishna Kutir has been constructed on 1.4 hectare of land through National Building Construction Corporation (NBCC) at a cost of 57.48 Crores (including cost of the land) with a capacity of 1000 inmates.
34. National Conference being Organised by The Supreme Court Advocates on Record Association
The President of India, Shri Ram Nath Kovind, inaugurated the National Conference being organised by the Supreme Court Advocates on Record Association in New Delhi om September 1, 2018.
Speaking on the occasion, the President said that India's judiciary is respected across the world as an upholder of justice for the defenceless.
It is also true that our judges are overburdened by the sheer volume of cases. As a consequence, the Indian legal system is marked by long delays.
He noted that there is a backlog of 3.3 crore cases in various courts of the country.
Of these, 2.84 crore cases are in the subordinate courts. Another 43 lakh are in the High Courts and about 58,000 in the Supreme Court.
35. Union Home Minister chairs first review meeting of Department of Official Language
The Union Home Minister Shri Rajnath Singh chaired first review meeting of the Department of Official Language of MHA to discuss the functioning and issues related to implementation of Hindi language in official work.
The Union Home Minister was appraised, through a presentation, about the achievements of the department in promoting and maximum use of Hindi language in day to day official work and among the general public.
The Minster was informed that the department has developed a computer software called "Kanthasth" for translating the all kinds of official files from English to Hindi and vice versa to make the translation work simpler and quicker.
36. CCI imposes penalty on Karnataka Film Chamber of Commerce (KFCC)
The Competition Commission of India (CCI) has found that KFCC and others have acted in concert and impeded entry and screening of dubbed movies and in particular the Informant's film –"Sathyadev IPS" in State of Karnataka, thereby violating the provisions of section 3(1) and section 3(3)(b) of the Competition Act, 2002.
Such anti-competitive practice was found to have an appreciable adverse effect on competition and adversely affected the consumers, producers and exhibitors of dubbed cinema in the State of Karnataka and resulted in limiting and restricting the market for dubbed cinemas there.
The Commission also found that KFCC had violated the provisions of the Act, on earlier occasions too, for which it had been penalised in Case No.58 of 2012.
37. Jharkhand's railway station, town to be renamed after Lord Krishna
The Union Ministry of Home Affairs has cleared the Jharkhand government's proposal to rename a railway station in Garhwa district after Lord Krishna.
The Raghubar Das-led state government had proposed that the railway station and Nagar Untari town should be renamed as Banshidhar Nagar after Bandshidhar Temple.
The state government wants to develop the town on the lines of Mathura and Vrindavan in Uttar Pradesh to boost tourism in the city.
38. Delhi to host international chess tournament for school kids
The national capital will host an international chess tournament for school students next year which will be jointly organised by the governments of Delhi and Moscow, Education Minister Manish Sisodia said.
Also, there would be a Moscow Festival in Delhi very soon," he added.
Sisodia is in Moscow representing the Delhi government at the World Education Summit.
39. Suresh Prabhu Launches Technology Initiatives for Coffee Stakeholders
Minister for Commerce & Industry and Civil Aviation, Suresh Prabhu launched Coffee Connect - India coffee field force app and Coffee KrishiTharanga - digital mobile extension services for coffee stakeholders at a function.
The mobile app Coffee Connect has been developed to ease the work of field functionaries and to improve the work efficiency.
The Coffee KrishiTharanga services are aimed at providing customized information and services to increase productivity, profitability, and environmental sustainability.
40. India to generate 100 GW solar energy by 2022
Union Minister of Commerce & Industry and Civil Aviation, Suresh Prabhu said that demand for energy will increase due to rapid development taking place in India and fossil fuel is not going to last forever and therefore there is need for renewable energy.
He was speaking at afunction of International Solar Alliance (ISA) Innovation and Investment Forum in New Delhi.
India has set a target to generate100 GW solar energy by 2022 for increasing share of carbon free energy in the energy mix.
41. National Teachers' Day: 5 September
Every year, September 5 is observed as Teachers' Day in India to mark the birth anniversary of Dr Sarvepalli Radhakrishnan, who was born on September 5, 1888.
A great scholar, philosopher and a Bharat Ratna recipient, Dr Radhakrishnan was the first Vice President and second President of independent India.
On the occasion of Teachers' Day, students across the nation honour their teachers and thank them for their endless efforts in educating them.
42. Curtain Raiser :Indo-Kazakhstan Joint Exercise KAZIND 2018
Indo-Kazakhstan Joint Army Exercise 'KAZIND' will be conducted between the Indian and Kazakhstan Army from 10 to 23 Sep 2018 in Otar region, Kazakhstan.
This is the third joint military exercise between the two countries which have a history of extensive cooperation in the defence arena.
The second edition of the exercise was held in India last year.
The aim of the exercise is to build and promote bilateral Army to Army relations and exchange skills and experiences between Kazakhstan Army and the Indian Army.
43. Manoj Sinha inaugurates Conference on E- Mobility
A Conference on "E-Mobility in Indian Railways" organized by Ministry of Railways through Institution of Railways Electrical Engineers (IREE) in association with NITI Aayog concluded in New Delhi.
The one-day conference inaugurated by the Minister of State of Communication (I/C) and Minister of State of Railways, Shri Manoj Sinha was a pre-cursor to the "Move: Global Mobility Summit" organized by NITI Aayog on 7th and 8th Sept.'18.
44. The International Aviation Summit held in New Delhi
International Aviation Summit in Delhi was organized by the Ministry of Civil Aviation (MoCA), the Airports Authority India (AAI) and International Air Transport Association.
There was an overwhelming response to the summit which was attended by more than 700 delegates and leaders from global aviation fraternity.
45. India and Bulgaria sign five agreements
The President of India, Shri Ram Nath Kovind, reached Bulgaria on September 4, 2018 on the second leg of his state visit to three European nations – Cyprus, Bulgaria and the Czech Republic.
President delivered an address at Sofia University on the theme "Education as an Instrument of Change and Shared Prosperity".
India and Bulgaria have signed five agreements during President Kovind's visit:
An agreement between Invest India and Invest Bulgaria
An agreement on cooperation in and facilitation of tourism
An agreement on enhanced science and technology cooperation
An agreement on civil nuclear research and cooperation
An agreement between the Indian Council of Cultural Relations and Sofia University to promote Hindi studies
46. Cabinet approves continuation of Integrated Development of Wildlife Habitats scheme
The Cabinet Committee on Economic Affairs, chaired by the Prime Minister Shri Narendra Modi has approved continuation of the Centrally Sponsored Umbrella Scheme of Integrated Development of Wildlife Habitats (CSS-IDWH)beyond the 12thPlan period from 2017-18 to 2019-20.
The Scheme consists of Centrally Sponsored Scheme of Project Tiger (CSS-PT), Development of Wildlife Habitats (CSS-DWH) and Project Elephant (CSS-PE).
The total outlay is Rs. 1731.72 crore as central share (Rs. 1143 crore for Project Tiger, Rs. 496.50 crore for Development of Wildlife Habitats and Rs.92.22 crore for Project Elephant) from 2017-18 to 2019-20.
47. HRD Minister releases the curriculum on Experiential Learning – Gandhijis Nai Talim
Union HRD Minister Shri Prakash Javadekar released the curriculum on Experiential Learning – Gandhijis Nai Talim in New Delhi.
This curriculum was brought out simultaneously in 13 languages i.e., Assamese, Tamil, Bengali, Odiya, Kannada, Malyalam, Punjabi, Marathi, Telugu, Gujarati, Urdu, Hindi and English in consultation with the state councils of educational research and training along with the universities in the country.
48. IAF & French Air force Conduct Basic Training in India
Indian Air Force (IAF) recently participated in Exercise Pitch Black 2018 at Darwin, Australia.
Sixteen different nations from across the globe, including French Air Force (FAF) participated in this exercise.
On the return leg, Rafale fighter aircraft and transport aircraft of FAF staged through Air Force Station, Gwalior and Air Force Station, Agra from 01 – 04 Sep 18.
During the staging period, FAF and IAF carried out basic joint training, which included fighter sorties by pilots in their respective aircraft with observers onboard each other's transport aircraft supporting the missions.
49. Vice President to visit US to participate in 2nd World Hindu Congress
The Vice President of India, Shri M. Venkaiah Naidu to visit United States of America on September 8-9, 2018 to address the 2nd World Hindu Congress being held in Chicago on the occasion of 125th Anniversary of Swami Vivekananda's Historic Speech at the Parliament of the World's Religions in 1893.
The Vice President will also participate in a programme organized by 14 Telugu Associations of the US at Hindu Temple of Greater Chicago.
He will also participate in bilateral discussions with several world leaders, who are attending this event, on the sidelines of this Congress.
50. 31st meeting of Central Hindi Committee concluded
31st meeting of the Central Hindi Committee was held in New Delhi under the chairmanship of Prime Minister Shri Narendra Modi.
In his address, the Prime Minister congratulated all the members of the committee for creative and practical suggestions.
He stressed that the Hindi language should be spread through day-to-day conversations and complex technical terms should be avoided or used negligibly for official purposes.
51. 'Source India' at 87th Izmir International tradeshow in Turkey
India is the Partner Country in the 87th Izmir International tradeshow which begins in Turkey from September 7, 2018.
In this tradeshow India will also be launching a mega business pavilion 'Source India' hosting 75 Indian companies with the aim of tie-ups in order to increase India's exports to Turkey and other neighbouring countries.
This is part of a series of Source India pavilions that the Trade Promotion Council of India (TPCI) is hosting in important tradeshows across the world for boosting India's exports.
52. Centenary of the Battle of Haifa Celebrated
The Embassy of India held a ceremony in Haifa to mark the Centenary of the Battle of Haifa.
On 23 Sep 1918, Indian soldiers from the Jodhpur, Mysore and Hyderabad Lancers liberated the city of Haifa.
The ceremony was attended by a delegation from India led by Maj Gen VD Dogra and included personnel from the 61st Cavalry.
53. Home Minister inaugurates Defence & Homeland Security Expo and Conference, 2018
The Union Home Minister Shri Rajnath Singh has called upon the law enforcement agencies to adopt new technologies to enhance their capacities to contain terror and to counter the emerging challenges to homeland security.
The Union Home Minister was inaugurating the 3-day Defence & Homeland Security Expo and Conference – 2018, organised by PHD Chamber of Commerce and Industry in association with Ministry of Micro, Small and Medium Enterprises (MSME).
Rajnath Singh said that the Government will soon implement the new Drone Policy which was announced recently, containing comprehensive regulations on the use of drones.
54. India's First Global Mobility Summit 2018 to be inaugurated by the Prime Minister
Prime Minister Narendra Modi will inaugurate MOVE: India's ever first Global Mobility Summit organized by NITI Aayog at Vigyan Bhawan in the capital on 7th and 8th September.
The focus of the summit is on raising awareness about various aspects of Mobility and bringing various stakeholders involved in enhancing mobility across different platforms.
Representative from various Intergovernmental Organizations, Academia, Policy Think tanks from India and abroad, Global leaders from across the mobility sector such as OEMs, Battery Manufacturers, Charging Infrastructure Providers, technology Solution Providers will be sharing their views on enhancing mobility over the next two days during the summit.
55. PM to launch India Post Payments Bank
The Prime Minister, Shri Narendra Modi, will launch the India Post Payments Bank (IPPB) at Talkatora Stadium in New Delhi on September 1st, 2018.
On the day of the launch, IPPB will have 650 Branches and 3250 Access Points spread across the country. Simultaneous launch events will be held at these branches and access points.
All the 1.55 lakh Post Offices in the country will be linked to the IPPB system by December 31, 2018.
56. RBI cancels the licence of Bhilwara Mahila Urban Co-operative Bank Ltd
The Reserve Bank of India (RBI) has cancelled the licence of Bhilwara Mahila Urban Co-operative Bank Ltd., Bhilwara, Rajasthan to carry on banking business, with effect from the close of business on August 31, 2018.
The Registrar of Co-operative Societies, Rajasthan has also been requested to issue an order for winding up the bank and appoint a liquidator for the bank.
Consequent to the cancellation of its licence, Bhilwara Mahila Urban Co-operative Bank Ltd., Bhilwara, Rajasthan is prohibited from conducting the business of banking.
57. ITI Limited partners with startups to boost manufacturing
ITI Limited signed agreements with leading startups and original equipment manufacturers (OEMs) covering the manufacturing of a wide range of ICT-IOT based solutions.
These include civil and military advanced radar systems, advanced edge router systems, next generation 5G technology products, data storage and networking solutions, digital security solutions, advanced metering solutions, and wi-fi products and solutions.
58. National Housing Bank offers Rs 200 cr refinance facility to Kerala
To provide relief to the households having annual income up to Rs 3 lakh in rural areas and up to Rs 6 lakh in urban areas in the floods-hit state of Kerala, National Housing Bank (NHB) has announced a refinance assistance of Rs 200 crore.
This refinance facility would facilitate concessional rate of interest for construction/repair and renovation of houses, through primary lending institutions.
Individual housing loans, which have been disbursed on or after August 1, 2018 and till June 30, 2019 by primary lending institutions in rural and urban areas of Kerala, are covered under this assistance.
59. India on track to buy 18 bullet trains from Japan for Rs 7,000 crore
India will purchase 18 bullet train sets from Japan at a total cost of about Rs 7,000 crore in a deal that includes a pledge to transfer technology for local production.
Each train will have 10 coaches and would be able to cruise at the speed of 350 km per hour.
The country's first bullet train is likely to start running between Mumbai and Ahmedabad by the end of 2022.
The 508-km, high speed train corridor is being built with Japanese assistance.
60. Cabinet doubles Jan Dhan accounts overdraft cap to Rs 10,000 from 5,000
Commenting on government's financial inclusion scheme, Finance Minister, Arun Jaitley said in a significant move, the cabinet today approved doubling Jan Dhan accounts overdraft cap to Rs 10,000 from 5,000.
The age for availing entitlements has also been relaxed from 60 to 65 years.
Jaitley also stated that around 83 per cent of accounts opened in Jan Dhan are linked with Aadhar.
61. India and US Hold '2 + 2' Dialogue
Minister of External Affairs Sushma Swaraj and Minister of Defence Nirmala Sitharaman welcomed Secretary of State Michael R. Pompeo and Secretary of Defense James N. Mattis to India on September 6, 2018 for the inaugural India-U.S. Ministerial 2+2 Dialogue.
They welcomed the launch of the 2+2 Dialogue as a reflection of the shared commitment by Prime Minister Modi and President Trump to provide a positive, forward-looking vision for the India-U.S. strategic partnership.
Two plus two meeting is a kind of dialogue mechanism where two important portfolios (say, Finance and Defence) of the countries taking part in the meeting.