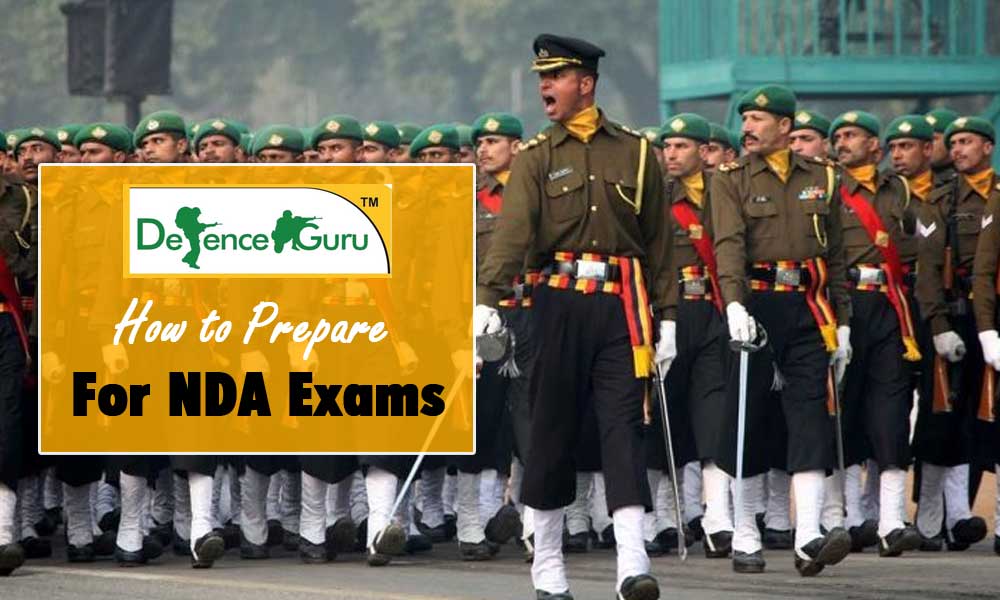 How to Prepare for NDA Exams
Union Public Service Commission (UPSC) conducts the National Defence Academy (NDA) and Naval Academy (NA) examination twice. The entrance exam held for the admissions to Army, Navy and Air Force of India.
NDA and NA examination conducteds in a 2 tier system which will be the written test and Services Selection Board (SSB) test. The first goal of the students is to clear the NDA written test which will be of 900 marks. Here we give a brief knowledge how you can Prepare for NDA Exams.
NDA Exams Paper pattern
The examination for NDA will consist of two papers, namely Mathematics (300 marks) and General Ability Test (600 marks). The candidates will be given a time of two and a half hours to finish the examination as the questions will be objective type questions.
NDA Exams Syllabus
Paper 1: Mathematics: Algebra, Matrices and Determinants, Trigonometry, Analytical Geometry of two and three dimensions, Differential Calculus, Integral Calculus and Differential Equations, Vector Algebra, Statistics and Probability
Paper 2: General Ability Test
Some Tips and Tricks to Clear NDA Entrance Examination
Analysis of complete syllabus
Firstly, do the analysis of your complete syllabus and mark the topics that require more concentration. Start preparing the topics from basics. If your basics are clear then only you are able to solve the high level questions.
Have A Smart Study Plan
For better preparation, it is necessary to have a smart study plan. Here, smart study plan means to manage your time and NDA syllabus efficiently. Your preparation schedule must be well-organized so that you are able to score good marks.
Focus on General Knowledge and English Subject
Proficiency in English is required for clearing the NDA examination. Your English is not only tested in written test but if there is fluency in your English, then it may leave the good impression on selectors also at the time of interview.
As General Knowledge is the part of syllabus so prepare it well. You can strong your GK portion by reading newspapers, magazines, journals, refer books of prominent writers that focus on current affairs, etc.
Preparation From Right Books
Preparation from right books is very necessary. Market is full of large number of book stocks but every book is worth, not possible. After the complete analysis, we have prepared some NDA books that help you for scoring good marks.
Previous Year Question Papers
It is very important to do the preparation in right direction. By solving previous year questions, your speed will be enhanced as well as you will get the idea about the NDA exam pattern of the examination and difficulty level of the questions asked in the examination.
•    The candidates must prepare schedule for their preparation and divide time for both papers accordingly
•    The candidates must refer to the NCERT books for their preparation
•    The Mathematics, Physics and Chemistry sections should be prepared from Class 12th books and Biology, Geography, History, Political Science, and Economics should be prepared up to Class 10th level
•    The candidates must know the basic concepts of mathematics as questions are asked in both forms: to complete the statement or to solve
•    The candidates must keep a quick revision sheet for important mathematics points and formulae
•    The English questions under the General Ability test focus on reading comprehension, basic grammar and vocabulary. The candidates must revise the basic grammar rules from a reliable source
•    The English section for 200 marks is one of the most scoring sections in the NDA examination so it's important to prepare for it well
•    The candidates must not wait for the last day and must work on their vocabulary from now. The candidates must work on their reading skills and must try to learn new words everyday
•    Prepare for Part B of Paper II subject wise then revise topic wise also. The questions may not always be classified into the different sections so it's important you are ready for the questions.  
•    The candidates must understand the Physics topics and concepts and also their practical applications
•    For Chemistry, the candidates must know the basic concepts and classifications of elements, compounds and mixtures
•    The candidates must be aware of the current situations and prepare for Environment Science and General Science
•    The candidates must have a lot of knowledge of the India's struggle for freedom, Constitution of India and the political scenario of India
•    Current Affairs is one of the most important sections for the entrance. The candidates must be well aware of the events that took place, at least five years ago
•    The candidates must practice the sample papers in order to understand the pattern and the format of the question paper.
•    The candidates can study from the specified NDA preparation books to aid themselves in preparation
 
You Also Read
How to join NDA? 
NDA Preparation Tips
Top NDA Coaching