Weekly Current Affairs October 2018 - Week 2nd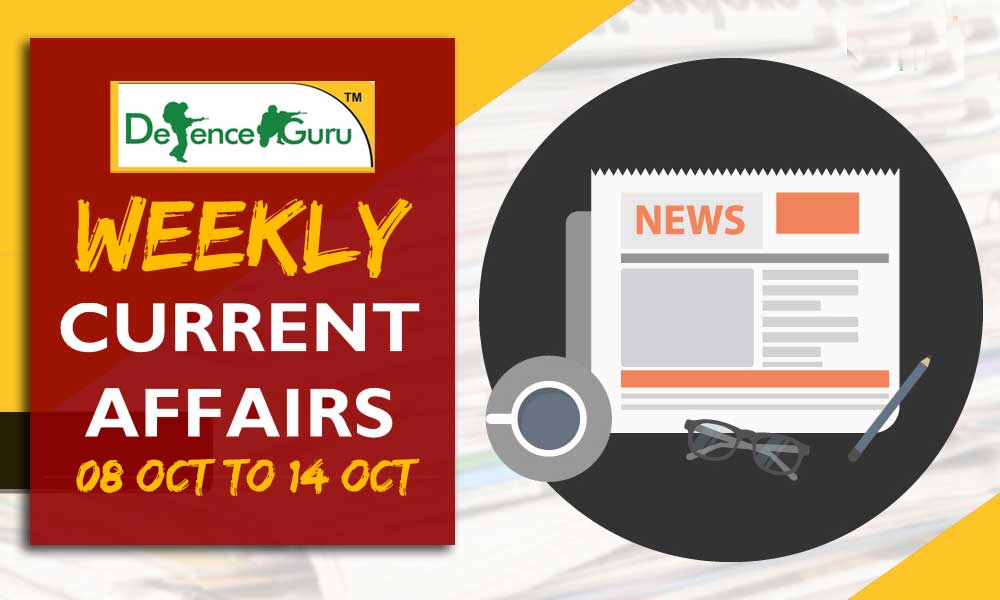 Weekly Current Affairs October 2018 - Week 2nd
You are Searching weekly current affairs for NDA, CDS, SSB, AFCAT & all competitive exam preparation. Here We are sharing Weekly Current Affairs 08 October -14 October, 2018. Learn important current affairs of last week and latest GK questions. Weekly Current Affairs is a collection of important news and events that occurred every week.
Weekly Current Affairs October 2018 - 01 Oct to 7 Oct
1. ICICI Prudential MF's Nimesh Shah new Amfi chairman
ICICI Prudential Asset Management Company Managing Director and Chief Executive Nimesh Shah has been elected as the chairperson of industry body Amfi.
Shah has replaced A Balasubramanian, chief executive officer of Aditya Birla Sun Life MF, who took over as Amfi chairman in 2016.
KailashKulkarni, CEO of L&T Mutual Fund, continues to be the vice chairperson of the Association of Mutual Funds in India (Amfi).
2. Bank of Baroda MD & CEO Jayakumar gets one-year extension
The government has granted a year's extension to Bank of Baroda's Managing Director & Chief Executive Officer, PS Jayakumar, with effect from October 12.
This extension comes in the backdrop of the amalgamation between Bank of Baroda (BoB), Dena Bank and Vijaya Bank to form India's second largest public sector bank being set in motion.
Apparently, the government wants continuity at the top in BoB, the largest of the three banks that are getting consolidated.
3. India Elected To UN Human Rights Council
India was elected to the United Nations' top human rights body for a period of three years beginning January 1, 2019, getting 188 votes in the Asia-Pacific category, the highest number of votes among all candidates.
The 193-member UN General Assembly held elections for new members to the UN Human Rights Council.
The 18 new members were elected by absolute majority through a secret ballot.
Countries needed a minimum of 97 votes to get elected to the Council.
4. PravinSrivastava appointed as India's third Chief Statistician
Eight months after TCA Anant demitted office, the government has appointed 58-year-old PravinSrivastava as chief statistician of India (CSI).
Srivastava's tenure will be a little less than two years, till August 31, 2020.
His appointment would take effect from the date of assumption of charge by him.
5. Tushar Mehta appointed as the new Solicitor General of India
Senior Advocate Tushar Mehta has been appointed as the new Solicitor General of India.
He is currently serving as the Additional Solicitor General.
The Solicitor General of India is the second-highest rank for a law officer of the government.
The post of the second highest ranking law officer of the government had fallen vacant after senior advocate Ranjit Kumar's resignation in December last year.
6. Legendary Hindustani classical musician Annapurna Devi passes away
Annapurna Devi, doyenne of classical Hindustani music, died at Breach Candy hospital in Mumbai. She was 91.
She was a recipient of the Padma Bhushan award. She was married to sitar maestro Pandit Ravi Shankar.
7. Singer Nitin Bali passes away in Mumbai road accident
Singer Nitin Bali died from injuries sustained in a car accident, police said. He was 47.
Bali, who shot to fame in the 1990s singing remixed yesteryear hits, was injured when his car hit a divider on SV Road in suburban Borivali.
8. 'Nagaland's Gandhi' NatwarThakkar dies in Assam
Eminent GandhianNatwarThakkar, popularly known as Nagaland's Gandhi, died in a private hospital after a brief illness. He was 86.
Thakkar, a Padma Shri awardee, had founded the Nagaland Gandhi Ashram at Chuchuyimlang.
His efforts to spread Gandhian philosophy and peace had earned him the sobriquet 'Nagaland's Gandhi'.
9. MaryseConde wins alternative Nobel Literature Prize
MaryseConde, one of the Caribbean's most renowned authors, has won an award created to replace this year's Nobel Prize for Literature.
The prestigious literature prize was suspended this year after a scandal at the Swedish Academy.
She was nominated alongside Japan's Haruki Murakami, the UK's Neil Gaiman and Vietnamese-born Canadian Kim Thuy.
10. Sikkim's 100% organic farming wins FAO's Future Policy Gold Award
Sikkim has won the UN Food and Agriculture Organisation's (FAO) Future Policy Gold Award for its achievement in becoming the world's first totally organic agriculture state.
Uniquely, the state has totally banned the sale and use of chemical pesticides.
Sikkim beat out 51 other nominees from around the world for the award.
11. Indus Towers Wins Deming Prize for 2018
Indus Towers, world's largest telecom tower company (outside China), won the Deming Prize for 2018.
Indus Towers becomes the first Indian company in the service sector and fifth globally to achieve this feat.
The Deming Prize was bestowed on Indus Towers for distinctive performance improvements through the application of Total Quality Management (TQM) practices.
12. Nobel Prize in economics awarded to William Nordhaus and Paul Romer
American economists William Nordhaus and Paul Romer have been awarded the Economics Nobel Prize 2018 for their work on understanding how economies can grow sustainably.
Nordhaus, a professor at Yale University, is best known for his work on climate economics.
Romer, of NYU's Stern School of Business, is a proponent of a theory that examines how the world can achieve sustainable growth.
It is also known as The SverigesRiksbank Prize and was established in 1968.
13. Nobel laureates Nadia, Mukwege nominated for Mother Teresa Award-2018
Anti-rape campaigners Nadia Murad and Dr Denis Mukwege, who were declared as the Nobel Peace Prize winners for 2018, have been nominated for this year's "Mother Teresa Memorial Award".
In the past, Nobel laureates who were among those nominated "Mother Teresa Memorial Award" included the office of United Nations High Commissioner for Refugees (UNHCR), MalalaYousafzai, the Dalai Lama and Medecins Sans Frontieres International.
14. ESIC wins 'ISSA GOOD Practice Award, Asia & the Pacific 2018'
The Employees' State Insurance Corporation (ESIC) has won the 'ISSA Good Practice Award' for Administrative Solution for Coverage Extension at the "Regional Social Security Forum for Asia and the Pacific" held at Kuala Lumpur, Malaysia recently.
The award recognizes the measures taken by ESIC for extension of coverage-SPREE (Scheme for Promoting Registration of Employers and Employees), reduced rate of contribution rates for 24 months in newly implemented areas and raising the wage limit for coverage under the ESI Act, etc.
The Regional Social Security Forum for Asia and the Pacific is a triennial Forum, which is the most important social security event in the Region.
15. Shanghai Masters: Novak Djokovic beats BornaCoric
Novak Djokovic continued his superb form by beating Croatia's BornaCoric in the final of the Shanghai Masters.
The second seed, 31, beat 21-year-old Coric 6-3 6-4 in 97 minutes to claim his fourth Shanghai title.
Coric, the 13th seed, upset Roger Federer in semi-finals to reach his first Masters 1000 final.
16. Dakar to host 2022 Youth Olympic Games
The fourth edition of the Youth Olympic Games will be held in Dakar, Senegal, the International Olympic Committee (IOC) announced in Buenos Aires, which is hosting the 2018 edition.
The Dakar 2022 Youth Games will be the first ever Olympic event in Africa.
The IOC selected the Dakar candidacy by acclamation based on the recommendation of the Evaluation Commission.
17. U-19 Asia Cup: India beat Sri Lanka by 144 runs to win 6th title
The Indian Under-19 boys registered a comfortable victory over Sri Lanka in the final to win the U-19 Asia Cup for the sixth time.
India thrashed Sri Lanka by 144 runs in the summit clash in Dhaka thanks to spinner Harsh Tyagi's six-wicket haul.
Chasing a mammoth 305 for a victory, Sri Lanka kept losing wickets and crumbled for 160 in 38.4 overs as Tyagi finished with an impressive figures of 6/38.
18. International conference on the future of the Indian Ocean held in Colombo
"The Indian Ocean: Defining our Future" Conference was held On October 11, 2018 at Temple Trees, in Colombo, Sri Lanka.
It is aimed to explore strongest challenges in the Indian Ocean region.
The inaugural address of the Conference was delivered by President MaithripalaSirisena while Prime Minister RanilWickremesinghe delivered the keynote address.
19. International Day For Disaster Reduction: 13 October
The International Day for Disaster Reduction (IDDR) encourages every citizen and government to take part in building more disaster-resilient communities and nations.
The United Nations General Assembly designated October 13 as the International Day for Natural Disaster Reduction.
The theme for the year 2018 is "Reducing the economic loss of disasters".
20. India Ranked At 115 in World Bank's Human Capital Index Report
The government has rejected the findings of the World Bank's Human Capital Index (HCI), which has placed the country at 115th position out of 157 countries on various parameters.
Overall, India was ranked 115 among 157 countries. That's much below its Asian peers, including China ranked 46, Indonesia (87), Malaysia (55).
Singapore was ranked number one in the world followed by Japan, Hong Kong and Finland.
21. India Ranks 103rd Among 119 Countries In Global Hunger Index
The Global Hunger Index report 2018 released on October 11 is the thirteenth edition.
Welt hunger life and Concern Worldwide has been issuing reports on hunger levels in the world since 2006.
The main area of focus for this year's report has been "Forced Migration and Hunger".
Of the 119 countries surveyed, India ranks at a dismal 103 with GHI score being 31.1.
Belarus ranked first in this year's index.
22. RakshaMantri Addresses on 'India-France Defence Engagement in a Multipolar World' in Paris
RakshaMantriSmtNirmalaSitharaman is on maiden official visit to France on the invitation of French Defence Minister Ms Florence Parly from October 10 - 13, 2018.
SmtSitharaman addressed 'India-France Defence Engagement in a Multipolar World' at the Institute of Strategic Research (IRSEM) in Paris.
In her speech, she said that her visit is a reaffirmation of India's commitment to the strategic partnership with France, especially in the critical areas of defence cooperation.
23. G-20 Finance Ministers and Central Bank Governors Meeting held in Bali
The Final G-20 Finance Ministers and Central Bank Governors Meeting under the 2018 Argentine Presidency and the final BRICS Deputies Meeting under the 2018 South African Chairmanship were held on 11th -12th October 2018 in Bali, Indonesia on the sidelines of the IMF/Fund Bank Annual Meetings.
The deliberations in the G-20 FMCBG meeting centered on key risks facing the global economy, enhancing a resilient international financial architecture, financing infrastructure development, progress on compact with Africa as well as streamlining of the GPFI process.
24. SushmaSwaraj Participates In 17th CHG Meeting Of SCO In Tajikistan
External Affairs Minister SushmaSwaraj will be participating in the 17th Council of Heads of Government, CHG, meeting of the Shanghai Cooperation Organization to be held in Dushanbe, Tajikistan on 11th to 12th of this month.
This will be the second CHG meeting since India became a full member of SCO in June 2017.
The leaders will be discussing prospects for further development of SCO and will exchange in-depth views on current international and regional issues.
25. Japanese Passport Named As The World's Most Powerful Passport
Replacing the Singaporean passport, the Japanese passport has been declared the most powerful passport across the world in 2018.
According to 2018 Henley Passport Index, the people having Japanese passport can travel without a visa or can get an on-arrival visa across 190 countries.
The passport of Singapore allows visa-free or on-arrival visa travel to 189 countries.
India, meanwhile, stands at a far 81st number - which grants access to 60 destinations.
26. World Post Day 2018
World Post Day is celebrated each year on 9 October, the anniversary of the establishment of the Universal Postal Union (UPU) in the Swiss Capital, Bern. It started in 1969.
The theme for 2018 is: "Imagine you are a letter travelling through time. What message do you wish to convey to your readers?"
27. Nikki Haley resigns as US Ambassador to United Nations
US Ambassador to the United Nations Nikki Haley resigned directly to President Donald Trump.
Nikki Haley served as US Ambassador to the United Nations since 2017.
At United Nations, she has been a vocal critic of Russia and a supporter of US sanctions.
President Trump has categorically stated that Nikki Haley will continue as the US Ambassador to the United Nations till the end of the year.
28. India ranks 147th in Oxfam world inequality index
India has been ranked among the bottom 10 countries in a new worldwide indexon the commitment of different nations to reduce inequalities in their populations.
UK-based charity Oxfam International's 'Commitment to Reducing Inequality (CRI) Index' ranks India 147th among 157 countries.
The index is topped by Denmark, based on its high and progressive taxation, high social spending and good protection of workers.
29. Interpol chief resigns amid detention in China
The International Criminal Police Organization (Interpol) received the resignation of its Chinese president MengHongwei, who was missing since over a week.
Senior Vice-President of Interpol's Executive Committee, Kim Jong Yang of South Korea, will be instated as the acting president.
The General Assembly Session, to be held in Dubai from November 18 to 21 will elect a new president for the remaining two years of the president's term.
This comes in the wake of an announcement from China that Meng had been held in the country and was being probed for his alleged involvement in unspecified criminal activities.
30. C. R. Chaudhary Attends 6th RCEP Inter-sessional Ministerial Meeting in Singapore
The Minister of State for Commerce & Industry and Consumer Affairs, Food and Public Distribution C. R. Chaudhary, attended the 6th RCEP Inter-sessional Ministerial Meeting (IMM) in Singapore on 12-13 October, 2018.
The Ministers from 16 RCEP countries met in Singapore to discuss a modern, comprehensive and mutually beneficial economic partnership agreement among ASEAN and ASEAN's FTA partners.
The Ministers reviewed developments since the 6th RCEP Ministerial Meeting held on 30-31st August, 2018 in Singapore, which was attended by Union Minister of Commerce & Industry and Civil Aviation, Suresh Prabhu.
31. Ajay Tamta inaugurates 46th edition of IHGF-Delhi Fair Autumn-2018
Union Minister of State for Textiles, Ajay Tamta, inaugurated the 46th edition of world's largest IHGF-Delhi Fair at India Expo Centre & Mart at Greater Noida.
Speaking on the occasion, he said that this Fair has played a vital role in increasing exports of handicrafts from the country and has acquired a special importance for handicrafts sector.
Participation by over 3200 exhibitors in this fair and visit of overseas buyers from over 110 countries shows its popularity amongst Indian handicrafts exporters and importers.
32. India International Silk Fair -2018 begins in New Delhi on 16th October
Union Minister of Textiles, SmritiZubinIrani, will inaugurate the 6th edition of India International Silk Fair (IISF) in New Delhi on October 16, 2018. Minister of State for Textiles, Ajay Tamta will also be present on the occasion.
India is the 2nd largest producer of silk in the world.
The silk industry is agriculture based and labour intensive and provides gainful employment to around 8 million artisans and weavers in rural areas.
Over 108 exhibitors of silk and blended silk products manufactured in different parts of the country will display their produce during the three-day event, organised by the Indian Silk Export Promotion Council (ISEPC) at PragatiMaidan.
Over 218 buyers from various countries will participate in the fair.
33. Ashwini Kumar Choubey inaugurates 11th International Dental Students Conference
ShriAshwini Kumar Choubey, Minister of State for Health and Family Welfare inaugurated the 11th International Dental Students and 5thDental Surgeons Conference organized by Dental Students Welfare Association of India and Dental Surgeons Association of India at Lady Hardinge Medical College.
Dr Mahesh Sharma, Minister of State for Environment, Forest and Climate Change was also present at the inaugural function.
Speaking at the event,ShriChoubey urged all the dental students and dental surgeons to create more awareness about oral hygiene and related diseases in the country.
He also administered the oath to the dental students to work in rural areas for 15 days in a year.
34. Allahabad to be renamed Prayagraj very soon
Ahead of the KumbhMela next year, Uttar Pradesh Chief Minister Yogi Adityanath has announced that very soon Allahabad district will be renamed Prayagraj.
AkhadaParishad and others regarding changing the name of Allahabad district. UP Governor Ram Naik has also given his consent to the proposal.
35. President inaugurates 13th convention of the Central Information Commission
The President of India, Shri Ram NathKovind, inaugurated the 13th Convention of the Central Information Commission in New Delhi.
Speaking on the occasion, the President said that free flow of information is the essence of democracy. And for the people of a free and free-spirited country, information is power.
They have a right to know how they are being governed, how public money is being spent, how public and national resources are being deployed, how public services are being delivered, and how public works and welfare programmes are being carried out.
36. First India-Israel Innovation Centre opens in Bengaluru
The first India-Israel Innovation Centre (IIIC), an entrepreneurial technology hub, was launched in Bengaluru.
The IIIC is a significant step towards facilitating penetration of Israeli companies in India and aims to forge local partnerships and joint ventures between companies from the two countries.
It will provide an ecosystem to support entrepreneurship, partnership with vendors, mentoring and non-formal community development that will assist the growth of the companies in different verticals and covers business, technology, investors and customers.
37. The Department of Animal Husbandry, Dairying and Fisheries observes "World Egg Day"
The Department of Animal Husbandry, Dairying and Fisheries, Government of India organized "World Egg Day" on October 13.
The Minister of State of Agriculture & Farmers' Welfare Smt. Krishna Raj was the Chief Guest at the event and Minister of State of Agriculture & Farmers' Welfare ShriParshottamRupala was the Chairman for the event.
Farmers, members of poultry associations, research scholars, administrators and around 700 participants including poultry farmers attended the event.
In the technical session, eminent speakers were invited to speak on various topics relating to importance of eggs in human nutrition which were followed by discussions & deliberations.
38. WEF is setting up a Centre for the Fourth Industrial Revolution in Maharashtra
The New Industrial Policy framed by the Ministry of Commerce in consultation with all Ministries of Government of India, State Governments, Industry and all stakeholders embodies the Government's intention to align India with the emerging technologies of drones, artificial intelligence and block chain. This was stated by the Union Minister of Commerce & Industry and Civil Aviation, Suresh Prabhu, at the launch of the Centre for the Fourth Industrial Revolution, India, by the Geneva-based World Economic Forum (WEF) yesterday in New Delhi.
The WEF is setting up a Centre for the Fourth Industrial Revolution in Maharashtra.
The other centres are in San Francisco, USA, Japan and China.
Artificial intelligence, block chain and drones are the first three projects of the centre in India.
WEF will work in collaboration with the NITI Aayog, business leaders, academia and start-ups in these projects.
39. National Postal Week to be celebrated from October 9
The Department of Posts will celebrate the National Postal Week between October 9 and 15 to highlight its role and contribution in the lives of people.
The department also celebrated the World Post Day on October 9 to commemorate the establishment of the Universal Postal Union (UPU) in 1874 in the Swiss capital Berne.
40. Central University of Jammu signs MoU with ISRO to set up Space Applications Center
The Indian Space Research Organisation (ISRO) signed anMoU with the Central University of Jammu (CUJ) in Jammu for setting up of the SatishDhawan Center for Space Science in the University.
Another MoU was signed between CUJ and the Central Scientific Instruments Organization (CSIR-CSIO).
To create awareness about space research and to motivate young minds to take up research related to space, astronomy, geology, atmospheric sciences and related fields, a two day workshop was also inaugurated at the CUJ campus.
Speaking on the occasion, Dr. Jitendra Singh that the collaboration between ISRO and CUJ for establishing an ISRO Center at Jammu is a landmark achievement for the State.
41. Dilli Series Seapower Seminar 2018 Commences at Indian Naval Academy
The fifth edition of the annual Dilliseminar on 'Geopolitical Impact of Sea Power' commenced at the Indian Naval Academy (INA).
The two day seminar is being attended by several serving senior Naval officers, eminent academicians and distinguished luminaries.
Vice Admiral RB Pandit, AVSM, Commandant, INA delivered the opening address.
42. 32nd India - Indonesia coordinated patrol (CORPAT)
Indian Naval Ship Kulish, a Kora class missile corvette, commanded by Commander Deepak Bali and an Indian Dornier (naval maritime time patrol aircraft) from Andaman and Nicobar command entered Belawanharbour, Indonesia for the opening ceremony of the 32nd edition of India – Indonesia coordinated patrol (IND-INDO CORPAT), to be held from 11 – 27 Oct 2018.
The delegation is led by Commodore AshutoshRidhorkar, Naval Component Commander, Andaman and Nicobar Command.
The ships and aircraft from both the countries would undertake patrolling on the respective sides of 236 nautical miles long International Maritime Boundary Line.
The patrolling would be conducted in three phases from 14 – 24 Oct 2018 followed by a closing ceremony at Port Blair, Andaman and Nicobar Island, scheduled from 25 – 26 Oct 2018.
43. NITI Aayog's AIM & IBM India design Student Internship Programme
NITI Aayog and IBM announced a first-of-its-kind internship programme for students selected by Atal Innovation Mission (AIM).
The internship will see 38 students receive a two-week paid internship, and 14 teachers from Atal Tinkering Labs (ATL) across the length and breadth of the country including from states such as Assam, Himachal Pradesh, Andaman & Nicobar and others, to come together and ideate, collaborate and innovate.
These students will be equipped with the skills for new collar careers in areas like artificial intelligence, Internet-of-Things, cybersecurity, cloud computing and blockchain. Apart from being trained in emerging technologies, students will also be coached in critical workplace skills
44. Goa Maritime Symposium – 2018
Towards fostering friendly relations with our maritime neighbours, the Indian Navy, through the Naval War College, Goa is hosting the 'Goa Maritime Symposium – 2018' on 16th October2018.
The event is a follow-on to the maiden Goa Maritime Conclave held in 2017.
It is likely to be attended by senior naval officers and representatives from 16 Indian Ocean littoral countries.
45. President of India Inaugurates 29th Accountants General Conference
The President of India, Shri Ram NathKovind, inaugurated the 29th Accountants General Conference in New Delhi.
Speaking on the occasion, the President said that the 29th Accountants General Conference is the right occasion and opportunity to introspect and deliberate on what needs to be done to further our mission of promoting accountability, transparency and good governance.
The theme of this year's Conference is "Auditing and Accounting in a Digital Era". This is extremely relevant today when the government is making great strides in ushering in Digital India.
46. Cabinet approves closure of National Jute Manufactures Corporation Ltd
The Union Cabinet chaired by the Prime Minister ShriNarendraModi has approved the closure of National Jute Manufactures Corporation Ltd. (NJMC) and its subsidiary Birds Jute & Exports Ltd. (BJEL).
The decision will benefit the Government exchequer in reducing recurring expenditure incurred in operating both the sick CPSEs in running their activities.
The proposal will help in closing loss making companies and ensuring release of valuable assets for productive use, or for generating financial resources for developmental progress.
The available land with both the CPSEs will be put up for public use/other government use for overall development of society.
47. INS Rana at South Korea to Participate in IFR
INS Rana which is currently on Operational Deployment to the North West Pacific region in the pursuance of India's Act East Policy, arrived Jeju, Repubic of Korea to participate in the International Fleet Review (IFR).
It is being held at from 08 – 15 Oct 18.
During the 7-day visit, INS Rana, commanded by CaptAtulDeswal will have a series of confidence-building engagements with Republic of Korea Navy and other foreign Navies participating in the IFR.
48. Vijay Goel inaugurates the Online Assurances Monitoring System
Union Minister of State for Parliamentary Affairs and Statistics &Programme Implementation, Shri Vijay Goel, inaugurated the Online Assurances Monitoring System(OAMS), developed by the Union Ministry of Parliamentary Affairs.
This system has made the information regarding assurances given on the floor of the Houses of Parliament paper less and available in digital format.
Different Ministers, while giving replies to questions or making statements in Parliament, give assurances on the floor of the House.
The Ministry of Parliamentary Affairs culls out such assurances from the proceedings of the House, based on the guidelines for this purpose, and sends the extract of those assurances to the concerned Ministries for their fulfilment.
49. Minister of State for Commerce attends India–West Africa conclave in Nigeria
Minister of State for Commerce & Industry, Consumer Affairs and Food & Public Distribution, C. R. Chaudhary, is leading the Indian delegation to the Confederation of Indian Industry (CII)- EXIM Bank, Regional Conclave on India-West Africa Project Partnership being held in Abuja, Nigeria on 8th – 9th October 2018.
President and Vice President of Nigeria along with Ministers and Delegation of West African countries are participating in the Conclave.
Niger has appreciated India's support to build Mahatma Gandhi International Convention Centre (MGICC) in Niamey in Niger at the cost of USD 35.5 million on grant basis. The foundation stone of the project has been laid recently.
India's exports to Niger increased by more than 50% since 2014-15.
50. Jharkhand to become partner State in Goa Film Festival
Jharkhand would become partner State for the International Film Festival taking place at Goa between November 20 and 28.
The consent from the Government came after the meeting of Chief Secretary SudhirTripathi and Secretary with Ministry of Information and Broadcasting at the Center AmitKhare.
The officials also agreed to hold a regional film festival in any town of the State along with starting community radio at all the aspirational districts.
51. Mobile Health app for citizens of India Launched by IAF on Air Force Day
On the occasion of 86th anniversary, the Indian Air Force has launched an innovative mobile health App named 'MedWatch' in keeping with the Prime Minister's vision of 'Digital India, Ayushman Bharat and Mission Indradhanush'.
The app is conceived by the doctors of IAF and developed in house by Directorate of Information Technology (DIT) with ZERO financial outlay.
'MedWatch' will provide correct, Scientific and authentic health information to airwarriors and all citizens of India.
52. J P Nadda inaugurates '2nd World Conference on Access to Medical Products
"India is deeply committed nationally and globally to achieving all public health goals. Together we are working towards providing highest possible standards of health care for our citizens. Universal health coverage is key to the Sustainable Development Goals 2030 agenda and to which India is firmly committed."
This was stated by Shri J P Nadda, Union Minister of Health and Family Welfare during his address at the inauguration of '2nd World Conference on Access to Medical Products: Achieving the SDGs 2030'.
At the function, Shri J P Nadda released the Position Paper and launched the Information Sharing Platform Gateway for South-East Asia Regulatory Network (SEARN) developed by Centre for Development of Advanced Computing, which will promote regulatory and health collaboration among the countries of the South-East Asia Region.
53. NITI Aayog to hold Workshop on Best Practices in International Arbitration
In an effort to strengthen dispute resolution mechanisms and to not only encourage 'Make in India' but also to 'Resolve in India', a workshop is being organised on 'Best Practices in International Arbitration' by NITI Aayog.
The workshop is being organised in collaboration with ICC International Court of Arbitration in New Delhi on 10 October 2018.
The workshop would cover basic concepts of international arbitration and include best practices on drafting, selection of arbitrators, enforcement of arbitral awards, role of courts in the arbitration life cycle, among other topics, with information sharing sessions to be conducted by world class faculty and practitioners from the United Kingdom, Singapore, Paris and India.
54. 4 day long India International Science Festival (IISF-2018) concludes in Lucknow
The four day long mega science expo, India International Science Festival (IISF) concluded in Lucknow.
IISF-2018 witnessed a footfall of more than 10 lakh people and more than 22 thousand registrations, the highest in its four year history making it the largest festival of its kind in Asia.
IISF which was inaugurated by the President of India Shri Ram NathKovind , saw a confluence of Scientists, researchers, students, farmers and people from a wide spectrum discussing, debating, and witnessing how science and technology is shaping New India.
IISF-2018 with its focal theme "Science for Transformation" had more than23 special events in its 4th edition. The fifth edition of the science festival will be held in eastern India.
55. Karnataka Govt launches 'Unnati' Scheme
The Karnataka Department of Social Welfare has launched Unnati, a scheme to foster entrepreneurs working on rural and social impact technologies from SC/ST background.
As part of the scheme, the department will invest up to Rs 20 crore to create end-to-end support infrastructure for start-ups and entrepreneurs from a marginalised background.
The first stream of Unnati is technology innovation.
56. India Post honors Narayan SevaSansthan with new postal stamp
The Indian postal services honoured the Narayan SevaSansthan, the Udaipur-based non-profit organisation, by launching their postal stamps.
The stamp of Rs 5 includes the official logo of the Narayan SevaSansthan in bright colours along with the picture of NGO's Polio Hospital which is situated in Udaipur.
57. Exhibition "Revisiting Gandhi: The Art of Shelly Jyoti"
Union Minister of Textiles, Smt. SmritiZubinIrani Inaugurated the exhibition "Revisiting Gandhi: The Art of Shelly Jyoti" at IGNCA, New Delhi, the 06th of October, 2018.
Speaking at the event,.SmritiIrani appreciated the efforts of IGNCA for making such an excellent exhibition possible.
The exhibition organised as part of Gandhi Parv, 150 years birth anniversary celebrations of Mahatma Gandhi, realises what Gandhi inspired and put into action, self-transformation, with the ultimate goal of the total transformation of society, is an ongoing and ever-present process.
58. PM Modi inaugurates Uttarakhandinvestors summit
Prime Minister NarendraModi inaugurated the first Uttarakhand Investors Summit in Dehradun on October 7.
All the leading business firms and industrial houses participated in the two-day event to explore investment opportunities in the hill state in 12 major sectors, including tourism and hospitality.
Uttarakhand has already received investment proposals worth over Rs 70,000 crore during the run-up to the event.
59. Bilateral Maritime Exercise between Japan and India to Commence at Visakhapatnam
Japanese Maritime Self Defence Force (JMSDF) Ships Kaga, an Izumo Class Helicopter Destroyer and Inazuma – a Guided Missile Destroyer arrived at Visakhapatnam on 07 October 2018. The JMSDF Ships under the command of Rear Admiral Tatsuya Fukada, Commander, Escort Flotilla-4 (CCF-4), would be participating in the third edition of Japan-India Maritime Exercise (JIMEX) with the ships of Eastern Fleet of the Indian Navy (IN) from 07 to 15 October 18.
JIMEX-18 is aimed to enhance interoperability, improve understanding and imbibe the best practices of each other.
The IN will be represented by three indigenously designed and built warships and a Fleet Tanker.
The ships participating are INS Satpura, multipurpose stealth frigate, INS Kadmatt, Anti-Submarine Warfare Corvette, Missile Corvette and INS Shakti, the Fleet Tanker.
60. IMF retains India FY19 growth outlook at 7.3%
The International Monetary Fund (IMF) has retained its India growth forecast for the current year but it will remain the fastest-growing major economy.
In its latest World Economic Outlook, the IMF said India will grow 7.3% in FY19 and 7.4% in FY20.
It had in January forecast FY20 growth at 7.5%. China is forecast to grow 6.6% and 6.2% in 2018 and 2019, respectively. The Indian economy grew 6.7% in FY18.
61. Flipkart partners Bajaj Allianz to offer insurance for mobile phones
Flipkart, a leading e-commerce player, has tied up with Bajaj Allianz General Insurance to offer customised insurance to leading mobile brands being sold on the e-commerce major's platform.
This marks decade-old Flipkart's foray into insurance after it secured a corporate agent licence from the insurance regulator, IRDAI.
The insurance will be available from October 10 when Flipkart's Big Billion Days (TBBD) begins.
61. NHB decides to increase the Refinance Limit to Rs.30,000crore for the Current Year
Keeping in view the current scenario, National Housing Bank (NHB has decided to increase the Refinance limit to Rs.30,000 crore.
Now, eligible Housing Finance Companies & Other entities will have increased availability of funds.
National Housing Bank had set an inital limit to sanction Rs. 24,000 crore this year (July 2018-June 2019) towards refinancing eligible institutions.
Till date, Rs.8835 crore has been sanctioned. This refinancing is a credit flow to Housing Finance Companies & other Institutions.
National Housing Bank (NHB) is the Principal Agency to promote Housing Finance Institutions, currently 97 in number, and to provide financial support to eligible institutions.
As a regulator, National Housing Bank regularly monitors the liquidity position of Housing Finance Companies.
62. Microsoft and NitiAayog partner to deploy AI solution
The country's premier think tank NitiAayog and Microsoft India have signed a partnership to deploy artificial intelligence based solutions across various sectors such as agriculture and healthcare.
Microsoft India will support NitiAayog by combining the cloud, AI, research and its vertical expertise for new initiatives and solutions across several core areas including agriculture and healthcare and the environment.
Microsoft will also accelerate the use of AI for the development and adoption of local language computing.
63. PayMate to partner banks, NBFCs to provide credit to small units
PayMate, a business-to-business digital payment solutions provider, is looking to leverage itself as a credit platform for small and medium enterprises (SME) and help improve the flow of credit.
The company is working with non-banking financial companies and banks to leverage the former's platform and provide working capital requirements to these enterprises.
Mumbai-based PayMate runs a proprietary B2B cloud-based payments platform and helps large enterprises and SMEs transition to digital payments, and manages vendor and customer payments and invoicing.
64. SBI signs MoU with Nepal's National Banking Institute for human resource development
State Bank of India has signed anMoU with Kathmandu-based National Banking Institute (NBI) for the development of human resources of the NBI.
SBI signed the three-year memorandum of understanding (MoU) with NBI to establish a mutually beneficial strategic alliance for development of NBI's human resources by imparting education, training and research.
65. UNICEF, NASSCOM sign MoU to strengthen child rights
UNICEF and NASSCOM Foundation have signed an agreement to strengthen child rights through "meaningful business interventions".
With this Memorandum of Understanding (MoU), the two organisations will work collaboratively on two key areas including national sensitisation on 'child online protection' and 'encouraging innovations for child rights' in the country.
As partners, both the companies will co-create sensitisation workshops across India.
66. Country's first ethanol plant to come up in Odisha'sBargarh district
Odisha is going to have a Second Generation (2G) Ethanol Bio-Refinery, first in the country to produce ethanol from rice straw, in Bargarh district.
The facility, which is expecting its mechanical commissioning in the next two years, is one among 12 refineries planned in 11 States in the country.
To be set up at Baulsingha village under Bhatli tehsil by Bharat Petroleum Corporation Limited (BPCL) at an estimated cost of Rs1000 crore, the bio-refinery will produce three crorelitre of fuel-grade ethanol annually using rice straw as feedstock.
67. RBI clears setting up of 'Kerala Bank'
The Reserve Bank of India (RBI) has given its nod to start that Kerala Bank, a venture proposed by the Kerala government.
It will be Kerala Cooperative Bank, but will be referred to as Kerala Bank.
It will have all the facilities of a commercial bank, including ATMs. It will be implemented fast.

Leave a Reply
Defence Guru Team feels pleasure to appreciate from you ! Required fields are marked *.