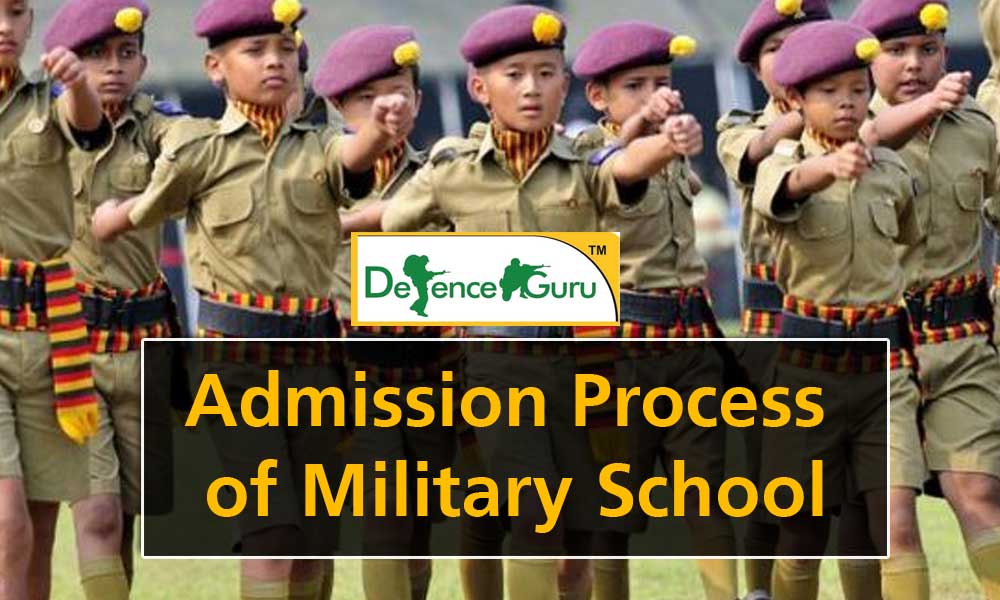 Notification for Admission Process of Military School
General Guidlines :

Common Entrance Test for admission to class VI and IX In December and is automated OMR based in subjects mentioned under the head "ADMISSION TEST". Admission to Class XI will be based on Class x board exam results. No written exam will be held for admission to class XI. For admission to class VI a candidate should not be less than 10 years and more than 11 years of age on 01 Jul of the year of admission. . For admission to class IX a candidate should not be less than 13 years and more than 14 years of age on 01 Jul of the year of admission. . For admission to class XI a candidate should not be less than 15 years and more than 16 years of age on 01 Jul of the year of admission. Admission into Classes IX and XI is on the basis of available vacancies. Parents/students should also note that all admissions are in the category of Boarders only. No day scholars are allowed. Admissions are exclusively for boys.
PROCEDURE OF ADMISSION
1. Rashtriya Military Schools located at Bangalore, Belgaum (Karnataka) Ajmer, Dholpur ( Rajasthan) and Chail ( Himachal Pradesh ) Invite applications for admission to Class VI.
2. Rashtriya Military Schools are CBSE affiliated, fully residential public schools, which function under the aegis of Ministry of Defence.
3. Entrance Exam :Class VI: The Common Entrance Test (CET) for admission to Class VI will be held in december ) The Exam will be automated OMR based in subjects of Intelligence, General Knowledge, Mathematics and English of Class V Standard.
4. Interview and Results. Candidates who clear the CET and are figuring in the merit list will be required to appear for Interview at respective Rashtriya Military Schools. Final merit list will be prepared after the Interview. Results will be hosted on Army Intranet Home Page under the heading ' What is new on MT Directorate Home page under the heading 'Result' and also on www.indianarmy.nic.in,www.rashtriyamilitaryschools.in
5. Applications Forms. Prospectus and Application forms can be obtained from any of the Rashtriya Military Schools by paying Rs 550/-( Rs 275/- in case of SC/ST , copy of the Caste certificate to be submitted).Application form can also be obtained through by post forwarding self addressed slip and Rs 600/-(Rs 325/-for SC/ST including Rs 50/- Postage Charge) Applicants to forward self address for Prospectus and application form along with Demand Draft for the amount payable at respective Rashtriya Military School ( in favour of " Principal , Rashtriya Military School") ALL APPLICATIONS WILL ONLY ROUTED THROUGH RASHTRIYA MILITARY SCHOOLS. All details pertaining to list of Exam Centers etc are given in the Application form. L
6. Eligibility
(a) Age. Only boys between 10 to 11 years of age for Class VI and Boys between 13 to 14 years of age for class IX of age as on 01 Jul othe academic year are eligible for admission. Six months relaxation in upper age limit is permissible for the wars of personnel killed in action.
(b) Education. Candidates should have passed Class V for Cass VI from a govt/recognized school before the date of admission to a Rashtriya military school. However, a student studying in Class V is eligible to appear in the respective Entrance Test.
(c) Medical Selected Candidates will have to undergo medical exam at the Command/Zonal and other Military Hospitals as nominated by the Director General of Medical Services prior to admission and only those found medically fit will be offered admission.
7. Reservation of Vacancies (a) 70% for wards of JCOs/OR of Army , Navy and AF ( including Exservicemen) (b) 30% for wards of Officers of Army, Navy and AF (including retired Officers) and wards of civilians.
(c) 50 seats are reserved for wards of service personnel Killed in Action. Note: 15% and 7.5% seats are reserved for SC and ST in all categories.
8. Important Instructions:-
(a) The parents/ candidates should exercise due care while filling up the application form. If on verification or otherwise at any subsequent stage, incorrect entries or some variations are found, then the candidature will be liable to be rejected.
(b) Verification of Eligibility conditions with reference to original documents is taken up only after the candidate has qualified for Interview/Admission Test.
(c) Candidates should also note that once a Date of Birth has been claimed by them and entered in the records of the form for the purpose of admission, no change will be allowed subsequently on any ground whatsoever.
NOTE : FOR UPDATED INFORMATION ABOUT ADMISSION & VACANCY KINDLY CONTACT RESPECTIVE SCHOOLS DIRECTLY.