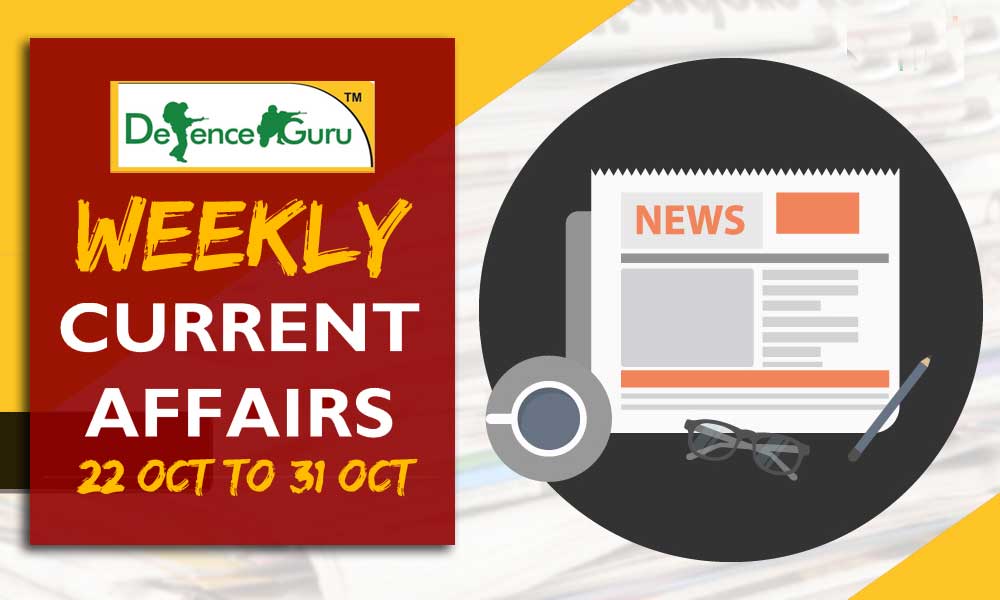 Weekly Current Affairs October 2018 - Week 4th
You are Searching weekly current affairs for NDA, CDS, SSB, AFCAT & all competitive exam preparation. Here We are sharing Weekly Current Affairs 22 to 31 October, 2018. Learn important current affairs of last week and latest GK questions. Weekly Current Affairs is a collection of important news and events that occurred every week.
Weekly Current Affairs October 2018 - 22 Oct to 31 Oct
1. M Nageshwar Rao appointed interim CBI director
M Nageshwar Rao was appointed as interim Central Bureau of Investigation (CBI) director with immediate effect. Director Alok Verma and Special Director Rakesh Asthana were sent on leave. The development has come at a time when there is an internal war going on within the agency. Asthana, a 1984 batch Indian Police Service officer of Gujarat cadre, is accused of accepting a bribe of Rs 2 crore from a Hyderabad-based businessman Sathish Babu Sana.
2. GoM set up to strengthen safety laws for women at workplaces
The government has constituted a group of ministers (GoM) to strengthen the legal and institutional frameworks to prevent and deal with sexual harassment of women in workplaces. Headed by Union home Minister Rajnath Singh, the fourmember GoM will examine the existing provisions for dealing with sexual harassment of women in offices. The other members of the GoM are road transport and highways minister Nitin Gadkari, defence Minister Nirmala Sitharaman and women and child development minister Maneka Sanjay Gandhi.
3. Iraq PM Adel Abdul Mahdi sworn in
Iraq's new Prime Minister Adel Abdul Mahdi was sworn in but could not announce the full cabinet after legislators failed to reach a consensus on key postings. Abdul Mahdi was initially expected to nominate a full 22-member cabinet, including the defence and interior ministers. Under Iraq's constitution, Shia, Sunnis, Kurds and other minorities must all be represented in cabinet.
4. Sanjay Mishra appointed interim ED chief for 3 months
The government appointed IRS officer Sanjay Kumar Mishra as the Interim Director of the Enforcement Directorate (ED) for three months as incumbent Karnal Singh will retire on October 28. The Appointments Committee of the Cabinet (ACC) also said that it has approved Mishra's appointment to the post of Principal Special Director of the financial probe agency.
5. Michael D Higgins re-elected as Irish president for second term
Michael D Higgins has been re-elected as Irish president after receiving 56% of the country's election vote. Businessman Peter Casey came second with 23.1%, while none of the other four candidates polled more than 10%.
6. Former Delhi CM Madan Lal Khurana passes away
Former Delhi chief minister Madan Lal Khurana passed away after a prolonged illness. He was 82. A veteran of the BJP, Khurana was the chief minister of Delhi from 1993 to 1996 and was appointed the governor of Rajasthan in 2004.
7. Invest India wins UN Investment Promotion Award
Invest India has received the top UN Investment Promotion Award in recognition of its efforts to boost investments in the renewable energy sector in India. The award was presented by Armenian President Armen Sarkissian to Deepak Bagla, the CEO of Invest India, in Geneva at the inaugurations of the World Investment Forum organised by the UN Convention on Trade and Development (UNCTAD).
8. M.S. Swaminathan to be awarded World Agriculture Prize
Agricultural scientist M.S. Swaminathan will receive the first World Agriculture Prize instituted by the Indian Council of Food and Agriculture (ICFA) in New Delhi. The prize will be presented by Vice-President Venkaiah Naidu at Vigyan Bhawan at a special session. The prize has been instituted by the ICFA with an aim to recognise individuals who have served humanity through agriculture.
9. PM awarded the 2018 Seoul Peace Prize
The Seoul Peace Prize Committee has decided to confer the 2018 Seoul Peace Prize on Prime Minister Shri Narendra Modi, in recognition of his dedication to improving international cooperation, raising global economic growth, accelerating the Human Development of the people of India by fostering economic growth in the world's fastest growing large economy and furthering the development of democracy through anti-corruption and social integration efforts.
While awarding the 2018 Seoul Peace Prize, the Award Committee recognized Prime Minister Modi's contributions to the growth of the Indian and global economies, crediting 'Modinomics' for reducing social and economic disparity between the rich and the poor.
The Committee lauded PM's initiatives to make the government cleaner through anti-corruption measures and demonetization.
The Committee also credited Prime Minister for his contribution towards regional and global peace through a proactive foreign policy with countries around the world under the 'Modi Doctrine' and the 'Act East Policy.'
Prime Minister Modi is the fourteenth recipient of this award.
10. Tagore Award for Cultural Harmony for 2014, 2015 & 2016 announced
The Tagore Award for Cultural Harmony for the years 2014, 2015 & 2016 is being conferred on the doyen of Manipuri dance Sh. Rajkumar Singhajit Singh; Chhayanaut (a cultural organization of Bangladesh) and on one of India's greatest sculptors, Sh. Ram Vanji Sutar, respectively.
The Jury under the Chairmanship of Prime Minister, Sh Narendra Modi and comprising of the Chief Justice of India, Justice Ranjan Gogoi, Shri N. Gopalaswami & Dr. Vinay Sahasrabuddhe after detailed discussions on 24th October, 2018 unanimously decided to select Sh. Rajkumar Singhajit Singh, Chhayanaut and Sh. Ram Vanji Sutar to be the recipients of the Tagore Award for the years 2014, 2015 & 2016 respectively, in recognition of their outstanding contribution to cultural harmony.
The annual award was instituted by the Government of India during the commemoration of 150thBirth Anniversary of Gurudev Rabindranath Tagore.
The first Tagore Award was conferred on Pt. Ravi Shankar, the Indian Sitar Maestro in 2012 and second was conferred on Shri Zubin Mehta in 2013.
11. Corporation Bank bags MSME award
Corporation Bank has bagged the 'Best MSME Bank - Winner 2018' award instituted by the Assocham.
Shivanand Hebbar, DGM, received the award from Chief Minister of Meghalaya Conrad K Sangma at the '6th Assocham SMEs Excellence Award – 2018' in Delhi.
It said that the award was conferred based on the bank's performance in SME (small and medium enterprise) segment.
12. BEML received Top Challengers' and Best Mining Equipment Seller Award
Bharat Earth Movers Limited (BEML), a Mini Ratna Public Sector Undertaking, under the Ministry of Defence, received the prestigious 'Top Challengers Award 2018' for the excellent performance during financial year 2017-18 and Best Seller in Crawler Equipment- Dozers and Rigid Dump Truck segment for mining sectors. At a function held at Delhi, CMD of BEML, Shri Deepak Kumar Hota has received the award from Construction Economist Mr. Graham D Robinson.
13. Benyamin wins inaugural JCB Prize for Literature
Novelist and short story writer Benyamin has won the inaugural JCB prize for Literature in India. Benyamin won 25 lakh rupees for his book Jasmine Days, translated from Malayalem by Shahnaz Habib. Jasmine Days is a story of a young woman in a city where the promise of revolution turns into destruction and division.
14. Young Indian scientist wins World Health Summit Startup award in Berlin
Roopam Sharma, a 23-year old Indian scientist, won the World Health Summit Startup award, 2018 for his invention, Manovue. It is the world's first intelligent personal assisting system for the visually impaired. Sharma was awarded at an annual event of the health summit in Berlin recently.
15. Pakistani lawyer Asma Jahangir wins UN Human Rights Prize posthumously
Pakistan's iconic human rights activist and lawyer Asma Jahangir was posthumously awarded the 2018 UN Human Rights Prize. She was one of the four winners of the award which was announced by the United Nations. Other recipients are Tanzanian activist Rebeca Gyumi, Brazil's first indigenous lawyer Joenia Wapichana and Ireland's human rights organisation Front Line Defenders.
16. Paraguayan Clara Sosa wins Miss Grand International Contest
The Paraguayan Clara Sosa was crowned as the new Miss Grand International in the competition in the city of Yangon in Myanmar. Sosa, Miss Paraguay, reached the final together with Miss India, Meenakshi Chaudhary Kumar.
17. 3rd Elite men's boxing National Championship to be held in Pune
Army Sports Institute, Pune under the aegis of Services Sports Control Board is conducting the 3rd Elite Men's Boxing National Championship with effect from 27 October to 02 November 2018.
The competition will involve participation of nearly 360 Boxers in Men's Category from 36 teams of various States/Services.
The venue is Army Sports Institute, Mundwa Road, Ghorpadi Pune.
This Championship will be conducted for all ten Weight Categories.
This Championship will be short listing boxers for National Camps and next year's Olympic Qualifying Tournaments by Boxing Federation of India.
18. Dwayne Bravo Announces Retirement From International Cricket
Windies all-rounder Dwayne Bravo brought the curtains down on his 14-year international career by announcing his retirement from all formats of the game.
However, the 35-year-old will continue to play T20 franchise cricket around the world.
Bravo, who made his debut for the Windies in 2004, played 40 Tests, 164 one-day internationals (ODI) and 66 Twenty20 internationals (T20I).
19. Sourav Kothari wins World Billiards Championship title
India's Sourav Kothari defeated Peter Gilchrist of Singapore to clinch the 2018 WBL World Billiards Championship title.
The former national and Asian Billiards champion was pipped at the post for the coveted World Billiards crown on two occasions in the last two years.
20. India & Pakistan declared joint winners of Asian Champions Trophy
In Men's Hockey, India and Pakistan were declared joint winners of the Asian Champions Trophy at Muscat in Oman.
The tournament director declared both teams as winners after the summit clash was called off due to heavy rain.
Defending champions India, thus, ended the tournament unbeaten. Before this edition, both India and Pakistan had won the tournament twice each.
21. Grandmaster B Adhiban finishes 3rd in Isle of Man International Chess tournament beating Michael Adams of England
Grandmaster B Adhiban finished tied third at the Isle of Man International tournament after beating highly-regarded Michael Adams of England in the ninth and final round in Isle of Man, United Kingdom.
Poland's Radoslav Wojtaszek emerged the winner of the event.
Vishwanathan Anand ended the final round with another draw against Wang Hao which means that the Indian ace could inch up to six points.
22. 3 Indian-Americans Named In Time Magazine's 'Health Care 50' List
Three Indian-Americans have been named in the Time magazine's 2018 list of the 50 most influential people whose work is transforming healthcare in the US.
The three Indian-Americans included in the list are Divya Nag, Dr Raj Panjabi and Atul Gawande.
The list included physicians, scientists, business and political leaders, whose work is transforming healthcare.
23. 22nd National level meeting held between India and Myanmar
The 22nd National Level Meeting between India and Myanmar was held from 25to 26 October, 2018.
During the meeting both sides agreed to take action against insurgent groups operating within their territories.
The two countries agreed on providing of security cooperation along with international border and facilitating movement of people and trade across the international border.
24. International Animation Day 2018
International Animation Day is celebrated on October 28, commemorating the day in 1892 when Charles-Emile Reynaud's Theatre Optique made its first public appearance in Paris.
The day recognises and celebrates the artists, technicians and scientists behind the art of animation in all its forms and avatars.
25. Angela Merkel to step down as German chancellor in 2021
Germany's Angela Merkel has said she will step down as chancellor in 2021, following recent election setbacks.
She also said she would not seek re-election as leader of the centre-right CDU party in December.
She has held the post since 2000.
26. PM addresses 'Make in India' Seminar in Tokyo, Japan
The Prime Minister, Shri Narendra Modi addressed the 'Make in India: India-Japan partnership in Africa and digital partnership' seminar, in Tokyo.
The Prime Minister explained how the Union Government is focused on improving ease of doing business, and ease of living for the citizens.
He expressed happiness at the large presence of Japanese companies in India. Noting that Japan has been a partner in many important industrial projects in India, the Prime Minister explained the strength of India's economic performance over the last four years.
He said India is today the fastest growing major economy. He mentioned other major transitions in the Indian economy, including the move from informal to formal economy, digital transactions and GST etc.
27. Malala Yousafzai to be honoured by Harvard University for her work promoting girls' education
Nobel Prize Winner Malala Yousafzai will be honoured by Harvard University for her work promoting girls' education. Harvard's Kennedy School said Yousafzai will be conferred with the 2018 Gleitsman Award at a ceremony on 6th December.
Yousafzai became the youngest person to win the Nobel Peace Prize in 2014 when she was recognized for her global work supporting schooling for all children.
Now aged 20, Yousafzai is a student at Oxford University in England.
28. Donald Trump suggests he will end birthright citizenship with executive order
President Donald Trump, he is preparing an executive order that would end the right to US citizenship for children born in the US to non-citizens.
Under the current laws, anyone born in the US irrespective of the nationality of parents automatically becomes an American citizen.
Trump said, the US is the only country in the world where a person comes in and has a baby, and the baby is essentially a citizen of the US for 85 years with all of those benefits. It's ridiculous. And it has to end.
29. 3rd Decadal International year of Reefs-2018
The International Conference on Status and Protection of Coral Reefs (STAPCOR – 2018) with the theme "Reef for Life" was inaugurated by the Union Minister of Environment, Forest and Climate Change, Dr. Harsh Vardhan on 22nd October at Bangaram coral Island of Union Territory of Lakshadweep.
About 150 delegates both International and National, are participating in this mega event at Bangaram Island from 22nd to 24th October, 2018.
The delegates and keynote speakers for technical deliberations have come from United State of America, United Kingdom, Kuwait, Italy, France, Maldives and Sri Lanka.
The conference will conclude on the 24th October, 2018.
30. PM to launch "Main Nahin Hum" Portal and App
The Prime Minister, Shri Narendra Modi, will interact with IT and electronic manufacturing professionals across India on October 24, 2018, on the occasion of the launch of the "Main Nahin Hum" Portal and App.
The portal, which works on the theme "Self4Society", will enable IT professionals and organizations to bring together their efforts towards social causes, and service to society, on one platform.
In doing so, the portal is expected to help catalyse greater collaboration towards the service of the weaker sections of society, especially by leveraging the benefits of technology.
31. India – Czech Joint Commission on Economic Cooperation held in Prague
The eleventh session of India – Czech Republic Joint Commission on Economic Cooperation (JCEC) was held on 22nd – 23rd October 2018 at Prague.
The Indian delegation was led by Minister of State for Commerce & Industry, Consumer Affairs and Food & Public Distribution, C. R. Chaudhary. Miss Marta Nováková, Minister of Industry & Trade of Czech Republic led the Czech side.
The deliberations were marked with the mutual desire to further expand and strengthen relations between the two countries in the economic field.
32. Forty-five Indian companies participate in SIAL Paris exhibition
Forty-five Indian companies are participating in the SIAL Paris exhibition – the largest international market place for food service professionals.
Trade Promotion Council of India (TPCI) has inaugurated a special Indian pavilion in the ongoing mega exhibition for the participating companies.
SIAL Paris is the leading exhibition of food service products with more than 7020 French and international exhibitors from 109 countries displaying their foodstuffs, ranging from ingredients to processed products, including fresh produce.
Chairman TPCI, Mohit Singla, said that this exhibition is an ideal platform for the Indian participants to explore the business opportunities for trade, acquaint with new consumer trends, food innovations, food services, marketing tie-ups and joint ventures.
33. Establishment of Appellate Tribunal under Prohibition of Benami Property Act, 1988
The Union Cabinet chaired by Prime Minister Shri Narendra Modi has approved the appointment of Adjudicating Authority and establishment of Appellate Tribunal under Prohibition of Benami Property Transactions Act(PBPT), 1988.
Appointment of an Adjudicating Authority, along with the three additional Benches and to establish the Appellate Tribunal under the PBPT Act;
To provide the officers and employees to Adjudicating Authority, Benches of the Adjudicating Authority and Appellate Tribunal by diverting the existing posts at the same level/rank from the Income Tax Deptt./Central Board of Direct Taxes (CBDT);
The Adjudicating Authority and Appellate Tribunal shall sit in the National Capital Territory of Delhi (NCTD).
Benches of Adjudicating Authority may sit in Kolkata, Mumbai and Chennai, and the necessary notification in this regard shall be issued after making consultation with the Chairperson of the proposed Adjudicating Authority.
34. Cabinet approves setting up of Indian Institute of Skills in PPP modes
The Union Cabinet chaired by Prime Minister Shri Narendra Modi has approved the for setting up of Indian Institute of Skills(IISs) at different locations across the country in Public Private Partnership (PPP), which will be explored for promotion of IIS at select locations based on demand and available infrastructure.
The setting up of IISs shall augment the global competitiveness of key sectors of Indian economy by providing high quality skill training, applied research education and a direct and meaningful connection with industry.
It will provide opportunity to aspiring youth across the country to have access to highly skilled training, and enhance the scope of accountability through its linkage with industry and global competitiveness across sectors.
By leveraging advantages of private sector enterprise and public capital in terms of Government land, it would create new institutes of expertise, knowledge and competitiveness.
35. Creation of Fisheries and Aquaculture Infrastructure Development Fund (FIDF)
The Cabinet Committee on Economic Affairs chaired by the Prime Minister Shri Narendra Modi has given its approval for creation of special Fisheries and Aquaculture Infrastructure Development Fund (FIDF).
The approval entails an estimated fund size of Rs.7,522 crore, comprising Rs.5,266.40 crore to be raised by the Nodal Loaning Entities (NLEs), Rs. 1,316.6 crore beneficiaries contribution and Rs.939.48 crore budgetary support from the Government of India.
National Bank for Agriculture and Rural Development (NABARD), National Cooperatives Development Corporation (NCDC) and all scheduled Banks (hereinafter referred as Banks) shall be the nodal Loaning Entities.
36. Vice President Inaugurates International Conference 'AFITA/WCCA2018'
The Vice President of India, Shri M. Venkaiah Naidu has said that value addition for agricultural production is one of the solutions for improving farmers' income.
He was addressing the inaugural session of the International Conference 'AFITA/WCCA2018' on Research Frontiers in Precision Agriculture, jointly organized by Asia-Pacific Federation for Information Technology in Agriculture, International Network for Information Technology in Agriculture and Indian Society for Agricultural Information Technology, in Mumbai.
The Vice President said that farming community needs to diversify and take up allied activities like fisheries, dairy and poultry as well to supplement on-farm incomes.
37. President of India inaugurates International Arya Mahasammelan-2018
The President of India, Shri Ram Nath Kovind, inaugurated the International Arya Mahasammelan – 2018 in Delhi.
Speaking on the occasion, the President said that in the 19th century when we were considering our culture and beliefs inferior than the western culture, Swami Dayanand Saraswati showed us the path of renaissance and self-pride.
He was an intrepid warrior of social and spiritual reform. He took effective measures for educational and social reform especially for women empowerment and eradication of untouchability. His work is relevant even in the present times both for Indian society and the entire world.
38. Dr Jitendra Singh inaugurates 10th Nuclear Energy Conclave
The Union Minister of State (Independent Charge) for Development of North Eastern Region (DoNER), MoS PMO, Personnel, Public Grievances & Pensions, Atomic Energy and Space, Dr Jitendra Singh said that India has vindicated the vision of the founding father of country's Nuclear Energy Programme, Dr Homi J. Bhabha, when he had said that India's nuclear programme will be used for peaceful purposes.
He was delivering the inaugural address at the 10th Nuclear Energy Conclave.
The theme of the conclave is 'Nuclear Power- Towards a Clean & Base Load Energy'.
Dr Singh said that the Cabinet has given its approval for construction of 10 units of India's indigenous Pressurized Heavy Water Reactors (PHWR).
This significant decision has been taken to fast-track India's domestic nuclear power programme, and give a push to country's nuclear industry, he added.
Speaking about other initiatives, he said that the Government has amended sections of the Atomic Energy Act, 1962 through the Atomic Energy (Amendment) Bill, 2015.
39. Global Agriculture Leadership Summit 2018 opens in New Delhi
The Global Agriculture Leadership Summit 2018 opened in New Delhi. The theme of the 2-day summit is, 'Connecting Farmers to Market'.
Inaugurating the summit, Secretary Agriculture and Co-operation Sanjay Agrawal said, several measures are being taken to double farmers' income by 2022.
Quoting Prime Minister Narendra Modi, Mr Agrawal said, good strategy, adequate resources and good governance will be crucial to achieve the target.
40. 24th edition of Technology Summit to begin at New Delhi
India will host the 24th edition of Technology Summit with Italy as the partner country.
The two-day summit will be inaugurated on 29th October, 2018 by the Union Minister for Science& Technology, Earth Sciences, Environment, Forest & Climate Change, Dr. Harsh Vardhan.
This is the first time that Italy has been selected as partner country for this prestigious event.
Italian Prime Minister will be leading a 200-strong delegation for the Summit comprising business leaders, scientists, heads of research and scientific organisations and technocrats.
41. PM addresses Krishi Kumbh in Lucknow, via video conference
The Prime Minister, Shri Narendra Modi, today addressed the Krishi Kumbh in Lucknow, via video conference.
The Prime Minister expressed confidence that this gathering of farmers would pave the way for new technology to be imbibed and better opportunities to be created in the agriculture sector.
The Prime Minister appreciated the State Government of Uttar Pradesh, for its efforts in augmenting substantially, the procurement of food grains.
He asserted that the farmers are the ones, who take the country forward. He reiterated the Union Government's commitment to double the income of farmers by 2022.
42. Digital communications & economy discussed between India and European Commission
The Minister of State for Communications (Independent Charge) Government of India, Mr Manoj Sinha and the H.E. Mr Andrus Ansip, European Commissioner for Digital Single Market and Vice President of the European Commission have met in New Delhi to discuss cooperation on Digital communications, Digital economy and society.
India and European Union (EU) stressed that Digital Communications and Technologies are of vital importance for all spheres of society, business and government.
The development and widespread adoption of new ICT services and networks have powerful effects on economic and social development, supporting sustainable growth and competitiveness and contributing to addressing global societal challenges.
Both sides noted the importance of supporting global standards and welcomed the close technical cooperation between the Indian and European Telecom Standardization Development Organizations - TSDSI (India) and ETSI (European Union).
43. Vigilance Awareness Week 2018 to be observed from 29th Oct-3rd Nov
The Central Vigilance Commission (CVC) observes the Vigilance Awareness Week every year during the week in which the birthday of Sardar Vallabhbhai Patel (31st October) falls.
This year, the Vigilance Awareness Week is being observed from 29th October to 3rd November, 2018 on the theme "Eradicate Corruption-Build a New India.
This week, through its various outreach activities, it seeks to motivate stakeholders to collectively participate in the fight against corruption and also aims at raising public awareness regarding the detrimental consequences of corruption.
44. 3-day India Mobile Congress 2018 concludes
India Mobile Congress(IMC) 2018 – a marquee event which provided a peep into the exciting future in the rapidly evolving area of digital communications – ended, with participants and organisers promising to be back next year.
This year's event, with its' theme of "New Digital Horizons – Connect. Create. Innovate" established the IMC as a regular platform for global and local stakeholders in the sector to collaborate in the cause of exploring opportunities and leveraging possibilities, with specific focus on South and South-East Asia.
The mega 3-day event was inaugurated on October 25 by Shri Manoj Sinha,Minister of State (Independent Charge) for Communications.
45. First Regional Review Meeting for "Sustainable Sanitation" Held In Nagpur
The Ministry of Drinking Water and Sanitation, Government of India, in coordination with the Water Supply and Sanitation Department, Government of Maharashtra, organized the first in a series of regional review meetings on Sustainable Sanitation.
The regional review was held in Nagpur, attended by State Secretaries in-charge of rural sanitation, Mission Directors, and other State Swachh Bharat Mission (SBM) officials, including representatives from 25 districts from Maharashtra, Madhya Pradesh, Chhattisgarh and Gujarat.
The review meeting was chaired by Mr. ParameswaranIyer, Secretary, Ministry of Drinking Water and Sanitation.
46. Department of Consumer Affairs & NCDRC organizes conference
The Department of Consumer Affairs, Government of India along with National Consumer Disputes Redressal Commission (NCDRC) jointly organized a Conferenceat Vigyan Bhawan New Delhi to review the functioning of the State Commissions and District Fora.
The Conference was attended by Presidents of State Commissions and Secretaries in charge of Consumer Affairs of States and UTs.
The Conference was presided over bythe Minister of State for Consumer Affairs, Food, Public Distribution & Commerce and Industry, Shri C.R. Chaudhary, andPresident, NCDRC, Justice R. K. Agarwal.
The Conference is being held at a crucial time, when the Government has introduced a new Consumer Protection Bill, 2018 in the Lok Sabha repealing the Consumer Protection Act of 1986 with substantial changes for meeting the emerging challenges faced by consumers in the new markets.
47. Gandhian Thought and Swachhata seminar organized in Wardha
The Ministry of Drinking Water and Sanitation (MDWS) organized a seminar in Wardha district of Maharashtra.
The seminar, titled "Gandhian Thoughts and Sanitation", was centered on the Gandhian ideology on sanitation and the implementation of the same through the Swachh Bharat Mission (SBM).
The seminar ended with a visit to Sevagram, to experience and learn from Gandhiji's time there.
48. Kerala the best State for teenage girls in India: Report
Kerala tops the TAG index which compares the performance of each State based on the status of their teenage girls, as a part of the survey findings of The Teen Age Girls (TAG) Report, conducted by Project Nanhi Kali.
Compiled and published by the Naandi Foundation, with grant support from Mahindra & Mahindra Ltd, this report is touted as the nation's first report on what it means to be a teenage girl in India.
Conducted by an all-women team of 1000 surveyors, the survey covered over 74,000 girls across the country and traversed 30 States and 600 districts.
Kerala is followed by Mizoram, Sikkim, Manipur and Himachal Pradesh as the top States, while the top three cities were found to be Mumbai, Kolkata and Bengaluru.
49. IIT Kharagpur organises Young Innovators Programme
To make the younger generation more oriented towards scientific and technological innovations, the Indian Institute of Technology (IIT) Kharagpur organised a science and technology competition for students of class 8 to 10.
The competition called the 'Young Innovators Programme YIP 2018' was attended by many schools in the country and also from Singapore.
Kaanger Valley Academy, Raipur, Chattisgarh emerged on the top of the Young Innovators Programme.
50. Maharashtra Coast to be Developed as Tourism hotspot: Suresh Prabhu
Union Minister of Commerce & Industry and Civil Aviation, Suresh Prabhu, has written to Minister of State (Independent Charge) for Tourism, K.J. Alphons, and Chief Minister of Maharashtra, Devendra Fadnavis, for developing Maharashtra coast as atourist hotspot.
He said that the marine leisure sector is the fastest growing segment of the travel industry and growth ofcruise ship industry, seaside destination resorts, marine parks, scuba diving and aquariums.
India, with a coast line of 7500 km., has tremendous potential for development in this sector.
51. Conference on Cyber Security – Challenges and Innovations
Defence Research and Development Organisation (DRDO) in association with Cyber Peace Foundation and Veermata Jijabai Technological Institute (VJTI) organised a conference on Cyber Security – Challenges and Innovations at DRDO Bhawan.
It was inaugurated by Member NITI Aayog, Dr. V K Saraswat.
Addressing the gathering, Dr. Saraswat emphasised to convert a challenge into an opportunity through innovation.
52. Conference on "CCTNS--Good practices and success Stories"
The Union Minister of State for Home , Shri Hansraj Gangaram Ahir inaugurated the two-day conference on "CCTNS--Good practices and Success Stories" organised by National Crime Record Bureau (NCRB).
MoS (Home) Shri Hansraj Gangaram Ahir also released a Compendium of "CCTN--Good practices and Success Stories".
In his Inaugural address, Shri Hansraj Gangaram Ahir said that in a huge democracy like India, having population of 130 crore, CCTN System and associated technologies can help us get information quickly and track the criminals.
53. Gadkari to lay the foundation for India's largest Dry Dock at Cochin Shipyard
The Union Minister for Shipping, Road Transport & Highways, Water Resources, River Development & Ganga Rejuvenation Shri Nitin Gadkari and Kerala Chief Minister Shri Pinarayi Vijayan will lay the foundation for India's largest Dry Dock at Cochin Shipyard in Kerala on 30 October.
The Dry Dock will give an impetus to "Make in India" initiative under Sagarmala and raise India's share in global shipbuilding to 2 percent. India currently occupies 0.66 % share in global shipbuilding market.
The commercial ship building industry in India is worth Rs. 3,200 Croreand focuses primarily on small-medium sized offshore vessels and cargo/bulk carriers.
At present, Cochin Shipyard has two dry docks, one predominantly used for ship building of size 255m x 43 x 9m and capacity 1,10,000 DWT and the other one for ship repair of size 270 x 45 x 12m and capacity 1,25,000 DWT.
54. CSIR develops Less Polluting Firecrackers named – SWAS, SAFAL and STAR
"CSIR scientists have developed Less Polluting Firecrackers which are not only environment friendly but 15-20 % cheaper than the conventional ones", said Dr Harsh Vardhan, Union Minister for Science & Technology, Earth Sciences, Environment, Forest & Climate Change.
These crackers have been named as safe water releaser (SWAS), safe minimal aluminium (SAFAL) and safe thermite cracker (STAR).
Highlighting that the Indian Fireworks industry is over 6000-crore worth of annual turnover and provides employment opportunities to over 5 lakh families directly or indirectly, the Minister said that this endeavour of CSIR aims at addressing the pollution concerns at the same time protecting the livelihoods of those involved in this trade.
55. Meeting of Financial Stability and Development Council held
The Financial Stability and Development Council, FSDC, held a meeting in New Delhi which was presided over by Finance Minister Arun Jaitley.
RBI Governor Urjit Patel, financial sector regulators and top officials of the Finance Ministry attended the meeting.
It reviewed the progress in setting up a Computer Emergency Response Team in the financial sector under a statutory framework.
56. PM to dedicate Statue of Unity to the Nation
The Prime Minister, Shri Narendra Modi, will dedicate the world's tallest statue, the "Statue of Unity", to the Nation, at Kevadiya in Gujarat on October 31, 2018.
The 182 metre statue of Sardar Vallabhbhai Patel, will be dedicated to the nation on his birth anniversary, at Kevadiya in Narmada District of Gujarat.
57. IIT Guwahati uses aloe vera to remove oil from water
Researchers have for the first time used a naturally occurring material — aloe vera gel — which inherently has superior oil repelling (oleophobic) property to separate oil from water
Using the membrane, the researchers were able to separate both light (kerosene) and heavy oil from water even under harsh conditions
The team led by Dr. Uttam Manna from the Department of Chemistry at Indian Institute of Technology (IIT) Guwahati used the thick gel contained in the leaves of aloe vera plant
58. Prime Minister addresses the India-Italy Technology Summit
The Prime Minister, Shri Narendra Modi, addressed the India-Italy Technology Summit at New Delhi.The Prime Minister of Italy,Mr. Giuseppe Conte, was also present on the occasion.
During the address, Prime Minister announced the launch of the next phase of the India-Italy Industrial Research and Development Cooperation program.He added that the program will enable our industry and research institutes to develop new products.
59. Six-member panel set up to resolve stressed assets
The overseeing committee (OC) that is being set up under the inter-creditor agreement (ICA) for resolution of stressed assets will have six members.
These members include Janki Ballabh (former Chairman, State Bank of India), MBN Rao (former Chairman & Managing Director, Canara Bank ), M Damodaran (former Chairman, SEBI) and HR Khan (former Deputy Governor, RBI).
The OC, which is being formed under the aegis of the Indian Banks' Association (IBA), will approve resolution plans for stressed assets submitted by lead lenders.
60. 38 MoUs signed at Bhubaneswar Steel Conclave
Capital Goods(CG) producers from across the globe inked 38 MoUs with Indian steel companies which will reduce imports for the steel sector worth Rs 39,400 crore.
The MoUs were signed at a Conclave in Bhubaneswar which was organized by Ministry of Steel, Government of India, in association with Confederation of Indian Industry (CII) and MECON.
The National Steel Policy - 2017 envisages creation of 300 million tonnes (MT) of steel capacity in the country by 2030-31 as against existing 130 MT.
61. India and UK collaborate on research on Ganga delta region and the Bay of Bengal
India and the United Kingdom will collaborate on research on different aspects of the Ganga delta region and the Bay of Bengal.
The Bay of Bengal is also critical to India in terms of resources and also has an impact on the Southwest Monsoon, the lifeline of the country.
Speaking at the event, British High Commissioner to India Dominic Asquith said the partnership through the UKRI has generated innovative scientific and technological solutions that will "transform both our societies and economies".
62. SBI, Hitachi to set up card acceptance, digital payment platform
State Bank of India (SBI) and Hitachi Payment Services Pvt Ltd have signed a definitive agreement to enter into a joint venture for the establishment of a latest card acceptance and future ready digital payment platform for India.
According to a joint statement, India's largest bank will have a majority stake in the proposed joint venture.
The joint venture agreement is subject to requisite regulatory approvals.
Hitachi Payment Services Pvt Ltd is a wholly owned subsidiary of Hitachi Ltd, Japan.
63. Arunachal, British Council sign MoU for cultural cooperation
The Arunachal Pradesh government signed a MoU with The British Council to strengthen educational and cultural cooperation.
As per the MOU, as many as 50 faculty members from government higher education institutions will be trained by the British Council every year, starting from December.
Further, 50 students of higher and technical education institutes will be trained in English language skills annually.