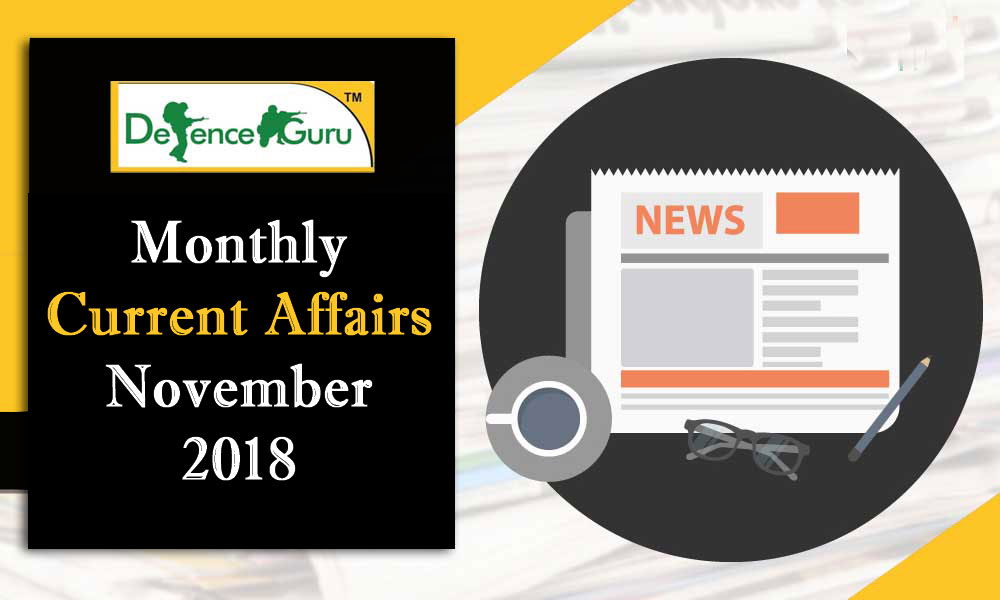 Monthly Current Affairs November 2018
We provide you all information regarding Current Affairs November 2018. Read this Current Affairs Capsule to know about the major happenings of the Month Nov 2018. The given Current Affairs are prepared in exam point of view basis. This will be very useful for your Competitive exams like NDA, SSB, CDS, Airforce and others Exams.
Current Affairs November 2018
UNICEF appoints Singer Nahid Afrin as first Youth Advocate of NE region to fight for child rights
United Nations International Children's Emergency Fund (UNICEF) has appointed popular singer Nahid Afrin (17) of Assam as the first 'Youth Advocate' of the northeastern region to fight for child rights. UNICEF engages 'Youth Advocates' to harness their voice as agents of change in society. Nahid had made her playback debut in 2016 Bollywood film 'Akira' starring Sonakshi Sinha in the lead. She received best female playback singer award at the Assam state Film Award 2018.United Nations International Children's Emergency Fund is special program of UN devoted to aiding national efforts to improve the health, nutrition, education, and general welfare of children. It was created in 1946 to provide relief to children in countries devastated by World War II. It is headquartered in New York.
Sunil Arora to be next Chief Election Commissioner
Election Commissioner Sunil Arora has been appointed as the next Chief Election Commissioner. He will take charge as the next CEC on December 2. A former bureaucrat, Sunil Arora was appointed as Election Commissioner in September last year. 62 year old Sunil Arora had been the Union Information and Broadcasting Secretary and Secretary in the Ministry of Skill Development and Entrepreneurship. A 1980 batch IAS officer of the Rajasthan cadre, Sunil Arora has worked in ministries and departments such as Finance, Textiles and Planning Commission.
Nageshwara Rao Guntur appointed as Chairperson of Atomic Energy Regulatory Board
Union Government has appointed renowned scientist Nageshwara Rao Guntur as Chairperson of Atomic Energy Regulatory Board (AERB). His appointment as the AERB chairperson will be for three years. Guntur is the chairman, Project Design Safety Committee, Prototype Fast Breeder Reactor (PFBR) and former distinguished scientist Nuclear Power Corporation of India Ltd (NPCIL). It was established in November 1983 to carry out certain regulatory and safety functions in the fields of nuclear and radiation safety on a countrywide basis. It is headquartered is in Mumbai, Maharashtra.
WCD Ministry nominates 3 new members of National Commission for Women
Ministry of Woman and Child Development (WCD) has nominated three members to National Commission for Women (NCW) in pursuance Section 3 of the NCW Act 1990. They are Chandramukhi Devi, Soso Shaiza, and Kamlesh Gautam. All three are BJP members.
They will hold office for period of three years or till age of 65 years or until further orders from date of assumption of charge of office, whichever is the earlier. NCW is a statutory body established under the National Commission for Women Act, 1990. It was established in January 1992 to review constitutional and legal safeguards for women.
Sanjay Kumar Mishra appointed as Director of Enforcement Directorate
Prime Minister Narendra Modi headed Appointments Committee of the Cabinet (ACC) has appointed Sanjay Kumar Mishra as Director of the Enforcement Directorate (ED). He will have tenure of two-years from the date of assumption of the charge of the post or until further orders, whichever is earlier. The post of ED director is additional secretary rank post in the Union government. The Directorate of Enforcement is a law enforcement agency and economic intelligence agency responsible for enforcing economic laws and fighting economic crime in India. It is part of the Department of Revenue, Ministry of Finance, and Government of India.
Jalaj Srivastava appointed Chairman of Inland Waterways Authority of India
Union Government has appointed senior IAS officer Jalaj Srivastava as chairman of Inland Waterways Authority of India (IWAI). It is nodal statutory body in charge of development and regulation of inland waterways for shipping and navigation. It was established in October 1986 and is headquartered in Noida, Uttar Pradesh. Its main function is to build necessary infrastructure in inland waterways, surveying economic feasibility of new projects and also carrying out administration and regulation. IWAI comes under Union Union Ministry of Shipping, Road Transport and Highways, currently headed by Nitin Gadkari
India re-elected for another term of International Telecommunications Union (ITU)
India has been elected as a Member of the International Telecommunications Union (ITU) Council for another 4-year term (2019-2022). The elections to the Council were held during the ongoing ITU Plenipotentiary Conference 2018 at Dubai, UAE. By securing 165 votes, India ranked third among the 13 countries elected to the Council from the Asia-Australasia region, and eighth among the 48 countries elected to the Council globally. The ITU has 193 memberstates who elect representatives to the Council.
The International Telecommunication Union (ITU) is an agency of the United Nations (UN) whose purpose is to coordinate telecommunication operations and services throughout the world. Originally founded in 1865, as the International Telegraph Union, the ITU is the oldest existing international organization. ITU headquarters are in Geneva, Switzerland.
Vinod Dasari, CEO and MD of Ashok Leyland, steps down
Vinod Dasari announced his decision to resign from the company citing personal reasons. Dasari will continue to work in the current position until 31 March 2019. The company Board in its meeting accepted his resignation. The Board has meanwhile called upon Dheeraj Hinduja to step in as executive chairman (EC) with immediate effect.
Binny Bansal resigns as Flipkart CEO
Binny Bansal has announced his resignation as CEO of Flipkart Group, effective immediately, following an independent investigation into an allegation of "serious personal misconduct," said Walmart Inc. in a statement. "He strongly denies the allegation. Nevertheless, we had a responsibility to ensure the investigation was thorough," said Walmart.
Asian Games gold medalist Hima Das appointed as UNICEF India's Youth Ambassador
Asian Games gold medalist Hima Das has been appointed as UNICEF India's Youth Ambassador.Hima, who won a silver medal in the 400 meters sprint and also a gold in the 4X400 meters relay at the Asian Games in Jakarta this year will work towards supporting various initiatives by UNICEF. In her role as a Youth Ambassador, Hima will work towards raising awareness about the rights and needs of children and help amplify the voices of children and young people as active participants in decision making.
Ashok Kumar Gupta appointed as Chairperson of Competition Commission of India
Appointments Committee of the Cabinet (ACC) headed by Prime Minister Narendra Modi has appointed former IAS officer Ashok Kumar Gupta as Chairperson of Competition Commission of India (CCI). He replaces acting chairperson Sudhir Mital. He will be in office till October 25, 2022 i.e. till he attains age of 65 years or until further orders, whichever is the earliest. Gupta is former IAS officer of the Tamil Nadu cadre. CCI is quasi-Judicial statutory body established under the Competition Act, 2002. It was established in October 2003 and became fully functional in May, 2009.
Dinkar Asthana has been appointed as India's ambassador to Laos
Dinkar Asthana , an Indian Foreign Service Officer (IFS) of the 1990 batch. Currently, he is Additional Secretary in the Ministry of External Affairs. He has been appointed as the next Ambassador of India to Lao People's Democratic Republic.
Capital: Vientiane || Currency: Lao kip
2.Saurabh Netravalkar, ex-India U-19 star, now US cricket captain
The 27-year-old former Mumbai medium pacer, who had quit the game to study computer science in Cornell University, became the captain of the US national cricket team. The six-foot-tall left-arm seamer was India's highest wicket-taker in the team's ill-fated U-19 World Cup campaign in 2010.Two of his notable victims were England's future captain Joe Root and Pakistan's turbulent opener Ahmed Shehzad. Three years later, Netravalkar played his only Ranji Trophy game for Mumbai against Karnataka and claimed three wickets.
S. S. Deswal appointed as DG, ITBP
The ACC has approved the appointment of Shri S. S. Deswal, IPS (HY: 84) as Director General, Indo Tibetan Border Police (ITBP). He took charge from Shri R K Pachnanda, the outgoing DG of ITBP, who superannuated on October, 31. An MHA order said that Shri Deswal will hold the additional charge of the post of DG, Sashastra Seema Bal (SSB) till further orders.
Mary Kom named as brand ambassador of women's world C'ship
Five-time world champion Mary Kom has been named as the brand ambassador of the upcoming 10th edition of the International Boxing Association (AIBA) Women World Championship. AIBA Women World Championship is slated to be held from November 15-24 in New Delhi.
Wipro Chairman Azim Premji conferred with highest French Civilian Honour
Chairman of IT major Wipro and philanthropist Azim Premji was bestowed with highest French civilian distinction Chevalier de la Legion d'Honneur (Knight of the Legion of Honour). He was awarded for his outstanding contribution to developing information technology industry in India, his economic outreach in France and his contribution to society as philanthropist through the Azim Premji Foundation and Azim Premji University. It is the highest civilian award given by the French government to person for his outstanding service to France,. It was instituted in 1802 by Napoleon Bonaparte.
Centre for Science and Environment awarded Indira Gandhi Prize for Peace, Disarmament and Development
Delhi-based environment think-tank Centre for Science and Environment (CSE) will be awarded Indira Gandhi Prize for Peace, Disarmament and Development 2018 for its work in environmental education and protection. CSE is being awarded prize for its steady fast advocacy of measures to combat environmental deterioration and for its success in influencing public policies and programmes that have benefitted social and economic development in India. It was selected for this award by international jury, chaired by former president Pranab Mukherjee.
S.P. Ganguly awarded Mexican Order of Aztec Eagle
Mexican government has honoured Indian academician Shyama Prasad Ganguly with "Orden Mexicana del Águila Azteca" (Mexican Order of the Aztec Eagle), the highest civilian honour given to a foreigner by Mexico. He was awarded for disseminating Spanish language and Mexican culture to strengthen Mexico-India cultural relations. He is first Indian Academician to get this award. He is former professor of Spanish and Latin American Studies at Jawaharlal Nehru University (JNU).
Jawahar Lal Sarin presented with France's highest civilian honour
Renowned French scholar Jawahar Lal Sarin was presented with France's highest civilian honour Chevalier de la Lgion d'Honneur. He was presented with this award in recognition of his outstanding contribution to enhancing Indo-French cultural cooperation and promoting French language. Jawahar Lal Sarin president of Alliance franaise de Delhi's governing body. He had studied French for five years at the Punjab University, Chandigarh, and later at the Sorbonne University, Paris. It is the highest civilian award given by the French government to person for his outstanding service to France, Regardless of the nationality. It was instituted in 1802 by Napoleon Bonaparte.
'Pather Panchali' is only Indian movie to feature in BBC's 100-best foreign language films
Satyajit Ray's epic masterpiece 'Pather Panchali' has been included by BBC's 100 best foreign language films but it is the only film from India to feature in the list. Ray's film, released in 1955, was placed at number 15 in the list, which has been topped by Akira Kurosawa's 'Seven Samurai'. 27 of the highest-rated films were in French, followed by 12 in Mandarin, and 11 each in Italian and Japanese.
Harsimrat Badal confers prizes to cleanest Mega Food Parks and Cold Chain Units
Swachhta Pakhwada activities by the Ministry of Food Processing Industries have come to a close. On the penultimate day Union Minister Smt Harsimrat Kaur Badal distributed prizes for cleanliness among Mega Food Parks and Cold Chain Units for maintaining, promoting and encouraging Swachhta Culture. The first prize was awarded to M/s. Patanjali Food and Herbal Park (P) Ltd. in Haridwar, the second prize by Satara Mega Food Park (P) Ltd., Satara District, Maharashtra and third by Pagro Frozen Foods Pvt.(P) Ltd. (Cold Chain Project) in Fatehgarh Sahib, Punjab.
Veteran and former Union minister C K Jaffer Sharief passed away
Challakere Kareem Jaffer Sharief was an Indian politician. He was one of the senior most Indian National Congress leaders. Sharief, who had turned 85 only on November 3, had been admitted to the hospital after suffering a major cardiac event at home and had to be revived from a cardiac arrest on November 23. He was also worked as Union Railway Minister from 1991 to 1995.
Ambareesh, the Beloved Rebel of Kannada Cinema and Politics, Passes Away at 66
Veteran Kannada actor and former minister Ambareesh passed away in a Bengaluru hospital on Saturday where he was being treated for multiple ailments. He served as a union minister in the UPA government led by Manmohan Singh. The actor was an MP from 1998-99, 1999-2004 and 2004-2009. He was also the Minister of State in the Ministry of Information and Broadcasting from 2006 to 2008.
Senior AIR broadcaster Ashutosh Jain passes away
Senior Hindi News Reader of All India Radio, Ashutosh Jain passed away in New. He was 60. Ashutosh Jain, who joined the AIR in 1989 in Chandigarh retired from Delhi in April this year.
Ad guru Alyque Padamsee dies at 90
Noted ad film maker and Padma Shri Alyque Padamsee died in Mumbai at the age of 90. The ad man was the brain behind several iconic advertisement campaigns such as the Lalitaji for Surf, Cherry Charlie for Cherry Blossom Shoe Polish, the MRF Muscle Man, the Little girl in the waterfall, the Kamasutra couple, Hamara Bajaj, the TV detective Karamchand, the Fair & Handsome brand etc. He also received the Sangeet Natak Akademi Tagore Ratna award by Sangeet Natak Akademy.
Union Minister Ananth Kumar passes away at 59
Union Parliamentary Affairs Minister Ananth Kumar died at a private hospital in Bengaluru. He was suffering from lung cancer for several months. Ananth Kumar represented the Bengaluru South parliamentary constituency six times since 1996. He joined the BJP in 1987 and never looked back, as he held posts of state secretary, state president of the Yuva Morcha, general secretary and national secretary. Kumar is among a few party leaders who can be credited for the growth of BJP in Karnataka, as they built the party and bringing it to power in 2008, making it the first saffron party government in South India.
Dr Jitendra Singh releases book 'Radio Kashmir – In Times of Peace & War'
The Minister of State for Development of North Eastern Region (I/C), Prime Minister's Office, Personnel, Public Grievances & Pensions, Atomic Energy and Space, Dr. Jitendra Singh released a book titled 'Radio Kashmir – In Times of Peace & War' written by Dr Rajesh Bhat.Dr Jitendra Singh congratulated the author of the book and appreciated his efforts for writing a book on Jammu and Kashmir after extensive and in-depth research. He said that the writer has wide experience of working in print and electronic, as well as private and government media. Dr Singh said that reporting of radio in Jammu and Kashmir has its own significance.
Mansi Gulati's Book 'Yoga And Mindfulness' Launched
The book was launched by the Vice President of India, M. Venkaiah Naidu amidst the presence of Member of Parliament from the Rajya Sabha. Mansi Gulati addressed the audience and spoke about the benefits of yoga. She said her book 'Yoga and Mindfulness' revolves around the fact that yoga, is not mere asanas, but anything you do with mindfulness and dedication is yoga. This book aids in making yoga a part of your daily life. It explored the linkage between physical exercises and mindfulness.
Women's World Boxing C'ships: Sonia Chahal enters final
Sonia Chahal has entered the final of the 57 kg category at the Women's World Boxing Championship, becoming the second Indian set to fight for the gold after MC Mary Kom won her semi-final. The 21-year-old Haryana native put up a commanding show and beat her North Korean opponent Jo Son Hwa 5-0.
ICC Women's World T20 cup: Australia bagged the cup
Australia bagged the ICC Women's World T20 World cup, 2018 by beating England in the final match. England, opting to bat first despite the expected dew, folded for 105 in a dramatic batting collapse and Australia chased down the total with consummate ease - 29 balls to spare - through an unbeaten 62-run partnership between Gardner and Meg Lanning despite losing both openers early. Man of the Match awards won by Australia's wicketkeeper Alyssa Healy.
Bhavani Devi becomes first Indian to win gold medal in Senior Commonwealth Fencing Championship in Canberra
India's Bhavani Devi won the gold medal in the Sabre event in the Senior Commonwealth Fencing Championship 2018 held in Canberra Bhavani Devi is the first Indian to win a gold medal in the Commonwealth Championship. She defeated England's Emily Ruaux 15-12 in the final. Earlier, Bhavani Devi won a silver medal in the Tournoi Satellite Fencing Championship in Iceland.
World Boxing Championships: Mary Kom wins record sixth gold medal
India's MC Mary Kom won a historic sixth gold in the World Championships by beating Ukraine's Hanna Okhota in a unanimous 5-0 verdict in the 48kg category summit bout, young Sonia Chahal settled for a silver. India ended the championships with 1 gold, 1 silver and 2 bronze - from Lovlina Borgohain (69kg) and Simranjit Kaur (64kg).
Sameer Verma wins Syed Modi International Badminton title 2018
India's Sameer Verma has won Syed Modi India Grand Prix Gold badminton title 2018 in men's singles category. In the final match held in Lucknow, he defeated China's Lu Guangzu by 16-21, 21-19 and 21-14 score. Women's singles title was won by China's Han Yue after defeating India's Saina Nehwal by 21-18, 21-8 score. It was launched by Uttar Pradesh Badminton Association (UPBA) in 1991 as 'Syed Modi Memorial Badminton Tournament' in memory of Syed Modi. It is held every year at Lucknow, Uttar Pradesh.
Harmanpreet Kaur named captain of ICC Women's World Twenty20 XI
India's batting star Harmanpreet Kaur was named captain of the ICC Women's World Twenty20 XI, which also featured opener Smriti Mandhana and leg-spinner Poonam Yadav. A selection panel of ICC in Dubai picked up the team on the basis of the players' performances in the tournament, which concluded today with Australia winning the title. Three players from England, two from Australia and one each from Pakistan, New Zealand and the Windies have also been named in the eleven.
Pankaj Advani won third IBSF billiards crown
India's Pankaj Advani won his third straight IBSF billiards crown in the 150-up format. Advani overcame Nay Thway Oo of Myanmar in the final. This win also marks a hat-trick of wins for Advani in the shorter format. He had won in his hometown Bengaluru in 2016 before doing the same in Doha last year.
Women's World T20: India beat Ireland by 52 runs to enter semi-finals
India women beat Ireland by 52 runs to become the second team to seal semi-final berth at the ICC Women's World T20 in Providence, Guyana. Earlier, batting first, India scored 145 with Mithali Raj scoring 51 off 56 balls and Smriti Mandhana supporting with 33 off 29 balls. Chasing a modest 146-run target, Ireland, who lost wickets at regular intervals, could all manage 93/8 in the stipulated 20 overs as Deepti Sharma got 2 for 15 in 3 overs. Radha Yadav picked 3/25 in 4 overs.
MCG to host both men's, women's World T20 finals in 2020
Australia's biggest stadium Melbourne Cricket Ground will host the final match of both the men's and women's World Twenty20 cricket in 2020. The women's World T20 will run from February 21 to March 8 while the men's tournament will be held from October 18 to November 15 in Australia. The eight host cities will be Adelaide, Brisbane, Canberra, Geelong, Hobart, Melbourne, Perth and Sydney.
Alexander Zverev is the ATP 2018 champion!
Alexander Zverev beat world number one Novak Djokovic 6-4 6-3 to win the ATP Finals - the biggest title of the German's fledgling career. Zverev is the first German to win the title since Boris Becker in Frankfurt in 1995 and the youngest since Djokovic won at the same age in Shanghai in 2008.
Lakshya Sen wins bronze medal in men's singles at World Junior Badminton Championship
India's top junior shuttler Lakshya Sen (17) won bronze medal at Li Ning BWF World Junior Badminton Championships 2018 held at Markham, Canada. This was overall India's fifth boy's singles bronze medal at BWF World Junior Championships and only medal India got at this year's Championships. Previously, RMV Gurusaidutt (2008), B Sai Praneeth (2010), HS Prannoy (2010) and Sameer Verma (2011) have won bronze medal. Siril Verma (2015) is India's only boy's singles silver-medalist at World Junior Championships. Saina Nehwal (2008) is only India's sole gold medalist.
Bangladesh Krida Shiksha Prothishtan (BKSP) wins 59th edition of Subroto cup International Football Tournament
Closing Ceremony & Final Match of the59th edition of Subroto Cup International Football Tournament was held in New Delhi on 20 Nov. The final match was played between Amini School, Afghanistan and Bangladesh Krida Shiksha Prothishtan (BKSP), Bangladesh in which BKSP won the championship with a solitary goal scored by Habibur Rahman (Jersey No. 15) at the 11th minute. Best Goalkeeper award was presented to Pranub Limboo of Govt. Senior Secondary School, Namchi, Sikkim and the Best Player award was presented to Mohammad Nemil of Reliance Foundation School, Mumbai.
Indian gymnasts win two bronze medals in Acrobatic Gymnastics World Cup
Indian gymnasts won two bronze medals in the men's and women's group events of the FIG Acrobatic World Cup in Baku. Prins Aris and Rejilesh Suribabu finished third after scoring 20.560 to bag the bronze medal at the National Gymnastics Arena. Russian gymnasts won both the gold and silver. Germany's Kudryashov, Aleksandr Sorokin, Valeriy Tukashvili and Kirill Zadorin were ranked first with a score of 28.336 while Pavel Gubskiy, Kirill Lukyanov, Vladimir Petrov and Denis Solun finished second after scoring 28.005.
Bajwa shoots historic skeet gold at Asian Shotgun Championship
In the 8th Asian Shotgun Championship in Kuwait, Angad Vir Singh Bajwa has won a gold with a world record score in the men's skeet final. He became the first Indian skeet shooter to win a continental or world level event. Angad shot a perfect 60 out of 60 in the final round to claim top spot ahead of China's Di Jin who shot 58. UAE's Saeed Al Maktoum won bronze with a score of 46.
World champion shuttler Kento Momota wins China Open
World champion Kento Momota won badminton's Fuzhou China Open and add another title to his already spectacular season. Japan's world number Momota defeated the fourth seed Chou Tien-chen of Taiwan 21-13, 11-21, 21-16 in 66 minutes. Momota, is now set to compete at Hong Kong Open. He is drawn to face former number one Lin Dan of China in his opening match.
Lewis Hamilton wins Brazilian Grand Pix
Lewis Hamilton wins after Max Verstappen collides with Esteban Ocon in Brazil. Lewis Hamilton took a lucky win in the Brazilian Grand Prix after Red Bull's Max Verstappen lost the lead in a collision with backmarker Esteban Ocon. The win was Hamilton's 10th of the season and 72nd of his career having sewn up a fifth drivers' title two weeks ago.
Bajrang Punia Becomes Number 1 wrestler in World in 65kg
Indian wrestler Bajrang Punia touched a new high in his career by achieving the number one rank in the world in the 65kg category. The 24-year-old Bajrang, who has won five medals, including CWG and Asian Games gold and a silver at the World Championship, was placed atop the ranking table with 96 points in the UWW list.
India clean sweep T20 series against West Indies
India beat West Indies by six wickets to complete 3-0 clean sweep in T20 series. In a thrilling match in Chennai, Shikhar Dhawan's 92 runs and Rishabh Pant's 58 guided India to victory on the last ball of the match. Dhawan hit 10 fours and two sixes in his 62-ball innings and forged a scintillating 130-run partnership with Rishab Pant who made 58 for the third wicket.
ICC Rankings: Virat Kohli, remain on top of ODI table
India captain Virat Kohli and premier fast bowler Jasprit Burah maintained their top positions respectively in the latest ICC ODI ranking. Kohli remained in pole position with 899 points while limited overs vice-captain Rohit Sharma remained second in the list. Bumrah remain on top with 841 points while Kuldeep Yadav maintained his third place in the list. Rashid Khan of Afghanistan with 353 points is the top-ranked ODI all-rounder in world cricket currently.
Women's World Boxing Championships begin in Delhi
The Women's World Boxing Championships begin in Delhi. This tenth edition of the tournament is set to be the biggest ever as more than 300 boxers from 72 countries will be taking part. MC Mary Kom will be aiming for a historic sixth gold at the event, which is being hosted by India for the first time since 2006 when the country had topped the table with four gold, one silver and three bronze medals.
Karen Khachanov lifts Paris Masters Men's Singles title
In Tennis, Karen Khachanov has lifted the Paris Masters Men's Singles title with a stunning win over world number two Novak Djokovic. With the victory, Khachanov has become the first Russian since Nikolay Davydenko in 2009 to win a Masters 1000 title.
Women's World Championship
MC Mary Kom has been appointed as brand ambassador of 10th edition of Women's World Championship. 2018 AIBA Women's World Boxing Championships will be held in New Delhi.
ICC Women's World Twenty20
The 2018 ICC Women's World Twenty20 will be hosted in the West Indies from 9 to 24 November 2018. Current champion: West Indies cricket team || Next tournament: 2018, West Indies || Tournament format: Round robin and knockout || Number of teams: 10 || Most runs: Charlotte Edwards (768) || Most successful: Australia (3 titles) || Most wickets: Ellyse Perry (27)
Ambati Rayudu has retired
Cricketer Ambati Rayudu has announced retirement from 1st-class cricket to focus on 50-over and T20 cricket. India Cricket Team :- Captain: Virat Kohli || Location: India || Coaches: Ravi Shastri (Head coach), Ramakrishnan Sridhar, Sanjay Bangar, Bharat Arun (Bowling coach).
Pakistan sweeps series by beating Newzealand
Babar Azam became the quickest batsman to reach 1,000 Twenty-20 international runs as Pakistan whitewashed New Zealand 3-0 with a comfortable 47-run win in the third and final match in Dubai. Azam, when on 48, completed 1,000 T20Is runs in just 26 innings, bettering Virat Kohli's record of reaching the mark in 27 innings.
Doha to host World Corporate Games
World Corporate Games 2019 will be held for the first time in the Middle East in Doha, organisers of the Games announced. The 23rd edition is held under the patronage of Prime Minister and Interior Minster H E Sheikh Abdullah bin Nasser bin Khalifa Al Thani and will bring together the local, regional and international business sporting community. It will be the first time that the World Corporate Games, established nearly 30 years ago, incorporate eSports and mindsports.
Azhar Ali announces retirement from ODIs
Senior Pakistan batsman Azhar Ali announced his retirement from limited overs cricket in order to concentrate fully on Test cricket. A prolific player in the longest format, the 33-year-old played the last of his 53 ODIs against New Zealand in January, earlier this year.
Pankaj Advani clinches Asian Snooker title
Ace cueist Pankaj Advani won the Asian Snooker Tour by defeating Ju Reti of China. The 33-year-old registered a domination 6-1 victory over his Chinese opponent to finish on top. Pankaj had won his first international title in China way back in 2003.
NSA Ajit Doval to hold talks with Chinese Foreign Minister
National Security Advisor Ajit Doval and Chinese Foreign Minister Wang Yi will hold the 21st round of border talks at Dujiangyan City in Sichuan province of China. Doval and Wang are the designated special representatives for border talks between the two countries. In this meeting they will discuss ways to maintain peace at the borders. They are also expected to review the progress in bilateral ties since the Wuhan Summit in April. Prime Minister Narendra Modi and Chinese President Xi Jinping had held their first-ever informal summit at Wuhan.
US announces USD 5 million reward for information on 26/11 perpetrators
The United States has announced a 5 million dollar reward for information leading to the arrest or conviction in any country of any individual who committed, conspired, aided or abetted the 2008 Mumbai attack. The move comes less than a fortnight after Vice President Mike Pence had a meeting with Prime Minister Narendra Modi in Singapore, during which he is believed to have himself raised this issue and ruled that even 10 years after the Mumbai terrorist attack its perpetrators have not been brought to justice. United States is committed to working with its international partners to identify and bring to justice those responsible for the 2008 Mumbai attack.
UN selects Noida to participate in Global sustainable Cities 2025 initiative
The United Nations officially invited Uttar Pradesh's Noida and Greater Noida to become a member of its initiative which aims to create 25 model cities across the world that will be fully compliant with the sustainable development goals by 2025. "Noida (along with Greater Noida) has been formally invited to participate in this showcase 'Race to Sustainability' among 25 global cities to become fully compliant with the Sustainable Development Goals by 2025 under the UN Global Sustainable Development Goals (SDG) cities initiative. In September 2015, the UN General Assembly adopted the 2030 Agenda for Sustainable Development that includes 17 SDGs, otherwise known as the Global Goals, a universal call to action to end poverty, protect the planet and ensure that all people enjoy peace and prosperity.
International Day for Elimination of Violence against Women is being observed in Nepal
In Nepal, the International Day for the Elimination of Violence against Women is being observed in Nepal. A number of programmes are being organized across the country with the theme of "Gender-based violence and abuse: Not accepted to us". The International Day for the Elimination of Violence against Women is observed on November 25 every year. This year's United Nations theme for the International Day for the Elimination of Violence against Women is "Orange the World: #HearMeToo". President Bhandari has said that spreading education and awareness and making women economically independent is very necessary to end all forms of violence against women.
PM to attend G20 Summit in Argentina
Prime Minister Narendra Modi will leave for Argentina on November 28 to attend the G-20 summit. The Group of Twenty-G-20 is a leading forum of the world's major economies that seeks to develop global policies to address today's most pressing economic challenges. Collectively, G20 members represent all inhabited continents, 85 per cent of global economic output, two-thirds of the world's population and 75 per cent of international trade.
Nepal launches Social Security Scheme for formal sector workers
Nepal government has launched a Social Security Scheme for formal sector workers. The new social security scheme is contribution based and it will cover health and medical facilities, safe motherhood, accident and physical incapacity security, security to dependent family members and security at old age. The scheme will be compulsorily applicable to formal sector workers. The scheme will soon be extended to informal sector workers as well.
India to Chair Kimberley Process from 1st January 2019
The Kimberley Process Certification Scheme (KPCS) Plenary 2018, was held in Brussels, Belgium, from 12th-16thNovember 2018. EU handed over the Chairmanship of KPCS to India from 1st January, 2019. India is the founding member of KPCS and is actively involved in KP activities to ensure that almost 99% of the diamond trade in the world is conflict free. The next Intercessional session is slated to be held in India as Chair. Botswana and the Russian Federation will serve as Vice-Chair during the period of 2019-2020
International Film Festival of India to commence in Goa from 20th-28th Nov
The 49th International Film Festival of India 2018 will be held in Goa from 20th to 28th November, 2018. 49th edition of the festival will showcase 212 films from over 68 countries which reflects diversity of taste. International Competition section has 15 films out of which 3 are Indian. Competition section itself represents films produced and co-produced by 22 countries.
Government of India and the Asian Development Bank (ADB) Sign $105 Million Loan to Support Hydropower Transmission in Himachal Pradesh
The tranche 3 loan is part of the $350 million multi-tranche financing facility (MFF) for Himachal Pradesh Clean Energy Transmission Investment Program approved by the ADB Board in September 2011. ADB is committed to achieving a prosperous, inclusive, resilient, and sustainable Asia and the Pacific, while sustaining its efforts to eradicate extreme poverty. Established in 1966, it is owned by 67 members—48 from the region.
PM Modi to attend swearing-in ceremony of new President of Maldives
Prime Minister Narendra Modi will attend the swearing-in ceremony of new Maldivian President-elect Ibrahim Mohamed Solih in Male. This will be Mr Modi's maiden visit to the Maldives. Mr Modi said, he will convey to the new Maldivian government of Mr Solih, India's desire to work closely for realisation of their developmental priorities, especially in areas of infrastructure, health care, connectivity and human resource development. The Prime Minister said, the recent elections in the Maldives represent the collective aspirations of the people for democracy, rule of law and a prosperous future. He said, India strongly desires to see a stable, democratic, prosperous and peaceful Maldives.
The East Asia Summit (EAS) is a forum held annually by leaders of, initially, 16 countries in the East Asian, Southeast Asian and South Asian regions. Membership expanded to 18 countries including the United States and Russia at the Sixth EAS in 2011. EAS meetings are held after annual ASEAN leaders' meetings. The first summit was held in Kuala Lumpur, Malaysia on 14 December 2005. EAS is an initiative of ASEAN and is based on the premise of the centrality of ASEAN.
Australia takes India to WTO over sugar subsidies
Australia said that it was taking legal action against India, the world's second-largest sugarproducer, at the WTO over subsidies which has caused a "significant downturn" in world sugar prices and hurt Australian producers. Australia alleges that the subsidies, which have seen Indian sugar production leap from an average 20 million tons to 35 million tonnes this year, far exceed the level of farmer assistance permitted under WTO rules. Australia is the third largest exporter of sugar.
26th General Conference on Weights & Measures in a historic decision unanimously redefine World's standard definition of Kilogram, Second&Metre
The 26th meeting of the General Conference on Weights and Measures (CGPM) was held during November 13-16 2018 in France. CGPM is the highest international body of the world for accurate and precise measurements.The new definitions will come into force on 20 May 2019. The International Bureau of Weights and Measures (BIPM), the main executive body of CGPM has the responsibility of defining the International System of Units (SI).
Asia-Pacific Economic Cooperation (APEC)
Asia-Pacific Economic Cooperation for the first time in its 25-year history, the Asia-Pacific Economic Cooperation summit ended with its leaders failing to agree on a formal joint statement.tion (APEC). All 21 APEC leaders at the annual meeting in Papua New Guinea were in agreement except China. The Asia-Pacific Economic Cooperation (APEC) is a regional economic forum established in 1989 to leverage the growing interdependence of the Asia-Pacific. APEC has 21 members.
ConMac 2018 starts in Kathmandu
The Embassy of India in Nepal and Confederation of Indian Industry (CII) organizing an exhibition of construction equipment and technology-ConMac 2018 in Bhaktapur near Kathmandu. More than 150 business exhibitors and companies from India including JCB, L&T, Hyundai, Caterpillar and Tata Hitachi will showcase their products and services during 3 day exhibition.
Nepal's Minister for Physical Infrastructure and Transport Raghubir Mahaseth will inaugurate the event. Ambassador of India to Nepal Manjeev Singh Puri will be the Guest of Honour.
12th World Congress on Mountain Medicine begins in Kathmandu
12th World Congress on Mountain Medicine started in Kathmandu, the capital of Nepal. The theme of congress is "Mountain Medicine in the Heart of the Himalayas". The biennial event mainly focuses on science and research aspects of high altitude medicine. It will also include practical workshops related to trekking, expedition medicine and clinical education. The flagship event of the International Society for Mountain Medicine (ISMM) is being held first time in Nepal and hosted by Mountain Medicine Society of Nepal (MMSN).
Indian Food and Agro Buyer Seller Meet in Jaddah
Indian exporters of four key commodities of rice, tea, spices and dry fruits will be meeting the major importers in Saudi Arabia during a Food and Agro Buyer-Seller Meet (BSM) organized by Consulate General of Indian in Jeddah in association with Jeddah Chamber and Trade Promotion Council of India (TPCI).Saudi Arabia is India's one of the most important trade partners and is a major FDI partner of India after the UAE in Gulf region. India's export to Saudi Arabia was worth USD 5 billion in 2017. The major products exported by India to Saudi Arabia were rice, Chemicals, refined petroleum oil and motor vehicles and its parts.
The Pneumonia and Diarrhea Progress Report 2018: IVAC
The report is released by the International Vaccine Access Center (IVAC) at the Johns Hopkins Bloomberg School of Public Health. The report, released ahead of the 10th annual World Pneumonia Day, reviews progress and gaps in coverage of interventions to "protect against, prevent and treat" pneumonia and diarrhea.The report lists exclusive breastfeeding, vaccination, access to care and use of antibiotics, oral rehydration solution, and zinc supplementation as key interventions to help prevent and treat pneumonia and diarrhea.
World's first AI news anchor debuts in China
The world's first artificial intelligence (AI) news anchor made "his" debut at the ongoing fifth World Internet Conference in east China's Zhejiang province. The AI news anchor has a male image with a voice, facial expressions and actions of a real person. He learns from live broadcasting videos by himself and can read texts as naturally as a professional news anchor. The AI news anchor was jointly developed by Xinhua and the Chinese search engine company, Sogou.com. The AI anchor has become a member of reporting team and can work 24 hours a day on its official website and various social media platforms, reducing news production costs and improving efficiency.
Three-day event of Global IT Challenge for Youth with Disabilities concludes
The three-day event of Global IT Challenge for Youth with Disabilities- 2018 concluded in New Delhi today. This year 96 youth with disabilities from 18 countries including India, Indonesia, China, Vietnam, Malaysia, Thailand, Sri Lanka, Bangladesh, Philippines, UK and UAE participated in it. The objective of the Global ICT Challenge for Youth with Disabilities was to leverage IT skills among youth with disabilities and also to spread awareness about the application of Information and Computer Technology in enhancing the quality of life of persons with disabilities. In his valedictory address, Social Justice and Empowerment Minister, Thaawarchand Gehlot expressed his satisfaction over the successful completion of the event. He called upon the participating nations to take all steps for enhancing IT skill of youth with disabilities so that they live an independent life with dignity.
33rd ASEAN summit begins in Singapore
The 33rd edition of the ASEAN Summit began in Singapore. Prime Minister of Singapore Lee Hsien Loong is the Chairman of the Summit, which will continue till 15th November along with other related summits like East Asia Summit (EAS), Regional Comprehensive Economic Summit, (RCEP) and ASEAN plus summits. Prime Minister Narendra Modi is scheduled to attend the East Asia Summit and Associated meetings of ASEAN on 14th and 15th November in Singapore. He will address the audience during the Fintech Conference along with the IMF Managing Director, Christine Lagarde.
Commerce Minister leads delegation for RCEP meet in Singapore
RCEP is a pact that aims to cover goods, services, investments, economic and technical cooperation, competition and intellectual property rights. The RCEP members include 10 ASEAN members – Brunei Cambodia, Indonesia, Malaysia, Myanmar, Singapore, Thailand, the Philippines, Laos and Vietnam and their 6 free trade agreement partners – India, China, Japan, South Korea, Australia and New Zealand.
India and Morocco sign Agreement on Mutual Legal Assistance in Criminal Matters
An Agreement on Mutual Legal Assistance in Criminal Matters was signed by Shri Kiren Rijiju, Minister of State for Home on behalf of the Government of Republic of India and Mr Mohamed Aujjar, Minister of Justice on behalf of the Government of the Kingdom of Morocco. The Agreement will strengthen bilateral cooperation with Morocco and enhance effectiveness and provide a broad legal framework for prevention, investigation and prosecution of crimes; as well as in tracing, restraint and confiscation of funds meant to finance terrorist acts. Both Ministers reiterated their resolve to jointly counter the threats posed by organized crime and terrorism.
Department of Biotechnology and Welcome Trust (India Alliance) completes 10 year of partnership
The Department of Biotechnology (DBT) under the Ministry of Science and Technology, in collaboration with the Welcome Trust ,to support a three-tier fellowship programme on biomedical research at post-doctoral level, celebrated 10 years of their joint partnership in an event in New Delhi. The Welcome Trust is an independent charity funding research to improve human and animal health. Established in 1936 and with an endowment of around £15 billion, it is the largest non-governmental source of funds for biomedical research in the United Kingdom.
World Diabetes Day: 14 November
World Diabetes Day is observed on 14 November. The day is observed by the International Diabetes Federation and the World Health Organization on November 14 in response to the escalating health threat posed by diabetes. The theme for World Diabetes Day this year is "The Family and Diabetes". Over 425 million people in the world are currently living with diabetes. Most of these cases are type 2 diabetes.
Amnesty strips Aung San Suu Kyi of highest honour
Amnesty International stripped Aung San Suu Kyi of its highest honour over the Myanmar leader's "indifference" to the atrocities committed by the country's military against Rohingya Muslims. The London-based global human rights organisation said it was revoking the Ambassador of Conscience Award it gave Suu Kyi in 2009. "Today, we are profoundly dismayed that you no longer represent a symbol of hope, courage, and the undying defence of human rights. "Amnesty International cannot justify your continued status as a recipient of the Ambassador of Conscience award and so with great sadness we are hereby withdrawing it from you."
4th edition of Intex South Asia inaugurated in Colombo
The fourth edition of Intex South Asia, the largest international textile sourcing show in South Asia, was inaugurated in Colombo by Indian high commissioner to Sri Lanka Taranjit Singh Sandhu. The event has been organized by Worldex India Exhibition and Promotion Pvt. Ltd in partnership with Cotton Textiles Export Promotion Council (TEXPROCIL), Retailers Association of India, Clothing Manufacturers Association of India, Confederation of Indian Textile Industry (CITI) etc. He encouraged Sri Lankan companies to be part of the supply and value chains of large Indian companies. Sandhu praised the contribution of Sri Lankan companies, who have made substantial investments in India in textile sector.
US State Department declares Jawad Nasrallah as global terrorist
The US State Department has declared Jawad Nasrallah, the son of Hezbollah leader Hassan Nasrallah, as a global terrorist as it steps up pressure on the Lebanese militia group. State Department said in Washington that Jawad had in recent years recruited people to carry out terrorist attacks against Israel in the West Bank.
Britain to allow Commonwealth nations to join the Armed Forces
Britain has allowed foreign nationals from Commonwealth nations to join the Armed Forces. The Commonwealth of Nations is an intergovernmental organisation of 53 member states that are mostly former territories of the British Empire.
MOU between India and Malawi
India and Malawi have signed 3 MOUs.
Extradition Treaty
Cooperation in the field of Atomic Energy for peaceful purposes.
VISA Waiver for Diplomatic and Official Passports.
India, South Korea sign MoU on cooperation in sports
India and South Korea signed a Memorandum of Understanding on cooperation in sports in New Delhi. Sports Minister Col. Rajyavardhan Rathore and Minister of Culture, Sports and Tourism of South Korea Do Jong-hwan signed the MoU. The objective of the MoU is to establish a framework to facilitate and promote cooperation between the two countries on the basis of reciprocity and mutual benefit.
Palau becomes first country to ban sunscreen to save coral reefs
The Western Pacific nation of Palau has become the first country to ban many kinds of sunscreen, in a move to protect its coral reefs from chemicals that scientists say cause significant damage. Under the ban, which will take effect in 2020, "reef-toxic" sunscreen — defined as containing one of 10 prohibited chemicals, a list that could grow later — can be confiscated from tourists when they enter the country, and retailers who sell it can be fined up to $1,000.
VP Venkaiah Naidu reaches Malawi on final leg of his 3-nations Africa tour
Vice President M Venkaiah Naidu arrived in Lilongwe, the capital of Malawi. At the Kamuzu International Airport, he was received by Minister of Foreign Affairs and International Cooperation of Malawi, Dr. Emmanuel Fabiano, Minister of Education, Science and Technology of Malawi, V Bright Masaka and Minister in waiting, George Mkondiwa. He will address the Indian community in Malawi at a reception function in Lilongwe later tonight. Mr Naidu reached Malawi on the final leg of his three nations Africa tour after visiting Botswana and Zimbabwe.
1st WHO Global Conference on Air Pollution and Health Held in Geneva
The first Global Conference on Air Pollution and Health was held at WHO Headquarters in Geneva on 30 October – 1 November 2018. The conference responds to a World Health Assembly mandate to combat one of the world's most significant causes of premature death, causing some 7 million deaths annually.
India Pavilion Inaugurated at Videocittà 2018 in Rome Film Festival
India was partner country at Videocitta 2018, an event focussing on Virtual Reality, Video gaming, Animation, Film Making, etc. was organized along with Rome Film Festival and Mercato Internazionale dell' Audiovisivo (MIA) (the International Audio Visual Market). India's participation at Videocitta 2018, Rome was organized by Ministry of Information & Broadcasting and coordinated on Ministry's behalf by FICCI. India Pavilion at Videocitta 2018 showcased Indian films' heritage, ease of film shooting in India, promoted film shooting locations in India, International Film Festival of India, Indian Cinema from different regions, Audio Visual Co Production between India and Italy.
Vice President embarks on three nation Africa visit
Vice President of India, Shri M. Venkaiah Naidu embarked on his first Africa visit from 31st October to November 6. In his weeklong visit, he will visit Botswana, Zimbabwe and Malawi where he is scheduled to interact with heads of state of the three nations, business fora and address Indian Community. visit underlines the high priority, the government of India accords to Africa and is line with India's efforts to have a sustained and regular engagement. Vice President is accompanied by a high level Parliamentary delegation comprising of the Minister of State for Social Justice and Empowerment, Shri Krishan Pal Gurjar, and four Members of Parliament. Vice President will reach Botswana's capital Gaboron on 31st October evening to attend the Official opening of the 13th Annual Global Expo where 25 Indian companies are participating for the first time showcasing India's economic and Industrial proves.
Japan joins International Solar Alliance
In a boost to Prime Minister Narendra Modi-initiated International Solar Alliance (ISA), Japan announced joining the group submitting the instrument of ratification. Japan will be the 71st country to sign and 48th country to ratify the ISA Framework. The decision was announced at the end of bilateral Summit between Prime Minister Modi and his Japanese counterpart Shinzo Abe.
Government of India to observe the remembrance of 100 years of Jallianwalla Bagh massacre next year
Government of India has decided to mark the remembrance of 100 years of the historical Jallianwalla Bagh Massacre next year. The Government is planning to renovate the historical site by creating suitable infrastructure for providing basic amenities for the tourists. The commemorative coin and postage stamps will be released on 13th April, 2019 (the day the incident took place 100 years ago).Ministry of Culture will organise cultural activities such as kavi sammelan, plays, exhibition, seminars, etc. across the country.
Jharkhand Day being celebrated at IFFI in Goa
Jharkhand Day is being celebrated on Saturday at the International Film Festival of India (IFFI) in Goa. Jharkhand is the focus state at this year's IFFI. This is for the first time that any state has been made focus state at the festival. Information and Broadcasting Secretary Amit Khare had inaugurated the Jharkhand Tourism's pavilion at the IFFI.
Government decides to set up domestic Gold Council in India
The Government has decided to set up a domestic Gold Council in India. Commerce and Industry Minister Suresh Prabhu said this while inaugurating the 2nd Edition of India Gold and Jewellery Summit in New Delhi. Mr Prabhu underlined the need for an integrated Gold policy to address all the issues in holistic way. He said that his ministry will make sure that gems and jewellery business does not suffer from financial issues and his ministry is in talks with Finance Ministry in this regard.
IMD develops new technology to monitor impact of rain & deal with natural disasters
The India Meteorological Department (IMD) has developed a new technology to assess the rise of water level in rivers and reservoirs by rain. The technology, called 'Impact Based Forecasting Approach', which shows pre-event scenario, can help state governments to minutely monitor the impact of rain and take real-time decisions. Speaking at an event organised by the Centre for Science and Environment in New Delhi, IMD Director General KJ Ramesh said, the department is in a position to use the technology into service to deal with natural disasters like the recent deluge in Kerala.
Cabinet approves setting up of Medical College at Silvassa in UT of Dadra and Nagar Haveli
Under Chairmanship of Prime Minister Narendra Modi recently, Union Cabinet approved the setting up of a medical college in Silvassa of Dadar and Nagar Haveli. This will increase the availability of doctors and increase in medical education. The construction of this medical college will be done till 2019-20 and in accordance with the guidelines of the Medical Council of India and Central Health and Family Welfare Ministry. The expenditure of this medical college will be done by the Union Territory's budgetary provision.
Constitution Day: 26 November
Constitution Day is observed on 26 November. On this day in 1949, the constitution was adopted which came into force on January 26, 1950, marking the beginning of a new era in the history of India. On 19th November 2015, during the year-long celebration of the 125th birth anniversary of Dr B R Ambedkar, Government of India in a gazette notification declared November 26th as the Constitution Day. The Constitution continues to be the nation's guiding light on all matters connected with governance and jurisprudence. The founding fathers gave people one of the best Constitutions and made it adaptable to the Indian situation.
Indian Navy chief Admiral Sunil Lanba to visit Russia
Admiral Sunil Lanba, Chief of the Naval Staff (CNS) Indian Navy is visiting Russia from today to 29 November 2018. The visit aims to consolidate bilateral defense relations with Russia, as also to explore new avenues for defense cooperation. The CNS will be commencing his official visit from St. Petersburg tomorrow, where he is scheduled to hold bilateral discussions with his counterpart, Admiral Vladimir Korolev, Commander-in-Chief, Russian Federation Navy. The Indian Navy cooperates with the Russian Federation Navy on many fronts, which include operational interactions, training, hydrography cooperation and exchange of Subject Matter Experts in various fields through the medium of Navy-to-Navy Staff Talks.
1. Andhra Pradesh Government launched Bhuseva and Bhudaar web portal
Andhra Pradesh Government has launched Bhuseva and Bhudaar web portal
Andhra Pradesh Government has launched Bhuseva and Bhudaar web portal through which people can view land records online. People can get land record online through these portals using Aadhaar card. Bhudaar security policy was also launched to provide security to the land records of farmers. Bhudaar card can be generated by the land owner or property owner from Bhuseva web portal. Two types of Bhudaar cards are available including e-Bhudaar and M-Bhudaar. Under Mobile Bhudaar, one has to download application on mobile. One can also get Bhudaar card from Mee Seva centers
Delhi government launched Open Transit Data platform
To increase transparency and build transport solutions, the transport department of the Delhi government has launched the Open Transit Data platform which provides real-time datasets free of cost. It is a major step to promote collaboration and co-creation of innovative and inclusive transport solutions for the people of Delhi. The portal was designed and developed by IIIT Delhi on behalf of the Delhi government.
CSIR-National Botanical Research Institute developed transgenic rice with reduced arsenic accumulation
Arsenic accumulation in rice grains is one of the serious agricultural issues in India. To address this, researchers at Lucknow-based CSIR-National Botanical Research Institute have developed transgenic rice by inserting a novel fungal gene, which results in reduced arsenic accumulation in rice grain. As large number of people are affected by arsenic toxicity, it is imperative to develop rice with lesser arsenic content and high yield.
First-ever India Russia Strategic Economic Dialogue held at St. Petersburg
The first-ever India Russia Strategic Economic Dialogue was held at St. Petersburg in Russia. Indian side was led by NITI Aayog Vice Chairman Rajiv Kumar and Russian delegation headed by Economic Development Minister Maxim Oreshkin. It was created by PM Narendra Modi and President Vladimir Putin in their informal summit (held at Sochi in May 2018) to give big push to economic partnership between both countries. India has already launched Strategic Economic Dialogue with China.
70-feet tall statue of Lord Buddha unveiled at Rajgir in Nalanda district
Bihar Chief Minister Nitish Kumar has unveiled 70-feet tall statue of Lord Buddha at Rajgir in Nalanda district of state. It is second tallest statue of Buddha in the country. The statue has been installed above 16 metre radius pedestal in middle of lake Ghora Katora. Ghora Katora is natural lake surrounded by five hills. It has been made from 45,000 cubic foot pink sand stone.
SSB to patrol Dudhwa tiger reserve
Dudhwa Tiger Reserve and Sashastra Seema Bal (SSB) have joined hands to provide security to Dudhwa forests and its rich wildlife. It has been agreed that joint long route patrolling comprising SSB, Special Tiger Protection Force (STPF) and Dudhwa Tiger Reserve (DTR) field staff would be held at regular intervals. It is protected area in Uttar Pradesh that stretches mainly across the Lakhimpur Kheri and Bahraich districts. It comprises Dudhwa National Park, Kishanpur Wildlife Sanctuary and Katarniaghat Wildlife Sanctuary.
Government of India and Asian Development Bank (ADB) sign $200 Million Loan to improve State Highways in Bihar
The Asian Development Bank (ADB) and the Government of India signed a $200 million loan to finance widening and upgrading of about 230 Kilometers State Highways in Bihar to all-weather standards with road safety features. Since 2008, ADB has provided four loans to Bihar, amounting to $1.43 billion, to upgrade about 1,453 km of State Highways and to construct a New Bridge over the Ganga River near Patna. This BSHP-III project, approved by the ADB Board in October this year, will involve upgrading State Highways to standard two-lane width with road safety features.
Shri Kiren Rijiju to inaugurate NDMA's 14th Formation Day
Union Minister of State for Home Affairs, Shri Kiren Rijiju, will inaugurate the 14th Formation Day of the National Disaster Management Authority (NDMA). The theme of this year's Formation Day is Early Warning for Disasters.Early warning is a major element of disaster risk reduction and can minimise the loss of lives and economic impacts. Timely early warning is key to a structured and efficient response. To be effective, early warning systems need to involve the communities at risk, generate public awareness, effectively disseminate warnings and ensure there is a constant state of preparedness.
'HAUSLA-2018' was inaugurated in the Capital Delhi
The Ministry of Women and Child Development has launched the National Festival for Children of Child Care Institutions (CCIs) – Hausla 2018. The inter-Child Care Institution festival draws children from 18 States for the various events like painting competition, athletics meet, football, chess competition and speech writing as part of the Festival. This festival will provide a national platform for the children from CCIs across India to showcase their talent.
Government of India and Asian Development Bank (ADB) Signs $75 Million Loan to Improve Urban Services in 4 Karnataka Towns
Government of India and the Asian Development Bank signed a $75 million loan here to provide 24 x7 water supply in Karnataka's four coastal towns of Kundapura, Mangalore Puttur and Udupi and improve sanitation infrastructure for Mangalore town. The Program, approved by ADB Board in 2014, aims to improve urban water resource management in selected river basins in Karnataka through modernization and expansion of urban water supply. The investment program is supporting four coastal towns in Karnataka to provide continuous piped water supply to people, and promote efficient and sustainable use of water.
CSIR to establish a High-End Skill Development Centre in Chandigarh
India's premier National Research Laboratory CSIR-Institute of Microbial Technology (CSIR-IMTECH) announced a new partnership with Merck, a leading German science and Technology Company, to establish a 'High End Skill Development Centre' in CSIR-IMTECH, Chandigarh. This 'High End Skill Development Centre' will enrich skills by conducting workshops, trainings and seminar series on cutting edges life science processes, tools and techniques. This High-End Skill Development Centre will function on the principle of "no-profit, no-loss" basis and has been primarily created to augment Government of India's initiative for building skills in the area of Life Science.
NASA's InSight spacecraft successfully lands on Mars
NASA's robotic InSight lander successfully landed on Mars after the six-month journey. The US space agency's InSight mission team in a statement said, the lander sent signals indicating that its solar panels are open and collecting sunlight on the Martian surface. NASA's Mars Odyssey orbiter relayed the signals of the landing, which were received on Earth. In Sight will study the interior of Mars, and will teach about valuable science as they prepare to send astronauts to the Moon and later to Mars. The probe was launched from the Vandenberg Air Force Base in California on 5th of May.
PSLV-C43 successfully launches earth observation satellite HysIS and 30 foreign satellites
The Indian Space Research Organisation's (ISRO) Polar Satellite Launch Vehicle (PSLV-C43) successfully launched 31 satellites from Satish Dhawan Space Centre (SDSC) in Sriharikota. HysIS is an earth observation satellite built around ISRO's Mini Satellite2 (IMS-2) bus weighing about 380kg. The mission life of the satellite is five years. The primary goal of HysIS is to study the earth's surface in both the visible, near infrared and shortwave infrared regions of the electromagnetic spectrum. Data from the satellite will be used for a wide range of applications including agriculture, forestry, soil/geological environments, coastal zones and inland waters, etc.
KONKAN-18 exercise begins at Goa
Naval cooperation between India and the United Kingdom is based on the long term strategic relationship between both countries. Both Navies have, over the years, undertaken bilateral activities such as training exchanges and technical cooperation. The Bilateral KONKAN exercise provides a platform for the two Navies to periodically exercise at sea and in harbour, so as to build interoperability and share best practices. The KONKAN series of exercises commenced in 2004, and since then has grown in scale. KONKAN-2018 will be conducted from 28 Nov to 06 Dec 18 off Goa with units participating from both navies
Cockerel Gunners' White Water Rafting Expedition
Keeping the indomitable spirit of adventure alive, soldiers of Indian Army conducted 'Cockerel Gunners' White Water Rafting Expedition' at Rishikesh on 29 November 2018. The expedition commenced on 26 November 2018 wherein a team comprising of 20 adventure enthusiasts of a Medium Regiment were flagged off at Rudraprayag. After successfully traversing 150 kilometers across River Ganges over four days, the team was flagged in at Rishikesh.
As part of its challenging journey, the team successfully negotiated numerous grade III and IV Rapids. The expedition reaffirmed the Indian Army's resolve of a strong sense of determination, grit and perseverance in face of all odds.
NITI Aayog Constitutes Himalayan State Regional Council
NITI Aayog has constituted the 'Himalayan State Regional Council' to ensure sustainable development of the Indian Himalayan region. The Himalayan States Regional Council will be the nodal agency for the Sustainable development in the Himalayan Region which consists of the twelve States namely Jammu &Kashmir, Uttarakhand, Himachal Pradesh, Arunachal Pradesh, Manipur, Meghalaya, Mizoram, Nagaland, Sikkim, Tripura, two districts of Assam namely Dima Hasao and KarbiAnglong and Darjeeling and Kalimpong in West Bengal. The Himalayan State Regional Council will be chaired by the Dr VK Saraswat, Member, NITI Aayog.
Aadi Mahotsav festival begins in Delhi
The 15-day Aadi Mahotsav festival is beginning in the national capital Delhi. Briefing media, Tribal Affairs Minister Jual Oram said, more than 600 artisans from 23 states will participate in the event. He said, 14 dance troupes will perform in the Mahotsav. The theme of the festival is 'celebration of the spirit of tribal culture, craft, cuisine and commerce'. It will feature exhibition-cum-sale of tribal handicrafts, art, paintings, fabric, jewellery and much more through one hundred stalls. The highlights of the festival will be fashion show for tribal textiles and tribal cuisines. There are two venues for the Aadi Mahotsav, one will be at Delhi Haat and the other is Central Park in New Delhi.
Dr Jitendra Singh inaugurates 4th International Congress on Gerontology and Geriatric Medicine
The Minister of State for Development of North Eastern Region (I/C), Prime Minister's Office, Personnel, Public Grievances & Pensions, Atomic Energy and Space, Dr. Jitendra Singh said that the geriatric study has gained relevance in the recent years with increase in life span of people. This field has unique specialty where the parameter is based on age. He said that more than 70% of the population is below the age of 40 years, due to which India is facing bi-polar challenge. 4th International Congress on Gerontology and Geriatric Medicine is being organized along with the Asia Pacific Geriatric Medicine Network Conference at All India Institute of Medical Sciences, New Delhi.
Indian Navy completes refit of Maldivian Coast Guard Ship Huravee
Maldivian Coast Guard Ship (MCGS) Huravee successfully completed her refit at Naval Dockyard Visakhapatnam and the ship was formally handed over to Major Mohamed Jamshad, Commanding Officer MCGS Huravee in a ceremony organised to commemorate the occasion on 15 November 2018. MCGS Huravee was originally commissioned as INS Tillanchang, a Trinkat class patrol vessel built by Garden Reach Shipbuilders and Engineers, Kolkatta in Mar 2001 and was subsequently gifted to Maldives by the Govt of India in Apr 2006 to strengthen the strategic partnership between the two nations and work together to ensure the maritime safety of the Indian Ocean Region.
India and UK sign MoU for collaboration in cancer research
India and United Kingdom have signed Memorandum of Understanding (MoU) for collaboration in cancer research. It is follow-up to joint statement issued by Prime Ministers of India and UK during visit of PM Narendra Modi to the UK in April 2018. The MoU was signed between Department of Biotechnology (DBT) and Cancer Research UK (CRUK) for India-UK Cancer Research Initiative for collaboration in cancer research for the next five years.
UP cabinet approves renaming of Faizabad as Ayodhya, Allahabad as Prayagraj
Uttar Pradesh Government has approved renaming of Faizabad and Allahabad as Ayodhya and Prayagraj respectively. Allahabad's ancient name was 'Prayag', but was changed after 16th-century Mughal emperor Akbar built fort near 'Sangam', the holy confluence of three rivers viz. Ganga, Yamuna and Saraswati. Akbar named the fort and its neighbourhood 'Ilahabad'. Later, Akbar's grandson Shah Jahan renamed the entire city as 'Allahabad'. But the area near the 'Sangam', the site of the Kumbh Mela, continues to be known as 'Prayag'. Ayodhya has been associated with Lord Ram and is known as his birth place. Ayodhya has been the capital of various dynasties, including the Ikshvaku dynasty of which Lord Ram is a descendent.
India International Cherry Blossom festival
India International Cherry Blossom festival is scheduled to be held from November 14 to 17 in Shillong, Meghalaya.This festival is the world's only autumn cherry blossom festival. The festival is organised by Government of Meghalaya's Forest & Environment Department as well as by the Institute of Bioresources & Sustainable Development in collaboration with Indian Council for Cultural Relations. The aim of the festival is to celebrate the unique autumn flowering of Himalayan Cherry Blossoms. The Cherry Blossom tree flowers only for a short period in a year. The festival will showcase full pink and white cherry blossoms found all along the roadside of the famous Ward Lake. Alongside, the festival will also showcase the region's food, wine and crafts in addition with several cultural events.
9th Annual Defence and Security Dialogue between India and China held in Beijing
The 9th Annual Defence and Security Dialogue between India and China held in Beijing. It was held between the two defence delegations headed by defence secretary Sanjay Mitra and China's deputy chief of Joint Staff Department of the Central Military Commission. The 9th Annual Defence and Security Dialogue was held after one-year gap due to Doklam standoff. National security advisor (NSA) Ajit Doval and Chinese state councillor and foreign minister Wang Yi are designated special representatives for the border talks.
8th National Conference of Women in Police begins in Ranchi
The 8th National Conference of Women in Police (NCWP) will begin in Ranchi, Jharkhand. The two-day conference which is being organized by Bureau of Police Research &Development in collaboration with Jharkhand Police, is the only national level platform to address the issues of Women in uniform and create an enabling atmosphere for them to maximize and optimize their professional potential. NCWP has been continuously working on strengthening and monitoring of mechanism to deal with sexual harassment in all the Police Organizations / CPOs by suggesting active ways and means.
India's first specialized hospital for elephants opens in Mathura
India's first specialized hospital for elephants was opened by Agra Divisional Commissioner Anil Kumar at Farah block's Churmura village, Mathura. It is promoted by Wildlife SOS which had established first elephant conservation and care centre in 2010. India's elephant population fell to 27,312 in 2017 from 29,391-30,711 in 2012, government data shows. Hundreds of elephants across India, which accounts for more than half of Asia's elephant population, are held in captivity and sharp metal hooks are often used to pinch and tease them into subordination.
India and ADB sign $169 Million Loan to Provide Water and Sanitation Services in Tamil Nadu
Union Government has inked $169 Million Loan agreement with Asian Development Bank (ADB) for Tamil Nadu Urban Flagship Investment Program. It is first tranche of $500 million multi-tranche financing to provide water and sanitation services in Tamil Nadu. The first tranche of ABD loan will target cities of Chennai, Coimbatore, Rajapalayam, Tiruchirappalli, Tirunelveli, and Vellore. The program will develop climate-resilient sewerage collection and treatment and drainage systems in 10 cities. Under it country's first solar-powered sewage treatment plant will be installed.
National Press Day: November 16
The National Press Day (NPD) is celebrated every year on November 16 as symbolic of free and responsible press in India. Recommending the establishment of Press Council in 1956 the Ist Press Commission had concluded that the best way of maintaining professional ethics in journalism would be to bring into existence a body with statutory authority, of people principally connected with industry whose duty it would be to arbitrate. The PCI was first constituted on 4 July 1966 as an 'autonomous, statutory, quasi-judicial' body, and it started functioning from16 November, 1966 with Justice JR Mudholkar, then a Supreme Court Judge, as its chairman.
Indo-Japan Business Council's business festival in Pune
The Indo-Japan Business Council (IJBC), is hosting KONNICHI WA PUNE - a first of its kind business festival in Pune on 17th & 18th November, 2018. The festival aims to boost investment, promote businesses and cultural exchange between India and Japan. Shrikant Atre, President, Indo-Japan Business Council (IJBC), said at the inaugural of the event Konnichiwa Pune that the number of Japanese companies coming to the state will grow steadily in the next couple of years with focus on potential big city markets like Pune, Nasik, Aurangabad and Nagpur among others and not in Mumbai alone. The high-speed train project will connect two important Indian cites, Ahmedabad in Gujarat and the economic hub Mumbai in Maharashtra.
World Toilet Day: 19 November
World Toilet Day is an official United Nations international observance day on November 19 to inspire action to tackle the global sanitation crisis. United Nations' Sustainable Development Goal 6 (SDG 6) aims to ensure availability and sustainable management of sanitation and water for all by 2030. All over the world, 4.5 billion people live without a safe toilet and 892 million people still practise open defecation. In India, Swachh Bharat Mission (Grameen) will celebrate the Day with mass awareness and mobilization activities across States and districts. This year's World Toilet Day campaign is based on the narrative: When nature calls, we need a toilet.
PM Narendra Modi to inaugurate Kundli-Manesar section of Western Peripheral Expressway
Prime Minister Narendra Modi will inaugurate the Kundli-Manesar section of the Western Peripheral Expressway. Prime Minister will also inaugurate the 3.2-kilometre long Escorts Mujesar-Ballabhgarh corridor of the Delhi Metro. The Western Peripheral Expressway also known as KMP expressway is expected to divert more than 50 thousand heavy vehicles away from Delhi. The 136-kilometre long six-lane expressway which has been built at a cost of over 6 thousand 400 crore rupees will not only ease the burden of heavy traffic using Delhi as the transit point but also provide the high-speed link between northern and southern districts of Haryana.
Qaumi Ekta Week: 19-25 November
Qaumi Ekta Week will be observed across the country from to foster and reinforce the spirit of communal harmony and national integration. As part of the week-long programmes, 19 November will be observed as National Integration Day. Programmes like meetings, symposia and seminars will be organised to emphasise the themes of secularism, anti-communalism and non-violence. The National Foundation for Communal Harmony, an autonomous organisation with the Ministry of Home Affairs, organises Communal Harmony Campaign coinciding with the Qaumi Ekta Week and observes the Communal Harmony Flag Day on 25th November.
Punjab becomes 3rd state to ban hookah bars
The President has given assent to the Cigarettes and Other Tobacco Products (Prohibition of Advertisement and Regulation of Trade and Commerce, Production, Supply and Distribution) (Punjab Amendment) Bill, 2018 recently. Punjab is the third state in the country after Gujarat and Maharashtra where hookah bars or lounges were banned through law. These bars are being opened in restaurants, hotels, and clubs and hookahs are even served at marriages venues.
Jashne Bachpan: 14th edition of international children's theatre festival held in New Delhi
"The main aim of conducting Jashnebachpan is to bring theatre into prominence. It has lost its sheen in the modern era because of the digital medium. Children aren't aware of theatre these days as none of the schools has theatre as a subject. The 14th edition of JashneBachpan, a theatre festival for children, will be organized by National School of Drama. The 14th edition of JashneBachpan, a theatre festival for children was held at the Sammukh, Abhimanch, Abhikalp and Little Theatre Group (LTG) auditorium in New Delhi.
Andhra, Bengal have withdrawn general consent for CBI investigation
Unlike the National Investigation Agency (NIA), which is governed by its own NIA Act and has jurisdiction across the country, the CBI is governed by the Delhi Special Police Establishment Act that makes consent of a state government mandatory for conducting investigation in that state. There are two kinds of consent: case-specific and general. Given that the CBI has jurisdiction only over central government departments and employees, it can investigate a case involving state government employees or a violent crime in a given state only after that state government gives its consent."General consent" is normally given to help the CBI seamlessly conduct its investigation into cases of corruption against central government employees in the concerned state. Almost all states have given such consent. Otherwise, the CBI would require consent in every case.
Chennai Airport awarded for hundred percent grievance redressal
The Union Minister of Civil Aviation and Commerce & Industry, Suresh Prabhu, and Minister of State for Civil Aviation, Jayant Sinha launched the upgraded version of AirSewa 2.0 web portal and mobile app in New Delhi. The upgrade and improved version of AirSewa operates through an interactive web portal as well as through a mobile app for both android and iOS platforms and will offer passengers a convenient and hassle-free air travel experience. It is an upgraded version of AirSewa to provide a superior user experience with enhanced functionalities.
Vajra Prahar: India-USA joint military exercise commences in Jaipur
India, US Joint Special Forces Exercise 2018 named Vajra Prahar commenced at Mahajan Field Firing Range (MFFR), Bikaner in Rajasthan. The exercise was called between Special Forces of both countries to deal with operations for counter-terrorism and is being done at unit as well as sub-unit levels. For this exercise, US Army is represented by contingent of one officer and 10 Other Ranks from Special Forces Group of United States Pacific Command. They will carry out 12 days rigorous joint training in semi desert and rural terrain with aim to enhance inter-operability of the two armed forces and further military to military co-operation.
Union Government to set up a first National Institute of Inter-Faith Studies in Punjab
The Centre Government will set up a first-of-its-kind institute of Inter-Faith Studies in Punjab to promote brotherhood and diversity. It is being to commemorate 550th birth anniversary of first Sikh Guru and founder of Sikh religion Guru Nanak. The institute will be set up on lines of teachings of Guru Nanak Dev ji who preached qualities of brotherhood, diversity and the concept of unity in diversity. Government will also develop Sultanpur Lodhi in Punjab where Guru Nanak is believed to have spent most of his life.
Ministerial meet of BASIC Countries held in India
The meeting of BASIC countries was organized by Ministry of Environment, Forest and Climate Change in New Delhi and was addressed by Union Minister Dr. Harsh Vardhan. The BASIC group consists of countries; Brazil, South Africa, India and China. Although BASIC group of countries are the leading emerging economies, still they have significant percentage of the world's poorest people.
Sulabh International introduces India's first sewer cleaning machine to end unsafe manual scavenging
Sulabh International has introduced India's first sewer cleaning machine to reduce sewer deaths and put end to unsafe practice of manual scavenging. The machine was unveiled on occasion of World Toilet Day 2018 (observed on 19 November) by mayors of all three Municipal Corporations of Delhi (MCD) in the presence founder of Sulabh International Bindeshwar Pathak. It is social service organization that works to promote human rights, environmental sanitation, and non-conventional sources of energy, waste management and social reforms through education. It is largest nonprofit organization in India. It was founded by social activists Bindeshwar Pathak in 1970.
PM sets up National Implementation Committee to commemorate 550th birth anniversary of Guru Nanak
Union Government has decided to commemorate 550th birth anniversary of Guru Nanak at national as well as international level. Prime Minister Narendra Modi constituted National Implementation Committee (NIC) under Chairmanship of Union Home Minister Rajnath Singh to commemorate the 550th birth anniversary of Guru Nanak in the country and abroad. Union Finance Minister Arun Jaitley and Minister of State for Culture Dr. Mahesh Sharma are its Members. Department of Economic Affairs, Ministry of Finance and Department of Posts will also release Commemorative coin and postage stamps to mark this event.
IIT-Hyderabad researchers develop smartphone sensor to detect adulteration in milk
Researchers from Indian Institute of Technology (IIT) Hyderabad are working to develop smartphone-based sensor to detect adulteration in milk. They have developed detector system which can measure level of acidity in milk using indicator paper. They have also developed algorithms that can be incorporated in smartphone to accurately detect change in acidity. The sensor-chip based method measures pH, which is indicator of the acidity and colour of paper indicates different pH levels.
49th International Film Festival of India opens in Panaji, Goa
49th International Film Festival of India began in Panaji, capital of Goa. The theme of for this year's film festival is 'New India' through a variety of genres of cinema, including history, action, romance and sports. Jharkhand is focus state for this year, with Jharkhand Day being celebrated on 24th November as part of festival. The focus country is Israel.
Vice President to embark on a State visit to France; -
The Vice President of India, Shri M. Venkaiah Naidu, at the invitation of the Government of the Republic of France, will be visiting Paris from 9 to 11 November 2018, to represent Government of India in the activities commemorating the centenary of the Armistice of World War I. India was one of the largest contributors of soldiers during World War I. India's participation at the Armistice Centenary ceremony will be a befitting tribute to the sacrifices made by these soldiers, underlining India's historical contribution to global peace and security. The Heads of State / Heads of Government of over 50 countries and their representatives are expected to participate in the centenary activities. On 11 November, the Vice President will attend the ceremony to commemorate the armistice of World War I at Arc de Triomphe, presided over by the French President, Mr. Emmanuel Macron. As part of the Armistice Centenary, the French Government will also be hosting the Paris Peace Forum, which will take place in Paris from 11-13 November 2018.
Cabinet approves Amendment to the Central Universities Act, 2009 for setting up of Central Tribal University in Andhra Pradesh
The Union Cabinet chaired by the Prime Minister Shri Narendra Modi has approved setting up of a Central Tribal University in Andhra Pradesh. The "Central Tribal University of Andhra Pradesh" will be set up in Relli village of Vizianagaram District as provided under the Thirteenth Schedule to the Andhra Pradesh Reorganisation Act, 2014 (No. 6 of 2014). Cabinet has also approved the provision of funds of Rs. 420 crore for the first phase expenditure towards establishment of the Central Tribal University.
Lucknow's Ekana cricket stadium renamed after Atal Bihari Vajpayee
Uttar Pradesh Government has decided to rename newly-built Ekana International Stadium in capital city Lucknow after former Prime Minister Atal Bihari Vajpayee. The stadium with a seating capacity of around 50,000 will now be known as 'Bharat Ratna Atal Bihari Vajpayee International Cricket Stadium'. The stadium was renamed just ahead of first-ever international cricket match – T20 International between India and West Indies.The former prime minister was Member of Parliament from Lucknow for five consecutive times between 1991 and 2009.
Cabinet approves leasing out six airports - Ahmedabad, Jaipur, Lucknow, Guwahati, Thiruvananthapuram and Mangaluru through PPP
The Union Cabinet chaired by the Prime Minister Shri Narendra Modi has approved the following: "In-principle" approval for leasing out six airports of AAI viz. Ahmedabad, Jaipur, Lucknow, Guwahati, Thiruvananthapuram and Mangaluru for operation, management and development under Public Private Partnership (PPP) through Public Private Partnership Appraisal Committee (PPPAC). Constitution of an Empowered Group of Secretaries headed by CEO, NITI Aayog with Secretary, Ministry of Civil Aviation, Secretary, Department of Economic Affairs and Secretary, Department of Expenditure to decide on any issue falling beyond the scope of PPPAC. The PPP airports in India have been ranked among the top 5 in their respective categories by the Airports Council International (ACI) in terms of Airport Service Quality (ASQ).
World Food Programme (WFP) and Chinese e-commerce giant Alibaba Group have formed strategic partnership to support efforts eliminate hunger
United Nations World Food Programme (WFP) and Chinese e-commerce giant Alibaba Group have formed strategic partnership to support efforts eliminate hunger globally by 2030. As per the agreement, Alibaba will lend its cutting-edge technology and resources to support digital transformation of WFP's operations. Alibaba Cloud, the cloud computing arm of Alibaba will work with WFP to develop digital "World Hunger Map". The map will help to monitor global hunger and operations to end scourge by 2030 which is one of UN's key Sustainable Development goals. It also aims to boost efficiency of interventions and shorten emergency response times.
First India-Nepal passenger train on broad gauge to make first run in December
The first passenger train to run on broad gauge between India and Nepal will run from December this year. The train will run from Jayanagar in Bihar to Kurtha in Dhanusa district in Janakpur Zone of south-eastern Nepal. No visa will be required for Indian and Nepalese nationals crossing the border through this stretch. After Beijing decided to extend its railway network up to Kathmandu, New Delhi proposed the construction of new railway links during Prime Minister K P Sharma Oli's recent visit to India. The move is being seen as part of efforts to counter China's plans to forge rail links with Nepal.
Bilateral Exercise Between Indian & Republic of Singapore Navies – SIMBEX 18 – MARKS Silver Jubilee this year
The 25th editorial of SIMBEX, an acronym for "Singapore – India Maritime Bilateral Exercise" is scheduled from 10th to 21st November 2018 off Andaman Sea and Bay of Bengal. Bilateral cooperation between Singapore and India was first formalized when RSN ships began training with the Indian Navy in 1994.Complementing India's Act-East' Policy. There have been a number of agreements and high level visits in the recent past between the two countries. Indo – Singapore bilateral relations have been on an upswing in the recent past.
PM Modi to attend swearing-in ceremony of Maldives President-elect on Nov 17
Prime Minister Narendra Modi will attend the swearing-in ceremony of Maldives President-elect Ibrahim Mohamed Solih. MEA spokesperson said, in keeping with India's neighborhood first policy, it is looking forward to closely work with Maldives in further deepening its partnership.
Tripura Government set to buy IL&FS shares in Palatana project
The Tripura government will soon start dialogue for purchase of 26% equity shares of the Palatana gas thermal power project from Infrastructure Leasing and Financial Services (IL&FS). The 726.6 Megawatt (MW) gas – based power project, run by ONGC Tripura Power Company (OTPC), was launched in 2014 as a joint venture between ONGC, IDFC, IL & FS and the Tripura government. The ministry of power allocated over 58% energy from the Palatana project to north eastern states.
Advanced Motor Fuels Technology Collaboration Programme
The Union Cabinet has been apprised of India joining as Member of Advanced Motor Fuels Technology Collaboration Programme (AMF TCP) under International Energy Agency (IEA). The primary goal of joining AMF TCP by India to bring down emissions and achieve higher fuel efficiency in transport sector. AMF TCP is an international platform under the framework of International Energy Agency (IEA) for co-operation among countries to promote cleaner and more energy efficient fuels & vehicle technologies. Ministry of Petroleum & Natural Gas has joined AMF TCP as its 16th member in May, 2018.
Two-day Global Cooling Innovation Summit will be held in New Delhi
The Summit is a first-of-its-kind solutions-focused event that will bring together leaders from around the world to explore concrete means and pathways to address the climate threat that comes from the growing demand from room air conditioners. The event is jointly organized by the Department of Science and Technology, Government of India, along with Rocky Mountain Institute, Alliance for An Energy Efficient Economy (AEEE), Conservation X Labs and CEPT University. The summit will also see the launching of Global Cooling Prize— Mission Innovation challenge that aims to spur development of a residential cooling solution that has at least five times (5x) less climate impact than today's standard.
National Education Day observed on 11 November
The day is observed on 11th November every year to commemorate the birth anniversary of Maulana Abul Kalam Azad. He was a freedom fighter, scholar and the first Education Minister of independent India, who served from 15 August 1947 until 2 February 1958. In a tweet, President Ram Nath Kovind paid tributes to Maulana Azad.
PM Modi to reach Varanasi on one-day visit
The Prime Minister Narendra Modi will reach his parliamentary constituency -Varanasi on his one day visit. He will dedicate and inaugurate several projects costing 2413 crores including two national highways to the people. He will also dedicate an inland multi modal terminal port constructed at the cost of rupees 207 crores on river Ganga here at Ramnagar. This is the first of the four multi modal terminals being constructed on NW-I (River Ganga) as part of the World Bank aided Jal Marg Vikas project of the Inland Waterways Authority of India. The other three terminals are under construction at Sahibganj, Haldia and Gazipur.
PM Dedicated Multimodal Terminal to the nation
He laid the foundation stone of projects worth over Rs 2400 crore. He dedicated the Multimodal Terminal on the River Ganga, to the nation, and received the first container cargo. He inaugurated the Varanasi Ring Road Phase 1, and the development and construction for four laning of Babatpur-Varanasi Section of NH-56. He also inaugurated and laid the Foundation Stone for various other development projects in Varanasi. The Prime Minister said that the inland water-way would save time and money, reduce congestion on roads, reduce the cost of fuel, and reduce vehicular pollution.
INS Rana to participate in Bilateral Exercise ' Samudra Shakti'
INS Rana of the Eastern Fleet based at Visakhapatnam under the Eastern Naval Command is on deployment to the South East Asia and arrived at the port of Surabaya to participate in the inaugural edition of Indian Navy – Indonesian Navy Bilateral Exercise 'Samudra Shakti' scheduled from 12 to 18 Nov 18. The aim of the exercise is to strengthen bilateral relations, expand maritime co-operation, enhance interoperability and exchange best practices. The strategic partnership between the two nations was elevated to 'Comprehensive Strategic Partnership' during the visit of Honourable Prime Minister of India in May 18 and Defence co-operation has been a significant pillar in this partnership.
SpiNNaker: Largest brain-mimicking supercomputer switched on for first time
The world's largest supercomputer Spiking Neural Network Architecture (SpiNNaker) machine designed to work in same way as human brain was switched on for the first time. It designed and built at University of Manchester in UK. It can model more biological neurons in real time than any other machine on planet. Biological neurons are basic brain cells present in nervous system that communicate by emitting 'spikes' of pure electro-chemical energy. It is capable of completing more than 200 million actions per second, with each of its chips having 100 million transistor.
IIT-Madras developed portable cold storage device
Indian Institute of Technology (IIT) Madras has developed portable solar-powered cold storage device with 500 kg capacity for storing vegetables and fruits, among other items. The device will help farmers store their produce for sufficient time so that it does not get spoilt before it is sold, thereby preventing wastage of agricultural produce. The first unit of device was deployed at farm in Madurantakam in Kancheepuram district in Tamil Nadu.
Cyclone Gaja in West-Central Bay of Bengal
The cyclonic storm Gaja, in the West-Central Bay of Bengal is going to become a severe cyclonic storm in the next hours. The Indian Meteorological Department said, the cyclone is now laying centered at 70 km East of Chennai and 70 km east-northeast of the coastal town of Nagappattinam. It is currently moving at a speed of 12 kilometers an hour in the western direction and is expected to move west-south westwards later.
INDO-Russian joint exercise INDRA 2018
The joint military exercise between Indian and Russia EXERCISE INDRA 2018 on combating insurgency under the aegis of United Nations (UN) is being conducted at Babina Field Firing Ranges, Babina Military Station from 18 November 2018. The aim of the exercise is to practice joint planning and conduct to enhance interoperability of the two Armies in the peace keeping/ enforcement environment under the aegis of the UN. It is the tenth edition of Exercise INDRA series.
2nd Startup India Investment Seminar in Beijing
Embassy of India in China in partnership with Startup India Association (SIA) and Venture Gurukool organized 2nd Startup India Investment Seminar on 12 November 2018 in Beijing for fostering innovation and entrepreneurship among Indian youth. The 1st Startup Indian Investment event was organised in November 2017.
Dr. Satya Pal Singh Launches 'LEAP' and 'ARPIT' for higher education
Dr. Satya Pal Singh, Minister of State, Ministry of Human Resource Development, launched two new initiatives; Leadership for Academicians Programme (LEAP) and Annual Refresher Programme In Teaching (ARPIT). He also released information brochures of both the initiatives during the event. While addressing the gathering, Dr Satya Pal Singh said that developing good teachers is an arduous task and if teachers show enough commitment, ARPIT will go a long way in empowering the teaching faculty. Committed teachers will develop confidence and competence and must become effective communicators so that they can spread knowledge like the rays of the sun.
38th India International Trade Fair to begin at Pragati Maidan
The 38th India International Trade Fair (IITF) will begin at Pragati Maidan in New Delhi today. The 14-day annual event will continue till 27th of this month.This year the theme of the fair is Rural Enterprises in India. Afghanistan is the Partner Country, while Nepal will be the Focus Country. Jharkhand is participating as a Partner State in the event. Around 800 participants from States and government departments, domestic and international companies are taking part to showcase their product.
26th Conference of Central and State Statistical Organization (COCSSO) begins in Himachal
Union Ministry of Statistics and Programme Implementation is organizing 26th Conference of Central and States Statistical Organizations at Dharamshala in Himachal Pradesh. The theme of this year's Conference is "Quality Assurance in Official Statistics". The 2-Day conference will be inaugurated by Union Minister Vijay Goel along with Himachal Pradesh food, civil supplies and consumer affair minister Kishan Kapoor. A number of papers relating to the theme will be presented by central ministries and departments during the Conference.
Prime Minister felicitates crew of INS Arihant on completion of Nuclear Triad
Prime Minister Shri Narendra Modi received the crew of Strategic Strike Nuclear Submarine (SSBN) INS Arihant. The submarine recently returned from its first deterrence patrol, completing the establishment of the country's survivable nuclear triad. The Arihant class (Sanskrit, for Slayer of Enemies) is a class of nuclear-powered ballistic missile submarines being built for the Indian Navy.
India's country pavilion at CIIE in Shanghai showcases India's strength
On the invitation of China's Ministry of Commerce, India has set up a Country Pavilion in the 1st China International Import Expo (CIIE) which was inaugurated at the National Exhibition & Convention Centre, Shanghai, China. During the Joint Economic Group Meeting held in Delhi in March 2018, China's Commerce Minister Mr Zhong Shan had extended an invitation to participate in this event. China is India's largest trading partner with a total trade expecting to reach $ 100 billion mark in near future. Both countries have expressed a resolve to address India's concern regarding large trade deficit with China. Government of India is consistently making sincere efforts to promote its exports to China. This has been achieved through various bilateral meetings at the government level and continuous engagement of Indian businessmen with China.
Ministry of Food Processing Industries issues guidelines for OPERATION GREENS
Ministry of Food Processing Industries(MoFPI) under Union Minister Smt Harsimrat Kaur Badal has approved the operationalisation strategy for Operation Greens. Operation Greens was announced in the Budget speech of 2018-19 with an outlay of Rs 500 crores to stabilize the supply of Tomato, Onion and Potato(TOP) crops and to ensure availability of TOP crops throughout the country round the year without price volatility. NAFED will be the Nodal Agency to implement price stabilisation measures. MoFPI will provide 50% of the subsidy on the following two components: Transportation of Tomato Onion Potato(TOP) Crops from production to storage; Hiring of appropriate storage facilities for TOP Crops;
Government launches Unreserved Mobile Ticketing facility
Union Ministry of Railways has launched Unreserved Mobile Ticketing facility (UTS on Mobile) to enable seamless booking of unreserved tickets including season tickets and also platform tickets all over Indian Railways. UTS on Mobile aims to promote three C': Cashless transactions (Digital payment), Contact less ticketing (no need to physically visit the point of sale and Customer convenience and experience. With this, booking of unreserved tickets on all non-suburban sections across all Zonal Railways will be now made available on mobile. The facility for booking unreserved tickets is available through 'UTSONMOBILE' app, available for mobile phones with Android, IOS and windows operating system.
Union Cabinet approves opening up of International Solar Alliance membership to all UN countries
The Union Cabinet chaired by Prime Minister Narendra Modi has given ex-post facto approval for opening up International Solar Alliance (ISA) membership to all countries that are members of the United Nations. In this regard, Cabinet has approved to move Resolution in first Assembly of ISA for amending the Framework Agreement of ISA. It will make ISA inclusive, whereby all member countries of UN could become member. Thus, expanding membership will lead to ISA initiative benefitting the world at large.
India, Sharjah to bolster economic ties
Over 100 Indian investors participated in a business conference in the UAE to strengthen Sharjah's trade relations with India and to promote the Gulf emirate as a leading business and investment hub in the region. The 'Sharjah-India Business Roundtable', held on the sidelines of the last week's Indian-UAE Partnership Summit, was part of India's continued interest in the emirate's diversified economy. Sharjah is one the key drivers for Indian outbound investment into the Gulf region, valued at more than USD 137 billion and a primary non-oil trade partner.
President Kovind inaugurates Gyan Kumbh in Haridwar
President Ram Nath Kovind has stressed the need to impart quality education to the students. After inaugurating a two-day Gyan Kumbh at Patanjali Yogpeeth in Haridwar on Saturday, He said that besides educating children, it is imperative on the part of teachers to inculcate good manners and character building in the students. The president appreciated the role of Uttarakhand Government in forging co-ordination with Centre in a matter of providing education which falls under the concurrent subject.
Ministry of Drinking Water & Sanitation announces Swachh Bharat World Toilet Day Contest
Ministry of Drinking Water and Sanitation has announced Swachh Bharat World Toilet Day Contest for districts and States. The purpose of the Contest is to encourage all districts in India to re-intensify the sanitation movement with a special focus on Open Defecation Free-ODF Sustainability. As per the advisory issued by the Ministry, top 10 District Collectors, top 3 State Mission Directors and State Secretary in-charge of Sanitation will be recognized and awarded by the Swachh Bharat Mission. The Contest does not apply to the five States of Rajasthan, Madhya Pradesh, Chhattisgarh, Telangana and Mizoram. Districts can apply for the Contest through the online portal. The application window will be opened on the occasion of World Toilet Day on 19th November and will remain open till the end of this month.
IIT-Madras creates 'Shakti', India's first microprocessor
Researchers at Indian Institute of Technology-Madras (IITM) have designed and booted up India's first microprocessor, Shakti, which could be used in mobile computing and other devices. According to IITM, the Shakti microprocessor can be used in low-power wireless systems and networking systems besides reducing reliance on imported microprocessors in communication and defence sectors.
India ranked 12th in web-borne threats
India is ranked 12th worldwide when it comes to the dangers associated with surfing the web, according to a recent report by global cybersecurity company, Kaspersky Lab. In the third quarter (July- September), 32.8 per cent of the users were attacked by web-borne threats in India. Kaspersky Lab products detected 48,093,743 Internet-borne malware incidents on the computers of KSN participants in India.
Decommissioned carrier INS Viraat to become a floating museum
The Maharashtra Cabinet has approved the conversion of decommissioned carrier INS Viraat into a floating museum. As per primary estimates, the project worth 852 crore rupees will be implemented through public-private-partnership (PPP). The decision has been taken to elicit interest among the school and college students in the marine sector. Besides, it will make the new generation familiar with the glorious history of INS Viraat.
Ayurveda Day to be celebrated throughout the Country on 5th November
Ministry of AYUSH observes Ayurveda Day every year on Dhanawantari Jayanti (Dhanteras). This year Ayurveda Day is being observed on 5th November 2018. On this occasion, Ministry is organising a "National Seminar on Entrepreneurship and Business Development in Ayurveda" in association with NITI Aayog on 4th & 5th November 2018 at Dr. Ambedkar International centre, Janapth, New Delhi. Its aim is to encourage entrepreneurs and Ayurveda stakeholders towards businesses opportunities in the sector.
PM launches historic Support and Outreach Initiative for MSME sector
The Prime Minister, Shri Narendra Modi, launched a historic support and outreach programme for the Micro, Small and Medium Enterprises (MSME) sector. As part of this programme, the Prime Minister unveiled12 key initiatives which will help the growth, expansion and facilitation of MSMEs across the country.
The Prime Minister said that the 12 decisions that he is announcing today, will mark a new chapter for the MSME sector. Noting that MSMEs are one of the principal employment generators in India, the Prime Minister recalled the glorious Indian traditions of small scale industry, including Ludhiana's hosiery, and Varanasi's sarees.
The Prime Minister said that the success of economic reforms launched by the Union Government, can be gauged from the rise in India's "Ease of Doing Business Rankings," from 142 to 77 in four years. As the first announcement, the Prime Minister announced the launch of the 59 minute loan portal to enable easy access to credit for MSMEs. He said that loans uptoRs. 1 crore can be granted in-principle approval through this portal, in just 59 minutes.He said a link to this portal will be made available through the GST portal. The Prime Minister asserted that in New India, no one should be compelled to visit a bank branch repeatedly.
Naval Commanders' Conference concludes
The second edition of this years' bi-annual Naval Commanders' Conference concluded after three days of fruitful deliberations. The Hon'ble RM addressed Naval Commanders and complimented all personnel of the Indian Navy for maintaining a high operational tempo and ensuring maritime security of the country. The Hon'ble RM reiterated the need for the nation to be strong at sea and the Navy to be ready and vigilant to counter any challenge in the maritime domain.
Anupam Kher resigns as FTII Chairperson
The Ministry of Information & Broadcasting has received letter from Shri Anupam Kher, Chairperson, Film & Television Institute of India, Pune in which Shri Kher has intimated his upcoming international shooting commitments. Due to those commitments, Shri Kher has informed that he will not be present in the country for nearly nine months between 2018-19. He feels that it will not be possible for him to discharge his responsibilities as Chairperson, FTII due to his commitments.
K J Alphons presides over the Program and Budget Committee meeting of UNWTO
The Minister of State (Independent Charge) for Tourism, Shri. K. J. Alphons along with a delegation of senior officials is attending the 109th session of United Nations World Tourism Organization (UNWTO) Executive Council in Manama, Bahrain.The three day Session of UNWTO Executive Council began on 30th October 2018. The Executive Council will discuss several topics on the agenda that are related to the development of global Tourism sector. During the opening day of the Executive Council meeting, Shri. K. J. Alphons chaired the 'Programme and Budget Committee' meeting of UNWTO. In his opening remarks, the Minister highlighted the role of tourism in socio-economic development through job creation, enterprise and environment development and foreign exchange earnings. As the chair of the Committee, the Minister informed the session that for the first time, UNWTO had a surplus budget and most of the arrears due have been paid. India will be the chair of Programme and Budget Committee of UNWTO Executive Council till 2021.
Jharsuguda Airport renamed as "Veer Surendra Sai Airport, Jharsuguda"
The Union Cabinet chaired by Prime Minister Shri Narendra Modi has approved renaming of Jharsuguda Airport, Odisha as "Veer Surendra Sai Airport, Jharsuguda" Veer Surendra Sai is a well-known freedom fighter of Odisha. Renaming of the Jharsuguda airport in his name will fulfill long-pending demand of the Odisha Government, which reflects the sentiments of the local public of the respective area. It will also be a befitting tribute to the contribution of the revered personality associated with the State.
India-Japan military exercise Dharma Guardian-2018 begins in Mizoram
Armies of India and Japan began their first-ever joint military exercise at a jungle warfare school in Mizoram's Vairengte. The focus of the two-week-long exercise 'Dharma Guardian-2018″ will be to enhance tactical skills against global terrorism and increase interoperability between the two forces. The Japanese contingent is represented by 32nd Infantry Battalion, while the Indian side by 6/1 Gorkha Rifles.
MHA approves Rs.194.44 crore Safe City Project for Lucknow
The Ministry of Home Affairs (MHA) has approved a Safe City project for Lucknow at a total cost of Rs.194.44 crore under the Nirbhaya Fund Scheme. The project would be implemented as a Centrally Sponsored Scheme with Centre and State sharing the funding in 60:40 ratio. This approval is a part of MHA's plans to implement Safe City projects in 8 selected cities, namely, Mumbai, Delhi, Kolkata, Chennai, Bengaluru, Hyderabad, Ahmedabad and Lucknow under Nirbhaya Fund with the purpose of strengthening safety and security of women in public places. The projects are being implemented in consultation with Ministry of Women and Child Development, Ministry of Urban Development, Ministry of Electronic and Information Technology, respective Municipal & Police Commissioners of the cities and civil society organizations.
NMCG & UN Habitat organize a policy dialogue - Urban Cafe: 'River for Habitat'
The National Mission for Clean Ganga partnered with UN Habitat to organize a policy dialogue- 'Urban Cafe: River for Habitat' in New Delhi on the occasion of World Cities Day 2018 on October, 31. Experts in the sector got together to discuss the deep association that rivers have with various aspects of human civilization – our cities, our economy and various facets of our daily lives, the challenges to maintaining healthy river ecosystems and ways to deal with the same.
The Fourth NITI Aayog- DRC Dialogue Held in Mumbai
The Fourth Dialogue of the NITI Aayog - Development Research Centre (DRC) of the State Council, Peoples' Republic of China was held in Mumbai. The Chinese delegation was led by Mr. Li Wei, President of DRC and the Indian delegation was led by Dr Rajiv Kumar, Vice Chairman of NITI Aayog. This is the second ministerial dialogue between China and India since the meeting of Chinese President Xi Jinping and Indian Prime Minister Narendra Modi in Johannesburg during the BRICS summit in July 2018.
Casio launches world's first GST calculator
Japanese electronics company 'CASIO' has launched world's first Goods and Services Tax (GST) calculator in India for simplify the GST calculations for tax payers. The company has two variants of GST calculators MJ-120GST and MJ-12GST in the Indian market. These new GST calculators will provide solution for GST based invoicing. These GST calculators feature built-in GST tabs for all five tabs- 0%, 5%, 12%, 18% and 28%. It includes separate buttons for GST slabs to reduce time required for processing invoice.
NTPC, 3 other PSUs included in CPSE ETF
The Finance Ministry has altered the CPSE Exchange Traded Fund (ETF) and has included in the basket the four State-owned companies NTPC, SJVN, NLC and NBCC.The Ministry has removed three of the existing companies GAIL, Engineers India Ltd. (EIL) and Container Corporation of India in the ETF basket and has replaced them with four new companies. "NTPC, SJVN, NLC and NBCC have been included in the CPSE ETF, while GAIL, EIL and Container Corporation removed from the basket. CPSE ETF now has scrips of 11 State-owned companies as against 10 earlier.
Retail inflation falls to one-year low of 3.31 per cent in October
Retail inflation fell to a one-year low of 3.31 per cent in October on the back of cheaper kitchen staples, fruits and protein-rich items. Official data released showed that the inflation based on the Consumer Price Index (CPI) was 3.7 per cent in September 2018 and 3.58 per cent in October 2017. The retail inflation number is the lowest since September 2017 when it touched 3.28 per cent.
DIPP hosts Global Digital Content Market2018
The Department of Industrial Policy and Promotion (DIPP), Ministry of Commerce and Industry, is hosting a conference on Global Digital Content Market (GDCM)2018, on14th- 15thNovember 2018, in New Delhi. The conference will feature sessions on music, film, broadcasting and publishing, as well as collective management, emerging models and the implications for the market and policy makers.
India has been chosen as a host nation for the conference by World Intellectual Property Organization (WIPO) due to the strong creative industry in the country in films, music and media. The focus for this year's conference is the Asia Pacific region. GDCM 2018 is the second edition of the conference. The first conference was held in Geneva 2016.
Wholesale inflation rises to four-month high of 5.28% in October
Inflation based on wholesale prices,WPI rose to a four-month high of 5.28 per cent in October.The Wholesale Price Index based inflation stood at 5.13 per cent in September and 3.68 per cent in October last year. According to the government data released, the hike is mainly due to spike in petrol and diesel prices. However, food articles witnessed softening of prices with deflation at 1.49 per cent in October, against 0.21 per cent in September.
Indo-French Conclave held in Nagpur
Indo-French Conclave was held in Nagpur, Maharashtra, in which French and Indian firms signed 12 agreements worth 200 million euro. These agreemnents will help to create 3,000 jobs in Maharashtra. The Indo-French Conclave was organized by Indo French Chamber of Commerce & Industry (IFCCI) and the Embassy of France in India.1
India and Japan signs a Loan Agreement worth Rs. 1817 crore
A Loan Agreement worth of Rs. 1817 crore approximately was signed between India and Japan for the construction of Turga Pumped Storage (I). The objective of the Project is to strengthen the capability to respond to fluctuation in supply and demand of power and to improve stability of the power supply. India and Japan have had a long and fruitful history of bilateral development cooperation since 1958.In the last few years, the economic cooperation between India and Japan has steadily progressed. This further consolidates and strengthens the Strategic and Global Partnership between India and Japan.
India Improves Rank by 23 Positions in Ease of Doing Business
The World Bank released its latest Doing Business Report (DBR, 2019) in New Delhi. India has recorded a jump of 23 positions against its rank of 100 in 2017 to be placed now at 77thrank among 190 countries assessed by the World Bank. India's leap of 23 ranks in the Ease of Doing Business ranking is significant considering that last year India had improved its rank by 30 places, a rare feat for any large and diverse country of the size of India. As a result of continued efforts by the Government, India has improved its rank by 53 positions in last two years and 65 positions in last four years. The Doing Business assessment provides objective measures of business regulations and their enforcement across 190 economies on ten parameters affecting a business through its life cycle. The DBR ranks countries on the basis of Distance to Frontier (DTF), a score that shows the gap of an economy to the global best practice. This year, India's DTF score improved to 67.23 from 60.76 in the previous year. For the third year in a row, New Zealand retained its position at the top of the Doing Business rankings.