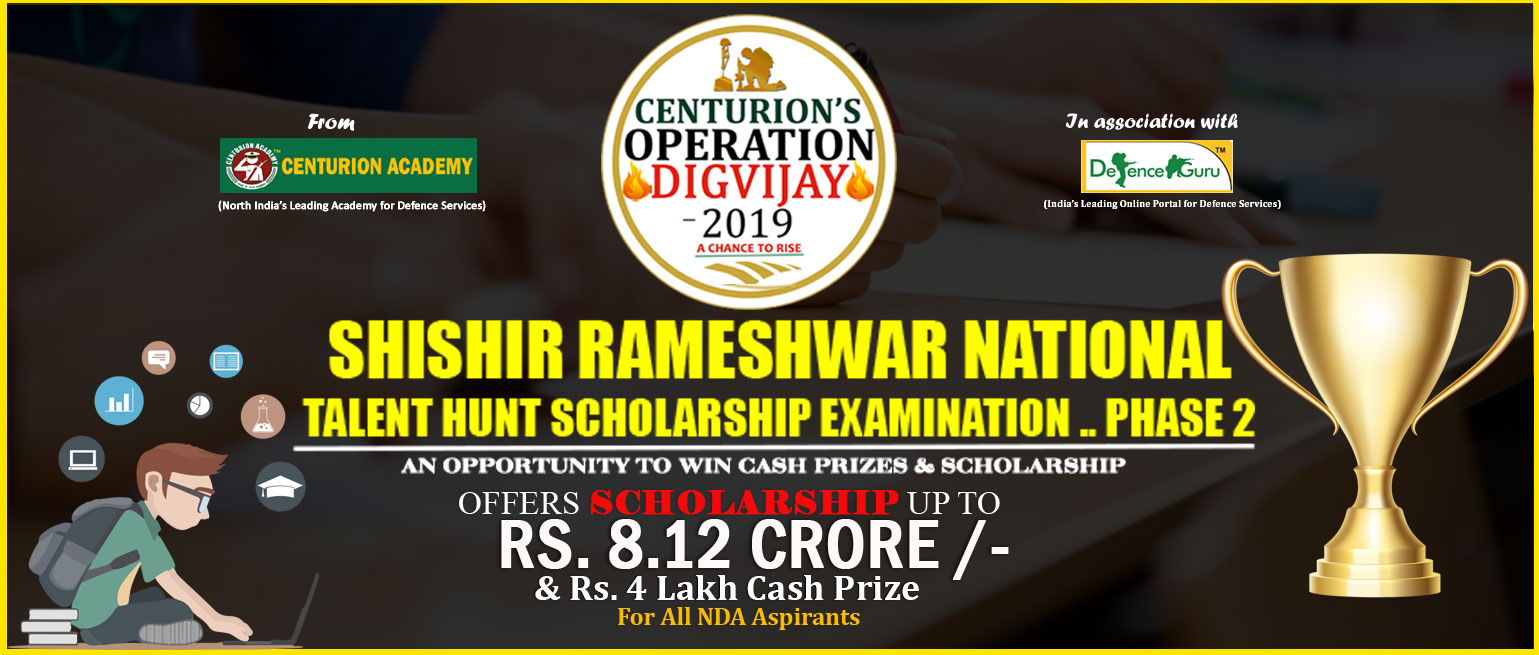 CENTURION'S OPERATION DIGVIJAY-2019
SHISHIR RAMESHWAR NATIONAL TALENT HUNT SCHOLARSHIP EXAMINATION
Our objective to conduct "CENTURION'S OPERATION DIGVIJAY-2019" is to encourage young and energetic blood of India to join Indian Armed Forces. The future of a country depends on young minds and Strong Shoulders. Its intensity increases if efforts are recognized and valued. We have put an effort to do the same. Our vision is to impart quality training as well as to make young students realize their potential so that they can connect their skills to the desired scenario.
 
About "CENTURION'S OPERATION DIGVIJAY" Scholarship Exam 2019
ELIGIBILITY

12th PASSED MALE STUDENTS (NDA ASPIRANTS)

EXAMINATION FEES

Phase II Rs. 100/- per candidate

EXAM DATES

3rd March 2019, Sunday

EXAM CENTERS

 1. Centurion Defence Academy, Rajpal Plaza Near Avadh Hospital Alambagh, Lucknow, Pin: 226005

2. Centurion Defence Academy, 2nd Floor, Goel Plaza Faizabad Road Indira Nagar, Lucknow, Pin: 226016

RESULT ANNOUNCEMENT

After NDA 1 2019
 
About Scholarship Exam Cash Prizes
12th APPEARING/PASSED NDA ASPIRANTS (ONLY MALE STUDENTS) (NDA MOCK TEST)

RANK

CASH PRIZE

1ST RANK

Rs.25000

2ND RANK

Rs.11000

3RD RANKÂ 

Rs.8000

Ranks between 4 to 10Â 

Rs.5000 Each

Ranks between 11 to 17

Rs.3000 Each
 
SCHOLARSHIP APPLICABLE IN TUTION FEE

RANK

 

12TH passed CANDIDATE

1ST RANK

80%Â  Tution Fee Waiver

2ND RANK

75%Â  Tution Fee Waiver

3RD RANKÂ 

70%Â  Tution Fee Waiver

Ranks between 4 to 10Â 

60%Â  Tution Fee Waiver

Ranks between 11 to 100

50%Â  Tution Fee Waiver

Ranks between 101 to 1000

25% Tution Fee Waiver

Ranks between 1001 to 2000

20%Â  Tution Fee Waiver

Ranks between 2001 to 4000

15% Tution Fee Waiver

Ranks between 4001 to 5000

10%Â  Tution Fee Waiver
 
ABOUT CENTURION DEFENCE ACADEMY
The Centurion Academy specializes in imparting training for SSB interviews for Army, Navy and Air Force Selection Boards for NDA, CDS, OTA, SSC, NA, AFCAT, TES, UES, JAG, TGC; Special Entry Scheme for Women; Army Candidates: (SCO), PC(SL), ACC; Navy Candidates: CW, SD, HET; Air Force Candidates: F(P), GDOC, Branch Commission and NCC C certificate candidates for all wings. We also offer coaching for NDA/ CDS/ OTA/ ACC/ CAPF(AC)/ and AFCAT Written examinations.
The Centurion Academy has achieved an enviable and unbeatable record of success for imparting coaching for SSB Interviews and Written Exam Coaching. The Centurion Academy is the Premier, the Finest and the Best Academy for Services Selection Board (SSB) Interviews for officer level entry into the Armed Forces of India (Army, Navy, and Air Force). It imparts training for the complete tests conducted in the 5 days Services Selection Board Test including Interview, all Outdoor and Psychological tests, Group Discussions etc including screening tests. The Academy has experience of creating 5000+ officers in this field and has unbeatable track record for success.
Centurion Academy is the Premier, the Finest and the Best Academy for SSB Interviews .
Centurion has an unbeatable track record, with over 5000+ officers trained to success.
Every fourth defence aspirant of the Indian Armed forces contacts Centurion Academy to check his or her OLQ's via free of cost OIR testing over here.
The Centurion Academy campus provides unmatched infrastructure, in addition to separate hostel facilities for boys and girls over lush green, pollution free, SSB like environment.
The highly qualified and experienced faculty at Centurion adopts a practical and systematic approach towards SSB training and Written Exam coaching based on FTP.
Centurion guarantees 12 days, 120 hrs of coaching for SSB Interviews / over 300 hours in 8 weeks for written exam coaching with filtered study materials, various exclusive exercises and exhaustive test series.
Location is easily accessible and well connected by Rail, Road and by Air in Lucknow (the heart of U.P).
Only Centurion Academy offers a fully equipped ground for GTO-training and dedicated Obstacle course.
 
ABOUT DEFENCE GURU
Defence Guru (India's leading online education portal for defence aspirants) welcomes to you to "CENTURION'S OPERATION DIGVIJAY-2019" Program. To assist the aspirants of defence career is the motive of this educational portal. We are a team of professionals who are continuously working for the career enhancement in defence sector through this portal.
OUR SERVICES
Result oriented training methodology for entrance exams NDA, CDS, AFCAT, MNS, AIR FORCE (X and Y Grade)
Fruitful and productive guidance for SSB interview by experts (having rich experience of expertise in psychology test, GTO test and Interview Skills)
Career guidance and exposure of SSB Interview by Defence Personnel's.
Study material with full Content coverage for the chosen career.
Email Notifications to keep you updated
Online consultation with Experts at just one click.
E-Learning (A gateway to get comprehensive study material)
Online Examination (A platform to assess your skills)
Question Bank (complete exposure to previously asked questions and probable questions of upcoming exams)
Digital Profile (an online medium to make you present globally and proper interface to get you ready with your PIQ)
Personality assessment (Introspection to know you better and plan for required skills)
Process Detail of Centurion Scholarship Exam
1- Candidates registering online will be informed about the date of examination through an email by the official mail id of the academy as soon as the registration process  is completed.
2- The Mail will include all your Personal as well as Payment details  and will confirm your registration for SHISHIR RAMESHWAR NATIONAL TALENT HUNT SCHOLARSHIP EXAMINATION-2019.
3- Admit card will be issued within a week once the candidate has completed the registration process.
4- Phase 2 examination for Lucknow region will be conducted  on 20th January 2019; at the Head Office and Branches of Centurion Defence Academy, Lucknow.