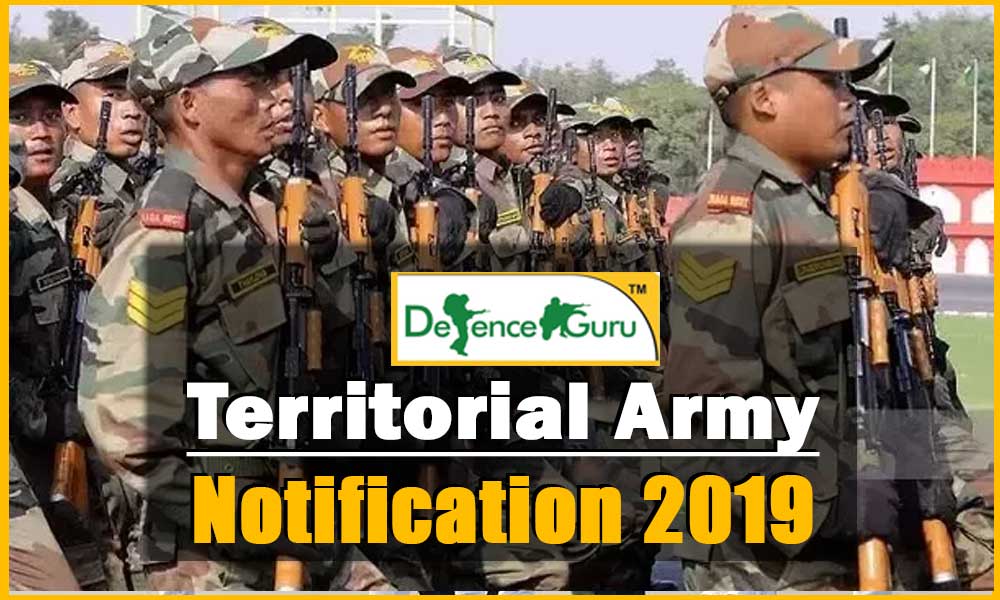 Territorial Army
The Territorial Army is a part of Regular Army and its present role is to relieve the Regular Army from static duties and assist civil administration in dealing with natural calamities and maintenance of essential services in situations where life of the communities is affected or the security of the Country is threatened and to provide units for Regular Army as and when required.
Presently the Territorial Army has a strength approx. 40000 persons comprising of Departmental TA units such as Railway, IOC, ONGC, and Non Departmental TA units of Infantry Battalion (TA) including Home & Hearth Battalions, Ecological Battalion (TA) affiliated to various Infantry Regiments and Engineer Regiment (TA) for maintenance of Line of Control Fencing.
Territorial Army Notification For Civilians 2019
Candidates who are looking for Territorial Army Notification and Exam Date in 2019 can read the important details related to TA exams below. Applications are invited from gainfully employed young men for an opportunity of donning the uniform and serving the nation as Territorial Army Officers (Non-Departmental), based on the concept of enabling motivated young men to serve in a military environment without having to sacrifice their primary professions.
Territorial Army Notification 2019 For Civilians
The Indian army has already published the TA notification for the Ex-officers in Nov 2018 but for the civilian candidates, TA notification hasn't been published yet. we hope that the Indian army will soon publish the TA notification this year for the civilian candidates. Defence Guru keeps track of all the defence recruitment notification, once the TA notification is published, we will surely update it here for the defence aspirants.
Notification for PIB for commissioning in Territorial Army for the year 2019 IS NOT YET PUBLISHED. It will be notified in due course through www.indianarmy.nic.in & www.joinindianarmy.nic.in, local newspapers and Employment News only.
CONDITIONS OF ELIGIBILITY:
Nationality: Only male citizens of India.
Age Limits: 18 to 42 years on the date of application.
Educational Qualifications: Graduate from any recognized university.
Physical Standards: A candidate must be physically and medically fit in all respects.
Employment: Gainfully Employed.
Standard And Syllabus Of The Territorial Army Examination
The standard of the papers in Elementary Mathematics will be a Matriculation level. The standard of papers in other subjects will approximately be such as maybe expected of a graduate of an Indian university. Maximum time for each paper is 02 hrs and will be conducted in two sessions.
SYLLABUS :
Paper – I. Reasoning and Elementary Mathematics.
(a) Part – 1. Reasoning: The question paper will be designed to test the candidates ability to complete sequences making logical conclusion based on simple patter of numbers, statements, figures, letters etc as may be expected of a rational thinking person without any special study of the subject.
(b) Part – 2. Elementary Mathematics:
Paper – II. General Knowledge and English.
(a) Part – 1. General Knowledge: General knowledge including knowledge of current events and such matters of everyday observation and experience in scientific aspects as may be expected of an
educated person who has not made a special study of any scientific subject. The paper will also include questions on history of India and geography of nature which candidates should be able to answer without special study.
(b) Part – 2. English: The question paper will be designed to test the candidates' understanding of English and workman - like use of words. Questions in English are from synonyms, antonyms, reading comprehension, Para jumbles, error spotting, jumbled sentences, sentence correction and fill in the blanks.
TYPE OF EXAM : Objective (OMR Answer Sheet will be used).
QUALIFYING MARKS : Minimum 40% marks in each part of the paper separately and overall average of 50%.
PENALTY FOR WRONG ANSWERS : Candidates should note that there will be penalty (Negative Marking) for wrong answers marked by a candidate in the Objective Type Question Papers.
Read More
Best NDA Coaching in India
Centurion Scholarship Exam 2019
Benefits of National Cadet Corps and its C Certificate