Indian Army SSC Technical Online Application Form 2019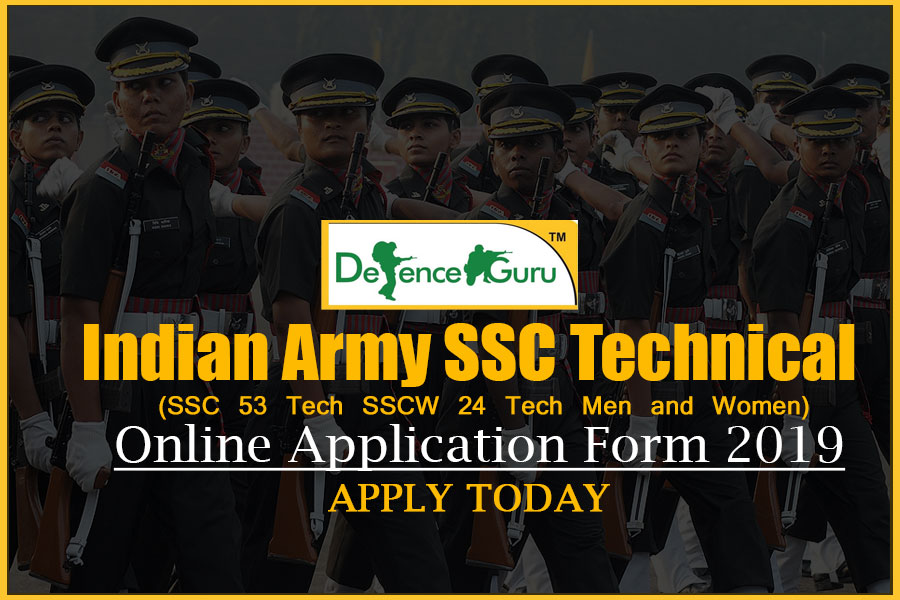 Indian Army SSC 53 Tech SSCW 24 Tech Men and Women Online Application Form 2019
Indian army has released the application forms for the SSC technical posts from unmarried male and unmarried female graduates from the engineering stream. The widows of the defence personnel are also provided reservation under these posts. Candidates who are selected through this process will be given training at Officers Training Academy located in Chennai, Tamil Nadu. The total number of vacancies is 191 posts (175 posts for men, 14 posts for women and 2 posts for the widows of the defence personnel).
The applications of only those candidates who are eligible for this post will be accepted. So, it is important to fill the application form only after reading the eligibility conditions thoroughly. The application form of the posts will be available on the official website of the exam. it should be noted that the application forms which are sent through any other mode will not be accepted.
SSC 53 Tech SSCW 24 Tech Men and Women Indian Army Application Form
The beginning date for the submission of online application form is 23rd January 2019 and the final date for the submission will be 21st February 2019. Candidates should send only one application form. Multiple application forms will not be accepted.
Vacancy Details for Indian Army SSC Technical Recruitment
Post Name -: 53th Short Service Commission Men (Technical) 24th Short Service Commission Women (Technical) October 2019 Course
Important Dates
• Starting Date –23-January-2019
• Last Date – 21-February-2019
Application Fee : There is no Application Fee for All Categories
Trade wise posts details-:
Civil Engineering – 50 Posts(Male-46 Posts,Female-04 Posts)
Mechanical Engineering – 17 Posts(Male-14 Posts,Female-03 Posts)
Electrical/Electronic Engineering – 24 Posts(Male 22 Posts, Female-02 Posts)
Aeronautical/ballistics/Avionics Engineering – 12 Posts(Male only)
Computer Science Engineering – 47 Posts (Male-44 Posts, Female- 03 Posts)
Electronics & telecom/Telecommunication/Electronics & Communication engineering – 25 Posts (Male-23 Posts, Female- 02 Posts)
Electronics/Opto Electronics Engineering – 08 Posts(Male only)
Production Engineering – 03 Posts(Male only)
Architecture/building Const. Tech. Engineering – 03 Posts(Male Only)
Educational Qualification – Candidates having Engineering Degree in relevant trade from any recognized institute /college will be eligible for this recruitment.
Age Limit: –
(i) SSC(T)-53 Men and SSC(T)-24 Women:- 20 to 27 years as on 01 October 2019 (Candidates born between 02 October 92 and 01 October 99) (both dates inclusive).
(ii) SSCW(Non-Tech)(Non-UPSC)- For Widows of Defence Personnel who died in harness only. Max 35 years of age as on 01 October 2019
How to Apply - Click Here or visit: www.joinindianarmy.nic.in
Download Notification - Click Here

Follow the steps given below for the successful filling of the Online Indian Army SSC Technical Application Form:
Get into the official website of the exam www.joinindianarmy.nic.in
Select the link leading to the registration.
On the page that appears, it is important to read all the instructions carefully.
If you are a candidate who did not complete the registration process initially, then you have to register first.
For the registration, you have to enter various details such as your name, name of your father, Date of Birth, your educational qualification etc. Candidates are advised to keep various relevant documents to fill the application form in the proper manner as the details cannot be changed at any stage once they are submitted. Also, verify it thoroughly before saving the application form.
During this process, you have to give your e-mail ID and your mobile number. If you are giving the email ID and the mobile number of any other person, those details are not accepted, and they are strictly prohibited.
Once your registration process is over, your profile will be created, and you will be getting the User ID and one-time password which can be used for proceeding further.
The candidates who have already registered can fill the detailed application form directly.
Once the registration is completed, select the tab "Apply Online" on the official website.
In the subsequent page, you will be getting various details regarding the eligibility conditions. Select the tab "Apply"
On the page that appears, fill all the relevant details such as personal information, Details regarding your education, details which are necessary for the communication purposes etc,
After filling each section, save the information and proceed further.
Once you have filled the last section of the application form, you will be getting the summary of the application form.
After verifying the details, select the option "Submit Now".
You can edit the application form till the closure of application form. After editing each time, select the option" Submit Now".
It is important to take two printouts of the application form which contains Roll Number. This can be done only 30 minutes after the final closure.


Leave a Reply
Defence Guru Team feels pleasure to appreciate from you ! Required fields are marked *.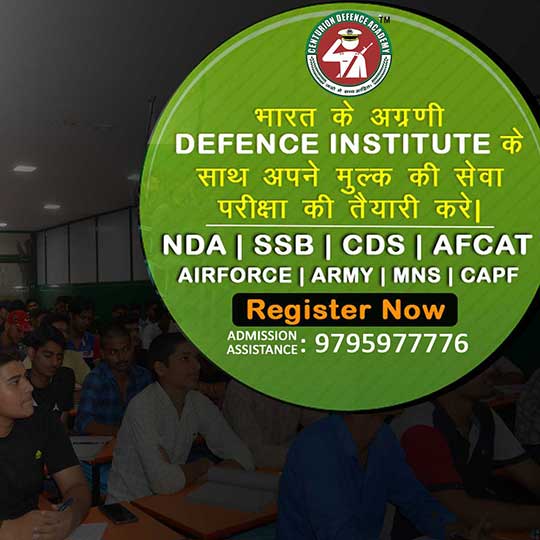 Newsletter Sign Up
Sign up to our newsletter and get exclusive deals you will not find anywhere else straight to your inbox!
-->