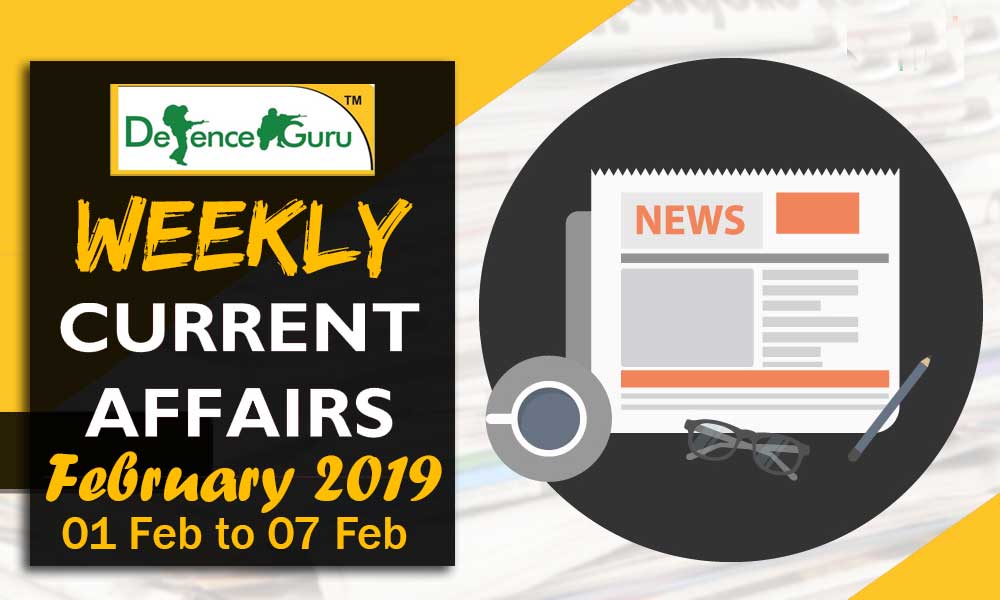 Weekly Current Affairs February 2019
Defence Guru aims to help every competitive exam aspirant to revise at ease. It is important to stay updated and aware of the daily news and happenings surrounding the world. Especially, If you are preparing for the NDA, CDS, AFCAT, AirForce and other competitive Exam. It is essential that you prepare the current affairs on a daily, monthly and weekly basis. In this article we share weekly current affairs 1 Feb to 7 Feb 2019. 
1. P V Bharathi is the new CEO of Corporation Bank
P. V. Bharathi, executive director of Canara Bank, has now taken charge as managing director and Chief Executive Officer (CEO) of Corporation Bank. She is the first woman to serve the bank in this capacity. She has been executive director of Canara Bank since September 15, 2016 and served as the firm's general manager in the risk management wing. She has been a non-executive director of Can Fin Homes Limited since September 22, 2014 and also served as a director board member of Canbank Venture Capital Limited.
2. IPS officer Rishi Kumar Shukla takes charge as Director of CBI
Rishi Kumar Shukla took charge as the Director of Central Bureau of Investigation, CBI. He took charge from M. Nageshwara Rao, who was working as Interim Chief of the Investigation Agency. Mr Shukla will serve in the post for a period of two years. The High Level Committee chaired by Prime Minister had approved the appointment of Mr Shukla to the post.
The Central Bureau of Investigation is the premier investigating agency of India. Operating under the jurisdiction of the Ministry of Personnel, Public Grievances and Pensions, the CBI is headed by the Director. It was founded in 1963.
3. Rishi Kumar Shukla appointed as new CBI director
1983 batch IPS officer of Madhya Pradesh Cadre Rishi Kumar Shukla will be the new Director of Central Bureau of Investigation, CBI. He will serve in the post for a period of two years. He is appointed weeks after the controversial removal of Alok Kumar Verma from the post. Rishi Kumar Shukla has served as the DGP of Madhya Pradesh.
4. Yes Bank appoints Ajai Kumar as interim MD and CEO
Yes Bank has appointed Ajai Kumar as the interim Managing Director (MD) and Chief Executive Officer (CEO) Bank has appointed him as Rana Kapoor demits office on January 31. Kumar has been the non-executive and non-independent director of the bank since January 2016. He will hold the position of interim MD and CEO until Ravneet Gill assumes office as the MD and CEO on March 1, 2019.
5. LT Gen Rajeev Chopra takes over as DG NCC
Lt Gen Rajeev Chopra assumed the appointment of Director General of NCC (DGNCC). Commissioned in the Madras Regiment in December 1980, Lt Gen Chopra is an alumnus of the National Defence Academy, Khadakwasla and Indian Military Academy, Dehradun. He has been awarded Ati Vishisht Seva Medal for his distinguished service in January 2018.
6. Gupteshwar Pandey appointed as new Bihar DGP
Gupteshwar Pandey has been appointed as new Director General of Police (DGP) of Bihar. He succeeds K S Dwivedi, who retired on 31 January 2019. Gupteswar Pandey is a 1987 batch IPS officer.Prior to this appointment he was DG of Bihar Police Academy and Bihar Military Police.
 
7. BJD MP Ladu Kishore Swain passes away
Biju Janata Dal (BJD) MP from Aska Lok Sabha constituency in Odisha, Ladu Kishore Swain passed away. Swain was member of the Odisha Legislative Assembly from 2004 to 2009. He was elected to the 16th Lok Sabha in May 2014. He also served as member of several committees– Standing Committee on Rural Development, Committee on Welfare of Other Backward Classes and Consultative Committee of Ministry of Labour and Employment.
 
8. Legendary cricketer Kapil Dev to flag off 'Tridhaatu Navi Mumbai Half Marathon' on 17th Feb
Legendary cricketer and former India skipper Kapil Dev will flag off the 'Tridhaatu Navi Mumbai Half Marathon' on February 17th from Vashi, in Navi Mumbai. Well-known marathon coach and ultra-marathon athlete Norrie Williamson is the race director for the event. The race will be held in two categories - the half marathon run over a distance of 21.097 kms, where participants above 18 years of age can take part, while another category is the 'Future Generali 10K run, where participants above 16 years of age can participate. Kapil Dev Nikhanj, better known as Kapil Dev, is a former Indian cricketer. He was named by Wisden as the Indian Cricketer of the Century in 2002, Dev captained the Indian cricket team that won the 1983 Cricket World Cup. He was India's national cricket coach between October 1999 and August 2000.
9. Team India rise to 2nd in ICC ODI rankings
Team India claims the number 2 spot in the ICC ODI rankings after series wins in Australia and New Zealand. Captain Virat Kohli and pacer Jasprit Bumrah take the top spots in the batting and bowling rankings. India have accumulated 122 points on the back of series wins over Australia and New Zealand and are placed behind England in the fresh list.
The ICC ODI Championship is an international One Day International cricket competition run by the International Cricket Council. The competition is notional in that it is simply a ranking scheme overlaid on the regular ODI match schedule.
10. Smriti Mandhana becomes number 1 in latest ICC women's ODI rankings
Indian opener Smriti Mandhana has climbed three spots in the batters' list to become number one in the latest ICC women's ODI rankings. Earlier, she was named ICC Women's Player of the Year 2018. Smriti Mandhana has been in supreme form in the 50-over format. In June 2018, the Board of Control for Cricket in India named her as the Best Women's International Cricketer.
11. Indian Captain Mithali Raj becomes 1st female cricketer to play 200 ODIs
Indian captain Mithali Raj became the first female cricketer to play 200 ODI. The 36-year-old is also the highest run-getter in ODIs with 6622 runs at an average of 51.33. Mithali made her ODI debut way back in 1999 and has featured in 200 games out of the 263 ODIs India have played.
12. India and Germany join hands on water and waste management
India and Germany have joined hands for cooperation on Water and Waste Management. Both sides have decided to work on developing reference documents for the textile sector, Water Governance, Marine Litter, water quality management, training and capacity building of local bodies. The step has been taken during the meeting of 3rd Indo-German Working Group for cooperation on water and waste management in New Delhi.
13. Macedonia signs accord to join NATO
Macedonia signed an accord to join NATO to become the 30th member of the US-led alliance. At a formal signing of the NATO accession protocol, Macedonia's Foreign Minister Nikola Dimitrov hailed the moment as showing that the country will never walk alone once in the alliance. NATO (the North Atlantic Treaty Organization) is an international alliance that consists of 30 member states from North America and Europe. It was established at the signing of the North Atlantic Treaty on 4 April 1949.
14. India-US Case at WTO
The United States' unilateral measure of imposition of additional customs duty of 25% on steel products and 10% on aluminium products are violative of the WTO provisions. As these measures affect India's trade, India has challenged the US before the WTO Dispute Settlement Body (DSB) seeking to bring these measures consistent with WTO provisions. Since the bilateral consultations under the Dispute Settlement Mechanism held on 20th July 2018 did not result in resolution of the dispute, a Dispute Settlement Panel was established on 4 December 2018 to adjudicate the dispute.
The World Trade Organization is an intergovernmental organization that is concerned with the regulation of international trade between nations.
Founded: 1 January 1995
Headquarters: Geneva, Switzerland
 
15. World Cancer Day
World Cancer Day is observed on 4th February annually. The Day aims to save millions of preventable deaths each year through education, raising awareness and by pressing governments and individuals across the world to take action against the deadly disease. Union for International Cancer Control, which organizes World Cancer Day, is launching a new 3-year campaign with the theme: "I Am and I Will."
Over 9.6 million People die each year from cancer which is more than HIV/AIDS, malaria and tuberculosis combined. India has around 2.25 million cases with over 1 lakh new cases being registered every year.
16. Pope Francis lands in Abu Dhabi, becomes 1st pontiff to visit Arabian Peninsula
Pope Francis landed in Abu Dhabi in the United Arab Emirates (UAE), on a historic visit, becoming the first pontiff to visit the Arabian Peninsula. He was received at the airport by the Crown Prince of Abu Dhabi Sheikh Mohammed Bin Zayed. The Pope is visiting the UAE on the invitation of the Crown Prince to take part in an interfaith Conference.
An estimated 700 participants from different faith are expected to participate in the Human Fraternity Conference, which includes representatives of the Muslim, Christian, Jewish, Hindu, Buddhist and Sikh faiths.Poojya Brahmvihariji of BAPS, who is spearheading the construction of the Hindu Temple in Abu Dhabi is also one of the keynote speakers at the Conference.
17. Russia to abandon nuclear arms treaty in retaliation to US withdrawal from treaty
Russian President Vladimir Putin has said, Moscow will abandon a centerpiece nuclear arms treaty but will only deploy intermediate-range nuclear missiles if Washington does so. US President Donald Trump had accused Moscow of violating the 1987 Intermediate-Range Nuclear Forces treaty by deploying banned missiles.
The Intermediate-Range Nuclear Forces Treaty (INF Treaty) was a 1987 arms control agreement between the United States and the Soviet Union. Signed in Washington, D.C. by President Ronald Reagan and General Secretary Mikhail Gorbachev on 8 December 1987, the treaty was approved by the United States Senate on 27 May 1988 and ratified by Reagan and Gorbachev on 1 June 1988.
 
18. US says to withdraw from INF missile treaty with Russia
The United States is suspending its compliance with the Intermediate-Range Nuclear Forces Treaty (INF) with Russia. The treaty, signed during the Cold War in 1987, bans ground-launched missiles with a range of 500-5,500 km. It was key to ending the arms race between the two superpowers and helped protect the U.S.'s NATO allies in Europe from Soviet missile attacks. The administration will provide formal notice to Russia that the US is withdrawing from the INF in six months
 
19. Sultan Abdullah sworn in as new Malaysian King
Sultan Abdullah Ibni Sultan Ahmad Shah was sworn as the 16th King of Malaysia. He was elected after Sultan Muhammad V abdicated the throne earlier this month. Malaysia practices the system of a constitutional monarchy. According to its Constitution, the King, who represents the country at official events, is elected every five years from among the nine Sultans on a rotational basis.
20. UAE, Saudi central banks launch common digital currency called 'Aber'
The central banks of the UAE and Saudi Arabia have launched a common digital currency called "Aber". It will be used in financial settlements between the two countries through Blockchains and Distributed Ledgers technologies. Through this digital currency, both the United Arab Emirates Central Bank (UAECB) and the Saudi Arabian Monetary Authority (SAMA) are studying the impact on the improvement and reduction of remittance costs and the assessments of risks.
21. Indian Coast Guard signs MoU with AAI
Indian Coast Guard and the Airport Authority of India signed a Memorandum of Understanding for coordination in the aeronautical and maritime search and rescue operations. Memorandum of Understanding with Airport Authority of India(AAI) is aimed at strengthening mutual interactions, interoperability and validating procedures during conduct of search and rescue operations. The operations will be conducted jointly by the Rescue Coordination Centre (RCC) Kolkata, Airport Authority of India (AAI) and Maritime Rescue Coordination Centre (MRCC) in Port Blair.
22. Pradhan Mantri Jan Arogya Yojana (PM-JAY) App launched
Pradhan Mantri Jan Arogya Yojana (PM-JAY) App has been launched on Google play store. This app is now available on Google Play store. Now the person doesn't have to visit the centres to check their eligibility, balance, file complaints or any other services. Individual just need to download the PM-JAY app and can simply to access the scheme details or check the eligibility
Ayushman Bharat Yojana or Pradhan Mantri Jan Arogya Yojana (PMJAY) is a centrally sponsored scheme launched in the year 2018. This scheme aims at making interventions in primary, secondary and tertiary care systems, covering both preventive and promotive health.
23. Smriti Irani launches India Size project in Mumbai
Union Minister of Textiles Smriti Irani launched the India Size project in Mumbai. A first-of-its-kind project in the history of the country, India Size aims to standard Indian Size for the ready-to-wear clothing industry, on the lines of the standardized sizes available in countries such as the USA and the UK. The Minister also launched a Study of Apparel Consumption in India. The report of this study would be ready for release by July 2019.
24. MHA bans J&K outfit Tehreek-ul-Mujahideen over terror
The Union Home Ministry banned the Tehreek-ul-Mujahideen (TuM) under the Unlawful Activities (Prevention) Act (UAPA). The ministry said the central government believes that TuM is involved in terrorism as it has committed and participated in various acts of terrorism in India.     Also its members are getting financial as well as logistic support from their handlers based abroad.The TuM came into existence in 1990 with the objective of "liberation of Kashmir" and has been actively pursuing it by way of acts of terror.
 
25. ISRO launches GSAT-31 from French Guiana
India's communication satellite GSAT-31 has been launched successfully from French Guiana. The Ariane-5 rocket lifted off with it from Kourou Launch Base and placed it in the intended Geosynchronous Transfer Orbit.
ISRO chairman Dr Sivan said that GSAT-31 will provide transponder capacity for DTH television and connectivity to services like VSATs for ATMs, stock-exchanges, Digital Satellite News Gathering DSNG and e-governance applications. The satellite will also be used for bulk data transfer for a host of emerging telecommunication applications.
26. President Kovind confers Sangeet Natak Akademi awards
President Ram Nath Kovind gave away the prestigious Sangeet Natak Akademi Awards 2017 at Rashtrapati Bhawan. Forty-two artists from the fields including Music, Dance, Theatre, Traditional, Folk, and Tribal music were awarded.
Established in 1952, the Award not only symbolizes the highest standards of excellence and achievements but also recognizes sustained individual work and contribution. The award carries a cash prize of one lakh rupees, a Tamrapatra and Angavastram.
27. MP govt makes it mandatory for industries to hire 70% locals
Madhya Pradesh has made it mandatory for industries seeking various incentives to provide 70 per cent employment to locals in the state. The new industrial policy has been made effective. The state's new industrial policy was introduced in December 2018.
Points to Remember
Capital: Bhopal
State Animal: Swamp deer
State Bird: Asian Paradise-flycatcher
28. UP govt forms SIT on Sikh riots of Kanpur in 1984
Uttar Pradesh government has constituted a Special Investigation Team (SIT) to probe the circumstances that led to riots in Kanpur in 1984. The riots were followed the assassination of then Prime Minister Indira Gandhi. The four-member SIT will be headed by retired UP Director General of Police, Atul. At least 125 people were killed in 1984 riots in Kanpur after the assassination of then Prime Minister Indira Gandhi.
29. Arunachal's Nyishi tribe celebrates Boori Boot Yollo festival
The Nyishi tribe of Arunachal Pradesh is celebrating its Boori Boot Yollo festival. Boori Boot Yollo is observed in the month of February every year to welcome spring and a successful harvest. Arunachal Pradesh Governor Dr. BD Mishra and Chief Minister Pema Khandu in greeted the people of the state on the occasion.
Points to Remember
Capital: Itanagar
State Animal: Gayal
State Bird: Hornbill
30. Taj Mahal, Agra Fort, Qutub Minar Among Top 10 Revenue-Generating Monuments
Culture Minister Mahesh Sharma recently revealed the top revenue-generating monuments in the country between 2015 and 2018. The top revenue-generating monuments during 2015-18 include Taj Mahal, Agra Fort, Qutub Minar, Red Fort and Humayun's Tomb.
Others in the top 10 list for the period of 2015-2018 include Agra Fort, Red Fort, Qutub Minar, Sun Temple in Konark, Mamallapuram, Ellora caves, group of monuments in Khajuraho, and the Ajanta caves in Aurangabad. Tourism contributes nearly 9.4% of the country's GDP and supports 8% of its total employment.
 
31. First State Level Awareness Programme on Agri Export Policy held in Pune
Government of India has recently released an Agriculture Export Policy which aims at reinvigorating the entire value chain from export oriented farm production and processing to transportation, infrastructure and market access. The Agriculture Export Policy is framed with a focus on agriculture export oriented production, export promotion, better farm realization and synchronization with policies and programmes of Government of India.
In India, agriculture and horticulture production is around 600 million tonnes per year and 30% of fresh horticulture produces goes waste. For creating awareness among the farmers, exporters and other concerned stakeholders, a first State level awareness programme on Agriculture Export Policy was organized in Vaikunth Mehta National Institute of Cooperative Management (VAMNICOM), Pune.
32. Indian Ocean Rim Association (IORA) meet on Disaster Risk Management
The Ministry of Home Affairs in collaboration with the Ministry of External Affairs and National Disaster Management Authority (NDMA) is organising a meeting of Indian Ocean Rim Association (IORA) Cluster Group on Disaster Risk Management (DRM) on 5-6 February 2019 in New Delhi. The two-day meeting will feature interactive sessions and will focus on development of a draft Work Plan for DRM in IORA. It will also deliberate on the need for establishing a DRM Core Group to take forward the agreed objectives under the Work Plan.
Indian Ocean Rim Association is an inter-governmental organization and has many disaster-prone countries among its 22 members and nine dialogue partners. DRM is one of its priority areas and its Action Plan (2017-2021) has specific goals to improve resilience in IORA countries.
33. Upgradation of Secondary Schools to Senior Secondary level under Samagra Shiksha Abhiyan
Department of School Education and Literacy has launched an Integrated Scheme for School Education-Samagra Shiksha, subsuming three erstwhile Centrally Sponsored Schemes of Sarva Shiksha Abhiyan (SSA), Rashtriya Madhyamik Shiksha Abhiyan (RMSA) and Teacher Education (TE), with effect from 2018-19.
The new integrated scheme envisages school education as a continuum from pre-school to senior secondary level and aims to ensure inclusive and equitable quality education at all levels. During the year 2018-19, under Samagra Shiksha, 44 schools have been upgraded from secondary to senior secondary level school.
34. Draft National River Ganga Bill, 2018
Draft of "The National River Ganga (Rejuvenation, Protection and Management) Bill 2018" provides for the constitution of Ganga Protection Corps as an armed forces of the union. The Ganga Protection Corps is proposed to be empowered to arrest or caused to be arrested for offence under the Act, and to take the person to the nearest police station. The Court would take cognizance of the offence on the basis of the complaint filed by the officers who are authrorized under the proposed Act. The draft Act contemplates certain provisions conferring powers to the "National Council for Rejuvenation, Protection and Management of River Ganga" [National Ganga Council.
National Ganga River Basin Authority is a financing, planning, implementing, monitoring and coordinating authority for the Ganges River, functioning under the water resource ministry of India. It was founded in 2009.
35. Fugitive tycoon Vijay Mallya's extradition to India approved by UK minister
UK Home Secretary Sajid Javid has ordered the extradition of Vijay Mallya on charges of conspiracy to defraud and money laundering offences. The 63-year-old businessman had been found to have a case to answer before the Indian courts by Westminster Magistrates' Court in London on December 10, 2018.
Vijay Mallya is accused in India of conspiracy to defraud, making false representations and money laundering offences. India welcomed the UK government ordering the extradition of embattled liquor baron Vijay Mallya.
 
36. CJI Ranjan Gogoi inaugurates Andhra Pradesh High Court
The Andhra Pradesh High Court new building at Amaravathy, was inaugurated by the Chief Justice of India, Ranjan Gogoi. The two-storied building is located at Nelapadu in Amaravati region has 16 court halls and the building costing Rs 150 Crore houses a 2.70 lakh square feet office space. Thus, Andhra Pradesh is getting its own court four and half years after the state bifurcation.
The Andhra Pradesh Reorganisation Act, 2014, popularly known as the Telangana Act is an Act of Indian Parliament that bifurcated the state of Andhra Pradesh into Telangana and the residuary Andhra Pradesh state. The bill was attested by the President of India, Pranab Mukherjee on 1 March 2014 and published in the official Gazette on 2 June 2014.
37. ISRO to launch its 40th communication satellite GSAT-31 on Feb 6
The Indian Space Research Organisation, ISRO, is all set to launch its 40th communication satellite GSAT-31 on February 6 from the spaceport in French Guiana. The satellite with a mission life of 15 years will provide continuity to operational services on some of the in-orbit satellites and augment the Ku-band transponder capacity in Geostationary Orbit.
GSAT-31 is scheduled for launch onboard the Ariane-5 (VA247) from Kourou in French Guiana. The satellite provides Indian mainland and island coverage. ISRO also said the GSAT-31 will be used for supporting VSAT networks, television uplinks, digital satellite news gathering, DTH television services, cellular back haul connectivity and many such applications.
38. 50% India's working-age population out of labour force, says report
Half of India's working-age population (15 years and above), for the first time, is not contributing to any economic activity, according to the National Sample Survey Office's (NSSO's) latest jobs survey. The labour force participation rate (LFPR) stood at 49.8 per cent in 2017-18, falling sharply from 55.9 per cent in 2011-12.
LFPR is the section of working population in the age group of 16-64 in the economy currently employed or seeking employment. People who are still undergoing studies, housewives and persons above the age of 64 are not factored in the labor force. The National Sample Survey Office (NSSO) headed by a Director General is responsible for conduct of large scale sample surveys in diverse fields on All India basis.
The NSSO has four Divisions:
Survey Design and Research Division (SDRD): This Division is located at Kolkata.
Field Operations Division (FOD): The Division, is located at Delhi/Faridabad.
Data Processing Division (DPD): The Division is located at Kolkata
Co-ordination & Publication Division (CPD): This Division is located at New Delhi.
 
39. Special Postage Stamp on Kumbh Mela Released
Union Minister of State for Railways and Communication Mr Manoj Sinha released a special postage stamp of the Indian Postal Department on Kumbh Mela.  Its cost is five rupees. Prayagraj Ardh Kumbh Mela 2019 is the Ardh Kumbh Mela being held at Triveni Sangam in Prayagraj, Uttar Pradesh from 15 January to 4 March 2019.
40. 20th Bharat Rang Mahotsav inaugurated in New Delhi
The Minister of State for Culture, Dr. Mahesh Sharma, inaugurated the 21-day-long nationwide theatre spectacle 'Bharat Rang Mahotsav' in New Delhi. It is the international theatre festival of India, is organized by National School of Drama (NSD), one of the prominent training institutions in the world.
The 20th BRM comes with 111 national and international acts in its basket that includes folk and other traditional theatre forms, invitee plays, and productions by the students of the National School of Drama The National School of Drama (NSD) is an autonomous institution under the Ministry of Culture, Govt. of India.
41. Kala Ghoda Arts Festival inaugurated
The Kala Ghoda Arts Festival - KGAF, India's begins in Mumbai. It is the India's largest multi-cultural street festival. KGAF 2019 will celebrate two glorious decades of art and culture through cinema, theatre, dance, literature and sculpture. The festival will end on 10th February. The theme 2019 is retrospection.
42. Indus River dolphin declared as state aquatic animal of Punjab
Punjab Chief Minister Amarinder Singh declared the endangered Indus River dolphin, found only in the Beas River in the country, as the state aquatic animal. As per the WWF figures, the number of dolphins presently is 1816, mostly found in the lower parts of the Indus River in Pakistan between Chashma and Kotri barrages in the Indus River.
Punjab has Black Buck as its state animal, and Baaj, also known as northern goshawk (accipiter gentilis), as the official state bird.
45. PM dedicates 294-km-long electrified railway lines in West Bengal
The Prime Minister launched the 294-km-long Andal - Sainthia-Pakur- Malda and Khana-Sainthia electrified railway line. The electrification of the two railway lines will immensely benefit the rural people of the state. These electrified railway lines will facilitate faster movement of goods and passengers of the region.
Capital: Kolkata
Chief minister: Mamata Banerjee
Governor: Keshari Nath Tripathi
Lok Sabha: 42 seats
Rajya Sabha: 16 seats
Legislative Assembly : 295
46. Individuals with Rs 5 lakh income exempted from income tax
The Finance Minister, Piyush Goyal announced relief for the common man in the middle income group. He proposed that individuals having an income of upto five lakh rupees will have not have to pay any tax. There will be no change in the existing rates or slabs of Income Tax for the financial year 2019-20.
Even persons having a gross income upto 6.5 lakh rupees may not be required to pay any income tax if they make investments in Provident Funds and specified savings and insurance. Gratuity limit has also been increased to 30 lakh rupees.
47. Government proposes to launch mega pension yojana 'Pradhan Mantri Shram-Yogi Maandhan
The Government proposes to launch a mega pension yojana namely 'Pradhan Mantri Shram-Yogi Maandhan' for the unorganised sector workers with monthly income upto Rs. 15,000.
This pension yojana shall provide them an assured monthly pension of Rs. 3,000 from the age of 60 years.
It will be provided on a monthly contribution of a small affordable amount during their working age.
An unorganised sector worker joining pension yojana at the age of 29 years will have to contribute only Rs. 100 per month till the age of 60 years.
A worker joining the pension yojana at 18 years, will have to contribute as little as Rs. 55 per month only.
The Government will deposit equal matching share in the pension account of the worker every month.
48. Fiscal deficit pegged at 3.4% of GDP for 2019-20
The Interim Budget 2019-20 has pegged the fiscal deficit for the year 2019-20 at 3.4% of GDP. The fiscal deficit for the current fiscal has been revised upward to 3.4 per cent from the Budgeted target of 3.3 per cent in previous year. Fiscal deficit for FY21 has been pegged at 3 per cent. The government has also set up a disinvestment target of Rs. 90,000 Crore for 2019-20.
49. DAC approves indigenous construction of 6 submarines worth Rs 40000 cr
The Defence Acquisitions Council, DAC chaired by Defence Minister Nirmala Sitharaman approved indigenous construction of six submarines worth 40 thousand crore rupees. It is the second project under the Ministry's ambitious strategic partnership model aiming to boost the government's Make in India' program. The first project to get the government's nod for implementation under the new model was the acquisition of 111 utility helicopters for the Navy at a cost of over 21 thousand crore rupees in August 2018. Defence Acquisitions Council has also approved the acquisition of about five thousand MILAN Anti Tank Guided Missiles for the Army.
50. Govt approves construction of over 4.78 lakh more affordable houses
The Ministry of Housing & Urban Affairs has approved the construction of another 4,78,670 more affordable houses for the benefit of urban poor under Pradhan Mantri Awas Yojana (Urban).The approval was given in the 42nd meeting of the Central Sanctioning and Monitoring Committee. The cumulative number of houses sanctioned under PMAY(U) now is 72,65,763.
Pradhan Mantri Awas Yojana (PMAY) is an initiative by Government of India in which affordable housing to the poor.It has two components. Pradhan Mantri Awas Yojana (Urban) (PMAY-U) for the urban poor. Pradhan Mantri Awaas Yojana (Gramin) (PMAY-G and also PMAY-R) for the rural poor.
51. RBI announces bi-monthly monetary policy
The Monetary Policy Committee headed by Reserve Bank of India Governor Shaktikanta Das, announced a reduction in policy repo rate. The repo rate will reduced from 6.5 per cent to 6.25 per cent with immediate effect.
Consequently, the reverse repo rate stands adjusted to 6.0 per cent, and the marginal standing facility rate and the Bank Rate to 6.5 per cent. The bank also projected an economic growth rate of 7.4 per cent for the next fiscal, up from 7.2 per cent estimated for the current fiscal by Central Statistics Office.
52. RBI raises collateral-free farm loan limit to Rs 1.6 lakh
RBI Governor Shaktikanta Das announced that the limit of collateral free agricultural loans has been increased from one lakh to 1.6 lakh. Addressing the post monetary policy announcement in Mumbai, Mr. Das said the decision has been taken in view of the overall inflation and rise in the agricultural input costs since 2010 when the limit was last revised. This move will enhance coverage of small and marginal farmers in the formal credit system.
 
53. RBI Lifts PCA Framework on Three Public Sector Banks
The Reserve Bank of India lifted lending curbs on three out of 11 weak public sector banks (PSBs). Bank of India (BoI), Bank of Maharashtra (BoM) and Oriental Bank of Commerce (OBC) are now out of the Prompt Corrective Action (PCA) Framework The government had announced a capital infusion of Rs 10,000 crore for Bank of India, Rs 5,500 crore for Oriental Bank of Commerce and Rs 4,500 crore for Bank of Maharashtra, which helped the banks coming out of the framework. Eight public sector banks -- Allahabad Bank, United Bank of India, Corporation Bank, IDBI Bank, UCO Bank, Central Bank of India, Indian Overseas Bank and Dena Bank -- still remain under PCA framework.
54. Govt announces Rs 6000 per year cash support to small and marginal farmers
Under the scheme called Pradhan Mantri Kisan Samman Nidhi, Rs 6,000 will be transferred into bank accounts of farmers holding up to 2 hectares of land in three equal instalments. This scheme was announced during the Budget speech in Lok Sabha. Finance Minister Piyush Goyal said it will benefit 12 crore farmers. It will be implemented from the same fiscal.