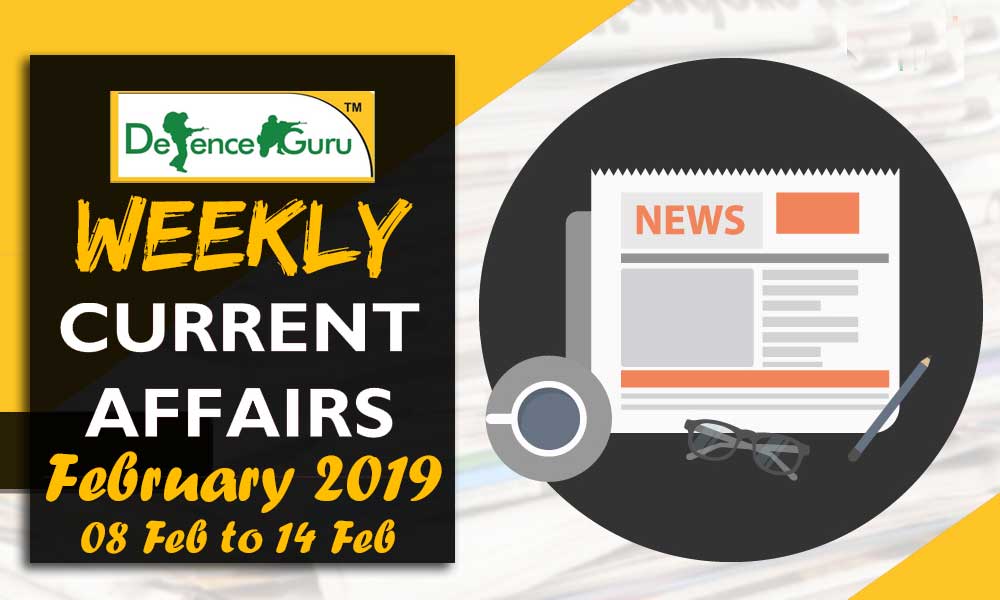 Weekly Current Affairs February 2019
Defence Guru aims to help every competitive exam aspirant to revise at ease. It is important to stay updated and aware of the daily news and happenings surrounding the world. Especially, If you are preparing for the NDA, CDS, AFCAT, AirForce and other competitive Exam. It is essential that you prepare the current affairs on a daily, monthly and weekly basis. In this article we share weekly current affairs 8 Feb to 14 Feb 2019.
Current Affairs Capsule Feb 2nd week 2019
1. Air India chairperson Pradeep Singh Kharola has been appointed as Civil Aviation Secretary
The government has appointed Air India chief managing director and Chairperson Pradeep Singh Kharola the secretary of the Ministry of Civil Aviation. Kharola will take over from Rajiv Nayan Choubey, who retired on January 31. Kharola, an Indian Administrative Services officer of Karnataka cadre from the 1985 batch, was named chairperson of Air India in November 2017.
2. Dinkar Gupta takes over charge of DGP Punjab
Dinkar Gupta has taken over the charge of Director General of the Punjab Police. He took over the charge as DGP from Suresh Arora at a simple ceremony at the Punjab Police headquarters at Chandigarh. Previously, Gupta was posted as Director General of Police, Intelligence, Punjab.
 
 
3. British Academy Film Awards announced
Film "The Favourite" won seven honours in British Academy Film Awards, BAFTA 2019, in London. The Favourite won best actress for Olivia Colman and best supporting actress for Rachel Weisz, Outstanding British Film, Original Screenplay, Costume Design, Production Design, Makeup and Hair. Also, Netflix production 'Roma' also had a successful night picking up four prizes - best film, best director, best cinematography and best film not in the English language. Rami Malek won best actor for playing Freddie Mercury in the film Bohemian Rhapsody.
4. The 61st annual Grammy award highlights
The 61st annual Grammy Awards were announced at Staples Center in New York. Former First Lady Michelle Obama made a surprise appearance at the start of the 2019 Grammys. The award show was hosted by Alicia Keys. At a ceremony dominated by female performers and presenters, Kacey Musgraves won album of the year. Cardi B became the first woman to win best rap album as a solo artist. Childish Gambino's "This Is America" won four awards and Gaga's "Shallow," from the movie "A Star Is Born," won two awards.
5. 61st Annual Grammy Awards: List of Winners
Some winners from the 61st Annual Grammy Awards are as follows
Album of the year: "Golden Hour" by Kacey Musgraves
Record of the year: "This is America" by Childish Gambino
Best new artist: Dua Lipa
Best R&B album: "H.E.R." by H.E.R.
Best rap song: "God's Plan" by Drake
Best country album: "Golden Hour" by Kacey Musgraves
Song of the year: "This is America" by Childish Gambino
Best pop duo/group performance: "Shallow" by Lady Gaga and Bradley Cooper
 
6. Eminent writer, ex-Goa deputy speaker Vishnu Wagh pass away
Veteran writer and former deputy speaker of Goa Legislative Assembly Vishnu Wagh died in South Africa. Wagh was a member of the Goa Legislative Assembly from St Andre constituency between 2012 and 2017. He was the chairman of the state-run Goa Kala Academy. Wagh has written over 20 plays in Marathi, three sangeet nataks, 18 Konkani plays and 16 one-act plays. He has directed over 50 plays in Konkani and Marathi.
 
7. Clouded leopard to be mascot of National Games 2022
Meghalaya State animal clouded leopard is chosen to be the mascot for the National Games 2022. The decision was taken at the first National Games 2022 executive committee meeting, chaired by Meghalaya Sports and Youth Affairs Minister Banteidor Lyngdon. Clouded leopard is a wild cats living throughout the forests of Garo, Khasi and Jaintia Hills. The games coincide with the 50th year of the creation of the State.
 
8. Senior National Badminton championship begin in Guwahati
The 83rd edition of Senior National Badminton Championship begin in the Assamese city of Guwahati. Defending champion Saina Nehwal and last edition's runner-up PV Sindhu will be the biggest attractions in Women's Singles. This is the first time the Nationals is returning to the North-East since Guwahati last hosted it in 2010.
9. Prajnesh Gunneswaran breaks into men's singles top 100
Prajnesh Gunneswaran has made it to the top-100 of Men's Singles Tennis rankings. He ranked 97 with a jump of six places. Prajnesh is the third Indian player to break into the top-100 barrier after Somdev Devvarman and Yuki Bhambri. He reached the semifinals of the ATP Chennai Challenger last week to ensure his entry into the coveted bracket.
 
10. France's Corentin Moutet wins Chennai Open ATP challenger
France's Corentin Moutet beat Andrew Harris of Australia to win the title in Chennai Open ATP Challenger tennis tournament. It was the second Challenger title for Moutet, who received USD 7,200 and 80 ATP points. The runner up Andrew received USD 4,240 and 48 ATP points. India's campaign was ended when top seed Prajnesh Gunneswaran and Sasikumar Mukund bowed out after losing their respective Singles semi-final matches.
11. India's young paddlers clinch four medals
In Table Tennis, India's young paddlers clinching four medals include a gold, at the Bahrain Junior and Cadet Open tournament in Manama. Besides the gold, India won two silver and a bronze. In the final, the India-A team of Suhana Saini and Anargya Manjunath proved too strong for India-B and clinched the Gold. In the Junior girls' competition, the Indian team of Manushree Patil and Swastika Ghosh beat three teams before losing to eventual champions Russia to settle for a Silver
12. Latest FIFA rankings released
The Indian football team slipped out of the top 100 in the latest FIFA rankings. The change in rank is due to their back to back group league defeats during the AFC Asian Cup in the UAE. In the FIFA rankings released, skipper Sunil Chhetri and team slumped six places to be ranked 103 with 1219 points.
13. Vidharbha lift Ranji Trophy for second time in a row
Vidarbha lifted their second successive Ranji Trophy title with a comfortable 78-run win over Saurashtra. Left arm spinner, Sarwate was adjudged man of the match. Vidarbha is only the sixth team in the tournament's long history to have defended the title. The Ranji Trophy is a domestic first-class cricket championship played in India between teams representing regional and state cricket associations. The team that has gained maximum number of Ranji titles is Mumbai (41 titles).
14. Mirabai Chanu notched up gold at EGAT Cup in Thailand
World champion Indian weightlifter Saikhom Mirabai Chanu won a gold medal at the EGAT Cup in Thailand. Chanu won the 48 kg category gold with an effort of 192 kg in the silver level Olympic qualifying event. Points earned from this tournament will come in handy when the final rankings for Tokyo 2020
 
15. Women with four children to get life tax exemption in Hungary
Hungarian Prime Minister Viktor Orban has said that women in the country with four children or more will be exempted for life from paying income tax. The move aims at boosting the country's population. The PM said that this is a way of defending Hungary's future without depending on immigration. For women who raise at least four children, a subsidy of 8,825 US dollars will be given for the purchase of a seven-seat vehicle. The Prime Minister also announced a seven-point plan to increase the fertility rate in the country.
16. Hindi included as third official court language in Abu Dhabi
Abu Dhabi has decided to include Hindi as the third official language used in its courts, alongside Arabic and English. The move was aimed at providing foreigners better access to justice, without a language barrier. An estimated 3.3 million Indian expats live in UAE, and a large number of them are blue collared workers. The Indian community in the UAE constitutes 30% of the total population.
17. Egypt's President el-Sissi Elected as the new chairman of African Union
Egypt's President Abdel Fattah el-Sisi took over as chair of the African Union (AU). The post rotates annually between the five regions of the continent. He is expected to focus on the fight against armed groups on the continent and rebuilding efforts of countries recovering from conflict. Sisi takes the helm from Rwandan President Paul Kagame, who focused on creating an Africa wide free-trade zone during his tenure.
The African Union (AU) is an union consisting of 55 countries of Africa with exception of various territories of European possessions located in Africa. It was founded on 26 May 2001 in Addis Ababa, Ethiopia and launched on 9 July 2002 in South Africa.
18. 2018 fourth warmest year on record
An independent analysis by NASA and the National Oceanic and Atmospheric Administration have found that earth's global surface temperatures in 2018 were the fourth warmest since 1880. Globally, 2018's temperatures rank behind those of 2016, 2017 and 2015. The past five years are collectively the warmest years in the modern record. It founds that 2018 global temperatures were 0.79 degrees Celsius above the 20th-century average.
19. The 5th India-Bangladesh Joint Consultative Committee Meeting held in New Delhi
The 5th India-Bangladesh Joint Consultative Committee Meeting held in New Delhi. External Affairs Minister Sushma Swaraj and Foreign Affairs Minister of Bangladesh Dr. A. K. Abdul Momen co-chaired the meeting. The last Joint Consultative Committee Meeting between the two countries was held in October 2017. It is the first high-level visit from Bangladesh since Prime Minister Sheikh Hasina's victory in the parliamentary elections in December last year.
 
20. Bihar government announced 'Mukhyamantri Vridhajan Pension Yojna'
Bihar government has announced a universal old age pension scheme 'Mukhyamantri Vridhajan Pension Yojna', MVPY for all people above 60 years of age. The scheme will come into force from the 1st of April this year. All will be eligible for 400 rupees monthly pension irrespective of caste, religion or community, except those senior citizens who have retired from government service,Currently old age pension scheme is applicable to only the BPL category. The Chief Minister also announced a pension of 6,000 rupees for journalists above 60 years of age.
21. AYUSH Minister launches e-AUSHADHI portal
Minister of State for AYUSH, Shri Shripad Yesso Naik launched the e-AUSHADHI portal. The portal is for online licensing of Ayurveda, Siddha, Unani and Homoeopathy drugs and related matters. The e-AUSHADHI portal is intended for increased transparency, improved information management facility, improved data usability and increased accountability. The timelines will be fixed for processing of application through this portal with SMS and e-mail status updates at each step of the process.
22. Third Indo-German Environment Forum held in New Delhi
Third Indo-German Environment Forum held in New Delhi with the theme "Cleaner Air, Greener Economy:" Around 250 representatives of ministries, business and science as well as non-governmental organizations participated in the forum. The Forum provided a platform for the bilateral exchange of high-level policy-makers and other key players on international environmental and climate policy and cooperation between the two countries.
23. Centre Approves Patna Metro Rail Project
In a boost to public transport in the Patna, the centre approved the Patna Metro Rail project comprising of two corridors. The two corridors will be Danapur to Mithapur and Patna Railway Station to New ISBT. The project will be executed in five years with an estimated cost of Rs. 13,365.77 crore. The Danapur Cantt-Mithapur corridor will pass through the Raza Bazar, the Secretariat, the High Court and the Law University Railway Station. The Patna Railway Station-ISBT corridor will connect the Gandhi Maidan, PMCH, Patna University, Rajendra Nagar, Mahatma Gandhi Setu, Transport Nagar and ISBT.
24. Government signs Rs 700-crore deal to buy 72,000 modern rifles for Indian Army
The Indian government has signed a contract to equip the Indian Army with new assault rifles. In the deal India will buy around 72,400 rifles. The rifles will be supplied by US arms maker Sig Sauer. The Sig Sauer SIG716 7.62x51 mm assault rifles will replace Indian-made 5.56x45mm Insas rifles. A majority of these rifles are for the Indian Army (66,000), the remaining will be divided between Indian Navy (2,000) and the Indian Air Force (4,000).
25. 5th International Dam Safety Conference 2019 begins in Bhubaneswar
The 5th International Dam Safety Conference 2019 begins in Bhubaneswar. The two-day event is a joint initiative of the Government of India, Government of Odisha and the World Bank. This Conference is part of the series of Dam Safety Conferences organised in Chennai (2015), Bengaluru (2016), Roorkee (2017), and Thiruvananthapuram (2018). Over 725 delegates comprising dam owners, policy makers, and dam professionals, scientists, academia etc. are participating in this conference.
26. World Radio Day: 13 February
13 February of every year is celebrated as World Radio Day. 2019 Theme: Dialogue, Tolerance and Peace. It is a day that remembers the unique power of radio which touches lives and brings people together from every corner of the globe. The day was proclaimed on 3rd November 2011 by UNESCO's 36th General Conference. Radio was invented by Guglielmo Marconi.
27. I&B Ministry organised 1st annual conference of Media Units
Information and Broadcasting, I&B Ministry organised the first annual conference of Media Units in New Delhi.The conference is chaired by I&B Minister Col. Rajyavardhan Rathore. The Conference aims to give a unique platform to the officers of the Indian Information Service working in different Media Units to converge at an All-India level. Also, the ministry aims to strengthen synergy between the Media Units in order to ensure last mile delivery.
28. PM Modi launches several development projects for Haryana
Prime Minister Narendra Modi inaugurated and laid foundation stones of several development projects in Haryana. He inaugurated 2,035-crore rupees National Cancer Institute, in Jhajjar district. The Prime Minister inaugurated the ESIC Medical College and Hospital, Faridabad.
He laid the foundation stone of National Institute of Ayurveda, Panchkula.
The foundation stone of Sri Krishna Ayush University, Kurukshetra was also laid by the Prime Minister, along with foundation stone of 'Battles of Panipat Museum'.
He also laid the foundation stone of Pandit Deen Dayal Upadhyaya University of Health Sciences, Karnal.
29. Dera Baba Nanak land check post designated as immigration centre
The Centre designated Dera Baba Nanak land check post in Gurdaspur district of Punjab as an authorised immigration checkpoint to exit and entry for visiting Kartarpur Sahib Gurdwara in Pakistan. All classes of passengers with valid travel documents can exit or enter through the post.The government also appointed the Chief Immigration Officer as the Civil Authority for the purpose. On November 26 2018, Vice President M Venkaiah Naidu laid the foundation stone of the Dera Baba Nanak-Kartarpur Sahib Corridor at Mann village in Gurdaspur district.
30. National Conference on Unani Medicine Concludes in New Delhi
The two-day National Conference on Unani Medicine organized by the Central Council for Research in Unani Medicine (CCRUM) concluded in New Delhi. The conference was inaugurated by Dr. Najma Heptulla, Hon'ble Governor of Manipur. The conference witnessed exchange of MoU for scientific collaboration in Unani Medicine between the CCRUM and Jamia Hamdard, New Delhi. On this occasion, AYUSH Awards for Unani Medicine were conferred. The awards comprised a citation, a shawl and a cash award ranging from Rs 50,000 to 200,000 each.
31. NTPC signs pact with SBI for Rs 5K crore term loan
State-owned power NTPC has signed a term loan agreement for Rs 5,000 crore with State Bank of India. This loan has a tenure of 15 years and will be utilised to part finance the capital expenditure of NTPC.
NTPC Chairman & MD: Gurdeep Singh
SBI Chairman: Rajnish Kumar
32. Union Minister Smt Harsimrat Kaur Badal commissions 1st Aqua Mega Food Park in Andhra Pradesh
Union Minister Smt Harsimrat Kaur Badal commissioned Godavari Mega Aqua Food Park at Tundurru Village in West Godavari District, Andhra Pradesh. The park is promoted by M/s Godavari Mega Aqua Food Park Pvt. Ltd. This is the 1st Mega Aqua Food Park operationalised and exclusively established for fish and marine products processing in the State of Andhra Pradesh.
Another Mega Food Park sanctioned by the Ministry in Chittoor District of Andhra Pradesh has already been inaugurated on 9th of July 2012.
The 3rd Mega Food Park sanctioned by the Ministry in Andhra Pradesh is under implementation at Krishna District.
 
33. Sapta Shakti Command of Indian Army conducting 'Exercise Rahat' in Jaipur
Jaipur based Sapta Shakti Command of Indian Army is conducting a two- day Joint Humanitarian Assistance and Disaster Relief Exercise "Exercise Rahat". The exercise began in Jaipur and it involves all stakeholders at the national and state level. This is the eighth such exercise conducted by the Indian Defence Forces. The exercise is being conducted in pursuance of the directions of Prime Minister Narendra Modi during Combined Commanders Conference - 2015, to achieve 'Disaster Resilient India'.
34. Challachitram National Film Festival to begin from March 1
Challachitram National Film Festival will be held at Guwahati in March 2019, with a special award for entries from the northeastern region. The theme of this three-day film festival is 'Our Heritage, Our Pride'. Chalachitram is a Guwahati-based organisation working for showcasing the heritage and culture of the northeast to national and international audience through films. The first prize winner in the competitive section would get Rs one lakh, the special prize for participants from the region would be Rs 50,000.
35. Union Minister Smt Harsimrat Kaur Badal inaugurates the1st Mega Food Park of Himachal Pradesh
Union Minister for Food Processing Industries Smt Harsimrat Kaur Badal inaugurated Cremica Mega Food Park Pvt Ltd. The Park is located at Village Singhain Una District of Himachal Pradesh. This is the first Mega Food Park operationalized in the State of Himachal Pradesh. The Park will give an impetus to the growth of the Food Processing Sector in Himachal Pradesh. Cremica Mega Food Park will benefit the people of Una District and the people of nearby districts of Kangra, Hamirpur & Bilaspur.
36. Centre named Great Indian Bustard as the mascot for COP-13
The Centre announced the Great Indian Bustard (GIB) as the mascot for the 13th UN Convention on the Conservation of Migratory Species (CMS)(COP 13), scheduled to be held in Gujarat next year. The bird has been fondly named by the ministry as 'Gibi'. The CMS COP-13 is a global platform for the conservation and sustainable use of migratory animal. The COP-13 will be held in Gandhinagar, Gujarat from February 15-22, 2020.
37. 1st Chinook heavy lift helicopters arrived in India
The first of the 15 Chinook heavy lift helicopters ordered by the Indian Air Force (IAF) arrived in India. The CH-47F (I) was received at the Mundra Port in Gujarat and will be transported to its home base at Chandigarh. The helicopters can carry around 10 tonnes of load. India had signed a 3 billion dollar deal with the US in September 2015 for the purchase of 15 Chinook heavy lift and 22 AH-64E Apache attack helicopters.
38. Foundation stone for Sree Narayana Guru spiritual pilgrimage circuit laid
Union Tourism Minister KJ Alphons has laid the foundation stone for the Sree Narayana Guru spiritual pilgrimage circuit in Varkala, Kerala. This project covers all the places in Thiruvananthapuram district where the Guru spent most of his life. This project which was sanctioned last month will help improve the infrastructure and facilities at these centres. Narayana Guru was a social reformer of India, born into a family of the Ezhava caste in Kerala. He led a reform movement in Kerala, rejected casteism, and promoted new values of spiritual freedom and social equality.
39. Observatory set up in Tehri to monitor cloud activities
A Himalayan Cloud Observatory has been set up in Tehri district, Uttarakhand. The Observatory has been established in the SRT campus Badshahithaul and is currently in the testing period. The observatory will receive forecast and monitor cloudburst incidents in the Himalayan region and help minimise the damage. Cloudburst incidents are very frequent in the hilly areas of Uttarakhand, resulting in a huge loss of life.
 
40. Union Minister Dharmendra Pradhan inaugurates 13th PETROTECH 2019
The 13th International Oil and Gas Conference - PETROTECH - 2019 inaugurated at India Expo Mart, Greater Noida . Over 95 Energy Ministers from partner countries are expected to participate in the three day Conference. The theme of the conference is Collaborating For Sustainable and Secure Energy Access for all. The event will serve as a platform to discuss solutions to the challenges faced in delivering affordable, efficient, clean and assured energy supplies to all.
41. Festival of Basant Panchmi being celebrated in the country
The festival of Basant Panchmi is being celebrated with religious fervour and gaiety. It is celebrated as Saraswati Puja on Panchmi of Shukla Paksha in Magh Maas. The people wear yellow coloured -dress to mark the occasion. The devotees also worship Goddess Saraswati offering white and yellow flowers.
42. Foundation stone of Mega Food Park laid in Mathura
Union Minister for Food Processing Industries Harsimrat Kaur Badal laid foundation stone of a Mega Food Park in Mathura. The Park will provide direct and indirect employment to five thousand persons and benefit about 25,000 farmers.
It will prove to be a big boost to the growth of the food processing sector in Uttar Pradesh.
43. PM Modi lays foundation for Sela Tunnel
Prime Minister Narendra Modi laid the foundation stone for the strategically important Sela Tunnel Project in Arunachal Pradesh. The project, costing Rs 687 crore, is being constructed by the Border Roads Organisation (BRO).It would be completed in the next three years. Once the 12.04-km tunnel is complete it will give a fillip to the overall development of the area as it will provide all-weather connectivity to Tawang and other areas.
44. Surging Silk, Mega Event Held in New Delhi
Ministry of Textiles, in association with Central Silk Board, is organised an event, Surging Silk in New Delhi. During the event, best achievers of silk industry across various segments of sericulture were honoured. Also, Buniyaad Tasar Silk Reeling Machines were distributed to women reelers from tribal areas at a function. India is the second largest producer of silk after China and the largest consumer of silk.
 
45. Chennai Police Commissioner A.K. Viswanathan launched mobile App 'DigiCop' of the city police.
Chennai Police Commissioner A.K. Viswanathan launched mobile App 'DigiCop' of the city police. He said the App makes citizens feel that the police is always with them. Using the App, people can track the status of stolen two-wheelers and cell phones. Using DigiCop App, people can also verify IMEI, report lost two-wheelers and phones, know the nearest police station, police news and traffic alerts. The details of 18,000 stolen mobile phones are stored in the App.
 
46. RBI penalises banks for violating various norms
Reserve Bank has imposed monetary penalty of two million rupees each on HDFC Bank, IDBI Bank and Kotak Mahindra Bank. The fine has been imposed for non-compliance of various Know Your Customer/ Anti-Money Laundering norms. RBI also informed that it has imposed monetary penalty of 1.5 Crore rupees each on Allahabad Bank, Bank of Maharashtra and Indian Overseas Bank for non-compliance of norms related to monitoring end use of funds, exchange of information, classification and reporting of frauds and on restructuring of accounts. A penalty of 1 crore rupees was imposed on Andhra Bank for the same reason.