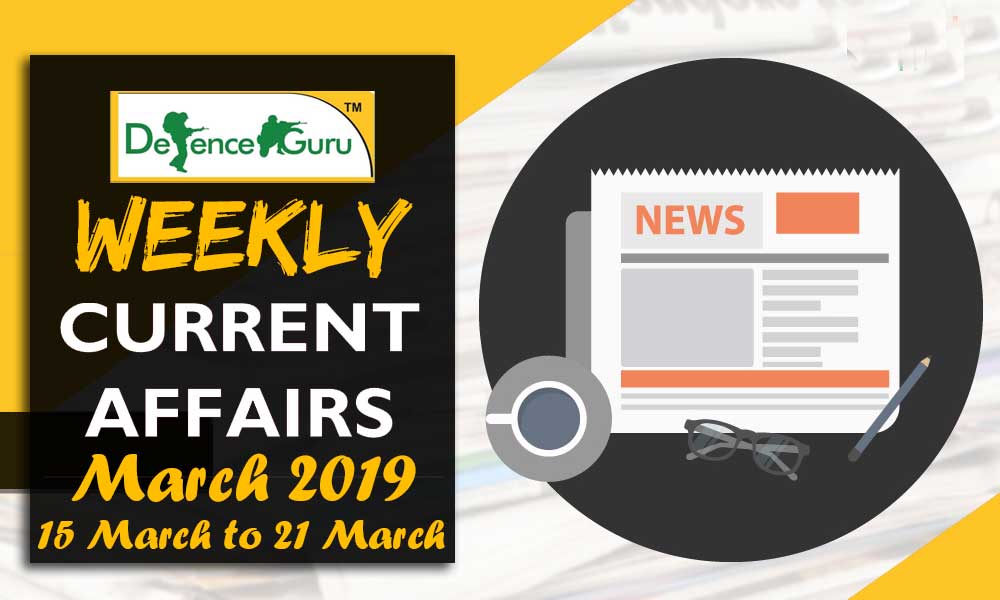 Find weekly current affairs for NDA, CDS, AFCAT AirForce & all other competitive exam preparation here. Learn important current affairs of last week and latest GK questions.
Weekly Current Affairs March 2019
Shailendra Handa & Madhu Mahajan
Election Commission has appointed two eminent former Civil Servants Shailendra Handa and Ms Madhu Mahajan as Special Expenditure Observers for the upcoming Lok Sabha Elections. Shailendra Handa has been deployed in Maharashtra and Madhu Mahajan has been deployed in Tamil Nadu. Both these officers have rich experience of working in Investigation Wing of I.T Department. The Special Observers will supervise and monitor the work being done by the electoral machinery.
Gauri Sawant becomes first transgender election ambassador
The Election Commission of India has appointed transgender social activist Gauri Sawant, as one of the 12 election ambassadors from Maharashtra. During 2004 and 2009 Lok Sabha elections there was no record of transgender voters. Following the Supreme Court order, transgenders got the right to vote for the first time in 2014. In 2014, 918 voters were registered in this third category. This number has doubled in five years and now it is 2,086. Election Commission has nominated the renowned sportsmen, film-makers, literary personalities of the respective constituencies as the goodwill ambassadors to induce more voters to vote in the Lok Sabha elections.
Pramod Sawant
BJP MLA Pramod Sawant was sworn-in as the new Chief Minister of Goa. He succeeds Manohar Parrikar, who passed away following a prolonged illness. Goa Governor Mridula Sinha administered the oath of office and secrecy to the 46-year-old Sawant. He represents Sankhalim constituency in Goa Assembly. The Governor also administered the oath to 11 other ministers, including those from BJP's allies Maharashtrawadi Gomantak Party (MGP) and the Goa Forward Party (GFP).
4. Rear Admiral Krishna Swaminathan
Rear Admiral Krishna Swaminathan, VSM, has assumed charge as Flag Officer Sea Training (FOST) at Kochi. Rear Admiral Swaminathan, a specialist in Communication and Electronic Warfare was commissioned into the Indian Navy on 01 Jul 1987 and is an alumnus of the National Defence Academy, Khadakwasla at Pune. He has commanded five frontline ships of the Indian Navy including the missile vessels, INS Vidyut and INS Vinash; the missile corvette, INS Kulish; the guided missile destroyer, INS Mysore; and the aircraft carrier INS Vikramaditya. FOST functions under the operational and administrative jurisdiction of Flag Officer Commanding-in-Chief, Southern Naval Command. His charter includes the conduct of operational sea training for ships of the Indian Navy and Coast Guard.
 
5. MR Kumar
The Centre has appointed MR Kumar as the Chairman of the Life Insurance Corporation. Kumar will hold the Chairman post for five years, according to a Personnel Ministry order. Prior to this elevation, Kumar was Zonal Manager (In-Charge) of North Zone, Delhi.
Points to Remember :LIC
Founded: 1 September 1956
Headquarters: Mumbai
 
 
6. 16-year-old activist nominated for Nobel Peace Prize
16-year-old Swedish environmental activist Greta Thunberg has been nominated for a Nobel Peace Prize in recognition of her work leading a youth campaign to halt climate change. She skipped school to sit in front of the Swedish Parliament demanding that the government do something about climate change. If she wins, Greta would become the youngest person to receive the Nobel Peace Prize. Malala Yousafzai received the prize when she was 17 years old.
7. National Grassroots Innovators Awards
President Ramnath Kovind awarded National Grassroots Innovators at Grambharti near Gandhinagar in Gujarat. Prakash Singh Raghuvanshi from Uttar Pradesh has been awarded lifetime achievement award for his innovations in new varieties of agriculture crops. The first prize in Veterinary, Herbal medication for coccidiosis was presented to Periyasami Ramasami of Salem, Tamil Nadu. The President also inaugurated the exhibition of the Festival of Innovation and Entrepreneurship. The aim of this festival of innovation and entrepreneurship is to provide a platform for new innovators for building linkages with potential stakeholders.
 
8. Manohar Parrikar
The 63-year old Manohar Parrikar passed away in Panaji following a prolonged illness. He is also the former defence minister of India. He served as Chief Minister of the state from October 2000 to February 2005, and March 2012 to November 2014. From November 2014 till March 2017, he served as the Union Defence Minister. Mr Parrikar returned to Goa in March 2017 as the State Chief Minister.
9. Darryl D'Monte
Senior journalist and environmental activist Darryl D'Monte, who worked with leading English dailies, died after a brief illness. In a career spanning several decades, he served as the resident editor of Mumbai editions of The Times of India and The Indian Express. Besides a career in journalism, he had a keen interest in environmental issues and took some initiatives for the cause.
10. Tokyo 2020 Olympics torch unveiled
Organisers of the Tokyo 2020 Olympics unveiled a cherry-blossom shaped torch for the Games. The top part of the torch is shaped in the traditional emblem of the sakura, or cherry blossom. The shiny rose-gold torch, which is 71 centimetres long and weighs 1.2 kilograms, uses aluminium construction waste from temporary housing built for victims of the 2011 earthquake and tsunami. Fukushima was chosen as the starting point for the Olympic torch relay. Japan has dubbed the 2020 Games the "Reconstruction Olympics" and wants to showcase recovery in regions devastated by the disaster.
11. Deal signed to host T10 league for five years in Abu Dhabi
The Zayed Cricket Stadium in Abu Dhabi will be the new home of T10 cricket for the next five years, starting with the 2019 season. In Cricket, there are two short formats so far, that is, ODI and T-20. Now, brace for T-10. The shortest form of the game will now be played exclusively at Zayed Cricket Stadium. The first match of the T10 League 2019 will be held on October 23.
 
12. Bottas wins Formula One season opener, Australian Grand Prix
Valtteri Bottas won the season-opening Australian Formula One Grand Prix. He upstaged his Mercedes world champion team-mate, Lewis Hamilton. Hamilton finished the race in the second spot, while Red Bull's Max Verstappen finished third.
13. Gopi Thonakal qualifies for World Athletics Championships
India's Asian champion Gopi Thonakal has qualified for the World Athletics Championships to be held in the Qatari capital Doha in September-October this year. He achieved qualification after finishing 11th in the Seoul International Marathon yesterday, clocking his personal best time of 2 hours 13 minutes 39 seconds. The Seoul International Marathon is a world-class IAAF Gold label event. Gopi's time was the second-best ever by an Indian after the four-decade-old national record of 2 hours 12 minutes, held by Shivnath Singh. Gopi also bettered the World Championships qualification mark of 2 hrs. and 16 minutes.
14. Diksha Dagar becomes second Indian to win Ladies European Tour title
Diksha Dagar became only the second Indian woman to win on Ladies European Tour in golf after clinching the South African Open in Cape Town. Dagar follows Aditi Ashok, who in 2016 became the first Indian to win on the LET. She has been wearing hearing aids since the age of six. Dagar won silver at the 2017 Summer Deaflympics. She also had a stellar Amateur career during which she represented India at the 2018 Asian Games and won the 2018 Singapore Amateur title.
15. Bengaluru FC crowned ISL champions for the first time
Bengaluru FC clinched their maiden Indian Super League title as Rahul Bheke found a championship-winning header in the final against FC Goa. The two teams were locked 0-0 after 90 minutes. FC Goa's Ferran Corominas, with 16 goals, wins the Indian Super League (ISL) 2018-19 Golden Boot Award. Bengaluru FC goalkeeper Gurpreet Singh Sandhu wins the Indian Super League (ISL) 2018-19 Golden Glove Award.
16. India finishes second in medal tally at Asian Youth Championships
In Asian Youth Athletics Championships youth team finish second in the overall medals tally with a total of 26 medals including eight gold, nine silver and nine bronze medals. On the last day boys, medley relay team won a gold medal for India. China topped the overall medals tally with 31 medals that included 12 gold, 11 silver and eight bronze medals. Japan finished third with 20 medals that included 6 Gold, 8 Silver and 6 bronze
The Asian Youth Athletics Championships is a biennial, continental athletics competition organised by the Asian Athletics Association. It a youth category event open to athletes aged fifteen and seventeen. 2019 host: Hong Kong
17. India's Irfan KT qualifies for the 2020 Tokyo Olympics
India's Irfan KT qualified for next year's Tokyo Olympics. He made the cut after finishing fourth at the Asian Race Walking Championship at Nomi in Japan. Irfan clocked 1 hour 20 minutes and 57 seconds in the 20-kilometre walk to attain the standard qualifying mark for the Olympics. He also ensured a berth in the upcoming International Association of Athletics Federations (IAAF) World Championship in Doha that begins in September. Having qualified for Tokyo 2020, this will be Irfan's second Olympics having represented the country in 2012 London Games.
18. India to host U-17 Women's Football World Cup in 2020
India will host the Under-17 Women's Football World Cup in 2020. This was announced by the President of International Football Federation (FIFA) Gianni Infantino after the council meeting in Miami, USA. This will be the second FIFA tournament India will be hosting, after the U-17 Men's World Cup in 2017.
19. Kamalpreet Kaur wins gold in women's discus throw event
Kamalpreet Kaur won a gold medal in the women's discus throw event at Federation Cup in Patiala. Kaur also qualified for the Asian Championships . Kamalpreet of Punjab emerged triumphant with a final throw of 60.25 metres which is better than the Asian Championships qualifying standard of 58.50 meters. Shivpal Singh also booked a berth in the next month's Asian Championships in Doha in men's javelin throw by crossing the qualifying standard set by Athletics Federation of India.
20. India bags five medals, including two gold in Asian Youth Athletics Championship
India bagged five medals, including two gold, on the opening day of the Asian Youth Athletics Championships in Hong Kong. Philip Maheswaran grabbed the first gold for India by winning the boys' 110 metres hurdles in 12.86 seconds. Vipin Kumar added the second gold metal for India in the boys' hammer throw with an effort of 69.63 metres. India's first medal of the day came from Harshita Sherawat as she clinched a silver in the girls' hammer throw with an effort of 61.93 metres.
21. Kazakhstan to rename country's capital Astana as Nursultan
Kazakhstan's parliament voted to rename the country's capital Astana as Nursultan. It will be renamed in honour of longtime ruler Nursultan Nazarbayev a day after he resigned as president. Kazakhstan's new interim president Kassym-Jomart Tokayev proposed renaming the capital. Astana replaced Kazakhstan's largest city Almaty as the capital in 1997.
22. New Zealand bans assault weapons
New Zealand has imposed an immediate ban on assault weapons following the Christ church massacre that claimed the lives of 50 mosque-goers. Prime Minister Jacinda Ardern said assault rifles and military-style semi-automatic weapons would be banned with immediate effect. High-capacity magazines and devices similar to bump stocks will also be banned. Proponents of gun control in the United States and around the world praised the move.
23. Finland tops Global Happiness Index for the second straight year
Finland has been ranked as the happiest country in the world for the second year. Indian figures at 140th place, seven spots down from last year, on this year's UN World Happiness Report. The report was released by the Sustainable Development Solutions Network for the United Nations on March 20 which was declared as World Happiness Day by the UN General Assembly in 2012. The report ranks countries on six key variables that support well-being: income, freedom, trust, healthy life expectancy, social support and generosity.
24. International Day of Happiness: 20 March
The International Day of Happiness is celebrated since 2013 on 20 March every year. The day was founded to inspire and spread a global happiness movement. The day was founded and materialised by United Nations special advisor Jayme Illien. The theme for International Day of Happiness 2019 is 'Happier Together'.
25. Kazakhstan President resigns after nearly 30 years in power
Kazakhstan President Nursultan Nazarbayev has announced his resignation after nearly 30 years in power. The 78-year old leader had ruled the country since it emerged from the collapse of the Soviet Union in the early 1990s. The Chairman of the Kazakh Senate would take over. The announcement came less than a month after the President sacked his government, citing a lack of economic development despite the country's vast energy resources.
Points to Remember: Kazakhstan
Capital: Astana
Currency: Kazakhstani tenge
 
25. World's most expensive cities revealed
It's the first time three cities have shared the top spot in the 30-year history of the annual Economist Intelligence Unit survey, which compares prices in 133 cities globally. Paris, Singapore and Hong Kong are the most expensive cities according to the survey. The survey compares the cost of common items, such as bread, haircuts etc in 133 cities. Bangalore, Chennai, New Delhi and Karachi feature among the 10 cheapest locations surveyed.
26. Cyclone Idai affects over 1.5 million people in three southern African countries
Mozambique, Zimbabwe and Malawi have been hit by a vicious cyclone that has killed nearly 150 people, left hundreds more missing and stranded tens of thousands. According to the UN and government officials, Cyclone Idai has affected more than 1.5 million people in the three southern African countries. India has decided to divert three Indian naval ships to the port city of Beira in Mozambique to provide humanitarian assistance to the people affected by tropical cyclone 'IDAI'.
Points to Remember: Mozambique, Zimbabwe and Malawi
The capital of the above mentioned 3 countries are as follows
Mozambique: Maputo
Zimbabwe: Harare
Malawi: Lilongwe
27. Guinea PM arrives on a ten-day visit to India
Prime Minister of Guinea Ibrahima Kassory Fofana has arrived in New Delhi on a ten-day official visit to India. During the visit, Mr Fofona met President Ram Nath Kovind at Rashtrapati Bhavan. Mr Fofona  addressed  the inaugural session of 14th CII-EXIM Bank Conclave on India-Africa Partnership Project in New Delhi. The Guinean Prime Minister also attended a programme in Vishakhapatnam.
Points to Remember : Guinea
Guinea is a west-coastal country in West Africa.
Capital: Conakry
Currency: Guinean franc
28. Sushma Swaraj on two-day visit to the Maldives
External Affairs Minister Sushma Swaraj is on a two-day visit to the Maldives. She is accompanied by a high-level official delegation including foreign secretary Vijay Gokhale. During this visit, the minister met President of Maldives Ibrahim Mohamed Solih, Parliament Speaker Qasim Ibrahim and meet with the Maldives Minister of Foreign Affairs Abdullah Shahid. She is also scheduled to hold a joint Ministerial Meeting to discuss cooperation on a wide variety of issues.
Points to Remember: Maldives
The Maldives is a tropical nation in the Indian Ocean to the southwest of Sri Lanka and India.
Capital: Malé
Currency: Maldivian rufiyaa
29. First BRICS Sherpa meeting
The first BRICS Sherpa meeting under the Presidency of Brazil concluded at Curitiba in Brazil. Secretary, Economic Relations in the Ministry of External Affairs, T S Tirumurti led the Indian delegation at the two-day meeting. During the meeting, India conveyed its support for the priority areas set out by Brazil, particularly to take forward BRICS cooperation on counter-terrorism in a meaningful and manner with BRICS member countries.
Points to Remember : BRICS
Founded: June 2006
Members: India, China, Russia, Brazil, South Africa
Headquarters: Shanghai, China
30. World Sleep Day: 15 March 2019
World Sleep Day, observed on 15 March, is intended to highlight the importance of sleep. Slogan: 'Healthy Sleep, Healthy Aging' It is a call to action on crucial elements related to sleep, which include medication for sleep, education to increase awareness and social aspects. The day aims to lessen the burden of sleep problems on society through better prevention and management of sleep disorders. It is required our bodies and brains to fresh themselves.
31. World Consumer Rights Day 2019: 15 March 2019
World Consumer Rights Day is celebrated every year on 15 March as part of an initiative by Consumer International, a membership organisation for consumer groups around the world. Theme: Trusted Smart Products The day is celebrated every year, to celebrate consumer rights and build a world where everyone has access to safe and sustainable products and services. World Consumer Rights Day was inspired by President John F Kennedy, who was the first leader in the world to address the issue of consumer rights in a special message sent to the US Congress on 15 March 1962.
32. Indian-origin Jagmeet creates history, enters Canada parliament
Indian-origin Jagmeet Singh has created history in Canada when he made his debut in the House of Commons. He entered as the first non-white leader of a major opposition party in the country. Singh, the leader of the New Democratic Party, was elected in federal by-elections held on February 25. Prime Minister Trudeau responded by congratulating Singh for his entry into the Commons.
33. India, Sri Lanka joint exercise 'Mitra Shakti-VI' to commence from Mar 26
Exercise 'Mitra Shakti' between India and Sri Lanka will be conducted from March 26 to April 8 for the year 2018-19, in Sri Lanka. It is conducted annually as part of military diplomacy and interaction between armies of two nations. Troops from 1st Battalion the Bihar Regiment of the Indian Army and Gemunu Watch Battalion of Sri Lankan Army would be jointly undertaking the exercise. The exercise will involve tactical level operations in an international counter-terrorism environment under United Nations mandate.
34. Indian Army starts Military Exercise With 17 African Nations
The Indian Army began a 10-day military exercise with armed forces of 17 African nations at Aundh in Maharashtra. The countries participating in the inaugural edition of the Africa-India Field Training Exercise (AFINDEX) include Egypt, Ghana, Kenya, Mauritius, Mozambique, Namibia, Niger, Nigeria, Senegal, South Africa, Sudan, Tanzania, Uganda, Zambia, Zimbabwe, Benin and Botswana. The inaugural ceremony of the exercise held at the Aundh military station was attended by defence attaches and other senior officials of the participating nations. The exercise will focus on the exchange of best practices between the participating nations, team building and tactical level operations in the conduct of the UN-mandated tasks.
35. Google unveils Stadia
Google unveiled a video-game streaming platform called Stadia, positioning itself to take on the traditional video-game business. The platform will store a game-playing session in the cloud and lets players jump across devices operating on Google's Chrome browser and Chrome OS, such as Pixel phones and Chromebooks. Google made the announcement at the Game Developers Conference in San Francisco.
36. Pune-based firm developing software to operate the world's largest ground telescope in Hawaii
A Pune-based IT firm is developing software for the world's largest ground-based telescope. The telescope is named as Thirty Metre Telescope (TMT), which is likely to come up on Mauna Kea in Hawaii. The telescope is being constructed jointly by India, US, China, Japan and Canada and is likely to become operational in the mid-2020s. India is building the telescope's complex optical structure, called the Segment Support Assembly (SSA). An eight-member team at the IT firm, ThoughtWorks, is designing three different software - Common Software Services (CSS), Data Management Services(DMS) and Executive Software (ES).
37. Special Stamp on Ice Stupa released
Chief Postmaster General of Jammu and Kashmir Circle P.D.Tshering in presence of Himalayan Institute of Alternatives, Ladakh (HIAL) founder Sonam Wangchuk has released a special stamp on Ice Stupas in a program in Ganglas village. Wangchuk said that this year twelve villages in Ladakh made Ice Stupas and during World Water Day celebration on 22nd March the best Ice Stupas will be awarded. Stamps are to create awareness about depleting glaciers and effect on the ecology around the Himalayas. Over 12 villages in Ladakh have built ice Stupas this year in various villages.
38. International Workshop on Disaster Resilient Infrastructure in New Delhi
International workshop on Disaster Resilient Infrastructure began in New Delhi. The two-day event is being organised by the National Disaster Management Authority in collaboration with the United Nations Office for Disaster Risk Reduction. The aim of the workshop is to identify good practices of disaster risk management in key infrastructure sectors. It will bring together countries from different parts of the world, multilateral development banks, UN agencies, academia and research institutions.
39. NGT directs CPCB to prepare a noise pollution map
The National Green Tribunal, NGT, has directed the Central Pollution Control Board, CPCB, to prepare a noise pollution map across the country. The NGT also directed to propose a remedial action plan to solve the issue within three months. A bench headed by National Green Tribunal Chairperson Justice Adarsh Kumar Goel directed the CPCB to identify noise pollution hotspots and categorise cities with specified hotspots. The NGT said the absence of implementation of noise pollution norms affects the health of citizens, especially infants and senior citizens.
40. Ex-SC judge Justice PC Ghose set to be India's 1st Lokpal
Retired Supreme Court judge Pinaki Chandra Ghose is likely to become India's first Lokpal or anti-corruption watchdog. His name was finalised and recommended in a Selection Committee meeting comprising Prime Minister Narendra Modi, Chief Justice Ranjan Gogoi, Lok Sabha Speaker Sumitra Mahajan, and Mukul Rohatgi. Lokpal is a three-member, anti-corruption watchdog comprising a chairman, a judicial and non-judicial member. The members of the Lokpal will include eight members - former High Court judges and civil servants.
41. Namaste Thailand festival inaugurated in New Delhi
Aimed at strengthening bilateral ties and increasing cultural exchange between India and Thailand, the 3rd edition of Namaste Thailand festival started in New Delhi. The festival includes Thai cuisine and a lineup of cultural events. Introducing the people of Delhi to the unique and diverse culture of Thailand, the three-day festival was organised by the Royal Thai Embassy at the Select Citywalk in South Delhi.
Points to remember : Thailand
Prime minister: Prayut Chan-o-cha
Capital: Bangkok
Currency: Thai Baht
42. DRDO successfully test fires Indigenous Man Portable Anti-Tank Guided Missile
Indian defence scientists have scored a twin success in demonstrating the effectiveness of the Man Portable Anti-tank Guided Missile (MPATGM). This follows the hat trick of sharp tests carried out on the short range guided Pinaka weapon system early in the week. They enhance the hit and destruction capacity of the armed forces in short distance battle situations considerably. Both these weapons, developed indigenously by scientists of the Defence Research and Development Organisation (DRDO), were tested in the deserts of Pokhran in Rajasthan.
43. IIT Kharagpur Inks MoU With C-DAC For High Performance Computing Facility & Data Center
The IIT Kharagpur has signed an MoU with Centre for Development of Advanced Computing (C-DAC)to set up a Petaflop high performance computing facility. It also includes setting up a data center funded under the National Supercomputing Mission. PetaFlop is the measurement of computing power based on the frequency of mathematical calculations that can be done per second. Setting up of the 1.3 PetaFlop high performance computing facility and data center is going to change the face of computation-based research and development in India.
44. Niti Aayog CEO Amitabh Kant to Head Mobility Panel in India
Niti Aayog CEO Amitabh Kant will head the National Mission on Transformative Mobility and Battery Storage. It is being set up to promote clean and sustainable mobility initiatives in the country. The Union Cabinet on March 7 had approved setting up of the National Mission on Transformative Mobility and Battery Storage. The panel will also propose and recommend policy guidelines possible strategies for sustainable and transformative mobility and energy storage in India.

45. India-Africa joint field training exercise AFINDEX-19 from March 18
A 10-day long Africa-India Joint Field Training Exercise (AFINDEX-19) between the Indian Army and 16 African nations conducted in Pune from March 18 to 27. As many as 10 personnel will participate in the joint exercise which will be conducted at two locations in Pune's Foreign Training Node at Aundh Military Station and College of Military Engineering in Kirkee. The aim of the exercise is to train the participating contingents in Humanitarian Mine Assistance (HMA) and Peace Keeping Operations (PKO) under the United Nations Charter. In addition to the participating nations from the African continent, officers from Rwanda, Democratic Republic of Congo and Madagascar would attend the exercise as Observers.
46. Hyderabad named country's best city for 5th year
Global consulting firm Mercer's Quality of Living Ranking 2019 has named Hyderabad the most liveable city in India for the fifth consecutive year. Chennai has been ranked the safest Indian city, 105th in the world. Vienna, Austria's capital, tops the global ranking for the 10th year running, followed by Zurich in Switzerland. The ranking influences cities' abilities to attract business. The 21st edition of the annual survey evaluated 231 cities across the globe based on 39 factors including political stability, healthcare, education, crime, recreation and transport.
47. President Kovind confers 3 Kirti Chakras and 15 Shaurya Chakras to Armed Forces Personnel
President Ram Nath Kovind conferred three Kirti Chakras and fifteen Shaurya Chakras to Armed Forces Personnel for displaying conspicuous gallantry, courage and extreme devotion to duty. Two Kirti Chakras and one Shaurya Chakra were given posthumously. The President also conferred fifteen Param Vishisht Seva Medals, one Uttam Yudh Seva Medals and twenty-five Ati Vishisht Seva Medals to senior officers of the Armed Forces for distinguished service of an exceptional order. One of the Param Vishisht Seva Medal was conferred on Army Chief General Bipin Rawat.
48. First Workshop on India Energy Modelling Forum
The NITI Aayog and the United States Agency for International Development (USAID) organized the first workshop on the development of the India Energy Modelling Forum (IEMF) in New Delhi. It has been envisaged as a pan-stakeholder platform for debating ideas, scenario-planning & discussing India's energy future. The two-day workshop, being held with the support of the Pacific Northwest National Laboratory (PNNL), was organized under the Sustainable Growth Pillar of the India-U.S Strategic Energy Partnership. The workshop featured eight expert sessions which saw discussions around the various aspects of setting up an India-centric energy modelling platform.
49. India gets the 1st shipment from Afghanistan via Chabahar under TIR
India received the first shipment of cargo from Afghanistan under the United Nations 'Transports Internationaux Routiers' (TIR) convention, arriving via the strategic Chabahar port in Iran. The consignments were received at Nhava Sheva port in Navi Mumbai and the Mundra port in Gujarat. The TIR system, which India reportedly became part of in June 2017. TIR allows easier movement of goods across countries with the usage of TIR there is no requirement for physical checking of the contents.
 
50. 14th CII-EXIM Bank Conclave on India-Africa Project Partnerships Concludes in New Delhi
The 14th CII-EXIM Bank Conclave on India-Africa Project Partnerships concluded in New Delhi. More than 31 ministers from 21 African countries and business delegates from 37 countries participated in the event. The event is organised by the Ministry of Commerce and Industry in association with Confederation of Indian Industry (CII) and EXIM Bank of India. The three-day conclave was organised by the Ministry of Commerce in association with Confederation of Indian Industry and EXIM Bank of India.
The conclave is held annually, since its inception in 2005. It brings senior Ministers, policymakers, officials, business leaders, bankers, technologists, start-up entrepreneurs and other professionals from India and Africa on a common platform. The event also marks the deepening of India-Africa economic and business ties and paves the way for a whole range of cross-border project partnerships.
51. SBI inks pact with Bank of China
The country's largest lender SBI has signed a pact with the Bank of China to boost business opportunities. Bank of China (BoC) is the third-largest bank in the world by capital size. Through this pact, both SBI and BoC will gain direct access to their respective markets of operation. Both banks' clients will be able to use the vast combined network to expand their businesses abroad. SBI said it has a branch in Shanghai and BOC is opening its branch in Mumbai.
52. IBBI, SEBI sign MoU for better implementation of IBC
The Insolvency and Bankruptcy Board of India (IBBI) signed a Memorandum of Understanding (MoU) with the Securities and Exchange Board of India (SEBI). The IBBI and the SEBI seek effective implementation of the Insolvency and Bankruptcy Code, 2016 (Code) and its allied rules and regulations. They have agreed under the MoU to assist and co-operate with each other for the effective implementation of the Code, subject to limitations imposed by the applicable laws.
53. SBI launches cardless cash withdrawal at ATMs
State Bank of India has launched cardless withdrawal of cash at over 16,500 of its ATMs through the Yono mobile app platform for the first time in the country. The ATMs enabled for this service will also be termed as Yono Cash Point. Customers can initiate the cash withdrawal process on the Yono app and set a six-digit Yono Cash pin for the transaction. They will also get a six-digit reference number for the transaction on their registered mobile number via SMS. The cash withdrawal has to be completed within the next 30 minutes at the nearest Yono Cashpoint.
54. RBI approves Bandhan Bank's acquisition of Gruh Finance
Bandhan Bank said that it had received no objection from the Reserve Bank of India (RBI) for the proposed acquisition of Gruh Finance. Gruh Finance, the affordable housing finance arm of HDFC Ltd, was taken over in January by Kolkata-based Bandhan Bank in a share-swap deal. As part of the deal, Bandhan Bank has to transfer 14.9 per cent stake to HDFC for merging Gruh with itself. The swap ratio for the amalgamation will be 568 shares of Bandhan Bank for every 1,000 shares of Gruh Finance.
Points to remember: Bandhan Bank
Headquarters: Kolkata
CEO: Chandra Shekhar Ghosh
 
 
55. RBI categorises IDBI Bank as private sector lender
The Reserve Bank of India on categorised IDBI Bank as a private sector lender. This follows Life Insurance Corporation of India (LIC) acquiring 51 per cent of the total equity share capital of the bank. In April 2005, IDBI Bank was categorised under a new sub-group, 'other public sector banks,' by the RBI.  It has been under the prompt corrective action framework of RBI that bans it from corporate lending and branch expansions, salary hikes and other regular activities.