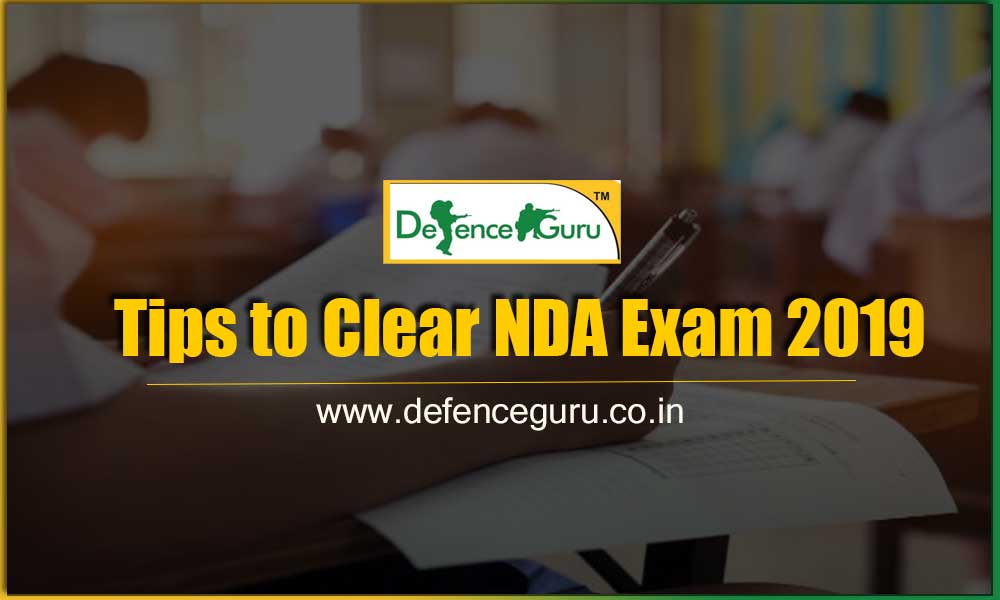 NDA is the national level exam, conducted in offline mode across India. This is the gateway to get associated with Indian Armed Forces at officer cadre. One can join any of the Armed Forces, depending on his choice Indian Army, Navy and Air Force. This exam is quite prominent and career in defence is one of the most sought career options after Intermediate for youngsters. Only boys are eligible for this exam and it is conducted twice a year. Merely applying for this exam is not sufficient, to qualify it proper mindset and skills set are also required. Here Defence Guru share some Tips to Clear NDA Exam 2019. This article will make you think the basic sections while preparing for NDA exam so read it completely and implement in your schedule.
1. Mindset and Skills Set for NDA Exam
It is often seen that students apply for this exam and they think that no extra efforts are required to prepare for it. The covered syllabus in 10+2 will be sufficient. Although it is true that students who study sincerely in 10+2 level, can quality the exam provided they intend to do so. Your mindset guides you to develop skills set. If you have planned that you wish to achieve, automatically you will start getting inclined towards it and will start thinking to prepare it. A good beginning is expected to have successful ending. This is the reason students should start taking it sincerely and their inner thought process itself will guide them further. Self guidance is more important and efficient than other's guidance. Self driven approach really leads a logical thinking.
2. Competitive scenario of NDA exam
NDA aspirants must understand the difference between competitive and academic level. Merely by getting a good command over academic level is not sufficient to crack a competitive exam. there are different skills set required for competition. One must focus on quickness and efficiency on solving analytical problems of mathematics. Competitive approach requires more and more practical questions rather than concepts. It is important to have a good hands on experience on variety of questions. One must go for wide scope of content coverage rather than learning the intro and basic levels of the topics.
3.Systematic Plan for Learning
Students require systematic approach to cover NDA syllabus. For this one should make proper schedule that involves sufficient time for study along with smooth activities of life. Schedule is the showcase of planned ideas for implementation. Students are recommended for schedule making it first. Refer the following topic for making your schedule.
4.Lesson plan for NDA
As per competitive trend one should make the lesson plan. The chapters having more probability in exam should be referred deeply. The route plan must be specific, measurable, and attainable and time bound to achieve the targeted plan. Systematic lesson plan makes it feasible.
Coverage of content varies person to person. As per the explained NDA syllabus, one should go for self introspection to clarify the known and unknown topics. This distinction sets the way to go.
5.Strength in basic concepts make a robust pillar in Competition
Basic knowledge opens the closed doors of thinking. As limits for complexity of a question can,t be in competition so one should be ready to think beyond the set boundaries. It does not take much time if you focus on the origin of the concepts and even it is very helpful to proceed with the logic further. Thinking goes on cleared steps and thinking process keeps adding further points to it.
6.Previous years test papers of NDA exam
Understanding the existing footprints may give you the idea of upcoming challenges. One should try to solve previous years test paper at least of 10 years. Although one should not take them as the questions of upcoming paper, but it makes the pattern of questions clear in one's mindset. If the idea is drawn from these papers, one starts picking questions in the same manner.
7.Give Time for Revision
Recalling concepts makes you clear about the availability of the content with you. You may collect many concepts in queue of your brain but these topics are not rehearsed and revised well then efforts may go in vain. After some span of time the retention of the topics start going on the wane but revision of the same brings freshness.
8.Breaks in Learning process
Regular work without relaxation may make it quite exhaustive. It is suggested to find gap or go for walk in between the learning process. These activities basically refresh the content and make you more energetic to proceed further. Learning is an art and should be pursued with creativity.
9.Keep valuing your efforts for NDA exam
Continual appraisal brings ultimate confidence. It is suggested to have positive vibes around you. Keep motivating yourself by valuing your existing knowledge and as soon as one topic is completed, bravo yourself for it.
10.Believe in yourself
Self belief is the greatest pillar in one's success. At last I would just say that believe in yourself. Believe in your strategy. Believe that this your exam and you mean it. Believe that your efforts are in right direction. Believe in your self analysis. Believe in your introspection and believe the system that is assess your skills.
Happy learning and best wishes for NDA 2021
Aditya Dubey
Head of the Department
(English and Interview Skills)
Centurion Defence Academy, Alambagh Lucknow