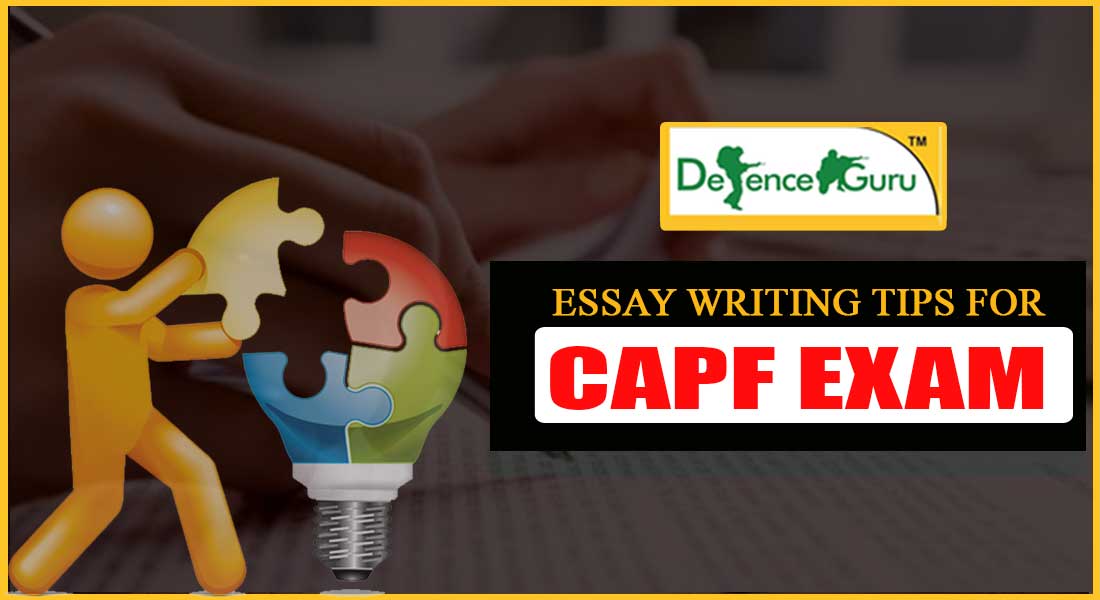 The objective to include essay writing in CAPF exam is to check your power of narration. How well you describe a thing. This description involves the overall analysis of that topic right from existing scenario to futuristic approach involving your views. In CAPF 2013 exam, there were 6 essays and out of them, candidates were required to write on 4 essays in 300 words. It was of total 80 marks, 20 marks each. In 2011 and 2012, candidates were given 4 essays and out of them, it was required to write on one topic in 800 words worth 80 marks. So this scenario is changed in each year's exam. The art of writing an essay would remain same whether you are required to write one or four.
Mindset brings skills set
Skills are enhanced and explored in artistic manner. One needs to do the required action to nurture this skill. To gain excellence in swimming, one needs to swim. To gain expertise in speaking, one needs to speak, to become an impressive dancer, one needs to dance so to become a good writer, it is very important to write. This is the initial and mandatory approach required to excel writing skills. Essay is the detailed description of a topic. It requires one to have passion for narration. The passion of expression makes you think deeply and you come up with live expression. Reading the content one gets to know the mindset you had while writing it. So it is suggested to start writing and getting it checked by experts. Initially one can begin with known topics so that you write it naturally and extra efforts are not required to read it once and explaining it later.
Even if the content is covered from other sources, one should form sentence naturally with self exposure. Creativity in writing is based on your evaluation. After each note, read it like a reader, you will automatically get the shortcomings. Thus it is suggested to make your mindset tuned to the actual scenario of enriching writing skills.
Having interest in written content by others
Exploring more parts of a concept is always beneficial for being adroit in an art. One should make the source of reading and should put attention on its manner of writing. It is often seen that the changes you are looking for, come in your routine if they are given much time. Seeing professional's approach of writing will give you an idea of thought's expression. Your positive observation will give you add on to your strategy of writing. One should be observant in selection of words, grammatical approach and the ability to convey the idea. The more you observe, the better exposure you will gain.
Outline the main headings of the description
Giving an idea of overall content in just one heading is good for the assessor. He gets to know the whole detail covered further just by reading your outlining of the essay. Include the outlining of the passage in an order so that it can sound meaningful and planned. Expressing ideas on headings is better than expressing it as a whole. It makes the content interesting and looks decent for readers. Try to include step by step headings in outline for the overall description.
 
Headings and change of Paragraph
Decency in content management makes you a better writer. Writing it in headings brings clarity of the ideas and makes one understand the order too. If makes an image of content in reader's mind and enables him to correlate it further too. It eventually brings an interest and curiosity to know the further action. To maintain the clarity and nastiness in writing, one should change paragraph as per planned indentation. Leaving a small indent from left means you are still describing the idea, just for cleanliness you have changed it. Leaving a long indent from left means you are done with that idea and you going to begin the next. Clarity of content involves more readers.
Selection of words and sentence formation
You are advised to use simple words. Simplicity in writing makes it easy for others to grab the message. Sometimes we start using uncommon and unfamiliar words and for this we make extra efforts to learn such words to make a better impression. But the reality is to convey message simply, it will involve more readers to go through it. Writing an essay specifically for some group of people is not the objective, in fact the objective is to involve most of the people in readability aspect of a content.
                                Sentences should not be very lengthy, one should present it in parts so that ideas can be summed up and proceed further enthusiastically. Making simple sentences is the key to make your content readable and meaningful. This will orient you to work on other aspects of essay writing rather than going for language improvement.
To the point approach and logical ideas
Taking various irrelevant aspects in the description may increase the number of words covered in a passage but it is not the justice with the readers. A reader should not be misguided just for the sake of adding words to the description. Deviation from the concept may lead uninteresting phases and may sound confusing in overall. The logical ideas are based on the way you ponder on a topic and connect ideas. Irrelevant exaggeration is of no use. One can elongate the description logically. Generally it is a point of discussion among aspirants for brining logic so for this, I would suggest to stay connected with the topic and apply your reasoning ability, and you will find ideas further.
Improve Handwriting and write passionately
Handwriting improvement is an important aspect of essay writing. You must like your own handwriting so others will also like it. Writing an essay should not be taken as assignment to accomplish in fact it is to be taken as an activity in which you have to excel and present your thought process in convincing manner. Here writing passionately leads you to innovation and elocution. Here your thinking matters to make something beautiful or just to complete that thing as a task.
at last I would just say to give final touch to your essay by giving it proper conclusion. These steps will give you a complete idea of writing an essay effectively.
Happy Writing 
By
Aditya Dubey
Head of the Department (English and Interview Skills)
Centurion Defence Academy 
Alambagh, Lucknow