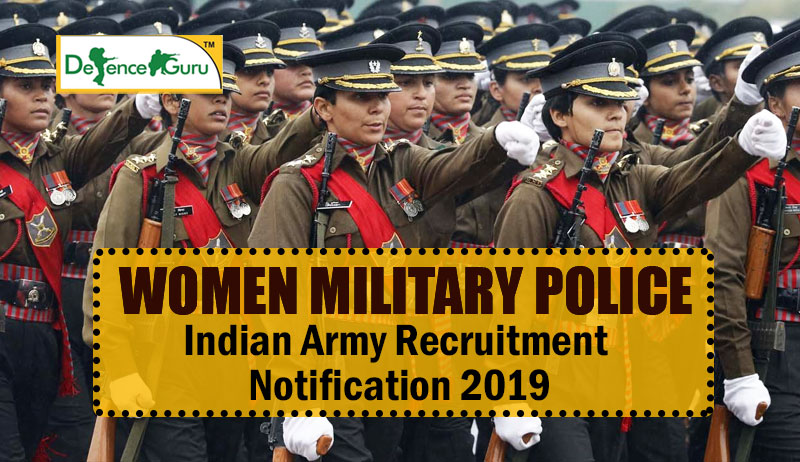 Indian Army Soldier General Duty Recruitment Notification 2019 (WOMEN MILITARY POLICE)
Applications are invited from eligible female candidates for recruitment of 100 Soldier General Duty (Women Military Police) in Indian Army. Online registration is mandatory and will be open from 25 Apr 2019 to 08 Jun 2019. Admit Cards for the rally will be sent through registered e-mail. Candidates should reach the venue on given date and time as mentioned in the Admit Card. Recruitment rallies are planned to be conducted at Ambala, Lucknow, Jabalpur, Bangalore and Shillong. Candidates will be allotted venue based on their home districts. Final location and date of the recruitment rally will be given on the admit card. Venues listed above may undergo a change.
Women Military Police Age Limit and Educational Requirement:
Women Military Police Age Limit: 17 and a half till 21 years
Education Qualification: Minimum 10th Class
Women Military Police Physical Fitness:
(a) 1.6 Km Run 
(i) Upto 7 Min 30 Sec - Group -I
(ii) Upto 8 Min - Group -II
(b) Long Jump 10 Feet - Need to qualify
(c) High Jump 3 Feet - Need to qualify
Women Military Police Medical Standards:
(a) Fitness. To be deemed Fit, a candidate must be in good physical and mental health and free from any disability likely to interfere with the efficient performance of military duty in all weather and across all terrains. The selected candidates will have to appear for medical examination during the recruitment rally as per laid down medical standards. Unfit candidates will be referred to MH / CH / BH for specialist review. Candidates referred for specialist review should present themselves to the nominated MH / CH / BH within 14 days of the referral and report back to ARO for issue of Admit Card for CEE, in case declared FIT.
(b) Gender. Any candidate if found to have predominantly masculine characteristics evidenced on external physical examination, will be rejected as UNFIT. Any candidate having
undergone gender reassignment surgery will be declared UNFIT.
(c) Pregnancy. Any female candidate, if found to be pregnant shall be disqualified and her candidature rejected. A candidate should not have conceived at the time of reporting or till conclusion of training at CMP Centre and School. A Medical Certificate from a Government Medical Doctor (with minimum MBBS qualifications) stating the no pregnant status of a candidate will be produced on reporting for the recruitment rally, and a fresh certificate again, when reporting to the Training Centre, failing which the individual will be rejected summarily.
(d) At the time of the recruiting medical examination, all candidates will invariably be required to render a certificate that they do not suffer primary/secondary amenorrhoea, or menorrhagia (this will be explained in a language, and in terms that they understand). Candidates with the above mentioned conditions will be declared medically UNFIT.
(e) If 180 days or more lapse between screening medical test at the rally and till despatch, medical will be done again and unfit candidates in this review will not be recruited.
(f) Candidates are advised in their own interest to undergo medical exam before coming for selection especially with respect to flat foot, poor vision, deformities and physical measurements. All are advised to ensure that their ears are free of wax by getting it cleaned by a doctor prior to the rally.
Women Military Police Written Test through Common Entrance Examination (CEE)
(a) Will be conducted for medically fit candidates at nominated venue. Location, Date and time of written test will be intimated at rally site and through Admit Cards.
(b) Admit card for the CEE for the Review Fit cases will be issued after declaring medically fit by concerned specialists at Military Hospital/Base Hospital/ Command Hospitals.
(c) Negative marking would be applicable in CEE.
(d) Result of written examination will be declared on the official website joinindianarmy.nic.in. No separate letter will be sent to the candidate. It is the responsibility of the candidate to check his result and report to ARO for documentation.