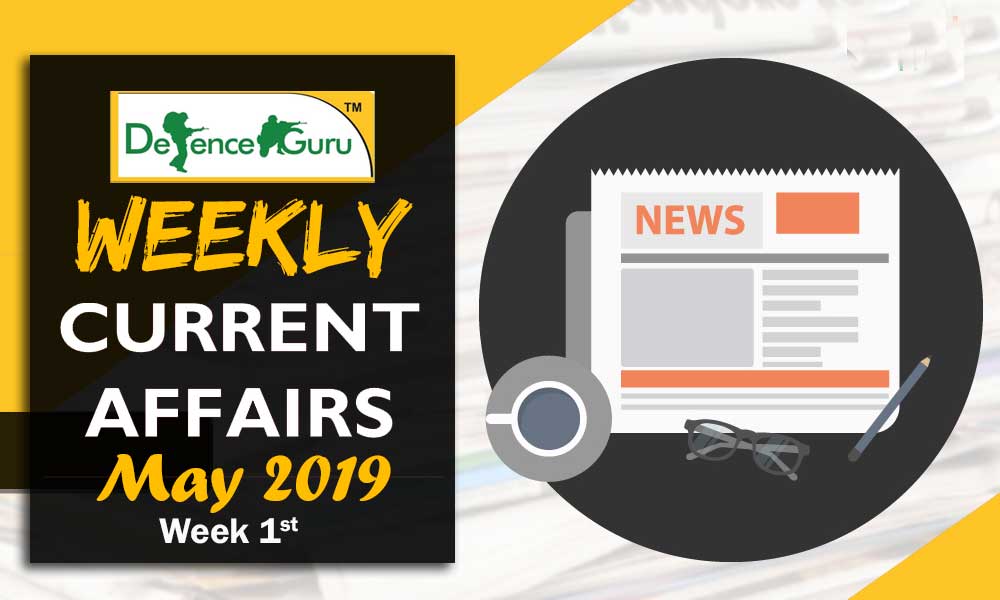 Defence Guru are here for you to provide the important Recent and Latest Current Affairs May 1st Week 2019. Our complete Current Affairs 2019 will help you to get more marks in Defence Exams, Banking, Insurance, SSC, Railways, UPSC, CLAT and all other State Government Exams. 
Current Affairs May 2019
1. Virat Kohli, Anushka Sharma
Walmart-owned Myntra has appointed Indian captain Virat Kohli and Bollywood actress Anushka Sharma as the online fashion company's first official brand ambassadors. The duo would help the company launch a brand campaign for shopping on the firm's e-commerce platform. This is the largest ever brand campaign for Myntra where it is targeting to reach over 100 million potential customers.
2. Jayshree Vyas
BSE, formerly known as the Bombay Stock Exchange has appointed its first independent woman director Jayshree Vyas. She is a qualified chartered accountant. She was working as Managing Director of Shree Mahila Sewa Sahakari Bank, Ahmedabad, since 1986. She played a pivotal role in the launching of the first financial literacy programme in Sewa Bank in 2001.
Points to remember:BSE
BSE Founded: 9 July 1875
Chairman: S. Ravi
3. Kumar Sangakkara
Former Sri Lanka captain Kumar Sangakkara was announced as the first non-British President of Marylebone Cricket Club (MCC). He will take up his one-year post on October 1, 2019. Sangakkara's nomination was announced by the MCC's current President Anthony Wreford, at the MCC Annual General Meeting at Lord's Cricket Ground. MCC was founded in 1787 and has been based at Lord's, which it owns, since 1814. It is the guardian of the Laws of the game. The Laws of Cricket is a code which specifies the rules of the game of cricket worldwide. Since 1788, it has been owned and maintained by its custodian, the Marylebone Cricket Club (MCC) in London.
4. Air Marshal Rakesh Kumar Singh Bhadauria
Air Marshal Rakesh Kumar Singh Bhadauria took over as Vice Chief of the Air Staff. An alumnus of the National Defence Academy, Air Marshal Bhadauria was commissioned in the fighter stream of Indian Air Force in 1980. He won the coveted 'Sword of Honour' for standing first in the overall order of merit. Prior to assuming the present appointment, he was the Air Officer Commanding-in-Chief of Training Command. During his illustrious career, he was commended by the Chief of Air Staff and has been awarded Param Vishist Seva Medal, Ati Vishist Seva Medal and Vayu Sena Medal.
5. Isac Doru
All India Football Federation (AIFF) appointed Isac Doru as its new technical director. Doru was selected from a list of over 60 candidates who had applied for the post. The 56-year-old comes with a rich experience of almost 29 years in international football across several countries including France, Japan, USA, Romania, Saudi Arabia, Qatar amongst others.
 
6. France's Highest Civilian Honour
Former ISRO chairman A S Kiran Kumar was conferred with France's highest civilian award - Chevalier de l'Ordre national de la Lgion d'Honneur. He was awarded for his contribution to India-France space cooperation. Kumar was the chairman of the Indian Space Research Organisation (ISRO) from 2015 to 2018. Created in 1802 by Napoleon Bonaparte, the Ordre national de la Lgion d'Honneur (National Order of the Legion of Honour) is the highest civilian award given by the French for outstanding service to France.
Points to Remember: Indian Space Research Organisation (ISRO)
ISRO Headquarters: Bengaluru
Founder: Vikram Sarabhai
Founded: 15 August 1969
Director: Kailasavadivoo Sivan
7. FWA footballer of the year-2019
Raheem Sterling has been voted the 2019 Footballer of the Year by the Football Writers' Association. He was more than 100 votes ahead of Liverpool defender Virgil Van Dijk. The FWA Women's Footballer of the Year award for 2019 was awarded to Manchester City's England forward player Nikita Parris.
8. Pungam Kannan
Former India footballer Pungam Kannan died following a prolonged illness. He played 14 matches for India & was the former Mohun Bagan & East Bengal forward. He also won Santosh Trophy for Bengal twice in a row (1971-73) and was the top-scorer. It was legendary German coach Dettmar Cramer who had given him the best appreciation by calling him 'Pele of Asia' in 1968.
9. Last captive white tiger Bajirao dies at 18
Bajirao, the last captive white tiger at the Sanjay Gandhi National Park in Mumbai died at the age of 18. The tiger had been suffering from chronic ankylosis on the left shoulder and chronic senile generalised arthritis for the last four years. Bajirao was born at the Sanjay Gandhi National Park in 2001.
 
10. Indian boxers win six medals at 36th Feliks Stamm International Boxing
Indian boxers finished with a rich haul of six medals, including two gold at the 36th Feliks Stamm International Boxing Tournament in Warsaw, Poland. Gaurav Solanki and Manish Kaushik bagged one gold each. Indian boxers also clinched a silver and three bronze. The 22-year-old Solanki out-punched England's William Cawley 5-0 in 52-kilogram category. In the 60-kilogram weight category, Kaushik beat Morocco's Mohamed Hamout 4-1.
11. Saurav Ghoshal & Joshna Chinappa win Asian Individual Squash Championship titles
Ace Indian squash players Saurav Ghoshal and Joshna Chinappa won their respective Asian Individual Squash Championship titles in Kuala Lumpur, Malaysia. Saurav Ghoshal defeated Leo Au Chun Ming of Hong Kong. Joshna Chinappa, on the other hand, retained her title as she beat top seed Annie Au of Hong Kong, 11-5, 6-11, 11-8, 11-6 in the women's final event. Ghoshal who had become the first Indian male player to reach the top ten of the world rankings is the finalist of the previous edition.
12. Jaipur to host Asian youth Women Handball Championship
Jaipur will host the 8th Asian Youth Women Handball Championship. In this event 10 teams, including defending champions South Korea will participate. It is the first time that the prestigious tournament would be played in the city from August 21 to 30.
13. India retain top spot in Tests, England No. 1 in ODIs
           India retained its top position in the ICC Test rankings. Also, England remained the number one ODI side in the latest annual rankings released in Dubai. India also moved two points in the second position in the ODI rankings behind England. India with 260 points has dropped three places to fifth in the latest list of men's Twenty20 International team rankings.
14. Bajrang Punia bags gold in Ali Aliyev wrestling tournament
World number one Bajrang Punia won the gold medal in the Ali Aliyev wrestling tournament in Kaspiisk, Russia. He defeated Viktor Rassadin in the finals of men's 65kg freestyle. The 25-year-old had won a gold medal last week at the Asian Championships in Xi'an, China.
15. Apurvi Chandela attains world number one spot in women's 10 m air rifle event
Indian shooting ace Apurvi Chandela attained the world number one position in the women's 10m air rifle event. Her compatriot Anjum Moudgil rose to number two after consistent performances in recent years. She is among the five Indian shooters to have already secured 2020 Olympics quotas for the country. Among men, Divyansh Singh Panwar's World Cup exploits in Beijing helped him reach world number four spot in 10 metres air rifle category.
16. Indian para-athletes clinch medals at Asian Road Para-cycling championships
Indian para-athletes came up with a brilliant performance to secure a silver and two bronze medals at the Asian Road Para-cycling championships. The championship held at Tashkent, Uzbekistan. Divij Shah clinched silver while Asian Para Games bronze medallist Gurlal Singh and Hand cyclist Sudhakar Marathe claimed bronze.
17. Claire Polosak to be the first female umpire in men's ODI
Australia's Claire Polosak made history by becoming the first female umpire to stand in a men's one-day international. She officiated in the final of the World Cricket League Division 2 between hosts Namibia and Oman. Polosak has already stood in 15 women's ODIs, the first one in November 2016 between Australia and South Africa.  She has also umpired the semi-final of the Women's T20 World Cup in 2018 between England and India and four matches at the 2017 Women's World Cup.
18. India finished on the top spot at ISSF World Cup
India topped the standings at the International Shooting Sport Federation, ISSF World Cup in Beijing. India bagged four medals comprising 3 Gold and a Silver. China followed India in the Beijing edition by bagging 2 gold, as many silver and a bronze. In the last edition in New Delhi, India had jointly topped the standings with Hungary.
19. Japan's Kento Momota retains his Badminton Asia Championships
There was a double golden delight for Japan at Badminton Asia Championships. World number one Kento Momota retained his Badminton Asia Championships title in Shanghai. He defeated Shi Yuqi of China 21-12, 11-11, 21-18. There was more joy for Japan as Akane Yamaguchi became the first Japanese to win the women's crown by defeating He Bingjiao.
20. Valtteri Bottas wins the Azerbaijan Grand Prix
Valtteri Bottas won the Azerbaijan Grand Prix to retake the Formula One world championship lead from teammate Lewis Hamilton. Mercedes set an all-time record of four consecutive one-twos at the start of a season. Sebastian Vettel was on able to score the third position for Ferrari.
21. China's Ma Long captures the third world title
China's Ma Long captured a third ITTF-World table tennis championships completing a dream comeback after six months on the sidelines with a knee injury. The 30-year-old, nicknamed the 'Dragon', defeated Sweden's Mattias Falck 4-1 in the final. Ma Long now joins the elite club of male paddlers, who have won the Worlds singles for three consecutive times: Victor Barna and China's Zhuang Zedong being the others. Ma Long, current World No. 11, won the Worlds crown in 2015 (Suzhou), 2017 (Dusseldorf) and 2019 at Budapest.
22. Ajinkya Rahane to play county cricket for Hampshire
India Test vice-captain Ajinkya Rahane becomes first Indian to play county cricket for Hampshire. He will play in the County Championship throughout the months of May, June, and July. The right-handed batsman will replace South Africa's Aiden Markram.
23. Bajrang Punia to become first Indian to compete at Madison Square Garden wrestling event
Asian champion Bajrang Punia is to become the first Indian wrestler to fight at New York's iconic Madison Square Garden. Punia, who won the 65kg men's freestyle gold at the recent Asian championships, will be among top wrestlers selected by the American governing body for the May 6 tournament. The 25-year-old will take on two-time US national champion Yianni Diakomahlis in the "Grapple at the Garden" Beat the Streets event. Punia has eight gold medals from his previous nine international tournaments including last year's Commonwealth and Asian Games.
 

24. First Japanese Commercial Rocket Launched, Reaches Orbit
A Japanese aerospace startup funded by a former internet maverick successfully launched a small rocket into space. It is the first commercially developed Japanese rocket to reach orbit. Interstellar Technology Inc. said the unmanned MOMO-3 rocket exceeded 100 kilometres in altitude before falling into the Pacific Ocean Founded in 2013 by Horie, former Livedoor Co. president, Interstellar Technology aims to develop low-cost commercial rockets to carry satellites to space.
25. King Maha Vajiralongkorn crowned Rama of Thailand
Thailand has crowned its new King Maha Vajiralongkorn, marking the first ascension of a new monarch in seven decades. King Vajiralongkorn is the tenth monarch of the Chakri dynasty, which has reigned since 1782. The last coronation was held in 1950 for the king's father Bhumibol Adulyadej. Thailand has been run by an arch-royalist junta since 2014. The monarchy takes primacy in the country but it is buttressed by the army.
Points to remember: Thailand
Capital: Bangkok
Currency: Thai Baht
26. World Laughter Day: 5 May 2019
World Laughter Day is celebrated on the first Sunday of May and this year it falls on May 5. The first time this day was celebrated on May 10, 1998, by Madan Kataria in Mumbai. This day is marked to spread laughter all around as it helps to cure many problems that could be emotional or physical. Laughters is the best medicine and can cure anything.
27. World Press Freedom Day: 3 May
World Press Freedom Day is celebrated every year on 3 May. This day was proclaimed by the UN General Assembly in December 1993, following the recommendation of UNESCO's General Conference. The theme of World Press Freedom Day this year is 'Media for Democracy: Journalism and Elections in Times of Disinformation'. The 26th celebration of World Press Freedom Day is jointly organized by UNESCO, African Union Commission and the Government of Ethiopia. The main event is being held at the African Union Headquarters at Addis Ababa.
28. The UK becomes the first parliament to declare a climate emergency
     The UK is the first national government to declare an environmental and climate emergency. The decision marks a renewed sense of urgency in tackling climate change. Eleven days of protests by the Extinction Rebellion activist group caused major disruptions in central London in recent weeks. There is no single definition of what that means climate emergency but many local areas say they want to be carbon-neutral by 2030.
29. UN designates Masood Azhar as a global terrorist
The United Nations designated Pakistan-based Jaish-e-Mohammed chief Masood Azhar as a "global terrorist". The decision came after China lifted its hold on a proposal to blacklist him. A "global terrorist" designation will subject Azhar to an assets freeze, travel ban and an arms embargo. France, US and UK had moved a fresh proposal to declare Azhar as a global terrorist at the UN in the wake of the Pulwama terror attack. Jaish-e-Mohammed had claimed responsibility for the attack. China had put a technical hold on the proposal, blocking it for the fourth time to designate Azhar.
30. Labour Day: 1 May
May Day is also called Workers' Day or International Workers' Day is observed every year on 1 May. The day celebrates the struggle, dedication and commitment of the working class. Labour Day has its origins in the labour union movement in the United States in the 19th century when the industrialists used to exploit the labour class and made them work up to 15 hours a day. The theme of Labour Day 2019 is 'Uniting Workers for Social and Economic Advancement'.
31. Japan's new Emperor Naruhito ascends the throne
Japan's new emperor, Naruhito, has formally ascended the Chrysanthemum Throne, replacing his father, Akihito.  Emperor Akihito abdicated thanking the people for their support over the last three decades and expressing hope for a peaceful future. In a ceremony at the Imperial Palace in Tokyo, Naruhito became the 126th Emperor of Japan. The emperor in Japan holds no political power but serves as a national symbol.
32. Benjamin Netanyahu sworn-in as Israel's PM
Israeli Prime Minister Benjamin Netanyahu was among the 120 newly-elected members who were sworn-into country's new Parliament. He was sworn in three weeks after his victory in the national election. His Likud party won 35 seats in the election, the same as his main opponent from the centrist Blue and White alliance, led by former military chief Benny Gantz. Support from smaller right-wing parties allied to Likud led to a majority of 65 parliament members supporting Benjamin Netanyahu.
33. International Dance Day: 29 April 2019
International Dance Day is a global celebration of dance, created by the Dance Committee of the International Theatre Institute (ITI), the main partner for the performing arts of UNESCO. The event takes place every year on 29th April, the anniversary of the birth of Jean-Georges Noverre (1727–1810), the creator of modern ballet. Every year a message from an outstanding choreographer or dancer is circulated throughout the world. This year message has been created by Karima MANSOUR of Egypt, who is a Dancer, Choreographer & Educator
34. South Korea set to hold ASEAN maritime drills
A two-part maritime exercise by the 10-member Association of Southeast Asian Nations (ASEAN) and its partnering countries is slated to start in South Korea's port city of Busan. The exercise aims to counter maritime crime, including illicit transactions of weapons and other banned items. The drills are scheduled to take place from 29 April to 2 May in South Korea, following which they will be held in Singapore from May 9 to May 13. The maritime exercise involves 18 countries of the ASEAN Defence Ministers' Meeting plus six other countries are slated to send military personnel. Naval forces from India, Brunei, China, Malaysia, the Philippines, Singapore, and the United States are scheduled to practice rescuing ships hijacked by armed groups, amongst other maritime security operations.
35. Sri Lankan President bans all types of face coverings
Sri Lankan President Maithripala Sirisena has issued an order for a ban on burqa, veil or covering of the face in a manner which prevents anyone from being identified. Any garment or item which obstructs the identification of a persons face would be barred. It follows 21 April 2019, Easter attacks in which more than 250 people were killed. Some Muslim organisations had also come forward and suggested a ban on burqa to help stabilize the security situation
Points to remember: Sri Lanka
Capital: Sri Jayawardenepura Kotte
Currency: Sri Lankan rupee
Prime minister: Ranil Wickremesinghe
President: Maithripala Sirisena
 

36. e-Governance Services India ties up with IIT-Kanpur to upscale Unnat Bharat Abhiyan
Common Service Centre's (CSC) e-Governance Services India Limited has tied up with Indian Institute of Technology (IIT)-Kanpur to upscale 'Unnat Bharat Abhiyan'. 'Unnat Bharat Abhiyan' is an initiative of the Ministry of HRD. It aims to find solutions to accelerate sustainable growth in rural India. Under the Unnat Bharat Abhiyan, IIT-Kanpur has brought together 15 leading higher education institutions from Uttar Pradesh. These institutes will adopt gram panchayats and equip them with all citizen-centric services through CSCs.
37. Indian Navy launches fourth Scorpene class submarine
The fourth of Indian Navy's stealth Scorpene class Submarines of Project 75 was launched at the Mazagon Dock Limited at Mumbai in Maharashtra.  The submarine has been named 'Vela' after an earlier submarine. The steel cutting for this submarine commenced in July 2009. The submarine has completed joining of all its sections. The submarines are being built at Mazagon Dock Limited, with the main collaborator being M/s Naval group, France.
38. CEA included in finance panel's advisory council
Chief Economic Advisor Krishnamurthy Subramanian has been included in the Advisory Council of the 15th Finance Commission as its member. The Advisory Council was set up in April 2018 to advise the commission on any issue or subject related to the terms of reference (ToR) of the commission. WIn December 2018, the government appointed Subramanian of Indian School of Business (ISB), Hyderabad as the chief economic advisor in the finance ministry for three years.
Points to Remember
The 15th Finance Commission was constituted in November 2017.
The role of Commission is to give recommendations for devolution of taxes and other fiscal matters to the central government for 5 years, commencing from April 1, 2020.
Chairman: N.K. Singh
 
39. Asia-Pacific economies are set to grow steadily at 5.7 per cent: ADB
According to the bank's Asian Development Outlook 2019 report released in April, developing Asia is projected to grow by 5.7 per cent this year. Mr. Nakao said that consumer and investor behaviour could be undermined by trade tensions between countries. The bank's lending grew to a record $21.6 billion in 2018, 10% higher compared to 2017.
Points to Remember
Headquarters: Mandaluyong, Philippines
Founded: 19 December 1966
Membership: 68 countries
40. Defence ministry approves Navy's Rs 3,600-crore deal with Russia for 10 Kamov-31 helicopters
The defence ministry has approved the procurement of 10 Kamov Ka-31 Airborne Early Warning and Control helicopters for the Indian Navy. The cost of the deal would be around Rs 3,600 crore. The 10 helicopters would be deployed on the aircraft carriers and warships of the Navy including the INS Vikrant and Grigorovich-class frigates. The Navy has a fleet of Russian Kamov-28 choppers which were procured in the 1980s and need to be upgraded for future operations.
41. Indian Navy's frontline missile destroyer INS Ranjit to be decommissioned
INS Ranjit, the Indian Navy's frontline missile destroyer, will be decommissioned at the naval dockyard in Visakhapatnam on May 6. It had served the Indian Navy for 36 years. INS Ranjit was the third of the five Kashin-class destroyers built by erstwhile USSR and was commissioned in 1983. INS Ranjit was at the forefront of keeping the nation secure and participated in a number of operations.
42. LIC HFL launches Udyam centre
LIC Housing Finance (LIC HFL) has launched 'Udyam', a skill centre in Bengaluru. It was launched in association with Lok Bharti Education Society. The Centres of Excellence will provide training to marginalised youth in the BFSI, retail, and IT/ ITES sectors.
Points to remember
Headquarters: Maharashtra
CEO: Vinay Sah
43. Green number plates are now mandatory for all-electric vehicles
The Indian government had earlier proposed a special green-coloured number plate for all-electric vehicles in the country. The Central government has now asked the state transport departments to make it mandatory for all EVs to use the green number plates. The special number plate is supposed to have the vehicle number spelt out in white colour on a green background. The new mandate is supposed to help provide preferential treatment to the vehicles with no carbon emissions.
44. IIT Indore pips older peers to feature in top 50 Asia University Rankings
The Indian Institute of Technology (IIT) Indore enters in the top 50 Times Higher Education (THE) Asia University Rankings. It has yet again pipped its older peers like IIT Bombay, Delhi, and Madras to be the only IIT to rank. The latest rankings, however, have seen the Indian Institute of Science (IISc) Bengaluru maintain its lead position at 29th, same as last year. On the other hand, IIT Bombay which ranked 44 last year, fell 10 places to be ranked at 54th position this year.
45. VP Venkaiah Naidu releases postage stamp to commemorate the 750th birth anniversary of Sri Vedanta Desikan
Vice President M Venkaiah Naidu released a postage stamp to commemorate the 750th birth anniversary of Sri Vedanta Desikan in New Delhi. Mr Naidu said the textbooks must throw light on the lives of great saints and spiritual icons such as Sri Vedanta Desikan. Sri Vedanta Desikan was a Sri Vaishnava guru/philosopher and one of the most brilliant stalwarts of Sri Vaishnavism in the post-Ramanuja period. He was a poet, devotee, philosopher and master-teacher (desikan).
46. BHEL successfully commissions two units of a lift irrigation project in Telangana
Central Public Sector undertaking Bharat Heavy Electricals Limited (BHEL) has successfully commissioned two motor - pump set units for the Kaleshwaram Lift Irrigation Scheme (LIS) in Telangana. Under the scheme, 89 cubic metres per second of water will be lifted to a height of 106 metres from the Sripada Yellampalli reservoir to Medaram reservoir and will be used for irrigation and water supply in nearby drought-prone areas. In Telangana, BHEL has so far commissioned 27 pump-motor projects totalling to 753 MW.
Points to Remember
BHEL Headquarters: New Delhi
CEO: Atul Sobti
Founded: 1964
47. Government and IIT-Delhi to set up a Centre of Excellence for Waste to Wealth Technologies
To commemorate the 150th birth anniversary of Mahatma Gandhi, the Office of the Principal Scientific Adviser (PSA) to the Government of India and Indian Institute of Technology Delhi (IIT Delhi) have come together to bring the best of science and technology to implement waste management in India.
The Govt of India and IIT Delhi have signed a Memorandum of Understanding in New Delhi for setting up a Centre of Excellence for Waste to Wealth Technologies
The partnership will provide an effective platform for stakeholders to bring together integrated approaches for effective recycling, reuse and resource recovery of waste.
48. Cyclone Fani makes landfall in Odisha's Puri
The landfall process of extremely severe Cyclone Fani began nearly at 8 am on 3 May 2019, close to Puri in Odisha The area recorded a wind speed of 145 kilometres per hour. The process of landfall will continue for the next three hours. The area along Puri is witnessing winds with a speed of 145 kilometres per hour that could reach up to 180-200 kmph. A cyclone making a landfall implies that the first arm of the cyclone has reached the land.
49. Indo-French joint naval exercise Varuna 19.1 begins off Goa coast
The first part of the Indo-French joint naval exercise, Varuna 19.1 is being held off the Goa coast from 1 to 10 May 2019. The exercise is being conducted in two phases. The harbour phase at Goa would include cross-visits, professional interactions and discussions and sports events. Varuna 19.2, the second part of the exercise, is scheduled to be held in May end in Djibouti.
50. Chandrayaan-2 to be launched in July
India's second lunar mission Chandrayaan-2 will be launched on a day between 9 and 16 July 2019. The Indian Space Research Organisation said that the Chandrayaan-2's lander will touch down near the Moon's south pole on 6th September. Chandrayaan-2 will have three modules in it, an orbiter, a lander named Vikram and a rover known as Pragyan. Chandrayaan-2 will be launched using India's most powerful rocket GSLV-Mark-3.
51. India will have Defence Cyber Agency soon
In a bid to bolster its capabilities to tackle threats emanating from hackers, mostly from China and Pakistan, India is all set to have Defence Cyber Agency (DCA). Senior Navy officer Rear Admiral Mohit Gupta will be the first head of the DCA. The DCA will include a lot of existing capability with the armed forces for tackling threats in the cyber domain and will also have the elements of DRDO working in it.
52. Gujarat and Maharashtra celebrate their foundation date
Gujarat and Maharashtra Day is annually celebrated on May 1 to mark region attaining statehood on May 1, 1960. Gujarat is also known as the 'Jewel of Western India'. Gujarat was formed along with Maharashtra after it was divided from Bombay state. However, there is no official celebration this year due to the model code of conduct.
53. IGNOU to launch a course on GST
The Indira Gandhi National Open University (IGNOU) will launch an awareness programme on Goods and Services Tax (GST). The program will be launched in collaboration with the Bombay Stock Exchange The programme, which will be launched by IGNOU's School of Management Studies aims to impart the basic knowledge and skills required to fulfil various requirements under the GST Act. Those who have passed Class 12 are eligible for the course, which will be offered in January and July cycle of admissions.
54. Defence Ministry-PSU to build 8 anti-submarine shallow watercrafts
Kolkata-based defence shipyard Garden Reach Shipbuilders & Engineers signed an Rs. 6,311-crore contract with the Defence Ministry to build eight anti-submarine warfare shallow watercraft for the Indian Navy. The first vessel is to be delivered within 42 months from the contract, that is by October 2022. The ASWSWCs are equipped with sophisticated sonar, with an algorithm that differentiates the signals reflected off the enemy submarine from those bouncing off the sea bed. These vessels will also have the ability to sprint fast for short bursts.
55. Wipro Consumer Care acquires Splash Corporation
Wipro Consumer Care and Lighting (WCCL) has acquired the Philippines-based personal care maker Splash Corporation. WCCL is the consumer care business of software provider Wipro Ltd. Splash Corporation is among the top five local companies in the Philippines, where it gets 85% of its annual revenue of around $80 million. The transaction is expected to strengthen the consumer care portfolio in personal care apart from completing its South East Asian footprint.
Points to Remember
Wipro chairman: Azim Premji
Headquarters: Bangalore
 
56. Defence Minister Nirmala Sitharaman to attend SCO Defence Ministers' meet in Bishkek
Defence Minister Nirmala Sitharaman attended the Shanghai Cooperation Organisation (SCO) Defence Ministers' meeting in the Kyrgyzstan capital Bishkek. Mrs Sitharaman will also hold bilateral meetings with her counterparts from some SCO member countries on the sidelines of the conclave. The SCO Defence Ministers will explore ways to further boost defence and security cooperation among the member countries.
Points to remember
The SCO was founded at a summit in Shanghai in 2001 by the Presidents of China, Russia, Kyrgyzstan, Kazakhstan, Tajikistan and Uzbekistan.
India and Pakistan became its full members in 2017.
Kyrgyzstan is the Chair of the SCO at present.
 
57. Vodafone Idea signs multi-million dollar IT deal with IBM
India's largest telecom operator Vodafone Idea Ltd announced a five-year multi-million-dollar IT outsourcing deal with tech giant IBM. The collaboration will contribute to Vodafone Idea's merger synergy objectives by decreasing its IT-related costs. This partnership will offer Vodafone Idea with a hybrid cloud based digital platform to enable engagement with its 387 million subscribers.
58. RBI penalizes PhonePe, Vodafone m-pesa for regulatory non-compliance
The Reserve Bank of India (RBI) has slapped penalties on five Prepaid Payment Instrument (PPI) issuers and two remittance service providers for non-compliance of regulatory norms. The banking regulator imposed a penalty of Rs 3.05 crore on Vodafone m-pesa and Rs 1 crore each on PPIs like Phonepe, GI Technology and My Mobile Payments. A penalty of Rs 5 lakh was also levied on Y-Cash Software Solutions. Remittance service providers like Western Union Financial Services and MoneyGram Payment Systems were penalized for Rs 29.67 lakh and Rs 10.12 lakh, respectively.
59. London top choice for Indian investors with record investments in 2018
London emerged as the top choice for Indian investors ahead of other cities such as Dubai and Singapore. The investments by Indian companies in the British capital reaching an all-time high last year. The UK emerged as the topmost country to attract Indian FDI with 52 projects, ahead of the US (51) and the UAE (32), in 2018. Foreign Direct Investment (FDI) from India into London increased by 255 per cent from 2017 to 2018.
60. State Bank of India links interest rates to RBI's repo rate
State Bank of India has moved to a new interest rate regime on large savings account deposits as well as short-term loans. In March, SBI had announced that it will link its interest rate on savings account with a balance above ₹1 lakh and short-term loans like overdraft and cash credit facility to Reserve Bank of India's repo rate, effective 1 May 2019. The interest rates on large SBI savings account deposits and interest rate on some short-term loans will automatically change as and when RBI changes its repo rate. This will help in better transmission of RBI's policy rates into the banking system.
61. Goods and Services Tax collection at an all-time high
Goods and Services Tax (GST) collection scales record high of Rs 1.13 lakh crore in April, highest ever collection since GST implementation. The GST collections in April jumped to its highest level of Rs 1,13,865 crore since its rollout in 2017. While collections have been gradually increasing since August, they hit a record high last month of Rs 1.06 lakh crore, up from Rs 97,247 crore in the previous month. The total number of GSTR 3B Returns filed for the month of March up to 30th April 2019 is 72.13 lakh.
62. SEBI bars NSE from the securities market for 6 months
Market regulator Securities and Exchange Board of India (SEBI) on April 30 directed the National Stock Exchange to return Rs 625 crore with 12 per cent per annum interest in the co-location case. The regulator has also barred the exchange from the securities market for six months. This means the NSE cannot access the capital market in terms of IPO for six months.
63. India's eight core industries grow 4.7% in March 2019
 
India's eight core industries grew 4.7 per cent in March 2019. The eight core sectors include coal, crude oil, natural gas, refinery products, fertilizers, steel, cement, and electricity. On a year-on-year basis, the FY19 core industries growth remained unchanged at 4.3 per cent. The crude oil sector continued its contraction in March, contracting 6.2% compared with a contraction of 6.1% in the previous month.