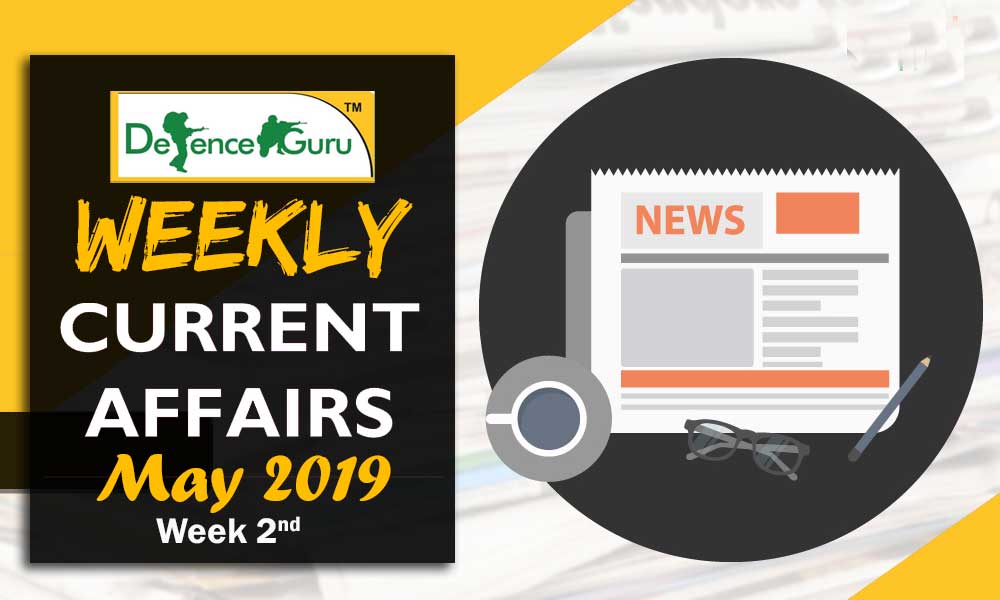 Defence Guru are here for you to provide the important Recent and Latest Current Affairs May 2nd Week 2019. Our complete Current Affairs 2019 will help you to get more marks in Defence Exams, Banking, Insurance, SSC, Railways, UPSC, CLAT and all other State Government Exams
Actress Dia Mirza, Alibaba chief Jack Ma
The United Nations Secretary-General Antonio Guterres has appointed 17 global figures as the new advocates to drive action and solidify global political will for the ambitious Sustainable Development Goals. These include Indian actress Dia Mirza and Alibaba chief Jack Ma. The new class of Sustainable Development Goals, SDG, Advocates are influential public figures committed to raising awareness, inspiring greater ambition and pushing for faster action on the SDGs.
2. Jagjit Pavadia
India's Jagjit Pavadia was re-elected to the International Narcotics Control Board (INCB) for another term. Ms Pavadia has been a member of the INCB since 2015 and her current term is set to expire in 2020. Jagjit Pavadia has been re-elected for a five-year term beginning 2nd March 2020. The victory added to India's successful record of winning crucial elections at the UN and to the world organisation's subsidiary bodies.
3. Hari Menon
The Bill & Melinda Gates Foundation named M Hari Menon as the Country Director in India effective from May 24. Menon will replace Nachiket Mor, who held this position for the past three years and resigned last month. With an endowment of $50.7 billion, Gates Foundation is the world's largest private philanthropic organisation and has offices in Delhi and Patna. It plays an influential role in India in public policy, funding research and providing aid and grants towards rolling out projects in public health, sanitation, digital financial inclusion, agriculture, and gender equality.
4. Justice PR Ramachandra Menon
Justice PR Nair Ramachandra Menon has been appointed as the Chief Justice of the Chhattisgarh High Court. He is presently serving as a Judge of the Kerala High Court.Governor Anandiben Patel administered him the oath of office.
Points to remember : Chhattisgarh
Chhattisgarh Governor: Anandiben Patel
Chief Minister: Bhupesh Baghel
Rajya Sabha seats: 5
Lok Sabha seats:11
5. Hiralal Yadav
Padma Shri awardee Bhojpuri folk singer Hiralal Yadav died at the age of 93. The veteran musician passed away after a prolonged illness. Yadav was famously known as 'Birha Samrat'. Yadav was felicitated with Padma Shri award this year in January 2019 and was also honoured with Yash Bharti award by the Uttar Pradesh government in 2015.
6. Thoppil Mohamed Meeran
Noted novelist and Sahitya Akademi awardee Thoppil Mohamed Meeran passed away. Saaivu Naarkkaali (The Reclining Chair), released in 1995, bagged him the prestigious Sahitya Akademi Award in 1997. In recognition, he received 8 awards including the Sahitya Akademi Award and Tamil Nadu Kalai Ilakkiya Perumantram Award in 1992.
7. NR Madhava Menon
Prof NR Madhava Menon, an educationist, scholar and the pioneering spirit behind modern legal education in India, passed away. Menon was the founder director of the National Law School of India University (NLSIU) Bangalore and headed it for 12 years. He established West Bengal National University of Juridical Sciences (NUJS) in 1998 and later presided as the founder director of Judicial Academy (NJS), Bhopal, till 2006. He authored several books on Indian legal education, the legal profession and judicial training.
8. Lewis Hamilton wins Spanish Grand Prix
Lewis Hamilton won the Spanish Grand Prix for a third consecutive year after overtaking Mercedes teammate Valtteri Bottas at the first turn in Barcelona. Red Bull's Max Verstappen clinched the 3rd spot and was voted as the F1 driver of the day. Hamilton's win at the Spanish Grand Prix brings his tally to 76 F1 victories in all.
9. Virat Kohli bags International batsman and cricketer of the year
India captain Virat Kohli bagged the International Cricketer and Batsman of the Year award during the CEAT Cricket Rating (CCR) International awards 2019. Pacer Jasprit Bumrah, who made a mark for India and IPL franchise Mumbai Indians, was adjudged as International Bowler of the Year. Young prodigy Yashasvi Jaiswal, who performed exceptionally over the year was awarded Junior Cricketer of the Year. Legendary Mohinder Amarnath, who played a key role in India's 1983 World Cup triumph, was bestowed with the 'CCR International Lifetime Achievement Award'.
10. Sana Mir becomes the highest wicket-taking spinner in ODIs
Pakistan's Sana Mir became the most successful ODI spinner in the world. She gained this title after dismissing Sune Luus of South Africa in the third match of the ICC Women's Championship. Sana, who made her debut in 2005, is presently the third-ranked bowler. She had become the first Pakistan bowler to top the ICC rankings in October last year. Currently, Mir is placed on the third position in the ICC's ODI bowling ranking, which is topped by Indian pacer Jhulan Goswami.
11. Mumbai beat Chennai by one run to win record 4th IPL title
Mumbai Indians became IPL champions for the fourth time after defeating Chennai Super Kings by one run in a thrilling final in Hyderabad. Last ball dismissal of Shardul Thakur by paceman Lasith Malinga registered a final win for Mumbai over Chennai. Skipper Mahendra Singh Dhoni became the most successful wicket-keeper in the history of IPL by taking his dismissals tally to 132, surpassing his India teammate Dinesh Karthik.
Points to remember : 4th IPL
Orange cap: David Warner
Purple cap: Imran Tahir
12. Novak Djokovic wins Madrid Open title
Top seed Novak Djokovic of Serbia beat Stefanos Tsitsipas of Greece 6-3, 6-4 to win his third Madrid Open title. Djokovic lifted the title in Madrid after progressing through the week without losing a set and has now won 33 Masters titles - the same number as Rafael Nadal and five more than Roger Federer. Djokovic and Nadal will now attempt to claim a 34th Masters title in Rome this week.
13. Kiki Bertens beats Simona Halep to win Madrid Open
Kiki Bertens beat two-time Madrid Open champion Simona Halep 6-4, 6-4 to take the women's title. The seventh-ranked Dutch became the first woman to win the Madrid title without dropping a set. In the men's competition, Novak Djokovic will face Stefanos Tsitsipas in men's final. Barbara Strycova and Hsieh Su-Wei won the women's doubles title, beating Dabrowski and Xu Yifan 6-3, 6-1 in the final.
14. Amul to be the principal sponsor of Afghanistan cricket team at ICC World Cup
Dairy major Amul will be the principal sponsor of the Afghanistan cricket team for the upcoming ICC World Cup hosted by England and Wales. This is the third time that Amul is sponsoring a cricket team in the World Cup. The company had associated with New Zealand and Holland teams in earlier World Cup tournaments. The logo of brand Amul will appear on the leading arm of the Afghanistan team playing jerseys as well as on the training kits throughout the showpiece event.
15. UN to hold the 2020 ocean conference in Lisbon
United Nations General Assembly (UNGA) decided to hold its 2020 high-level conference early June in Portugal's Lisbon. The conference aims to support t he sustainable use of the oceans, seas and marine resources. The UNGA decides that the theme of the conference shall be 'scaling up ocean action based on science and innovation for the implementation of Goal 14: stocktaking, partnerships and solutions.'
16. The US approves dengue vaccine Dengvaxia
The Food and Drug Administration (FDA) has approved the first vaccine for dengue, Dengvaxia. FDA has also placed significant restrictions on its use because the vaccine has been shown to put some people at heightened risk. It can be only given to the people aged 9 to 16 who live in areas where dengue is endemic and who are shown by lab testing already to have been infected with the disease. The Philippines, which became the first country to approve it in 2016, was also the first to ban it in February this year over safety concerns. Dengvaxia is produced by the French pharmaceutical firm Sanofi Pasteur.
17. Ireland becomes the second country to declare a climate emergency
Ireland has declared a climate emergency in their country, to be the second country after Britain to do so. An amendment to a parliamentary report declaring a climate emergency and calling on parliament to examine how the Irish government can improve its response to the issue of biodiversity loss was accepted. Britain's parliament became the first in the world to declare a climate emergency, passing the largely symbolic motion on May 1.
18. NASA to crash spacecraft into an asteroid in 2022
The US space agency NASA revealed its plan to hit a small moonlet target in a double asteroid system with a spacecraft in 2022. It is its first mission to demonstrate a planetary defence technique. The Double Asteroid Redirection Test (DART) will get one chance to hit its target. The asteroid, called Didymoon or Didymos B, is a moon asteroid around 150 meters tall orbiting a larger body Didymos A.
19. India signs protocol for export of chilli meal to Chinese markets
India and China signed a protocol for the export of Indian chilli meal to China. This is the fourth protocol signed between the two nations over the past year allowing the export of farm commodities from India. Chilli meal is the residue left after oil is extracted from chillies. It is widely used as an industry input in manufacturing chilli sauce and other similar products. India is the world's largest producer, consumer and exporter of chillies.
20. World Red Cross Day: 8 May
Every year the 8th of May is celebrated as World Red Cross and Red Crescent Day. The day is celebrated as it marks the birth anniversary of Henry Dunant, the founder of the Red Cross and International Committee of the Red Cross (ICRC) and the first recipient of the Nobel Peace Prize. World Red Cross Day commemorates the principles of "International Red Cross and Red Crescent Movement". It is celebrated on May 8 to pay tribute to the people participated in the event as well as remembering their contribution to helping people in need.
Points to remember : World Red Cross Day
International Committee of the Red Cross Headquarters: Geneva, Switzerland
2019 Theme: #love
21. Central government extends the ban on LTTE for five years
The Central Government has extended the ban on the Liberation Tigers of Tamil Eelam (LTTE) for another five years. The ban has been extended under sub-sections (1) and (3) of section 3 of the Unlawful Activities (Prevention) Act, 1967 with immediate effect. LTTE was a Tamil militant and political organization that was based in northeastern Sri Lanka. It was founded in May 1976 by Velupillai Prabhakaran.
22. DRDO conducts a successful flight test of ABHYAS
Defence Research and Development Organisation (DRDO) conducted a successful flight test of ABHYAS - High-speed Expendable Aerial Target (HEAT) from Interim Test Range, Chandipur in Odisha. The flight test was tracked by various RADARS and Electro Optic Systems and proved its performance in a fully autonomous waypoint navigation mode. The configuration of ABHYAS is designed on an in-line small gas turbine engine and uses indigenously developed MEMS-based navigation system for its navigation and guidance. The performance of the system was as per simulations carried out and demonstrated the capability of ABHYAS to meet the mission requirement for a cost-effective High-speed Expendable Aerial Target.
23. Young Scientist Programme 'Yuvika2019' inaugurated
The Young Scientist Programme 'Yuvika2019' has been inaugurated by Indian Space Research Organisation, ISRO Chairman Dr K Sivan. The two-week residential summer vacation programme spread over four ISRO centres in Bengaluru, Thiruvananthapuram, Ahmedabad and Shillong are attended by 110 students. The programme will help in inculcating scientific temper in the students. The participants will be visiting the spaceport of India, Satish Dhawan Space Centre in Shriharikota during this programme.
24. Indonesian Coast Guard ship arrives in Port Blair
Indonesian Coast Guard ship 'Tanjung Datu' arrived in Port Blair along with a high-level delegation led by First Admiral Eko Murwanto. The aim of this goodwill visit is to enhance bilateral cooperation between the Coast Guards of two countries. The ship 'KN Tanjung Datu' is a Patrol Vessel. The ship has a complement of 25 officers and 40 sailors. During her stay in Port Blair, various professional exchanges including Table Top exercise and Sea Exercise will be conducted.
25. India's retail inflation picks up to 2.92% in April
Retail inflation rose marginally to 2.92 per cent in April this year, mainly due to the rise in food prices. According to the Ministry of Statistics and Programme Implementation data released, the inflation based on the Consumer Price Index (CPI) was 2.86 per cent in the previous month and 4.58 per cent in April last. According to the Central Statistics Office (CSO) data the inflation in the food basket was 1.1 per cent last month, up from 0.3 per cent in March this year. CPI-based inflation data is an important indicator of the economy as the Reserve Bank of India mainly factors in it while arriving at its monetary policy.
26. HDFC ERGO launches 'Mosquito Disease Protection Policy'
HDFC ERGO General Insurance Company announced the launch of 'Mosquito Disease Protection Policy'. This new policy will cover an individual against common mosquito-borne diseases like Dengue Fever, Malaria, Chikungunya, Japanese Encephalitis, Kala-azar, Lymphatic Filariasis and Zika Virus. According to the report published by National Health Profile 2018, there has been an alarming rise in dengue cases in India, an increase of 300 per cent between 2009-2017. These diseases also lead to hospitalisation adding burden on expense or affecting the No Claim Bonus of any standard Health Insurance.
27. Vice President inaugurates 'Jaipur Foot Artificial Limb' fitment camp
On the 3rd day of his Vietnam visit, Vice President M. Venkaiah Naidu presented the artificial limb fitments to the beneficiaries at the Embassy of India in Hanoi under India for Humanity initiative. Naidu inaugurated the Jaipur Foot Artificial Limb Fitment Camp in Hanoi during his four-day official visit to Vietnam. The Camp is being held under the 'India For Humanity' program in the context of the 150th birth anniversary of Mahatma Gandhi. The iconic Jaipur Foot is lighter than all the other artificial limbs and has transformed the lives of thousands and helped them lead a life of dignity.
28. I&B Secretary Amit Khare leads Indian Delegation to Cannes Film Festival
India Pavilion is set to be inaugurated at Cannes Film Festival, which will be held from 14th to 25th May 2019 in Cannes, France. The Pavilion will showcase Indian cinema across linguistic, cultural and regional diversity, with the aim of forging international partnerships in distribution, production, filming in India. The Indian Delegation this year will be led by Shri Amit Khare, Secretary, Ministry of Information & Broadcasting. The Film Delegation would consist of Shri Prasoon Joshi, Chairman, CBFC and acclaimed filmmakers Shri Rahul Rawail, Shri Shaji N. Karun and Shri Madhur Bhandarkar.
29. Central teams arrive in Odisha to assess the damage by cyclone Fani
A nine-member central team reached Odisha to assess the damage caused by Cyclone Fani that ravaged the state's coastal districts on May 3 and left 64 dead. The inter-ministerial team is being led by Additional Secretary in the Ministry of Home Affairs Vivek Bharadwaj. Before beginning the on-the-spot assessment in the affected areas, the team members will be briefed by Special Relief Commissioner B P Sethi. The team will be split into two groups. They will visit Puri and Khurda districts, the worst affected by the cyclone, on May 13 and 14.
30. Spectacular Thrissur Pooram festival begins in Kerala
The 2019 edition of the Thrissur Pooram is an extravagant temple festival in Kerala. It is held at the Vadakkunnathan Temple in Thrissur every year on the Pooram day - the day when the moon rises with the Pooram star. A 54-year-old elephant 'Thechikottukavu Ramachandran' also participated in the festival. It was banned after it killed two people earlier this year. Ramachandran, the tallest elephant of the state, pushed open the southern entrance of the shrine amid thunderous cheers of the people gathered on the temple ground.
31. Mother's Day: 12 May 2019
Mother's Day is celebrated on the second Sunday of every May to honour motherhood and pay homage to mothers who have and continue to inspire us all. It is believed that the bond between a mother and her child is the strongest, and Mother's Day appreciates the same. This year, the occasion falls on May 12.
32. Amazon founder Jeff Bezos reveals mock-up of new lunar lander spacecraft
Amazon founder Jeff Bezos showcased a mock-up of a new lunar lander spacecraft. The spacecraft will be able to take equipment and humans to the moon by 2024. The spacecraft was built by his Blue Origin rocket company and is called Blue Moon. Blue Moon is planned to be capable of delivering 4,500 kg (9,900 lb) to the surface of the Moon and can also be used as a cargo vehicle to support NASA's outer space activities.
33. Indian Air Force gets first Apache Helicopter from the US
The first Apache Helicopter AH-64E(I) was formally handed over to the Indian Air Force, IAF at Boeing production facility in Mesa, Arizona, USA. The IAF had signed a contract with the US Government and Boeing Company in September 2015 for 22 Apache helicopters. The first batch of the helicopters is scheduled to be shipped to India by July this year. These helicopters will provide a significant edge in any future joint operations in support.
34. World's 1st parent-wise genome for buffaloes developed
The National Dairy Development Board (NDDB) has developed the world's first complete parent-wise genome assembly called "NDDB_ABRO_Murrah" of riverine buffaloes. This comes after the successful launch of INDUSCHIP, a customized genotyping chip for indigenous cattle and their crosses. Buffaloes contribute more than 50% to the total milk production in India which is the world's largest milk producer. The development of genome assembly will help in improving genetics of the buffaloes and enhancing their productivity further.
35. 5th United Nations Global Road Safety Week
The Fifth United Nations Global Road Safety Week is taking place from May 6 to 12. 2019 theme: 'Leadership for road safety' This major worldwide campaign was requested by the United Nations General Assembly in April 2018 on improving global road safety. The Global status report on road safety 2018 shows that road traffic crashes claim approximately 1.35 million lives across the world every year.
36. National technology day: 11 May 2019
National Technology Day is observed every year on the 11th of May in India. It acts as a reminder of the anniversary of mission Shakti. Shakti is the Pokhran nuclear test which was held on the 11th of May, 1998. The day highlights the important role of Science in our daily lives and encourages students to embrace Science as a career option. Hansa 3, India's first indigenous aircraft was first tested on the same day in 1998 in Bangalore. Successful test firing of Trishul, a short-range missile made in India, was also done on the same day.
37. WTO Ministerial Meeting of Developing Countries in New Delhi
A WTO Ministerial meeting of developing countries is being hosted by India in New Delhi on 13-14 May 2019. Sixteen developing countries, Six Least Developed Countries (LDC) (Argentina, Bangladesh, Barbados, Benin, Brazil, Central African Republic (CAR), Chad, China, Egypt, Guatemala, Guyana, Indonesia, Jamaica, Kazakhstan, Malawi, Malaysia, Nigeria, Oman, Saudi Arabia, South Africa, Turkey, Uganda)and DG, WTO are participating in the meeting. The two-day meeting will be interactive in order to provide an opportunity for the Ministers to discuss various issues and the way forward. This meeting at New Delhi is an effort to bring together the developing countries and Least Developed Countries on a platform for sharing common concerns.
38. INS Kolkata and Shakti undertake Group Sail with Japan, Philippines, US naval ships
Two Indian Navy ships Kolkata and Shakti carried out 'Group Sail' with naval ships of Japan, Philippines and the USA in the South China Sea from May 3 to May 9. The 'Group Sail' was aimed to deepen the existing partnership and foster mutual understanding among participating navies. At Qingdao in China, both the ships had participated in the International Fleet Review (IFR) as part of the 70th Anniversary Celebration of People's Liberation Army PLA (Navy).
39. CBIC organises a meeting of regional heads of Customs Administration of Asia Pacific Region of the WCO in Kochi
Central Board of Indirect Taxes and Customs (CBIC) organised a meeting of the Regional Heads of Customs Administration of Asia Pacific Region of the World Customs Organisation (WCO) in Kochi from 08th to 10th May 2019. India is hosting this meeting in its capacity as Vice Chair of the Asia Pacific region that it assumed on 1st July 2018 for a two-year period. The meeting will take stock of the progress being made in carrying forward the programmes and initiatives of WCO. This meeting is being chaired by Mr Pranab Kumar Das, Chairman, CBIC.
40. Reliance Industries' subsidiary acquires iconic British toy retailer Hamleys
Mukesh Ambani-led Reliance Industries has announced it will acquire iconic British toy-maker Hamleys for 67.96 million pounds (around Rs 620 crore) in an all-cash deal. Founded in 1760, Hamleys is the oldest and largest toy shop in the world with 167 stores in 18 countries. It is currently owned by Chinese fashion conglomerate C Banner International, which had acquired it for 100 million pounds in 2015.
41. Vice President Naidu to embark on 4-day visit to Vietnam
Vice President Venkaiah Naidu will embark on a four-day official visit to Vietnam. The visit is expected to enhance India's comprehensive strategic partnership with the Southeast Asian nation. Apart from holding one-on-one talks with the leaders of Vietnam, the Vice President will participate in the 16th United Nations Day of Vesak at Tam Chuc pagoda in Vietnam
Points to remember : Vietnam
Vietnam Capital: Hanoi
Currency: Vietnamese Dong
42. Chhattisgarh cops deploy first ever anti-Naxal women's commando unit
The Chhattisgarh police for the first time has inducted women commandos in the District Reserve Guard in its frontline anti-Naxal force. These women commandos were part of the security forces' "short action teams" that eliminated three Naxal "commanders" in the past one month. The specially-raised squad, christened 'Danteshwari Ladake', or fighters of Goddess Danteshwari, was inducted in the state's Naxal-hit Dantewada district. Of the 30 recruits, 10 are surrendered women Naxals, while 10 others are assistant constables who were part of the erstwhile Salwa Judum (anti-Naxal militia) movement.
43. Max Life Insurance to mark 6th of every month as Protection Day
Max Life Insurance Co Ltd announced that it will dedicate the 6th day of every calendar month as 'Protection Day'. The day aims to increase awareness around the concept of financial protection. As a part of this initiative, a wide range of initiatives will be rolled out across Max Life's network. The Company will also drive a "Super Customer Week", where customers across the board will be educated about various aspects of financial protection.
44. Airtel and Hughes to merge their VSAT operations in India
Telecom major Bharti Airtel and Hughes Communications India Ltd (HCIL) announced the merger of their VSAT (Very Small Aperture Terminal) satellite communications operations in India. The companies did not disclose the financial details of the transaction, which is subject to approvals by relevant authorities. Hughes will have majority ownership in the combined entity and Sunil Mittal-led Airtel will have a significant shareholding. HCIL, a subsidiary of Hughes Network Systems, is one of the leading broadband satellite service operators in India.
45. NIOS, NHMPH ink MoU in Mumbai
The National Institute of Open Schooling Ministry of Human Resources Development and National Health Mission of Public Health Department of Government of Maharashtra signed a Memorandum of Understanding in Mumbai. The MOU focused on offering Vocational programmes to the Health Service Providers of National Health Mission (NHM) through National Institute of Open Schooling. It aims to impart uniform structured and quality training to Multipurpose Health Workers, Class Ill Male Health Workers and Community Health Workers followed by their assessment evaluation and certification.
46. India re-elected as an observer to inter-governmental forum Arctic Council
India has been re-elected as an observer to inter-governmental forum Arctic Council. The Arctic Council promotes cooperation, coordination and interaction among Arctic states on common issues, particularly on sustainable development and environmental protection. At the 11th Arctic Council ministerial meeting at Rovaniemi, Finland and India re-elected as Observer of the Arctic Council.
47. India, Bangladesh to jointly produce a movie on life, works of Bangabandhu Sheikh Mujibur Rahman
India and Bangladesh will co-produce a film on the life and works of Bangabandhu Sheikh Mujibur Rahman and a documentary on Bangladesh Liberation War. The co-production was earlier announced by the Prime Ministers of both the countries. The movie will be directed by acclaimed filmmaker Shyam Benegal, along with the writer Atul Tiwari. Co-production of a documentary on Bangladesh Liberation War was also discussed.
48. 59th BRO Raising Day
Border Roads Organisation (BRO) celebrated its 59th Raising Day on 7 May 2019. It was formed on 7 May 1960. BRO is a leading road construction agency under the Ministry of Defence with a primary role of providing road connectivity in border areas. It executes road construction and maintenance works along the Northern and Western frontiers primarily to meet the strategic requirements of the Army. It is responsible for over 53,000 Km roads.
Points to remember : Border Roads Organisation (BRO)
BRO Director General: Lt. Gen.Harpal Singh
Parent organisation: Ministry of Defence
49. MNRE holds 'Chintan Baithak' with the stakeholders of Renewable Energy (RE) sector
Ministry of New & Renewable Energy (MNRE) held a 'Chintan Baithak' with the stakeholders of the Renewable Energy sector in New Delhi. The 'Baithak' (meet) was chaired by Secretary, MNRE, Shri Anand Kumar. The meeting deliberated upon various issues pertaining to the RE sector viz. solar, wind, bio-energy, small-hydro, regulatory issues, bidding & pricing, demand forecasting, financing of RE projects, energy storage, Make in India, skilling India's RE workforce etc. Various policy interventions were suggested for the sector by the stakeholders at 'Chintan Baithak' and MNRE will consider these suggestions.
50. Drug firm Merck Ltd renamed as Procter & Gamble Health Ltd
Drug firm Merck Ltd has been renamed as Procter & Gamble Health Ltd. The name has been changed following P&G's global acquisition of the consumer health business of Merck KGaA, Germany. The company has received approval from the Registrar of Companies, Mumbai, Maharashtra, for change of name from Merck Ltd to Procter & Gamble Health Ltd.
52. Desert Storm 2019 started
Desert Storm 2019, touted to be the longest Cross-Country Rally in India started. The four-day-long Rally will see over 100 teams competing in high temperatures, dune crossings and fast technical gravel straights. It comprises 600 km of extremely harsh Special Stages in addition to over 900 km of Transport Stages. The first stage, covering a distance of 158 km, is starting from Bikaner in Rajasthan.
53. BharatPe launches India's first UPI Bahi Khata for merchants
BharatPe - India's first Fintech start-up enabling payments for merchants through interoperable UPI QR codes, has announced its foray into merchant services with a new app. The app allows merchants to record their cash/credit (Udhar) sales customer wise, request accounts receivable from customers via SMS payment links, and keep track of accounts payable to suppliers, among other services. The BharatPe app also serves as a networking platform for merchants to connect with other BharatPe merchants near them.
54. Yes Bank acquires 12.79% stake in CG Power
Yes Bank has acquired eight crore shares in electric equipment maker CG Power and Industrial Solutions. The acquired shares represent 12.79 per cent ownership in the company
Points to remember : Yes Bank
Headquarters: Mumbai
MD & CEO: Ravneet Gill