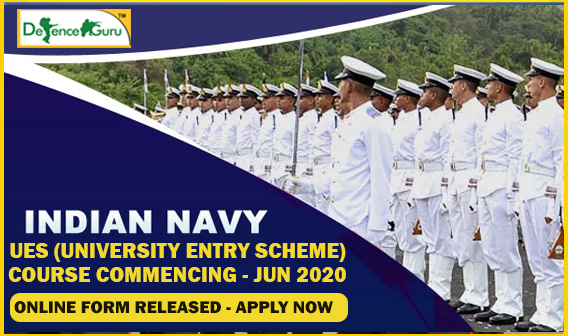 Applications are invited from unmarried candidates who fulfil eligibility condition of Nationality as laid down by the Government of India for entry as Short Service Commission (SSC) officers in Executive (IT) and Technical Branches of the Indian Navy under University Entry Scheme (UES), for course commencing June 2020. Eligible candidates can apply online from 7th June 2019 to 27th July 2019. Other details like age limit, educational qualification, selection process and how to apply are given below.
Indian Navy University Entry Scheme (UES) Course Commencing JUN 2020
Important Dates
Online Application Start : 07 June 2019
Registration Last Date : 27 June 2019
Complete Form Last Date : 27 June 2019
SSB Interview : Dec. 2019 to April 2020
ELIGIBILITY CONDITIONS
Who Can Apply: Applicant should be in the final year (regular BE/B.Tech or integrated degree course) in an AICTE recognised university with one of the following educational qualifications and should have obtained a minimum of 60 % aggregate marks till pre final year (till V semester of regular BE/B.Tech and VII Semester of 5 year integrated degree course).
EXECUTIVE BRANCH
Branch/Cadre : IT
Qualification: (i) Information Technology (ii) Computer Science Engineering (iii) Computer Engineering
TECHNICAL BRANCH
Branch/Cadre : Engineering Branch
Qualification: (i) Mechanical (ii) Marine (iii) Instrumentation (iv) Production (v) Aeronautical (vi) Industrial Engineering & Management (vii) Control Engg (viii) Aero Space (ix) Automobiles (x) Metallurgy (xi) Mechatronics (xii) Instrumentation & control
Branch/Cadre : Electrical Branch
Qualification: (i) Electrical (ii) Electronics (iii) Tele Communication (iv) Electronics and Communication (v) Power Engineering (vi) Control System Engineering (vii) Power Electronics (viii) Avionics (ix) Electronics & Instrumentation (x) Instrumentation & Control (xi) Instrumentation
Age: Born between 02 Jul 1996 to 01 Jul 1999 both dates inclusive
HOW TO APPLY : Online (e- application). Whilst filling up the e-application, it is advisable to keep the relevant documents readily available to enable the following:-
(a) Correct filling up of personal particulars. Details are to be filled up as given in the Matriculation Certificate.
(b) Fields such as e-mail address, mobile number are mandatory fields and need to be filled.
(c) All relevant documents (preferably in original) date of birth proof (10th & 12th certificate), 10th marksheet, 12th marksheet and marksheets till 5th /7th semester of regular BE/ B Tech and Integrated Course respectively, BE/ B Tech CGPA to % conversion formula and a recent passport size colour photograph should be scanned for attaching the same while filling up the application.
(d) If any application with scanned document is not legible/ readable for any reason, it will be rejected. (e) Print 2 copies of this filled application form which have system generated application number. Carry one copy of application during Campus Interview. Another copy of application is to be carried alongwith original documents/certificates as mentioned in Para 5 (c) above while appearing for SSB.
SELECTION PROCEDURE : The eligible candidates will have to undergo Naval Campus Selection process. The Candidates qualifying the campus interview will be shortlisted for SSB interview on the basis of his preference for the entry, subject to meeting the eligibility criteria for particular entry. In case of excess candidates IHQ/MOD (Navy) reserves the right to further shortlist and fix cut-off percentage.
Candidates shortlisted during campus interview will be called for SSB interview at Bangalore/Bhopal/ Coimbatore/ Visakhapatnam/Kolkata between Dec 19 to Apr 20. Selected candidates will be
informed about their selection for SSB interview on their E-mail as provided by candidates in their application form.