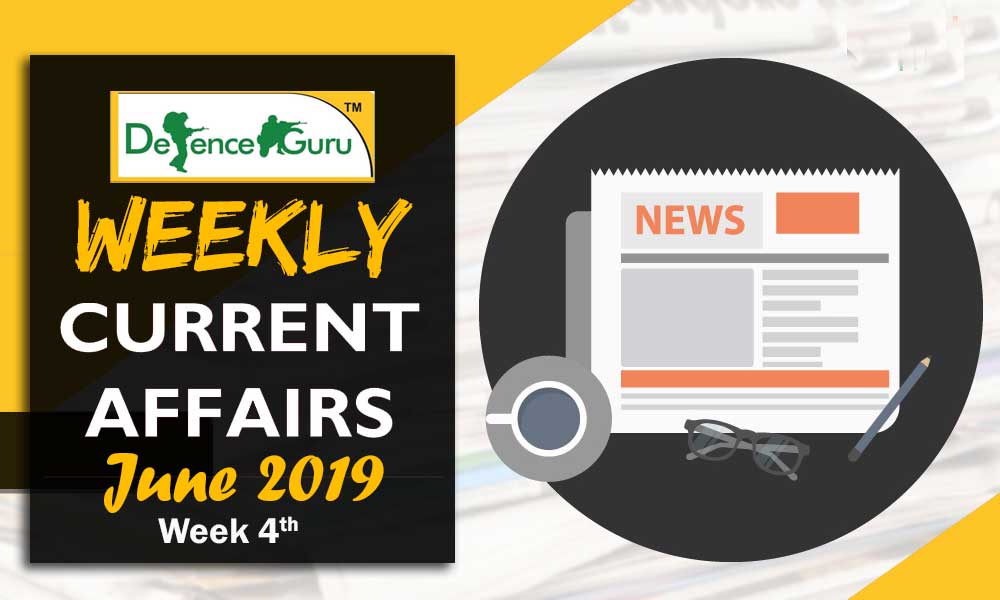 1. Prasanta Kumar Saikia
Justice Prasanta Kumar Saikia (Retired) has been sworn in as the Chairperson of the Lokayukta of Arunachal Pradesh,. Mr. Yeshi Tsering was also sworn in as Member of the Lokayukta. The oath was administered by Governor Dr. B D Mishra at Raj Bhawan in Itanagar.
2. Samant Goel
Punjab cadre IPS officer Samant Goel has been appointed as the new chief of Research & Analysis Wing. He played a key role in planning the February 2019 Balakot airstrikes and the 2016 surgical strikes.
Assam Cadre IPS officer Arvind Kumar will be the new Director of Intelligence Bureau. Mr. Kumar is known as the government's Kashmir expert.
3. IOA and FIH chief Batra elected IOC member
Narinder Batra, Indian Olympic Association president was elected as a member of the International Olympic Committee. Batra now has a rare distinction of becoming a member of the IOC, while heading a National Olympic Committee as well as an international federation. He is the first Indian to have this distinction.
4. Ann Sarnoff
WarnerMedia has chosen its head of Warner Bros and named Ann Sarnoff as its CEO. Ann is the first woman to run the studio in its 96-year history. She currently serves as president of BBC Studios Americas. Founded in 1923, Warner Bros is one of Hollywood's "Big Five," which also includes Paramount, Universal, Columbia and Disney.
5. Justice Raghvendra Singh Chauhan
Justice Raghvendra Singh Chauhan was sworn-in as Chief Justice of Telangana High Court in Hyderabad. Justice Chauhan is the second Chief Justice of the Telangana High Court after the bifurcation of the erstwhile Andhra Pradesh High Court last year. Governor ESL Narasimhan administered the oath of office to Justice Chauhan at Raj Bhavan.
6. Amitabh Kant gets a two-year extension as Niti Aayog CEO
Amitabh Kant was given a two-year extension as Chief Executive Officer of NITI Aayog. The Appointments Committee of the Cabinet has approved the extension of Mr Kant's tenure for a further period of two years beyond June 30, 2019, i.e. up to June 30, 2021, on the same terms and conditions.
Points to Remember : National Institution for Transforming India (NITI) Aayog
The NITI Aayog (National Institution for Transforming India) is a policy think tank of the Government of India.
Chairman: Narendra Modi
Vice Chairman: Rajiv Kumar
7. Lessons Life Taught Me Unknowingly- autobiography( Anupam Kher
Bollywood actor Anupam Kher is coming out with his autobiography, Lessons Life Taught Me Unknowingly that is set to hit stands on 5 August. Kher, one of the most prolific actors in the Indian film industry, has over 530 films in several languages, both in India and the West, 100 plays and numerous TV shows to his credit.
He is a winner of two National awards, eight Filmfare awards and a BAFTA nomination. He is also a recipient of the Padma Shree and Padma Bhushan awards.
8. Eminent Gandhian Jharna Dhara Chowdhury
Eminent Social Activist and secretary of the Gandhi Ashram Trust in Jayag, Noakhali, Bangladesh Jharna Dhara Chowdhury passed away in Dhaka. In recognition of her work, Jharna Dhara Chowdhury was honoured with Padma Shri in 2013. She was also awarded Jamnalal Bajaj award in 1998.
She devoted her whole life to promoting peace, communal harmony and social justice. She was deeply influenced by the Gandhian principles of non-violence and communal harmony.
9. Mohammed Baji
Eminent freedom fighter Mohammed Baji died at his residence in Nabarangpur District of Odisha. He was a close associate of tribal civil rights activist Laxman Nayak. He had joined the Indian National Congress in 1936, the year Odisha became a separate province on the basis of language. He also joined the Quit India Movement and was held on August 19, 1942. Baji was injured in police firing during the 1942 movement when 29 tribals were killed while protesting before the Mathili police station in Malkangiri district.
10. Swami Satyamitranand Giri Maharaj
Swami Satyamitranand Giri Maharaj, a renowned seer, passed away at Dehradun in Uttarakhand after a prolonged illness. The 87-year-old head of Bharat Mata Janhit Trust was undergoing treatment for some time at a hospital. He was a recipient of Padma Bhushan that has contributed immensely to society and dedicated his entire life for the welfare of underprivileged people.
11. Mohan Ranade
Freedom fighter Mohan Ranade, who participated in Goa's liberation movement, passed away. Ranade was awarded Padmashri in 2001 and Sangli Bhushan in 2006. He received the Goa Puraskar in 1986 for social work.
During Goa's liberation movement, Ranade was active in attacking police stations at Betim, Banastarim and other outposts. He was arrested by Portuguese police in 1955 and was imprisoned at the Fort of Caxias near Lisbon in Portugal. He was kept in solitary confinement for six years.
12. Abdul Sattar
Former Pakistan Foreign Minister Abdul Sattar passed away. Sattar served as the Foreign minister under then-president Pervez Musharraf government from 1999 to 2002. Sattar also served as the foreign secretary from 1986-88. He was the part of Mussaraf delegation who visited India for the historic Agra Summit in 2001.
13. Marcus Trescothick announces retirement from professional cricket
Former England star Marcus Trescothick announced he would retire at the end of the season, bringing down the curtain on a 27-season career. The 43-year-old opening batsman, who played 76 Tests and 123 one-day internationals, has scored a total of 26,234 first-class runs since making his debut for Somerset in 1993.
14. India captain Virat Kohli becomes the fastest batsman to score 20,000 runs
India captain Virat Kohli became the fastest batsman to reach 20,000 international runs. Virat Kohli took just 417 innings to reach the milestone and bettered the time taken by legends such as Tendulkar and Lara.
Prior to India vs West Indies match, Kohli was 37 runs short of the milestone and reached in the 25th over of the India innings. Kohli, thus, became the 12th batsman and third Indian after Tendulkar and Rahul Dravid to reach 20,000 international runs.
15. IOC strips world boxing body AIBA of Olympic status
The International Olympic Committee (IOC) stripped Olympic status from the troubled world boxing body AIBA (International Boxing Association). As a result, the IOC will now organize qualifying and final tournaments for the 2020 Tokyo Games. Lausanne-based AIBA has said it is near bankruptcy with debts of about 17 million US Dollars.
16. India's junior women's team adjudged best in Black Forest Cup
In Boxing, India's junior women pugilists clinched seven medals, including five gold, while the team was adjudged the best of the tournament in the Black Forest Cup in Villingen, Schwenningen, Germany. Haryana's Neha (54kg) and Karnataka's Anju Devi (50kg) claimed the honours of best boxer and promising player of the tournament. Ten countries including India, Ukraine, Germany, Kazakhstan, Latvia, Hungary, Lithuania, Mongolia, Greece, and Poland took part in this tournament.
17. Indian women's hockey team clinches FIH Series finals
Indian women's hockey team beat Asian Games champions and hosts Japan 3-1 in the summit clash of the FIH Series Finals in Hiroshima. Indian men had won the FIH Series Finals in Bhubaneswar recently. For India, Gurjit Kaur scored two goals while captain Rani Rampal gave India early lead. Gurjit was adjudged the highest scorer of the tournament with 11 strikes to her name while captain Rani Rampal was declared player of the tournament.
18. French Grand Prix-2019
The reigning world champion Lewis Hamilton continued his run of form as he won the 2019 French Grand Prix at Circuit Paul Ricard. The win also marked Hamilton's sixth triumph in eight races this season. The Mercedes driver Hamilton defeated his teammate Valtteri Bottas.
19. NASA announces 'Dragonfly' mission to explore Saturn's moon, Titan
The US space agency NASA announced that it will launch a spacecraft in 2026 to explore the richly organic world of Titan. A rotorcraft called 'Dragonfly' will arrive at the Saturn's moon in 2034, looking for prebiotic chemical processes common on both Titan and Earth. It may lend clues to how life may have arisen on Earth. Titan is the second largest moon in the solar system and is an icy world whose surface is completely obscured by a nitrogen-based golden atmosphere, four times denser than Earth's.
20. PM Modi outlines his 5 I vision in G-20 meet at Osaka
Prime Minister Narendra Modi has outlined his 5 I vision to maximize digital technology for social benefit. He put thrust on Inclusiveness, Indigenization, Innovation, Investment and Infrastructure and International Cooperation. Prime Minister Narendra Modi also held a tri-lateral meeting with Chinese President Xi Jinping and Russian President Vladimir Putin and discussed issues like terrorism and climate change on the sidelines of the G-20 summit.
21. PM Modi chairs RIC meet with Putin, Xi Jinping
Prime minister Narendra Modi chaired the informal meeting of the RIC (Russia, India and China) framework on the sidelines of the G-20 summit. The meeting was attended by Russian President Vladimir Putin and Chinese leader Xi Jinping. The interactions at the level of the leadership of these countries to discuss global issues are of immense importance.
22. Saudi Arabia raises India's Haj quota by 30,000
Saudi Arabia has increased India's Haj quota by 30,000. Now the quota has been raised from 170,000 to 200,000, paving the way for 30,000 more Indians to go for the annual Islamic pilgrimage to Mecca. The issue of India's Haj quota was discussed during Prime Minister Narendra Modi's bilateral talks with Crown Prince of Saudi Arabia Mohammed bin Salman.
23. G-20 Osaka summit-2019
G20 Summit took place in Osaka, Japan. The theme of the summit is 'Human-centred future society'. Several state heads including Prime Minister Narendra Modi became part in the two-day summit. 19 countries, the European Union and several special invitees participated at the Osaka Summit.
Points to Remember: G-20
2020 G20 summit: Riyadh, Saudi Arabia
2021 G20 summit: Italy
2022 G20 summit: India
24. BIMSTEC Day celebrated in Dhaka
Members of the 7 countries regional grouping Bengal Initiative for Multi-Sectoral Technical and Economic Cooperation (BIMSTEC) celebrated the BIMSTEC Day in Dhaka. Foreign Minister of Bangladesh Dr A K Abdul Momen was the chief guest of the event. Acting High Commissioner Bishwadip Dey represented India in the event.
Points to remember: BIMSTEC
The BIMSTEC member states- Bangladesh, India, Myanmar, Sri Lanka, Thailand, Nepal and Bhutan.
25. International Day Against Drug Abuse and Illicit Trafficking: 26 June
The International Day Against Drug Abuse and Illicit Trafficking is observed annually on 26 June, since 1989. This day is observed by the United Nations against drug abuse and the illegal drug trade. 2019 Theme: Health for Justice. Justice for Health
26. United Nations Public Service Day: 23 June
The United Nations Public Service Day is celebrated on June 23 of every year. On this day, the UN Public Service Awards are given. The First award ceremony occurred in 2003. It is known as the most esteemed global acknowledgement of magnificence in public service. The United Nations Public Service Forum (UNPSF) 2019 will happen in the Republic of Azerbaijan from 24 to 26 June 2019.
27. UAE launches UN-developed anti-money laundering platform
The UAE has become the first country in the Gulf to launch a new reporting platform developed by the United Nations Office on Drugs and Crime to curb organised crimes. The UAE's Financial Intelligence Unit launched the new anti-money laundering platform 'goAML', which has been open for registration since May. All financial entities and Designated Non-Financial Businesses or Professions have to register on this system. The platform will help the FIU prevent money laundering, financing of terrorism and other illicit financial activities.
28. Awami League of Bangladesh celebrated its 70th foundation
The ruling Awami League of Bangladesh celebrated its 70th founding day on 23rd June 2019. Prime Minister and President of the Awami League of Bangladesh Sheikh Hasina has greeted the countrymen on this occasion. Awami League was founded on June 23, 1949, in Dhaka of the then East Pakistan. It led a number of major movements such as the Language Movement in 1952, anti- Ayub movement in 1962 and mass surge in 1969. Finally, after the Liberation War against the Pakistani forces actively supported by India, Bangladesh emerged as an independent country in 1971.
29. Ghazouani wins Mauritania presidency with 52 per cent of votes
Mauritania's government-backed candidate Mohamed Ould Ghazouani won the presidential election. The electoral commission declared Ghazouani winner with 52% of the vote. His nearest rival, anti-slavery campaigner Biram Dah Abeid, came second with 18.58%. The election was the first in the sparsely populated Saharan nation's history, since independence from France in 1960, to choose a successor to a democratically elected president.
Points to Remember: Mauritania
Capital: Nouakchott
Currency: Mauritanian ouguiya
30. Go Tribal campaign launched
Tribal Affairs Ministry and TRIFED launched go tribal campaign in association with Amazon Global in New Delhi. The collaboration aims to create awareness and promote tribal arts and crafts as well as aid in socio-economic welfare of over 700 Indian tribes. Through this initiative the government want to promote the tribal communities and their art while helping them to go global and providing them opportunities to attain a sustainable livelihood.
Points to remember
Minister of State for Tribal Affairs Renuka Singh Saruta
31. HRD ministry releases EQUIP vision plan
In a bid to transform the higher education sector in the country, the Ministry of Human Resource Development released an ambitious five-year vision plan. The report has been termed as Education Quality Upgradation and Inclusion Programme (EQUIP), which will be taken to the Cabinet for approval after inter-departmental consultations. The groups of ten experts drawn from senior academicians, administrators and industrialists have suggested more than 50 initiatives that would transform the higher education sector completely.
Points to remember
Minister of Human Resource Development: Dr. Ramesh Pokhriyal 'Nishank'
32. IIT Kanpur honours Gopichand with an honorary doctorate
India's chief national badminton coach Pullela Gopichand was bestowed upon an honorary doctorate by IIT Kanpur on the occasion of their 52nd convocation. The received the honour from former ISRO chairman and Chairman of Board of Governors of IIT Kanpur, Prof K Radhakrishnan. Former President APJ Abdul Kalam and former Prime Minister Manmohan Singh are past recipients of the honour.
33. Indian Naval Ship Tarkash reaches Alexandria
Indian Naval Ship Tarkash reached Alexandria on a three-day visit to Egypt, as a part of Western Fleet Overseas Deployment programme. During the visit of Tarkash professional interactions are planned with the Egyptian Navy towards further enhancing co-operation between the two forces. The geostrategic location of Egypt provides this visit with the unique advantage of being at the crossroads of Africa, Asia and Europe.
34. Statistics Day: 29 June 2019
Statistics Day celebrated on 29 June 2019. The theme of Statistics Day, 2019 is "Sustainable Development Goals (SDGs)". The aim of this day is to popularize the use of Statistics in everyday life and sensitize the public as to how Statistics helps in shaping and framing policies. It has been designated as one of the Special Days to be celebrated at the national level and is celebrated on the birth anniversary of Prof. P C Mahalanobis, on 29th June, in recognition of his invaluable contribution in establishing the National Statistical System.
35. A life-size sculpture of Maharaja Ranjit Singh unveiled at historic Lahore Fort
A life-size sculpture of Maharaja Ranjit Singh was unveiled at the historic Lahore Fort in Pakistan to mark his 180th death anniversary. He ruled over Punjab for close to 40 years in the early 19th century. It took eight months to complete the eight-feet tall statue of the Sikh ruler sitting on his favourite horse named Kahar Bahar. The horse was a gift from Dost Muhammad Khan, the founder of the Barazkai dynasty.
36. India signs loan agreement of USD 328M with World Bank for Andhra Pradesh
India has signed a loan agreement of 328 million dollars with the World Bank for improved health services in Andhra Pradesh. The agreement will help to improve the quality and responsiveness of public health services in Andhra Pradesh. The World Bank loan will support the Andhra Pradesh government to scales-up its efforts to bring better health care to all its citizens, especially pregnant women and those at risk of non-communicable diseases, like hypertension, diabetes and cervical cancer.
37. Conclave on 'Transforming North East India through Science and Technology' beings in Meghalaya
In Meghalaya, a two-day North East Conclave 2019 on 'Transforming North East India through Science and Technology' began at Shillong. It has been organised by the Institute of Bio-resources and Sustainable Development (IBSD). In this conclave leading experts and policymakers from different parts of the country along with local stakeholders will come together to discuss transforming North East India through Science and Technology.
38. FSSAI calls for visible labelling of packaged foods
The Food Safety and Standards Authority of India (FSSAI) has issued draft regulations aiming to mandate packaged food companies to label high fat, sugar and salt contents in the front of the package itself in red colour. Alarmed by rising rates of obesity and diabetes, India has been planning rules from as early as two years ago. The food labels will also declare, per serve percentage contribution to RDA (recommended dietary allowance) on the front of the pack.
39. Mumbai named India's most expensive city
Mumbai is India's most expensive city and among the top 20 costliest cities surveyed in Asia for expatriates. According to Mercer's 25th Annual Cost of Living Survey, Mumbai fell 12 spots and was ranked at the 67th position out of 209 cities surveyed. The costliest city in the world for the second consecutive year is Hong Kong followed by Tokyo, Singapore and Seoul.
40. Zojila tunnel's project cost surges to Rs 8,400 crore
The project cost for the 14.2 km Zojila tunnel connecting Srinagar to Leh has surged by Rs 1,600 crore to Rs 8,400 crore. Construction work on the 14.2 km long Zojila tunnel project has been stuck since May 2018. Asia's longest and strategic bi-directional tunnel, the Zojila project will provide all-weather connectivity between J&K's Srinagar, Kargil and Leh. It will cut down the time taken to cross Zojila pass from the present three and a half hours to just 15 minutes. Zojila pass, situated at an altitude of 11,578 feet on Srinagar-Kargil-Leh National Highway.
41. Sindhu Festivals being celebrated in Leh
In the Ladakh Region of Jammu and Kashmir, Sindhu Festivals is being celebrated on the bank of Indus River in Leh. Jammu and Kashmir Governor Satya Pal Malik inaugurated the festival. The festival is celebrated every year to attract tourists to Ladakh by presenting the Indus River as a symbol of the multi-dimensional cultural identity of India. The main attraction of the festival is local Folk songs and dances, exhibitions of handicrafts, and ethnic food items.
42. India signs USD 400M loan agreement with World Bank to eliminate
World Bank India has signed a loan agreement worth 400 million dollars with the World Bank to help treat and eliminate Tuberculosis from the country. In India, around five lakh people died every year due to Tuberculosis. The World Bank supported program will cover nine States and it will support the government's National Strategic Plan to end TB in India by 2025. The Program will provide financial incentives to private sector care providers for reporting cases of TB and ensuring that their patients complete the treatment regimen.
43. Govt sets up a working group to revise the current series of WPI
The Government has constituted a Working Group for the revision of the current series of Wholesale Price Index. Prof. Ramesh Chand, Member, Niti Aayog will be the chairman of the 18-member committee. The Office of Economic Adviser, Department for Promotion of Industry and Internal Trade will be the nodal office for the Working Group. The current series of Wholesale Price Index with 2011-12 as the base year was introduced in May 2017. Since 2011-12, significant structural changes have taken place in the economy. Therefore, it has become necessary to examine the index numbers of the Wholesale Price Index.
44. PM Modi reaches Osaka for G20 Summit
Prime Minister Narendra Modi reached the Japanese city of Osaka to attend the G20 Summit. This summit will be an important stepping stone for India towards hosting the G-20 Summit in 2022 when the country will usher in a New India in the 75th Anniversary of the Independence. The theme of the Osaka summit is 'Human-centred future society'. Issues related to artificial intelligence, common efforts to address major global challenges such as terrorism and climate change form the reach agenda of the summit.
45. Beekeeping Development Committee released its report
The Economic Advisory Council to the Prime Minister set up a Beekeeping Development Committee under the Chairmanship of Professor Bibek Debroy. The Beekeeping Development Committee (BDC) has released its report. BDC was constituted with the objective of identifying ways of advancing beekeeping in India, that can help in improving agricultural productivity, enhancing employment generation, augmenting nutritional security and sustaining biodiversity.
46. MoA signed to set up Centre for Inland & Coastal Maritime Technology at IIT Kharagpur
A Memorandum of Agreement (MoA) was signed between the Ministry of Shipping and IIT, Kharagpur for setting up the Centre for Inland and Coastal Maritime Technology. The Centre will focus on indigenisation of ship designing, building and testing. The MoA will further the dream of Make in India and reduce the recurring cost incurred in the import of technology. Presently, only Germany, the Netherlands, Russia and Belgium have model testing facilities for ships.
47. Vaishno Devi shrine to have own disaster response force by Sept 2020
The Mata Vaishno Devi shrine, a religious pilgrimage will get a dedicated in-house disaster response force by September next year. Training of the board staff who will be the first respondents in case of any eventuality has already begun at the headquarters of 7th battalion of National Disaster Response Force (NDRF) in Punjab. Nearly 86 lakh pilgrims visited the shrine, atop the Trikuta hills in Reasi district of Jammu region, last year, highest in the last five years.
48. Kerala tops health rankings in NITI Aayog report
For the second year in a row, Kerala has retained its top rank in the national health index. The report analyses the overall performance and incremental improvement in all the states. According to the Health Index 2019 released by NITI Aayog, Kerala is the top performer with a score of 74.01 out of 100, followed by Andhra Pradesh with 65.13 and Maharashtra with 63.99. Uttar Pradesh was the worst-performing state with a score of 28.61, followed by Bihar and Odisha.
49. IAF team to participate in 'Garuda' in France
An Indian Air Force (IAF) contingent, including Sukhoi fighter jets, will participate in a joint air exercise 'Garuda' with the French Air Force. The Garuda contingent will depart on June 25 and the exercise will take place between July 1 and July 14 in France. This is the sixth edition of the exercise which is intended for both the air forces to exercise together and learn best practices each one has to offer. Earlier, India and France had recently held naval drills in the Arabian Sea under the Varuna series war games in which Indian naval fighters along with the Rafale-M of the French Air Force took part.
50. Government to launch Universal Smart Card Driving License
Ministry of Road Transport and Highways has decided to modify the format of driving licenses to smart card type driving licences. Ministry has prescribed a common standard format and design of the Driving Licence for the whole of the country. This Ministry, through its flagship application called SARATHI developed by NIC, has a common countrywide database of all driving license holders. The SARATHI application has the feature to identify duplicate records online in real time and access information about the challans if any.
51. Maharashtra to get floating solar power generation plants on four dams
Maharashtra is all set to get floating solar power generation plants on four dams. The backwater of Wardha, Bebala, Khadakpurna and Pentakli dams has been selected for setting up the floating solar panels as per the Swiss Challenge method. The estimated investment per megawatt is 4.45 crore rupees, with a total installed capacity of 500 MW. A committee headed by the executive director of the Vidarbha Irrigation Development Corporation (VIDC) is currently scrutinising the detailed project report and drafting the tenders.
52. World Bank approves $147 Million Loan to the Government of Jharkhand
The Government of India, the Government of Jharkhand and the World Bank, signed a $147 Million Loan Agreement. The agreement has been signed to provide basic urban services to the people of Jharkhand and help improve the management capacity of the urban local bodies (ULBs) in the State. The Jharkhand Municipal Development Project will focus on improving the municipal sector's capacity to provide basic urban services. It will invest in urban services such as water supply, sewerage, drainage, and urban roads; and strengthen the capacity of the Jharkhand Urban Infrastructure Development Company (JUIDCO) as well as that of the ULBs to carry out reforms in the areas of urban finance and governance.
53. Dr Reddy''s launches the therapeutic equivalent of Vitamin K1
Dr. Reddy's Laboratories has launched Phytonadione injectable emulsion USP, 10 mg/ml single dose ampules, a therapeutic equivalent generic version of Vitamin K1 (Phytonadione) in the U.S.A. The company said the audit of its Formulations Manufacturing Plants (Vizag SEZ Plant 1 and Vizag SEZ Plant 2) at Duvvada, Visakhapatnam by the USFDA, has been completed on June 21 and it has been issued a Form 483 with 2 observations. As per the USFDA, Form 483 is issued to a firm's management at the conclusion of an inspection when the investigator has observed any conditions that in its judgement may constitute violations of the Food Drug and Cosmetic Act and related Acts.
54. Foodgrains production estimated at 283.37 million tonnes during 2018-19
The foodgrains production in the country is estimated at 283.37 million tonnes during 2018-19. This is 17.63 million tonnes higher than the average production of the last three years. Official sources in the Agriculture Ministry said the Centre is implementing several Crop Development Schemes and Programs through the States. The Indian Council of Agricultural Research is conducting basic and strategic research relating to crop improvement, production and protection technologies suitable to different situations.
55. SBI plans to tap Singapore SME businesses
The State Bank of India is planning to expand its market in Singapore by enhancing its relationship across small and medium enterprises (SMEs). The SBI has served the Singapore retail and corporate sectors as a qualified full bank since 2008. It has six branches and offering ATM services under ATM5 network across the island state and two remittance centres. The SBI plans to offer its YONO app, an omnichannel service at the fingertip, to manage a wide range of financial services here. During his visit to Singapore on May 31, 2018, Prime Minister Narendra Modi had launched three Indian apps - BHIM, Rupay and SBI app - at a 'Business, Innovation and Community Event'.
56. RBI launches NBFCs CMS for filing online complaints against banks
The Reserve Bank of India has launched an application on its website for lodging complaints against banks and NBFCs. RBI Governor Shaktikanta Das launched the Complaint Management System (CMS), a software application. The application system improves transparency by keeping the complainants informed through auto-generated acknowledgements and enabling them to track the status of their complaints and file appeals online against the decisions of the Ombudsmen, where applicable. He informed that the RBI also plans to introduce a dedicated Interactive Voice Response (IVR) system for tracking the status of complaints.
57. RBI Deputy Governor Viral Acharya resigns
Reserve Bank of India (RBI) Deputy Governor Viral Acharya resigned six months before the scheduled end of his term. Acharya took up his post on January 20, 2017, for a term of three years. He is the central bank's youngest deputy governor post-economic liberalisation. His tenure was to end on January 20, 2020. In December last year, Urjit Patel had stepped down from the post of RBI governor following differences with the government.
DEFENCE GURU,S GATEWAY TO DEFENCE
58. Krishnaswamy Natarajan - Director General of Indian Coast Guard
Krishnaswamy Natarajan was appointed Director General of the Indian Coast Guard replacing Rajendra Singh. K. Natarajan, the second Coast Guard officer to lead the force,. He joined the force on January 18, 1984, and holds a Masters Degree in Defence and Strategic Studies from Madras University.
59. Balakot strike: Operation Bandar
The air strike by the Indian Air Force (IAF) on a terrorist training camp in Balakot, Pakistan, was code-named 'Operation Bandar'. It was IAF's first strike inside Pakistan since the 1971 Indo-Pak war. The airstrikes were conducted 12 days after the terror outfit claimed responsibility for a suicide attack on a Central Reserve Police Force (CRPF) convoy in Kashmir. IAF had deployed 12 Mirage 2000 fighter jets for the attack. The two pilots launched Israeli-made Spice 2000 satellite-guided bombs at the target.
60. Nuclear-capable missile Prithvi-II test fired successfully developed by Indigenously
India successfully test-fired indigenously developed nuclear-capable missile Prithvi-II as part of a user trial by the Army from a test range off the Odisha coast. The trial of the surface-to-surface missile, which has a strike range of 350 km, was carried out from a mobile launcher from Launch Complex-III of the Integrated Test Range, ITR at Chandipur. The missile is capable of carrying 500 to 1000 kg of warheads and is powered by liquid propulsion twin engines. Prithvi-II was also successfully test-fired on 21st February, last year from the ITR at Chandipur.
61. ISRO forms new PSU to commercially exploit technology, launch satellites
The ISRO has formed a public sector undertaking (PSU) named as the NewSpace India Limited (NSIL). It will commercially exploit the research and development work of the space agency, co-produce PSLV and launch satellites through SSLVs. The functions of NSIL will involve small satellite technology transfer to industry, manufacture of Small Satellite Launch Vehicle (SSLV). The new company will also look after the production and marketing of space-based products and services, including launch an application, developed by ISRO Centres. Antrix Corporation Ltd is another PSU under the Department of Space that acts as a commercial arm of the ISRO.
62. IAF to get Rafale fighter jets in September
India will get its first Rafale fighter jets in September this year with a ceremony being planned in France to officially hand over the cutting edge combat jets to the air force.
The performance of the Rafale — specially the exceptional Meteor missile that out ranges every Pakistani air force jet and the SCALP that can virtually cover every inch of the neighbouring nation — makes a case for inducting the fighters in greater numbers.
The modern fighters — to be armed with the SCALP ground attack missiles that have a range well over 300 km — will be flown by Indian pilots in France for at least 1,500 hours as part of the testing and acceptance process.
The first batch of four combat jets is expected to be ferried to India by May next year and will form the first squadron of Rafale fighters that will be deployed at the Ambala airbase that is positioned for action along the Western border with Pakistan. The 17 Squadron is expected to be the first to receive the jets.

Now, Indian pilots will undergo extensive training on the jets in France as part of the contract and will initially be given lessons on simulators for the full range of missions planned with the fleet. While Indian teams are already in France to oversee the project, Indian pilots have been getting extensive exposure to Rafale characteristics at bilateral air combat drills.
At present, an Indian air force contingent that includes four Su 30 MKI fighters are at Mont De Marsan in southwest France for the latest edition of the Garuda air exercise. France is fielding its Rafale and Mirage fighters for the war game and pilots are expected to be exchanged for the combat drills planned.

The Navy went through similar drills in May this year with the marine version of the Rafale during the Varuna series of exercises that took place in the Arabian Sea. The Navy's MiG 29K fighters went up against French Rafale's in one of the most complex bilateral exercises conducted between the two sides.