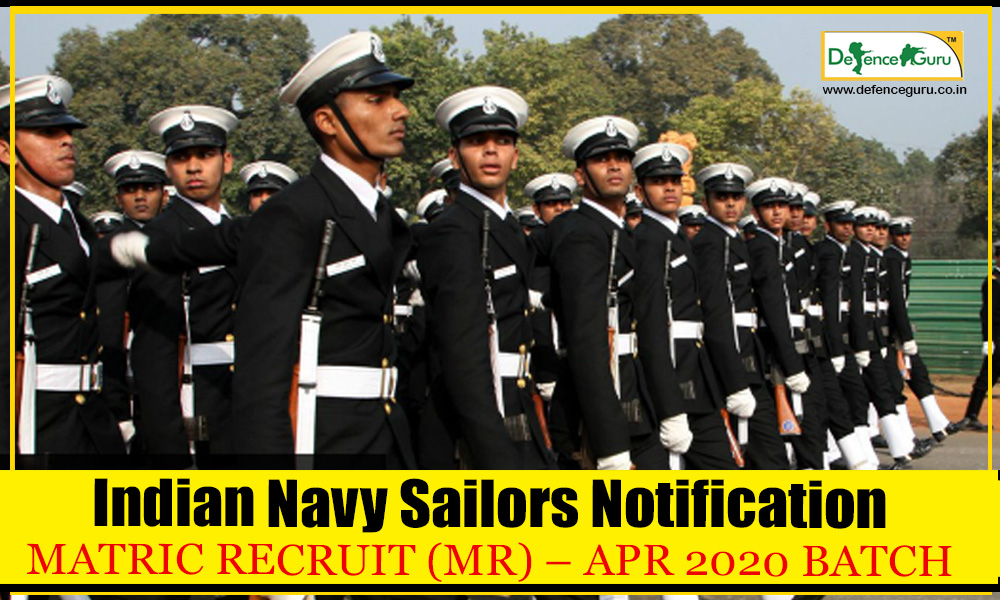 Indian Navy Sailors MR Notification April 2020
Indian Navy Invites Online Applications From Unmarried Male Candidates For Enrolment As Sailors For Matric Recruit (Mr) – Apr 2020 Batch For Course Commencing April 2020. Online applications are invited from unmarried male candidates (who fulfill eligibility conditions as laid down by the Government of India) for enrolment as sailors for 400 vacancies (Approximately) for Matric
Recruit (MR) – Apr 2020 batch.
Important Date
Application Begin - 26 July 2019
LAST DATE OF ONLINE APPLICATION – 01 AUG 2019

Navy Sailors MR Educational Qualifications
Candidate must have passed Matriculation Examination from the Boards of School Education recognised by MHRD, Govt. of India.
Job Specifications.
(a) Chef. They would be required to prepare food as per menu (both vegetarian and non-vegetarian including handling of meat products) and accounting of ration. In addition, they will also be allotted other duties as per Service requirement.
(b) Steward. They would be required to serve food in the officers? messes, as waiters, housekeeping, accounting of funds, wine and stores, preparation of menu etc. In addition, they will also be allotted other duties as per Service requirement.
(c) Hygienist. They will be required to clean washroom, shower spaces and other areas. In addition, they will also be allotted other duties as per Service requirement.
Navy Sailors MR Age
Candidates should be born between 01 Apr 2000 to 31 Mar 2003 (Both dates inclusive).
Pay & Allowances: During the initial training period, a stipend of Rs. 14,600/- per month will be admissible. On successful completion of initial training, they will be placed in Level 3 of the Defence Pay Matrix (? 21,700- ?69,100). In addition, they will be paid MSP @ ? 5200/- per month plus DA (as applicable).
SELECTION CRITERIA : Selection of recruits is based on State wise merit of their performance in Computer-based Examination, subject to qualifying Physical Fitness Test (PFT) and fitness in Medical Examinations.
Computer-based Examination.
(a) The question paper will be computer-based with a total of 50 questions, each carrying 01 mark.
(b) The question paper will be bilingual (Hindi & English) and objective type (multiple-choice).
(c) The question paper will comprise of two sections i.e. Science & Mathematics and General Knowledge.
(d) The standard of the question paper will be that of class 10th syllabus & sample papers for the examination are available on website www.joinindiannavy.gov.in.
(e) Duration of examination will be 30 minutes.
(f) The candidates are required to pass in all sections and in aggregate. The Navy reserves the right to determine the pass marks in each Section and in aggregate.
(g) Penalty for Wrong Answer. Candidates should note that there will be penalty (Negative Marking) for wrong answers marked by a candidate in the question paper. There are four alternatives
for the answer to every question. For each question for which a wrong answer has been given by the candidate, one fourth (0.25) of the marks assigned to that question will be deducted as penalty.
Physical Fitness Test (PFT)
(a) Qualifying in Physical Fitness Test (PFT) is mandatory for selection.
(b) PFT will consist of 1.6 Km run to be completed in 7 minutes, 20 squat ups (Uthak Baithak) and 10 Push-ups. Candidates undergoing PFT will do so at their own risk.
Advisory:- Proficiency in sports, swimming and extra-curricular activities is desirable.
Medical Standards
(a) Medical examination will be conducted by authorised military doctors as per medical standard prescribed in current regulations applicable to sailors on entry.
(b) Minimum height 157 cms. Weight and Chest should be proportionate. Minimum chest expansion of 5 cms. Details regarding minimum height standards for entry into the Indian Navy as Sailors,
including applicable relaxations, can be accessed from the official recruitment website.
(c) The candidate must be in good physical and mental health, free from any defect likely to interfere with the efficient performance of duties both ashore and afloat under peace as well as war conditions as per Navy Order (Special) 01/2008. Extract of the Navy Order can be accessed from the official Indian Navy recruitment website.
(d) Preliminary Medical Examination for recruitment will be considered only "Provisionally fit subject to fitness in the final medical examination". Final Enrolment Medical Examination of all
selected candidates will be done at INS Chilka. Candidates who are found medically fit in Final Enrolment Medical Examination will be enrolled. Candidates who are found medically unfit will
be advised to appeal against its findin
Examination Fee.- Candidates (except SC/ST candidates, who are exempted from payment of fee) are required to pay a fee of Rs. 205/- (Rupees Two hundred five only) through online mode by using
net banking or by using Visa/ Master/ RuPay Credit/ Debit Card/ UPI. Admit Card for the online examination will be issued to those candidates who have successfully submitted the application
and examination fee or are entitled to waiver off examination fee.
HOW TO APPLY
For this entry, the candidates can apply ONLINE ONLY on the official website www.joinindiannavy.gov.in from 26 Jul 19 to 01 Aug 19. The procedure is as follows:-
(a) Before filling online application, keep matric certificate & Mark sheet ready for reference.
(b) Register yourself on www.joinindiannavy.gov.in with your e-mail ID, if not registered already. The Applicants must ensure that while filling their Application Form, they are providing
their valid and active e-mail IDs and mobile numbers.
(c) Log–in with the registered E-mail ID and Click on "Current Opportunities".
(d) Click on "Apply" button.
(e) Fill up the Form completely. Before clicking the "Submit? button make sure all the details are correct, all required documents are scanned in original & uploaded.
(f) Admit Card will be generated for only those candidates who have submitted the online application and have made the payment of examination fee or are entitled to waiver off examination fee.
(g) Candidates who have submitted the application on the last date of application submission, will get one additional day, to make payment of fees. Candidates who fail to make the payment
even on the additional day will not be given further chance and hence their application will be cancelled.
(h) Photographs. THE PHOTOGRAPH TO BE UPLOADED SHOULD BE OF GOOD QUALITY WITH BLUE BACKGROUND.