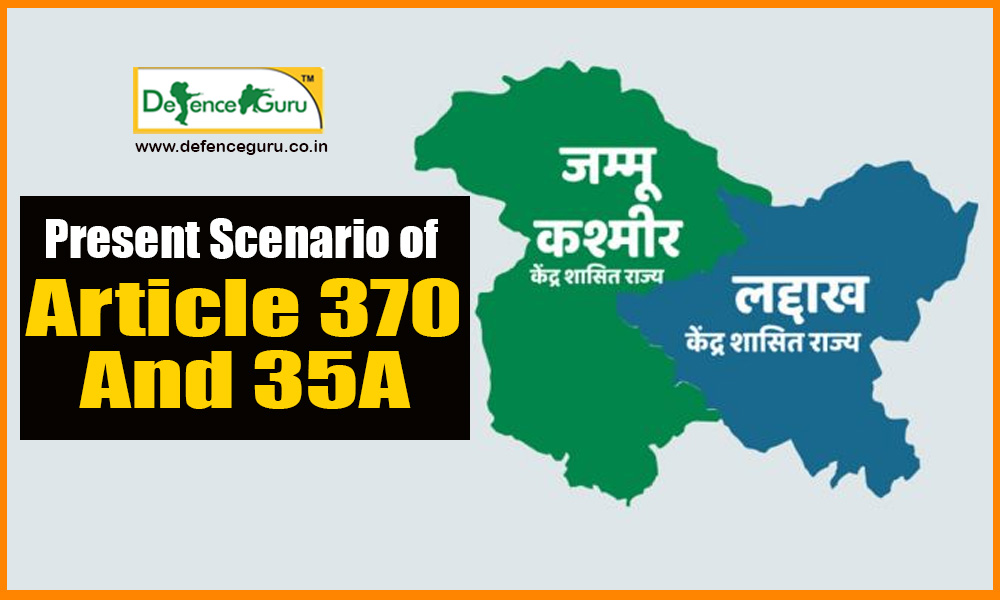 Article 370 Kashmir - Important for SSB Interview
THE NOW AND THEN OF ARTICLE 370
Branded as the Paradise of Earth, Jammu and Kashmir has been a timeless beauty! The land has been in controversy since the day of its inception. Be it the reign of Maharaja Hari Singh, Partition War of 1947, rule of Sheikh Abdullah, or the recent scathing conflict between separatist and Indian Army, this heavenly state has been an eye catcher of the world and also of SSB interview. Strange combination right? Well the trending 'Article 370 of Kashmir' is a sure shot of upcoming SSB so go through the topic well.
Hailed as the burning issue of August, 2019, the revoking of Article 370 in Kashmir has surged heated debates across the country. The relaxation of autonomy in Kashmir has been slayed. People from the opposition party (Congress), film fraternity, media, politics and the layman are all bursting with boundless opinions. While some condemn the move, others rejoice with pleasure. So here is a bevy of changes arising from abrogation of Article 370:
Drafted initially in 1947 by Sheikh Abdullah, Article 370 merged with 35 A, embedded Kashmiris with a separate set of laws in terms of citizenship, owing property, and fundamental rights. The exclusive rights formed separate constitution for Kashmir and gave it autonomy in opposition to other states. But the nullifying of Article 370 will now equalize Kashmir to all other Indian states. It brings an end to separate constitution power.
PROPERTY AND OTHER RIGHTS FOR NON- PERMANENT KASHMIRI+ DECISION OF UNINON TERRITORY:
Earlier the non- permanent kashmiri citizens were not allowed to purchase and sell land therein. Whereas now, not only people from Kashmir and other states can own and sell land in Kashmir but also Jammu & Kashmir and Ladakh have been bifurcated into 2 Union Territories. Add to that, non- permanent Kashmir citizens can now apply for aids, scholarships, and government jobs in the state.
Amongst the political outrage in the Parliament, Union Home Minister Amit Shah clarified the decision as "not a political move" but a benefit in the cause of Nationalism.
Restraining of dual citizenship will confine the residents of Kashmir to 1 identity, that is, Indian as opposed to earlier times where they could claim 2 citizenships, Indian as well as that of Kashmir.
Tri-colour in the mountains: Oh yes, the resolution of Article 370 brings down 2 flags of Kashmir to just 1. Earlier Kashmir had a flag of India and a flag of its own state but now the Indian tri colour will rule all over the sky!
The decision also terminates two anthems in the land of Kashmir. While the residents sang national and state anthem, from now on the melody of 'jan gan man' will be the sole voice!
Fundamental rights were a special treat for Kashmiris as they had their own governance of state right and property right. Whereas post the resolution of article 370 the fundamental rights of Kashmir citizens will be similar to those of residents of other states.
Furthermore, Central Government has now the right to declare Emergency while earlier only State possessed this power.
CENTRAL GOVERNMENT'S RIGHTS:
As a groundbreaking measure, Central government will now be in position to change state's name and geographical boundaries while earlier the Parliament needed state government's approval for inserting new laws.
Plunging to finance, the Jammu & Kashmir state government will not clear any bill rather the power shifts to Union government.
Other noticeable changes include applicability of RTI+ reservation for minorities.
Real nationalism is maintenance of harmony and peace across the country. Nullifying of Article 370 might proof as a bane or a boon for the state but it remains assured that things are massively changing. In this stirring scenario the righteous duty of an Indian lies in holding hands together and extending support to each other. So with 370 or without 370, unity amongst Indians must go on!