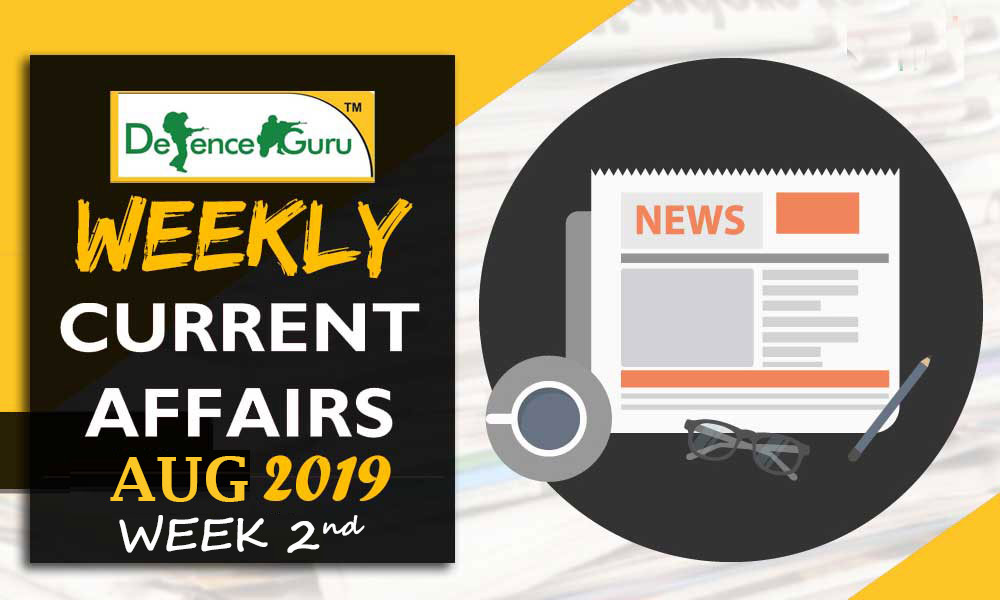 Current Affairs August 2019

1. Alejandro Giammattei
Conservative Alejandro Giammattei was elected as Guatemala's president after defeating former first lady Sandra Torres in a run-off. He had polled almost 58.5 per cent with a lead of 550,000 votes. Giammattei will take over in January from corruption-tainted President Jimmy Morales.
2. Valentina Elangbam
Valentina Elangbam, a 9-year-old girl from Manipur, has been appointed as the brand ambassador for the Chief Minister's Green Manipur Mission. The young child was seen weeping profusely in a viral video after two trees that she had planted were cut down. Kakching district's Valentina is a class 5 student of Amutombi Divine Life School in Hiyanglam Wabagai. She had planted two Gulmohar trees when she was in class 1 near the bank of a river in her locality. Valentina was inconsolably upset after the trees she had planted were cut down while the river bank was being cleaned.
3. National Youth Awards ( 2016-17)
Minister of Youth Affairs and Sports Kiren Rijiju conferred the National Youth Awards for 2016-17 on 20 individuals and 3 organisations on the occasion of International Youth Day. The awards are presented to young persons and voluntary organization every year in recognition of their outstanding work in the field of national development and social service. The awards aim towards encouraging them to develop a sense of responsibility to the community and also to improve their own potential as a good citizen. An individual award comprises a medal, a certificate and a cash prize of 50 thousand rupees while a cash prize of 2 lakh rupees is given to the youth organisation.
4. 66th National Film Awards - 2018
The 66th National Film Awards were announced.
Gujarati film 'Hellaro' was declared Best Feature Film winner while 'Badhai Ho' bagged the award for Best Popular Film Providing Wholesome Entertainment.
Hindi movie 'Padman' was declared Best Film on Social Issues, while Kannada film 'Ondalla Eradalla' got Nargis Dutt Award for Best Feature Film on National Integration.
Ayushman Khurana and Vicky Kaushal jointly won Best Actor Award for their performances in 'Andhadhun' and 'Uri: The Surgical Strike', while Keerthy Suresh was declared the winner of Best Actress trophy for her performance in Telugu movie 'Mahanati'.
Aditya Dhar won Best Director Award for 'Uri: The Surgical Strike'.
Marathi movie Naal got the Indira Gandhi Award for Best Debut Film of a Director.
Uttarakhand was declared the Most Film Friendly State.
'Gully Boy', 'Andhadhun' bag awards at Indian Film Festival, Melbourne
'Gully Boy' and 'AndhaDhun' managed to bag top honours at The Indian Film Festival of Melbourne.
'Gully Boy' was awarded best film at Indian Film Festival of Melbourne and Tabu was awarded best actress in 'Andhadhun.'
Meanwhile, Sriram Raghavan was awarded best director for the movie 'Andhadhun.'
5. Bharat Ratna
President Ram Nath Kovind conferred country's highest civilian honour Bharat Ratna on former President Pranab Mukherjee and posthumously on social activist Nanaji Deshmukh and singer Bhupen Hazarika. Pranab Mukherjee received the award from the President, at a function in Rashtrapati Bhawan. Bhupen Hazarika's son Tej Hazarika received the award on his behalf. While a relative of Nanaji Deshmukh, Virender Jeet Singh received the award for him.
Points to remember: Bharat Ratna
The Bharat Ratna is the highest civilian award of the Republic of India.
Recipients receive a Sanad (certificate) signed by the President and a peepal-leaf–shaped medallion.
6. NITI Aayog to launch the Fourth Edition of Women Transforming India Awards
The NITI Aayog launched the Fourth Edition of Women Transforming India (WTI) Awards The Women Transforming India (WTI) Awards is being organized in collaboration with the United Nations to recognize women entrepreneurs from across India. This year's theme is 'Women and Entrepreneurship', in continuation of the theme for WTI Awards 2018. WhatsApp has collaborated with NITI Aayog for WTI Awards 2019 and will be providing support amounting to US$100,000 to the award winners.
7. ISRO announces Vikram Sarabhai Journalism Award in Space Science, Technology and Research
As part of the centenary year celebrations of Dr Vikram Sarabhai, the father of Indian space programme, ISRO institutes two categories of awards in journalism. ISRO has announced its "Vikram Sarabhai Journalism Award in Space Science, Technology and Research" to recognize and reward journalists who have actively contributed towards the field of space science, applications, and research. The articles published from 2019 to 2020 will be considered, says the Indian Space Research Organisation (ISRO).There are two categories of awards, wherein the first category holds a cash price of Rs 5,00,000, a medal and citation and two journalists or freelancers of print media will be awarded. The second category of the award holds 3 cash prizes of Rs 3,00,000, 2,00,000 and 1,00,000 and citation each for journalists or freelancers of print media.
8. 'Listening, Learning & Leading' By M Venkaiah Naidu's
Home Minister Amit Shah released a book titled 'Listening, Learning & Leading' chronicling the two years in office by Vice President M Venkaiah Naidu. The book was released in Chennai at a function organised by Information and Broadcasting Ministry. The book captures the glimpses of the Vice President's 330 public engagements across the country in the last two years. The book also showcases the Vice President's feat as the Rajya Sabha Chairman in enhancing its effectiveness and promoting its efficiency.
9. DJ Arafat
DJ Arafat, a singer from Ivory Coast with a huge following in francophone Africa, has died after a road accident in Abidjan. Born in Abidjan in 1986, the artist, whose real name is Ange Didier Huon, had a massive audience in French-speaking western and central African countries. He issued 11 albums, mainly of "coupe-decale" a dance music form combining rapid percussion, choppy rhythms with hip hop-style vocals. He Arafat was named "Best Artist of the Year" at the Ivorian "Coupe-decale" Awards in 2016 and 2017.
10. Dayanidhi Nayak
Noted freedom fighter Dayanidhi Nayak, who struggled against the British Government during the Quit India movement,passed away. One of the 32 freedom fighters from Panimora, he joined the Quit India movement against the British government and was a devout follower of Mahatma Gandhi. During Quit India movement, he was jailed for nine months. He was a pure Gandhian and he even used to weave his own clothes like him.
11. David Berman
Singer-songwriter David Berman who formed the indie group 'Silver Jews' in the 1990s passed away. Berman had suffered from drug addiction for years and had survived several overdoses and one suicide attempt. The 'Silver Jews' that recorded six studio albums between 1994 and 2008 rarely performed live. Berman also authored two books of poetry, 'Actual Air,' and 'The Portable February.
12. Women's cricket to be part of Birmingham 2022 Commonwealth Games
The Commonwealth Games Federation announced that women's T20 Cricket has been confirmed for inclusion at the Birmingham Commonwealth Games in 2022. Eight teams will compete across eight match days, as cricket returns to the Commonwealth Games for the first time since 1998. The 2022 Commonwealth Games will take place in England from 27th July to 7th August.
13. Aishwarya Pissay becomes first Indian to claim a world title in motorsports
Aishwarya Pissay became the first Indian to claim a world title in motorsports. She won the FIM World Cup (Fédération Internationale de Motocyclisme) in the women's category after the final round of the championship at Varpalota in Hungary. The 23-year old from Bengaluru also finished second in the FIM Junior category. She was placed second in the junior category with 46 points, behind championship winner Tomas de Gavardo (60) of Chile.
14. Netherlands' star footballer Wesley Sneijder announces retirement
Netherlands' star footballer Wesley Sneijder has announced his retirement from football. The player has signed a contract with Utrecht's business partners and he will be able to watch the team play from a private box in the upcoming season. Sneijder had begun his career in 2002 with football club Ajax and later on in his career, he went on to represent Real Madrid. With Real Madrid, the player was able to win the La Liga title in the 2007-08 season. Sneijder represented the Dutch 134 times from 2003 to 2018.
15. Djokovic remains at top of ATP rankings
Wimbledon 2019 champion Novak Djokovic remains to be at the top of the ATP rankings. Rafael Nadal, who secured his 35th Master's title, takes the second position. Nadal overwhelmed Russia's Daniil Medvedev 6-3 6-0 to win his fifth Rogers Cup in Montreal. The top three ATP rankings are unchanged. Serbia's Djokovic has collected 12,325 points atop Roger Federer of Switzerland with 7,460 points is on the third-placed. Austria's Dominic Thiem retains the fourth place.
16. Indian junior shuttlers win 6 medals at Bulgarian Open
In Badminton, Indian junior shuttlers won six medals at the Bulgarian Junior International Championships which concluded in Pazardzhik, Bulgaria. The medals comprised of three gold, a silver and two bronze. The gold medals were won by Samiya Imad Faruqui in women's singles, the duo of Edvin Joy and Shruti Mishra in Mixed Doubles and pair of Tanisha Crasto and Aditi Bhatt in women's doubles. Men's doubles combination of Ishan Bhatnagar and Vishnuvardhan settled for the silver medal. Malvika Bansod and Meiraba Luwang won a bronze each in other singles events.
17. Sourabh Verma wins Hyderabad Open title
In Badminton, reigning national champion, Sourabh Verma clinched the Men's singles title in the Hyderabad Open. He beat Singapore's Loh Kean Yew 21-13, 14-21, 21-16 in a 52-minute final clash. The 26-year-old Sourabh from Madhya Pradesh had won the Slovenian International in May this year. He had also won two Super 100 titles at the Dutch Open and Russian Open last year.
18. Virat Kohli becomes second-highest run-getter for India in ODIs
Skipper Virat Kohli became the second-highest run-getter for India in ODIs as he played a knock of 120 runs against Windies in the second ODI. Kohli broke the record of former captain Sourav Ganguly who scored 11,363 runs in 311 ODIs. Kohli is only behind the legendary batsman Sachin Tendulkar. Tendulkar has 18,426 runs, most in the ODI cricket by any batsman in the world. Kohli also became the highest run-scorer against West Indies in the ODIs.
19. Bajrang Punia wins gold at Tbilisi Grand Prix
India's top two wrestlers continued their impressive run this season with Bajrang Punia defending his title at Tbilisi Grand Prix, while Vinesh Phogat reaching her fourth final at Medved event. Bajrang prevailed 2-0 over Iran's Peiman Bibyani in the 65kg final of the men's freestyle competition in the capital city of Georgia. It is fourth gold of the season for the Asian Games champion Bajrang after standing atop the podium at Dan Kolov, Asian Championship and Ali Aliev tournament..At the Medved event in Minsk, Belarus, Vinesh outclassed local wrestler Yafremenka 11-0 in the 53kg semifinals to be in line for her fourth consecutive gold.
20. 33 players named for junior national camp ahead of Sultan of Johor Cup
Hockey India named 33 players for the junior men's national camp to prepare for the Sultan of Johor Cup. The preparation of Cup will begin 12th of August at the Sports Authority of India centre in Bengaluru. A total of three goalkeepers, 10 defenders, mid-fielders and forwards each have been called up for the 20-day camp. The Indian junior men's team is scheduled to take part in the 9th Sultan of Johor Cup in October.
21. Khelo India to be held in Assam from 10th to 22nd January
The Khelo India will be held in Assam from 10th to 22nd of January 2020. In a bid to give a boost to sports infrastructure, the Assam government will build 22 thousand playgrounds at the village level. 500 such playgrounds will be inaugurated this year.
22. BCCI has agreed to come under NADA ambit
Sports Secretary Radheshyam Jhulaniya said that the Indian cricket board has agreed to come under the ambit of the National Anti-Doping Agency (NADA). Till date, Sweden-based International Dope Testing Management (IDTM) has been collecting the cricketers' samples and submitting them to the National Dope Testing Laboratory (NDTL). IDTM was an outside agency hired by BCCI to take samples. Now, All the cricketers will be tested by NADA.
Board of Control for Cricket in India (BCCI) CEO: Rahul Johri
23. Shubhman Gill becomes youngest to score a double century for Indian representative side
Shubhman Gill became the youngest Indian batsman to score double hundred as he amassed unbeaten 204 runs in the third unofficial Test against West Indies A. Gill achieved this feat at the age of 19 years and 334 days. He broke the record of Gautam Gambhir who had scored 218 for India Board President's XI against Zimbabwe in 2002 at the age of 20 years and 124 days.
34. Amla retires from international cricket
South African batsman Hashim Amla has retired from all international cricket with immediate effect. Amla played 124 Tests, 181 ODIs and 44 T20Is between in his 15-year-long cricketing career. He collected the country's third-most runs in ODI cricket after former skipper AB de Villiers and Kallis. He is the only South African to have scored a triple century in the Test format.
35. World Archery suspends AAI for defying guidelines
The World Archery (WA) suspended the Archery Association of India (AAI) for defying its guidelines by electing two parallel bodies. The last event in which the archers can participate under the Indian flag is the World Archery Youth Championships in Madrid from 19th to 25th of this month. The AAI had to find a solution by the end of last month as per the deadline was given by WA's executive board and since no progress has been made, the world governing body implemented the suspension order.
36. Mary Kom, Lovlina Borgohain selected for world boxing championships
Six-time world champion M C Mary Kom and Lovlina Borgohain have been selected for the upcoming women's world boxing championships based on their recent performances. The 36-year-old Mary Kom, who has already claimed two gold medals this year India Open and a recent tournament in Indonesia, has been selected in the 51kg category. World and Asian bronze-medallist Borgohain will be competing in the 69kg category. The world championships are scheduled from October 3 to 13 in Russia.
37. Bengaluru gears up to host the 10th AASF Asian Age Group Championships 2019
Bengaluru for the very first time will host the 10th AASF Asian Age Group Championships 2019 starting 24th September 2019. The event will give the country's swimming enthusiasts an opportunity to witness the largest Aquatic Event in the continent. The nine-day sporting extravaganza will have over 40 countries and more than 1200 participants vying for top honours in four different aquatic disciplines such as swimming, diving, water polo and the visually-mesmerizing artistic swimming. This is the largest Aquatic Championships in Asia as is also open for participants from Age Groups I (15-17 years) and II (14 years and below).
38. Fiona Kolbinger becomes the first woman to win cycling's Transcontinental Race
German paediatric cancer researcher Fiona Kolbinger, 24, has won the Transcontinental Race, becoming the first woman to do so. She won after cycling nearly 4,000km from Bulgaria to France unassisted in just 10 days, two hours and 48 minutes. The ultra-endurance race, founded by the late British cyclist Mike Hall, sees participants travel through seven or more countries on a self-navigated route, with several stops at mandatory checkpoints in Bulgaria, Serbia, Italy and France. Riders are only allowed to take along what they can carry, and consume what they can find from various services en route.
39. Flying unauthorized drone in Dhaka banned
In Bangladesh, flying of drones without permission from the authority has been banned in Dhaka. Dhaka Metropolitan Police said that flying drone or any remote-controlled devices without authorization is a punishable offence as it creates panic among people. People in Dhaka are flying drones for the purposes of recreation or capturing a photo or unknown reasons without seeking permission from the due authorities which is illegal.
40. International Youth Day: 12 August
The United Nations' (UN) International Youth Day is celebrated on August 12 each year to recognize efforts of the world's youth in enhancing global society. It is meant as an opportunity for governments and others to draw attention to youth issues worldwide.
2019 Theme: 'Transforming education'
41. World Biofuel Day: 10th August
World Biofuel Day is observed every year on the 10th of August to create awareness about the importance of non-fossil fuels as an alternative to conventional fossil fuels. Ministry of Petroleum & Natural Gas is organising World Biofuel Day on 10th August 2019 at Vigyan Bhavan, New Delhi. This year the theme of the World Biofuel Day is "Production of Biodiesel from Used Cooking Oil (UCO)". Food Safety and Standards Authority of India (FSSAI) is implementing a strategy to divert UCO from the food value chain and curb current illegal usage.
42. Reconstruction of 380 earthquake affected cultural and heritage sites completes in Nepal
In Nepal reconstruction of 380 earthquake affected cultural and heritage sites have been completed. More than 2.12 billion Nepali rupees spent on reconstruction of 96 World Heritage monuments and 284 other archaeological and cultural sites. Over 150 heritage sites are scheduled to be reconstructed in the current financial year. Besides the Government of Nepal many other countries including India, China, USA, Switzerland, Sri Lanka and Japan are providing financial assistance for the reconstruction of quake-affected heritage monuments. A total of 891 sites of archaeological and cultural importance were damaged in Nepal due to the devastating earthquake in 2015.

43. Air India first flight over North Pole from Delhi to San Francisco on August 15
Air India will soon become the first Indian airline to fly over the North Pole while connecting New Delhi and North America. The inaugural flight over the Polar region will take flight on the nation's Independence Day, August 15, 2019 and will fly from New Delhi to San Francisco. According to the airline, passengers will benefit from the reduced flight times, the airline by conserving fuel, reduce travel times, improve aircraft utility and reduce carbon emission. Currently, the route that the New Delhi to San Francisco flight takes goes over Bangladesh, Myanmar, China and Japan before crossing the Pacific Ocean to enter the United States of America.
44. Hardeep Singh Puri launches Swachh Survekshan 2020
Union Minister of State (Independent Charge) for Housing and Urban Affairs Hardeep Singh Puri launched the Swachh Survekshan 2020 (SS 2020). It is the fifth edition of the annual cleanliness survey conducted by the Ministry of Housing and Urban Affairs (MoHUA). Alongside, the Swachh Survekshan 2020 Toolkit, SBM Water PLUS Protocol and Toolkit, Swachh Nagar - an integrated waste management app and AI enabled mSBM App were also launched. The Swachh Survekshan 2020 Toolkit launched by the minister contains the detailed survey methodology and component indicators with scores to help cities to prepare themselves for the survey. SS 2020 will be conducted in January 2020.
45. Prakash Javadekar releases patriotic song 'Watan' in run up to Independence Day
Information and Broadcasting Minister Prakash Javadekar released a patriotic song 'Watan' in New Delhi in the run up to the Independence Day. The special song has been produced by Doordarshan The song highlights several path-breaking initiatives of the government including the determination and vision behind the recent successful launch of Chandrayaan 2. The song also pays tribute to the bravery and valour of the armed forces and the martyrs of the country. The song has been sung by famous Bollywood singer Javed Ali. It has been penned by lyricist Alok Shrivastav and music composed by Dushyant.
46. CBI should be given statutory status equal to CAG, says CJI
Chief Justice of India, Justice Ranjan Gogoi said Central Bureau of Investigation should be given statutory status equal to Comptroller and Auditor General. Justice Gogoi said, CBI is the premier federal investigating agency in the country and it has discharged its duty with honour and distinction during its more than five decades of existence.
CAG: Rajiv Mehrishi
CJI : Ranjan Gogoi
CBI Director General : Rishi Kumar Shukla
47. Former PM Manmohan Singh files Rajya Sabha nomination from Rajasthan
Former Prime Minister Dr. Manmohan Singh filed nomination papers as a Congress candidate for the by-poll to Rajya Sabha from Rajasthan. Dr. Singh filed four sets of nomination papers in the chamber of Returning Officer in the Rajasthan Assembly. This seat fell vacant in June this year after demise of BJP Member Madan Lal Saini. Rajasthan Assembly has 200 seats but currently there are 198 MLAs and two seats are vacant. Congress has 100 MLAs and also enjoys the outside support of 12 out of 13 independents and the legislators of BSP.
48. Legislative Party of Sikkim Democratic Front merges with BJP
The legislative party of Sikkim Democratic Front (SDF) merged itself with Bharatiya Janta Party. Out of 13, 10 MLAs of the SDF joined BJP in the presence of party general secretary Ram Madhav in New Delhi. Senior SDF leader Dorjee Tshering Lepcha said, they want to work under the leadership of Prime Minister Narendra Modi for the development of the state.
49. Global investors summit to be held in Srinagar from October 12
Jammu and Kashmir Administration will host a three-day Global Investors Summit from 12th October this year in Srinagar. The first-ever summit in the state will provide J&K with an opportunity to showcase its strengths, strategies and potential. The summit will also provide an opportunity to allay fears and apprehensions in the minds of outside trade and the business community.
50. Aadhaar-enabled payment system crosses 200 million transactions in July
The umbrella body for digital transactions, NPCI, said that Aadhaar enabled Payment System crossed the milestone of over 200 million transactions during July this year. AePS is a bank led model which allows basic banking transactions at point of sale. In July 2019, the transaction count of AePS stood at 220 million. AePS empowers a bank customer to use Aadhaar as identity to access respective Aadhaar enabled bank account and perform basic banking transactions like cash withdrawal, intrabank or interbank fund transfer and balance enquiry.
51. CRPF 'Madagaar' Helpline number restored in Jammu and Kashmir
The Central Reserve Police Force (CRPF) announced that its 'Madadgaar Helpline' number 14411 was restored after it went inactive due to communication disruption in Jammu and Kashmir. In the tweet, CRPF also mentioned that people can also seek help on its Twitter and Facebook handles @CRPFmadadgaar. People can contact the helpline number for Medical Assistance, Pilgrimage Tourist assistance, Public Safety and Security, Domestic Violence and Eve Teasing, Public Utilities, Natural Calamities, Assistance to Poor, Sports Assistance, Educational Assistance, Civic Action Programme and Recruitment and other information. CRPF had launched the 24×7 helpline 'madadgaar' (14411) in June 2017 to help any Kashmir Valley resident in distress.
52. Army launches 'Mission Reach Out' in Jammu
The Army has launched 'Mission Reach Out' in Jammu to ensure basic necessities and essential services are available in the region. A high-level Mission Reach Out conference to review the prevalent situation in the region was held in the Nagrota Military Station was chaired by White Knight Corps Commander Lt Gen Paramjit Singh. The Corps commander lauded the absolute synergy between the Army, civil administration and other security establishments in maintaining peace, harmony and a conducive environment.
53. NGT directs govt to submit a report on standards for lead in PVC pipes
The National Green Tribunal has directed the Centre to submit a report on standards of lead and to phase out lead as a stabiliser in Polyvinyl Chloride (PVC) pipes that are commonly used in most buildings. A bench headed by NGT chairperson Justice Adarsh Kumar Goel expressed concern that the notification has not been finalised despite its direction. It directed the Ministry of Environment and Forests to submit a report before October 21. The green panel in March had directed the Centre to finalise within two months the standards for using lead in PVC pipes. The NGT was earlier informed that water passing through PVC pipes commonly used in most buildings may contain toxic materials like lead, which has a hazardous effect on human health.
54. Two new UTs, in J&K, will come into effect on Oct 31
With the President's assent to the newly passed Jammu and Kashmir Re-organisation Act comes into effect, the two newly created Union Territories Jammu &Kashmir and Ladakh will officially come into existence on October 31. October 31 happens to be the birth anniversary of the country's first Home Minister Sardar Vallabhbhai Patel, who was instrumental in the merger of about 565 princely states into the Union of India following Independence. The Parliament has given its nod to the J&K Re-organisation Bill on August 6 turned the militancy-hit state in two separate administrative units as Union Territories. According to the new Act, UT J&K will have Assembly while Ladakh will be UT without a Legislature. Each UT will be governed by a separate Lieutenant Governor. The Ladakh UT will have three districts that are Leh, Kargil and Ladakh while the rest 12 districts will remain with J&K UT.
55. Google remembers Vikram Sarabhai on birth anniversary
Google dedicated a doodle to mark the 100th birth anniversary of Indian scientist Vikram Sarabhai. The doodle, illustrated by Mumbai-based guest artist Pavan Rajurkar, had a blue and white portrait of the renowned physicist along with moon, rocket and stars, outlining his association with space programs. Sarabhai, often known as the Father of India's Space Programme,had established the Indian National Committee for Space Research in 1962, which was later renamed as the Indian Space Research Organisation (ISRO). Sarabhai was born on August 12, 1919, in Ahmedabad, Gujarat. Remembered as the founding father of the Indian space programme, Sarabhai set up the Physical Research laboratory in his hometown in Ahmedabad in 1947 which was a precursor to the ISRO.
56. 15-km long national flag unfurled in Raipur
In Chhattisgarh, thousands of students and members of several social organisations unfurled a 15-km long national flag by forming a human chain in Raipur ahead of the Independence day. The event, organised by Vasudhaiv Kutumbakam Foundation, entered the Champions Book of World Records (for the longest tricolour). Thousands of people, including those belonging to 35 social organisations across the state, and students from various schools created a human chain while holding the 15-km long tricolour from Amapara Chowk to Pt Ravishankar Shukla University.
57. Punjab govt to provide 28000 agro-machines to farmers to prevent stubble burning
With a view to making Punjab a 'zero stubble burning state', the Punjab Agriculture Department has initiated a massive drive to provide more than 28000 agro-machines/farm equipment to farmers. Subsidy component of 278 crore rupees will be provided for the scheme during the current fiscal year under the first phase for in-situ management of paddy residue. Subsidy ranging from 50 per cent to 80 per cent is being provided to the farmers under the scheme with 80 percent subsidy to cooperative societies and farmers groups while 50 percent for individuals. The Agriculture Department has fully geared up to complete the task of distribution of this equipment before September 15.
58. Industrial production growth drops to 2% in June
Industrial production growth dropped to two per cent in June this year, mainly on account of the poor show by mining and manufacturing sectors. There was a slowdown in the manufacturing sector, which grew at 1.2 per cent in June as compared to 6.9 per cent a year ago. The expansion in power generation sector stood at 8.2 per cent, compared to 8.5 per cent in the same period last year. Mining growth dropped to 1.6 per cent in June from 6.5 per cent in the corresponding month of the last fiscal.
59. Indian Bank inks pact with Cholamandalam MS General Insurance
Public sector Indian Bank signed a corporate agency agreement with Cholamandalam MS General Insurance Company for distribution of its insurance products to bank customers.According to the agreement, Cholamandalam MS, a Murugappa Group company, would sell its range of insurance policies to customers of Indian Bank. Under the agreement, Cholamandalam MS insurance products will range from the motor, home, health PA, travel insurance, and SME & commercial line of business like fire, engineering and marine insurance.
60. 3rd International Electric Vehicle Conclave held in Manesar, Gurugram
The Minister of State for Heavy Industries and Public Enterprises, Arjun Ram Meghwal, inaugurated the 3rd International Electric Vehicle (EV) Conclave at the International Centre for Automotive Technology (ICAT) in Manesar, Gurugram. The Conclave was held to create a knowledge-sharing platform to ensure the flow of information at all levels in the automotive sector. The EV Conclave organized by ICAT in association with India Energy Storage Alliance (IESA) has grown and transformed itself into a global event since its inception in 2017. The Conclave was attended by more than 200 delegates from more than 80 organizations.
61. VP launches 'Mukhya Mantri Krishi Aashirvad Yojna' in Jharkhand
Vice President M Venkaiah Naidu launched the Jharkhand government's 'Mukhya Mantri Krishi Ashirwad Yojana'. Under this money will be directly transferred into the bank accounts of farmers in the state.
Under the scheme, beneficiaries having farmland of less than one acre to five acres will get 5,000 to 25,000 rupees in their bank accounts. Under the Mukhya Mantri Krishi Ashirwad Yojana, approximately 35 lakh farmers will benefit and by October 3,000 crore rupees will be sent in the accounts of the beneficiaries.
62. UP govt creates a world record by planting over 22 cr saplings in one day
To mark the 77th anniversary of Quit India movement, Uttar Pradesh chief minister Yogi Adityanath launched 'Vriksharopan Mahakumbh'. The drive has created a world record after planting more than 22 crore saplings. The state also entered the Guinness World Records' for distributing 76,823 saplings simultaneously in six hours across the state.
63. MHA, Tripura Govt & NLFT(SD) sign agreement
A memorandum of settlement was signed by the Union Home Ministry, the Tripura state government and the National Liberation Front of Tripura (SD). The agreement amongst three parties was signed after 5 years of negotiations. After the agreement, 88 members of the organisation will surrender on 13th August. 24 members of the NLFT (SD), currently in jail will also surrender to the authorities. The agreement will give an impetus to the continued peaceful situation in the North East.
64. IIT Madras partners with NIOT to harness electricity from ocean waves
Researchers from the Indian Institute of Technology (IIT) Madras and National Institute of Ocean Technology (NIOT) are developing turbines that can harness the power of ocean waves to generate electricity. The research is being headed at IIT Madras by Abdus Samad of Department of Ocean Engineering, who specialises in extracting energy from the ocean waves. The institute has been working since 1993 to make wave energy a reality. The research team comprises four professors from IIT-Madras, including Samad, and three scientists from NIOT.
65. Environment minister Prakash Javadekar launches a website for COP14
Union Environment Minister Prakash Javadekar launched a website 'unccdcop14india.gov.in, which contains all the information related to COP14. The 14th Session of the Conference of the Parties to the United Nations Convention to Combat Desertification (COP14), will take place on 2-13 September 2019 at the India Expo Centre & Mart, Greater Noida, Delhi NCR. Over 3,000 participants from all over the world are expected to participate in COP14. The agenda includes Reversing land degradation and its outcomes while accelerating positive achievements for people and for ecosystems with a view to delivering on Sustainable Development Goals.
66. Uttar Pradesh approved 'Mukhyamantri Nirashrit Besahara Govansh Sahbhagita Yojana'
The Uttar Pradesh cabinet approved 'Mukhyamantri Nirashrit Besahara Govansh Sahbhagita Yojana'. The scheme seeks people's participation in the protection of the stray cattle by providing Rs 30 per animal every day. Rs 109.50 crore has been sanctioned for this scheme. The 2012 census indicated that there were around 205.66 lakh bovines across the state.
67. Two-day 22nd National Conference on e-Governance 2019 inaugurated in Shillong
Dr Jitendra Singh inaugurated the 22nd National Conference on e-Governance 2019 (NCeG), the first-ever in North East region, in Shillong, Meghalaya. The Conference is being attended by senior government officers from across India, researchers and eminent personalities from the IT industry. The conference will be held with the theme "Digital India: Success to Excellence". The conference will provide a platform to disseminate knowledge on effective methods of designing and implementing sustainable e-Governance initiatives to provide end-to-end Digital services.
68. Union HRD Minister to launch 'Samagra Shiksha-Jal Suraksha' Drive
Union HRD Minister Shri Ramesh Pokhriyal 'Nishank' launched 'Samagra Shiksha-Jal Suraksha' drive. The drive aims to create awareness about Water Conservation among all school students in the country. The drive will organise water conservation activities for School Students so that they can become competent, conscientious and committed water citizens of our nation.
69. Govt sanctions over 5,000 electric buses under the second phase of FAME India scheme
Government has sanctioned five thousand 595 electric buses in 64 cities for intracity and intercity operations under the second phase of FAME India scheme. The objective of the scheme is to encourage faster adoption of electric and hybrid vehicle by way of offering upfront incentives on the purchase of electric vehicles. The Faster Adoption and Manufacturing of Hybrid & Electric Vehicles (FAME) India was launched in 2015 under National Electric Mobility Mission (NEMM).
70. Manipur tops in Breastfeeding, Infant & Young Child Feeding Practices
Manipur has topped the rankings in Breastfeeding and Infant and Young Child Feeding Practices in the country. Health and Family Welfare Minister Dr Harsh Vardhan released a report on Breastfeeding in New Delhi. Uttar Pradesh, Rajasthan and Bihar are at the bottom positions in the report card. The Breastfeeding report card has been developed by devising a composite score based on three indicators namely early initiation of breastfeeding, exclusive breastfeeding for six months and complementary feeding at 6-8 months of child's age.
71. India's first underwater train to be launched in Kolkata
India's first underwater train project in Kolkata is almost complete and the metro will soon be operational soon. An example of impeccable engineering, this train is proof of the progress made by Indian Railways. The 16-kilometre long Kolkata Metro project will connect Salt Sector 5 with Howrah Maidan. The tunnel is provided with four-layers of protection to shield the tunnel from the water of Hubli river.
72. Quarter of the world's population facing extreme water stress
Nearly a quarter of the world's population lives in 17 countries facing extremely high water stress, close to "day zero" conditions when the taps run dry. The World Resources Institute's Aqueduct Water Risk Atlas ranked water stress, drought risk. Qatar, Israel, Lebanon, Iran, Jordan, Libya, Kuwait, Saudi Arabia, Eritrea, UAE, San Marino, Bahrain, India, Pakistan, Turkmenistan, Oman and Botswana made up the top 17. The Middle East and North Africa are home to 12 of the most stressed countries, while India, which is ranked 13, has more than three times the population of the other 16.
73. Quit India Movement Day: 08 August
The Quit India Movement was a movement launched at the Bombay session of the All-India Congress Committee by Mahatma Gandhi on 8 August 1942. On this day the Congress adopted the historic 'Quit India Resolution' which declared among other things that the immediate ending of the British rule in India was an urgent necessity. On the same Gandhi made a call to Do or Die in his Quit India speech delivered in Bombay at the Gowalia Tank Maidan. It is also known as August Movement or August Kranti.
73. President Kovind gives assent to AERA (Amendment) Bill- 2019
President Ram Nath Kovind has given his assent to The Airports Economic Regulatory Authority of India, AERA (Amendment) Bill- 2019. A Gazette Notification to this effect has been issued. The Parliament had passed the bill on 2nd of this month. The bill increases the threshold of annual passenger traffic for major airports from 15 lakh to over 35 lakh passengers. Earlier, the Airports Economic Regulatory Authority of India Act, 2008 defined a major airport as one with annual passenger traffic over 15 lakh, or any other airports as notified by the central government.
74. RBL Bank launches India's first health-focused credit card
RBL Bank and digital healthcare platform Practo have partnered to launch an industry first co-branded health credit card. This credit card is powered by Mastercard and is available on both Practo and RBL mobile apps and websites. It offers benefits like unlimited and round-the-clock online consultations with experienced and qualified doctors, one free full body health check-up, while users can use the card to earn points that can be redeemed for availing Practo services like ordering medicine, tests and online consultations. Practo is currently the only platform in the country that lets patients manage their healthcare needs end-to-end.
75. SBI Life Insurance, Indian Bank ink Bancassurance pact
SBI Life Insurance and Indian Bank have entered into a bank assurance pact to offer holistic financial planning solutions to the latter's customers. The partnership will see over 2,851 branches of Indian Bank spread across the country offer SBI Life's diverse range of individual and group insurance solutions. SBI Life will work with Indian Bank to ensure sales training, product support and smooth operational processes in order to offer life insurance policies to its customers. Indian Bank's customers will have access to an array of life insurance products from SBI Life catering to varied life stage needs of the customer.
76. RBI slashes repo rate by 35 basis points
The Reserve Bank has cut the repo rate by 35 basis points to 5.40 per cent to give a fillip to the economy. Repo rate is the rate at which RBI lends to banks. This is the fourth consecutive time that the RBI's Monetary Policy Committee reduced the rate. On earlier three occasions, RBI had reduced repo rate by 25 basis points each. The Monetary Policy Committee has noted that domestic economic activity continues to be weak, with the global slowdown and escalating trade tensions posing downside risks.
77. RBI to set up a central registry for tracking frauds in payment systems
The Reserve Bank of India has decided to set up a Central Payment Fraud Registry to track frauds in the payment systems. Payment system participants will be provided access to this registry for near-real-time fraud monitoring. The aggregated fraud data will be published to educate customers on emerging risks. Currently, banks report all banking frauds to the Central Fraud Monitoring Cell of the Reserve Bank.
78. NCAER expects India's GDP to grow at 6.2% in FY20
According to economic think-tank NCAER's report, India's GDP growth is likely to be 6.2 percent during the current fiscal, down from 6.8 per cent in 2018-19. The forecast is backed on account of flat growth in the agriculture sector. As of August 5, 2019, out of a total number of 36 agro-meteorological sub-divisions in the country, three have received excess rainfall, 21 get normal rainfall, while the remaining 12 sub-divisions were rain deficient.