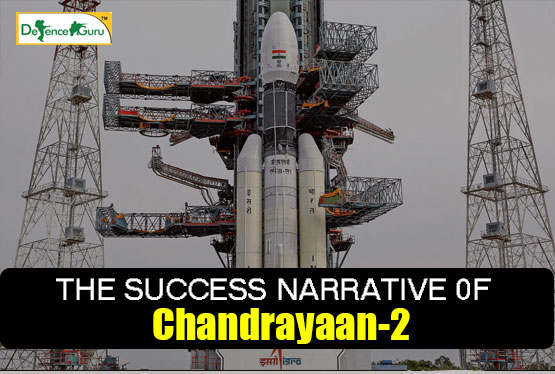 THE SUCCESS NARRATIVE 0F CHANDRAYAAN 2
When the Indian Space Research Organization (ISRO) successfully launched Chandrayaan 1 in 2008, nobody even foresighted its sequel. But guess what, serendipity is the new reality. Life amazes you when least expected.
Something similar happened to India this year. Chandrayaan 2- a remote sensing lunar satellite was initiated on 22 July, 2019 at Satish Dhawan Space Centre adding jewels to Indian crown. The whole nation hailed the launch and rejoiced in the groundbreaking achievement.
Highly predictable for SSB, knowledge about Chandrayaan 2 is must to gather. So here is an in- depth eye shot of the above:
Chandrayaan 2 is an ISRO endeavor, planned to circle the moon and render relevant information. This is the first ever orbiter to circulate the south polar region of moon.
ISRO aims an in- depth study of lunar topography, mineralogy, elemental abundance, the lunar exosphere, and signatures of hydroxyl and water ice with this body of satellite.
Checking up history, it's been exposed that originally ISRO teamed with Russia in 2007 to initiate Chandrayaan2. However Russia's lander's construction got delayed leading Russia to back out. The whole responsibility fell on ISRO and its genius slayed the challenge like a pro!
This master plan follows an intricate schedule, which looks something like:
| | | | | |
| --- | --- | --- | --- | --- |
| 22nd July 2019 | 14th August, 2019 | 20th August, 2019 | 2nd September, 2019 | 7th September |
| Chandrayaan 2 was launched on 22 July 2019 at 9:13 UT (2:43 p.m. Indian Standard Time) on Sriharikota Island on an ISRO Geosynchronous Satellite Launch Vehicle (GSLV) Mark III. | The lander-orbiter pair went round an initial elliptical Earth parking orbit, followed by a trans-lunar injection. | The lander- orbiter pair successfully entered lunar polar orbit. | Due date for the lander- orbiter to separate. | BIG YEAR: Planned for 1 year, the orbiter will evolve into a 100 km altitude and the Vikram lander will navigate into a 30 x 100 km orbit and then land on the surface in the high latitude areas near the south pole, between two craters, Manzinus C and Simpelius N. |
To clear your mind of any ambiguity, a precise description of the parts and structure of this amazing spacecraft is depicted below
Often a question pops in mind that why ISRO choose moon for this experiment. Well the reason says that moon is the closest celestial body to Earth+ moon is the best source of Earth's early history+ moon renders most accurate information about the Solar System.
Moreover, the reason behind selecting south pole region of moon over the north pole region is that the surface area under shadow in South Pole region is large+ it has region of cold traps + fossil record of early Solar System.
Woah, that certainly calls for a salute! Single handedly the intellectuals of ISRO have worked night and day to make their nation proud.
Be thorough with the above article but most importantly take a search glass and look for the hidden lesson behind the saga of Chandrayaan2. Herein that hidden moral is to put your sweat and blood to achieve your goal. Be it a straight ladder or a high mountain, hard work can ease it all!