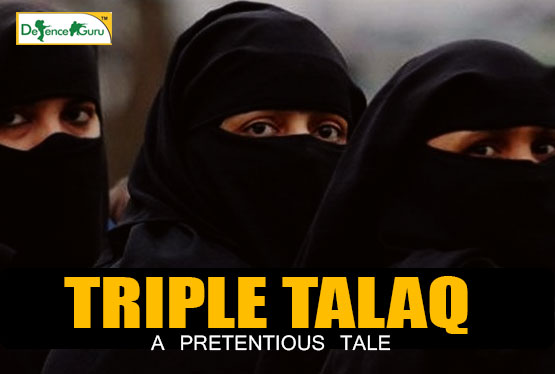 Triple Talaq in India - A Pretentious Tale
'Talaq talaq talaq' and the marriage get nullified. Tell me, is it so simple to end the pious relation of marriage, to terminate an oath taken in front of the Almighty as a witness?
Not only unfortunate but the wakeful reality is unjust when it comes to women slot of India. Initiated in 2017, the issue of triple talaq is hovering in every mind and holds a great chance to be asked in your SSB interview. Compiling in a nutshell all necessary details I bring to you this fulfilling article on the essentialities of triple talaq:
CROSSCHECK YOUR FACTS
In simple words, triple talaq is the Islamic method of giving divorce. However the scene is quite topsy turvy. Holding a common misconception that pronouncing 'talaq' thrice in one go will annul the marriage, is the miserable tale of Islamic divorce in India. On a side note, as per the scriptures there is no such thing as 'instant' talaq. A time period of three months is ordained wherein both the husband and wife maintain their distance and ponder upon their relation. Only after the completion of 3 month the divorce gets completed.
Conditions conditions conditions…. The 3 month time gives a chance to reflect upon the marriage and in case the man and woman feel to reunite they can simply continue their marriage!
There is a certain panel of people, which may include close family, friends, relative or religious advocates who have a stronghold in the decision of divorce. This condition is applied to safe wife and husband from making any immature or impulsive decision.
Lastly, the husband has to give a certain sum of money or any other asset to the wife as per his capacity. More so, if the wife decides to forego this taking the husband need not give anything.
LAW AND ORDER
The truth exposed, it's time to dive into the emergence of recent laws and development done in the case of triple talaq. With the onset of year 2017 the issue of triple talaq came into limelight. It all started with the heartbreaking story of Shayara Bano. Married to Rizwan Ahmed for 15 years, Shayara got the shock of her life when Ahmed blurted out 'talaq talaq talaq' and ended the marriage.
Undaunted and brave Shayara filed a petition in the Supreme Court regarding the violation of triple talaq, polygamy and nikah halala.
On 16 February, 2017 the court probed into the matter by questioning Miss Bano, the Union of India, various women' rights bodies, and the All India Muslim Personal Law Board (AIMPLB).
On 30th march, 2017 a constitutional bench of 5 judges was formed followed by 1st hearing on 11th may, 2017.
On 22nd August, 2017 the court declared triple talaq as unconstitutional by a 3:2 majority.
Post an excruciating discussion, on 28th December, 2018 the Muslim Women Bill was passed in Lok Sabha according to which:
Any form of instant talaq (written, oral or electronic) is considered void.
It is a non- bailable offence and the husband is entitled for a 3 year imprisonment
The wife enjoys the provision of getting an allowance as decided by the Magistrate
Moreover, it is deemed as a cognizable offence, that is, police can arrest the husband without warrant
As just as it may sound, the bill unfortunately got stuck up in Rajya Sabha due to opposition party.
This New Year the Modi government re- introduced the bill in Lok Sabha on 21st June, 2019. Luckily, the bill was approved by Lok Sabha as well as by Rajya Sabha on 30th July 2019. Only the consent of President Ram Nath Kovind is left to add the finishing touch to the whole issue of triple talaq and justice for Muslim women.
A BIRD'S EYE- VIEW OF RECENT CASES
Despite the passing of bill in favor of women, there are still many despondent cases of unjust, unlawful instant triple talaq bursting in the country. Here is a compact list of the same:
Belonging to Shamli district, a woman in July, 2019 alleged that her husband gave triple talaq on phone and she seeks justice now.
Filing a case in of triple talaq in 2019, Seema said that her husband gave her instant divorce inside the premises of the Chief Judicial Magistrate (CJM) court in Etah in July 2019.
In Bareilly, Chand bi got instant divorce because she did not know how to cook.
Despite the approval of law, it has been surveyed that post 1st August, 2019 there are 3 dozen cases of violation reported across the nation and the action has been quite slow.
This August a 30 year old woman from Thane, Maharashtra registered an FIR against her husband who gave her instant divorce electronically, that is, on whatsapp. Lately she has been pressurized by her husband, mother in- law and sister in- law for dowry. However, no one has been arrested till date.
Bushra, coming from Jaani area of Meerut also received instant talaq after demands of dowry and domestic violence. She longs to see her husband, Mohsin behind the bars.
A similar case was filed by Nasreen from Lisadi Gate, Meerut alleging that her husband used to beat her and ended the marriage by giving triple talaq over phone. He flew away to Saudi Arabia to his father and no arrest has been made.
Well well well that's a lot of information to retain, isn't it? But seeing from a different perspective this is the complete dictionary of triple talaq. You need not run your fingers surfing net for this topic anymore. Just scan the above points with open eyes and an open mind and the word 'failure' will be out of your life!