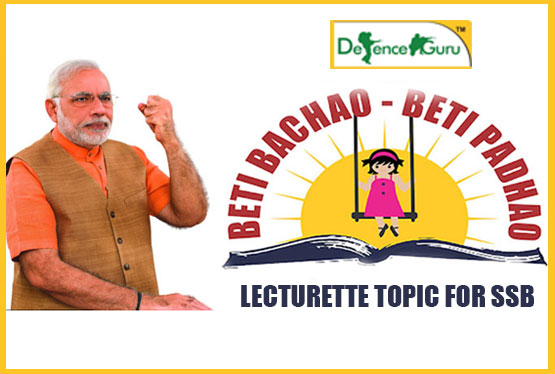 THUMBS UP TO PROUD LADIES
In a world where girl child is deemed as a burden while boys dive into all sort of freedom, our honorable Prime Minister said something opposite. His statement addressed equality of girls and boys "beta beti, ek saman".
Welcome to the new world where biasness is a forgotten evil. Foisting a groundbreaking move for the empowerment of women, Shri Narendra Modi inaugurated the Beti Bachao Beti Padhao (BBBP) program on 22nd January, 2015 at Panipat, Haryana. It has stirred hope in females, promising them a bright future.
Quite relevant for your SSB interview, I have formulated necessary points about the BBBP exclusively for defence aspirants:
1. The aim is to focus on cycle of women elevation, from challenging strict social norms, patriarchal mindset to education of girl child.
2. The objectives include: survival of girl, education of girl, stopping gender biasness.
3. It is a joint venture of ministry of health and family welfare, ministry of women and child development and ministry of human resource development.
4. The campaign is executed in 100 selected districts with low CSR (child sex ratio).
5. What it does? Oh there is a productive list of the works such as: national awareness from Urban and elite employees to grass root workers and Panchayati Raj., sensitization, community mobilization and enforcing PC and PNDT act, campaign for saving girl child, improving CSR/SSRB for achieving good governance, challenging stereotypes and orthodox social norms.
6. The scheme targets 3 groups broadly classified as: primary group including parents, married couple and pregnant women; secondary group which incorporates youth, hospitals, nursing centers, doctors and in- laws; tertiary group involving media, PRIs, frontline workers, women entrepreneur, and the general strata of public.
7. Pithoragarh achievement: Amongst 100 selected districts, Pithoragarh has gained significantly through: constitution of District Task Force and Block Task Force, various rallies, street plays.
8. Mansa district of Punjab launched an initiative for girl education called 'Udaan- sapneya di dunya de rubaru'.
9. Within 2 year span of the inauguration of this scheme the sex ratio improved as the count reached above 950 females per 1000 males.
10. Also the count of women police officer ascended from 6% to 8.5%
11. There is a rise in girl education turning them confident to build an individualistic personality in the world.
12. Not to forget, another motivating program called 'Sukanya Samridhi Yojna' has been launched for girl child under the BBBP scheme.
True its description, the Beti Bachao Beti Padhao scheme has made heads turned with a hike in emancipation of girls. If not contribute then at least you and I could appreciate this elevating measure of our respected government, after all we are the bonded citizens of one proud nation!
Read More About
Top 25 trending GD Topics for SSB Interview
25 common Lecturette Topics for SSB Interview