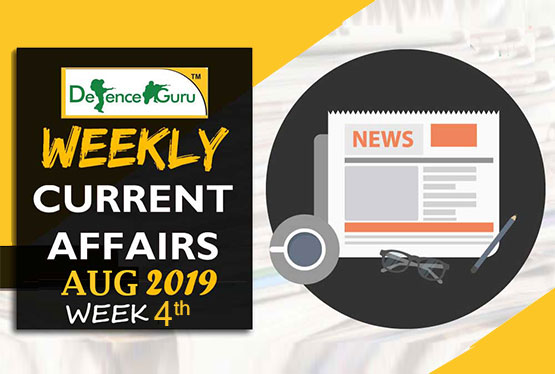 Weekly Current Affairs August 2019
1. India appoints Pavan Kapoor as ambassador to UAE
India appointed Pavan Kapoor as its next Ambassador to the United Arab Emirates (UAE). The 1990 cadre IFS officer will replace Navdeep Singh Puri, who has been heading the Indian mission in UAE since October 2016. Over his diplomatic career, Kapoor has served in different capacities in the Indian Missions in Moscow, Kyiv, London and Geneva.
2. Wing Commander S Dhami
Indian Air Force's Wing Commander S Dhami has become the first female officer in the country to become the Flight Commander of a flying unit. Dhami took over as Flight Commander of a Chetak helicopter unit at Hindon airbase, recently. She is a permanent commission officer of the flying branch in the Air Force and has been flying choppers. Flight Commander is the second in command of the unit meaning that she is the number two in the unit after the commanding officer.
3. Ajay Kumar Bhalla
The government-appointed Ajay Kumar Bhalla as new Home Secretary. He belongs to 1984 batch of Assam Meghalaya cadre of Indian Administrative Service (IAS) and is currently serving as Officer on Special Duty in Home Ministry. He succeeds Rajiv Gauba who will move out as Cabinet Secretary.
4. Vikram Rathour
Former opener Vikram Rathour will replace Sanjay Bangar as India's new batting coach.Also, Bharath Arun and R. Sridhar were retained as bowling and fielding coaches. The 50-year-old Rathour has played six Tests and seven ODIsin 1996 without much success but was a domestic heavyweight for Punjab. Till 2016, he was a senior national selector under Sandeep Patil's chairmanship.
5. Rajiv Gauba
Union Home Secretary Rajiv Gauba will be the new Cabinet Secretary.Mr Gauba who is a 1982 batch IAS officer of Jharkhand cadre will replace P.K. Sinha.The Appointments Committee of the Cabinet has approved the appointment of Mr Gauba as the Cabinet Secretary with a tenure of two years from 30th of this month.
6. Ajay Kumar
The government has appointed Ajay Kumar as Defence Secretary. Ajay Kumar is a 1985 batch IAS officer of Kerala cadre and is currently serving as Secretary, Department of Defence Production. He will succeed Sanjay Mitra, upon completion of his term. Brij Kumar Agarwal has been appointed as Secretary to the Lokpal and Subash Chandra as Secretary of Department of Defence Production.
7. Kanchan Chaudhary Bhattacharya
The first woman Director General of Police (DGP), Kanchan Chaudhary Bhattacharya, passed away following an illness. Bhattachary, a 1973 batch IPS officer, made history when she was appointed the DGP of Uttarakhand in the year 2004. She retired as the DGP on October 31, 2007. After retirement, she took a plunge into politics by contesting the 2014 Lok Sabha elections on an Aam Aadmi Party's ticket from Haridwar constituency.
8. Noel Kelman
Naval war hero and Kirti Chakra awardee, Commander Noel Kelman, passed away at the age of 92.Commander Kelman was awarded the Kirti Chakra for valour during the liberation of Goa in 1961. He was involved in an operation to flush out the Portuguese from the Anjadip Island. Kelman had also been awarded the King's commendation in the Second World War for his role in sinking a Japanese submarine.
9. Arun Jaitley
Former Finance Minister Shri Arun Jaitley passed away at the age of 66 due to health-related ailments at the All India Institute of Medical Sciences (AIIMS) Delhi. Jaitley was accorded full state honours in the presence of several leaders from BJP as well as the Opposition. His most important legacy will be rolling out of Goods and Services Tax (GST) in 2017, the biggest tax reforms after Independence. Arun Jaitley stepped down from contesting in the 2019 loksabha election citing health issues.
10. Tenzing Norgay National Adventure Awards_ 2018
The government on has decided to confer Tenzing Norgay National Adventure Awards to six personalities - Aparna Kumar, Late Dipankar Ghosh, Manikandan K, Prabhat Raju Koli, RameshwerJangra and Wangchuk Sherpa. These awards are given to recognize the achievements of persons in the fields of adventure. The awardees will be facilitated by President Ram Nath Kovind at the Rashtrapati Bhawan on August 29. They will receive statuettes, certificates and award money of Rs 5 lakh each. The award is given in four categories namely, land, water, air adventure and lifetime achievement.
11. Shri Prabhakar Singh chosen for 'Eminent Engineer Award- 2019'
Shri Prabhakar Singh, Director General, Central Public Works Department has been chosen for the 'Eminent Engineer Award for the Year 2019' by the Institution of Engineers (India) for his distinguished and exemplary service in the field of Engineering and Technology. This Elite and Prestigious Award shall be conferred to him on the 'Engineers Day' on September 15, 2019, in New Delhi. Shri Prabhakar Singh, an IIT graduate and MBA from one of the Premier Business Institute of the Country. His enormous contributions and dedicated service to the Nation as an Eminent Technocrat has been instrumental in transforming the Premier Engineering Organisation of the Central Government – CPWD.
12. Bahrain conferred PM Modi "The King Hamad Order of the Renaissance award"
Prime Minister Narendra Modi held talks with King of Bahrain Hamad bin Isa Al Khalifa in Manama on various bilateral and regional issues. The two leaders discussed ways to strengthen the friendship between India and Bahrain, with a focus on business relations and cultural exchange. The two countries signed a string of Memoranda of Understanding (MoUs) in the fields culture, space, solar energy and RuPay card. Mr Modi was also honoured with "The King Hamad Order of the Renaissance."
13. PM holds receives UAE's Highest Civilian Honour
Prime Minister Narendra Modi discussed the full spectrum of the strong India-UAE partnership with the Crown Prince of Abu Dhabi, Sheikh Mohammed bin Zayed Al Nahyan. Modi was also conferred with the highest civilian award of the United Arab Emirates, the "Order of Zayed". Earlier, Prime Minister Modi launched Rupay Card in the UAE to promote cashless transactions abroad.With this, UAE has become the first country in the Middle East to have this facility.
14. Culture Minister launches the book ' The Diary of Manu Gandhi'
Culture Minister Prahlad Singh Patel launched the book - 'The Diary of Manu Gandhi' at a function in New Delhi.The book has been brought out by National Archives of India, on the occasion of 150th anniversary of Mahatma Gandhi in collaboration with Oxford University Press. The first volume covers the period 1943-1944.The Diary of Manu Gandhi originally in Gujarati has been edited and translated by Dr Tridip Suhrud, a well-known scholar engaged in understanding the Gandhian Intellectual tradition.Manu Gandhi (Mridula) was a grand niece of Mahatma Gandhi and stayed with Gandhiji until his assassination.

15. Worldskills Kazan competition-2019
The Indian team created history by winning one gold, one silver and two bronze medals at the 45th WorldSkills Kazan 2019 competition, in Russia. It has been the country's best performance since it first participated at the event in 2007.S Aswatha Narayana won the gold medal in water technology. Pranav Nutalapati won the silver medal in web technologies. China emerged top overall with 35 medals, 16 of which were gold, while Russia took second place with 14 golds among its 22 medals.
16. Sumit Nagal becomes first Indian to win a set against Roger Federer
Sumit Nagal became the first Indian to win a set against Roger Federer. Nagal achieved the feat during his first-round match against Federer in the ongoing US Open as he outclassed him in the first set. Nagal ended up losing the match 6-4, 1-6,2-6,4-6 against Federer. Nagal had become the youngest Indian in 25 years to qualify for the main draw of a Grand Slam as he had defeated Brazil's Jaao Menezes 5-7, 6-4, 6-3. He had earlier won the Wimbledon Boys' doubles title in 2015.
17. Bumrah became the first Asian to pick fifers in SA, Eng, Aus & WI
India pacer, Jasprit Bumrah galloped to the record books by becoming the first Asian bowler to grab a five-wicket haul in South Africa, England, Australia and West Indies, all in his first tour to all these countries. Bumrah's magical figures of 5/7 are also the cheapest five-for by an India bowler. Recently, Jasprit Bumrah has also become the quickest Indian fast bowler to 50 wickets in Test cricket.
18. PV Sindhu becomes first Indian to win BWF World Championships
P V Sindhu became the first Indian to win badminton World Championships gold by beating familiar rival Nozomi Okuhara of Japan in Basel, Switzerland. The Indian won 21-7 21-7 in the summit clash that lasted just 38 minutes. Sindhu has also won Olympic silver in 2016 Rio Games, silver at Gold Coast Commonwealth Games, an Asian Games silver at Jakarta and the BWF World Tour Finals last year.
19. Komalika Bari wins World Archery Youth Championships
The 17year-old Indian Komalika Bari defeated Japan's Waka Sonoda in the recurve cadet women's final to win a gold medal at the 2019 World Archery Youth Championships. Bari won her first major event and became the third Indian archer to hold a world title. She is the second Indian archer to become world champion in the Under-18 recurve women's category. Deepika Kumari held the title in 2009 and then won the junior (U21) gold in 2011.
20. Gokulam Kerala FC wins Durand Cup
In football, Gokulam Kerala FC won the 129th Durand Cup, defeating heavyweights Mohun Bagan 2-1 at the Salt Lake Stadium in Kolkata. At half time, Gokulam Kerala was leading 1-nil. Gokulam captain Marcus Joseph scored both the goals. It was a close game throughout which saw both the teams go through testing moments. With this win, Gokulam Kerala became the first club from the state in 22 years to clinch the tournament.
21. Pakistan, China engage in joint air force exercise 'Shaheen VIII'
The air forces of Pakistan and China are taking part in joint exercise 'Shaheen-VIII' in the Chinese city of Holton, close to the Indian border near Ladakh. The annual joint training is the eighth of its kind between the two countries since it was first launched in March 2001. The Indian Air Force (IAF) is keeping a close eye on the Pakistan-China aerial exercise in which both the countries have deployed the latest fighter jets. Pakistan is one of the biggest recipients of the Chinese military, which includes missile technology, fighter planes and warships.
22. NASA Honours Rolling Stones by naming rock on Mars after the band
NASA announced that it has named rock on Mars in honour of the iconic English band, The Rolling Stones The "Rolling Stones Rock" was a stone that was sent rolling after NASA's InSight lander touched down on the Mars' surface.When NASA Insight touched down on the Red Planet, its engines sent a rock rolling across Mars' surface. The popular band, which consists of Mick Jagger, Keith Richards, Charlie Watts and Ronnie Wood, were delighted to hear the news.
23. NASA investigating a first crime committed in space
The US space agency NASA is reported to be investigating a claim that an astronaut accessed the bank account of her estranged spouse from the International Space Station. This is the first such allegation of a crime committed in space. The Astronaut Anne McClain is accused of identity theft and improperly accessing her estranged spouse's private financial records while on a sixth-month mission aboard the International Space Station.
24. Iran to let women attend football World Cup qualifier
In Iran, women fans will now be allowed as spectators into the stadium for next football World Cup qualifier match in October. FIFA has been stepping up pressure on Iran to ensure entry of women to watch the match. Iran barred women spectators at matches since the 1979 Islamic revolution, with clerics arguing that women must be protected from the masculine atmosphere. The authorities have allowed foreign women to go to matches in the country in the past.
25. World leaders gather for G7 Summit in France
French President Emmanuel Macron welcomes the G 7 leaders to kick off the G 7 summit in French coastal town Biarritz. Macron has set up the agenda of defence, democracy, gender equality, education and environment for the G7 meeting. The annual meet is being attended by the leaders of seven member states -- France, Italy, Canada, United States, Japan, Germany and the United Kingdom. The theme of 2019 summit is 'Fighting Inequality'
26. Scarlett Johansson Tops Forbes List Of Highest-Paid Actresses
For the second consecutive year, Hollywood star Scarlett Johansson has topped the Forbes' list of highest-paid female actors in the world. Spurred by the success of her Marvel film Avengers: Endgame, the 34-year-old actor's earning reached USD 56 million. At number two is Modern Family star Sofia Vergara with USD 44.1 million earnings. All the earnings of the actors were calculated between the period of June 1, 2018, and June 1, 2019.
27. FATF Asia-Pacific Group blacklists Pakistan
The Asia-Pacific Group of the global watchdog for terror financing and money laundering, Financial Action Task Force (FATF) has put Pakistan in the Enhanced Expedited Follow Up List (Blacklist) for its failure to meet its standards.Pakistan was non-compliant on 32 of the 40 compliance parameters of terror financing and money laundering. On 11 effectiveness parameters of terror financing and money laundering, Pakistan was adjudged as low on 10. Pakistan could not convince the 41-member plenary to upgrade it on any parameter.
28. International Day for the Remembrance of the Slave Trade and its Abolition: 23 August
International Day for the Remembrance of the Slave Trade and its Abolition is observed every year on 23 August. The day designated by UNESCO to memorialize the transatlantic slave trade. The day provides a chance to think about the historic causes and the consequences of the slave trade.
29. UN chief Guterres says 'deeply concerned' by Amazon fires
UN Secretary-General Antonio Guterres said that he was "deeply concerned" by wildfires that have devoured large sections of the Amazon rainforest, blanketing several Brazilian cities in thick smoke. Amazon, the world's largest rainforest and a bulwark against climate change, has been ravaged by thousands of fires in the last week. The smoke from the resulting fires hangs at the horizon like a fog. About 73,000 fires have been detected by Brazil's space research centre. It's a record number - and an 85% increase compared to last year.
Amazon forest location: Brazil, Peru, Colombia, Venezuela, Ecuador, Bolivia, Guyana, Suriname, France (French Guiana)
30. Russia launches a rocket carrying life-sized robot to International Space Station
Russia launched a rocket carrying life-sized robot to the International Space Station (ISS) from Baikonur cosmodrome in Kazakhstan. The robot, named Fedor is the first-ever sent into space by Russia. In order to test a new emergency rescue system, the robot was the Soyuz rocket's only passenger. During its 10 days at the ISS, Fedor will learn new skills such as connecting and disconnecting electric cables, using standard items from a screwdriver and a spanner to a fire extinguisher.
31. Feroz Shah Kotla Stadium in Delhi to be renamed as Arun Jaitley Stadium
Feroz Shah Kotla Stadium in Delhi will be renamed as Arun Jaitley Stadium in memory of its former president who passed away. Delhi and District Cricket Association, DDCA said that the renaming will take place on 12th of September. Also, a stand at the Stadium will also be named after India captain Virat Kohli. During his tenure at DDCA, Arun Jaitley is credited with renovating Feroz Shah Kotla Stadium into a modern facility, increasing its capacity to accommodate more fans besides constructing world-class dressing rooms.
32. Government slashes the price of sanitary napkins to one Rupee
In a huge push for women hygiene, the government slashed the price of sanitary napkins sold from Jan Aushadhi Kendras to just one rupee per piece from two-and-a-half rupees earlier. Minister for Chemicals and Fertilizers D.V. Sadananda Gowda made the announcement. The Government had launched Jan Aushadhi Suvidha Oxo-Biodegradable Sanitary Napkin at 2 rupees 50 paise per pad on the eve of the World Environment Day last year.
33. India to host COP14 of UN Convention in September
India will host the Conference Of Parties, COP 14, of the United Nations Convention to Combat Desertification from 2nd to 13th September 2019. The event will be held at the India Mart and Expo, in the Greater Noida area of New Delhi.The event will see the participation of over 3000 representatives from over 200 countries which will include Ministers from around 100 countries. India will take over from China this year as host and President for 2 years. The Conference Of Parties will focus on desertification and degradation of land.
34. Bimal Jalan panel recommends a review of economic capital framework every five years
The Bimal Jalan panel of the Reserve Bank has recommended that the revised economic capital framework will be reviewed every five years. The RBI, Under the revised framework, decided to transfer 52,637 crore rupees excess provisions to the government. The Central Board of the RBI has accepted all the recommendations of the committee headed by Jalan, a former central bank governor. Earlier, the board had approved the transfer of 1.76 Lakh crore rupees dividend and surplus reserves to the government.
35. G7 to finance fire-fighting aircraft for Amazon
G7 has agreed to spend 22 million US Dollars to tackle the huge forest fires engulfing the world's biggest Amazon rain-forest. This was stated by Presidents of France and Chile at the G7 summit in the French town of Biarritz. The G7 group comprising Britain, Canada, France, Germany, Italy, Japan and the United States, has also agreed to support a medium-term reforestation plan which will be unveiled at the UN in September. The initiative was announced after G7 leaders held talks on the environment, which focused on the fires destroying chunks of the Amazon rain forests. Nearly 80,000 forest fires have been detected in Brazil since the beginning of the year a little over half in the Amazon region.
36. Air Chief Marshal BS Dhanoa to embark on 3-day visit to Thailand
Chief of Air Staff Air Chief Marshal BS Dhanoa will embark on a three-day visit to Thailand. During his visit, he will attend the Indo Pacific Chiefs of Defence Conference in Bangkok, Thailand. The conference will provide perspectives on common challenges faced by attending nations and elicit open discussions on the same.The Chiefs of Defence of over 33 countries are scheduled to attend the Conference. The theme for the conference is "Collaboration in a free and Open Indo - Pacific".
37. 7th Community Radio Sammelan begins in New Delhi
The 7th Community Radio Sammelan begins in New Delhi. The three-day Sammelan, being organized by Ministry of Information and Broadcasting, will witness the participation of all operational Community Radio Stations across the country. The theme of this year's event is 'Community Radio for Sustainable Development Goals (SDGs)'. During the meeting, the participants will discuss the experiences and possibilities of programming for better public awareness of the Sustainable Development Goals.
38. HRD Ministry launches National Digital Library of India
Human Resource Development Ministry under its National Mission on Education through Information and Communication Technology, NMEICT has launched the National Digital Library of India project. will develop a framework of virtual repository of learning resources with a single-window search facility. As of now, there are more than 3 crore digital resources available through the National Digital Library. More than 50 lakh students have registered themselves in the National Digital Library with about 20 lakh active users. National Digital Library has been integrated with UMANG App and users can register through www.ndl.gov.in or through the mobile app.
39. Harsh Vardhan inaugurates FSSAI's National Food Laboratory in Ghaziabad
Union Health Minister Harsh Vardhan inaugurated FSSAI's National Food Laboratory (NFL) in Ghaziabad. It was inaugurated on the occasion of 13th anniversary of the Food Safety and Standards Act, 2006. This national lab is a result of a Public-Private-Partnership (PPP), the first-of-its-kind in the food laboratory sector. It houses state-of-the-art collaborative training centres, namely, The Food Safety Solution Centre (FSSC) and the Centre for Microbiological Analysis Training (C-MAT).
40. Statue of Unity, Mumbai's Soho House among Time's 100 greatest places in the world
The 597-ft tall 'Statue of Unity' in Gujarat and Mumbai's Soho House have been featured by the Time magazine in its second annual list of the 2019 World's greatest places. The 'Statue of Unity', the world's tallest statue, is a tribute to Sardar Vallabhbhai Patel, independent India's first home minister as well as deputy prime minister. Mumbai's chic Soho House is located in an 11-­storey building overlooking the Arabian Sea. It houses a library, a cinema with 34 seats and a rooftop bar and pool.
41. CVC constitutes a panel to examine bank fraud
The Central Vigilance Commission (CVC) has constituted the Advisory Board for Banking Frauds (ABBF) to examine bank fraud of over 50 crore rupees and recommend action. The panel in its previous avatar called the Advisory Board on Bank, Commercial and Financial Frauds. The ABBF is headed by former Vigilance Commissioner T M Bhasin. The banks will refer all large fraud cases above 50 crore rupees to ABBF and on receipt of its recommendation, they concerned will take further action in such matter.
42. PM Modi announced to celebrate September as a month of nutrition
Prime Minister Narendra Modi has announced to celebrate September as a month of nutrition. In his Mann Ki Baat programme, Mr Modi laid emphasis on creating awareness to fight malnutrition among children, particularly the girl child. Last year, Gujarat Government launched a pilot project, Poshan Abhiyan which is a statewide mission to eradicate malnutrition among children. Chief Minister Vijay Rupani had also launched 'Purna' project to eliminate malnutrition among the girls in the age group of 14 to 18. PURNA project is also known as Prevention of under Nutrition and Reduction of Nutritional Anaemia among Adolescent Girls.
43. Discovery, WWF tie up to preserve Sundarbans
To help save the world's only mangrove tiger habitat, Discovery India and WWF India have partnered with the Forest Directorate, the government of West Bengal and local communities in the Sundarbans. Its vision is to create climate-smart villages in the Sundarbans. WWF India and Discovery India are working with government agencies, civil society partners and scientific institutions to build the capacity of village panchayats helping secure livelihoods, biodiversity and ecosystem services.The project will use technology to solve several of the issues faced in the region.
44. President of India inaugurates the First World Youth Conference on Kindness
The President of India, Shri Ram Nath Kovind, inaugurated the first World Youth Conference on Kindness in New Delhi. The first World Youth Conference on Kindness is being organised by the UNESCO Mahatma Gandhi Institute of Education for Peace and Sustainable Development, Ministry of Human Resource Development. The conference aims to impart critical competencies (i.e. empathy, compassion, mindfulness and critical inquiry) in global youth to inspire, empower and enable them to transform themselves and build long-lasting peace in their communities. Youth leaders, representing over 27 countries, are participating in this conference.
45. MoU signed between AWHO and Tata Realty
historic milestone was reached with the signing of an MoU between the Indian Army and Tata Realty & Housing. The MoU enables the personnel of Indian Army to immediately take over dwelling units in 13 'Ready to Move in' projects of Tata Realty pan India spread over 10 cities including Gurugram, Chennai, Bengaluru, Pune among others at a discount ranging from 11% to 27%. This also heralds a new era for the rmy Welfare Housing Organization (AWHO), which has always endeavoured to provide quality housing for Army personnel who are deployed in remote locations across the country. WHO will now facilitate the acquisition of homes from reputed private builders at discounted rather than building them for the soldiers.
46. RTGS system to open at 7 AM from August 26 as RBI extends operating hours
Transfer of funds through the high-value RTGS system will be available from 7 am instead of 8 am from August 26. At present, the Real Time Gross Settlement (RTGS) System is available for customer transactions from 0800 hours to 1800 hours and for inter-bank transactions from 0800 hours to 1945 hours. The extended customer transactions timing will be applicable from August 26. Earlier this month, the RBI had decided to allow round-the-clock fund transfers through the National Electronic Funds Transfer (NEFT) from December this year in order to promote digital transactions.
47. Government to launch 'Bharatcraft' portal to help MSMEs
The government is planning to launch an e-commerce project called 'Bharatcraft' for micro small and medium enterprises (MSME). The proposed platform could generate a turnover of Rs 10 trillion over the next few years. MSME sector is likely to contribute 50 per cent to the total GDP in the next five years. At present, the sector currently contributes 29 per cent to the country's GDP and employs 110 million people. The government had launched the 'Udyog Mitra' portal to ease of access to MSMEs financial and non-financial service needs.
48. Shripad Yesso Naik inaugurates two-day National Conference on Varmam Science in Chennai
Shripad Yesso Naik inaugurated the two-day National Conference on Varmam Science, a part of the Siddha system of medicine in Chennai. He said that all Indian traditional medical systems are being promoted by the Centre to ensure holistic health care. 'Varmam' is a constituent of the Siddha system of medicine, that also doubles up as a martial art. The national conference is being organized by the National Institute of Siddha in Chennai.
49. Amit Shah chairs 24th meeting of Western Zonal Council in Goa
Union Home Minister Amit Shah chaired the 24th meeting of Western Zonal Council at Panaji in Goa. It is a forum for the Centre and states to exchange ideas on issues like health, security and social welfare. Maharashtra Chief Minister Devendra Fadnavis, Gujarat Chief Minister Vijay Rupani, Goa Chief minister Pramod Sawant and representatives from the Union Territories of Daman and Diu, and Dadra and Nagar Haveli attended the meeting. Resolution of Transfer of Land issues with Maharashtra, Gujarat and UT of Daman Diu, and Utilisation of funds for police modernisation were discussed in the meeting.
50. Akshay Kumar 4th on Forbes highest-paid actors list
National Award-winning actor Akshay Kumar has made it to the fourth position on the Forbes magazine's Worlds Highest-Paid Actors Of 2019 list. According to the list on forbes.com Akshay has raked in $65 million. Hollywood star Dwayne 'Rock' Johnson tops the Forbes list of the 10 highest-paid actors, collecting $89.4 million between June 1, 2018, and June 1, 2019. Australian actor Chris Hemsworth took the second spot with $76.4 million.
51. WADA suspends the accreditation of NDTL for six months
The World Anti-Doping Agency (WADA) has suspended the accreditation of India's National Dope Testing Laboratory (NDTL) for six months. It is understood that National Anti-Doping Agency (NADA) can still carry on with sample collection of blood and urine but will have to get it tested by a different WADA accredited laboratory outside India during the suspension period of NDTL. This suspension has been imposed due to non-conformities with the International Standard for Laboratories (ISL). The suspension, which took effect on 20 August 2019, prohibits the NDTL from carrying out any anti-doping activities, including all analyses of urine and blood samples.
52. Railways directed all its units to enforce a ban on plastic from October 2
Ministry of Railways has directed all its units to enforce a ban on single-use plastic material, with less than 50-micron thickness from October 2nd 2019. The move came in the wake of Prime Minister Narendra Modi's clarion call to eliminate single-use plastic in the country. The Railways has emphasised on making necessary arrangements to minimize the generation of plastic waste and its eco- friendly disposal. All vendors and staff across will be encouraged to use reusable bags to reduce plastic footprint.
53. New health warnings on tobacco products pack from Sep 1
Centre has notified new sets of health warnings for all tobacco products by making an amendment in the Cigarettes and other Tobacco Products (Packaging and Labeling) Rules, 2008.The new warnings will come into effect from 1st September 2019. The text messages that will be printed on the packs are - tobacco causes a painful death. A national toll-free number - 1800-11-2356 will also be printed on packs to assist the users to quit. This helps in creating awareness among tobacco users and gives them access to counselling services to effect behaviour change.
54. Kiren Rijiju, Baichung Bhutia flag off Delhi leg of Op-Blue Freedom
Sports Minister Kiren Rijiju and former India football captain Baichung Bhutia flagged off the Delhi leg of Op-Blue Freedom. This is an initiative in which a group of armed forces veterans train sports enthusiasts in survival training and self-defence. Op-Blue Freedom is also a nation-wide adaptive scuba diving programme for people with disabilities as well as the able-bodied. The program aims to train adventure enthusiasts in special forces skills like survival techniques, emergency first response skills, unarmed combat, endurance and fitness.
55. HRD Minister Ramesh Pokhriyal 'Nishank' launches Teachers Training Programme NISHTHA
Human Resources Development Minister Ramesh Pokhriyal 'Nishank' launched the Integrated Teachers Training Programme, NISHTHA in New Delhi. NISHTHA stands for National Initiative for School Head's and Teachers' Holistic Advancement. This integrated programme aims to build the capacities of around 42 lakh participants covering all teachers and Heads of the school. Through this initiative, teachers at the elementary level will be able to acquire scientific temperament and knowledge of other important educational aspects and transfer it to students.
56. Govt to make FASTag mandatory for all vehicles from December 2019
Road Transport and Highways Minister Nitin Gadkari have announced that FASTags will become mandatory for all vehicles from December this year. FASTag enabled vehicles can cruise through the dedicated FASTag lane without stopping at toll plazas on National Highways. Launching the new website of his Ministry in New Delhi, Mr Gadkari said, over 52 lakh FASTags have been issued till date. FASTags are being issued by 22 certified banks through various channels such as Point-of-Sale at NH toll plazas and selected bank branches. FASTag is an electronic toll collection system in India, operated by the National Highway Authority of India (NHAI).
57. Power Minister launches State Rooftop Solar Attractiveness Index
Minister R K Singh launched the State Rooftop Solar Attractiveness Index -SARAL in New Delhi. Karnataka has been placed at the first rank in the Index followed by Telangana and Gujarat. The index evaluates states based on their attractiveness for rooftop development. SARAL encourages each state to assess the initiatives taken so far and to improve its solar rooftop ecosystem. The Ministry has set a target of 175 gigawatts of renewable energy capacity by 2022, of which 100-gigawatt solar power is to be operational by March 2022.
58. SEBI announces a reward of Rs 1 crore to insider trading informants
The Securities and Exchange Board of India (SEBI) has announced a reward of up to one crore rupees for informants willing to provide credible information regarding insider trading cases. This will be a part of the detailed set of rules for the new 'Informant Mechanism' under the Prohibition of Insider Trading Regulations that was approved by the SEBI board. The norms also propose a possible amnesty or settlement for minor wrongdoings in return for cooperation in the probe. SEBI will establish an Office of Informant Protection, which will be responsible for the receipt, registration and processing of the disclosure form and also for ascertaining its authenticity.
59. Canara Bank launches OTP facility for ATM cash withdrawals over Rs 10,000
Public sector lender Canara Bank it has launched India's first OTP facility for ATM withdrawals. Canara Bank said that the OTP facility will get activated on ATM cash withdrawals of ₹10,000 in a day. This additional factor of authentication protects from unauthorized ATM cash withdrawals for cardholders.
60. Bandhan Bank launches a co-branded credit card with Standard Chartered
In a bid to offer a complete suite of services to its existing customers, Bandhan Bank launched a co-branded credit card in association with Standard Chartered bank. The credit card would be offered to 40 lakh savings bank account holders across the 1,000 branches of Bandhan Bank. As part of the tie-up, while Standard Chartered bank will take the credit risk, Bandhan Bank will be responsible for identifying and issuing cards to its customers.
61. CBDT says small start-ups with turnover up to Rs 25 cr to continue to get a promised tax holiday
The Central Board of Direct Taxes (CBDT) has clarified that small start-ups with turnover up to 25 crore rupees will continue to get the promised tax holiday as specified in the section of the Income Tax Act. The Act provides a deduction for 100 per cent of the income of an eligible start-up for 3 years out of 7 years from the year of its incorporation. According to the Finance Ministry, the CBDT also clarified that all the start-ups recognised by Department for Promotion of Industry and Internal Trade-DPIIT which fulfilled the conditions specified in the DPIIT notification did not automatically become eligible for deduction.
62. RBI allows e-mandates on cards for recurring transactions from September 1
Any individual who makes regular payments to merchants through debit or credit cards now have the option to automate payments, similar to the option available while using net banking facilities. With the new facility, customers who conduct a similar transaction using their cards every month can now skip the two-factor authentication process for that particular transaction. The Reserve Bank of India permitted processing of e-mandate on credit and debit cards for recurring transactions. However, the limit for these automated card transactions has been capped at Rs 2,000.
63. Acko signs a pact with ZestMoney to offer credit insurance
Acko General Insurance announced a partnership with ZestMoney, a consumer lending fin-tech company. This collaboration will help ZestMoney customers to cover their instalment payments during times of crisis. Acko an InsurTech company offers personalized underwriting, micro insurance products, and automated micro claims process.
64. BookMyForex, YES Bank tie-up for a foreign exchange travel card
BookMyForex.com, a marketplace for foreign exchange and remittances, has partnered with YES Bank to launch a co-branded multi-currency forex travel card for Indian overseas travellers. Customers will now be able to buy forex travel cards at the click of a button on the BookMyForex platform and get free doorstep delivery across major cities in India. BookMyForex will offer zero margin or exact inter-bank rates 24x7 on forex card sales.
65. RBI to transfer Rs 1.76 lakh cr as a dividend to government
The Reserve Bank of India (RBI) has decided to transfer 1.76 lakh crore rupees as dividend and surplus reserve to the government. RBI informed that this amount includes over 1,23,000 crore rupees of surplus for the year 2018-19 and 52,637 crore rupees of excess provisions identified as per the revised Economic Capital Framework. The statement informs that RBI's Central Board has accepted the recommendations of a high-level panel headed by former RBI Governor Bimal Jalan on the transfer of excess reserves to the government.
66. Microsoft, ISB partner to build AI solutions for better research and leadership
The Indian School of Business (ISB) and Microsoft India announced a new partnership on to take forward their shared vision for an AI-empowered India in Hyderabad. The two organizations will collaborate in research which will use Artificial Intelligence (AI) and Machine Learning (ML) to study issues that are relevant for business and public policy. In addition, the partnership will also jointly introduce a new executive program titled "Leading Business Transformation in the Age of AI" in October 2019.