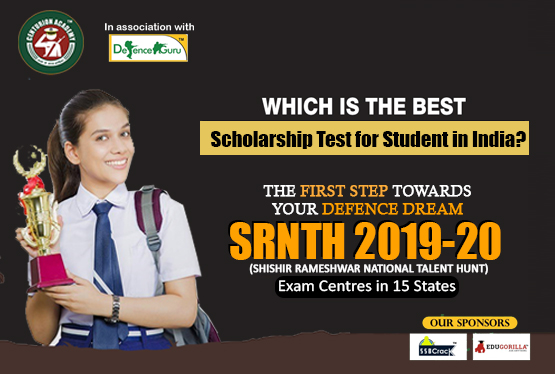 Which is best Scholarship Exam for Student in India?
AN ASSET LIKE NONE OTHER
A home to brilliants SRNTH is a medley of bounties, a personification of distinctive caliber!
To brief you a little, Shishir Rameshwar National Talent Hunt (SRNTH) 2029-20 is a National level Scholarship program for the hopeful applicants of Indian Armed Forces. It has been formulated by the collaborative efforts of Defence Guru, a non- governmental organization and Centurion Education Pvt. Ltd., India's leading Defence Academy. The goal is to seek deserving candidates for Indian Armed Forces and aid the financially.
Ample of students in India loose their dreams due to poor monetary condition. As heartbreaking as it is, the SRNTH team has taken an endeavor to fulfill the desires and lend help to such children in need.
Unlike other scholarship and talent hunt programs, SRNTH stands out the best due to a multitude of reasons:
-Purity of intentions is the ultimatum to fortune. SRNTH is a scheme launched for non- profitable reasons. It is a selfless effort to grant financial assistance to bright students and turn their dream to enter Defence real. Add to that SRNTH also grants help to the Indian Defence indirectly by seeking, training and admitting the best candidates in Indian Armed Forces.
-The scholarship is in form of cash upto 25000 as per the ranks. Tuition fee waiver is also available as per ranks. All you need to do is log in to www.defenceguru.co.in or www.centuriondefenceacademy.com create your profile- pay a fee of Rs. 100 and download your admit card. Last date to apply is 30 November and the exam is scheduled to be on 22nd December, 2019.
-There are tonnes of scholarship schemes available in India but they don't judge real talent. SRNTH on the other hand is genuine as it conducts a just exam that provides equal opportunity to millions to showcase their intelligence. The exam will be conducted in offline and online mode in phase 1 and phase 2 respectively. Phase 1 is exclusively for top- ranked colleges wherein exam will be conducted in the campus.
-In phase 2 a national level exam will be held in offline mode in 15 different states of India namely: U.P, Assam, M.P, Bihar, Haryana, Punjab, Rajasthan, Jammu and Kashmir, Uttarakhand, Telangana, Delhi NCR, Jharkhand, Karnataka and Maharashtra. Each state will have 1 center except U.P, which will have 10 centers.
-To upscale the worth, our scheme welcomes any and every student pursuing class 10th, 11th, 12th or graduation (1st year, 2nd year, 3rd year) irrespective of subject, board and stream. The program is open to both male and female. For syllabus you can browse in the official websites.
-Moreover the convenience of SRNTH spreads to rural areas where many children forgo their desire of Joining Indian Armed Forces due to poverty. Such students can combat the hurdles by registering online from their homes and taking the test at their nearest available centre.
-Surprise surprise! SRNTH has something in bag which no other has. We not only provide financial benefits but also academic training because money without proper implementation is useless. Centurion Defence Academy, located in Lucknow is the prime institute to get yourself ready to crack any Defence exam. Extensive SSB training is our defining aspect, apart from which it also has batches for MNS, NDA, CDS, AFCAT, Navy, Air Force X and Y group and Territorial Army. Centurion Academy grants provision of self published books+ hostel & mess+ library+ regular mock tests+ classes by expert professional.
Success is no accident, it is luck in disguise! If you have a spark inside you and desire to pursue Defence as your career then grab the SRNTH offer and showcase your artistry nationally. Hurry up and avail the benefits!