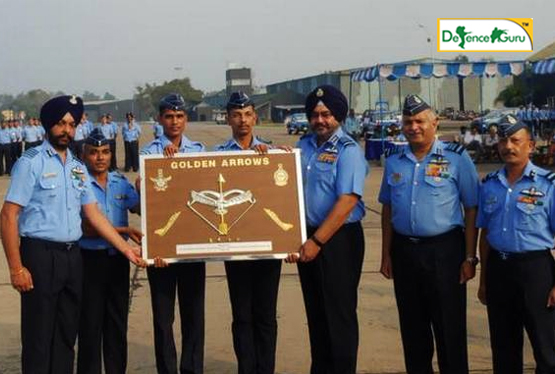 IAF Resurrects 17 Squadron 'Golden Arrows' for Rafale :First Unit To Operate Rafale Fighter Jets
ONE OF A KIND
In the wake of inventive equipments and afresh strategies India has rendered its Air Force with premier gadgetry.
Indian Air Force proves to be heavily piled with a stock of 1,724 aircrafts in service and approximately 900 combat aircrafts. Sukhoi Su-30 MKI, Mikoyan, Tejas, and Jaguar tops the list. To add another pearl, India has incepted brand new Rafael aircraft this year and here are latest updates on the thrilling news.
Anticipating the welcome of Rafael aircrafts this September, the Chief of Air Staff, Air Chief Marshal BS Dhanoa on 10th September, 2019 made a gallantry move by injecting 17 squadron in order to receive the Rafael jets. The ceremony took place at Ambala Air Force Station, located in Eastern Haryana in service for military and government flights. The Air base is equipped with 2 major aircrafts- MIG-21Bison and Jaguar. Various reputed inmates of Indian Air Force and Indian Army attended the commemoration.
Plunging back to the 17 squadrons, well the resurrection is framed as the 'Golden Arrows' 17 squadron which was commanded in Kargil war of 1999 and will be used to carry Rafael aircraft in future. The 17 squardron holds a historical record of combat. Formed in 1951 in Ambala under Flight Lieutenant DL Springett, it was initially equipped with Harvard- II B fighter shifting to Hawker Hunter fighter in 1957 and then to MIG- 21 M in 1975. Not only squadrons but also the Ambala station is refurbished to brace itself for Rafael. Ambala Air base will be the first Air base station to get equipped with Rafael. For the deployment, its infrastructure is also being upgraded. Add to that, the pilots have been receiving special training to get handy with Rafael aircraft.
That known, it's time to enlighten you with essential know- how and facts about the Rafael deal:
Rafael is a fourth generation, high- tech aircraft with novel weapons and advanced services.
Rafael is well furnished to carry nuclear weapons and other missile. Its striking features include: low band jammer, infra- red search and tracking system, radar warning receiver, Israeli helmet- mounted display and 10- hour flight data recording amenity.
The inception of Rafael dates back to 2016 when India signed a deal with France government and Dassault Aviation to procure 36 Rafael jets for Euro 7.8 billion. The underlying motto was to combat squadrons and fulfill the needs of eastern and western fronts.
Rafael is scheduled to be deployed at Ambala, Haryana and Hashimara, Bengal.
In 2017, Chief Marshal BS Dhanoa flew Rafael on his visit to France to test the jet.
The demand and bid about Rafael aircraft was in news since 2012 however it only got official in 2015 when P.M Narendra Modi visited Paris and announced his final decision to purchase 36 Rafael fighters. On the account of Republic Day, 2016 a memorandum was signed between India and France when French President, Francois Hollande visited India. Fast forward to 2018 many petitions by opposition and controversy over collaboration of Ambani's Reliance with the Dassault Aviation prevailed. Cut to 2019 all issues got resolved and the deal turned real. It will be implemented by September end, 2019.
Cross your fingers and look forward to the arrival of Rafael jets that will elevate the dignity and strength of Indian Air Force.