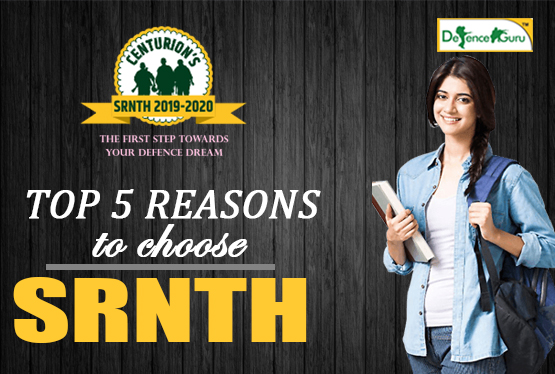 TOP 5 REASONS TO CHOOSE SRNTH 2019-20
Setting the bar high feels like a breath of fresh air, isn't it? Economic dropdown is doing the social rounds and India is on verge of getting gripped by it. Besides basic needs the young crowd of India is struggling with their career due to financial constraints. In such a clampdown SRNTH 2019-20 inflames the passion residing inside you and bestows an opportunity to fashion your desires.
Here is a conglomeration of 5 reasons to make a forwarding move towards SRNTH:
-WAGON OF HOPE:
Shishir Rameshwar National Talent Hunt (SRNTH) 2019-20 is a planetarium of benefits and elevates the hope of Defence aspirants. Here is a powerful insight into its perks. SRNTH is a national talent hunt program to ensure financial support to those willing to apply for Indian Armed Forces. It is a collaborative effort of Defence Guru, an emerging Non- government organization and Centurion Education Pvt. Ltd., India's premium Defence academy.
The scheme comes with luring scholarship offers in form of tuition waiver and cash prizes. The tuition waiver ranges from 10% to 80% as per the ranks and same goes for cash which ranges from 3000 to 25000 according to the rank secured. Quite a better half of young Indian society only dream their dreams but fail to experience the reality of it because of budgetary issues. To help out such students SRNTH endeavors to shower a monetary grant to push their career further because comprising with career is not in our dictionary.
-ACADEMIC MOMENTUM:
Par the border with excellence! Not only do the winners of SRNTH get equipped with financial assistance but also academic aid. You heard it right, SRNTH team brings in the best academic training to mark your entry into Indian Defence. Centurion Defence Academy is India's leading academy to provide guidance to crack any Defence competitive exam. It imparts an unsurpassable training for SSB, NDA, CDS, AFCAT, MNS, Air Force X and Y group, Navy and Territorial Army. We have a multitude of amenities that cover library+ self published books+ regular mock tests+ most relevant notes+ extensive SSB training. Centurion Academy relishes in granting a holistic classroom environment wherein the student gets necessary exposure and interaction. There is a highly intellectual, well trained and well versed panel of practitioners who take the classes and strengthen the chances of student' selection. To sum up, Centurion Academy is home to real Defence aspirants so don't miss the chance and take SRNTH as your go- to- career source.
-A PROCESS SO TRANSPARENT:
In an era of online education to online food delivery the world has rapidly advanced. So why must we stay behind? Yes SRNTH team has propounded an effortless procedure. All you need to do is surf www.centuriondefenceacademy.com or www.defenceguru.co.in and get yourself registered online. Post profile making pay a minimum fee of Rs. 100 and after 2 weeks you are all set to download your admit card. Note: the last date to apply is 15 December, 2019. Furthermore there is a 2 tier process: tier 1 to be held in top- listed schools and tier 2 will be held nationwide.
For detailed syllabus, eligibility and terms & conditions log in to the official website.
-RIDE THE PERKS:
The potential comforts of SRNTH are multifaceted. To relieve you out of trouble SRNTH only demands a minute fee of Rs.100. Not only urban but rural people could also avail the benefits as the fee structure is highly cost effective.
Moreover since the test is to be held across India you need not spend anything on travel and conveyance. 15 states namely U.P, Assam, M.P, Bihar, Haryana, Punjab, Rajasthan, Jammu & Kashmir,Uttarakhand, Andhra Pradesh, Telangana, Delhi NCR, Jharkhand, Karnataka, and Mahrashtra. So stop browsing fare and train schedule because now we are in your place, your state to bring you closer to your dream!
-BAG DEFENCE:
Couple your talent with Indian Defence. SRNTH is a platform where you get not only to evaluate your capabilities but also put them in service for Indian Defence. So that's a win win situation for India as well as its citizens. There is a shrink in number of Defence volunteers. To curb this issue SRNTH hunts talent nationally. Candidates deserving to be in Indian Armed Forces and possessing Officer like Qualities will be able to showcase their skills and make way for their future in the same stream through the support, facilities and benefits granted by SRNTH.
A boon in disguise- SRNTH is a power pack of utility. Commencing from monetary to academic and to achieve long- term Defence career goal SRNTH is a hamper so delicious you cannot resist. So what is the wait for? Get started with the registration now.
Read More About
Which is best Scholarship Test for Student in India
SRNTH 2019-20 Scholarship Exam - A GATEWAY TO DEFENCE