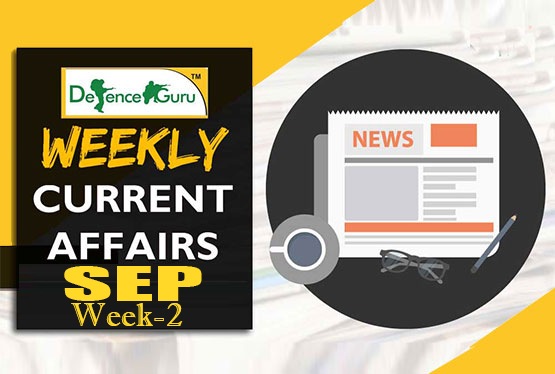 1.M S Mahabaleshwara
Karnataka Bank managing director and chief executive officer M S Mahabaleshwara have been inducted to the Managing Committee of Indian Banks Association (IBA). He has been elected unopposed from the private sector member banks. Indian Banks Association (IBA) is a parent association of the bankers wherein public sector, private sector, foreign banks operating in India are the members. The membership of the association stood at 253 comprising 144 ordinary members and 109 associate members last month.
2.PK Mishra
The government has appointed PK Mishra as the Principal Secretary to Prime Minister Narendra Modi. The Appointments Committee of the Cabinet (ACC) approved the appointment of Dr PK Mishra, who was currently serving as the Additional Principal Secretary to the Prime Minister. He replaces Nripendra Misra, who stepped down last month as the Principal Secretary to the Prime Minister.
3.John Bolton
President Donald Trump forced out his hawkish national security adviser, John Bolton. Trump had significant disagreements on Iran, Afghanistan and a cascade of other global challenges with him. The exit comes amid reports that there is disagreement within the Administration over Trump's decision to host a now-cancelled meeting with Taliban leaders at Camp David.
4.Anuraag Singhal
US President Donald Trump has nominated an Indian American as a federal judge in Florida. Anuraag Singhal is among the 17 judiciary nomination sent by the White House to the Senate. If confirmed by the Senate, the Indian-American would replace James Cohn as the United States district judge for the southern district of Florida. Singhal is the first Indian-American to be nominated to this position in Florida.
5.Visitor's Awards 2019
Recipients of Visitor's Awards 2019 were announced by the President's Secretariat. The award will be conferred by President Ram Nath Kovind at an event to be held at Rashtrapati Bhavan. This year Visitor's Awards will be presented for Research in - Humanities, Arts and Social Sciences; Physical Sciences; and Biological Sciences - and for Technology Development. This year Visitor's Award for research will be presented to Professor Sibnath Deb, Professor Sanjay Puri, Professor Asad Ullah Khan, Dr Partima and Dr Shaon Ray Chaudhuri. The Visitor's Awards had been instituted in 2014 to promote healthy competition amongst Central Universities and motivate them to adopt best practices from around the world in pursuit of excellence.
6. Ram Jethmalani
Noted lawyer and former Union Minister Ram Jethmalani passed away at his residence in New Delhi. Jethmalani a sitting Member of the Rajya Sabha, was ill for some time due to age-related ailments. Jethmalani had also served as a union minister for law and urban development in the Atal Bihari Vajpayee Cabinet. He was also the chairman of the Bar Council of India.
7.UAE President bestows First Class Order of Zayed II award to Navdeep Singh Suri
UAE President Sheikh Khalifa bin Zayed Al Nahyan has bestowed the First Class Order of Zayed II award to the Ambassador, Navdeep Singh Suri. The award is given in recognition of his contribution to the development and strengthening of friendly relations and co-operation between the two countries. It is a rare honour given to any diplomat. UAE Minister of Foreign Affairs Sheikh Abdullah bin Zayed Al Nahyan presented the Order to the Ambassador in Abu Dhabi.
8.Amit Shah inaugurates the renamed Arun Jaitley Cricket Stadium
The iconic Feroz Shah Kotla stadium in the national capital is renamed after former Union Minister late Arun Jaitley. In a function at Jawaharlal Nehru Stadium Home Minister Amit Shah digitally inaugurated the renamed Arun Jaitley Cricket Stadium in presence of late finance minister's family. DDCA also unveiled a new pavilion stand at the Feroz Shah Kotla after skipper Virat Kohli, who recently became the most successful India captain in Test cricket. Arun Jaitley, who was at the helm of the DDCA from 1999 to 2013, was credited for bringing better facilities, including a world-class stadium, to Delhi cricket.
9.Track Asia Cup cycling: Ronaldo Laitonjam wins the fourth gold
In Cycling, India's Ronaldo Laitonjam won his fourth gold medal on the concluding day of Track Asia Cup competition in New Delhi. India emerged overall champions as its players picked up three medals in the day, two gold and one bronze. Overall, India topped the medals tally, with 10 gold, 8 silver and 7 bronze as the tournament came to an end at the IGI Sports Complex. Uzbekistan finished second, with 4 gold and 3 silver. Malaysia secured third place, with 4 gold and 1 silver.
10.Mary Kom, Amit Panghal among 10 boxers in TOPS scheme
The Sports Authority of India (SAI) Mission Olympic Cell has included 10 boxers in the Target Olympic Podium Scheme (TOPS) for the 2020 Tokyo Olympics. The boxers include M.C. Mary Kom (women's 51 kg), Amit Panghal (men's 52 kg), Sonia Chahal (women's 57 kg), Neeraj (women's 57 kg), Nikhat Zareen (women's 51 kg), Kavinder Singh Bisht (men's 57 kg), Lovlina Borgohain (women's 69 kg), Vikas Krishan (men's 75 kg), Shiva Thapa (men's 63 kg) and Manish Kaushik (men's 63 kg). India has so far won two Olympic medals in boxing i.e. Vijender Singh won the bronze in the 2008 Beijing Games while Mary Kom won the bronze in the 2012 London Games. Apart from the boxers, the committee has also included 22-year-old women's 10m air pistol shooter Yashaswini Singh Deswal in the TOPS scheme.
11.Senior Women's National Football Championship kicks off
The 25th Senior Women's National Football Championship kicked off at Pasighat in Arunachal Pradesh. State's Chief Minister Pema Khandu and Union Minister of State for Sports and Youths Affairs Kiren Rijiju attended the inaugural match between Railways and Mizoram. 30 teams are participating in the 15-day event. Teams have been divided into eight groups. The eight group toppers will advance to the quarterfinals which will be followed by semifinals and final on 24th of this month.
12.Rafael Nadal beats Daniil Medvedev in US Open final
Rafael Nadal has won US Open Men's singles beating Daniil Medvedev in a five-set epic with a thrilling 7-5, 6-3, 5-7, 4-6, 6-4. This is his fourth US Open title and 19th Grand Slam trophy. The 33-year-old Spanish left-hander chased his 19th career Grand Slam singles title, one shy of Roger Federer's all-time men's record, in his 27th Slam final.
13. Kenya's Brigid Kosgei runs fastest-ever women's half-marathon
Kenya's Brigid Kosgei ran the fastest half-marathon ever by a woman, winning the Great North Run in a time of one hour, four minutes and 28 seconds. Her time was 23 seconds quicker than the world record set in 2017 by fellow Kenyan Joyciline Jepkosgei. Kosgei, who won this year's London Marathon, led a Kenyan sweep of the top four places, with Magdalyne Masai second (1:07.36) and Linet Masai third (1:07:44). Mo Farah won the men's elite race for a record sixth successive year.
14. US Open Final: Bianca defeats Serena
Canadian teenager Bianca Andreescu stuns Serena Williams in a gripping US Open Women's final to claim her first Grand Slam title. Bianca Andreescu defeated Serena Williams in straight sets, 6-4, 7-5, to win her first Grand Slam title in US Open women's final. In a matchup between tennis' Canadian teenage newcomer and one of the greatest superstars in the history of tennis, the youngster took home the crown.
15. Malinga takes a double hat-trick in final T20 against New Zealand
Yorker King Lasith Malinga was at his best in the 3rd T20I between Sri Lanka and New Zealand. Malinga went past Wasim Akram to become the 1st-ever bowler in international cricket to pick up 5 hat-tricks. Malinga did not stop with just a hat-trick as he went on to pick up 4 in 4, thereby becoming the only bowler to achieve the feat in international cricket twice. He became the first bowler in Twenty20 internationals to claim 100 wickets.
16. Kraigg Brathwaite reported for suspected illegal bowling action
West Indies Cricketer Kraigg Brathwaite has been reported for a suspected illegal bowling action during the second Test against India in Kingston. ICC match officials report cited concerns about the legality of the 26-year-old's bowling action during the course of the match. With Brathwaite being reported again, he will be required to submit to further testing by September 14. He is, however, permitted to continue bowling in international cricket until the results of the testing are known.
17.Sri Lanka flags off Pulathisi Express, a 'Make In India' train
The strong ties between India and its southern neighbour Sri Lanka received a boost when a newly 'Make In India' train rake was flagged of from Colombo Fort Railway station. The rake of Pulathisi Express was manufactured in the Integral Coach Factory (ICF) in Chennai. Sri Lankan President Maithripala Sirisena, Transport Minister Arjuna Ranathunga and Indian envoy to Sri Lanka Taranjit Singh Sandhu flagged off a new train to Polonnaruwa from Colombo Fort Railway station.
18.Vietnam opens Southeast Asia's largest solar power farm
Vietnam has inaugurated Southeast Asia's largest solar power farm which has the capacity to produce 688 million kWh of electricity annually. The Dau Tieng Solar Power Complex, a joint venture with the Thai industrial group B.Grimm Power Public Company, occupies 540 hectares in Tay Ninh province. The complex was constructed on the Dau Tieng Reservoir - the largest artificial lake in Vietnam - and is expected to generate 10 per cent of the country's solar energy to guarantee supply to 320,000 homes. It will also prevent the emission of 595,000 tons of carbon dioxide into the atmosphere every year.
19.Israel PM announces intention to annex Jordan Valley
Israeli Prime Minister Benjamin Netanyahu announced his intention to annex the Jordan Valley, a large swathe of the occupied West Bank if he wins next week's election. Israel has occupied the West Bank since 1967 but stopped short of annexation. Palestinians claim the whole of the West Bank for a future independent state. Netanyahu previously insisted Israel would always retain a presence in the Jordan Valley for security purposes.
20.Bangabandhu Sheikh Mujib birth Centenary: 2 International Awards, 5 Academic Chairs to be set up
Bangladesh government has made elaborate plans to celebrate the birth anniversary of Bangabandhu Sheikh Mujibur Rahman. Sheikh Hasina said that the government will set up two international awards and establish five international chairs to commemorate the birth centenary of Bangabandhu. The Foreign Ministry of Bangladesh has initiated a process to set up five 'Bangabandhu Chairs' abroad including at the University of London and Visva Bharti University in India. Prime Minister Hasina said that a Bangabandhu centre will be established at the University of Cambridge and sculptures of Bangabandhu will be installed at Madame Tussauds Museum in London and the United Nations Headquarters in the New York. The government of Bangladesh has decided to celebrate the 'Mujib Year' from March 17, 2020, to March 17, 2021, to mark the centenary year of Sheikh Mujibur Rahman, the first President of Bangladesh.
21.World Suicide Prevention Day: 10 September
World Suicide Prevention Day (WSPD) is an awareness day observed on 10 September every year. The day is observed to provide worldwide commitment and action to prevent suicides, with various activities around the world since 2003. The day is organized by the International Association for Suicide Prevention (IASP).
22.24th World Energy Congress to commence in Abu Dhabi
The 24th World Energy Congress will commence in Abu Dhabi under the patronage of Sheikh Khalifa bin Zayed Al Nahyan, President of the United Arab Emirates. The four-day World Energy Congress aims to bring together international energy stakeholders, including governments, private and state corporations, academia and media. With over 15,000 participants expected, Congress is set to welcome over 250 high-level speakers, 72 Ministers, 500 CEOs, 1000 media persons with 40,000 square-metre exhibition space that will cover the entire energy spectrum. The theme of this World Energy Congress is 'Energy for Prosperity' which also represents the ambitious and dynamic energy transition of the country.

23.India hosts the first conference on military medicine for SCO member nations
India is hosting the first conference on military medicine for member nations of the Shanghai Co-operation Organisation in New Delhi. The two-day conference is being held with an aim to share best practices in the field of military medicine. Union Defence Minister Rajnath Singh attended the conference. This is the first military co-operation event to be organised in the country under the SCO after it joined the organisation in 2017.
24.PM Modi launches Kisan Man Dhan Yojana for small, marginal farmers
Prime Minister Narendra Modi launched the 'Pradhan Mantri Kisan Maan Dhan Yojana' at Ranchi in Jharkhand. The Scheme will secure the lives of Small and Marginal Farmers by providing a pension of 3,000 rupees per month to those who attain 60 years of age. According to an estimate, five crore farmers across the country including 10 lakh in Jharkhand will be benefited from this scheme. The Prime Minister also launched the National Pension Scheme for the Traders and The Self-Employed. The scheme aims at providing a minimum assured pension of 3,000 rupees to small traders and self-employed after attaining the age of 60 Years.
25.Free rail travel insurance of Rs 25 lakh each for passengers on board Delhi-Lucknow Tejas
Passengers of IRCTC's Delhi-Lucknow Tejas Express to get free Rs 25 lakh rail travel insurance. The passengers of this train will also be given the facility of using retiring rooms at Lucknow junction station and executive lounge at New Delhi Railway station and lounge for meetings on-demand. No concessions, privileges or duty passes will be allowed on these trains.n Just like in flights, meals will be served by onboard service staff by trolleys. The inaugural run of Tejas Express was on 24 May 2017 from Mumbai to Goa.
26.White Water Rafting Expedition 'Rudrashila' Flagged off at Jaisalmer
The white water Rafting Expedition christened 'RUDRASHILA' being undertaken by Kalidhar Battalion was at Jaisalmer Military station. The expedition christened 'Rudrashila' has been organised to commemorate the 75th Raising day of the Kalidhar Battalion. 'Rudrashila' takes its name from the famed Rudraprayag tributary of the Ganges River in the Mountains of Uttarakhand. 'Kalidhar Battalion' was raised on 01 November 1943 and has participated in all major operations of the Indian Army including two overseas assignments in Korea in 1953 and UN peacekeeping mission in Congo in 2005-06.
27.Indo-Thailand Joint Military Exercise Maitree – 2019
Joint Military Exercise MAITREE-2019 between India and Thailand will be conducted at Foreign Training Node, Umroi (Meghalaya) from 16-29 Sep 2019. Indian and Royal Thailand Army (RTA) comprising 50 soldiers each will participate in the exercise with an aim to share experience gained during various counter-terrorism operations in their respective countries. Exercise MAITREE is an annual training event which is being conducted alternatively in Thailand and India since 2006. The joint military exercise will enhance the level of defence co-operation between Indian Army (IA) and Royal Thailand Army (RTA) which in turn will further foster defence cooperation and bilateral relations between the two nations.
28.Haryana CM launches two insurance schemes for traders
Haryana Chief Minister Manohar Lal Khattar launched two insurance schemes for traders. An insurance cover of Rs 5 lakh would be provided under the 'Mukhyamantri VyapariSamuhikNiji DurghatnaBeemaYojana', while an insurance cover ranging from Rs 5 lakh to Rs 25 lakh would be provided under the 'Mukhyamantri VyapariKshatipurti Beema Yojana'. Traders registered under the Haryana Goods and Service Tax (HGST) Act, 2017 would be covered under these schemes. He said the premium of Rs 38 crore for both the insurance schemes would be paid by the state government.
29.DRDO successfully flight-tests indigenously developed MPATGM missile
In a major boost for Indian Army, Defence Research and Development Organisation (DRDO) successfully flight tested indigenously developed low weight, fire and forget Man-Portable Antitank Guided Missile (MPATGM) in the ranges of Kurnool, Andhra Pradesh. The missile was launched from a man-portable Tripod launcher and the target was mimicking a functional tank. The missile hit the target in top attack mode and destroyed it with precision. All the mission objectives were met. This is the third series of successful testing of MPATGM. The missile is incorporated with state-of-the-art Infrared Imaging Seeker along with advanced avionics.
30.India's 2nd Scorpene-class submarine to be commissioned on September 28
India's second Scorpene-class attack submarine INS Khanderi will be commissioned into the Navy by Defence Minister Rajnath Singh in Mumbai on September 28. The conventional diesel-electric submarine has been manufactured by Mazagon Dock Shipbuilders Ltd in Mumbai. The first Scorpene-class submarine INS Kalvari had been commissioned into the Indian Navy on December 2017. Under the Project 75 programme, India is committed to building six Scorpene-class submarines that also includes INS Kalvari and INS Khanderi.
31.Indian Railways across the country is observing "Swachhta-Hi-Seva Pakhwada" from 11th September to 2nd October
Ministry of Railways is observing 'Swachhta-Hi-Seva Pakhwada' across its entire network from 11th September to 2nd October. Indian Railways also undertook massive Shramdaan with participation from all stakeholders on plastic waste collection on the first day of SHS. Focus on plastic waste collection shall continue throughout the Swachhta Pakhwada. Earlier the Minister of Railways has instructed for 10 days cleanliness drive for trains and stations starting 2nd September 2019.
32.Madhya Pradesh govt to allow people to adopt cows online
The Madhya Pradesh government has decided to turn to the state's people to seek donations for its 'Project Gaushala' by letting them adopt cows online. People can adopt a cow for a minimum of 15 days and can go on supporting it till the animal's lifetime. While a lifetime adoption costs Rs 3 lakh, those willing to adopt a bovine for a year will have to pay Rs 21,000. Those adopting for a month will have to pay Rs 2,100 and those willing to adopt for 15 days will have to pay Rs 1,100.
33.PM Modi, Nepalese PM inaugurates Motihari-Amlekhgunj oil pipeline
Prime Minister Narendra Modi and Nepal's Prime Minister K.P.Sharma Oli jointly inaugurated Motihari-Amlekhgunj cross border petroleum products pipeline through video conference. This is the first transnational petroleum pipeline form India and first South Asian oil pipeline corridor. The landmark pipeline will ensure a smooth, cost-effective and environment-friendly supply of petroleum products to Nepal. The 69 km long pipeline from Motihari in Bihar to Amlekhgunj in Nepal has been constructed by India in just 15 months, half of its 30 months deadline. The cost of the pipeline is around three hundred fifty crore rupees which are entirely borne by Indian Oil Corporation.
34.PM Modi launches National Animal Disease Control Programme
Prime Minister Narendra Modi launched the National Animal Disease Control Programme (NADCP) for eradicating the Foot and Mouth Disease (FMD) and Brucellosis in the livestock from Mathura in Uttar Pradesh. The programme aims at vaccinating over 500 Million Livestock including cattle, buffalo, sheep, goats and pigs against the disease. It will be implemented for a period of five years till 2024 at a cost of 12, 652 crore rupees. It also aims at vaccinating 36 million female Bovine Calves annually in its fight against the Brucellosis disease. The objective of the programme is to control Foot and Mouth Disease and Brucellosis by 2025 and their eradication by 2030.
35.IAF resurrects 17 Squadron 'Golden Arrows' for Rafale
The Indian Air Force (IAF) resurrected the Air Force Station Ambala-based 17 Squadron 'Golden Arrows', which will operate the first squadron of Rafale fighter jets in the near future. Air Chief Marshal Birender Singh Dhanoa presented a memento to Station Commander Group Captain Harkirat Singh to commemorate the occasion. The squadron was formed at Ambala on 01st Oct 1951 under the command of Flight Lieutenant D L Springett and was then equipped with Harvard-II B aircraft. Under the command of then Wing Commander BS Dhanoa, Golden Arrows participated actively in Operation Safed Sagar in 1999.
36.Centre sets up 3-member panel to oversee bifurcation of J&K into two Union Territories
Centre has set up a three-member panel to oversee the bifurcation of Jammu and Kashmir into two Union Territories. The committee will look into the distribution of assets and liabilities of Jammu and Kashmir between two successor Union territories, which will come into existence on the 31st of October this year. The committee headed by Former Defence Secretary Sanjay Mitra will have Retired IAS officer Arun Goyal and Retired Indian Civil Accounts Service officer Giriraj Prasad Gupta as members. On 5th of last month, the Centre had announced the abrogation of the special status given to J&K under Article 370 and bifurcation of the state into the two UTs.
37.Kerala to set up India's first global trade centre for women
In a first, Kerala is all set to set up India's first International Women's Trade Centre (iWTC), in consonance with the United Nations Sustainable Development Goals (SDs), in Kozhikode. This initiative aims to accelerate women entrepreneurship and secure gender parity while providing women with a safe place away from home to start new businesses, set up or expand, and get their products marketed globally. The first phase of iWTC, being executed under the Gender Park's "Vision 2020", is scheduled to be completed by 2021.
38.Keralites celebrate Onam with full spirit
Keralites across the globe are celebrating their biggest festival Onam. The annual harvest festival of Onam falls in the month of Chingam. It is a 10-day long festival from Atham to Thiruonam. Onam commemorates the return of a mythical, righteous King Mahabali. Irrespective of the caste and community, Onam is being celebrated by Keralites across the globe with full spirit.
39.NITI Aayog joins hands with McKinsey for first digital capability centre
McKinsey & Company has secured a contract from the NITI Aayog to set up India's first digital capability centre (DCC) at New Delhi. The government will act as a facilitator to bring together industry, academia and research on one platform to help set up the centre, which has to be driven by the private sector. The Aayog has lined up extensive stakeholder consultations over the next few months to firm up the plan. DCC is a unique digital manufacturing learning centre offering company leaders and their workforces hands-on experience and workshops in next-generation technology.
40.President Kovind embarks on 9-day visit to Iceland, Switzerland, Slovenia
President Ram Nath Kovind embarked on an official nine-day visit to Iceland, Switzerland, and Slovenia. Kovind arrived in Iceland and hold talks with his Icelandic counterpart Gudni Th. The second leg of the visit to Switzerland will begin on September 11. The final leg of the visit to Slovenia will begin on September 15 and mark the first-ever visit by an Indian President to the country.
Points to Remember
Iceland capital: Reykjavík
Switzerland Capital: Bern
Slovenia capital: Ljubljana
41.Multilingual Mobile App 'CHC Farm Machinery' launched for farmers
Minister of State for Agriculture Parshottam Rupala launched a multilingual Mobile App "CHC Farm Machinery" during a conference on Crop Residue Management in New Delhi. Farmers can now get affordable access to cutting-edge technology at their doorsteps. It will allow farmers to avail custom hiring services of CHCs located in a radius of 50 km. The App connects the farmers with Custom Hiring Service Centers in their area. The Minster sought ideas from farmers to ensure zero burning in all villages.
42.International conference 'ANGAN' being organized in New Delhi
A three-day-long International conference ANGAN (Augmenting Nature by Green Affordable New-habitat) for Energy Efficiency in the Building Sector is being organized by the Bureau of Energy Efficiency in New Delhi. Indo-German Technical Cooperation is also partnering in the event. Experts and policymakers from sixteen countries are participating in this event to discuss various alternative options and technologies in the field of design and construction of energy-efficient commercial as well as residential buildings. The three-day-long event will provide a platform to deliberate on the interdependence between organizations, systems sustainability and feedback loops for better resource efficiency.
43.First Helicopter summit held in Dehradun
The Ministry of Civil Aviation organised India's first-ever helicopter summit in Dehradun. The Indian Air Force was invited to the summit to talk on the "role of IAF helicopters in MEDEVAC (Medical evacuation) at the national level". The conclave was attended by Uttarakhand Chief Minister Trivendra Singh Rawat, the Aviation Secretary, and the Chief Secretary of Uttarakhand, amongst others.
44.India, ADB sign 200-million dollar loan agreement for upgrading roads in Maharashtra
India and Asian Development Bank, ADB signed a 200-million dollar loan agreement for upgrading rural roads in 34 districts of Maharashtra to improve road safety. The Finance Ministry said the project will improve the condition of about two thousand 100 kilometres of rural roads to all-weather standards.
45.IPPB rolls out Aadhaar-enabled payment services
The government announced the rollout of Aadhaar Enabled Payment System Services by India Post Payments Bank, IPPB. Minister for Communications, Electronics and IT Ravi Shankar Prasad give a strong boost to the Centre's efforts in expanding access to financial services for millions of unbanked and underbanked customers. IPPB has become the single largest platform in the country for providing interoperable banking services to customers of any bank by leveraging the last mile unprecedented reach of the Postal network. Mr Prasad congratulated the bank for achieving the milestone of one crore customers and exhorted them to achieve five crore target in the next one year.
India Post Payments Bank MD and CEO : Suresh Sethi
46. IAF completes the first level of astronaut selection for Gaganyaan
The first level of selection of Indian astronauts for Mission Gaganyaan has been completed at the Institute of Aerospace Medicine by the Indian Air Force (IAF). The Gaganyaan mission was announced by Prime Minister Narendra Modi during his Independence Day speech last year, is scheduled to launch by December 2021. The mission entails placing a three-member crew into a low-Earth orbit for a period of seven days. If successful, it will make India the fourth country to independently send human beings into space. The chosen astronauts will then be sent to Russia by November for 15 months of training.
47. Article 371 providing special provisions for NE states will not be tampered
Union Home Minister Amit Shah has asserted that Article 371, which provides special provisions for North-Eastern states, will not be tampered. Addressing the 68th Plenary of the North Eastern Council (NEC) in Guwahati, Mr. Shah allayed apprehensions of North Eastern people regarding Article 371. Article 371 of the Constitution includes "special provisions" for 11 states, including six states of the Northeast.
48. Government to spend 3.5 lakh crore rupees in the next five years on Jal Jeevan Mission
Prime Minister Narendra Modi has announced that the central government will spend 3.5 lakh crore rupees in the next five years on 'Jal Jeevan Mission'. The aim of the mission is to deliver potable water at every household across the country. Jal Jeevan Mission has been launched in order to free women from the trouble of having to toil hard to fetch water. Jal Jeevan Mission involves saving water and delivering water at one's doorstep.
49. Chandrayaan-2: 95% of mission objectives accomplished, says ISRO
ISRO says despite the loss of communication with Vikram Lander, 90 to 95 per cent of the mission objectives have been accomplished. The Orbiter has already been placed in the orbit around the moon. The Orbiter camera is the highest resolution camera in any lunar mission so far and shall provide high-resolution images which will be immensely useful to the global scientific community. The statement said Vikram Lander followed the planned descent trajectory from its orbit of 35 Km to just below 2 km above the surface.
48. 1st conference of Military Medicine for the SCO Member States to be held in New Delhi
The first conference of Military Medicine for Shanghai Co-operation Organisation (SCO) Member States will be held in New Delhi on 12 - 13 September 2019. The conference will be the first Military co-operation event hosted by India, under the SCO Defence Co-operation Plan 2019-2020, after it became an SCO Member State in 2017. The conference will be conducted with the aim to share best practices in the field of military medicine, build capacities and overcome common challenges.
49. PM Modi inaugurates first 'Make in India' metro coach in Mumbai
Prime Minister Narendra Modi inaugurated the first Metro Coach in Mumbai under the 'Make in India' initiative at Jio World Centre, Maharashtra, Mumbai. The coach, the first in the list of 500 to be delivered to the Mumbai Metro Rail Corporation, has been built by Bharat Earth Movers (BEML) at its Bengaluru facility in flat 75 days. Maharashtra is pumping in over Rs 1.2 lakh crore to build 14 metro corridors stretching 337-km over the next decade.
50. Rohit Sharma Launches Campaign to save Rhinos in India
India vice-captain Rohit Sharma is launching 'Rohit4Rhinos campaign', in partnership with WWF India and Animal Planet, to help build awareness for the need to conserve the Greater One-Horned Rhinoceros or the Indian Rhino. In a campaign launching on Animal Planet to commemorate World Rhino Day on September 22, Rohit pledges to do his bit to save the "vulnerable" species from extinction. The Indian rhinoceros faces several threats, including poaching, habitat loss and mass mortality from inbreeding and disease.
51. CBSE partners with Microsoft for capacity building of teachers
The Central Board of Secondary Education (CBSE) has joined hands with Microsoft to conduct capacity building programmes for high school teachers and integrate cloud-powered technology in teaching. The programme will cater to teachers of classes eight to 10 and will be conducted in 10 cities across the country. As part of the programme, at least 1,000 teachers nominated by the CBSE will undergo a three-day project-based training for practical, hands-on knowledge of Microsoft 365 tools such as OneNote, Flipgrid, Teams and Outlook.
52.UPI transactions top 900 million in August
Transactions made through Unified Payments Interface (UPI) for the first time have crossed the 900 million mark in August. It has crossed the mark due to an increase in merchant adoption of the payment channel and improved smartphone penetration in certain states. Newly released data from National Payments Corporation of India (NPCI) show that in August, a total of 918 million transactions worth Rs 1.54 lakh crore were processed on the interoperable digital payments channel.