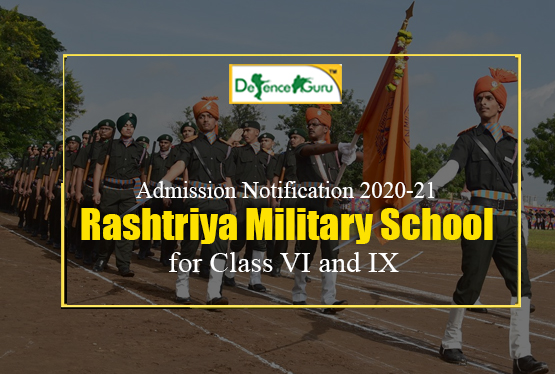 Rashtriya Military School Admission Notification 2020-21 for Class VI and IX
The perks of Rashtriya Military Schhols are pouring heavily on the minds of Indian youth these days. Much part of young Indian crowds longs for the time when they can take the test of Rashtriya Military School and mark the beginning of their career in Indian Armed Forces.
Bringing an end to the await of thousand Rashtriya Military School aspirants, it has finally published it admission notification and here are the details:
RASHTRIYA MILITARY SCHOOLS OF INDIA INVITE APPLICATIONS FOR ADMISSION TO CLASS VI AND CLASS IX FOR ACADEMIC SESSION 2020-21
1. Applications are invited for admission to Class VI and Class IX in Rashtriya Military Schools located at Chail (Himachal Pradesh), Ajmer (Rajasthan), Belgaum (Karnataka), Bengaluru (Karnataka) and Dholpur (Rajasthan).
2. Rashtriya Military Schools are fully residential public schools affiliated to CBSE and function under the aegis of Ministry of Defence.
3. Entrance Examination : The OMR based Common Entrance Test (CET) for admission to Class VI and Class IX will be held on 22 December 2019 (Sunday). The examination will be based on the subjects as given below :-

Class VI Examination : Questions of Class V standard in subjects of Intelligence, General Knowledge, Mathematics and English.
Class IX Examination : Questions of Class VIII standard in subjects of English, Hindi, Social Science, Mathematics and Science.

4. Eligibility
(a)
Age.
Class VI. Only boys aged between 10-12 years as on 31 March 2020 (born between 01 April 2008 to 31 March 2010, both days inclusive) are eligible.
Class IX. Only boys aged between 13-15 years as on 31 March 2020 (born between 01 April 2005 to 31 March 2007, both days inclusive) are eligible.
Note. Six months relaxation in upper age limit is permissible for the wards of personnel Killed in Action for admission to Class VI and Class IX respectively.
1. Education.

Class IX. Candidate should have passed Class VIII from a govt/recognized school before the date of admission. Students studying in Class VIII are also eligible to appear in the entrance test for Class IX.
Class VI. No previous educational qualification is mandatory.
Medical. Selected candidates will have to undergo medical exam at Military Hospitals as nominated by the Director General of Medical Services prior to admission. Only those found medically fit will be offered admission.

2. Reservation of Vacancies

70% for wards of JCOs/OR of Army, Navy and AF (including ex-servicemen).
30% for wards of officers of Army, Navy and AF (including retired officers) and wards of civilians.
A total of 50 seats are earmarked in Killed in Action category, in all five RMSs together, at any point of time.
Note: 15% and 7.5% seats are reserved for SC and ST in all categories.
1. Admit Cards, Interview and Results. Candidates who clear the Common Entrance Test and are figuring in the merit list will be required to appear for Interview at respective Rashtriya Military Schools. Final merit list will be prepared after the Interview. Admit Cards and results will be hosted on the School website www.rashtriyamilitaryschools.in on internet and can be downloaded.
2. Application Forms. Prospectus and Application Forms can be obtained by hand from any Rashtriya Military Schools by paying Rs. 600/- (Rs. 300/- in case of SC/ST) through Cash/DD. Prospectus and Application form can also be obtained through post by forwarding self addressed slip and Rs. 650/- (Rs. 350/- for SC/ST) which includes Rs 50/- for postage through Demand Draft payable at respective Rashtriya Military School (in favour of "Principal, Rashtriya Military School"). ALL APPLICATIONS WILL BE ROUTED THROUGH RASHTRIYA MILITARY SCHOOL ONLY. Last date of submission of completely filled application form is 20 Oct 2019.

3. Important Instructions:-

Parents/candidates should exercise due care while filling up the application form. If on verification or otherwise at any subsequent stage, incorrect entries or some variations are found, the candidature is liable to be rejected.
Verification of eligibility conditions with reference to original documents will be done during admission.
Candidates should also note that once a Date of Birth and Category has been claimed by them and entered in the records of the form for the purpose of admission, no change will be allowed subsequently on any ground whatsoever.

4. Contact Details

Rashtriya Military School, Chail, Shimla Hills, HP - 173 217, Ph: 01792-248326
Rashtriya Military School, Ajmer, Rajasthan - 305 001, Ph: 0145-2624105
Rashtriya Military School, Belgaum, Karnataka - 590 009, Ph: 0831-2406912
Rashtriya Military School, Bengaluru, PB-25040, Museum Road, Karnataka – 560 025, Ph: 080-25554972
Rashtriya Military School, Dholpur, Rajasthan - 328 028, Ph: 05642-220749
Well well the golden opportunity to make a stellar career ahead has arrived. Don't let it slip away so easily, apply for it right now. Good luck!