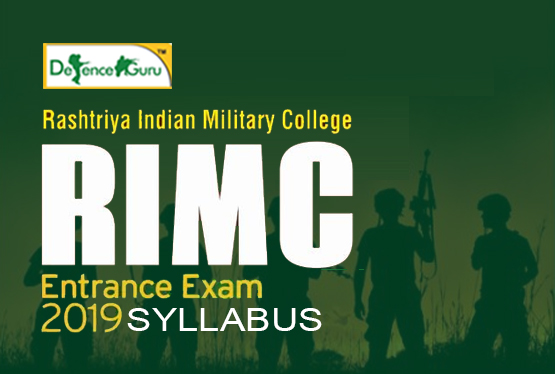 RIMC SYLLABUS
Endowed with the best facilities, curriculum and bright future prospects, Rashtriya Indian Military College (RIMC) has simply no match all over India.
RIMC is located in the lush green mountainous region of Dehradun and has a long history of its inception. RIMC is managed by Union Ministry of Defence, through Directorate General of Military Training. Be it sports, co- curricular activities, preparation for Indian Armed Forces or twice- a- year board exam pattern, RIMC is exceptional in every way.
Every 6 months RIMC conducts an entrance exam to admit 25 students in class VIII. The process involves written exam+ viva voce+ medical test.
Below has been jotted down the syllabus of RIMC written exam:
ENGLISH
Essay Writing
• Idioms and Phrases
• Letter Writing
• Common Errors
• Miscellaneous
• One Word Substitution
• Story Writing
• Synonyms and Antonyms
MATHEMATICS
Average Ratio & Proportion
• HCF and LCM
• Number System
• Percentage
• Profit and Loss
• Square & Square Root
• Time & Work, Simple Interest
• Time and Distance
GENERAL KNOWLEDGE
General Knowledge
• General Science
• Geography
• History
• Sports
Short and simple that's what it is- the updated RIMC syllabus. Make the best of this exam and let your career lighten up.