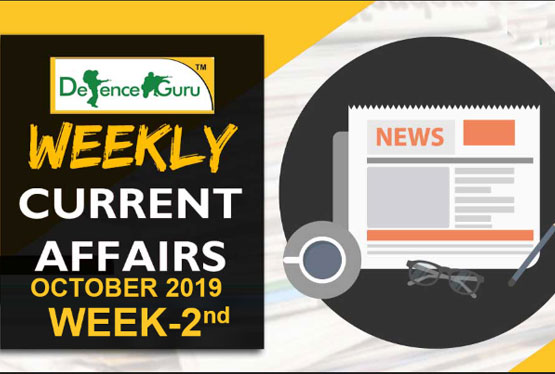 Appointments
1. Justice Lingappa Narayana Swamy
Justice Lingappa Narayana Swamy was sworn in as the Chief Justice of the Himachal Pradesh High Court. He was administered the oath of office by Governor Bandaru Dattatraya in a simple but impressive ceremony held at Raj Bhawan in Shimla. Chief Minister Jai Ram Thakur was present on the occasion.
2. Indrajit Mohanty
Governor Kalraj Mishra administered the oath of office to newly appointed Rajasthan High Court Chief Justice Indrajit Mohanty. Mohanty, who is now the 37th Chief Justice of the Rajasthan High Court, took the oath in English. Chief Secretary D B Gupta read out the appointment warrant issued by President Ramnath Kovind.
Deaths
3. Kadri Gopalnath
Padma Shri awardee and well known Saxophonist Kadri Gopalnath passed away after a brief illness. An A grade artist in Akashwani, Gopalnath held concerts in different countries and recorded a number of CDs. He was considered as a pioneer in playing Carnatic ragas on his Saxophone. Apart from Padma Shree, Gopalnath was conferred with Sangeetha Nataka Academy Award, Karnataka Kalasri award among others.
Awards
4.Nobel Peace Prize-2019
Ethiopian Prime Minister Abiy Ahmed has won the 2019 Nobel Peace Prize for his peacemaking efforts with Eritrea. Abiy was honoured "for his efforts to achieve peace and international cooperation, and in particular for his decisive initiative to resolve the border conflict with neighbouring Eritrea," Ethiopia and Eritrea, longtime foes who fought a border war from 1998 to 2000, restored relations in July 2018 after years of hostility.
5.Nobel Prize in Chemistry -2019
The 2019 Nobel Prize in Chemistry has been awarded to John B. Goodenough, M. Stanley Whittingham and Akira Yoshino. They have been awarded "for the development of lithium-ion batteries". The batteries power everyday products such as smartphones, laptops and even electric vehicles. At 97, John B Goodenough is the oldest person to receive a Nobel Prize.
6.Nobel prize in physics -2019
Nobel Prize 2019 for Physics has been announced. Three scientists, James Peebles, Michel Mayor and Didier Queloz have won the Prize for their contribution to the understanding of the evolution of the universe and earth's place in the cosmos. One half of the award was given to James Peebles for theoretical discoveries in physical cosmology and the other half jointly to Michel Mayor and Didier Queloz for the discovery of an exoplanet orbiting a solar-type star. They will share a 9-million kronor cash award, a gold medal and a diploma.
7.Nobel Prize in Medicine-2019
The 2019 Nobel Prize for Physiology or Medicine has been awarded to scientists William G Kaelin, Jr, Peter J Ratcliffe and Gregg L Semenza. The Nobel Committee announced that they received the award jointly for their discoveries of "how cells sense and adapt to oxygen availability". The jury said that they established the basis for our understanding of how oxygen levels affect cellular metabolism and physiological function. The three will share the Nobel prize sum of nine million Swedish kronor or about 9 Lakh 14 thousand US dollar. It is the 110th prize in the category that has been awarded since 1901.
8.Nobel Prize in Literature -2018 and 2019
The 2019 Nobel Prize in Literature has been announced along with the 2018 Prize. Austrian author Peter Handke has won the 2019 Prize while Polish writer Olga Tokarczuk has received the 2018 Prize. Tokarczuk becomes just the 15th woman to have won the prestigious distinction, out of 116 literature laureates honoured since 1901. The 2019 Nobel Prize in Literature was announced along with the 2018 Prize as the latter was delayed by a year following a scandal that included allegations of sexual misconduct.
9. Indira Gandhi award for national integration-2019
The 31st Indira Gandhi Award for National Integration for the years 2017 and 2018 will be awarded to the pioneer of the 'Chipko Movement' Chandi Prasad Bhatt. The award will be presented for his services in promoting and preserving the national integration. The award consists of a citation and cash of Rs 10 lakh to be given to the awardee by Congress president Sonia Gandhi on October 31, the death anniversary of former Prime Minister Indira Gandhi. The 85-year-old Bhatt is an eminent Gandhian environmentalist and was associated with the Chipko Movement in Uttarakhand. Bhatt is a Ramon Magsaysay award recipient for the year 1982. He was also awarded the Padma Shri in 1986, the Padma Bhushan in 2005 and the Gandhi Peace Prize in 2013.
10.Asia Environmental Enforcement Award -2019
Senior Indian Forest Service officer Ramesh Pandey has been selected for the prestigious Asia Environmental Enforcement Award by the United Nations Environment Programme. The 1996-batch IFS officer, posted as Chief Conservator Forests in Lucknow and Secretary, UP State Bio-diversity Board, is known for his investigation and intelligence gathering on poachers. Pandey will receive the award on November 13 at the United Nations Conference Centre in Bangkok. The purpose of the Asia Environmental Enforcement Awards is to publicly recognise outstanding achievements by public organisations and individuals in Asia to combat transboundary environmental crime.
Sports
11.Simone Biles breaks the record for most world medals won by any gymnast
Simone Biles broke the all-time record for most medals by any gymnast at the world championships by winning the balance beam competition at the World Gymnastics Championship in Stuttgart, Germany. It's the 24th world championship medal for Biles, breaking a tie on 23 with the Belarusian men's gymnast Vitaly Scherbo. Biles scored 15.066 on the beam after a near-flawless routine.
13.Manju Rani settles for silver medal in World Women's Boxing Championship
The Indian women's boxing contingent ended the World Boxing Championships campaign with a record four medals after Manju Rani bagged the silver in the 48kg category final. 19-year-old Manju lost the gold-medal bout 1-4 against 2nd seed Ekaterina Paltceva of Russia but still managed to finish as the best Indian performer in this edition. This was Manju's maiden appearance at the World Championships. India finished with one silver and three bronze medals after Jamuna Boro, Lovlina Borgohain and MC Mary Kom clinched the bronze medals in their respective categories.
14.Lakshya Sen wins maiden BWF World Tour title
Indian shuttler Lakshya Sen clinched his maiden BWF World Tour title by winning the Dutch Open men's singles at Almere in the Netherlands. Lakshya rallied from a game deficit to defeat Yusuke Onodera of Japan 15-21, 21-14, 21-15 in a final that lasted 63 minutes. Lakshya, currently ranked 72nd, had won the Belgian Open last month and reached the finals of Polish Open this year. He had also won the Asian Junior Championships, a silver at Youth Olympic Games and a bronze medal at World Junior Championships last year.
15.Kohli scored the most double hundreds for an Indian batsman
Skipper Virat Kohli scored his seventh double ton and he now has the most number of 200 plus scores for an Indian batsman. He achieved the feat on the second day of the second Test match between India and South Africa at the Maharashtra Cricket Association Stadium in Pune. Kohli surpassed Virender Sehwag in the list for the most number of double hundreds for an Indian batsman. Sehwag had six scores of 200 plus in Test cricket. He also became the first Indian to score 40 hundred as skipper.
16.MC Mary Kom settles for bronze in World Women's Boxing Championships
Six-time champion M C Mary Kom settled for a bronze medal in the World Women's Boxing Championships after losing to Turkey's Busenaz Cakiroglu in an intense semifinal bout at Ulan Ude in Russia. Third-seeded Mary Kom lost 1-4 to second seed Cakiroglu, who is the reigning European Championships and European Games gold-medalist. The Indian contingent sought a review of the decision but the appeal was turned down by the International Boxing Association's (AIBA) technical committee. This bronze is her first world medal in the 51kg category.
17.Eliud Kipchoge becomes the first person to run a marathon in under two hours
Kenya's Eliud Kipchoge has successfully completed the first-ever marathon under two hours in the Austrian capital of Vienna. The 34-year-old ran forty-two kilometres in 1 hour, 59 minutes and 40 seconds at Vienna's Prater-Hauptallee - an achievement once considered beyond human's reach. Kipchoge was on target to break the record during the first half of Vienna's Prater Park on, after completing 21 kilometres in 59.35 minutes. During the race, Kipchoge followed behind a car and was assisted by an army of 30 pacemakers.
18.Simone Biles wins 15th world title as US claim team Gold
US gymnastics star Simone Biles clinches a record-extending 15th world championship title as the US wins world gymnastics team Gold in Stuttgart, Germany. With this win, Simone Biles becomes the event's most decorated woman. US gymnastics star Simone Biles won a record 21st medal at the world gymnastics championships. Biles' 15th career gold medal brings her a total of 21 medals, breaking a tie with the Russian gymnast Svetlana Khorkina for the most medals by a woman at the world championships.
19.Bastian Schweinsteiger announces retirement from soccer
German World Cup champion Bastian Schweinsteiger has announced his retirement from soccer. Schweinsteiger spent a majority of his career with European giants Bayern Munich, where he won eight Bundesliga titles and seven German cups as well as the Champions league in 2013. The 35-year-old made over 300 appearances for the Bavarian side, scoring 45 goals from 2002-2015.
20.Mithali Raj becomes 1st female player to complete 20 years in international cricket
India women's cricket captain Mithali Raj became the first female player to last more than 20 years in international cricket. She achieved the feat while leading India to an emphatic eight-wicket win over South Africa Women in the first ODI at Vadodara. Mithali, who made her ODI debut against Ireland on June 26, 1999, completed 20 years and 105 days in the 50-over format. The right-handed batswoman has played 204 ODIs till now, the most by a female.
21. Surender Singh creates three world records at World Powerlifting Championship
Surender Singh of India created three world records at the ongoing World Powerlifting Championship in Berlin, Germany. Surender bagged a gold medal in 110 kg category, Classic Raw and the Best Lifter Award in Classic Raw and Single Ply. Three-time World Champion Mukesh Singh won yet another gold only to be known as 4-time World Champion. On the first day of the championship, Indian contingent bagged a total of 4 gold and 1 silver medal.
22. Novak Djokovic clinches Japan Open title
World number one Novak Djokovic clinched the Japan Open tennis title defeating Australian qualifier John Millman 6-3, 6-2 in straight sets. Djokovic, playing in his first Japanese competition, dominated throughout the game, to claim the trophy at the Ariake Colosseum at Tokyo. Djokovic never faced a breakpoint, while Millman managed to survive only one of four break points during the match.
23. Rohit Sharma breaks Akram's 23-year-old record of most sixes in a Test Match
Indian cricketer Rohit Sharma surpassed Wasim Akram to hit the most number of sixes in a Test match. He achieved the feat on day four of the first Test match between India and South Africa. The right-handed batsman broke the 23-year-old record previously held by Akram. The former Pakistan cricketer had hit twelve sixes in a match against Zimbabwe in Sheikhupura. Rohit whacked 13 sixes in the first Test and smashed two centuries in both the innings.
International
24.International Day for Disaster Risk Reduction: 13 October
The International Day for Disaster Risk Reduction is observed on 13 October every year. The aim of this day is to promote a global culture of risk-awareness and disaster reduction. The day celebrates how people and communities around the world are reducing their exposure to disasters and raising awareness about the importance of reining in the risks that they face. 2019 Theme: Reduce disaster damage to critical infrastructure and disruption of basic services
25.World Standards Day: 14 October
World Standards Day (or International Standards Day) is celebrated internationally each year on 14 October. The aim of World Standards Day is to raise awareness among regulators, industry and consumers as to the importance of standardization to the global economy. Around the globe, it is celebrated by the members of IEC (the International Electro-technical Commission), ISO (The International Organization for Standardization) and ITU (The International Telecommunication Union). 2019 theme: Video standards create a global stage
26.World Arthritis Day: 12 October
World Arthritis Day is observed every year on 12 October. The day is meant to raise awareness about arthritis, a condition that is characterised by inflammation in bones and joints. World Arthritis Day is meant to educate people about problems faced by people with arthritis, how the condition affects their day-to-day lives and what can be done for treatment and prevention of arthritis.
27.World Migratory Bird Day (WMBD): 12 October
World Migratory Bird Day (WMBD) is an annual awareness day observed every year on 12 October. The aim of this day is to highlight the need for the conservation of migratory birds and their habitats. It has a global outreach and is an effective tool to help raise global awareness of the threats faced by migratory birds, their ecological importance, and the need for international cooperation to conserve them. Theme: 'Protect Birds: Be the Solution to Plastic Pollution'
28.Dubai prepares to host 2019 First Global DXB Challenge
Dubai prepares to host the 2019 First Global DXB Challenge, a large gathering for creative young minds in the fields of robotics and artificial intelligence. The event will bring together more than 1,500 youth from over 191 countries to collaborate, create and compete for a better future. The First Global Challenge seeks to encourage and empower youth with a passion for science, technology, engineering, and mathematics, develop their skills and equip them with the tools necessary to contribute to shaping the future. The Challenge aims to address the world's most critical environmental issues such as wastage of water and energy, sustainability and pollution through global robotics competition.
29.International Day of The Girl Child: 11 October
International Day of the Girl Child is an important observance held every year on October 11. There are several other names of the day, such as Day of Girls, World Girl Child Day, International Girl Child Day and International Day of The Girl. The aim behind this international observance declared by the United Nations (UN) and first celebrated in 2012 is to raise girls' issues worldwide. The observation supports more opportunities for girls and increases awareness of gender inequality faced by girls worldwide based upon their gender. Theme : GirlForce: Unscripted and unstoppable
30.Singapore will become the first country to ban ads for sugary drinks
Singapore will become the first country in the world to ban advertisements for the most unhealthy sugary drinks. The health ministry called the ban as its latest move to combat rising diabetes rates. Products deemed "less healthy" must now display labels grading their nutritional and sugar content. Those considered to be most unhealthy will be banned from appearing in ads across all media platforms, including broadcast, print and online channels.
31.World Mental Health Day: 10 October
World Mental Health Day is observed on 10 October every year. The day is observed every year to global mental health education, awareness and advocacy against social stigma. It was first celebrated in 1992 at the initiative of the World Federation for Mental Health, a global mental health organization with members and contacts in more than 150 countries. Theme: "suicide prevention"
32.World Post Day: 09 October
World Post Day is celebrated every year on 9 October. It is the anniversary of the establishment of the Universal Postal Union in 1874 in the Swiss Capital, Bern. It was declared World Post Day by the UPU Congress held in Tokyo, Japan in 1969. Posts in many countries use the event to introduce or promote new postal products and services.
National
33.Prahlad Singh Patel participates in BRICS Culture Ministers' meeting in Brazil
Union Minister of State for Culture and Tourism Prahlad Singh Patel participated in BRICS Culture Ministers' meeting held in Curitiba, Brazil. Mr Patel asserted that BRICS for India is a valuable forum for consultation, coordination and cooperation on contemporary global issues of mutual interest. He also proposed to add literature as another field of cooperation between the countries to enhance cooperation in the field of literary works.
34.India extends Line of Credit worth USD 30 mn to Sierra Leone for rice cultivation
India and Sierra Leone signed six agreements including extended a credit line of 30 million US Dollars for rice cultivation. Vice President Venkaiah Naidu and Sierra Leone President Julius Maada Bio committed to further strengthening bilateral relations. Mr Naidu reached Freetown, capital of Sierra Leone on the second leg of his ongoing five-day visit to the West African countries. Mr Naidu's visit marks the first high-level visit from India to the two African countries.
35.India, Japan to hold joint military exercise 'Dharma-Guardian' 2019
A joint military exercise Dharma-Guardian 2019 will be conducted between India and Japan at the Counter Insurgency and Jungle Warfare School, Vairengte in Mizoram from October 19 to November 2. The Indian Army and the Japanese Ground Self Defence Forces (JGSDF), comprising 25 soldiers each, will participate in the exercise. The exercise is an annual training event which is being conducted in India since 2018. The scope of this exercise covers platoon-level joint training on counter-terrorism operations in the jungle and urban scenario.
36.PM Modi becomes the most followed leader on Instagram
Prime Minister Narendra Modi has become the most-followed elected world leader on photo-sharing app Instagram. He is ahead of US President Donald Trump, Indonesian President Joko Widodo and former president Barack Obama. With 30 million followers, PM Modi leads the list of world leaders on Instagram, with Joko Widodo coming in a close second with 25.6 million followers on the popular app. Barack Obama comes in third with 24.8 million followers while, Donald Trump, trails behind with 14.9 million followers. Barack Obama is the most followed politician with 107.5 million followers on his personal Twitter. He is followed by US President Donald Trump with 62.6 million followers on his own personal Twitter. Narendra Modi, the Prime Minister of India is the third most followed politician with 50 million followers.
37.10th edition of 'Rashtriya Sanskriti Mahotsav' under the Ministry of Culture inaugurated in Jabalpur
The Governor of Madhya Pradesh Shri Lalji Tandon in the presence of Minister of State for Culture and Tourism (I/C), Shri Prahalad Singh Patel inaugurated the 10th Rashtriya Sanskriti Mahotsav in Jabalpur in Madhya Pradesh. Ministry of Culture, Government of India is organising the 10th edition of Rashtriya Sanskriti Mahotsav under the Ek Bharat Shrestha Bharat initiative in Madhya Pradesh from 14th to 21st October 2019. The National Cultural festival will display diverse forms of folk, art and culture of 22 states. The concept of National Cultural Festival was conceived in the year 2015. The festival is being organized in Madhya Pradesh for the second time.
38.India jumps to 7th spot in Brand Finance Nation ranking
India jumped two levels to 7th position in the Brand Finance Nation ranking of 2019. As per the latest report by independent brand valuation consultancy Brand Finance, India has jumped to the seventh position from 9th last year, after recording a solid 19 per cent growth in brand value to USD 2.6 trillion. The list was topped by the United States of America (USA) with 7.2% growth in brand value to $27,751 bn. Claiming second position, China continues to grow at a very healthy rate, recording an impressive 40 per cent increase in brand value to US$19.5 trillion.
39.Piyush Goyal to attend 9th RCEP Intersessional Ministerial Meeting in Thailand
Commerce Minister Piyush Goyal will attend the 9th Regional Comprehensive Economic Partnership, RCEP Intersessional Ministerial meeting in Bangkok, Thailand. This will be the last Ministerial before the 3rd Leaders Summit to be held on the 4th of next month in Bangkok. The 9th Intersessional Ministerial Meeting comes at a crucial stage where the RCEP is scheduled to be announced as concluded in November this year.
The Regional Comprehensive Economic Partnership (RCEP) is a proposed free trade agreement (FTA) between the ten member states of the Association of Southeast Asian Nations (ASEAN) (Brunei, Cambodia, Indonesia, Laos, Malaysia, Myanmar, the Philippines, Singapore, Thailand, Vietnam) and its six FTA partners (China, Japan, India, South Korea, Australia and New Zealand).
40.Govt launches SUMAN initiative
Union Minister for Health and Family Welfare Dr Harsh Vardhan along with several State Health Ministers launched Surakshit Matritva Aashwasan, SUMAN, initiative in New Delhi. The initiative was launched during the 13th Conference of Central Council of Health and Family Welfare. The initiative aims at ensuring dignified, respectful and quality health care at no cost and zero tolerance for denial of services for every woman and newborn visiting the public health facility in order to end all preventable maternal and newborn deaths.
41.First National Hindi Science writers conference begins in Lucknow
In Uttar Pradesh, the first 2-day long National Hindi Science writers conference started in Lucknow. The aim of this conference is to release science writing from the clutches of English and to promote the use of Hindi and other vernacular languages. More than one thousand science writers from across the country are expected to take part in this conference. A dedicated website WWW.VIGYANLEKHAN.COM has been prepared for this event.
42.38th India Carpet Expo started in Varanasi
The Carpet Export Promotion Council (CEPC) is organizing the 38th India Carpet Expo (15th in Varanasi) from 11th- 14th October 2019 in Sampurnanand Sanskrit University Ground in Varanasi. The aim of this Expo is to promote the cultural heritage and weaving skills of Indian hand-made carpets and other floor coverings for the visiting overseas carpet buyers. The Expo is organized twice a year in Varanasi and Delhi. India Carpet Expo is one of the largest handmade carpet fairs in Asia. Indian handmade carpet industry is number one in the international handmade carpet market both in terms of value and volume. India exports 85-90% of its total carpet production.
43. 'Garbage Cafe' in Chhattisgarh's Ambikapur to provide a free meal in exchange for plastic waste
The first-of-its-kind 'Garbage Cafe' commenced in Ambikapur city of Chhattisgarh. In this unique Cafe', poor people and rag pickers will get free food in exchange for one kilogram of plastic, while breakfast will be provided if half a kilogram of plastic is brought to the cafe. The café has been inaugurated by Health Minister of Chhattisgarh T. S. Singh Deo. The collected garbage will be sold at Solid-Liquid Resources Management Centre. The collected plastic waste would further be turned into granules and will then be used in the construction of roads in the city. Ambikapur is Chhattisgarh's first dustbin-free city. The city has been hailed as the second cleanest city in the country in Swachhata rankings.
44.Govt launches GEMINI disaster warning device
The government launched a device that will provide information related to disaster warnings when fishermen move away from the coast beyond 10 to 12 kilometres. Gagan Enabled Mariner's Instrument for Navigation and Information (GEMINI) device will disseminate seamless and effective emergency information and communication on disaster warnings. On the occasion, PFZ forecasts were also inaugurated which will provide advisories to fishermen three days in advance.
45.Innovation learning programme DHRUV starts
The ambitious Pradhan Mantri Innovation Learning Programme, DHRUV, kick-started from ISRO in Bengaluru and will conclude on 24th of this month at IIT, Delhi. Sixty brightest and talented students from Science, Mathematics and Performing Arts have been chosen for the programme. It aims to further sharpen innovative imagination, skills and knowledge of the students who are expected to contribute to bringing solutions to socio-economic, political and environmental issues in the country.
46.Govt collaborates with IIM Bangalore to launch Mahatma Gandhi National Fellowship
The Ministry of Skill Development and Entrepreneurship (MSDE) announced its partnership with the Indian Institute of Management (IIM) - Bangalore to launch a new programme 'Mahatma Gandhi National Fellowship'. The two-year Fellowship programme will be delivered by IIMB's Centre of Public Policy (CPP). The programme will be launched on a pilot basis in Gujarat, Karnataka, Meghalaya, Rajasthan, Uttar Pradesh and Uttarakhand. Those who have a graduate degree from a recognised university and are citizens of India in the age group of 21-30 years will be eligible to apply for it.
47.PM Modi's new aircraft with missile defence systems will land in June 2020
Prime Minister Narendra Modi's two brand-new special aircraft that will reach India next year may be placed under the Indian Air Force rather than Air India. The two long-haul Boeing 777-300ER aircraft are being customised at Boeing's Dallas facility and are expected to arrive in New Delhi on June 2020. Missile defence systems that will make the aircraft as secure as the Boeing 747-200B used by US President Donald Trump. It will be India's first dedicated aircraft for the three dignitaries - the President, Vice President and Prime Minister.
48.Breast Cancer Awareness Month 2019: October
October is observed as Brest Cancer Awareness Month worldwide. This month creates awareness about the importance of early detection and treatment of breast cancer. According to the World Health Organisation (WHO) breast cancer is by far the most common cancer in women worldwide, both in developed and developing countries.
49. 20 new moons discovered around Saturn
Astronomers have announced that they have discovered 20 more moons around Saturn, bringing its total number to 82. Now it has the most number of moons around any planet in the solar system. Saturn's retinue now surpasses Jupiter's 79 known natural satellites. Of Saturn's 20 newfound moons, 17 are retrograde, meaning they orbit in the opposite direction that Saturn rotates. Three orbits in the same direction that Saturn spins.
50. India gets its 1st of 36 Rafale fighter jets from France
Defence Minister Rajnath Singh received the first of the 36 long-awaited Rafale fighter jets on behalf of the Indian Air Force (IAF). India had signed an agreement with France for the procurement of 36 Rafale fighter jets at a cost of Rs. 59,000 crore in September 2016. The first batch of four jets will come next May 2020. During this, Defence Minister sat in the rear cockpit while a French pilot flew the customised aircraft with tail number RB-01. RB stands for the newly appointed IAF chief Air Chief Marshal RKS Bhaduria, in recognition of his role in striking the Rafale deal in 2016.
National
51. NASA launches a satellite to explore where air meets space
NASA launched a satellite to explore the mysterious, dynamic region where air meets space.The satellite called 'Icon', short for Ionospheric Connection Explorer- rocketed into orbit following a two-year delay. It was dropped from a plane flying over the Atlantic off the Florida coast. A NASA satellite launched last year, Gold, is also studying the upper atmosphere, but from much higher up.
52. Mamallapuram 2nd informal summit: PM Modi welcomes Chinese President Xi Jinping
Prime Minister Narendra Modi, wearing the traditional Tamil attire of 'Veshti', welcomed Chinese President Xi Jinping at Mamallapuram, also known as Mahabalipuram, for the second informal India-China Summit. Earlier, Chinese President Xi Jinping arrived in Chennai for his historic second Informal Summit with Prime Minister Narendra Modi. Both the leaders visited the UNESCO-Heritage listed places like Arjuna's Penance, Pancha Rathas and the Shore Temple in Tamil Nadu.
53. India and Comoros sign MoUs on Defence Cooperation, health, culture and arts
India and Comoros signed 6 MoUs including one on defence cooperation. Other MoUs sought to cement cooperation in the fields of health and medicine, arts and culture and Tele-education (e-Vidya Bharati) and telemedicine (e-Arogya Bharati). MoUs on exemption of Visa for Diplomatic and Official Passport holders for short visits and protocol on foreign office consultations were also signed. The Vice President, Shri M. Venkaiah Naidu and the President of the Union of the Comoros, Mr Azali Assoumani witnessed the signing of these MoUs. In an extraordinary gesture of friendship, the Comorian President conferred the 'Order of the Green Crescent', the highest civilian honour of the Union of the Comoros, on the Vice President.
54. Army Commander's Conference
The Army Commander's Conference, an apex level biannual event, is held in April and October every year. The conference facilitates conceptual level deliberations culminating in important policy decisions. The latest edition of the Army Commander's Conference will be held at New Delhi from 14 to 19 October 2019. The focus of the exhibition will be to promote indigenization through 'Make in India'.
55. Mobile App, 'mHariyali' Launched for 'Environment Protection in Government Colonies'
Shri Hardeep S Puri, Minister of State for Housing & Urban Affairs launched the mobile app, 'mHariyali'. The app is aimed to encourage Public engagement in planting trees and other such Green drives. People can now upload information/photos of any plantation done by them, which is linked to the app and will be displayed on the website www.epgc.gov.in. The App provides for automatic geotagging of plants. This app will also enable nodal officers to periodically monitor the plantation. The App is user-friendly and works on any android mobile phone.
56. 'SARAS Aajeevika' Mela underway at India Gate Lawns in New Delhi
The SARAS Aajeevika Mela, organised by the Ministry of Rural Development, is underway at India Gate Lawns in New Delhi. The event will carry on till October 23. It was formally inaugurated by Rural Development Minister Narendra Singh Tomar. The objective of this Mela to bring the rural women Self Help Groups formed with the support of Deendayal Antyodaya Yojana-National Rural Livelihoods Mission, under one platform to showcase their skills, sell their products and help them build linkages with bulk buyers. Over 200 stalls have been set-up at the Mela venue, where rural SHG craftswomen from 29 States and UTs will show-case varied range of products like handicrafts, handlooms, natural food products and a food court with regional cuisines.
57. Telangana Police 'Hawk-Eye' integrated with cab apps
The Telangana Police have made it compulsory to link its "Hawk-Eye" app containing an "emergency button" to every company or individual offering Internet-based cab service. When a commuter in distress presses the button, the message will be transmitted to Telangana police's Hawk-Eye app through a back-end operational workflow that will pass on location and other details of the cab to the police. The late-hour working conditions in the IT and other service industries necessitated such an app-based facility to ensure the security of women. The emergency button will be integrated in such a way as to alert police patrol system.
Business
58. GeM signs MOU with Union Bank of India
Government e-Marketplace (GeM) signed a Memorandum of Understanding (MoU) with Union Bank of India (UBI). Through this partnership, UBI will be able to offer an array of services including transfer of funds through GeM Pool Accounts (GPA), advising of Performance Bank Guarantees (e-PBG) and Earnest Money Deposit (EMD) to the registered users on the GeM portal. The MoU will facilitate a cashless, paperless and transparent payment system on the portal and will create an efficient procurement system for government entities. GeM is an initiative of the Government of India offering one-stop platform facilitating online procurement of common use goods and services required by various government departments, organisations, Public Sector Units.
59. India, ADB sign 190 million dollar loan agreement for improving road connectivity in Rajasthan
India and Asian Development Bank, ADB have signed 190 million dollar loan agreement for improving road connectivity in Rajasthan.
The agreement was signed to upgrade 754 kilometres of state highways which will benefit about 26 million people in 14 districts of Rajasthan.
For the benefit of commuters and pedestrians, particularly women and children, the project provides for constructing more than 200 bus stops.
60. GST Council forms 12-member panel to suggest compliance, revenue reforms
Government has constituted a 12 member committee of officers to suggest measures to augment Goods and Services Tax revenue.
The panel comprising state-level GST commissioners and central government officials has been asked to suggest urgent measures to arrest the fall in tax revenues and suggest steps to be taken to improve revenue collection.
The panel comprises state GST commissioners of Maharashtra, Tamil Nadu, Uttar Pradesh, West Bengal and Punjab besides central government officials including Principal Commissioner of GST and Joint Secretary (Revenue).
This development took place ten days after the collection for the month of September was found to dip to ₹91,916 crores, the lowest after February 2018.
The Government has set a target of collecting over ₹1 lakh crore every month during the current fiscal.
61. RBI gives final nod to Kerala govt for the formation of Kerala Bank
The Reserve Bank of India has given its final nod to the Kerala Government for the formation of the Kerala Bank.
With its formation, the proposed Kerala Bank will be the largest banking network in the state.
Kerala Bank would be formed amalgamating the 13 District Co-operative Banks (DCBs) with Kerala State Co-operative Bank.
The government had claimed that the objective of the formation of the Kerala Bank is to strengthen the cooperative sector.
62. Reliance Mutual Fund renamed as Nippon India Mutual Fund
Reliance Mutual Fund is renamed as Nippon India Mutual Fund.
The name change came after Nippon Life Insurance of Japan completed the acquisition of 75 per cent stake in Reliance Nippon Life Asset Management from Reliance Capital.
Nippon Life entered Reliance AMC first by buying a 26 per cent stake in 2012 and now owns as much as 75 per cent, making it the single largest promoter.
63. Auto component major Minda to acquire Germany's Delvis for EUR21 million
Leading auto component manufacturer Minda Industries is acquiring 100 per cent equity capital of Germany-based Delvis Group for 21 million euros (about Rs 163 crore).
The Delvis Group is engaged in automotive lighting design and engineering.
It comprises of Delvis GmBH and its two wholly-owned subsidiaries: Delvis Products and Delvis Solutions.
Minda has a diversified product portfolio that encompasses safety, security and restraint systems.
These products cater to two- and three-wheelers, passenger vehicles, commercial vehicles and after-market.
64. Govt sets up a high-level panel to check money laundering activities
The government set up a high-level inter-ministerial committee chaired by the revenue secretary, Ajay Bhushan Pandey for better coordination among various departments and law enforcement agencies to prevent money laundering activities.
The 19-member Inter-Ministerial Coordination Committee (IMCC) has five secretaries, including from ministries of finance and external affairs, and chiefs of various regulatory authorities.
The committee would also work on the development and implementing policies on anti-money laundering and countering the financing of terrorism.
65. WTO hosts first World Cotton Day celebrations in Geneva
The first-ever World Cotton Day (WCD) was hosted by the World Trade Organization (WTO) in Geneva on October 7, 2019.
This event stems from the application by the Cotton-4 countries (Benin, Burkina Faso, Chad and Mali) to the United Nations General Assembly for its official recognition of a World Cotton Day, reflecting the importance of cotton as a global commodity.
Union Textiles Minister Smriti Irani representing India in the five-day event of World Cotton Day being observed at Geneva.
As one of the world's largest producers and consumers of cotton, India supports the World Cotton Day as an opportunity to recognise the significance of cotton as a global commodity.
66. 87th Air Force Day: 08 October 2019
The Air Force Day is celebrated every year on October 8, the day Indian Air Force was officially established in 1932.
This year, the IAF Day is special as the first of 36 long-awaited Rafale fighter jets will be received by Defence Minister Rajnath Singh in France.
The Indian Air Force will also be showcasing its Chinook and Apache helicopters for the first time.
Both these helicopters were acquired from the United States and inducted within in the last few months.
67. Vice President to embark on a two-nation tour to Africa
Continuing India's engagement with Africa, the Vice President of India, Shri M. Venkaiah Naidu will embark on a tour to Comoros and Sierra Leone on October 10.
This will be the first-ever visit by such a high-level Indian dignitary to Comoros, an archipelago situated off the Southeast coast of Africa and to Sierra Leone.
The present visit is the second one by the Vice President of India to Africa.
Earlier in November 2018, Shri Naidu had visited Botswana, Zimbabwe, and Malawi as part of strengthening bilateral ties with those countries.
Points to remember
Comoros Capital: Moroni
Sierra Leone Capital: Freetown
68. India to shift to BS-VI vehicular emission norms by April 2020
The Union Minister for Environment, Forest and Climate Change, Shri Prakash Javadekar Minister informed that the country will shift to BS-VI vehicular emission norms from BS-IV by April 2020.
Bharat Stage Six (BS-VI), is a revolutionary step in the transformation of fuels.
He added that there has been an 80% reduction in Particulate Matter emissions and a 30% reduction in Nitrogen Oxides emissions in BS-IV heavy-duty diesel vehicles compared with BS III norms.
Nearly ₹60,000 Cr were spent on switching over to BS-VI fuels.
69. National Health Authority and Google tie-up for Ayushman Bharat implementation
The National Health Authority (NHA) has joined hands with Google to collaborate and strengthen the implementation of the government's flagship health scheme, Ayushman Bharat-Pradhan Mantri Jan Arogya Yojana (AB PM-JAY).
The two organizations will be working closely to explore various use cases for increasing process efficiencies in day-to-day applications.
Google will also support NHA in improving PM-JAY's digital presence and showcasing relevant content to the 50 crore entitled beneficiaries.
70. Jal Shakti Minister Shri Gajendra Singh Shekhawat launches Ganga Aamantran
The 'Ganga Aamantran Abhiyan' is a pioneering and historic exploratory open-water rafting and kayaking expedition on the Ganga River to be held between 10th October 2019 to 11 November 2019.
Starting at Devprayag and culminating at Ganga Sagar, the expedition will cover the entire stretch of over 2500 km of the Ganga River.
The expedition will draw attention to the ecological challenges being faced by Ganga.
The expedition will encompass the five Ganga basin states including Uttarakhand, Uttar Pradesh, Jharkhand, Bihar and West Bengal with stops at Rishikesh, Haridwar, Kanpur, Allahabad, Varanasi, Patna, Sonepur and Kolkata.
71. Dr Harsh Vardhan launches eDantseva website and mobile application
Dr Harsh Vardhan, Union Minister of Health and Family Welfare launched the 'eDantseva' website and mobile application, the first-ever national digital platform on oral health information and knowledge dissemination.
This marks an important milestone as e-DantSeva will reach out to more than one billion people with one click in the form of a dedicated website and mobile application.
The Union Health Minister also released the Braille booklet and Voice over on Oral Health Education.
e-DantSeva contains information about the National Oral Health Program.
72. India gets the first tranche of Swiss bank account details
India has received the first tranche of details about financial accounts of its residents in Swiss banks under a new automatic exchange of information framework between the two countries.
It marks a significant milestone in the fight against black money suspected to be stashed abroad.
India figures among 75 countries with which Switzerland's FTA has exchanged information on financial accounts within the framework of global standards on AEOI.
This is the first time that India has received details from Switzerland under the AEOI framework.
73. UP CM Yogi Adityanath introduces Mukhya Mantri Kanya Sumangala Yojana
Uttar Pradesh Chief Minister Yogi Adityanath on the occasion of Mahanavmi introduced the 'Mukhya Mantri Kanya Sumangala Yojana'.
This program aims at empowering the girl child for which an amount of 15 thousand rupees will be provided to every family in which a girl child takes birth.
This amount shall be sufficient to adequately facilitate the girl child.