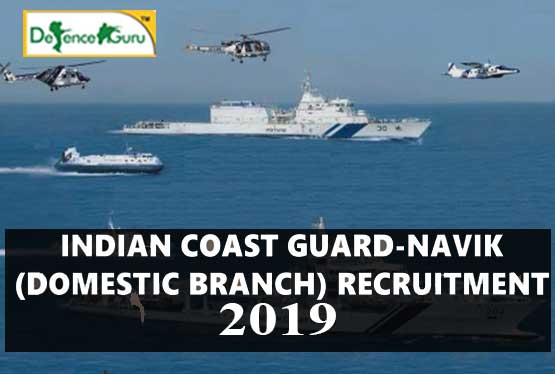 INDIAN COAST GUARD NAIVIK RECRUITMENT 2019
Incepted in 1978 as an independent Armed Force of India, the Indian Coast Guard (I.C.G) works under the Ministry of Indian Defence.
Although small in coverage, Indian Coast Guard works in collaboration with the Indian Navy, the Department of Fisheries, the Department Revenue (Customs) and the Central and State police forces. It is multi tasked and conducts services both on air and surface. This miniature yet significant part of Indian Defence has its headquarters in New Delhi along with five coast guard regions in India.
The objective of this area of Indian Armed Force is to protect India's maritime interests and enforces maritime law+ jurisdiction over territorial waters.
I.C.G has a multitude of employment opportunities. Recently I.C.G has released its notification for the vacancy of Navik (domestic branch) and here are its details:
Post name: Navik (Domestic Branch) 10th Entry – 01/2020 Batch
Employment position: Cook and Steward
Application start date: 30th October, 2019
Application end date: 8th November, 2019
Date of exam: November end, 2019
Eligibility: candidates must have passed class 10th with an aggregate of 50% marks from a recognized university.
Age limit: Candidates should lie between the age group of 18 to 22 years.
HOW TO APPLY:
Interested candidates must log in to the official website, that is, www.joinindiancoastguard.co.in
Select the advertisement link for recruitment of Naivik post.
Click 'I Agree' and commence with the application form procedure.
Click on Submit button once you have filled all your details correctly.
Note your registration number, and download your admit card in a span of few days.
SELECTION PROCEDURE:
All applicants will have to take a written exam which is objective in nature and comprises of the following topics: Quantitative Aptitude, Mathematics, General Sciences, General English, General Awareness (Current Affairs & General Knowledge) and Reasoning (Verbal & Non-Verbal).
As per the cut off percentage, students will be shortlisted.
Next step that follows up is that of Physical Fitness Test (PFT) wherein the candidates have to go through a range of tasks such as:
1.6 km run in 7 minutes
20 squats
10 push- ups
Once the candidates successfully clear the PFT they have to undergo a little medical examination and the prescribed medical standards include:
Height: Minimum height is 157 cm. Reduction in height for candidates from hilly areas and tribal areas will be in accordance with the Central Govt. orders.
Chest: Should be well proportioned. Minimum expansion rate is 5 cm.
Weight: Proportionate to height and age + 10 percentage acceptable.
Hearing: Normal. Selection of candidates is based on the order of merit depending on their performance in Written Test, Physical Fitness Test (PFT) and fitness in the Medical Examination
Visual Standard: 6/36 (Better Eye) and 6/36 (Worse Eye).
Tattoo: Permanent body tattoos are not permitted on any part of the body. However certain concessions are permitted to candidates belonging to tribal areas communities as declared by the Govt. of India. For other candidates permanent body tattoos are only permitted on inner face of forearms.
The final medical examination shall be conducted at INS Chilka.
Once all the formalities are completed the selected batch of students can join their training course.
To mention comfort and fame together is to name Indian Coast Guard! This is certainly a golden opportunity for those who want to be employed quick and good so take the notification seriously and give this course a try. Good luck.