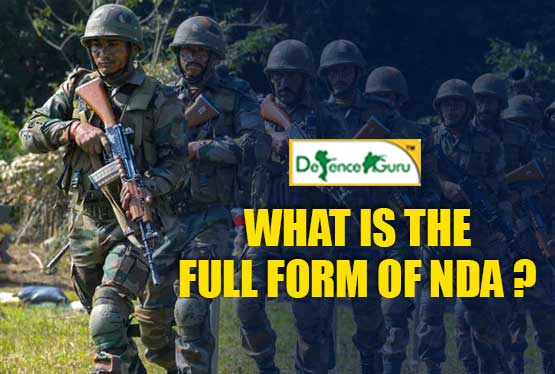 Full Form Of NDA
Career fever: The time span after intermediate exam when students ponder upon future career options.
It is during these moments that youth often come through the term NDA making them inquisitive to dig in more about it. This article highlights not only the full form but also other essential details about NDA.
National Defence Academy shortly called as NDA is the first tri- service Defence academy in India which provides training for the three branches of Indian Armed Forces, that is, Indian Army, Indian Air Force and Indian Navy.
NDA is that stream which is the high dream of every Defence aspirant. It has a prestige of its own. Be it the Chief of Air Staff or the Chief of Naval Staff, nearly every Defence Officer is an alumnus of NDA. The grand Academy offers an unparallel training and is ranked at the top. The given description is proof enough of the career path to which NDA leads, that is, Indian Armed Forces.
Curious about the institute? Well, NDA is located in the broad area of Khadakwasla, Pune. The objective is to render best Defence training to students along with necessary education.
What the students receive herein is a full time Bachelor's degree, be it in Arts or Science stream. The course is extended up to 6 semesters and the students receive their degree from Jawaharlal Nehru University. Not only academic but also physical, mental and moral attributes of the students are polished. By the end of the course he is transformed into a capable cadet of high order.
Once the academic course is successfully completed the students turned cadets go to their respective training centre as per their choice of the three fields of Indian Armed Forces. Indian Air Force candidates go to Air Force Academy at Hyderabad; Army cadets go to IMA at Dehradun and Naval cadets go to INA at Ezihmala. The training session continues for 1 year following which the students are ready to commence their employment as Officers.
Every destination follows a roadmap. Similarly, to reach NDA students need to follow a certain procedure.
There is an entrance exam to get to NDA. The test is conducted twice a year and follows three steps: UPSC written exam; SSB interview; and medical examination. Before applying for the entrance check your eligibility criterion which is as follows:
The applicants must be citizen of India or Nepal or Bhutan or a Tibetan refugee.
Only unmarried male candidates can apply ranging between 16 to 19 years.
Educational qualification for Army applicants requires 10+2 level of education.
Educational qualification for Air Force and Navy requires 10+2 level of education with Physics and Mathematics as compulsory subjects.
Talking about the entrance, the UPSC written exam is of 900 marks in total. It incorporates 2 parts: mathematics and General Ability Test. The former is of 300 marks while the latter is of 600 marks. Each paper is of 2 ½ hours.
All those candidates who successfully crack UPSC written then appear for the 2nd round known as SSB session. Well this is certainly a challenging task. SSB interview is held up to 5 days and includes a number of rounds of all varieties from Psychology to group, individual, verbal, written, and physical.
As scary as it may sound it requires the easiest kind of preparation. Ample amount of general knowledge, spontaneity, intelligence and confidence is all you need to ace this session.
After SSB the overall merit is drafted based upon written and interview session both. The final process is that of little medical examination for which you can check the list of physical standards on the official website.
A good career choice demands complete beforehand information. Now that you know all the attributes of NDA from its full form to training and entrance procedure, do give a thought to this fruitful option.