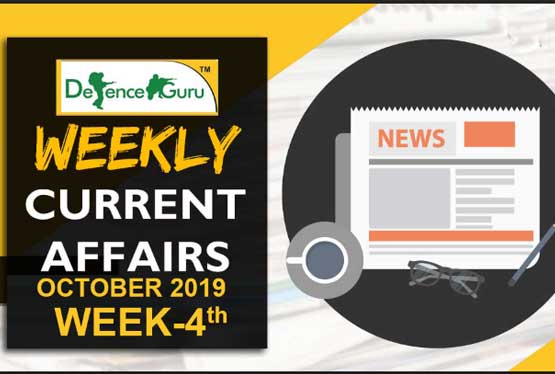 APPOINTMENTS
1.Sharad Arvind Bobde
Justice Sharad Arvind Bobde was appointed as the 47th Chief Justice of India. Justice Bobde will take oath as the CJI on November 18th, a day after incumbent Ranjan Gogoi demits office. He will have a tenure of 17 months and would demit office on April 23rd, 2021. He was appointed as the chief justice of the Madhya Pradesh High Court on October 2012. In April 2013, he was elevated to the Supreme Court.
2.Manohar Lal
Senior BJP leader Manohar Lal has been sworn-in as Chief Minister of Haryana. Governor Satyadev Narayan Arya administered him the oath of office and secrecy at a function at Raj Bhavan in Chandigarh. This is the second consecutive term for Manohar Lal as Chief Minister. Jannayak Janta Party leader Dushyant Chautala was sworn-in as Deputy Chief Minister. In the 90-member assembly, the BJP has emerged as the single largest party with 40 seats. JJP has won 10 seats and independent 7.
3.Arvind Singh
Senior IAS officer Arvind Singh has been appointed as the chairman of Airports Authority of India. Singh is at present working in his cadre-state Maharashtra. He has been appointed as the chief of AAI in the rank and pay of additional secretary.
4.Sukhbir Sandhu
The Appointments Committee of the Cabinet headed by Prime Minister Narendra Modi appointed Sukhbir Singh Sandhu as the Chairman of the National Highway Authority of India (NHAI). Sandhu is a 1988 batch IAS officer from the Uttarakhand Cadre. He was the additional secretary at the department of education and will replace NN Sinha, who was appointed as the secretary, department for border management.
Joko Widodo
Indonesian President Joko Widodo has been sworn into office for his second and final five-year term. Widodo, popularly known as Jokowi, took oath at a ceremony in the capital, Jakarta. Re-elected in polls that took place on 17th April, the 58-year-old was sworn into office along with 76-year-old vice president Maruf Amin. Widodo clinched victory with 55.5 per cent of the vote in the April presidential election.
5.Sourav Ganguly
One of India's most decorated captains Sourav Ganguly took over as the 39th president of the BCCI. This will end the 33-month reign of the Supreme Court-appointed Committee of Administrators (CoA). Ganguly is the unanimous nomination for the post of BCCI president along with Union Home Minister Amit Shah's son Jay as the secretary. Former BCCI president and current MoS Finance Anurag Thakur's younger brother Arun Dhumal is the treasurer.
DEATHS
6.Dilip Parikh
Former Gujarat Chief Minister Dilip Parikh passed away. He served as the 13th Chief Minister of Gujarat during 1997-98 when he was with Rashtriya Janata Party - RJP. Parikh started his political career as a BJP MLA. An industrialist by profession, he also served as President of the Gujarat Chamber of Commerce and Industry.
AWARDS
7.National Corporate Social Responsibility Awards-2019
President Ram Nath Kovind conferred the first National Corporate Social Responsibility Awards to the companies for their outstanding contribution in the area of Corporate Social Responsibility (CSR). Commending the efforts of Ministry of Corporate Affairs for initiating the National CSR Awards in the year of Gandhiji's 150th birth anniversary, he said, these awards will be conferred every year on 2nd October. Every fiscal year since 2014-15, the corporate sector has set aside more than Rs 10,000 crore for social welfare and various social sectors like education, environment, health, poverty eradication, sanitation and safe drinking water have benefitted from this effort.
8.National Panchayat Awards 2019
Minister of Panchayati Raj Narendra Singh Tomar conferred the national Panchayat Awards, 2019 at a function in New Delhi. 246 Awards were given to awardee Panchayats and States in various categories for their best performance at different levels, including the delivery of services. 195 awards were conferred under Deen Dayal Upadhyay Panchayat Sashaktikaran Puraskar category, 20 Gram Panchayats in Nanaji Deshmukh Rashtriya Gaurav Gram Sabha Puraskar category and 3 Gram Panchayats in Gram Panchayat Development Plan Award category. 22 Gram Panchayats were awarded in Child-Friendly Gram Panchayats Award and six states were awarded under e-Panchayat Puraskar category. The Minister also launched an App called 'Gram Manchitra' which is a Geo-Spatial based decision support system for panchayats.
9.Most Eminent Senior Citizen Award -2019
Vice President M Venkaiah Naidu presented Most Eminent Senior Citizen Award to legal luminary and former Attorney General K. Parasaran. Mr Parasaran was honoured with the award on the occasion of the Elder's Day celebration of Age Care India, an organization working for the welfare of the elderly. Vice President said that the Award is a fitting recognition of Mr Parasaran's exceptional contribution to the field of law and justice as well as his extraordinary personality.
books
10.Bibek Debroy pens translations of mythological texts Markendya Purana and The Bhagavad Gita
Economist and author Bibek Debroy have come out with English translations of two Hindu mythological texts "Markendya Purana" and "The Bhagavad Gita", publishers Penguin announced. The book is a special bilingual edition of the foundational text on "dharma" and the Hindu philosophy. It features a "verse-for-verse translation, providing the original Sanskrit verses alongside the English rendition".
11.'Bridgital Nation'- Shri N Chandrasekaran and Ms Roopa Purushottam
Prime Minister Shri Narendra Modi unveiled the book "Bridgital Nation" and presented its first copy to Shri Ratan Tata in New Delhi. The book has been written by Shri N Chandrasekaran and Ms Roopa Purushottam. The book presents a powerful vision of the future where technology and human beings co-exist in a mutually beneficial ecosystem. It argues that instead of accepting technology as the replacement of human labour, India can use it as an aid to generate more jobs.
SPORTS
12.Tiger Woods equals world record for most career Titles
In Golf, Tiger Woods equalled the PGA Tour record of 82 tournament wins with victory at the Zozo Championship. The 43-year-old world number 10 had seven holes to finish in Japan as he matched fellow American Sam Snead's record, set in 1965. It was his first event since having his fifth knee operation nine weeks ago. In April, Woods won his first major for 11 years with victory at the Masters, leaving him three short of Jack Nicklaus' record of 18 major titles.
13.French Open-2019
In Badminton, India's top men's doubles pair of Satwiksairaj Rankireddy and Chirag Shetty lost to world No.1 pair of Marcus Fernaldi Gideon and Kevin Sanjaya Sukamuljo in the finals of the French Open in Paris. The Indian duo settled for silver after losing the final 18-21, 16-21. Satwik and Chirag had won their maiden Super 500 title at the Thailand Open earlier in August this year. It was the first time that an Indian men's doubles pair reached a World Tour 750 final.
14.World Military Games-2019
Aneesh Kumar Surendran Pillai bagged the third gold medal for India in the ongoing World Military Games at Wuhan, China. He won the gold in disabled men's shotput IT1 event and he finished with a score of 12.76. Previously, He had bagged two gold medals for the Indian contingent in the ongoing World Military Games. He won the first gold in the disabled men's 100m IT1 event and won another gold in the disabled men's 400m IT1 event.
15.Wushu World Championships-2019
Praveen Kumar became the first Indian man to win a Wushu World Championships gold, beating Russel Diaz of Philippines in the 48kg category in Shanghai. The Indian saw off his Filipino opponent 2-1 in the men's Sanda event of the 15th World Wushu Championships. Among other Indians in the fray, Poonam (women's 75kg) and Sanathoi Devi (women's 52kg) secured silver medals while Vikrant Baliyan bagged the bronze in the men's 60kg category. India finished third overall in the championship in event with a gold, two silvers and a bronze. Wushu is a Chinese martial art which combines full-contact kickboxing, including close-range punches and kicks, with wrestling, takedowns, throws, sweeps and kicks catch.
16.2024 Olympic Games logo unveiled
The logo for the Paris 2024 Olympic Games unveiled at a ceremony in the French capital. The circular design with Paris 2024 in the art deco style which was in vogue in 1924 when Paris last hosted the Games, also incorporates the lips and outline of Marianne, the personification of the French Republic since the revolution in 1789. The 2024 Summer Olympics are scheduled to take place from 26 July to 11 August 2024 in Paris, France.
17.World Military Games-2019
Para-Athlete Anandan Gunasekaran bagged two gold medals for the Indian contingent in the ongoing World Military Games in Wuhan, China. He won the first gold in the disabled men's 100m IT1 event and won another gold in the disabled men's 400m IT1 event. Gunasekaran had completed the 100m IT1 race in just 12 seconds. In 2008, he lost one of his legs while serving in the LOC. He had managed to win one gold and one silver in the last edition of the World Military Games.
18.World Military Games 2019
In Boxing, World Championships silver medallist Amit Panghal won his opening bout in the men's flyweight (52kg) category as the boxers gave India a good start in the 7th CISM World Military Games in Wuhan, China. Panghal beat Douglas Andrade of Brazil 4-1, while Chirag (56kg) defeated Zambia's Katanga Christopher 5-0. India had sent a contingent of 54 participants in nine sports, Archery, boxing, diving, modern pentathlon, shooting, track and field, gymnastics and tennis in the competition. A total of 9,308 military personnel from 109 countries are competing in the World Military Games.
19. Egypt International mixed doubles title-2019
In badminton, Kuhoo Garg and Dhruv Rawat put up a brilliant effort to win the mixed doubles title at the Egypt International 2019 in Cairo. The unseeded Garg and Rawat held their nerves for a tight 21-16, 22-20 victory over the third seeds Utkarsh Arora and Karishma Wadkar in an all-Indian final. Garg, however, failed to have double delight as she later went down in the women's doubles final with Sanyogita Ghorpade.
INTERNATIONAL
20.Satwiksairaj Rankireddy-Chirag Shetty bag silver in the doubles event at French Open
In Badminton, India's top men's doubles pair of Satwiksairaj Rankireddy and Chirag Shetty lost to world No.1 pair of Marcus Fernaldi Gideon and Kevin Sanjaya Sukamuljo in the finals of the French Open in Paris. The Indian duo settled for silver after losing the final 18-21, 16-21. Satwik and Chirag had won their maiden Super 500 title at the Thailand Open earlier in August this year. It was the first time that an Indian men's doubles pair reached a World Tour 750 final.
21.World Day for Audiovisual Heritage: 27 October
The World Day for Audiovisual Heritage takes place every 27 October. This commemorative day was chosen by UNESCO (the United Nations Educational, Scientific and Cultural Organization) in 2005 to raise awareness of the significance and preservation risks of recorded sound and audiovisual documents. The theme for World Day for Audiovisual Heritage 2019 is "Engage the Past Through Sound and Images".
22.World Polio Day: 24 October
World Polio Day is celebrated on 24 October annually to raise awareness about the polio disease and efforts for eradication. polio-free certification along with the entire South-East Asia Region of WHO on 27th March It was initiated by Rotary International over a decade ago to commemorate the birth of Jonas Salk, who developed a vaccine against poliomyelitis. India received 2014 by WHO. January 2017 marks six years since the last case of polio was reported in India.
23.Mole Day: 23 October
Mole Day is celebrated among chemists, chemistry students, chemistry enthusiasts and Design & Technology teachers and students on October 23, between 6:02 a.m. and 6:02 p.m. It marks the date 6:02 10/23 in the American style of writing dates. The time and date are derived from the Avogadro number, which is approximately 6.02×1023, defining the number of particles (atoms or molecules) in one mole (mol) of substance, one of the seven base SI units.
24.Japanese Emperor Naruhito formally proclaims ascension to the throne
In Japan, Emperor Naruhito has formally proclaimed his ascension to the throne as the 126th emperor in an elaborate ceremony. The emperor officially began his reign in May after the abdication of his father, the then-Emperor Akihito. But, after a series of traditional rituals inside the imperial palace in Tokyo, his ascension has now been formalized. The ceremony comes as Japan reels from the effects of Typhoon Hagibis, which left almost 80 people dead. A celebration parade was postponed out of respect for the victims and their families.
25.18th NAM Summit: Baku, Azerbaijan
18th Non-Aligned Movement (NAM) is scheduled to take place at Baku, the capital of Azerbaijan from 25-26 October 2019. The 18th NAM Summit will be preceded by the Preparatory Ministerial Meeting on 23-24 October and Senior Officials Meeting on 21-22 October 2019. The Summit will consider the report of Preparatory Ministerial Meeting, review the progress achieved in the implementation of outcomes of 17th Summit held in 2016 and conclude with the adoption of the Baku Declaration. The Non-Aligned Movement (NAM) is a forum of 120 developing world states that are not formally aligned with or against any major power bloc.
26.World's oldest known natural pearl discovered on Abu Dhabi Island
The oldest known natural pearl in the world has been discovered by Abu Dhabi archaeologists working at a Neolithic site on Marawah Island. Dubbed the 'Abu Dhabi Pearl', it was found in layers that have been radiocarbon dated to 5,800-5,600 BCE, during the Neolithic period. The Emirates News Agency said that the discovery is a proof that pearls and oysters were being used in the UAE nearly 8,000 years ago, and represents the earliest known evidence for pearling yet discovered anywhere in the world. Prior to the Abu Dhabi Pearl discovery, the earliest known pearl in the UAE came from a Neolithic site in Umm Al Qaiwain.
27.World Statistics Day:20 October
World Statistics Day was celebrated for the first time on 20 October 2010 worldwide. World Statistics Day is celebrated every five years. 2019 Theme: Better Data, Better Lives India celebrates its statistics day on 29 June, the birthday of the legendary statistician Prasanta Chandra Mahalanobis.
28.Sri Lanka removed from FATF's Grey List
Sri Lanka has been removed from the Financial Action Task Force (FATF) list of countries at risk for money laundering. FATF in Paris informed the removal of Sri Lanka's name from the blacklist commending the new measures taken by the country on financial security. Sri Lanka was first included in the blacklist in 2011. By 2012, Sri Lanka was listed in the list as a dangerous country with no commitment to the financial security plan.
NATIONAL
29.Disabled, people over 80 can vote through postal ballot
The people over 80 years of age and Persons with Disability can now cast their votes through postal ballot. However, such voters will have both the choices available either voting through postal ballot by following due procedure or going to the polling station on polling day for voting. On the recommendations of the Election Commission, the Ministry of Law and Justice has amended the Conduct of Election Rules, 1961, allowing senior citizens and person with disabilities in the absentee voter list. The person will make an application in a new Form 12 D, which will reach the Returning Officer within 5 days following the date of notification of election. After the receipt of such application, the elector will be issued a postal ballot paper, which will be deposited in the specified centre after the recording of the vote.
30.Three Indian-origin CEOs in Harvard Business Review's top 10 best-performing CEOs
Three Indian-origin CEOs have been featured in a list of world's top 10 best-performing chief executives. 'The Best-Performing CEOs in the World, 2019' list compiled by the Harvard Business Review (HBR) features 100 CEOs and has been topped by American technology company NVIDIA's CEO Jensen Huang. Among the top 10 chief executives on the list, three spots have been occupied by the Indian-origin CEOs. On the 6th spot is Adobe CEO Shantanu Narayen, followed by MasterCard CEO Ajay Banga, ranked 7th and Microsoft chief Satya Nadella on the 9th spot.
31.Indo-French Joint Exercise 'Shakti-2019'
Series of 'Exercise SHAKTI' between India and France commenced in the year 2011. As part of Exercise SHAKTI - 2019, French Army troops arrived in India on 26 October 2019 for training with Indian Troops. The bilateral training exercise will be conducted at the Foreign Training Node at Mahajan Field Firing Ranges, Rajasthan. A contingent of the Sikh Regiment of Sapta Shakti Command will represent Indian Army in this exercise. The bilateral exercise will be conducted from 31 October 2019 to 13 November 2019.
32.PM Modi embarks on 2-day visit to Saudi Arabia
Prime Minister Narendra Modi embarked on a two-day visit to Saudi Arabia. He looks forward to his participation in the Future Investment Initiative (FII) Forum where he would be speaking about the growing trade and investment opportunities for the global investors in India as the country marches forward to a USD 5 trillion economy by 2024. The FII Forum is also known as the 'Davos in the Desert' which has been hosted by Riyadh since 2017 to project the Kingdom as a potential investment hub in the region. Modi is paying a visit to the Kingdom at the invitation of Saudi King Salman Bin Abdulaziz Al Saud. The visit would witness the Prime Minister holding talks with Saudi Crown Prince Mohammed Bin Salman and launching the RuPay card in the country.
33.World Bank Group President David Malpass calls on PM Narendra Modi
The President of the World Bank Group David Malpass called on Prime Minister Narendra Modi in New Delhi. Mr Malpass is on a four-day visit to India. He delivered the keynote address on the role of the financial sector in development at the fifth edition of the NITI Aayog Lecture series in New Delhi. This is the first trip of Mr Malpass to India after assuming charge in April this year.
34.Gujarati community across the globe celebrates the new year- Bestu Varas
Gujarati community across the globe is celebrating New year Bestu Varas. As per Gujarati calendar Vikram Samvat, New year is celebrated on the first day of Kartik month. Bestu Varas also marks the day to forgive others and forget bad memories and start with new enthusiasm.
35.Air quality in Delhi deteriorates to a hazardous level
The air quality turned hazardous in Delhi as the citizens defied the Supreme Court-enforced two-hour limit for bursting crackers on Diwali. According to government agencies, at 11 p.m., Delhi's overall Air Quality Index, AQI, stood at 327. AQI at Mother Dairy in Patparganj area and National Malaria Institute, Dwarka was recorded at 999 and 763 respectively. The levels of PM 10 tiny particulate matter had reached as high as 515 micro-grams per cubic metre in Anand Vihar during the day. An AQI between 301-400 is considered very poor, and 401-500 severe. Above 500 is a severe-plus emergency category. Twenty-five of the 37 air quality monitoring stations in the capital recorded their AQI in the very poor category or beyond.
36.CVC observes vigilance awareness week from Oct 28 to Nov 2
The Central Vigilance Commission, CVC is observing vigilance awareness week starting from Oct 28 till 2nd November, to promote probity in public life through citizen participation. The theme for the vigilance awareness week is 'Integrity - A way of life'. This theme would help to draw the attention of all sections of society especially the youth to the significance of ethical conduct in the building of honest, non-discriminatory and corruption-free society.The CVC has requested all the central government Ministries and organisations to conduct activities relevant to the theme both within their organisation and as outreach activities for citizens.
37.infantry day - 27 October
Prime Minister Narendra Modi extended greetings to soldiers on Infantry Day. Infantry Day is observed on October 27. This day marks the landing of first Indian troops in Jammu and Kashmir in 1947 to push back Pakistan supported intruders. Planes carrying Indian troops took off from the Safdarjung airport here to land at Srinagar.
38.BASIC countries urge developed nations to adhere to commitments under the Paris Agreement to fight climate change
BASIC countries have urged developed nations to adhere to the commitment made under the Paris Agreement and provide finance and technology to the developing world. In a joint statement, the BASIC, a bloc of four large countries, Brazil, South Africa, India and China, emphasized that the global climate action should promote climate justice by recognizing fundamental equality of all people in accessing economic growth and sustainable development. After the conclusion of two-day 29th BASIC Ministerial meeting on climate change at Beijing in China, the countries reaffirmed and emphasized the need for people's participation and climate-friendly lifestyle for addressing the challenge of climate change. Minister for Environment and Forests Prakash Javadekar along with Ministers from China, South Africa and Brazil attended the Ministerial meeting.
39.Uttar Pradesh Emergency service number changes from 100 to 'Dial 112'
In Uttar Pradesh, the traditional emergency service number Dial 100 is replaced by 112. Chief Minister Yogi Adityanath launched the services of new number - 112, in a ceremonial function at Lucknow. The new single helpline number 112 is an integration of all immediate assistance including police, fire, women helpline and ambulance. Several states and Union territories have already adopted a single emergency helpline number '112'. Dial 100 will also continue working and gradually it will die down when people become aware of the new number.
40.Grand Diwali celebrations at Ayodhya set a world record; over 5 lakh 51 thousand Diyas lit
In Uttar Pradesh, Grand Diwali celebrations at Ayodhya have set a world record as over 5 lakh 51 thousand earthen lamps or Diyas. The Diyas were lit on the banks of the holy river Saryu and other places in Ayodhya town. This is the third consecutive year of Deepotsav in Ramnagari. Last year more than 3 lakh earthen lamps were lit at Saryu river in Ayodhya. The state government has given this Ayodhya Deepotsav the status of a State Fair. Hence the whole management and expenses on Deepotsav are borne by the state government.
41.Disarmament Week: 24-30 October
Disarmament Week is an annual event that is observed from 24 October to 30 October in various parts of the world. The observance revolves around raising public awareness of the dangers of the arms race and the need for international disarmament. An important focus of this week is trying to convince nations to only keep the weapons they need for an adequate police force.
42.ITBP to have two new commands
The Union Cabinet approved the proposal of cadre review of Group "A" General Duty (Executive) cadre and non-GD cadre of Indo- Tibetan Border Police (ITBP). It approved the creation of two new commands - Western Command at Chandigarh and Eastern Command at Guwahati - to be headed by Additional Director General and assisted by Inspector General. The newly created posts will be filled up according to recruitment rules. Indo-Tibetan Border Police Force was conceptualised in the wake of the Chinese aggression on the country's northern borders in 1962.
43.Yogi Adityanath to launch Kanya Sumangala Yojana
Uttar Pradesh government launched its flagship scheme Kanya Sumangla Yojna. The scheme will provide an amount of 15 thousand rupees in a phased manner to every family in which a girl child takes birth. The scheme has been designed in a way that parents have to take care of the girl child's health and education to get the benefit. Funds will be released in instalments when a girl child completes various achievements, like vaccination, admission in class 1, 5 and 9, graduation. At birth Rs. 2000 will be transferred into account and if a girl has completed all her first-year vaccinations on April 1, 2019, she will be entitled to 1 thousand rupees.
44.BJP wins Maharashtra with Shiv Sena, emerges single-largest party in Haryana
The results for 286 Assembly constituencies of Maharashtra were declared with the BJP securing a total of 105 seats and its alliance partner Shiv Sena, 56 seats. As per the Election Commission, BJP secured 105 seats, Shiv Sena (56), Congress (44) and the Nationalist Congress Party (54). The Bharatiya Janata Party (BJP) won 40 seats in the Haryana Assembly election, Congress 31 and Dushyant Chautala-led Jannayak Janata Party (JJP) bagged 10 out of total 90 seats.
45.Govt Accords 'Maharatna' Status to Hindustan Petroleum, Power Grid Corp
The government accorded 'Maharatna' status to state-owned Hindustan Petroleum and Power Grid Corporation. Two separate orders to this effect were issued by the Department of Public Enterprises, under the Ministry of Heavy Industry and Public Enterprises. The grant of Maharatna status to the PSUs will impart enhanced powers to their Boards to take financial decisions.
46.Godavarthi Venkata Srinivas accredited as India's High Commissioner to the Gambia
Diplomat Godavarthi Venkata Srinivas has been appointed as India's next High Commissioner to the Gambia. Srinivas, who is already serving as the Ambassador to Senegal, was concurrently accredited as the High Commissioner to the Gambia, with residence in Dakar. He is a 1993-batch Indian Foreign Service (IFS) officer.
47.Ayurveda Day 2019: 25 October
The fourth Ayurveda Day is being organised on October 25 at National Institute of Ayurveda (NIA) in Jaipur, Rajasthan. Ministry of AYUSH, Government of India decided to celebrate Ayurveda Day every year on the day of Dhanvantari Jayanti (Dhanteras) since 2016. On this occasion, Ministry also facilitates 3-4 Ayurveda experts with 'National Dhanwantari Ayurveda Award' comprising of citation, trophy (Dhanwantari Statue) and a cash reward of rupees five lakh.
48.National Unity Day to be celebrated on Oct 31
National Unity Day will be celebrated on 31st of this month to mark the birth anniversary of Ironman Sardar Vallabhbhai Patel. Preparations are in full swing to celebrate the day in a grand manner. Prime Minister Narendra Modi will visit Kevadia in Gujarat to pay homage to the great leader at the Statue of Unity. To celebrate the spirit of Ek Bharat Shreshtha Bharat, celebrations will be held in more than 600 districts of the country.
49.President Kovind lays foundation stone for Sri Sathya Sai Sanathana Samskruti Project in Japan
President Ram Nath Kovind laid the foundation stone for Sri Sathya Sai Sanathana Samskruti Project at Sai no Sato, Kakegawa, Japan. Sai no Sato will be developed as a temple on the lines of Akshardham and Swaminarayan Temple to promote Indian traditional culture. In the evening, the President also attended a banquet hosted in his honour by Prime Minister Shinzo Abe of Japan and returned to India.
50.India and Pakistan ink agreement on Kartarpur corridor
India and Pakistan inked an agreement on Kartarpur corridor. The agreement relates to the modalities for operationalisation of the Kartarpur Sahib Corridor at Zero Point, International Boundary, Dera Baba Nanak. The corridor will be operational throughout the year, except on notified days. Indian pilgrims of all faiths and persons of Indian origin can use the corridor and the travel will be Visa Free. India continues to pursue the issue of all-weather connectivity through the corridor.
51.Chenani Nashari Tunnel renamed after Dr Syama Prasad Mookerjee
Union Minister for Road Transport & Highways Shri Nitin Gadkari and Shri Jitendra Singh announced the renaming of Chenani Nashri Tunnel on NH 44 in Jammu & Kashmir as Dr Syama Prasad Mookerjee Tunnel. This 9 km tunnel is the longest such state of art tunnel in the country, connecting Udhampur to Ramban in Jammu. Constructed at a cost of Rs 2500 crore, it cuts down 31 km of travel distance and reduces the travel time between the two points by about two hours, in addition to substantial savings in fuel cost.
52.New Delhi to Host First 'Global Bio-India 2019' Summit from 21st - 23rd November
The Global Bio-India 2019, one of the largest biotechnology stakeholders conglomerate will be held for the first time in India at New Delhi from 21st to 23rd November 2019. India for the first time is hosting a mega event for the biotech community to attract investments, showcase our indigenous strengths and more importantly fuel the hopes and aspirations of the indigenous talent pool. The event has been structured to bring together stakeholders from 30 countries, 250 start-ups, 200 exhibitors. The event is expected to strengthen the indigenous research capabilities, bio-entrepreneurship, investments and last-mile-delivery of technology across rural India and tier-2, 3 cities.
53.PM Modi to be on a two-day visit to Saudi Arabia from Oct 28
Prime Minister Narendra Modi will be on a two-day visit to Saudi Arabia starting from October 28. During the visit, Mr Modi will attend the session of Future Investment summit in Riyadh on 29th of this month. The Prime Minister will meet the King of Saudi Arabia and hold delegation-level talks with Crown Prince Mohammad bin Salman. During the visit, the Prime Minister will also launch the RuPay card in Saudi Arabia.
54.Google achieves 'quantum supremacy'
Google has officially announced that it has achieved quantum supremacy with its advanced processor that was able to surpass the world's most powerful supercomputer. Google says that its 54-bit Sycamore processor was able to perform a calculation in 200 seconds that would have taken the world's most powerful supercomputer 10,000 years. The search giant has made the details of its research public for the scientific community to fully scrutinize its achievement.
55.M. Venkaiah Naidu to lead the Indian delegation at 18th Non-Aligned Movement Summit
Vice President, M. Venkaiah Naidu will lead the Indian delegation at the 18th Summit of Heads of State and Government of the Non-Aligned Movement (NAM) to be held at Baku, Azerbaijan on 25th to 26th of this month. The Summit will be preceded by Senior Officials Meeting and Ministerial Meeting. The theme for the Summit is 'Upholding the Bandung Principles to ensure concerted and adequate response to the challenges of the contemporary world'. India is one of the founding members of the Non-Aligned Movement which was established in 1961 with 29 members. It has since grown to 120 members to become one of the largest groupings of nation-states.
56.Prakash Javadekar launches first national protocol to enumerate snow leopard population in India
Ministry of Environment, Forest and Climate Change launched the first national protocol to enumerate the snow leopard population in the country on the occasion of International Snow Leopard Day. International Snow Leopard Day is celebrated on October 23 every year to protect and conserve the snow leopards and preserve the beautiful wildlife of the Himalayas. India is believed to have 400 to 700 snow leopards spread across Himachal Pradesh, Uttarakhand, Sikkim, Arunachal Pradesh, Jammu and Kashmir and Ladakh. Project Snow Leopard is an initiative of the Environment Ministry which aims to safeguard and conserve India's unique natural heritage of high altitude wildlife populations and their habitats by promoting conservation through participatory policies and actions.
57.IAF chief leaves for Oman to witness joint exercise 'Eastern Bridge'
Chief of Indian Air Force (IAF) Air Chief Marshal RKS Bhadauria left for Oman on an official visit to witness the ongoing Indo-Oman Joint Exercise 'Eastern Bridge' 'Eastern Bridge is a joint military exercise between the Royal Air Force of Oman (RAFO) and the Indian Air Force at RAFO base in Masirah, Oman. The IAF MiG-29s (upgraded) is participating with Hawks, F-16 and Eurofighter Typhoons of Omani Air Force in the exercise. For the first time, MiG-29 fighter aircraft are participating in an international exercise outside India.
58.Government hikes minimum support price of Rabi crops for 2020-21
The Union Cabinet has decided to hike Minimum Support Price, MSP, for Rabi crops for marketing season 2020-21. MSP of wheat has been increased by 85 rupees per quintal to 1,925 rupees per quintal. While MSP of Gram has been increased by 255 rupees, barley 85 rupees, mustard oil 225 rupees and sunflower 270 rupees per quintal. The move will help increase farmers' income.
59.IAF fires 2 BrahMos missiles at Trak Island in Andaman Nicobar
Two BrahMos surface to surface missiles were fired by Indian Air Force at Trek Island in the Andaman Nicobar group of islands. The twin firings have been carried out as a part of the routine operational training. The missile engaged the designated mock targets close to 300 Kilometres away. A direct hit on the target was achieved in both cases. The firing of the missiles has enhanced Air force capability to engage ground targets with pinpoint accuracy from a mobile platform.
60.Over 40,000 troops to participate in Indian Army's exercise 'Sindhu Sudarshan'
More than 40,000 troops will take part in the Indian Army's exercise codenamed 'Sindhu Sudarshan' in the deserts of Rajasthan, from November 29 to December 4. The Indian Army will be carrying out this exercise using its integrated battle groups which are the new formations being raised by the force for warfighting in future. Over 40,000 troops will participate in an all-arms battle array of Divisions and Brigades carrying out offensive operations in deserts.
61.HRD Minister interacts with children for DHRUV programme
Union Minister for Human Resources Development Ramesh Pokhriyal Nishank interacted with children selected for ambitious DHRUV programme at his residence in New Delhi. The Minister said, out of 25 crore students in India 60 talented students are selected under this programme. The government is polishing these bright children with the right orientation to make them shine like the polar stars. DHRUV is a unique programme to identify talented students and mentor them in the centre of excellence for 14 days so that they can reach their full potential and work for society.
62.2-day India-Bangladesh Stakeholders' Meet underway in Guwahati
The two-day India-Bangladesh Stakeholders' Meet started in Guwahati with a focus on trade and connectivity. focus is on improving its connectivity with the neighbouring country to get the best of the rest under Act East Policy for the host Assam. A 70-member delegation from Bangladesh is participating in the meet, while a similar top-level team will represent the host nation. The idea of the meet is to put Assam at the focus point of India's trade expansion with the Association of Southeast Asian Nations as well as Bangladesh, Bhutan and Nepal.
63. World's highest battlefield Siachen now open to tourists
Centre announced that the world's highest battlefield Siachen has been open to tourists. The entire stretch from Siachen base camp to Kumar Post has been thrown open for tourism. The move will give a boost to tourism in Ladakh and allow people to appreciate the tough work done by Army jawans and engineers in extreme weather and inhospitable terrains. The Siachen Glacier at the height of around 20,000 ft in the Karakoram range is known as the highest militarized zone in the world where the soldiers have to battle frostbite and high winds.
64.President Kovind attend Japan's Emperor Naruhito's enthronement ceremony
President Ram Nath Kovind attended the enthronement ceremony of Japan's Emperor Naruhito. Naruhito is the 126th monarch according to Japan's traditional order of succession. The President arrived in Tokyo after concluding his five-day state visit to the Philippines. The president visited a Buddhist temple in Tokyo where he planted a Bodhi sapling, which he carried from India. This is the first presidential visit to Japan from India after a gap of 29 years.
65.Rajnath Singh inaugurates 'Col Chewang Rinchen Setu' in eastern Ladakh
Defence Minister Rajnath Singh on inaugurated 'Col Chewang Rinchen Setu', a strategically important bridge, over Shyok river in Ladakh region. The 430-meter-long bridge has been built by Border Roads Organisation (BRO) and connects Durbuk and Daulat Beg Oldie in Eastern Ladakh. It will not only provide all-weather connectivity in the region but also be a strategic asset in the border areas. The construction has been completed in record 15 months. Col Chewang Rinchen, born on November 11, 1931, at Sumur, Nubra Valley in Ladakh region, is known as the "Lion of Ladakh" for his extraordinary acts of courage in defending Leh and Partapur sector.
66.Union Culture Minister launches E-Portal, YouTube Channel of CCRT
Culture Minister Prahlad Singh Patel launched the E-Portal of Centre for Cultural Resources and Training, CCRT 'Digital Bharat Digital Sanskriti' and CCRT YouTube Channel in New Delhi. This will enable the dissemination of cultural education through digital interactive medium into the classrooms all over the country. The Minister specifically stressed that each and every child has a latent talent which needs to be identified. CCRT should provide a platform for specifically dropout children so that they can join the mainstream and pursue their dreams.
67.Defence Ministry clears indigenous projects worth Rs 3300 crore
The Defence Acquisition Council (DAC), chaired defence minister Rajnath Singh gave the nod for procurement of indigenous defence equipment worth Rs 3300 crore to give a push to the Make in India' initiative. The three projects, which got the go-ahead, include two third-generation anti-tank guided missiles and the auxiliary power units for the T-72 and T-90 tanks. The third-generation anti-tank guided missiles would provide 'fire and forget' and 'top attack' capabilities to the troops in an armored battle. The third indigenous project pertains to discrete electronic warfare (EW) systems for the mountain and high altitude terrain, which would be designed and developed by DRDO and manufactured by design cum production partner from the Indian industry.
68.Government launches BHIM 2.0
In a major thrust for the digital and cashless payments ecosystem in India, the Central government launched the BHIM 2.0 Universal Payments Interface (UPI). Developed by the National Payments Corporation of India (NPCI) in 2016, the BHIM 2.0 comes loaded with a host of functionalities, including support for additional languages, and also enhanced transaction limits. The new version of BHIM supports three additional languages - Konkani, Bhojpuri and Haryanvi - over and above the existing 13. The new developments in the application also include options of investing and applying in Initial Public Offerings (IPOs), gifting of money, linking multiple bank accounts etc. The application also comes equipped with a dedicated gateway for donations.
69.Police Commemoration Day: 21 October
India observes Police Commemoration Day or National Police day on 21 October every year. On this day in 1959, 10 police personnel were killed in a Chinese attack and the commemoration day is observed to mark the incident. Last year, on this day, the National Police Memorial in New Delhi was dedicated to the nation by PM Modi.
70.Two-day long manoeuvres by Sudarshan Chakra Vahini of Indian Army begins at Jaisalmer
Two-day long manoeuvres by Sudarshan Chakra Vahini of Indian Army started at Jaisalmer field firing range in Rajasthan. In this war exercise, the army is going to exhibit its strength regarding Agni Missile and artillery. Artillery, Arms and mechanized forces, Army air defence and helicopters of army aviation are participating in this exercise to test mutual coordination. Endogenously manufactured light helicopter Rudra and self-propelled artillery gun system K-9 vajra are also taking part in this exercise.
71.India-Myanmar Naval Exercise: IMNEX-2019
The opening ceremony of the second edition of 'India Myanmar Naval Exercise' IMNEX-2019 was conducted onboard INS Ranvijay in Visakhapatnam. Myanmar naval ships UMS Sin Phyu Shin (F-14) and UMS Tabinshweti (773) arrived at Visakhapatnam and would engage in professional interaction with Indian Navy personnel for sharing of expertise on various maritime issues between both the navies. The harbour phase of IMNEX-19 scheduled till October 20 includes visits to Indian Naval units, training and maintenance facility at Visakhapatnam. During Sea Phase scheduled from October 20 to 22, INS Ranvijay, a guided-missile destroyer and INS Kuthar, a missile corvette will be carrying out a joint exercise with Myanmar ships UMS Sin Phyu Shin, a frigate and UMS Tabinshweti, a corvette in the Bay of Bengal.
BUSINESS
72.RBI imposes Rs 35 lakh penalty on TMB
The Reserve Bank has imposed a penalty of Rs 35 lakh on Tamilnad Mercantile Bank for violating norms on frauds classification and notification. The RBI said in a release that it imposed the fine via an order dated October 24, 2019. It stated that the bank has been penalised for non-compliance with certain provisions of directions issued by RBI on frauds classification and reporting by commercial banks and select FIs directions 2016.
73.UPI crosses 1 billion transactions mark in October
India's own domestic payment interface Unified Payments Interface (UPI) has announced that it has achieved the double milestone of one billion transactions as well as has crossed 100 million users in October. This achievement makes it the fastest adoption of any payments system anywhere else in the world. UPI has emerged as one of the major payment alternatives to debit, credit and e-wallets. It has over 141 banks on board right now. UPI is a payment interface of the National Payments Corporation of India (NPCI), an umbrella organisation for operating retail payments and settlement systems in India.
74.India jumps 14 places on World Bank's Ease of Doing business ranking
India has jumped 14 places to take the 63rd position on the World Bank's ease of doing business ranking. The country was 77th among 190 countries in the previous ranking. In its Doing Business 2020 report, the World Bank commended the reform efforts undertaken by the country. India has improved its rank in 7 out of 10 indicators and has moved closer to international best practices. New Zealand, Singapore and Hong Kong topped the list this year.
75.India ranks 32nd on Melbourne Mercer Global Pension Index
India has marginally improved its ranking to 32nd position in terms of providing pension and retirement benefits to citizens compared to last year. The country's score in the Melbourne Mercer Global Pension Index (MMGPI) 2019 rose to 45.8 from 44.6 last year. The MMGPI, which covers 37 countries, is based on how they fare on providing pension and retirement benefits to citizens across different income groups. India stood at 32nd position in 2019 out of 37 countries, while it was ranked at 33rd place in 2018 out of 34 countries in the list. In the overall list, the Netherlands had the highest index value (81.0), while Thailand had the lowest value (39.4).
76.New World Bank Project to Support Climate Resilient Agriculture for Farmers in Odisha
The Government of India, Government of Odisha and the World Bank signed a US$165 million loan agreement. It has been signed to support smallholder farmers strengthen the resilience of their production systems as well as diversify and improve the marketing of their produce, for increased income. The Odisha Integrated Irrigation Project for Climate Resilient Agriculture will be implemented in rural areas vulnerable to droughts and largely dependent on rainfed agriculture. It will benefit about 125,000 smallholder farmer households from 15 districts of Odisha managing 128,000 of agricultural land.
77.Government approves the in-principle merger for BSNL and MTNL
The Union Cabinet approved the proposal for revival of BSNL and MTNL. The Cabinet approved administrative allotment of spectrum for 4G services to BSNL and MTNL so as to enable these PSUs to provide broadband and other data services. The spectrum will be funded by the government by capital infusion in these PSUs at a value of Rs 20,140 crore. The GST of Rs 3,674 crore for the spectrum value will also be borne by the government. By using this spectrum allotment, BSNL and MTNL will be able to deliver 4G services, compete in the market and provide high-speed data using their vast network including in rural areas. The minister said that the BSNL and the MTNL will also raise long-term bonds of Rs 15,000 crore for which sovereign guarantee will be provided by the government. BSNL and MTNL will restructure their existing debt with these resources.
78.GeM Partners with Federal Bank for payment-related services
The Government e-Marketplace (GeM) signed a memorandum of understanding (MoU) with the Federal Bank to offer a number of services. These serviced including the transfer of funds through GeM Pool Accounts (GPA), advising of Performance Bank Guarantees (e-PBG) and Earnest Money Deposit (EMD) to the registered users on the portal. The MoU will facilitate a cashless, paperless and transparent payment system on the portal and would create an efficient procurement system for government entities.
79.FPIs pour in Rs 5,072 crore in Indian Capital markets
Foreign portfolio investors (FPIs), have infused a net sum of 5,072 crore rupees into the Indian capital markets this month so far amid the government's efforts to revive domestic demand. As per the latest depositories data, foreign investors put in a net sum of 4,970 crore rupees in the equities and a net 102 crore rupees in the debt market during 1st to 18th of this month. FPIs had invested about 6,558 crore rupees in the domestic capital markets (both equity and debt).