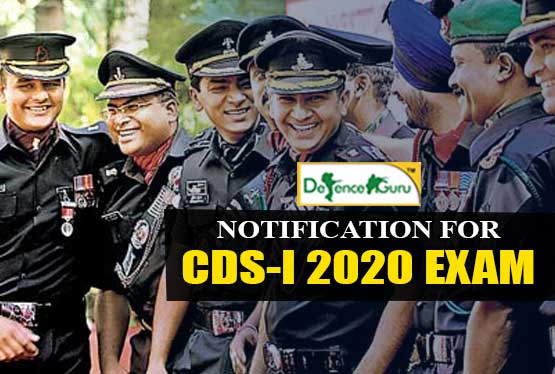 CDS-I 2020 EXAM NOTIFICATION
Combined Defence Services, shortly spelt as CDS is top on list of the students desiring to serve in Indian Armed Forces.
CDS recruits capable candidates for Indian Military Academy, Indian Naval Academy, Air Force Academy, and Officer's training Academy. Thousands of students long to join CDS and spent days and night preparing hard for its entrance exam.
Ending the suspense, CDS has released its notification for the year 2020 and here are its details:
DATES
Notification release date: 30th October, 2019
Last date to apply: 19th November, 2019
Date to withdraw: 26th November, 2019 to 12th December, 2019
ELIGIBILITY
A candidates must be a:
Citizen of India, or
subject of Bhutan, or
subject of Nepal, or
Tibetan refugee who came over to India before the 01st January 1962 with the intention of permanently setting in India, or
a person of India origin who has migrated from Pakistan, Burma, Sri Lanka and East African Countries of Kenya, Uganda, the United Republic of Tanzania, Zambia, Malawi, Zaire and Ethiopia or Vietnam with the intention of permanently setting in India.
EDUCATIONAL QUALIFICATION
To be eligible for CDS a candidate must have following educational credentials:
Indian Naval Academy: A degree in Engineering from a recognized University
Air Force Academy: graduate from a recognized university with Physics and Mathematics at 10+2 level or he must be a Bachelor of Engineering.
I.M.A and OTA: Degree from a recognized university or its equivalent.
HOW TO REGISTER
Interested candidates must log in to the official website www.upsconline.nic.in to apply for CDS.
Click on the link to apply, fill in your details and get yourself registered.
Candidates will have to pay a fee of Rs. 200. Females, SC, ST candidates are exempted from it.
SELECTION PROCEDURE
The selection process of CDS involves a written exam conducted by UPSC followed by SSB session and physical examination.
As per the total merit the final selection is made.
Talking about written exam, it involves English, G.K, and elementary Mathematics for I.M.A, Indian Naval Academy, and Air Force Academy.
OTA, on the other hand has only English and G.K.
The time limit is 2 hours while maximum marks are 100.
After the written exam there is a 5 day SSB procedure which involves plentitude of tasks ranging from psychological to physical, group, written, verbal and individual tasks.
Combined on both the procedures the merit is drafted.
NUMBER OF VACANCIES
I.M.A- 100
Indian Naval Academy- 45
Air Force Academy- 32
OTA (SSC men) - 225
 OTA (SSC women) – 16
With that the notification for CDS 2020 could be wind up. It's time to implement your months of hard work and showcase your ability. Quickly register and give your best to succeed.