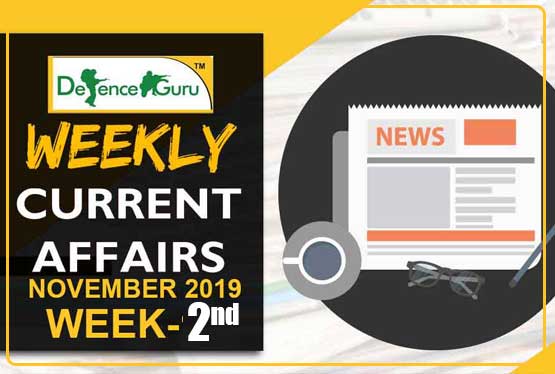 APPOINTMENTS
1.Justice Muhammad Raffiq
Justice Muhammad Raffiq took oath as Chief Justice of Meghalaya High Court. Meghalaya Governor Tathagata Roy administered the oath of office and secrecy at Raj Bhavan in Shillong. Mr Raffiq succeeds Ajay Kumar Mittal who is now the Chief Justice of Madhya Pradesh High Court. He will be the eighth Chief Justice of the Meghalaya High Court.
2.Nita Ambani
Educationist, philanthropist and businesswoman Nita Ambani has been named an honorary trustee of The Metropolitan Museum of Art. She is the first Indian to be so honoured. In 2016, Forbes listed her as one of the 50 most powerful businesswomen in Asia. She is a member of the International Olympic Committee and is the first Indian woman to serve in that role.
3.Mohammad Imran appointed
Mohammad Imran has been appointed as the new High Commissioner of Bangladesh to India. He is currently Bangladesh's Ambassador to the United Arab Emirates. He succeeds Syed Muazzem Ali. A career diplomat Muhammad Imran belongs to the 1986 batch of Bangladesh Civil Service (BCS) Foreign Affairs cadre. He has served Bangladesh Missions in different capacities in Kolkata, Berlin, Bonn, Ottawa and Jeddah.
4.Manmohan Singh
Rajya Sabha Chairman Venkaiah Naidu has nominated a former prime minister and senior Congress leader Manmohan Singh to the parliamentary standing committee on finance in place of party colleague Digvijaya Singh. Digvijaya Singh has now been nominated to the parliamentary standing committee on urban development by the chairman of the Upper House. Manmohan Singh, who was the country's finance minister between 1991 and 1996, was a member of the panel from September 2014 to May 2019 before his tenure in the Upper House ended in June this year. In August, he was elected unopposed to the Rajya Sabha from Rajasthan.
5.AP Sahi
Justice AP Sahi was sworn-in as Chief Justice of the Madras High Court. Tamil Nadu Governor Banwarilal Purohit administered the oath of office to Justice Sahi. Justice Sahi replaces Justice VK Tahilramani, who quit on September 6.
6. Arvind Ganpat Sawant
Shiv Sena MP Arvind Sawant resigned as the Union Minister for Heavy Industries and Public Enterprises in Narendra Modi's cabinet. This decision came after the fallout between Bharatiya Janata Party (BJP) and Shiv Sena over the formation of Maharashtra government. President Ram Nath Kovind has accepted the resignation of Arvind Ganpat Sawant from the Union Council of Ministers. Information and Broadcasting Minister Prakash Javadekar has been assigned the additional charge of the Ministry of Heavy Industries and Public Enterprises.
7.Sheikh Khalifa bin Zayed Al Nahyan
The UAE's Supreme Council of the Union has re-elected his Highness Sheikh Khalifa bin Zayed Al Nahyan as its President for a fourth five-year term. President Sheikh Khalifa was first elected President of the UAE by the Supreme Council of the Union on 3rd November 2004. President His Highness Sheikh Khalifa accompanied the builder of the UAE renaissance, the late Sheikh Zayed bin Sultan Al Nahyan, in the founding stage in the 70s and 80s of the last century. After the death of the Founding Father, he led the country and contributed to the prosperity of the UAE, and its prominence locally and globally.
DEATHS
8.TN Seshan
Former chief election commissioner TN Seshan passed away in Chennai. A 1955 batch IAS officer of the Tamil Nadu cadre, Seshan had led the Election Commission from 1990 to 1996. He held various key posts in the government including that of Defence Secretary and Cabinet Secretary. But he gained popularity only after he took over as the Chief Election Commissioner in 1990. He was the 10th Chief Election Commissioner of India. Some of his big achievements include implementation of the election process and the Model Code of Conduct, introduction of voter ID cards, enforcing limits on poll expenses, and elimination of several malpractices like distribution of liquor, bribing voters, ban on wall writing, use of loudspeakers, use of religion in election speeches etc.
AWARDS
9.India bags first position at BRICS Young Scientist forum
India has received the first prize at BRICS Young Scientist forum's conclave in Brazil. The fourth conclave was held in Brazil from 6- 8 November. Ravi Prakash, who is a PhD scholar from Indian Council of Agricultural Research-National Dairy Research Institute, has bagged the first position for inventing an affordable indigenously designed milk chilling unit for small to marginal rural dairy farmers. The first BRICS Young Scientist Conclave hosted by India in September 2016. South Africa hosted the third Conclave during June 2018 in Durban.
10.Munin Barkotoki Literary Award-2018
The prestigious Munin Barkotoki Literary Award 2018 in Assam has been given to young writer-critic Dr Debabhuson Borah for his book on literary criticism titled 'Nirbochon'. The Munin Barkotoki Memorial Trust announced the annual Award instituted to encourage young and promising writers in Assamese. The award carries a cash prize of Rs 50,000 along with with a citation and a plaque. The Munin Barkotoki Literary Awards for the years 2017 and 2018 will be given away at a function to be held here in February next. The award was named after the renowned writer, critic and journalist Munin Barkotoki.
11.Tata Literature Live! Lifetime Achievement Award-2019
The Tata Literature Live! Lifetime Achievement Award for 2019 was conferred on writer, translator and film critic Shanta Gokhale. Poet K Satchidanandan was named the Tata Literature Live! Poet Laureate for 2019. Gokhale, born in 1939 in the town of Dahanu in Maharashtra, recently published her memoir One Foot on the Ground: A Life Told Through the Body. She received the Sangeet Natak Academy Award in 2015.
12.Dhaka Literature award -2019
The ninth edition of the Dhaka Lit-fest started with a galaxy of writers and book lovers thronging the venue ground at the Bangla Academy. Over the three days of the festival 200 speakers, performers and thinkers will take part in discussions on diverse topics. The special focus of this year's lit-fest is on Indigenous Languages as the UNESCO has marked 2019 as the year of Indigenous Language Protection. On the first day of the event, West Bengal-based writer Abhishek Sarkar and Bangladeshi poet Rofiquzzaman Rony were given the Gemcon Young Literature Award and Gemcon Young Poetry Award.
books
13.'Courts of India: Past to Present'- CJI Ranjan Gogoi
Chief Justice of India Justice Ranjan Gogoi released the Assamese version of the book 'Courts of India: Past to Present' in Guwahati. Releasing the book published by the Publication Division, Mr Gogoi termed it as the architecture of justice. Supreme Court published "Courts of India: Past to Present", a compilation of glimpses into the rich and complex history of the courts and judicial institutions of India, right from ancient times to the modern day in 2016.
SPORTS
14.Shafali Verma becomes the youngest Indian to score international fifty
Fifteen-year-old Shafali Verma became the youngest Indian cricketer to score a half-century in international cricket. Her 49-ball 73 in the first T20 International against West Indies surpassing Sachin Tendulkar's 30-year-old record. Shafali achieved the feat at 15 years and 285 days, surpassing batting legend Tendulkar, who had notched up his maiden Test fifty at 16 years and 214 days.
15.Saurabh Chaudhary wins a silver medal in Men's 10m air pistol event at Asian Championship
Saurabh Chaudhary claimed the silver medal in men's 10m air pistol event to continue India's surge at the 14th Asian Championship in Doha. World Cup and Asian Games gold-medallist shot 244.5 to finish second on the podium behind North Korea's Kim Song Guk, who won the top prize with a world record 246.5. With 583, both Chaudhary and Abhishek Verma had qualified for the finals in seventh and sixth place.
16.Javelin thrower Sundar Singh wins gold in World Para Athletics Championships
Javelin thrower Sundar Singh Gurjar has won India's second gold defending his World Para Athletics Championships title in the men's F46 javelin throw event in Dubai. With this, India has secured three Tokyo Paralympic Games quota, along with the bronze winner Ajeet Singh and Rinku. Gurjar came up with his season's best effort of 61.22m to claim the top spot. India now has two gold, two silver and a bronze in the Championships.
17.Indian shooters secure unprecedented 15 quota places for Tokyo Olympics
Angad Vir Singh Bajwa who secured gold and Mairaj Ahmad Khan winning silver added to India's rich Olympic quota haul with a sensational 1-2 finish in the men's skeet event at the 14th Asian Shooting Championship at Doha. Their medals ensured India secured an unprecedented 15 quota places for the 2020 Tokyo Olympics. This is India's best-ever Olympic quota haul, easily surpassing the 12 at the 2016 Rio Games and 11 in London in 2012. India won three quotas on the last day, including teenager Aishwary Pratap Singh Tomar's bronze in men's 50m rifle 3 positions.
18.Deepak Chahar becomes first Indian male to claim a hat-trick in T20I
Deepak Chahar scripted history as he became the first Indian male to claim a hat-trick in Twenty20 Internationals (T20I) during the third T20I against Bangladesh in Nagpur. Ekta Bisht was the first Indian to take a hat-trick in T20Is in a women's match against Sri Lanka in 2012. Chahar also recorded the best bowling figures in T20 International cricket, his 6 for 7 in 3.2 overs bettering Sri Lankan Ajantha Mendis's figures of 6 for 8 against Zimbabwe in 2012.
19.Sandeep Chaudhary and Sumit set javelin records to win gold and silver respectively at World Para-Athletics
Sandeep Chaudhary and Sumit sets new world records, and won gold and silver respectively in ongoing World Para Athletics Championships, Dubai. Sandeep hurled the javelin to a distance of 66.18m to better his own world record of 65.80m in the F44 category, while Sumit sent the spear to a distance of 62.88m to clinch the silver and better his own F64 world record of 60.45m. The F44 category athletes have leg amputations or reduced function in one or both legs, and they compete without prothesis. The F64 category athletes have limb deficiency and leg length difference, and they compete with the prosthesis.
20.Tejaswini Sawant wins India's 12th Olympics 2020 quota in shooting
Former world champion and reigning Commonwealth Games champion Tejaswini Sawant bagged a Tokyo Olympics 2020 quota in shooting for India. She earned a ticket to her first Olympic games after coming fourth in the women's 50m Rifle 3 Positions (3P) final on day five of the ongoing 14th Asian Shooting Championship in Qatar. The score was way above her previous best score in qualification in this new longer format introduced only in this current Olympic cycle.
21.Women's boxing icon Adams retires due to medical advice
Two-time Olympic champion Nicola Adams will retire because of fears about her sight, the Briton announced. The 37-year-old became the first-ever women's Olympic boxing champion at London 2012. Adams successfully defended her title in Rio.
22.Rohit Sharma becomes 1st Indian male cricketer to play 100 T20I
Rohit Sharma became the first Indian man and second in world cricket to complete 100 T-20 Internationals. He reached the milestone when he led the team in the second match against Bangladesh at the Saurashtra Cricket Association Stadium, Gujarat. Shoaib Malik with 111 games from Pakistan is the only player to have played more than 100 T20 Internationals. Rohit is currently the top-scorer in this format with 2452 runs with regular skipper Virat Kohli second in the list with an aggregate of 2450 runs.
INTERNATIONAL
23.World Diabetes Day: 14 November
World Diabetes Day is the primary global awareness campaign focusing on diabetes mellitus and is held on 14 November each year. This day tries to create awareness about the importance of taking the necessary steps to control diabetes. Diabetes requires proper management of blood sugar levels to control the severe complications associated with it. For the year 2019, the theme is 'Family and Diabetes'.
24.World Kindness Day: 13 November
World Kindness Day is celebrated every year on November 13. It is a day when people try to do things or deeds to make the world a better place. World Kindness Day was launched in 1998 and has around 28 nations involved in this movement.
25.Former Bolivian Prez Evo Morales arrives in Mexico to take up political asylum
Ex-President of Bolivia Evo Morales arrived in Mexico to take up the political asylum, vowing to continue the struggle. He had resigned amid mounting protests over his fraud-stained re-election to a fourth term on October 20th. He thanked President Andres Manuel Lopez Obrador of Mexico for saving his life. He was forced to step down after losing the backing of the military and police amid weeks of increasingly violent protests over his constitutionally questionable re-election.
26.BRICS summit -2019
Brazil is hosting 2019 BRICS summit, this time in capital Brasilia from 13th to 14th November. BRICS brings together five major economies of Brazil, Russia, India, China and South Africa having 23 per cent of the global GDP and around 17 per cent of the share in world trade. The 2019 edition of BRICS will be its 11th summit, happening every year since its inception. The theme of the Summit this year is "Economic Growth for an Innovative Future".
27.India builds Mathadhis building for Shree Budhanilkantha Naryan Temple in Nepal
Ambassador of India to Nepal Manjeev Singh Puri inaugurated Mathadhis building for Shree Budhanilkantha Narayan Temple in Kathmandu. Budhanilkantha Temple is situated at the foot of Shivpuri hills in Kathmandu valley. The shrine has probably the largest stone idol of Lord Vishnu in Nepal reclining on a bed of Nagas or serpents in the middle of a small pond. Shree Budhanilkantha temple has great religious and cultural significance for Hindus all over the world. Thousands of pilgrims apart from tourists from India and other parts of the world visit temple every day.
28.Cyclone Bulbul will turn into a very severe cyclonic storm
Cyclone Bulbul is steadily gathering intensity over the Bay of Bengal and is expected to turn into a very severe cyclonic storm, according to fresh predictions released by the India Meteorological Department. The weather office hasn't yet said whether Cyclone Bulbul will make landfall in India but its predictions suggest that Bulbul will skirt Odisha and head towards West Bengal and Bangladesh in the upcoming days. Cyclone Bulbul is expected to bring rainfall over the Andaman and Nicobar Islands, north coastal Odisha and coastal West Bengal. Cyclone Bulbul is the reborn form of cyclone Matmo.Matmo was formed in the Philippine Sea on October 24.
NATIONAL
29.Children's Day: 14 November
In India, Children's Day is celebrated on November 14 every year as a mark of respect to Jawaharlal Nehru, the first Prime Minister of independent India. Nehru was fondly called Chacha Nehru and was known for emphasising the importance of giving love and affection to children. After the death of Nehru, it was unanimously decided to celebrate his birthday as Bal Diwas or Children's Day in India. Nehru was born on November 14, 1889, in Uttar Pradesh's Prayagraj. He breathed his last on May 27, 1964. He became the prime minister on August 15, 1947, following an active role in the freedom struggle of the country.
30.Supreme Court puts CJI office in RTI ambit
The office of the Chief Justice of India would now fall within the ambit of the Right to Information Act. In a significant judgment, the Supreme Court said that the CJI's office is a public authority under the RTI Act. A five-judge Constitution bench headed by Chief Justice Ranjan Gogoi upheld the 2010 Delhi High Court verdict and dismissed the appeals filed by Secretary-General of the Supreme Court and the Central Public Information officer of the apex court. It was RTI Activist S C Agrawal who first raised the issue of CJI's office falling within RTI ambit.
31.Indo-Uzbekistan Joint Field Training Exercise (FTX)-2019 'Exercise Dustlik-2019'
The inaugural Indo-Uzbekistan Joint Field Training Exercise (FTX)-2019, Exercise DUSTLIK-2019 culminated on 13 November 2019. In the joint exercise which began on 04 November 2019 training was focused on counter-insurgency and counter-terrorism operations in the urban scenario as well as sharing of expertise on skills at arms, both combat shooting and experiences in counter-insurgency and counter-terrorism. The exercise also provided an opportunity to armies of all nations for greater cultural understanding, sharing experiences and strengthening mutual trust and cooperation. It was conducted at Chirchiq Training Area, Uzbekistan.
32.Two day International Conference on Yoga for Heart care to be organised at Mysuru, Karnataka
Ministry of AYUSH is organizing the International Conference on Yoga on 15-16 November 2019 at Mysuru, Karnataka. The Chief Minister of Karnataka Shri B.S. Yediyurappa will inaugurate the two-day conference on 15th November 2019 in the presence of Union Minister of State (Independent Charge) for AYUSH and Defence, Shri Shripad Yesso Naik. The theme of the conference is 'Yoga for Heart Care'. More than 700 national and international delegates are expected to participate in the conference spread over ten technical sessions involving fifty resource persons & experts. The Governor of Karnataka Shri Vajubhai Vala will be the Chief Guest at the valedictory function of the conference.
33.Rajnath Singh to attend Maitree Diwas celebrations in Arunachal Pradesh
Defence Minister Rajnath Singh visit Arunachal Pradesh to attend the Maitree Diwas celebrations at Tawang. Maitree Diwas (Civil-Military Friendship) will be celebrated for two days at Gyalwa Tsangyang Gyatso High Altitude Stadium Tawang. This will be the 11th edition of Maitree Diwas which celebrates civil-military friendship in the area. Rajnath Singh will also inaugurate Sisseri River Bridge and National Highway-52 in East Siang District.
34.UP govt launches e-Ganna app, web portal
Uttar Pradesh government has launched a dedicated web portal and a mobile application, e-Ganna App, for sugarcane farmers of the state. Cane supply slip will now be issued to the farmers by sugar mills online. The web portal and e-Ganna App will help in eradicating cane mafia and middleman and strengthen cane development societies. The portal and the App will ensure transparency in the process of getting slips, and facilitate sugarcane supply by farmers to mills and check irregularities.
35.India to host 19th SCO Heads of Government Council in 2020
India will host the 19th council of heads of government of the Shanghai Cooperation Organisation next year. It is the first such high-level meeting of the eight-member grouping to be organised by New Delhi after its admission into the grouping in 2017. The SCO is a China-led eight-member economic and security bloc in which India and Pakistan were admitted as full members in 2017. Its founding members included China, Russia, Kazakhstan, Kyrgyzstan, Tajikistan and Uzbekistan.
36.Air Chief to inaugurate ISAM Conference in Bengaluru
Air Chief Marshal RKS Bhadauria will inaugurate the 58th Indian Society of Aerospace Medicine (ISAM) Annual Conference which aims to address contemporary issues and applications in the subject of aerospace medicine. The event will take place at the Institute of Aerospace Medicine, Indian Air Force, Bengaluru from November 14-16. The theme for this year's conference is 'Changing Paradigms in Aerospace Healthcare'.
37.Exercise TIGER TRIUMPH to Commence at Visakhapatnam
The maiden India-USA joint Tri services Humanitarian Assistance and Disaster Relief (HADR) Exercise named 'TIGER TRIUMPH' is scheduled on the Eastern seaboard from 13 to 21 Nov 19. Indian Naval ships Jalashwa, Airavat and Sandhayak, Indian Army troops from 19 Madras and 7 Guards, and Indian Air Force MI-17 helicopters and Rapid Action Medical Team (RAMT) would be participating in the exercise. The US would be represented by US Navy Ship Germantown with troops from the US Third Marine Division. The Exercise is aimed at developing interoperability for conducting HADR operations. The Harbour Phase is scheduled at Visakhapatnam from 13 to 16 Nov 19. The Opening Ceremony along with a Joint Flag Parade and Media Interaction will be held onboard INS Jalashwa on 14 Nov 19.
38.14-day India International Trade Fair 2019 will start New Delhi
Several countries, including Australia, Iran, UK and Vietnam, will participate in the 14-day India International Trade Fair 2019 beginning in New Delhi. The theme for the 39th edition of the fair (November 14-27, 2019) is 'Ease of Doing Business' inspired by India's unique achievement of rising to 63rd rank on the World Bank's Ease of Doing Business Index from 142nd rank in the year 2014. Countries including Australia, Bahrain, Bangladesh, Bhutan, China, Egypt, Hong Kong, Indonesia, Iran, Myanmar, Nepal, Thailand, Tunisia, Turkey, the UK and Vietnam would be participating in the fair. This year the status of 'Partner Country' has been accorded to 'The Islamic Republic of Afghanistan' and 'The Republic of Korea' will be the 'Focus Country'. Bihar and Jharkhand will be the focus states in this edition of the fair.
39.President's rule imposed in Maharashtra
President's rule has been imposed in Maharashtra. The state legislative assembly has been kept under suspended animation. This follows Governor Bhagat Singh Koshyari's report to the Centre which stated that the formation of a stable government is impossible in the current situation despite all his efforts. The development came as the political impasse lingered on for 19 days after the assembly election results were declared. In the assembly polls held last month, the BJP won 105 seats, followed by the Shiv Sena, 56, the NCP-54 and the Congress, 44 in the 288-member House.
40.Odisha: 'Bali Yatra' festival begins in Cuttack
The festival 'Bali Yatra' was inaugurated in Cuttack, Odisha. The festival is organised every year in memory of the rich maritime history of the state. The festival is organised at the bank of Mahanadi River every year to mark the day when ancient mariners from the state would set sail to the distant land of Bali, Sumatra, Java (Jawa) in Indonesia, Borneo and Sri Lanka, for the expansion of trade and Culture. For the first time, the festival has a maritime corner to exhibit the model of the maritime voyage of ancient sea traders, who were travelling to the different parts of South-East Asia for Trade and culture extension.
41.Haryana sets up the Economic Advisory Council to promote industries
Haryana government led by Chief Minister Manohar Lal Khattar has constituted an Economic Advisory Council (EAC) to promote industries in the state. The council will also address issues related to various issues and policies of economic development. The EAC will comprise membership-based advisory panel and will be headed by the Chief Minister, while various representatives of the government, industry and academia sector have also been included in the panel. This council would be constituted for 5 years, in which the government members would remain as permanent members of the council, while the members of the private sector would serve a term of 2 years.
42.Public Service Broadcasting Day: 12 November
Public Service Broadcasting Day is being observed every year on 12 November. The day is celebrated every year to commemorate the first and last visit of the Father of the Nation, Mahatma Gandhi to the studio of All India Radio, Delhi in 1947. The Father of the Nation addressed the displaced people, who had temporarily settled at Kurukshetra in Haryana after partition.
43.BRICS trade ministers meeting begins in Brasilia
Ahead of upcoming BRICS 2019 summit, BRICS trade ministers meeting has started in Brasilia. Commerce minister Piyush Goyal is leading the Indian delegation. The meeting will focus on trade facilitation, investment promotion and cooperation in customs among other issues. MoU on trade and investment promotion between agencies of all the 5 BRICS countries will be signed after the meeting.
44.Gujarat government gives nod for world's first CNG port terminal at Bhavnagar
Gujarat Government has given its nod to the world's first CNG port terminal at Bhavnagar. The U.K. based Foresight group and Mumbai based Padmanabh Mafatlal group joint venture will invest Rs.1900 crore to set up a CNG port terminal at Bhavnagar port. The proposed CNG port terminal will have an annual capacity of 6 million metric tones, which will increase the total handling capacity of the port to 9 million metric tones.
45.National Education Day: 11 November
National Education Day is observed on 11th November every year to commemorate the birth anniversary of Maulana Abul Kalam Azad. He was a freedom fighter, scholar and the first Education Minister of independent India. The day is also seen as an occasion to remember Azad's contribution in laying the foundations of the education system in the country. Human Resources Development Minister Ramesh Pokhriyal Nishank will launch SWAYAM 2.0, Study Webs of Active Learning for Young Aspiring Minds in New Delhi. The SWAYAM programme is initiated by the government to achieve the three cardinal principles of Education Policy - access, equity and quality.
46.5th edition of GES to be held from Nov 26-28 in Bengaluru
The fifth edition of Global Exhibition on Services, GES 2019 is being held from November 26 to 28 at Bengaluru in Karnataka. The Global Exhibition on Services is an annual event which aims to engage industry and governments across the world and to promote greater exchange of trade in services between India and the rest of the world. Commerce and Industry Ministry said that GES 2019 is an attempt towards escalating the Indian services bar in the global arena, encompassing participation from 100 countries and hosting sector-specific knowledge sessions. India is looking to attract investments and partnerships in strategic areas like aviation and space programme, infrastructure, and telecom projects.
47.Defence innovations conference showcasing accomplishments of iDEX to be held in New Delhi
The defence ministry is organising Def-Connect in New Delhi to showcase the accomplishments of the Innovations for Defence Excellence (iDEX) initiative. The conference aims to bring together all stakeholders of the iDEX ecosystem, Ministry of defence, iDEX selected startups, Partner Incubators, Defence Innovation Organisation, Nodal agencies (Indian Army, Navy, Airforce), Defence Research and Development Organisation and Defence Public Sector Undertakings and Indian Ordnance Factories. The launch of iDEX Portal and launch of Defence India Startup Challenge (DISC)-III are some of the major activities planned during this day-long event. Defence minister Rajnath Singh will be the Chief Guest of the event.
48.Dharmendra Pradhan to visit UAE for ADIPEC
Petroleum Minister Dharmendra Pradhan will visit the United Arab Emirates from November 10 to 12 to attend the inaugural Ministerial session of Abu Dhabi International Petroleum Exhibition and Conference. He will participate in the Ministerial panel discussion. The Minister is scheduled to meet his UAE counterpart Minister of Energy and Industry, Suhail Mohamed Faraj Al Mazrouei. Both the countries will discuss issues of bilateral hydrocarbon as well as steel sector engagements.
49.IOCL gets environmental clearance to set up a 2G ethanol plant in Panipat
Ministry of Environment, Forest and Climate Change has given environment clearance to Indian Oil Corporation Limited to set up a new 2G Ethanol plant at Panipat. This project not only promotes the use of environmentally friendly fuel but also aids in fulfilment of the government's goal of doubling farmers' income. Mr Javadekar added that Ministry has revised the Environmental Standards for Tanneries, Iron & Steel Industries and Coffee industries after due stakeholder consultations and expert advice. The new Standards aim at the commitment of the government to ensure a clean and green environment.
50.Exim Bank gives $30 million line of credit to Ghana
The Export-Import (Exim) Bank has provided a $30 million line of credit to Ghana for the potable water project in the country. Exim Bank has entered into an agreement with Ghana for a line of credit (LoC) of $30 million (about Rs 210 crore) for financing rehabilitation and up-gradation of the potable water system in Yendi, Ghana. Under the arrangement, financing of export of eligible goods, works and services from India would be allowed subject to their being eligible for export under the Foreign Trade Policy of India and whose purchase may be agreed to be financed by the Exim Bank.
Points to remember
Headquarters: Mumbai
CEO: David Rasquinha
51.SC paves way for construction of Ram Temple in Ayodhya
Settling the centuries-old dispute with regards to 2.77 acres of land in Ayodhya, believed to be the birthplace of Lord Ram, the Supreme Court by a unanimous decision gave the possession of the contested property to a trust that will oversee the construction and management of the Ram temple. A five-judge Constitution Bench headed by Chief Justice Ranjan Gogoi also directed the Centre and Uttar Pradesh government to allot five acres of land at an alternate site in Ayodhya to the Sunni Central Waqf Board to construct a mosque. The bench, comprising Justices SA Bobde, DY Chandrachud, Ashok Bhushan and S Abdul Nazeer, also came to the conclusion that the three-way bifurcation of the disputed property by the Allahabad High Court was "legally unsustainable."
Key Points of this verdict
The disputed site has been given to the Ram Janmabhoomi Nyas and the centre has been asked to build trust for the construction of the temple.
SC directs allotment of alternative land to Muslims to build a new mosque.
Suitable land of 5 acres to be handed over to Sunni Waqf board at a prominent place for building the mosque.
Centre to frame scheme within 3 months and set up a trust for construction of a temple.
SC dismisses plea of Nirmohi Akhara seeking control of entire disputed land.
Points to remember
1528: Babri Mosque built by Mughal emperor Babur's commander Mir Baqi
1949: Idol of Lord Ram, Goddess Sita found inside the mosque by unknown persons.
1992: Babri Mosque structure demolished by karsewaks
2010: The Allahabad High Court rules trifurcation of the 2.77-acre disputed land between UP Sunni Waqf Board, the Nirmohi Akhara and Ram Lalla Virajman.
52.Integrated Check Post of Kartarpur Corridor inaugurated by the Prime Minister at Dera Baba Nanak in Punjab
Prime Minister Narendra Modi inaugurated Kartarpur Corridor and Integrated Check Post. Now it will be easy to pay obeisance at Darbar Sahib Gurudwara after the opening of Kartarpur Corridor. He also thanked Pakistani counterpart Imran Khan for understanding India's sentiment. The first Jatha of Sikh pilgrims also entered Pakistan through Kartarpur Corridor. Earlier, Prime Minister Narendra Modi flagged off the first batch of over 500 Indian pilgrims led by Akal Takhat Jathedar Giani Harpreet Singh to Gurdwara Darbar Sahib through the corridor.
53.Sanskrit Bharati Vishwa Sammelan begins in New Delhi
The three-day Sanskrit Bharati Vishwa Sammelan begin New Delhi. Thousands of Sanskrit lovers from 17 countries are attending the Sammelan. Minister of State for External Affairs V.Muraleedharan inaugurated the event.
54.MMR of India declines by eight points in one year
Maternal Mortality Ratio, MMR, of India has declined by eight points in one year as per the latest special bulletin on MMR released by the Registrar General of India. He added that the MMR has declined from 130 per lakh live births in 2014-16 to 122 per lakh live births in 2015-17 which is a decline of 6.2 per cent. This decline is important as it translates to over 2,000 more pregnant women saved annually. India is on track to achieving the Sustainable Development Goal (SDG) set for reducing the MMR by 2025 which is five years ahead of the fixed time-line of 2030.
55.27th Conference of Central and State Statistical Organizations (COCSSO) to be held in Kolkata
Ministry of Statistics and Programme Implementation (MoSPI) is organizing 27th Conference of Central and State Statistical Organizations (COCSSO) during 11-12thNovember 2019 at Biswa Bangla Convention Centre, Kolkata. The Conference will be inaugurated by Shri Pravin Srivastava, Chief Statistician of India cum Secretary, MoSPI on 11th November 2019. The theme of this year's Conference "Sustainable Development Goals (SDGs)".
56.IFFI 2019 to screen three films for differently-abled
This year, at the Golden Jubilee of International Film Festival of India (IFFI), will have the screening of Accessible India Films. This is a collaboration between IFFI, Saksham Bharat and UNESCO with the aim to promote the creation of inclusive spaces for the differently-abled to access the joy of cinema through Audio Deion. Audio Deion is an additional narration that translates images, visual information or non-dialogue portions of film into spoken words so that visually-impaired people can access, enjoy and learn from works of popular films. This unique film section will witness the screening of three films, two in Hindi - Lage Raho Munna Bhai and M.S. Dhoni: The Untold Story and one in Konkani- Questao De Confusao in Konkani.
57.DIN System of CBIC comes into existence
The Documentation Identification Number (DIN) system of Central Board of Indirect Taxes (CBIC) will come into existence. This path-breaking system in indirect tax administration has been created as per the direction of Finance Minister Nirmala Sitharaman. Now, any CBIC communication will have to have a Documentation Identification Number. The Government has already executed the DIN system in the direct tax administration.
58.Meenakshi temple pilgrims to be given free laddu as Prashad
The world-renowned Madurai Meenakshi temple in Tamil Nadu has commenced free supply of its famous sweet laddu offering from. It was inaugurated by Tamil Nadu Chief Minister Edapadi Palanisamy from Chennai through video conferencing. All pilgrims coming to the temple from the time it opens in the morning till the sanctum sanctorum is closed after night time rituals will be given the free laddu as Prashad. The laddus will be of 30-gram size and will be supplied near the famous Mukkuruni Vinayakar shrine situated between the main deities Sundareswaran and Meenakshi.
59.Karnataka Gramin Bank initiates 'mobile ATMs' to push digitisation in rural areas
In a move to boost digitisation in rural areas, the Karnataka Gramin Bank (KGB) has launched 'mobile ATMs' in Kalaburagi among several other districts in the state. The special vehicle includes an ATM and a screen to show videos of different banking schemes. The mobile ATMs will go to the doorsteps of the farmers and make them aware of the banking schemes and digital operating systems. A bank official would be present in the van, who will provide information regarding the digital operating systems and schemes.
60.Venkaiah Naidu inaugurates 10th Asian Conference of Emergency Medicine
Vice President M Venkaiah Naidu has inaugurated the 10th Asian Conference of Emergency Medicine in New Delhi. He stressed the urgent need to attach high priority to emergency medicine and services in the country. Shri Naidu asked Medical colleges to incorporate courses relating to emergency medicine and train the undergraduates to deal with the whole gamut of emergencies such as accidents, heart attacks, natural calamities, and others.
61.Women, Peace, and Security Index -2019
The Georgetown University's Institute for Women, Peace and Security (GIWPS) has released its second report on Women, Peace, and Security Index. The new 2019 report ranks 167 countries for women based on three indicators - inclusion, justice and security. India, on the whole, is ranked at 133 out of 167 countries with an index score of 0.625. Norway, the best country according to the index has a score of 0.904.
62.Indian Navy - Indonesian Navy Bilateral Maritime Exercise 'Samudra Shakti' took place in the Bay of Bengal
Indian Navy- Indonesian Navy Bilateral Exercise 'Samudra Shakti' is taking place from 06 Nov to 07 Nov 19. INS Kamorta, an Anti-Submarine Warfare Corvette is jointly exercising with Indonesian Warship KRI Usman Harun in the Bay of Bengal. The joint exercises include manoeuvres, Surface Warfare exercises, Air Defence exercises, Weapon firing drills, Helicopter Operations and Boarding Operations. The Harbour Phase which was conducted on 04 and 05 November included professional interactions in the form of Subject Matter Expert Exchanges (SMEE), cross deck visits, simulator drills, planning conferences, sports fixtures and social interactions.
63.Bajaj Allianz General Insurance launches 'Farmitra' mobile app for farmers
Bajaj Allianz General Insurance, the private general insurer launched the industry's first mobile app 'Farmitra' catering to the specific needs of farmers. Through this app, farmers will not only get insurance solutions but also a range of other information and advisories which will cater to their day to day farming needs. The Company, through this app, intends to help farmers address their worries and provide the relevant information which they can use in optimizing their farming practices.
BUSINESS
64.RBI increases household income limits for borrowers of NBFCs and MFIs
Reserve Bank has increased the household income limits for borrowers of Non-Banking Financial Companies (NBFCs) and microfinance institutions (MFIs) from 1 lakh to 1.25 lakh rupees. The move is aimed at strengthening credit to those at the bottom of the economic pyramid in rural areas. Similarly, the limit has been increased from 1.6 lakh for urban or semi-urban areas to 2 lakh rupees.
65.RBI imposes Rs 5 lakh fine on Oxigen Services
The Reserve Bank has imposed a fine of Rs 5 lakh on prepaid payment instrument Oxigen Services. The move was taken in exercise of powers vested under Section 30 of the Payment and Settlement Systems Act, 2007, for non-compliance of regulatory guidelines. Oxigen Services facilitates payment processing and money transfer services.
Oxigen Services India Pvt. Ltd.is a FinTech company is one of the major payment solutions providers in India.
Headquarters location: Gurugram
Executive director: Sunil Kulkarni