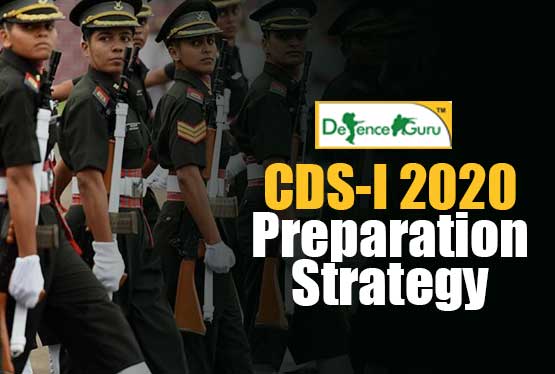 CDS-I 2020 EXAM OVERALL DETAILS
Aspiring for CDS 2020? Want to grab all the details at one place? Well then welcome to the group. This article is specially drafted for the appearing candidates of CDS 2020 with an aim of rendering them a handbook of the A to Z information of this exam, starting from pattern and syllabus to preparation tips and best books. So get your lenses and get thorough with the following points.
CDS, elaborated as Combined Defence Services is a national level exam which is held twice a year (in February and November). It aims to admit students in the various academies of Indian Armed Forces: Indian Military Academy (IMA), Officers Training Academy (OTA), Indian Naval Academy (INA) and Indian Air Force Academy (AFA). The CDS written exam is held by UPSC followed by a long interview session by SSB after which final merit list is formed. Here are the details of it:
CDS 2020 WRITTEN EXAM PATTERN
While the basic pattern is common there remains slight difference in the CDS exam for various academies and below are its details:
Mode- online
Pattern- objective, that is MCQ based
Language- Bi- lingual, that is, English and Hindi both
Marks- OTA: 200
IMA, INA, and AFA: 300
Negative marking- 0.33 for each wrong answer
Time duration- 2 hours for each section
Topics-
IMA, INA, AFA: English; General Knowledge and elementary Mathematics with 100 marks for each section.
OTA: English and General Knowledge with 100 marks for each section.
CDS 2020 WRITTEN EXAM SYLLABUS
Now that you know there are 3 topics included in CDS it's time to know their syllabus.
English-
Fillers
RC Passages
Synonyms/ Antonyms/ Phrases
Sentence Rearrangement (Jumbled sentences)
Spotting Error
Sentence Improvement
General Knowledge-
Current Affairs
News of important international and national events, awards, sports news, books & authors
The Indian constitution, fundamental rights, and directive principles, powers of the president and prime minister, constitutional bodies, Indian judiciary etc.
History of Ancient, Medieval and Modern India.Some important facts about Indian as well as world geography.
Economy of India
Physics topics like optics, motion, force, units, heat, electricity, temperature etc.
Chemistry topics of organic, inorganic, physical and general chemistry
Biology topics like important diseases and human & plant biology
Questions from Indian Defense like Army Day, Navy Day, recent developments etc.
International Organizations like IMF, WHO, World Bank, UN, BRICS, and SAARC etc.
Elementary mathematics-
Arithmetic
Algebra
Geometry
Mensuration
Trigonometry
Statistics
For more details you can log in to the official website of UPSC.
CDS SSB INTERVIEW
Once a candidate gets qualified in the written exam he has to further appear for SSB interview. It is a 4-5 day session wherein candidates go through a series of all sorts of test which asses them on different parameters, such as psychology test, written and oral, group task, outdoor tests and a face to face interview.
A QUICK NOTE ON CDS 2020 EXAM PREPERATION TIPS
Simply knowing the syllabus and pattern of exam won't fetch you marks, a good preparation is must to crack CDS. Here are some tips to help you out:
Analysis: After you have noted down the syllabus and exam pattern analyze your strong and weak areas and begin the preparation accordingly. The difficult ones shall be taken up first.
Study plan: Draft a time table because regular study is extremely necessary to be successful herein. Devote time top each subject after all there are only 3 sections along with short breaks in between.
Mock test: Practice adds finishing touch to your studies. Take online mock test, solve last year question papers and check you progress as well as scope of improvement in various topics. This tip also works tremendously for last minute preparation.
Individual subjects: For mathematics the level is up to class 10th so simply polish up your elementary knowledge, revise the basics, memorize the formulas and solve tonnes of questions. For English get habitual of daily reading be it books or newspaper. Add to that improve your vocabulary as it will automatically help you in other English topics be it antonym- synonym or phrases. And don't forget to grammar portion, prepare it well. G.K, amongst all other sections is the widest topic as it includes social science, humanities and current affairs. Herein Humanities section is not factual but analytic so prepare accordingly. For current affairs all you need is regular reading of newspaper.
CDS 2020 EXAM BEST BOOKS
Last but not the least, good books are a pre- requisite for good preparation. It's pretty obvious you cannot succeed without relevant study material so here is a note on that too:
- do study NCERT especially for Humanities
- take help from your elementary (till class 10th) Mathematics books and English grammar books.
- You can further log in to www.defenceguru.co.in for the best study material for Defence exam preparation in town. The books are prepared by experts of Centurion Defence Academy. It has its own Research & Development team which publishes most relevant; up- to- date; easily comprehendible and a wholesome set of books which include notes, concepts, theories, problems and important previous year questions.
The exam for CDS 2020 is approaching near. If you are a true aspirant then without wasting any time get into the shoes of preparation. Take help from the above information and mark your step towards a bright career. All the best!