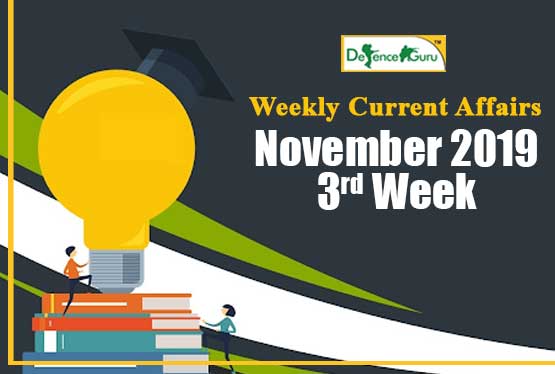 APPOINTMENTS
1.Gotabaya Rajapaksa
Gotabaya Rajapaksa sworn-in as new President of Sri Lanka at Anuradhapura. Former President Mahinda Rajapaksa and several MPs will be present on the occasion as Anuradhapura holds significance as a sacred city for Buddhism. Previously, Sri Lanka's former Defence Secretary Gotabaya Rajapaksa has won the Presidential election. He is the brother of former President Mahinda Rajapaksa. Gotabaya got 52.25 per cent of the total valid votes.
2.Justice Bobde
Justice Sharad Arvind Bobde took oath as the 47th Chief Justice of India. Justice Bobde succeeds CJI Ranjan Gogoi. Justice Bobde will have a tenure of over 17 months as the CJI and is due to retire on April 23, 2021. Justice Bobde was elevated as a Judge of the Supreme Court on April 12, 2013. He was part of the five-judge constitution bench which delivered the landmark Ayodhya verdict.
3.Justice Dr Ravi Ranjan
Justice Dr Ravi Ranjan took oath as the Chief Justice of Jharkhand High Court. He was administered the oath of office by Governor Draupadi Murmi in a simple ceremony at Raj Bhawan. Justice Dr Ravi Ranjan has been appointed as the 13th Chief Justice of the Jharkhand High Court. The post was lying vacant since May this year after the former Chief Justice, Anirudh Bose was appointed as a judge of the Supreme Court. Justice Dr Ravi Ranjan was a judge in the Punjab and Haryana High Court.
4.Sarita Devi
Laishram Sarita Devi of Manipur is among the six boxers from 5 continents who were elected as members of AIBA Athletes Commission. Laishram Sarita Devi was inspired by Muhammad Ali's achievements and turned professional in boxing in the year 2000. bShe is DSP in Manipur Police. The election of the Athletes Commission members was organized during AIBA Men and Women World Boxing Championships 2019 in Russia. Boxers from all over the world voted for new members - one per continent, except Europe which has two representatives.
5.Justice Akil Abdulhamid Kureshi
Justice Akil Abdulhamid Kureshi was sworn in as the new Chief Justice of the High Court of Tripura. Governor Ramesh Bais administered the oath of office at old Raj Bhavan in Agartala. Justice Kureshi was appointed as the Chief Justice on November 8.
6.Lt Col Jyoti Sharma
Lieutenant Colonel Jyoti Sharma has been appointed as Indian Army's first female Judge Advocate General officer to be deployed on a foreign mission. She will be appointed as the military legal expert with the government of Seychelles. Jyoti's main role would be to update the government of Seychelles officials on the defence and military act. In September, Wing Commander Anjali Singh joined Indian Embassy in Russia as India's first female military diplomat to be posted in any of the mission abroad.
7.Nilam Sawhney
Senior IAS officer Nilam Sawhney has been appointed as the new Chief Secretary of Andhra Pradesh. An order was issued by the General Administration Department appointing Sawhney, a 1984 batch Indian Administrative Service (IAS) officer, to the top post. Sawhney is the first woman Chief Secretary of the Andhra Pradesh.
DEATHS
8.Vashishtha Narayan Singh
Celebrated mathematics genius from Bihar, Vashishtha Narayan Singh passed away at the age of 77 in Patna. He was diagnosed with schizophrenia while still in the US after which he had returned to India in 1974. The 74-year-old is said to have challenged Einstein's theory of relativity. Vashishtha Narayan Singh had taught at the Indian Institute of Technology, Kanpur, and the Indian Statistical Institute, Kolkata.
9.Cochin Azad
Singer Azad Yusuf, popularly known as Cochin Azad, who was famous for his renditions of Mohammed Rafi songs, passed away. Kochi native Azad had been an integral part of Cochin-based Mehboob Memorial Orchestra (MMO) since 2005 and had sung Rafi's songs at more than 1,000 stages in India and abroad. Known as a singer blessed with a voice strikingly similar to that of Rafi, Azad's ability to sing Rafi's song with perfection had earned him the moniker 'Kerala Rafi'.
AWARDS
10.ANR National Award-2019
Two of the greatest actresses of the film industry were felicitated at the (Akkineni Nageswara Rao) ANR National Award. Actress Rekha and the late Sridevi were awarded for their contributions to the Indian film fraternity. The annual award honours those who had created an ever-lasting impact on Indian cinema. The awards were presented by Telugu actor Chiranjeevi.
11.Indian Personality of the Year award-2019
Ace Indian wrestler Bajrang Punia has been conferred the Indian Personality of the Year Award (Sports) at the Indo Arab Leaders Summit & Awards 2019 in Dubai. Also World powerlifting champion Mahant Gaurav Sharma was honoured with Visionary Leaders of the Year (Sports) award. Gaurav was recently conferred with the prestigious Mahatma Gandhi Leadership Award in London.
12.SAG Life Achievement award-2019
Veteran actor Robert De Niro has been honoured with the SAG Life Achievement Award for career achievement and humanitarian accomplishment. The actor, producer, and director will be given the prize at the upcoming Screen Actors Guild Awards, which are set to air on January 19 on TBS and TNT networks. De Niro is already the winner of a myriad of trophies, including two Oscars, a Golden Globe, a Kennedy Center Honor and the Cecil B. DeMille Award, among others.
13.Golden Leaf award -2019
The Tobacco Board of India was awarded the Golden Leaf award 2019 in the 'Public Service Initiative' category for its efforts in undertaking various ecological initiatives towards Flue-Cured Virginia (FCV) tobacco cultivation in India. Executive director K Sunitha received the award on behalf of the company at Tab Expo 2019 in Amsterdam, the Netherlands. The awards under this category are given to a company or institution which practices a public service programme or educational campaign, to ensure optimum utilisation of resources. The Golden Leaf Awards was conceptualised to recognise professional excellence and dedication in the tobacco industry by Tobacco Reporter, an international magazine in 2006.
14.FIFA names Arsene Wenger as global football development chief
Veteran coach Arsene Wenger has been named FIFA's Chief of global football development. The former Arsenal and Monaco coach would be responsible for the growth of the game for both men and women around the world and would also be the leading authority on technical matters, including potential changes to the sport's laws. It added that Wenger, 70, would also be tasked with coach education and aiding a programme designed to help former players enter management. Wenger made the Gunners one of the strongest sides in Europe, winning three Premier League titles and seven FA Cups and taking his team to the 2006 Champions League final.
SPORTS
15.India-Pakistan Davis Cup tie shifted to Kazakhstan capital Nur-Sultan from Islamabad
India will travel to Nur-Sultan to take on Pakistan in the upcoming Davis Cup tie. The International Tennis Federation (ITF) has nominated the Kazakhstan capital to host the matches, ending days of uncertainty over the venue. The Davis cup tie will take place on 29th and 30th November in Nur-Sultan the capital of Kazakhstan. The tie was scheduled to be held in September but was pushed to November 29-30 after India expressed concerns about the safety of their players. The Davis Cup is the premier international team event in men's tennis.
2020 key Pro League: India's home matches to be played at Bhubaneswar
Bhubaneswar will host India's home matches during the 2020 Hockey Pro League. The International Hockey Federation (FIH) said the second edition of the Hockey Pro League will be played between 11th of January and 28th of June. Bhubaneswar has become a hockey hub in India and has been hosting a majority of tournaments, the most recent being the Olympic qualifiers. The Pro League will feature 144 matches in the coming season. Australia's home matches will be played in Perth and Sydney, while England will be playing its share in London. The first match will feature the Netherlands and China on 11th of January at the Wujin Hockey Stadium in Changzhou.
17.Shreyasi Singh crowned National Champion in Women's Trap
Reigning Commonwealth Games champion Shreyasi Singh won the women's Trap Gold at the ongoing 63rd National Shooting Championship for shotgun events in New Delhi. Shreyasi representing Bihar shot 42 out of 50 birds to claim the crown, while Rajeshwari from Punjab managed 38 hits to settle for silver. Pragati Dubey of Madhya Pradesh won bronze with a finals score of 31. This was Shreyasi's fourth individual career National title but her first in Women's Trap.
18.Harmeet Desai claims Indonesia Open TT Championship
Harmeet Desai defeated A. Amalraj in the final of the ITTF Challenge Indonesia Open table tennis championship. This is Harmeet's second International title of the year, after the Commonwealth championship in July in Cuttack. Desai and Amalraj teamed up in the men's doubles event and were equally impressive making it to the semi-finals. Playing against the talented pair of Man Ho Kwan and Siu Hang Lam of Hong Kong they lose to bow out of the tournament.
19.Indian women clinch five gold medals in Asian Youth Boxing Championship
Indian women have clinched five gold, while men bagged two silver at Asian Youth Boxing Championship in Mongolia. All five women finalists, Naorem Chanu (51kg), Vinka (64kg) Sanamacha Chanu (75kg), Poonam (54kg) and Sushma (81kg) won Gold for the country in a phenomenal sweep. Among the men, Selay Soy (49kg) and Ankit Narwal (60kg) settled for the second place after going down in their respective summit clashes. India signed off with 12 medals in the event with bronze coming from Arundhati Choudhury (69kg), Komalpreet Kaur (81kg), Jasmine (57kg), Satender Singh (91kg) and Aman (91kg).
20.63rd National Shotgun Shooting Championship 2019 starts
The 63rd National Shotgun Shooting Championship Competitions 2019 begins in New Delhi. Several top shooters including Angad Bajwa, Mairaj Ahmad Khan, Kynan Chennai, Shreyasi Singh and Manavjit Singh Sandhu are expected to take part in the fortnight-long competition. The women's trap qualification will kick off the competition at the Dr Karni Singh Shooting Range. The women's trap has seen 71 entries across the senior and junior categories.
21.India record best-ever 9 medal haul at World Para Athletics Championship
India has recorded the best-ever nine medals haul at the World Para Athletics Championship in Dubai. With two gold, two silver and five bronze, India secured 13 qualifying spots at the Tokyo 2020 Paralympics. India finished in the 24th position in the nine-day competition Until this edition, London 2017 had been India's best-ever show where the para-athletes finished with five medals in the joint 34th place. China topped the medals tally with 59 medals including 25 gold. Brazil (39) and Great Britain (28) followed China. The USA ended fourth with 34 medals.
22.Star Spanish striker David Villa retires from football
Star striker David Villa, Spain's top goal-scorer, announced he was quitting professional football at the end of the season. The 37-year-old is currently playing for Vissel Kobe in Japan after a glittering career at international and club level that has included stints at Barcelona, Atletico Madrid and Valencia. Villa played in three World Cups and was a member of the Spanish side that lifted the trophy in 2010, and won the European Championships in 2008. He netted 59 times for Spain, a national record.
23.India set to host World Kabaddi cup 2019 in Punjab
The Punjab government will host the 2019 Kabaddi World Cup from December 1 to 9. This year's tournament would be dedicated to the 550th birth anniversary of Sikh guru, Guru Nanak Dev Ji. Nine teams - India, USA, Australia, England, Sri Lanka, Kenya, New Zealand, Pakistan and Canada, are expected to take part in the tournament.
INTERNATIONAL
24.World Children's Day: 20 November
Every year Universal Children's Day is celebrated on November 20 each year to promote international togetherness and awareness among children worldwide. The United Nations' (UN) Universal Children's Day was established in 1954. November 20th is an important date as it is the date in 1959 when the UN General Assembly adopted the Declaration of the Rights of the Child.
25.World Toilet Day: 19 November
World Toilet Day is celebrated on 19th November every year. It's all about inspiring action to tackle the global sanitation crisis and help achieve Sustainable Development Goal 6 (SDG 6), which promises sanitation for all by 2030. World Toilet Day 2019 is drawing attention to those people being left behind without sanitation.
World Toilet Day 2019 Theme: Leaving No One Behind
26.World Day of Remembrance for Road Traffic Victims: 17 November 2019
The World Day of Remembrance for Road Traffic Victims was observed on 17 November 2019. It is observed every year on the third Sunday of November. The day remembers those who died or were injured from road crashes.
World Day of Remembrance for Road Traffic Victims 2019 theme: 'Life is not a car part'
27.Bangladesh tops business bribery risk in South Asia
Bangladesh has the highest business bribery risk among South Asian countries, according to the Trace Bribery Matrix which releases annual ranking for 200 countries. The Matrix evaluates countries under four parameters which are business interaction with the government, anti-bribery deterrence, transparency and civil society oversight. Bangladesh has been placed at 178 positions among 200 countries in terms of business bribery risk. In South Asia, Pakistan and Afghanistan are the only countries where the bribery risk is 'high'. In terms of risk score, India ranked 78th, Pakistan 153rd, Afghanistan 168th, and Myanmar ranked 157th on the index. Overall, according to this year's TRACE Matrix data, Somalia, South Sudan, North Korea, Yemen and Venezuela presented the highest risk of bribe demands. New Zealand, Norway, Denmark, Sweden and Finland presented the lowest bribery risk.
28.Chief guest at India's Republic Day celebrations in 2020
Brazilian President Jair Bolsonaro will be the chief guest at India's Republic Day celebrations parade in 2020. PM Modi met Bolsonaro on November 13 on the sidelines of the 11th BRICS Summit held in Brasilia. PM Modi invited the Brazilian President during the meeting. Bolsonaro has accepted Prime Minister Narendra Modi's invitation for the same. The prime minister also welcomed the decision of the President to grant visa-free travel to Indian citizens.
NATIONAL
29.Ministry of Road Transport and Highways Releases 'Road Accidents in India-2018'
Ministry of Road Transport and Highways has released the 'Road Accidents in India, 2018'.It is an annual publication brought out by the Transport Research Wing of the Ministry of Road Transport and Highways which reports on accidents, related deaths and injuries. A total of 4,67,044 road accidents have been reported by States and Union Territories (UTs) in the calendar year 2018, claiming 1,51,417 lives and causing injuries to 4,69,418 persons. Road accidents in the country have increased marginally by 0.46 per cent during 2018. India ranks 1st in the number of road accident deaths across the 199 countries reported in the World Road Statistics, 2018 followed by China and the US.
30.IRCTC to operate Golden Chariot luxury train from March 2020
The Indian Railway Catering And Tourism Corporation, IRCTC, will operate and manage luxury train, Golden Chariot from March next year. An agreement in this regard was signed between Karnataka State Tourism Development Corporation, KSTDC, and IRCTC in New Delhi. Earlier, the train was operated under a joint venture between KSTDC and the Ministry of Railways. The Golden Chariot Train, which commenced operations in 2008, travels through one of the famous tourist and picturesque destinations of Karnataka, including the UNESCO world heritage site, Hampi. It has 18 coaches with 44 guest rooms having a capacity for 84 guests.
31.ADB to provide USD 91 million loans for Vijayanagara Channel
The Centre and Asian Development Bank (ADB) has signed an agreement to extend 91 million US dollar loan to modernize the Vijayanagara Channel Irrigation Systems and prepare river basin management plans in the Krishna river basin. It will help improve irrigation water use efficiency and contribute to improving sustainable water security in Karnataka. The investment programme, consisting of two project loans, will help Karnataka's water agencies better draw up and roll out effective river basin management plans.
32.Jallianwala Bagh National Memorial (Amendment) Bill, 2019
Parliament has passed the Jallianwala Bagh National Memorial (Amendment) Bill, 2019, with Rajya Sabha approving. The Lok Sabha had passed this Bill in the last session. The Bill seeks to amend the Jallianwala Bagh National Memorial Act, 1951. It has a provision to remove the President of the Congress party as a trustee and clarifies that when there is no Leader of the Opposition in the Lok Sabha, the leader of the single largest Opposition party will be the trustee. The Bill also allows the Central government to terminate the term of a nominated trustee before the expiry of the period of his term, without assigning any reason. BThe Jallianwala Bagh massacre took place on 13 April 1919.
33.Census 2021 to be conducted in 16 languages
Union Minister of State for Home Affairs, Shri Nityanand Rai informed that the Census will be conducted in two phases, viz., House-listing & Housing Census during April to September 2020 and Population Enumeration during February 09-28, 2021. The Expenditure Finance Committee (EFC) has recommended an amount of Rs. 8754.23 crore for conducting Census 2021 in 16 languages. The reference date for the census will be 1 March 2021, but for snow-bound Jammu and Kashmir, Himachal Pradesh and Uttarakhand it will be 1 October 2020.
34.IFFI 2019 begins in Goa
The 50th edition of International Film festival of India, IFFI, started in Goa. The festival will see sessions on all the traditional aspects of cinema like Acting, Direction, and editing. IFFI Lifetime Achievement award winner, French actor Isabelle Huppert will be conducting a masterclass entitled 'The Actor's Connect'. The opening day will also see the screening of Italian Film 'Despite the Fog' directed by Goran Paskaljevic. Actor Rajnikanth will receive the ICON of the Golden Jubilee Award.
35.South Asia Safety Summit-2019
The Women and Child Development Minister addressed the 2nd edition of South Asia Safety Summit in New Delhi. VThe South Asia Safety Summit is Facebook's annual event to host critical conversations on digital safety and security. The summit was joined by over 100 organisations from Nepal, Bangladesh, Sri Lanka, Afghanistan, and India. Facebook announced a slew of initiatives to accelerate digital literacy efforts in India.
36.Roadmap for the transformation of the healthcare system unveiled by NITI Aayog
NITI Aayog released the report on 'Health Systems for a New India: Building Blocks-Potential Pathways to Reforms. The report was released by NITI Aayog Vice-Chairman Rajiv Kumar in the presence of Bill Gates, the co-chairman of Bill and Melinda Gates Foundation. The report intends to prepare the road-map to build a health system in the medium- to long-term for those belonging to the middle class. Nearly 50 per cent are still not covered under any public healthcare system and the idea is to pool their risk assets which will cater to the health care needs of the middle class.
37.Government announces Bharatiya Poshan Krishi Kosh for better nutritional outcomes
Union Government announced Bharatiya Poshan Krishi Kosh which is a repository of diverse crops across 128 agro-climatic zones for better nutritional outcomes. The Kosh aims at reducing malnutrition through a multi-sectoral results-based framework, including agriculture, among women and children across the country. Ministry of Women and Child Development has collaborated with Bill and Melinda Gates Foundation for this project. The Bharatiya Poshan Krishi Kosh seeks to promote healthy dietary practices and tackle under-nutrition in a sustainable manner.
38.Indian Oil launches special winter-grade diesel for UT of Ladakh
State-run Indian Oil Corporation Ltd (IOC) launched a special winter-grade diesel that remains unfrozen up to minus 33 degree Celsius. The fuel would help provide year-round access to snow-capped border regions and is part of India's efforts to speed up strategic road connectivity. This new fuel will help Indian security forces to stock up on crucial supplies and ammunition that gets cut off due to bad weather in winters. Indian Oil's winter-grade diesel meets BIS specifications and has been produced and certified by the company's Panipat refinery.
39.SARAS India International Trade Fair
Union Minister for Rural Development Narendra Singh Tomar inaugurated the SARAS India International Trade Fair at Pragati Maidan in New Delhi. SARAS Mela is an initiative by the Deendayal Antyodaya Yojana-National Rural Livelihoods Mission (DAY-NRLM), Ministry of Rural Development (MoRD). The objective of this fair is to bring the rural women SHG members formed under DAY-NRLM, in one platform to showcase their skills, sell and build linkages with potential market players. SARAS Mela not only provides a platform to these SHG women, but it also provides a national level exposure to understand the demand and taste of the urban customers in metros.
40.Uttarakhand CM launches virtual classroom project connecting 500 secondary schools
Uttarakhand Chief Minister Trivendra Singh Rawat launched a project that will connect 500 secondary schools to virtual classrooms. The schools in the state facing a shortage of teachers will benefit from the new technology. Virtual classes are attended through video conferences where students can meet the teacher on a real-time basis and ask questions. An estimated 1.90 lakh students of 500 government-run secondary schools in the state will benefit from the project.
41.Haryana govt decides to create a new Foreign Cooperation department
Haryana Government has decided to create a dedicated new department namely Department of 'Foreign Cooperation'. The department has been created in order to streamline and provide focus to various initiatives taken by the state government for the promotion of investment, employment for youth and welfare of Non-Resident Indians. The new department will deal in the formulation of country-wise strategies for the promotion of investment, employment in the state, education and skill development and promotion of Haryanavi culture and welfare of Haryanavi diaspora.
42.Government of India to extend Visa-on-Arrival facility to UAE nationals
Government of India has decided to extend the Visa-on-Arrival facility to nationals of the United Arab Emirates. This facility is aimed at further strengthening people to people and trade links as well as strategic ties between the two countries. Visa-on-Arrival is available to UAE nationals for a period of up to 60 days with double entry for business, tourism, conference and medical purposes. This facility is available at six designated International Airports namely, Bangalore, Chennai, Delhi, Hyderabad, Kolkata and Mumbai. Visa-on-Arrival is available only to those UAE nationals who have earlier obtained an e-Visa or a normal paper Visa for India, irrespective of whether the person actually visited India or not.
43. 6th ASEAN Defence Ministers' Meeting-Plus to be held in Thailand
The 6th ASEAN Defence Ministers' Meeting-Plus (ADMM-Plus) will be held in Bangkok, Thailand. Defence Minister Rajnath Singh along with 17 other Defence Ministers of ADMM-Plus countries will attend the meeting. Mr Singh reviewed the entire gamut of bilateral defence relations with the respective leaders and discussed ways to further improve the ties.
44.Yogi Adityanath inaugurates North India's 1st sugar mill which will produce ethanol
Uttar Pradesh Chief Minister Yogi Adityanath has inaugurated North India's first sugar mill which will produce ethanol direct from sugarcane. The mill was inaugurated in Pipraich area of Gorakhpur. This mill will produce around 95,000 litres of ethanol per day. This ethanol will be used in blending with petrol.
45.National Press Day: 16 November
National Press Day is observed every year on 16th November every year. It is symbolic of a free and responsible press. On this day the Press Council of India started functioning as a moral watchdog to ensure that the press maintains high standards and is not fettered by any influence or threats. The Press Council of India has announced the names of the winners of National Awards for Excellence in Journalism for the year 2019. Eminent journalist and Chairman of Rajasthan Patrika Gulab Kothari has been selected for Raja Ram Mohan Roy Award for his outstanding contribution in the field of journalism.
46.CBI sets up OCSAE Unit to counter the growing menace of child porn
The Central Bureau of Investigation has a set up an Online Child Sexual Abuse and Exploitation (OCSAE) Prevention and Investigation Unit at its headquarter in New Delhi. It has been set up to counter the growing menace of child porn on the internet. The new specialized unit under the Special Crime Investigation Wing of the agency will collect intelligence on those who are allegedly creating and transmitting such material on the internet. The unit also looks an eye on who is browsing and downloading such material.
47.Home Minister Amit Shah inaugurates the National Tribal Festival 'Aadi Mahotsav'
Union Minister for Home Affairs, Shri Amit Shah inaugurated the National Tribal Festival 'Aadi Mahotsav', in New Delhi. The theme of the event is "A celebration of the spirit of tribal culture, craft, cuisine and commerce". The Aadi Mahotsav is an effort to take tribal commerce to the next level of digital and electronic transactions. The tribal textiles manufactured by master tribal craftsmen from Jammu and Kashmir in the North to Tamil Nadu in the South and from Gujarat in the West to Nagaland/Sikkim in the East will be the main attractions. For the first time, the Aadi Mahotsav is showcasing a wide range of products from the tribal artisans from Leh in Ladakh.
48.National Mission 'NISHTHA' launched in J&K
National Initiative for School Heads' and Teachers' Holistic Advancement (NISHTHA) was launched in the Union Territory of Jammu and Kashmir. 'NISHTHA' is a pioneering scheme being launched across the country, with a total of 86000 Elementary teachers of Government Schools being trained in J&K under the programme. NISHTHA is a capacity building programme for "Improving Quality of School Education through Integrated Teacher Training". It aims to build competencies among all the teachers and school principals at the elementary stage. NISHTHA is the world's largest teachers' training programme of its kind.
49.Mumbai tops, Delhi at bottom of tap water quality ranking
Mumbai has topped the quality of tap water ranking released by Consumer Affairs Minister Ram Vilas Paswan. Delhi is at the bottom, with all 11 samples failing on 19 parameters. The Minister released the much-awaited investigation report of samples of drinking water taken from capitals of 20 states across the country in New Delhi. None of the samples drawn from Chandigarh, Thiruvananthapuram, Patna, Bhopal, Guwahati, Bengaluru, Gandhi Nagar, Lucknow, Jammu, Jaipur, Dehradun, Chennai and Kolkata complied with the requirements of the Indian Standard. Drinking water testing will be completed by January 15, next year in 100 smart cities.
50.Andhra Pradesh Celebration of Sand Week from Nov 14
Andhra Pradesh Chief Minister YS Jaganmohan Reddy has directed district collectors to organise Sand Week celebrations from November 14 to 21. The chief minister reviewed the sand supply situation with the collectors through a video conference. Expressing satisfaction over measures initiated by the collectors in the last few days, the CM asked them to step up supplies.
51.Gujarat government announces Rs 700 crore relief package for distressed farmers
Gujarat government announced a special Rs 700 crore relief package. Around four lakh farmers will benefit from the relief. Farmers covered under the crop insurance scheme will get the assistance of Rs 13,500 per hectare of irrigated land in cases where crop damage is in excess of 33%. The assistance to farmers of un-irrigated land will be Rs 6,800 per hectare.
52.Assam Governor attends Brahmaputra Pushkaram
Assam Governor Prof Jagdish Mukhi attended the Brahmaputra Pushkaram at Sonaram Field in Guwahati. Brahmaputra Pushkaram and Sanskritik Somaroh festival is a great occasion to showcase our earnest gratitude to the life-giving prosperity of the Brahmaputra. He also insisted that it should be a moral responsibility to stop wastage and pollution of water and conscious effort should be made towards maintaining the purity of water.
53.PM Modi calls for a road map to meet $500-bn intra-BRICS trade target by 2020
Prime Minister Narendra Modi on called upon the BRICS Business Council to prepare a roadmap to achieve the target of USD 500 billion trade between the member countries of the bloc by 2020. The Prime Minister said that the partnership agreement between New Development Bank (NDB) and BRICS Business Council will be helpful for both the institutions. He requested BRICS countries and NDB to join the coalition for disaster-resilient infrastructure and called for the completion of the regional office of NDB in India.
54.National plan for better implementation of programmes for States and Uts
Union Minister for Women and Child Development Smriti Irani has announced that her Ministry along with NITI Aayog will prepare a framework for a national plan for States and Union Territories. It will be prepared by early next year for better implementation of all the Central and States policies and programmes for women and children. The Minister was speaking at the two-day National Conference organized by the Ministry of Women and Child Development in New Delhi.
55.Rajnath Singh inaugurates Sisseri River Bridge in East Siang
Union Defence Minister Rajnath Singh, who is on a two-day visit to Arunachal Pradesh, inaugurated the Sisseri River Bridge. The bridge will reduce travel time between Dibang and Siang valleys in the state. The bridge has been built across the Pasighat-Ranaghat-Roing Road in East Siang District. The bridge built by Border Roads Organisation (BRO) falls along the road that is being constructed by the Union government under the Trans-Arunachal Highway project. Mr Singh attended the Maitree Diwas celebration at strategically important Tawang District along the Indo-China Border.
BUSINESS
56.WPI inflation eases to 0.16 per cent in October
Wholesale prices based inflation eased further to 0.16 per cent in October, as against 0.33 per cent in September. Government data showed subdued prices of non-food articles and fall in prices of manufactured items. Annual inflation, based on monthly wholesale price index (WPI), was at 5.54 per cent in October last year. However, retail inflation for the month hit a 16-month high of 4.62 per cent due to soaring prices of food articles, including fruits and vegetables.
57.CCI nod for merger of BNP Paribas Mutual Fund and Bank of Baroda Mutual Fund
The Competition Commission of India (CCI) has approved the merger of the BNP Paribas (BNPP) Mutual Fund and the Baroda (BOB) Mutual Fund, under the Competition Act, 2002. The strategic alliance would allow both companies to leverage each other's strengths to offer products specially designed for retail and institutional clients in India. Baroda Asset Management is a wholly-owned subsidiary of Bank of Baroda, while BNP Paribas Asset Management India is an entity of BNP Paribas Asset Management Asia.
58.CCI approves Adani's 23.5% stake-buy in Mumbai International Airport
CCI approved Adani Properties' acquisition of 23.5% stake in the country's second-busiest aerodrome Mumbai International Airport. Adani Properties has acquired the shares from Mauritius based Bid Services Division and ACSA Global Ltd. As per the combination notice filed with CCI, the transaction involves the acquisition of shares through two separate share purchase agreements. While Adani is buying 13.5% stake in Mumbai International Airport from Bid Services Division, the rest 10% has been acquired from ACSA.