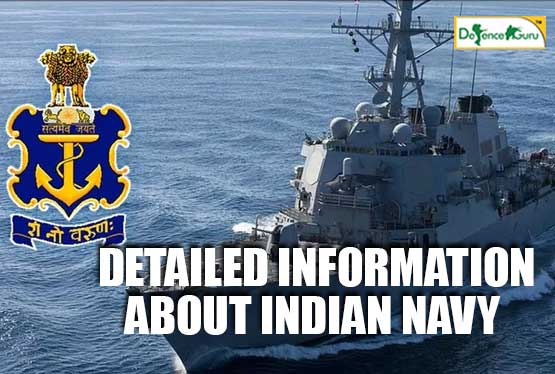 DETAILED INFORMATION ABOUT INDIAN NAVY
It sees the storm, it fights the storm, it is the storm because it is Indian Navy!
Indian Navy is one of the three wings of Indian Armed Forces providing its services successfully for the welfare of India. Originating in 1963 during British rule, His Majesty's Indian Navy got renamed to Indian Navy in 1934.
The primary motive of Indian Navy is to safeguard the nation's maritime borders; deter or defeat any threats or aggression against the territory, people or maritime interests of India, both in war and peace; and promote bilateral relations between nations through joint exercises, goodwill visits and humanitarian missions, including disaster relief. The President of India is the Supreme Commander while Chief of Naval Staff commands the Navy. The current CN is Admiral Karambir Singh.
Like other branches of Indian Armed Forces, Indian Navy also has an enhanced set- up. To go into depth and understand the working system of Indian Navy read the following points:
COMMAND:
A Command is a unit or to say branch of Indian Navy established in various corners of India. They differ in their function and concern of responsibility. The three Commands of Indian Navy include:
Western Naval Command, Mumbai
Eastern Naval Command, Vishakhapatnam
Southern Naval Command, Kochi.
The Eastern and Western Commands each have a Fleet commanded by a Rear Admiral, along with having a Commodore commanding submarines.
The Southern Naval Command, on the other hand, is home to the Flag Officer Sea Training.
Add to the above, there is another command known as the Andaman and Nicobar Command. It is a unified Indian Navy, Indian Army, Indian Air Force, and Indian Coast Guard theater Command situated in Port Blair.
ORGANIZATION
Organization is a short term for a position of honour of senior employees. They are not ranks but few top positions of employment in Indian Navy:
Chief of naval staff
Vice chief of naval staff
Deputy Chief of naval staff
Chief of personnel
Chief of materiel
Director General of medical services
Director General of naval operation
Controller of warship production and acquisition
Director General, project Seabird.
Inspector general nuclear safety
Controller of personnel services
Director General of naval designs
RANKS:
Well, as the name suggests ranks refer to order of employment positions. The various ranks in Indian Navy are listed below:
Officers
The highest rank is that of Admiral as held by Chief of Naval Staff. It is followed by:
Vice Admiral
Rear Admiral
Commodore
Captain
Commander
Lieutenant Commander
Lieutenant
Sub- lieutenant
Sailors:
Not just Officers but Sailors who are usually listed as Seamen 2nd class have different ranks. These include:
Master chief petty Officer 1st class
Master chief petty officer 2nd class
Chief petty officer
Petty officer
Leading seaman
Ordinary seaman
HOW TO JOIN INDIAN NAVY
Joining Indian Navy is the high aim of many people in India and why shouldn't it be, it has dignity, Honour, rich lifestyle, handsome pay and opportunities to travel- explore- and serve the nation.
The numerous ways to be a part of Indian Navy includes:
-Officers
-Sailors
-Naval civilians
They have various sub- positions as well.
To join as an Officer you need to go through one of the following process:
UPSC entry: It includes three options, that is:
NDA for which an entrance exam is conducted twice a year
CDS which also has an entrance exam, scheduled twice a year
NCC which does not have any written exam
Non- UPSC entries: These include Permanent Commission (PC) and Sort Service Commission (SSC) entries such as Executive PC and SSC; Marine Engineering PC and SSC; Electrical Engineering SSC and Education (PC and SSC). You can join this, either under 10+2 Tech Cadet Entry or University Entry Scheme (UES) or Special Naval Architects Entry Scheme (SNAES).
To join Indian Navy as a Sailor you need to go through the following:
To join Indian Navy as a Sailor there are notification in Employment Newspaper in Dec/ Jan and June/ July.
Positions under Sailor entry includes: Senior Secondary Recruit (SSR), Matric Recruit (MR) such as Chef/Steward/Sanitary Hygienist, Musician (MUS), Sports, and Artificer Apprentice (AA).
Just like the opportunities the benefits of joining Indian Navy are also many. It is a gateway to a fruitful future sandwiched with a stock of opportunities and places to explore. Join hands with Indian Navy to get an enthralling lifetime of experience.