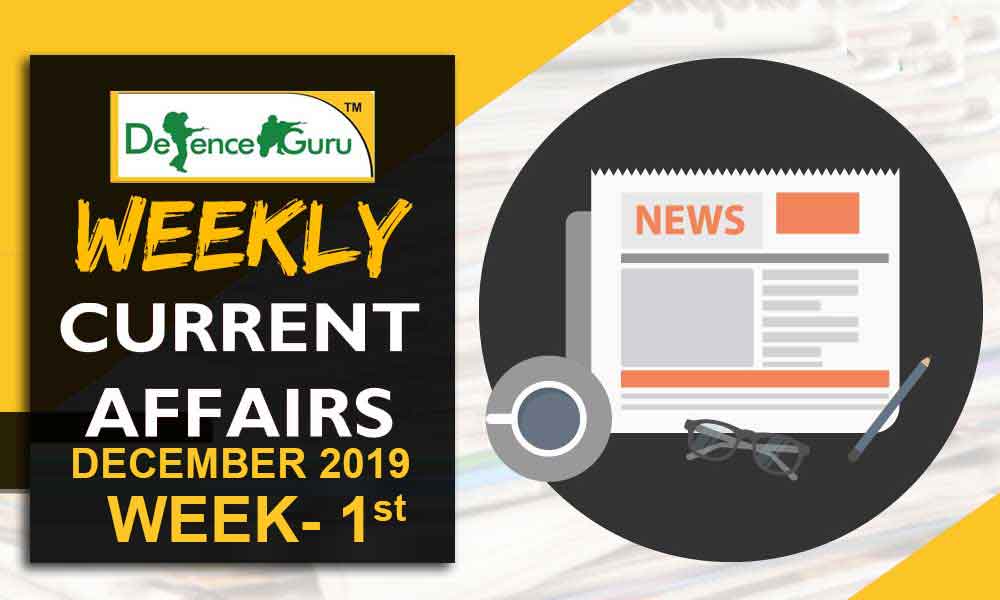 APPOINTMENTS
1.K. Vijay Kumar
Former advisor to the Governor of the erstwhile state of Jammu and Kashmir, K Vijay Kumar, has been appointed as a senior security advisor in the Union Home Ministry headed by Amit Shah.The 1975 batch officer of Indian Police Service will "advise the ministry on security-related matters of Union Territory of J&K and Left Wing Extremism (LWE) affected States.The appointment order is issued by the Union Home Ministry on December 3 stated that 67-year-old Kumar will be in the position for a period of one year from the date of his taking charge. Kumar has served as Director-General of CRPF, Director of the National Police Academy in Hyderabad and his most talked-about stint was as the chief of the Tamil Nadu police special task force that killed forest brigand Veerappan in 2004.
2.Upender Singh Rawat
Upender Singh Rawat, presently Ambassador of India to the Republic of Panama has been concurrently accredited as the next Ambassador of India to the Republic of Costa Rica. He is an Indian Foreign Service officer (IFS) of 1998 batch.
Costa Rica Capital: San José
Currency: Costa Rican colón
3.Shri Hari Mohan
Shri Hari Mohan has taken over the charge as Chairman, Ordnance Factory Board (OFB) w.e.f. December 01, 2019. He is a 1982-batch Indian Ordnance Factories' Service (I.O.F.S.) officer with Post Graduate Degree in Mechanical Engineering.
He has made significant contributions in improving the production of Armoured Fighting Vehicles like Ajeya Tanks, MBT Arjun, Bridge Layer and Trawls Tanks. He has also made a significant contribution to the modernisation of steel plants of the Steel Authority of India Limited (SAIL) during his tenure in Ministry of Steel & Mines.
4.Nana Patole
Congress leader Nana Patole has been elected as the Speaker of Maharashtra Legislative Assembly after Bharatiya Janata Party (BJP) candidate Kisan Kathore withdrew his nomination. Pro tem speaker Dilip Walse Patil made the announcement. Maharashtra BJP legislature party leader Devendra Fadnavis was named Leader of Opposition in the state Assembly.
5.Adel Abdul Mahdi
Iraqi Prime Minister Adel Abdul Mahdi has submitted his resignation to Parliament amid ongoing anti-government protests across the country. The formal resignation came after an emergency cabinet session in which ministers approved the document and the resignation of key staffers, including Abdul Mahdi's chief of staff. The resignation came after Iraq's top Shia religious leader withdrew his support to the government. More than 400 people have been killed in Iraq since early October with thousands of people taking to the streets in Baghdad and southern part of the country over corruption, poor services, lack of jobs and calling for an end to the post-2003 political system.
6.Soma Roy Burman
Soma Roy Burman took charge as the new Controller General of Accounts, CGA. She is the 24th CGA and the seventh woman to hold this coveted position. She took over from J P S Chawla.
Burman, a 1986-batch Indian Civil Accounts Service officer has held cadre positions at different levels in Central government Ministries during her 33-year long career. Prior to assuming the charge of CGA, Burman served as Additional Controller General of Accounts in the office of the CGA.
DEATHS
7.DC Fontana
Dorothy Catherine "DC" Fontana, the first female writer for 'Star Trek', has died. The writer penned numerous stories for the original Star Trek' TV series, and developed one of its signature characters, Spock. She wrote 1967's 'Journey to Babel', which introduced Spock's father Sarek and mother Amanda.
AWARDS
8.Danny Kaye Humanitarian Award- 2019(UNICEF)
Priyanka Chopra has been awarded the Danny Kaye Humanitarian Award from UNICEF. Bollywood actress Priyanka Chopra is quite active not only in the entertainment and fashion world but also in social work. The award was announced in June 2019 and Priyanka was nominated for the award by the United Nations Children's Fund. Priyanka Chopra has been associated with UNICEF for the past 15 years as a Goodwill Ambassador.
9.ET Lifetime Achievement Award-2019
Former Finance Minister Arun Jaitley was conferred posthumously with the Lifetime Achievement Award for Public Service at the Economic Times Award 2019. His wife Sangeeta Jaitley and daughter Sonali received the special award on behalf of late Arun Jaitley from Amit Shah. Arun Jaitley served as the Minister of Finance and Corporate Affairs of the Government of India from 2014 to 2019.
10. Ballon d'Or Award
Lionel Messi won a record sixth men's Ballon d'Or award at a ceremony in Paris, beating Liverpool defender Virgil van Dijk to take the honours. Now aged 32, it is Messi's first Ballon d'Or since 2015 and his sixth overall as he moves one ahead of his old rival Cristiano Ronaldo, who finished third in the voting. The Barcelona number 10 previously won the award in 2009, 2010, 2011 and in 2012 before claiming his fifth Ballon d'Or in 2015.
SPORTS
11.no.1 spot in ICC Test rankings
India captain Virat Kohli regained the top spot in the International Cricket Council's (ICC) Test rankings in batting. Australian Steve Smith slipped a rung in the latest list issued in Dubai. Kohli, who had struck a fine 136 in the day-night Kolkata Test against Bangladesh last week, reached 928 points.
12.13th South Asian Games-2019
India dominated the 13th South Asian Games in Nepal by clinching 10 Gold in Athletics, Volleyball, Shooting and Table Tennis. In track and field events Archana Suseendran in women's 100 metres, M. Jashna in women's high jump, Sarvesh Anil Kushare in men's high jump and Ajay Kumar Saroj in men's 1500 metres won a gold each to begin India's athletics campaign on an impressive note.
In Volleyball, Indian men's and women's team won gold. Men's team defeated Pakistan 3-1. Indian women's volleyball team defeated host Nepal by 3-2 in the final at Kathmandu. In Shooting, India swept all the medals on offer in the women's 10 metres air rifle event with Mehuli Ghosh winning the gold. The Indians have so far claimed 40 medals, including 15 gold, 16 silver and nine bronze. The country is currently second in the medals tally behind hosts Nepal with 44 medals.
INTERNATIONAL
13.NATO-2019
The leaders of 29 countries gather in London at the NATO summit. The year 2019 marks the 70th anniversary of the summit. It was attended by NATO leaders and chaired by NATO Secretary General Jens Stoltenberg.
NATO was founded in the wake of the Second World War by the U.S. and the main European powers as a means of military defense against Soviet Russia.
14.OPEC-2019
Russian Energy Minister Alexander Novak has said OPEC plus countries will discuss the allocation of quotas on the reduction of oil production during a ministerial meeting in Vienna. OPEC plus has been reducing oil production since 2017 to counter oversupply on the global market caused by a recent boom in oil output in the United States. The current version of the OPEC plus oil output cut deal, which will be in force until March 2020, expects parties to reduce overall oil output by 1.2 million barrels per day compared to October 2018 levels.
OPEC Headquarters: Vienna, Austria
Secretary general: Mohammed Barkindo
15.World Soil Day: 05 December
World Soil Day is observed on 5 December every year to raise awareness about the importance of soil on Earth. ]
Theme: 'Stop Soil Erosion, Save our Future' As per the UN, every 5 seconds, the equivalent of one soccer field of soil is eroded.
16.Bosnia takes full control of its air space
Bosnia took full control of its air space for the first time ever after its 1990s war of independence led to a period of oversight by international peace forces. Control over its air space was maintained by NATO-led peace forces from 1995 until 2003 when it was transferred to neighbouring Serbia and Croatia while Bosnia built up and modernised its own system.
Bosnia took control of air space below 10,000 metres (33,000 feet) in 2014 following a 10-year project to establish its own air navigation management system and after the training of some 400 staff.
Bosnia and Herzegovina is a country on the Balkan Peninsula in southeastern Europe.
Capital: Sarajevo
17. NATO leaders meet to mark the 70th birthday of alliance
The leaders of the North Atlantic Treaty Organization, NATO, met to mark the 70th birthday of the organization in London. The two-day summit includes receptions at Buckingham Palace and Downing Street plus a working session at a golf resort in outer London.
The 29 member alliance is the world's biggest military alliance. NATO was founded in 1949 for the collective defence of its members, linking the security of the United States with its European allies against the Soviet Union.
Headquarters: Brussels, Belgium
Secretary-General: Jens Stoltenberg
18. Exercise 'Hand-in-Hand-2019'
The 8th India-China joint training exercise 'HAND-IN-HAND 2019' with the theme counter-terrorism under United Nations mandate is scheduled to be conducted at Umroi, Meghalaya from 07 to 20 December 2019.
The Chinese contingent from the Tibet Military command comprising of 130 personal and the Indian Contingent of similar strength will participate in the 14-day long training exercise. The exercise is planned at the company level with respective Battalion Headquarters controlling the training. The aim of the exercise is to practice joint planning and conduct of counter-terrorist operations in semi-urban terrain.
19.India, Japan hold first 'two-plus-two' dialogue
India and Japan held their inaugural 'two-plus-two' foreign and defence ministerial dialogue with an aim to give further momentum to their special strategic partnership, particularly in the maritime domain. Defence Minister Rajnath Singh and External Affairs Minister S Jaishankar led the Indian delegation while the Japanese side was headed by Foreign Minister Toshi-mitsu Motegi and Minister of Defence Taro Kono. The talks under the new framework are taking place following a decision taken by Prime Minister Narendra Modi and his Japanese counterpart Shinzo Abe during the 13th India-Japan annual summit last year. The 2+2 dialogue reflects the synergy between India's Act East Policy and Japan's vision for free, open Indo-Pacific vision.
20.World AIDS Day: 01 December
World AIDS Day is being observed every year on 01 December to raise public awareness about Acquired Immuno Deficiency Syndrome, AIDS. This year, the theme is "Communities Make the Difference"
It is a pandemic disease caused due to the infection of Human Immunodeficiency Virus (HIV). The day also provides an opportunity for people to unite in the fight against HIV and to show support for those living with HIV. As per the latest estimate of 2017, there are around 21 lakh 40 thousand people living with HIV in the country. The government is implementing the National AIDS Control Programme (NACP) as a hundred per cent Central Sector Scheme for prevention and control of AIDS.
NATIONAL
21.Canada's CPPIB to invest up to $600 million in Indian infrastructure fund
Canada's biggest public pension fund is investing up to $600 million in India's National Investment and Infrastructure Fund (NIIF), as it seeks to grow its infrastructure bets in Asia's third-largest economy. The deal includes a commitment of $150 million in NIIF's Master Fund and co-investment rights of up to $450 million in future opportunities to invest alongside the Master Fund, the Canada Pension Plan Investment Board (CPPIB). India needs investments worth about $778 billion for highways, urban transport and renewable energy by 2022, according to the India Brand Equity Foundation, a government body.
22.India 5th worst country for people's privacy, biometric data collection
According to a new report from Britain-based tech research firm Comparitech India is the fifth worst country in terms of extensive and invasive use of biometric data. India is behind China, Malaysia, Pakistan and the US.
India shares the fifth position with Taiwan, Indonesia and the Philippines, said the study. Ireland, Portugal, Cyprus, the UK and Romania emerged as the five best countries in terms of collection, storage and use of biometric data, the results showed.
23.Andhra CM Jagan Mohan Reddy launches YSR LAW Nestham
Andhra Pradesh Chief Minister YS Jagan Mohan Reddy launched 'YSR Law Nestham Scheme' at his camp office at Tadepalli. Under this scheme, a stipend of Rs 5,000 has been credited in the accounts of beneficiary junior lawyers with the click of a button. Lawyers thanked the Chief Minister for granting Rs 100 crore to Lawyers' Welfare Fund and also for giving a stipend of Rs 5,000 to junior lawyers.
24.Punjab Cabinet approves amendment to create rural land banks for industrial development
The Punjab Cabinet led by Captain Amarinder Singh gave in-principle approval to amend the Punjab Village Common Land (Regulation) Rules, 1964, to create land banks in rural areas to boost industrial development in the city. It was, however, decided to further fine-tune the amendments to ensure that the Panchayats get their dues, with all decisions to be taken on a case to case basis, keeping their interests in view.
The Cabinet cleared the proposal to provide special provision for transfer of Shamlat Lands for development of industrial infrastructure projects, to be implemented by Industry Department and Punjab Small Industries & Export Corporation.
25.Avantee mega Food Park inaugurated in MP's Dewas
In Madhya Pradesh, Union Minister for food processing Harsimrat Kaur Badal inaugurated Avantee mega Food Park in Dewas. This first food park of central India is spread over 51 acres and has been constructed at a cost of about 150 crore rupees.
About 5 thousand local people will get employment from this Mega Food Park. Processing of soyabean, gram, wheat and other grains and vegetables will be done in the park. Warehouses will also be opened in Indore, Ujjain, Dhar and Agar in the next phases.
26.Govt sanctions Rs 100 cr to set up women help desks in police stations
Union Home Ministry has sanctioned a sum of 100 crore rupees from Nirbhaya Fund for setting up and strengthening of Women Help Desks in Police Stations. This scheme would be implemented by the States and Union Territories.
The Help Desks would focus on making the Police Stations more women-friendly and approachable, as they would be the first and single point of contact for any woman walking into a police station. Essentially, lady police officers would be deployed at these help desks. The officials of Women Help Desk would be trained to be sensitive towards women.
28.Piyush Goyal inaugurates third edition of National Public Procurement Conclave
Commerce and Industry Minister Piyush Goyal inaugurated the third edition of National Public Procurement Conclave in New Delhi.
The two-day conclave has been organized by Government e-Marketplace, GeM in association with Confederation of Indian Industry. This conclave will prepare a road map for the future of GeM will be put in place that will unify all government procurement, across all Ministries and Departments.
29.Country's first aqua lab to be set up in Dehradun
Country's first aqua lab to be set up in Dehradun,Uttarakhand. State forest minister Shri Harak Singh Rawat laid foundation stone of India's first Ganga centralised aqualab at Wildlife Institute of India (WII) Dehradun.
The aqualabs will be set up under the National Mission for Clean Ganga (NMCG). Tributaries of river Ganga such as Gomti, Betwa, Kosi will be scientifically studied and their biological components will be preserved in the lab.
30.Fifteenth Finance Commission submits report to President
Fifteenth Finance Commission has submitted its report for 2020-21 to President Ram Nath Kovind. Chairman of the Commission N K Singh, Members Ajay Narayan Jha, Ashok Lahiri, Ramesh Chand, Anoop Singh and Secretary Arvind Mehta called on the President and submitted the report for further necessary action.
On this occasion, the Commission apprised President Kovind of the recommendations contained in the report. The Finance Commission was constituted by the President on the 27th of November 2017 to make recommendations for a period of five years from 1st April 2020 to 31 March 2025.
31.ISRO set up a research Lab at Tiruchirappalli
ISRO has set-up a Space Technology Incubation Centre (S-TIC) at the National Institute of Technology (NIT), Tiruchirappalli.
The centre will work with ISRO on the technical problems at hand related to the future Space programmes and shall provide solutions. This S-TIC will cater to the southern region of India, including Andhra Pradesh, Karnataka, Kerala, Tamilnadu, Telangana, the Union Territories of Lakshadweep and Puducherry.
32.Vice Prez M Venkaiah Naidu launches Bharatiya POSHAN Anthem
Vice President M Venkaiah Naidu launched the Bharatiya POSHAN Anthem in New Delhi.It aims at taking the message of making India malnutrition-free by 2022 to all corners of the country.
The anthem was conceptualised by the Ministry of Women and Child Development, penned by noted lyricist Prasoon Joshi and sung by Shankar Mahadevan. Prime Minister Narendra Modi had in March 2018 launched the 'Poshan Abhiyan or National Nutrition Mission' with an objective to make India malnutrition free by 2022 by ensuring holistic development and adequate nutrition for pregnant women, mothers and children.
33.The National Museum of Indian Cinema tickets will now be available on BookMyShow
The National Museum of Indian Cinema, NMIC tickets will now be available on BookMyShow. A Memorandum of Understanding for online ticketing of NMIC has been signed between Films Division and BookMyShow in New Delhi.
Information and Broadcasting Ministry said, with this, booking a ticket to visit NMIC will be a click away, benefiting film lovers in India and abroad. NMIC, the only museum in India dedicated to the cinema is an institution of national importance and was inaugurated by the Prime Minister Narendra Modi in January this year at Films Division complex, Mumbai.
34.Madhu app for e-learning launched in Odisha
Odisha Chief Minister Naveen Patnaik launched 'Madhu App', an e-learning mobile phone app, to make classroom learning easier for students. By using this Android App, students will be able to download video lectures and exercises by qualified teachers in Odia language.
The App has been named after the noted freedom fighter and social reformer Madhusudan Das. Initially, the App contains videos and exercises in mathematics and science subjects for students from classes 5 to 8
35.Mumbai Central gets first 'Eat Right Station' certification from FSSAI
The Mumbai Central station of Railways was conferred with the 'Eat Right Station' certification with four stars rating by the Food Safety and Standards Authority of India (FSSAI). With this, Mumbai Central Railway Station is the country's first "Eat Right Station."
FSSAI, along with Western Railways (WR) and Indian Railways Catering Tourism Corporation (IRCTC), has trained food handlers, both in canteens and base kitchens.
They inspected catering establishments at the station and certified and rated the standard of food.
36.'Joker' fame Joaquin Phoenix named PETA's Person of the Year
'Joker' Star Joaquin Phoenix has been named 2019 Person of the Year by People for the Ethical Treatment of Animals (PETA). Phoenix is vegan since the age of three and has been a longtime supporter of the animal rights organisation.
He recently appeared in PETA's "We Are All Animals" billboards in Times Square and on Sunset Billboard as he promoted legislation to ban travelling wild-animal circuses. Previous PETA Person of the Year winners includes Pope Francis, Oprah Winfrey, Anjelica Huston, Olivia Munn, Eva Mendes and Alicia Silverstone.
37. Indian Navy Day: 04 December
Navy Day in India is celebrated on 4 December every year to recognize the achievements and role of the Indian Navy to the country. The day is celebrated in honour of the maritime force's role during the war with Pakistan in 1971 when Indian warships attacked Karachi port and successfully thwarted Pakistani operations in the western coast. The Day is also celebrated to highlight the achievements and role the Navy plays in securing the country's marine borders.
38. Election Commission of India to implement "Political Parties Registration Tracking Management System" (PPRTMS)
The Election Commission of India has reviewed the system and process of registration of political parties. The new guidelines will be effective from 1 January 2020. Accordingly, the "Political Parties Registration Tracking Management System" (PPRTMS) will be implemented through an online portal, to facilitate tracking of the status of the application by applicants.
The salient feature in the Political Parties Registration Tracking Management System is that the applicant (who is applying for party registration from 1st January 2020 onwards) will be able to track the progress of his / her application and will get the status update through SMS and email. The applicant is required to provide contact mobile number and email address of the party / applicant in his application if he/she wishes to track the progress of the application.
39. Govt launches 4th round of Regional Connectivity Scheme-UDAN
Government has launched the 4th round of Regional Connectivity Scheme - UDAN (Ude Desh Ka Aam Nagrik) to further enhance the connectivity to remote and regional areas of the country. The focus in this round will be North East Region, Hilly States, Jammu and Kashmir, Ladakh and Islands.
The scheme was launched in October 2016, which seeks to provide connectivity to un-served and under-served regions through the revival of existing airstrips and airports. In the last three years the government has successfully completed three rounds of bidding under the Scheme and awarded about 700 routes.
40. India successfully test-fires indigenously developed nuke-capable Prithvi-II missile
India successfully test-fired its indigenously developed surface-to-surface nuclear-capable Prithvi-II missile off Odisha coast. The Strategic Forces Command of the Indian Army conducted the user trial of the 350 km range missile from a mobile launcher from launch complex-3 of the Integrated Test Range at Chandipur at around 7.50 p.m. The missile weighs about 4,600 kg, is capable of carrying 500kg to one thousand kilograms of warheads and is thrust by liquid propulsion twin engines.
This trial was a part of regular training exercise by the armed forces which reconfirms the Army's readiness to fire it at short notice. Developed under the joint collaboration of Defence Research and Development Organization and Bharat Dynamics Limited, the missile was first test-fired on 27 January 1996.
41. INDIA and ADB sign $206 million loans to strengthen urban services in 5 Tamil Nadu cities
The Asian Development Bank (ADB) and the Government of India signed a $206 million loan to develop water supply and sewerage infrastructure in 5 cities of Tamil Nadu and strengthen capacities of urban local bodies (ULBs) for improved service delivery.
This is the second project loan for the ADB-supported $500 million multi-tranche financing for Tamil Nadu Urban Flagship Investment Programme, approved in September 2018, that will overall develop climate-resilient water supply, sewerage, and drainage infrastructure in 10 cities of Tamil Nadu. The first project under the Programme with $169 million financings is currently under implementation.
42. UP govt announces 25% subsidy & full stamp duty waiver for the defence industry
Uttar Pradesh government has decided to provide 25 per cent subsidy and 100 per cent stamp duty waiver for setting up the defence industry in the state.
The decision was taken at a cabinet meeting chaired by Chief Minister Yogi Adityanath. The state will also provide all facilities including power, road and fencing of land to the companies that will set up defence industries. Builders will only get this exemption if they pass on this benefit to the home buyers.
43.Government extends mandatory FASTag roll-out date to Dec 15
The government extended till December 15 the date for making FASTag mandatory for toll payments on national highways. It will now charge double user fee from vehicles entering FASTag lane without FASTag from December 15, instead of December 1.
The Ministry of Road Transport and Highways (MoRTH) had earlier announced that toll payments on highways would be accepted through FASTags only from December 1. FASTag is a prepaid tag, affixed on vehicle's windscreen, that enables automatic deduction of toll charges and lets the vehicle pass through the toll plaza without stopping for the cash transaction. NHAI has equipped all fee plazas with Electronic Toll Collection System. FASTag will continue to be provided free of cost till December 15.
44.Intensified Mission Indradhanush 2.0 to be launched across the country
Centre launched the Intensified Mission Indradhanush (IMI) 2.0 across the country. The government's flagship scheme is aimed at immunizing children under the age of 2 years and pregnant women against eight vaccine-preventable diseases.
The IMI covers vaccines for diphtheria, whooping cough, tetanus, poliomyelitis, tuberculosis, measles, meningitis and Hepatitis B. Vaccines for Japanese encephalitis and Hemophilus influenzal are also being provided in selected areas.The IMI 2.0 aims to achieve targets of full immunization coverage in 272 districts spread over 27 States. The IMI 2.0 will be carried out between December 2019 and March 2020.
45.MoS Sanjay Dhotre inaugurates India Pavilion at International Book Fair in Mexico
Minister of State for Human Resource Development Sanjay Dhotre inaugurated the India Pavilion at International Book Fair in Guadalajara, Mexico. This fair is the biggest book fair in the Spanish-speaking world.India is the 'Guest of Honour Country' in this book fair and it becomes the first Asian country to participate as 'Guest of Honour' in the Fair.
46.Indo Sri Lanka joint exercise MITRA SHAKTI commences
The 17th edition of exercise MITRA SHAKTI aimed at enhancing interoperability and operational efficiency amongst the armies of India and Sri Lanka commenced at Aundh Military Station, Pune.
The objective of the exercise is to build and promote positive relations between armies of both countries through a focus on sub-unit-level training on counter-insurgency and counter-terrorism operations in the urban and rural environment. The joint training exercise also signifies the strength of India-Sri Lanka relations in the field of military cooperation and engagement. The exercise is designed for incorporating the current dynamics of United Nations peacekeeping operations through practical and comprehensive discussions and tactical exercises.
47.Nagaland CM inaugurates Multi-Media Exhibition at World War II museum
Nagaland Chief Minister, Neiphiu Rio officially inaugurated the Multi-Media Exhibition at World War II museum, Kisama in Nagaland. For the first time in the history of Hornbill festival, Bureau of Outreach & Communication, Ministry of Information & Broadcasting is organising a Multi-Media Exhibition commemorating the 150th Birth Anniversary of Mahatma Gandhi. The focus of the event is to present Gandhian values and principles both to the people and through the people in a contemporary idiom. Commemorating the event, in remembrance of late Natwar Thakkar, his son Dr Aotoshi was felicitated. Lt. Thakkar, is popularly known as Nagaland's Gandhi.
48.India becomes the first country to make entire Haj process digital
India has become the first country to make the entire process for pilgrims going on Haj completely digital.m This came after the minister signed the bilateral agreement for the pilgrimage with the Saudi Haj Minister in Jeddah. An online application, e-visa, Haj mobile app, "e-MASIHA" health facility, "e-luggage pre-tagging" providing all information in India itself regarding accommodation and transportation in Mecca-Madina. This year, a 100-line information centre has been established at the Haj House, Mumbai for providing information regarding the entire Haj process.
49.BSF celebrates its 55th raising day on 1 December
The Border Security Force sentinels, who are India's first line of defence, celebrated BSF's 55th Raising Day. The ceremony was attended by Union Minister of State Affairs Nityanand Rai at BSF headquarters in New Delhi. BSF, the border security force, that guards the nation is one of the five Central Armed Police Forces of Union of India. The BSF was raised on 1 December 1995, in the wake of the 1965 War.
50.Nagaland celebrates its statehood day on 01 December
Nagaland celebrated its 57th Statehood Day on 01 December. It became the 16th State of the Union of India on 1st December 1963.
The formal inauguration was done by the then President of India Dr S. Radhakrishnan. The state has come a long way in the midst of all the turmoil.
Nagaland Capital: Kohima
Governor: RN Ravi
Chief minister: Neiphiu Rio
51.Sardar Patel Narmada Trek flagged off
In Gujarat, the Sardar Patel Narmada Trek (SPNT), a national level trekking camp for NCC Senior and Junior Division Cadets, has been flagged off at Statue of Unity-Kevadia in Narmada district. More than 1,000 cadets from Delhi, Madhya Pradesh, Chattisgarh, Maharashtra, Gujarat, Rajasthan, Karnataka, Goa, Uttar Pradesh, Haryana, Himachal and Punjab participated in this camp.
The aim of organizing SPNT camp is to promote National Integration by gathering enthusiastic Nationalist youth from all faiths, castes and cultural identity at a place which is towered by the Iron Man of India. During the event, the NCC cadets will first trek from the Base Camp at NCC Academy Jeetnagar to Junaraj located 20 kilometres away in the Sundarpura. They will visit Karjan Dam and power generation plant to study the scientific developments of the country.
52.20th Edition of Hornbill Festival begins in Nagaland
The much-awaited festival, the Hornbill Festival began with a colourful blend of culture and tradition in Nagaland. This is the 20th edition of Hornbill Festival.
The festival organised by Nagaland Government is an annual tourism promotional event to showcase the state's traditional and rich cultural heritage in all its ethnicity, diversity and grandeur.
The 10 Days Hornbill Festival will witness the cultural performance of different tribes of Nagaland and Northeastern States, indigenous games, city tour, night carnival, art exhibition, photo-fest and many more.
BUSINESS
53.Payment Banks can become SFB after five years under new RBI norms
The Reserve Bank of India's (RBI)'s new draft guidelines for on-tap licensing of small finance banks (SFBs) allows payment banks to convert into SFBs after five years of operations.
If the promoter of a payments bank desires to set up an SFB separately, both the banks should come under the non-operative financial holding company (NOFHC) structure. The central bank also raised the minimum paid-up capital requirement for SFBs from ₹100 crore to ₹200 crore. It said the promoter should hold a minimum of 40% of the paid-up voting equity capital for five years.
54.HDFC ERGO launches My:Health Woman Suraksha - A special health insurance for women
HDFC ERGO General Insurance Company, India's third-largest non-life insurance provider in the private sector, announced the launch of 'my:health Woman Suraksha' policy. The my:health Woman Suraksha policy is specially designed to cover women against numerous illnesses and contingencies they may face during their lifetime, thereby providing financial aid in case of medical contingencies. According to the National Health Portal of India, women in India face numerous health issues like breast cancer, malnutrition, lack of maternal health. This policy will cover various types of cancers & related surgeries, pregnancy and neonatal (newborn baby) complications and assaults & burns.
55.Reserve Bank keeps repo rate unchanged at 5.15 %
The Reserve Bank of India (RBI) in its fifth bi-monthly Monetary Policy has kept the policy repo rate unchanged at 5.15 per cent. The six-member Monetary Policy Committee (MPC) headed by Governor Shaktikanta Das unanimously voted for a status quo policy. The reverse credit policy has also maintained the reverse repo rate at 4.90 per cent and the marginal standing facility rate and Bank Rate at 5.40 per cent. The real GDP growth for 2019-20 has been revised downwards from 6.1 per cent in the October policy to 5.0 per cent.
56.Razorpay recognized As 'Most Innovative Payment Start-Up' At IFTA 2019
Razorpay, the neo-banking platform, successfully added three more accolades to its bouquet at the India FinTech Awards (IFTA) 2019, organised by India Fintech Forum in association with National Payments Corporation of India (NPCI).
The company won awards for the 'Most Innovative Payment Start-up' and 'Most Innovative Fintech Product' for its neo-banking product, RazorpayX. The CEO and Co-founder, Harshil Mathur was also honoured at the event as the 'Fintech Leader of the Year'. IFTA is a platform that celebrates and recognises the leaders and organizations for their contribution to the payments and technology domain.
57.GST revenue collection crosses Rs 1 lakh crore in November
GST revenue collection crossed the Rs 1 lakh crore mark after a gap of three months in November with the revenue growing by 6 per cent to Rs 1.03 lakh crore in the month.
The GST collection was Rs 95,380 crore in October while it was Rs 97,637 crore November 2018. After negative growth, the GST revenue witnessed an impressive recovery with a growth of 6 per cent in November 2019 over the November 2018 collections.