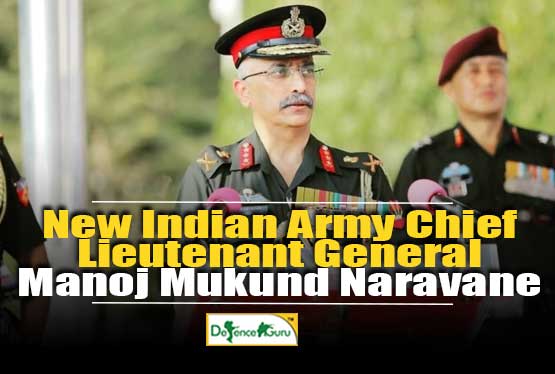 NEW INDIAN ARMY CHIEF
As the world is heading towards New Year so is Indian Army towards a new Chief. It is well known that General Bipin Rawat is the current Indian Army Chief and is scheduled to retire by the end of this year, that is, December 31, 2019. Furthermore Lieutenant General Manoj Mukund Naravane is the Vice Chief of Indian Army currently.
What's new is the fact that Lieutenant General Manoj Mukund Naravane is going to take over as the new Chief of Indian Army from January 1, 2020.
Talking about his career in Indian Army, Lt. Gen. Naravane had the complete responsibility of Eastern Command of the Army which shares nearly 4000 km border with China. Add to that, Lt. General Naravane got the responsibility of Chief of Army Staff in September, 2019. He is certainly an eminent personality, an experienced Head and a perfect recruitment for the position of Indian Army Chief.
Here is a list of some of the credentials and achievement of Lt. General Naravane:
Lt. General Naravane is a proud alumnus of National Defence Academy (NDA) and Indian Military Academy (IMA).
Lt. General Mukund is well experienced in counter- insurgency operations in Jammu and Kashmir and North- East area.
Furthermore Lt. General Mukund was commissioned into the 7th Batallion of Sikh Light Infantry regiment.
Lt. General Naravane was awarded Army Medal also called as Sena Medal for commanding his battalion effectively in Jammu and Kashmir. He also received the 'Vishisht Seva Medal' for paying his services as the Inspector General Assam Rifles (North) in Nagaland and the 'Ati Vishisht Seva Medal' for command of a prestigious Strike Corps.
Lt. General Naravane also received the 'Param Vishisht Seva Medal' for his services as the General Officer Commanding of the Army Training Command.

He is also deeply experienced when it comes to working in a highly active anti-terrorism environment during his 37 years of service.

Not to forget, General Naravane had been a part of the Indian Peace Keeping Force in Sri Lanka and he also lived in Myanmar for three years.

General Naravane also served as General Officer Commanding-in-Chief (GOCC), Army Training Command from December 01, 2017, to September 30, 2018.
In a span of 37 years Lieutenant General Mukund Naravane has not only achieved a lot but also proved his talent and capabilities. It is this proof that makes him worthy to work on the post of Indian Army Chief. Applause for General Naravane!