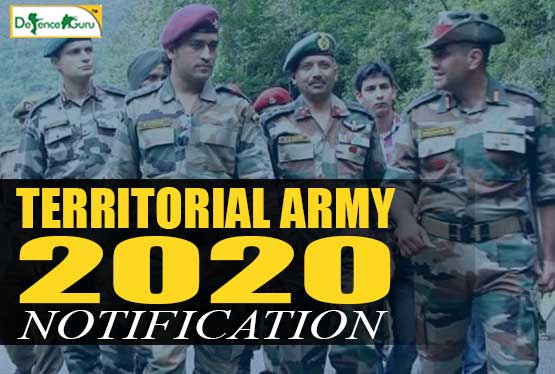 TA 2020 Notification For Ex Officer
Territorial Army, another significant part of the Indian Armed Forces, has become a major interest of the military crowd these days.
Territorial Army, abbreviated as T.A is not an occupation or a training institute or any kind of employment source. It is a volunteership based temporary employment wherein already working military Officers and civil professionals are recruited. The aim is to train the Officers for any calamity or urgency that might come up in future and in turn the employees get a tag of Indian Army.
Like each year this time too the Territorial Army notifications for 2020 has been published and below are its essential details:
OBJECTIVE: Applications are invited from gainfully employed Ex Armed Forces Commissioned Officers. They will get to carry the military uniform and serve the Nation as Territorial Army Officers (Non Departmental).
LAST DATE TO APPLY: 31st January, 2020
DATE OF INTERVIEW:  April 2020
TERRITORIAL ARMY ELIGIBILITY CRITERIA:
 (a) Only Ex Service Officer can apply.
 (b) Nationality : Only citizen of India (male and female).
 (c) Age Limits : 18 to 42 years on the date of application.
 (d) Educational Qualifications : Graduate from recognized university.
 (e) Physical Standards : A candidate must be physically and medically fit in all   respects.
TERRITORIAL ARMY SELECTION PROCEDURE:
(a) The Ex Service Officers will be screened by the Army Headquarters Selection Board (ASB) held at Additional Directorate General Territorial Army, Integrated Headquarters of Ministry of Defence.
(b) Recommended Ex Service Officers will undergo Medical Examination at Armed Forces Clinic, New Delhi followed by their Police Verification for final selection.
(c) Vacancies for male and female candidates will be determined as per organizational requirement.
(d) The selected candidates will go for one month Basic Training in the first year of commission as well as two months Annual Training Camp every year including the first year.
HOW TO APPLY
All interested Ex Service Officers (Commissioned Officers only) of three services can download Application Form (IAF (TA)-9 (Revised) Part - 1) from www.jointerritorialarmy.gov.in  and send the application  along with photocopy of Release Order and Photocopy of Release Medical Board Proceedings to Additional Directorate General Territorial Army, Integrated Headquarters of Ministry of Defence, 'L' Block, Church Road, New Delhi – 110 001.
Territorial Army may appear like a secondary part of Indian Armed Forces but it holds a lot of importance and if you want some military credentials in your profile then hurry up to join this branch today.