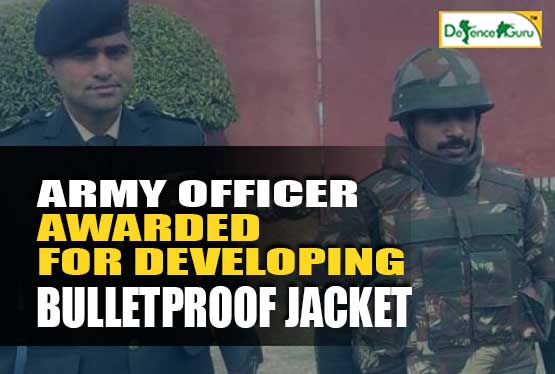 It's time to raise your brows and applause the Indian Army for another significant addition in its list of achievements.
On Monday, 23rd December, 2019 an important event took place in the backdrop of Indian Military, something which shall be penned down in the historical book of Indian Army. Major Anoop Mishra had the honor to be awarded by Army Chief Gen. Bipin Rawat with the Army Design Bureau (ADB) excellence award for developing Sarvatra- a bulletproof jacket.
The idea behind this development dates back to 2014 when Major Anoop Mishra got hit by a bullet in Kashmir. Although he didn't had any serious injury but the trauma was quite deep. It was then that Major Anoop decided to built a bullet proof jacket.
Sarvatra has been indigenously developed by Major Anoop.
It is capable of providing ammunition against various ammunitions such as that of Sniper Rifles.
In June, 2017 the project for Sarvatra got sanctioned. The design development was originally of Level III A but it got updated to include Level1V hard armor panel inserts.
The jacket has been designed in similarity to the one developed at the College of Military Engineering in Pune.

Furthermore, Sarvatra has been tried and tested by the Infantry at their test facilities.
Major Anoop Mishra is presently posted as Instructor at the College of Military Engineering, Pune. He was one of the four awardees felicitated by General Bipin Rawat on Monday.
Since Sarvatra has been such a success hence the Indian Army has planned to issue a complete tender for this full body bullet- proof jacket. Let's hope to see the plan get successfully implemented soon.