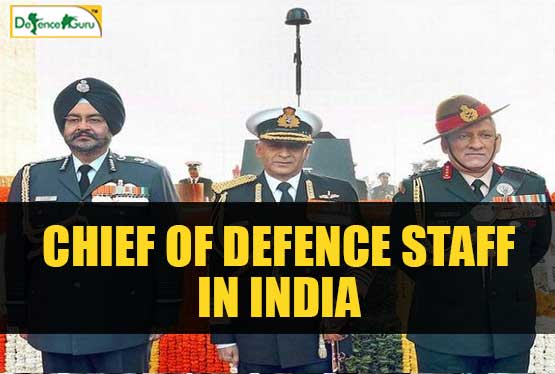 CHIEF OF DEFENCE STAFF IN INDIA
You must have heard of Chief of Indian Air Force, Chief of Indian Navy but here is a new addition to Indian Armed Forces- Chief of Defence Staff (CDS).
On Tuesday, 24th December, just a day before the festive season began, the Union Cabinet of India gave its approval for the position of CDS and its charter. The issue of CDS dates back to Kargil war of 1999. It was only this year when Prime Minister, Narendra Modi announced on 15th August that India is soon going to appoint a Chief of Defence Staff.
The aim behind creating this post is to enhance co- operation between the three wings of Indian Armed Forces that is, Indian Army, Indian Navy and Indian Air Force. A committee headed under the National Security Advisor, Ajit Doval will finalize the formalities. Countries like America, U.K, Japan and China already have a provision of CDS under different names. Appointment of CDS helps in smooth functioning and togetherness of the three Armies.
Add to that, here is a list of the nature and responsibilities of the would- be CDS:
The CDS will be positioned on the highest rank of Indian Armed Forces.
He will be a four- star Army Officer.
The CDS is responsible to develop unity between the three branches of Indian Armed Forces in the background of their operations, logistics, transport, communication, training, repair and maintenance, finances etc.
He will have to uplift the share of indigenous equipments of the three wings of Indian Defence System.
He will also take care of obtaining military equipment for Indian Army, Indian Navy, and Indian Air Force.
Furthermore, the CDS shall work as the Principal Military Advisor to Defence Minister on tri- Service issues.
He will also be the sole adviser to Government on matter pertaining to Indian Military as listed under Kargil Review Committee, 1999.
Add to that, the CDS will have the honor to be a member of Defence Acquisition Council as well as Defence Planning Committee.
The CDS is expected to implement various Military plans in full earnest such as DCAP, AAP and ICDP.
Although the serving time period of CDS has not been disclosed yet the initiation of this post is being appreciated by Military personnel and has risen hope and curiosity among them.